Best Metal Detectors
In a Hurry? Editors choice: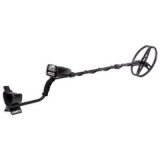 Test Winner: Garrett AT Pro

We have all been to the beach and wondered what treasures are buried beneath the sands, and if only we had some sort of way to detect those treasures. Or maybe if you live near a beach and visited it regularly, you have seen someone with a device walking along the beach and uncovering lost
change
or other goodies and thought to yourself that you would love that to be you. Well, it sounds like it is time to invest in a metal detector. Metal
detectors
are a fun way to find lost or hidden treasures that are not visible to the naked eye and if you are in the market for one, you have come to the right guide. Below we have listed the top ten metal detectors for you this summer season and explained why these metal detectors are the best over the rest.
Standout Picks
Criteria Used for Evaluation
Top Ten Metal Detectors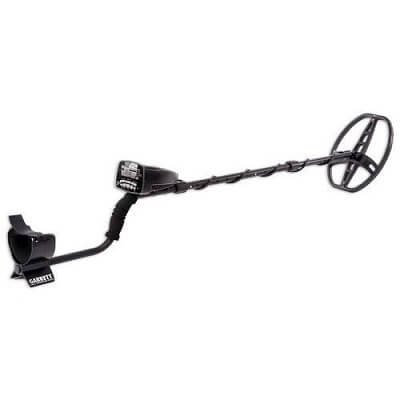 No matter if you wish to use the AT Pro in wet, humid, or dusty conditions, it is designed to handle anything in its way. Plus, its digital target ID system offers increased convenience.
Read more
Overall Performance
No matter where you want to use the AT Pro and what you intend to use it for, it will perform very well. This includes as a coin, relic, cache, and jewelry hunter at the beach, in the water, or in ghost towns.
Design Features
You can switch from either standard or professional search modes with the latter having enhanced audio features.
User Interface
Using the integrated digital interface, you can use the touchpads to set the discrimination that you prefer (one of 40 levels). Plus, the digital target ID can be seen from the interface.
Physical Construction
Thanks to the weatherproof housing, this unit can be immersed in the water down to 10 feet. Oh yeah, this housing also makes it suitable for operation in dusty, wet, and humid conditions.
Weight and Portability
The AT Pro, despite its advanced features, is actually one of the lighter models on this list. At just over three pounds, it should make for easy travel.
Overall
At the end of the day, it is difficult to come up with any reasons why you would not want to invest in the AT Pro. When that can be claimed for a product, it must be special.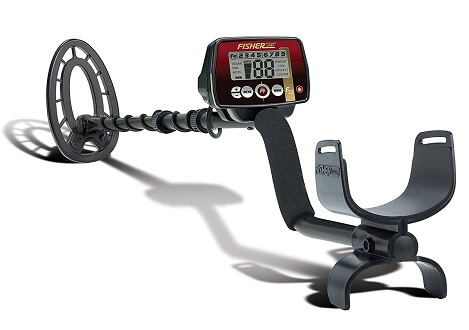 It is not difficult to see why the Fisher F22 is one of the most popular models in the world. However, it is held back a bit by its accuracy issues. Still, it gets the job done most of the time.
Read more
Overall Performance
In spite of everything that is good about the F22, the accuracy is questionable at times. It does not necessarily make it unusable, but it can be frustrating at times.
Design Features
Past the 10 levels of sensitivity that you can adjust, the F22 also has a pinpoint mode. What this allows you to do is receive an even more accurate reading of what has been picked up.
User Interface
While the user interface is far from an issue, some buyers may not like that it only notes whether an object is near the conductivity range of either iron, silver or gold.
Physical Construction
The F22 is not going to be suitable as an underwater unit even though the search coil is waterproof. But, the 25 to 30-hour battery life provided is quite impressive.
Weight and Portability
One of the best selling points of the F22 is its 2.3-pound weight. As opposed to various other models on the market, this is easily one of the lightest that you will find.
Overall
The thing about this model is you may just have to live with inconsistencies from time to time. Given its price range, though, most consumers will be able to do just that.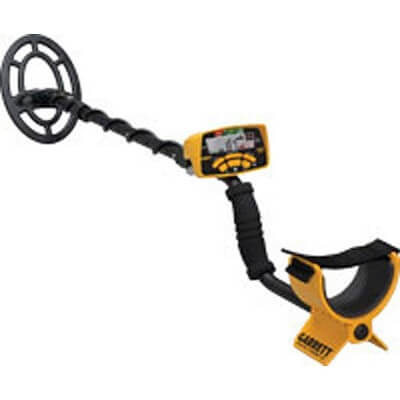 What is most impressive about the Ace 300 is it manages to be both innovative and user-friendly at the same time. With its plethora of features, that is not an easy nail to hit on the head.
Read more
Overall Performance
For both quick and accurate target identification, this sports the coveted digital target ID system. With it, you can hunt down coins, relics, and all sorts of treasures.
Design Features
In addition to the digital target ID system, the Ace 300 also implements discrimination patterns and an adjustable frequency (which will only come in handy for specific situations).
User Interface
This is where things could have gotten really bad for the Ace 300. However, Garrett avoided this by designing an interface that packs all of the features into an easy-to-use system.
Physical Construction
Even though a portion of this model is waterproof, the rest is not. As such, this is not intended for use in deep water as the control box can't be submerged.
Weight and Portability
At a listed weight of 5.15 pounds, this pretty much falls into the middle of the road in terms of its weight class.
Overall
Too bad the control box was not waterproof as then this unit may have landed even higher on this list. Still, the Ace 300's ideal combination of versatility and simplicity make it worth the price of admission.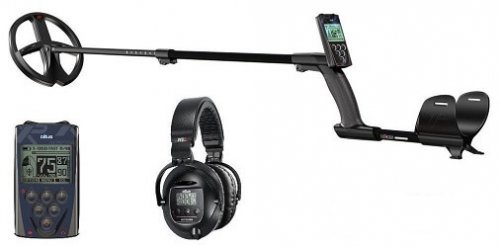 If you are looking to splurge on a new device and want the best functionality possible, there may not be a better model than this one. Plus, it comes equipped with wireless WS5 headphones.
Read more
Overall Performance
To be honest, this model detects deeper than you are probably willing to dig. All things considered, that is certainly not a bad trait to have but there is a learning curve.
Design Features
Even without the remote control, the WS5 headphones can operate the main unit. Plus, you can control the ground balance, tones, frequency, factory programs, coil change, volume, and sensitivity.
User Interface
All the aforementioned design features can be controlled via the large LCD display. But, as mentioned before, there is a bit of a learning curve so be patient with the interface.
Physical Construction
Though the functionality of this unit is impressive, the construction may be more so. After all, the coil is fully submersible in water, the cup is made of a plastic resin and the handle is designed with ergonomics in mind.
Weight and Portability
The product description has this labeled as a two-pound device. In addition to this, the shaft and the stem are collapsible to make it much easier to transport.
Overall
The simple reality is if you are willing to spend the money, you can own the best metal detector in the world. However, it is fair to assume that this will be well-past the average consumer's price range.

5

. National Geographic PRO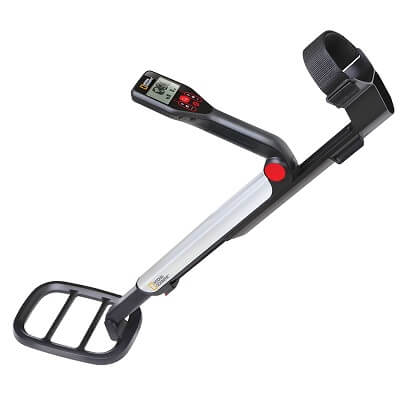 The last model on this list is the Pro Series from National Geographic and it is one of the better models for travel. This is because of its compact and collapsible nature.
Read more
Overall Performance
The PRO Series gets a lot right; let's just say that right off the bat. But, one of its faults is that it can be sporadic in its performance from time to time. Sometimes, it will detect something that is not even there.
Design Features
In spite of the slight performance issues, the pro features that come included in this system are fantastic. This includes three detection modes, four sensitivity levels, and a pinpoint location feature.
User Interface
Even though this is advertised as being simple to use for all ages and skill levels, there is something that is not claimed. While this may be true, some prior understanding still will be necessary.
Physical Construction
No matter in rain or shine, the waterproof coil allows you to find treasures at any time.
Weight and Portability
Being both lightweight and collapsible, this unit is very easy to transport. Its collapsible dimensions are just 22 inches.
Overall
Simply put, this is one of the better models for travel on this list. Then again, its limitations may be too much for some buyers to get over.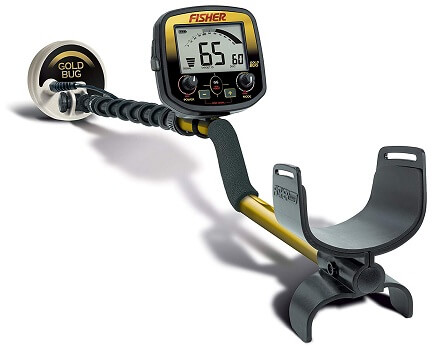 For those of you who are primarily concerned with finding gold, then the Gold Bug from Fisher is your ticket. While it is not without its imperfections, it can efficiently detect the smallest underground gold nuggets.
Read more
Overall Performance
Again, this system is specifically designed to find gold. If you are not interested in finding this mineral, then it is better to look for a different metal detector.
Design Features
There are two search modes designed into this unit (all-metal and discriminate). Additionally, there is a computer-assisted ground balance and regular ground balance.
User Interface
What is nice is the large LCD display is very easy to see. But, the tones can be difficult to decipher. However, viewing the numeric target ID system has never been easier.
Physical Construction
Thanks to the best ergonomics in the world, controlling this detector is quite enjoyable. However, the control box needs to be kept out of the water (light rain is okay).
Weight and Portability
One inclusion that would have been nice is a case. But, the unit itself is easy to transport and the 4.6-pound weight certainly helps.
Overall
For the right people, the Gold Bug is going to be the best model on this list. It really comes down to how much you want to pursue gold as if you do, pick this unit up right now.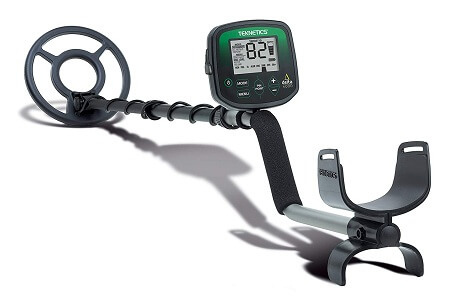 The Delta 4000 could be considered an entry-level model due to its simple nature. Yet, sometimes in life, it is nice when things are kept simple as they are easy to get in that way.
Read more
Overall Performance
One buyer noted that the Delta 4000 can be overly-sensitive at times. But, with it, you can find all sorts of gold, relics, and coins.
Design Features
This is loaded with all sorts of vital design features. Among them, the most notable is the adjustable sensitivity, adjustable discrimination, and static push-button pinpoint.
User Interface
The included software is pretty self-explanatory and all the buttons on the interface are clearly labeled and easy to use. You can't really ask for much more, honestly.
Physical Construction
Beyond the fact that this can run for around 25 hours with a single nine-volt battery, the coils are actually interchangeable and can be submerged in water.
Weight and Portability
Be aware as one consumer noted how the supposedly included arm sling, which would be useful for operation and portability, was not inside the box.
Overall
As an unbiased buyer, it is easy to see why this unit poses concerns. Now, what also needs to be remembered is despite the slight setbacks, the Delta 4000 is still a highly competent model.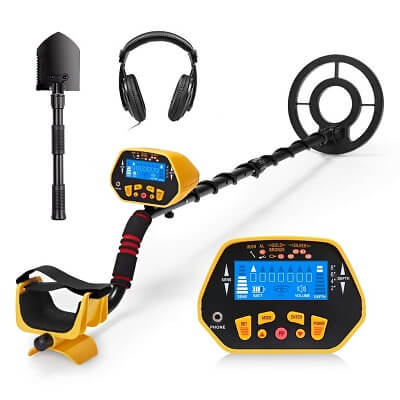 These next set of models are not really outfitted for the serious enthusiasts out there. But, starting with the GC-1028, it is nice as it is going to detect all kinds of different metals.
Read more
Overall Performance
While this is certainly far from the most efficient model on this list, it does a suitable job picking up coins, jewelry, relics, gold, and silver.
Design Features
Included with this model are headphones with a 3.5-millimeter audio jack. Also, this sports electronic pinpointing, three types of audio alerts, and even adjustable sensitivity.
User Interface
The GC-1028 actually sports a large, fully-colored LED screen. With its integrated backlight, you can easily view any of the parameters on the screen. Of course, you will have to play around with it to get accustomed to it.
Physical Construction
On top of being waterproof, the search coil and the rod are also fully adjustable. This can come in handy with people of differing heights who want to use it.
Weight and Portability
Included with your purchase is a case and also a portable shovel, for digging. As compared to other models, though, the metal detector itself is fairly lightweight.
Overall
For weekend or vacation uses, this is pretty much perfect. But, as you probably can guess, if you plan to use it on a regular basis, you may be disappointed with what is provided.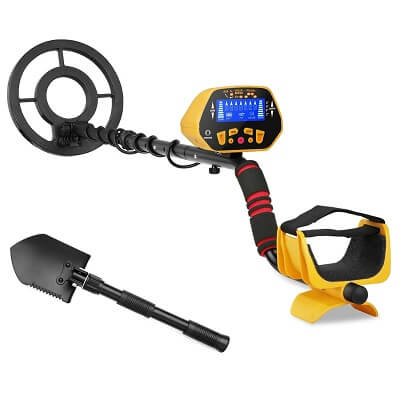 If you are looking for a great model to share with your kids, then Canway might have you covered. While it will stay take practice to get accustomed to, this model is user-friendly.
Read more
Overall Performance
One of the benefits of this device is that it can track all types of metals. But, as the seller indicates, its detecting range is limited to three feet.
Design Features
In addition to the all-metal mode, there is also a discrimination mode. What this allows you to do is eliminate the possibility of detecting junk metal. Plus, the sensitivity is adjustable.
User Interface
Although the LCD interface is user-friendly (and backlit for night time operation), it still takes practice to get accustomed to.
Physical Construction
As with most other models on this list, the search coil is safe for full submersion. However, the control panel should be kept away from the water as electrical components are involved.
Weight and Portability
When need be, this can easily be expanded. As for the weight, Amazon has it listed at 6.3 pounds, which actually could be considered heavy for metal detectors.
Overall
Accepting this for what it is is crucial. The reason for this is that you could either end up severely disappointed or happily satisfied; it just depends on your expectations.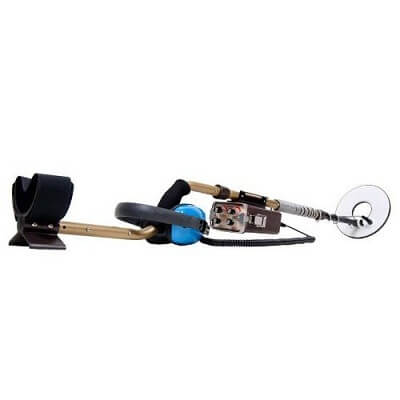 Of its price range, it is no surprise to see why so many buyers have claimed the Sand Shark to be the very best saltwater metal detector. Why don't you read on to see for yourself?
Read more
Overall Performance
Tesoro designed their Sand Shark with advanced digital pulse induction technology. What this does is combine time-proven pulse induction with the latest digital technology.
Design Features
There are two main operating modes. One of which is VCO mode and this is ideal for pinpointing. The other is the normal mode and this works efficiently for beachcombing.
User Interface
The interface of the Sand Shark is actually not digital. Instead, it is comprised of control knobs but the redeeming quality is that they are still simple to operate.
Physical Construction
Based on your settings, you can get roughly 10 to 20 hours of battery life. In addition, this unit can be submerged down to 200 feet, which is beyond impressive.
Weight and Portability
Amazon has this listed at 6.35 pounds and that is a bit heavy. While not exactly cumbersome, this extra weight can be a bit of a nuisance.
Overall
In a way, this feels like an old-school design. Perhaps it is the lack of a digital interface but it just seems that Tesoro focused most of their time on the performance end of things, which is fantastic.

Subscribe to our Newsletter