Radar Detectors Buying Guide
In a Hurry? Editors choice: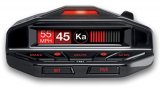 Test Winner: ESCORT REDLINE EX

What if there was a way to detect when a police officer is monitoring your car and measuring your speed with a radar gun? Well, to minimize the chance of you getting pulled over from speeding, engineers around the world have continued to develop
advanced technology
to be able to detect when you are getting monitored with a radar gun. As simple as a device like this sounds, though, there are a plethora of features that need to be implemented to ensure optimal performance. As you read this guide today, do not be ashamed if you feel overwhelmed as this technology can be hard to wrap your head around.
Standout Picks
Criteria Used for Evaluation
Effectiveness
As with any technology device, effectiveness and performance are everything. Here, it is simply no different.
It is all about the performance, ladies and gentlemen. Those words could not reign truer for radar detectors. If the system you invest in can't detect a radar gun that is running, what is the purpose? Now, there are a lot of features to look for, so strap in. First off, you will want a system with more than one laser sensor. Ideally, look for dual antennas and 360-degree protection as this will detect laser beams all around you and not just in front of you. Even though dual antennas can double the chances of a false alarm and some may feel radar in the back is not threatening, it can be useful.
Also, you may see certain technologies integrated to improve performance. For example, Digital Signal Processing technology which is a microchip that will increase the range that a system can detect. In addition, there is also multi-sensor laser protection which implements an array of sensors to better detect an off-axis laser beam. The more range a system has, the better chance you have of detecting a cop that is monitoring your speed with a radar gun, simple.
Responsiveness
In this sense, you actually do not want potency. It is a little backward but the more sensitive a system is to false alerts, the worse.
Here is where things get tricky for radar detectors. Radar guns are not the only frequency that they are going to pick up as these guns can have the same band as other systems such as garage door openers and microwave towers. This is exactly why designers will implement specific technologies to minimize the number of false alarms the system picks up. To do so, look for some of these common features.
A lot of times, you will see systems with different highway and city modes. What city modes will do is reduce the range and sensitivity to ensure you get fewer false alerts. But, this alone is often not good enough. Top-end designers will integrate other technologies such as AutoSensitivity mode and Expert Meter. To not go too in-depth, both of these features can cut down on false alarms. There are also systems that will have multiple filter modes and essentially, it passes the signal it reads into an additional array of filters to further help eliminate the alerts you could care less about.
Use
Not all systems will be equipped with the same interface and alert system. The more advanced in this case, the better.
Take a deep breath as a lot of information was just thrown at you but it does go to show the true importance of both performance and sensitivity. However, moving forward, now let's discuss the actual alert system. It really is up to you but you may want to prioritize systems that will alert you with voice messages. The advantage to this is you never need to take your eyes off of the road. Too many people nowadays are fixated on their smartphones while driving so there is no reason to give yourself another distraction. This way, you know right away that you need to slow down your speed to avoid a speeding ticket.
But, even systems without voice alerts may do some visually. For example, you may see flashing lights for a specific type of alert and this informs you of what you need to know. Speaking of visuals, keep an eye out for a digital display that is easy to read. You will not need to see much information on the display but top-end units should come with an OLED display. This is optimal as it is one of the more advanced screen technologies out there.
Advanced Features
As with most devices, there are certain advanced features that can really set apart the elite models from the great models.
If you thought the fun was over then you were wrong. It is now time to discuss more about some other technologies that you will want to look for. While the biggest one will be talked about here in a bit, let's look at something like instant-on protection. Technically speaking, this really improves the performance but it seemed to fit in this section. Essentially, this is going to defend you from instant-on radar. We say essentially because there really is no way to protect yourself from instant-on radar as the police will already know your speed. But, this can help if someone in front of you gets hit with it as your system will then pick it up.
Yet, the true wonder here is GPS technology. You may be wondering what on earth this technology would do here. It actually offers some of the most coveted functionality for radar detectors and it all comes down to its ability to remember areas that you have driven past and previous false alerts. With what is known as GPS lockout, if the system provides a false alert and has GPS lockout, it will never alert you of that same signal again.
Features
The features seem to never end with this type of technology. This section is merely for outside features that can add to the overall product.
There are mainly two things that are going to be discussed here. The first is what is included with your purchase. You see, these devices need to be mounted into your car and to do so, you will need the appropriate equipment such as mounting brackets and suction cups. But, the same tools should be of high-quality to ensure you never need to worry about your unit falling constantly.
The other talking point here is Bluetooth technology. Yeah, that good old wireless protocol has made its way here, as well. At this point in the world, most everyone knows what Bluetooth is. But, with the ability to connect a radar detector to your smartphone to gain access to a manufacturer's app, you get a whole new world of information. Depending on the app, this can include real-time information and speed limit data, as well as common hot spots where other users can see the major enforcement areas in a city.
OUR TOP PICKS FOR THE BEST RADAR DETECTORS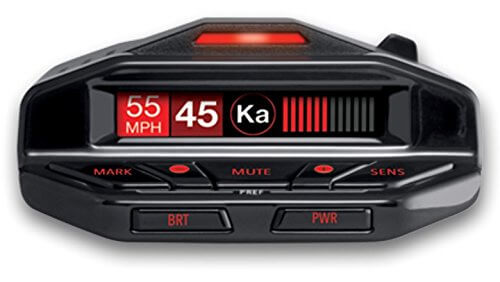 There really is no point of debating; Escort should be crowned as kings of this technology. Their Redline EX is the pinnacle of their technology but know this, you will pay the price for it.
Read more
Performance
The Redline EX is spearheaded with a twin antenna design and it defines its efficiency. Adding on to this is the exclusive TotalShield technology which delivers true stealth operation.
Sensitivity
A number of key integrations lead to the advanced sensitivity of the Redline EX. This includes anti-falsing technology, GPS intelligence and an updatable IVT Filter that rejects alerts from collision avoidance systems in vehicles.
Alert System
First off, this system is designed to alert you with clear voice alerts that allow you to keep your eyes on the road. As for the interface itself, you can customize the stunning OLED display.
Technology
As with most of the units in this price range, the Redline EX does utilize GPS technology. In the sense of the Redline EX, the GPS can determine the validity of each police radar signal detection.
Extra Features
Escort also decided to add Bluetooth technology to their already impressive design. With this incorporated, you can gain access to the Escort Live app and receive real-time speed limit data.
Overall
Not enough words can be used to describe the level of greatness that was achieved here. For those looking for the absolute best in this technology, the Redline EX is it.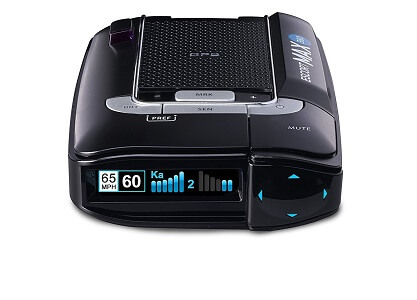 Would you look at that, it is Escort again. At this point, you know you can't go wrong with Escort and their Max360 is actually one of their more high-tech options out there.
Read more
Performance
This is advanced, let's say that. It has 360-degree protection with front and rear antennas that rapidly detect sensors in all directions and also Digital Signal Processing to find threats faster.
Sensitivity
The Max360 is going to shun most false alerts out there thanks to its anti-falsing technology, five levels of filtering, various driving modes and also its ability to connect to the Escort Live app.
Alert System
As with other Escort units, the Max360 provides unique voice warnings that allow you to keep your eyes fixated on the road. Also, the alerts are tailored to fit your movement and location based on your current speed.
Technology
Did you think the Max360 would not have GPS technology? Indeed it does and it allows the system to remember the false alerts it has already encountered.
Extra Features
As alluded to earlier, this can connect to the Escort Live app with Bluetooth built-in. This gives you access to thousands of pre-loaded locations and also the ability to create your own hot spots.
Overall
Some would believe that the Max360 should be first on this list. A few minor setbacks prevent it from doing so but know this, it can perform as well as any other unit on the planet.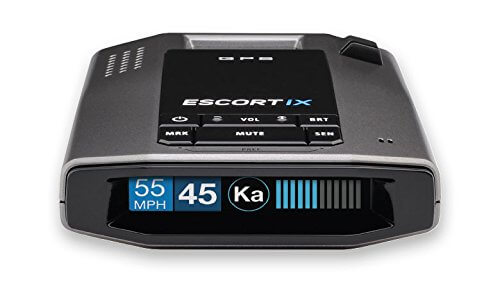 This has been dubbed the long-range laser detector and you know what, that name is very deserving. But, maybe Escort could have given a little extra time to their mounting system?
Read more
Performance
Again, there may not be a better unit out there for sheer range purposes. This is thanks to the multiple high-performance laser sensors which provide off-axis and maximum laser warning protection.
Sensitivity
Due to the sophisticated system of the iX, it is able to reduce the number of false alarms it reads from in-vehicle technology sources such as adaptive cruise control and collision avoidance systems.
Alert System
As with the Redline EX, the iX is equipped with an impressive OLED display that sports multiple colors for your convenience. This system is also designed with crystal-clear voice alerts.
Technology
The iX does have GPS technology built-in and it allows the system to automatically reject fixed position false alarms.
Extra Features
Okay, so this unit can also connect to the Escort Live app with the power of Bluetooth. However, the included mounting system needs improving as the unit tends to fall off from time to time.
Overall
In terms of technology and performance, the iX is just as good as the Redline EX. Sure, a more secure mounting system would have been appreciated but you may be able to work something out.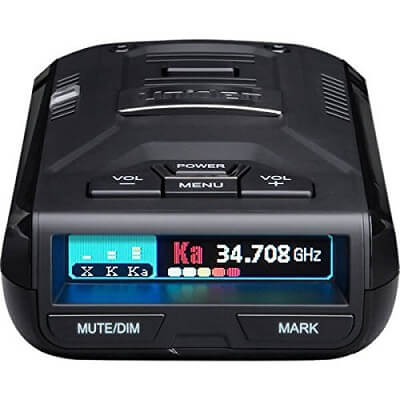 It is now Uniden's turn to get the spotlight and when it comes to straight-up performance, it is tough to go wrong with their R3 unit. Plus, it is designed with industry class-leading filtering technology.
Read more
Performance
If there is one aspect the R3 utterly excels at it is with its performance. In fact, it actually sports more than 12 times the capture distance of a regulation police radar gun, which is insanely impressive.
Sensitivity
When it comes to BSM filtering, the R3 is one of the best. Its industry class-leading filtering technology allows it to filter common K-band automotive collision avoidance systems.
Alert System
Other than the fact that you have to manually add false alarms, you can easily see all alerts that happen with the full-color OLED display integrated here.
Technology
The R3 is equipped with GPS lockout and this is one of the best features out there. With this integrated, you will never need to worry about hearing the same false alert twice.
Extra Features
Everything you need to get started and to get this mounted comes with your purchase. This includes two windshield mounts, a carrying case and also a 12-volt cable with a USB data port.
Overall
The performance of the R3 speaks for itself and is the main reason this is so high. Admittedly, though, the device as a whole feels a bit outdated because of the lackluster interface (even with the OLED display).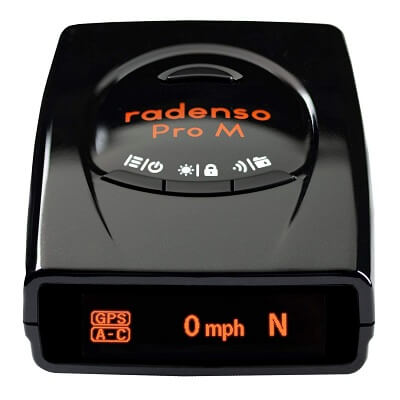 To be honest, when it comes down to it, it is difficult to come up with legitimate reasons to why one would not be interested in the Pro M. You go ahead and read on while we keep thinking.
Read more
Performance
In addition to the fact that the incredible sensitivity of this model allows it to detect several miles of range, it can also detect low-power radar threats such as the MultaRadar (which is fairly new).
Sensitivity
Radenso did a superb job of designing their Pro M as it analyzes the DNA of radar signatures and is able to filter out most false alerts caused by cars and other monitoring systems.
Alert System
As with the others, the Pro M is equipped with an OLED display. In addition, it also has 260 different voice messages built-in to alert you of certain situations.
Technology
Yes, this does have GPS lockout technology so the Pro M will remember which false alerts it has experienced to avoid duplicates. Other technologies include automatic sensitivity adjustment and automatic muting.
Extra Features
What is really nice is this comes with a built-in USB port. This allows you to perform monthly updates to ensure the system is always up-to-date for optimal performance.
Overall
While a lot of the love goes toward Escort in regard to this technology, and for good reason, Radenso deserves a ton of credit for the impeccable design of their Pro M.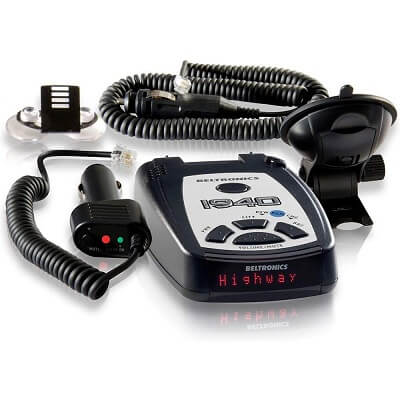 The GT-7 is a great example of a tremendous product that is held back a bit by minor flaws. But, without question, these minor flaws are nothing too extreme to label this is a bad device.
Read more
Performance
Beltronics designed their GT-7 with a powerful Digital Signal Processing microprocessor and it allows the system to detect radar signals from far away and with great speed.
Sensitivity
What is really nice is when you put this in highway mode (which is one of the three driving modes) it is as sensitive as the Redline EX.
Alert System
For the most part, the alert system of the GT-7 is up to speed and sufficient with voice alerts and a high-resolution display. Yet, to display the posted speed limit, you have to go through several time-consuming steps each time.
Technology
For those who will settle for nothing less than GPS technology, you are getting it here. Thanks to the technology, this system can learn your route and eliminate common false alerts.
Extra Features
In addition to the fact that Beltronics includes everything you need to get this bad boy mounted, you can also connect the GT-7 to the Ticket Protection app to gain access to real-time information.
Overall
The GT-7 really shows off the level of competition in this technology because it is a high-quality device that could even be described as elite. It does have a few hiccups, though.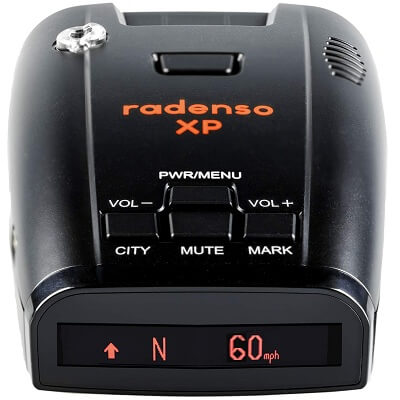 What you should know right away about the Radenso XP is that it sacrifices length for sensitivity. It may not be able to compete with Escort when it comes to the range but its BSM filtering is top-notch.
Read more
Performance
As stated, the XP is not going to compete with some of the other units on this list when it comes to range. Still, with that said, it can still detect radar signals several miles away.
Sensitivity
This is where the XP shines, for sure. It has some of the best BSM filtering out there and best-in-class traffic monitoring and blind spot monitoring filtering (along with three city and highway modes).
Alert System
Along with the sensitivity, this system also has an impressive alert system. Its OLED display is very clear even in direct sunlight and the voice alert system delivers 260 different messages that are very pleasant to the ears.
Technology
Radenso included all the goodies with their XP. This includes GPS lockout technology, automatic muting and also automatic sensitivity adjustment.
Extra Features
Built into this model are a red light and speed camera database. Plus, you can receive free updates, which is nice.
Overall
The vast array of advanced features present in the XP make up for the somewhat limited detection range (as compared to top-end units). All things considered, the XP is fantastic.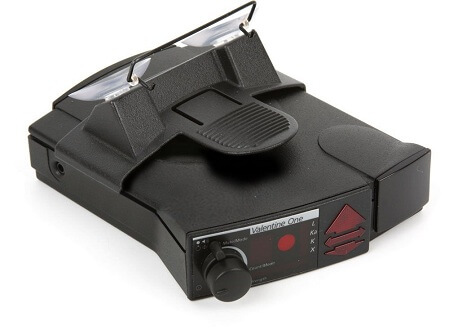 The Valentine One is one of the more talked about units on this entire list. Perhaps with a bit more advancements in the false alarm area, this could have been even higher on this list.
Read more
Performance
Wow, does the Valentine One ever perform badly? It has dual antennas (with one in the front and one in the rear) which help it achieve the excellent laser reception it does.
Sensitivity
If there was one area that could have been better for the Valentine One it would have been the sensitivity. As it rests, it is too sensitive to false alarms and you will have to deal with them.
Alert System
First off, this system does not have voice alerts. However, the LED lighting is spaced efficiently so you know which type of signal you are getting. Although, the audible chirps could be louder.
Technology
Even though this unit can detect the presence of a K-band signal, it does not have built-in GPS and can't access the database of pre-stored locations to prevent duplicate false alerts.
Extra Features
With your investment, you receive a suction cup for mounting and it works extremely well. Also, even though this does not have Bluetooth, you can buy a Bluetooth adapter separately.
Overall
For the price of the Valentine One, it is understandable that buyers expect more from the sensitivity. As it sits, though, it is a highly functional option that simply struggles with false alarms.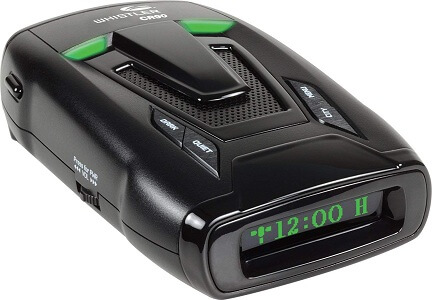 Not everyone will be willing to dish out half a grand on a device such as this and that is understandable. It just so happens, though, there are some terrific affordable options such as the CR90.
Read more
Performance
This affordable option actually offers 360 degrees of complete protection at all angles. Also, the CR90 is able to detect all of the radar guns that are used by police officers.
Sensitivity
The one aspect the CR90 struggles with is filtering out K-band false alerts. However, it is equipped with six different filter modes and three different city modes.
Alert System
Whistler's CR90 definitely looks like a modern device with its flashing LED lights that provide visual notifications. But, this device also has real voice alerts.
Technology
While this does have Radar Signature ID, an internal GPS, a POP mode, and Laser Signature ID, it can't lockout false alerts to prevent the same alert from happening again.
Extra Features
This comes with an instruction manual, a windshield bracket kit, and a 12-volt power cord but in terms of extra features, there are not too many to speak of.
Overall
There is a reason why this is cheaper than most of the other units on this list. Although, at this price point, the number of features and implemented technology is still very impressive.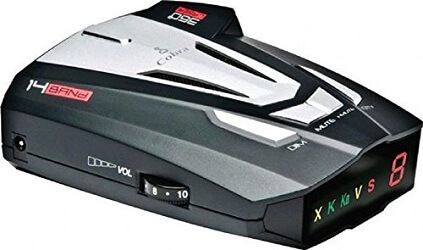 Alright, now this one is not for the serious buyers out there. Instead, this last unit is ideal for those of you who will not be dependent on your radar detector and merely just want to have one handy.
Read more
Performance
Now, this does have 360-degree detection and a super-fast sweep circuitry system. But, the range you achieve is very limited when you compare it to top-end units.
Sensitivity
While there are city and highway modes available, this system does struggle when it comes to false radar signals as it is simply too sensitive to them.
Alert System
With both Spectre Alert and VG-2, you will be alerted if you are detected by either of these systems.
Technology
Although the technology is limited here, this does include a safety alert feature which will warn you of road hazards and emergency vehicles from systems that are equipped with safety alert transmitters.
Extra Features
Absolutely everything you need to mount and install this device in your vehicle is included for your convenience (including a mounting bracket and a suction cup).
Overall
No one will argue that this is limited and not comparable to the other units on this list. But, not everyone can afford a top-end design and if you are one of these people, this suffices very well.

Subscribe to our Newsletter