Best Travel Adapters
last updated:
Feb 07, 2020
One thing that some people will not account for when they are traveling, specifically out of the country, is that not all countries will output the same voltage as the United States. In fact, most other countries will output electricity between 200 to 240 volts while the United States will output between 100 and 120 volts. But, with a travel adapter, even though they do not convert the electricity, you can plug a dual-voltage appliance (or a converter) into one when outside of the country. Of course, not all travel adapters will be the same and that is why it is critical to gain an understanding of what is important when buying one.
In a Hurry? The test winner after 15 hrs of research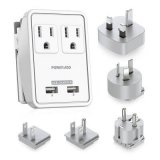 Poweradd
Why is it better?
Comes with a free travel pouch
Sports dual voltage input
Comes with five different international adapters
In a
Hurry? Editors choice: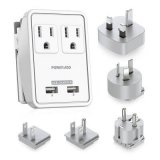 Test Winner: Poweradd

10
Researched Sources
2.4k
Reviews Considered
15
Hours Researching
18
Products Evaluated
Power Source
Compatibility
Size
Safety Hazards
By Default
Criteria Used for Evaluation


Power Source
So, no matter if you are looking for a power strip, surge protector, or (in this case) a travel adapter, the amount of ports that are present is always going to be a priority. For the most part, with these types of devices, you can expect them to have both AC ports and USB ports. However, the entire reason these products exist is to account for other countries' wattage outputs. While this will get addressed in-depth a bit later, travel adapters will either come with universal adapters or have them built in.
Either way, not all of them will have the same amount so you need to be wary of this. For example, if you know you will want to charge up to three of your USB devices at the same time, a model that comes equipped with only two may not be as effective for you. What is nice is some models will come equipped with the ability to charge up to six or seven devices simultaneously.


Compatibility
Perhaps this should have started this section as the reality is, this is the main design feature of travel adapters. There are two reasons why and the first is in regard to the power wattage of other countries. You see, the United States is one of the few countries that only outputs 110 volts of power. However, most other countries will double this with their main voltage being 220 to 240 volts. But, your devices may not be equipped to handle this much voltage and may become damaged as a result. But, travel adapters are not going to convert the voltage so you need to understand that. Yet, as will be assessed later, some devices have dual voltage options.
The second issue, though, is the configuration of the outlets. In other countries, they will be configured differently and the United States plugs will not fit into some other countries' plugs. Thus, designers will either include international adapters or design them into their device. This is vital as according to the International Electrotechnical Commission, that are 14 different plug configurations that are used around the world.


Size
In pretty much any scenario you can imagine, smaller is going to be better in this case. It is not as if there is a primary reason, either, as there are actually a multitude of reasons why a larger adapter will quickly become an inconvenience. For starters, the larger and heavier the device is the more cumbersome it will be to travel with. Given the point of this design is to use the device internationally, it should be easy to transport. However, another issue with larger models is they tend to fall out of the socket they are plugged into. This is not rocket science as the additional weight will put more pressure on the socket.
Of course, with models that are wider, they can also block another socket and make that inaccessible. One would assume that the greatest benefit to larger models would be their plethora of ports and outlets. Yet, most ports and outlets do not require much room and even smaller designs can integrate multiple ports.


Safety Hazards
Whenever you are dealing with electrical currents, things can go awry in an instance notice. Most of the time, you can account for overloads but sometimes, accidents happen. As you know in this world, accidents can happen and this makes it vitally important for manufacturers to build their travel adapters with proper technologies to safeguard your electronics. For example, basic technologies such as short-circuit protection and surge protection could be considered mandatory. In the case where a voltage spike persists, surge protection will protect your connected devices from any damage.
Also, you may see designers integrate safety shutters. Essentially, these will prevent someone from accidentally poking a single object into one of the sockets (which could lead to disaster). Of course, the model you are looking into should also be certified with a wide range of safety standards. For example, you may see RoHS certification. This is one of several and RoHS stands for The Restriction of Hazardous Substances and this has become a standard for most electrical components to comply to. When you see these types of safety certifications, you know safety comes first.
Expert Interviews & Opinions
Most Important Criteria
(According to our experts opinion)
Experts Opinion
Editors Opinion
Users Opinion
By Default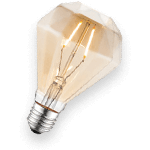 Not converters
Remember, these devices are not converters and will not actually convert the voltage (unless it is built with a converter). The obvious question would then become, though, do you need to invest in a converter, as well? It really depends as this could be a yes or a no. What it comes down to are the devices that you are planning on using. For example, common smartphone chargers and laptop chargers are probably going to run off of a wide range of voltages. So, some can handle 110 volts and 240 volts. This makes it irrelevant where you use it. But, not all devices will be equipped to handle dual voltages and these are the ones to be careful with. If you want to run a device that runs off of 120 volts (and that is it) in a country that uses 240 volts of power, you will need a converter.
Other Factors to Consider


Use
You could really ask this question with any type of appliance you are thinking of and it would be fit appropriately. The entire point of this question is to analyze what these types of devices can be used with. To use the specific items in the question, it really all depends on the specifications of the products. For example, if a curling iron can handle both 120-volt and 240-volt power then it should be fine to be used with a travel adapter. Then again, it also comes down to the maximum wattage that the model can handle.
But, if the device you are thinking about using only runs on the standard voltage of the United States and nothing else, you may not be able to use it internationally.
Frequently Asked Questions
q:

How Can You Tell if a Device is Dual Voltage?

a:

Yes, this is the third straight question in regard to the same general idea. It really just goes to show the importance of it, to be perfectly honest. With all this talk about single or dual voltages, how exactly can you ensure that your device either can or can't operate under multiple voltages? All you really need to do is check the label on your device and if that is either gone or unreadable, you can look up the specifications on that particular product.

All you need to look for is the voltage. If it shows something like "110V", it will only run off that voltage. But, something like "110/220V" means it does support dual power options.
q:

Can They Be Used with Extension Cords?

a:

This question was inevitably going to come up because as everyone knows, some devices come with pathetically short power cables. In this case, the natural way to extend them is to plug them into an extension cord. But, can you do this with travel adapters? Yes, you can.

That is it, right? Well, if you know anything about electricity, you know it is not that easy. While you can use an extension cord, you must be careful not to exceed the maximum amperage that the adapter and outlet can handle. If ignored, you could end up blowing the fuse and then you will need to replace it.
q:

What is the Difference Between Ungrounded and Grounded Outlets?

a:

This is a really good question as to the terms ungrounded and grounded have come up a few times already. Some models will accept both outlets but it is important to know the disparity between them. Every electrician will tell you that it is never a good idea to run ungrounded outlets as it is a safety hazard. Here is the reason why. It all comes down to the manner in which electricity operates. Basically, electricity is going to flow in a circuit and travel from one terminal to another.

However, in this process, things can go awry if a wire comes loose within the device that is being powered. See, if the outlet is grounded then the flow of electricity will go into the ground and not into the device it is powering. Thus, this will prevent an electrical shock. But, this will not happen with an ungrounded outlet.
q:

How Do You Know Which One to Purchase?

a:

Alright, so it has already been drilled into your brain that not all countries output the standard voltage that the United States does. However, as a consumer, how are you supposed to know which adapter to invest in? The answer to this question is really simple and is one that has been hinted at several times. A little research is going to be necessary but you need to know the electrical standards and the outlets that are used in the country you are about to visit.

Even though you could still buy one of these devices for use in the United States, the entire point is for them to allow you to use and charge your devices in other countries. Once you have become knowledgeable about this, see if the model will be compatible. If so, you are golden.
Subscribe to our Newsletter