Best Travel Adapters
In a
Hurry? Editors choice: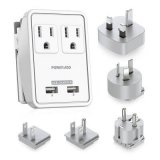 Test Winner: Poweradd

One thing that some people will not account for when they are
traveling
, specifically out of the country, is that not all countries will output the same voltage as the United States. In fact, most other countries will output electricity between 200 to 240 volts while the United States will output between 100 and 120 volts. But, with a travel adapter, even though they do not convert the
electricity
, you can plug a dual-voltage appliance (or a converter) into one when outside of the country. Of course, not all travel adapters will be the same and that is why it is critical to
gain
an understanding of what is important when buying one.
Standout Picks
Criteria Used for Evaluation
Power Source
So, no matter if you are looking for a power strip, surge protector, or (in this case) a travel adapter, the amount of ports that are present is always going to be a priority. For the most part, with these types of devices, you can expect them to have both AC ports and USB ports. However, the entire reason these products exist is to account for other countries' wattage outputs. While this will get addressed in-depth a bit later, travel adapters will either come with universal adapters or have them built in.
Either way, not all of them will have the same amount so you need to be wary of this. For example, if you know you will want to charge up to three of your USB devices at the same time, a model that comes equipped with only two may not be as effective for you. What is nice is some models will come equipped with the ability to charge up to six or seven devices simultaneously.
Compatibility
Perhaps this should have started this section as the reality is, this is the main design feature of travel adapters. There are two reasons why and the first is in regard to the power wattage of other countries. You see, the United States is one of the few countries that only outputs 110 volts of power. However, most other countries will double this with their main voltage being 220 to 240 volts. But, your devices may not be equipped to handle this much voltage and may become damaged as a result. But, travel adapters are not going to convert the voltage so you need to understand that. Yet, as will be assessed later, some devices have dual voltage options.
The second issue, though, is the configuration of the outlets. In other countries, they will be configured differently and the United States plugs will not fit into some other countries' plugs. Thus, designers will either include international adapters or design them into their device. This is vital as according to the International Electrotechnical Commission, that are 14 different plug configurations that are used around the world.
Size
In pretty much any scenario you can imagine, smaller is going to be better in this case. It is not as if there is a primary reason, either, as there are actually a multitude of reasons why a larger adapter will quickly become an inconvenience. For starters, the larger and heavier the device is the more cumbersome it will be to travel with. Given the point of this design is to use the device internationally, it should be easy to transport. However, another issue with larger models is they tend to fall out of the socket they are plugged into. This is not rocket science as the additional weight will put more pressure on the socket.
Of course, with models that are wider, they can also block another socket and make that inaccessible. One would assume that the greatest benefit to larger models would be their plethora of ports and outlets. Yet, most ports and outlets do not require much room and even smaller designs can integrate multiple ports.
Safety Hazards
Whenever you are dealing with electrical currents, things can go awry in an instance notice. Most of the time, you can account for overloads but sometimes, accidents happen. As you know in this world, accidents can happen and this makes it vitally important for manufacturers to build their travel adapters with proper technologies to safeguard your electronics. For example, basic technologies such as short-circuit protection and surge protection could be considered mandatory. In the case where a voltage spike persists, surge protection will protect your connected devices from any damage.
Also, you may see designers integrate safety shutters. Essentially, these will prevent someone from accidentally poking a single object into one of the sockets (which could lead to disaster). Of course, the model you are looking into should also be certified with a wide range of safety standards. For example, you may see RoHS certification. This is one of several and RoHS stands for The Restriction of Hazardous Substances and this has become a standard for most electrical components to comply to. When you see these types of safety certifications, you know safety comes first.
Top 10 Picks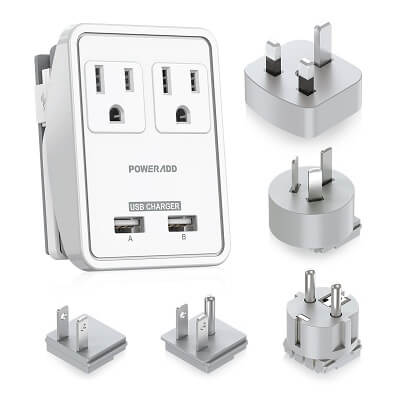 Even though some consumers will not be satisfied with the amounts of ports integrated into this device, it is hard to argue with the results that Poweradd has achieved. Plus, it comes with five international adapters.
Read more
Outlets and Ports
There are actually only two receptacles and two USB ports. However, due to the 2.4-amp speed of the USB ports and the fact that this supports dual voltage input, many people will live with a limited amount of ports.
Protection Technology
In addition to the fact that this is UL and C-UL approved, the AC outlets do have built-in protection to prevent any damage to your plugged-in devices and appliances.
Universal Compatibility
Poweradd includes five different international adapters with your purchase. These allow this device to be compatible for use in a wide range of countries such as Europe, Asia, and the United Kingdom.
Portability
With the inclusion of a free travel pouch and the natural size of the item, weighing only seven ounces, you can take this charger with you anywhere you go with literal ease.
Included Warranty
Not only does Poweradd offer 24/7 customer service for their consumers but for this adapter, they back it with a 24-month limited warranty.
Overall
What makes this our top choice is its superb combination of protection technology, universal compatibility and charging efficiency. Plus, at an affordable price, is there really anything else you could ask for?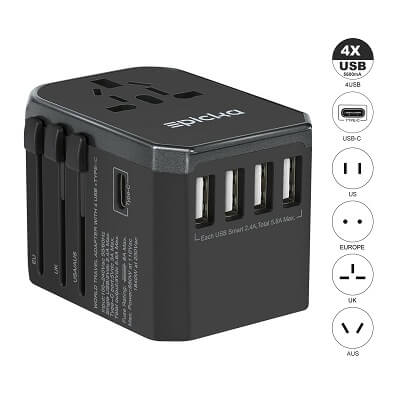 If two USB ports are just not going to suffice for you, maybe you should look into this next model. After all, Epicka designed their adapter with five USB ports (one of which being Type C).
Read more
Outlets and Ports
Past the aforementioned USB ports, there is also one AC socket designed into this device. All in all, this means you can charge up to six devices at once (although the speed will be less efficient this way).
Protection Technology
To safeguard all of your devices, there is built-in surge protection and spike technologies. Also, there are safety shutters and an eight-amp overload dual-fuse. Plus, the device is also FC, CE and RoHS certified.
Universal Compatibility
Even though this does not support Type D, it is still universal in more than 150 countries. In fact, it has specific plugs for the United Kingdom, Australia, and Europe.
Portability
What is nice is this does come with a travel pouch which makes transportation even easier. But, it also helps that the travel adapter itself only weighs 5.6 ounces and is 2.8 inches on its longest side.
Included Warranty
There are actually two warranties that back this product. First is a 30-day money-back guarantee and the second is a one-year limited warranty. Plus, you can contact the manufacturer if you ever have any questions.
Overall
To those who follow the technological world, it really is not a surprise that Epicka landed so high on this list. Their model excels in all the right areas and will make an amazing companion on your traveling adventures.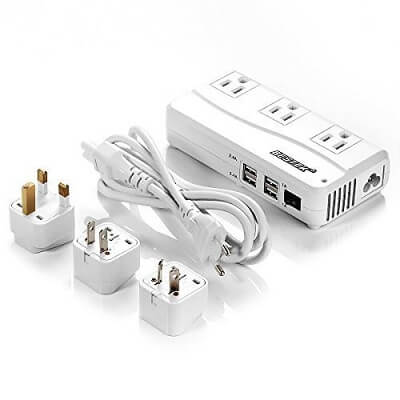 In terms of sheer popularity and reputation, this model practically secures a spot on this list by default. Then again, when you assess its design, it becomes apparent that it deserves this spot.
Read more
Outlets and Ports
In total, you can charge up to seven devices simultaneously. With four USB ports with a combined six-amp output and three AC ports, there is no shortage of outlets and ports.
Protection Technology
First off, this device is certified safe and tested by NRTL standards. Part of the reasons why it is certified safe is because of its built-in short-circuit, overcurrent, overload, and overheat technologies.
Universal Compatibility
This actually does allow you to convert all countries' voltages to the standard United States voltage. Plus, there are three international adapters to support outlets in Australia and the United Kingdom.
Portability
For the most part, this is a travel-ready design. Each adapter and the five-foot detachable power cord can be compactly stored along with the base unit.
Included Warranty
Bestek backs their travel adapter and converter combo with a 24-month warranty. Due to the design, though, you will probably never see a need for the warranty.
Overall
While not all models on this list will convert electricity, this one will as it is a converter combo. For that reason alone, this is a highly recommended device that will be your saving grace.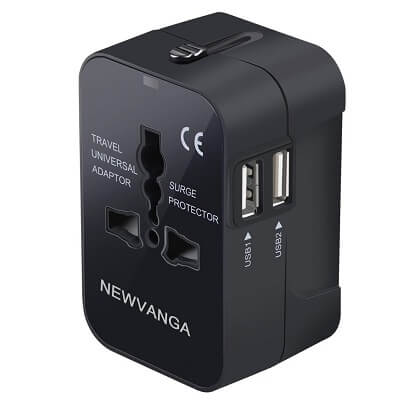 This next model is dubbed as an all-in-one device and quite frankly, it lives up to that dubbing. After all, it will accept plugs from more than 150 countries worldwide with five different input plugs built-in.
Read more
Outlets and Ports
The engineering of this product is ingenious. All the different AC ports are built-in and can be used in different countries. But, there are also integrated dual USB charging ports.
Protection Technology
To protect users from being exposed to live voltage, there are built-in safety shutters. This will protect you from the direct touch of the live portions on the outlet.
Universal Compatibility
All the aforementioned adapters on this model allow it to be compatible for use in over 150 countries. In fact, there are specific plugs for Australia, Europe, and the United Kingdom.
Portability
Even though one consumer commented on the heaviness of this model, overall, its compact size still makes it ideal for transport.
Included Warranty
Whenever you need to contact the manufacturer, you can as they offer 24/7 customer service. But, they also back this product with their 24-month limited warranty.
Overall
It is quite amazing that this compact device holds everything you need for an all-in-one adapter. Its design is quite compelling and you also never need to worry about losing the international adapters.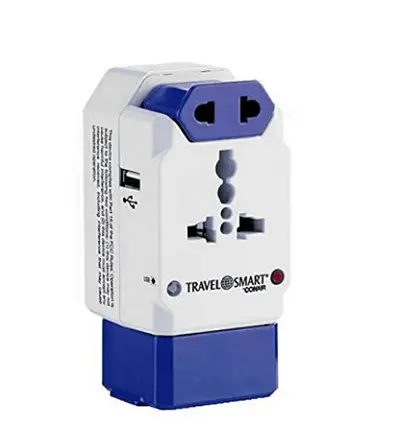 In spite of what many buyers will call an engineering flaw, with the plug being located at the top of the adapter, the Travel Smart by Conair is a compact and convenient option.
Read more
Outlets and Ports
This incorporates the four most common adapter plug configurations into one. In addition to AC ports, this also includes a USB port that charges with one amp of power.
Protection Technology
In addition to the EMI/RFI power line protection, Conair also designed this adapter with surge protection technology. Because of this, your connected devices are safeguarded against electric spikes.
Universal Compatibility
Due to the wide range of plugs, this will accept both grounded and ungrounded plugs from various countries including South America, Africa, Asia, Europe, and Australia.
Portability
A travel pouch is included with your purchase and it can easily hold the 2.5-inch by 5.75-inch Travel Smart. But, due to the plug being located at the top, it is a bit bottom-heavy when plugged in.
Included Warranty
On Conair's website, there is a "warranty" section that allows you to register for their special offers and more. After your purchase, you can fill out the appropriate information.
Overall
While this is not overflowing with ports and outlets, its simple design is still appealing. Due to its built-in protection and universal compatibility, also, this will be a must-have for some people.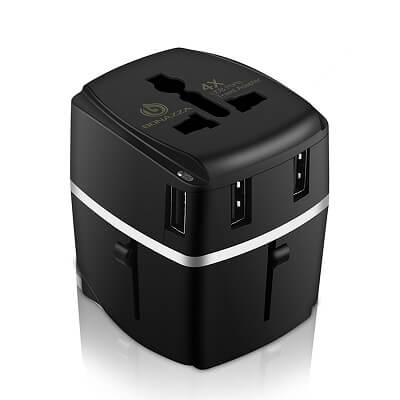 While not flawless in its performance in all countries, there are enough redeeming qualities in this next model to warrant such a high placement on this list. Not the least of which is the number of integrated USB ports.
Read more
Outlets and Ports
Due to the fact that the input voltage of the four USB ports is 100 to 240 VAC, this can be used all around the world to charge multiple USB devices simultaneously. Plus, this also accepts both two and three prong outlets.
Protection Technology
On top of its safety certification from UL, CE, and FCC, it is built with short-circuit, surge protection, and overcurrent technologies. Plus, it integrates an eight-amp self-healing fuse.
Universal Compatibility
In most of the countries you will end up visiting, this adapter will be compatible. This includes popular countries such as Canada, Brazil, Italy, Ireland, France, and Europe.
Portability
Past its natural compact nature, this device also only weighs 0.3 pounds. When you need to travel with it, it is beyond easy to account for and pack.
Included Warranty
Believe it or not, this is actually backed by a lifetime warranty. Now, this warranty is described as an unconditional one to ensure that no other costs will be needed.
Overall
A variety of users have commented on performance issues in different countries. So, just know that this design is not foolproof. Then again, its compactness and quality do speak wonders overall.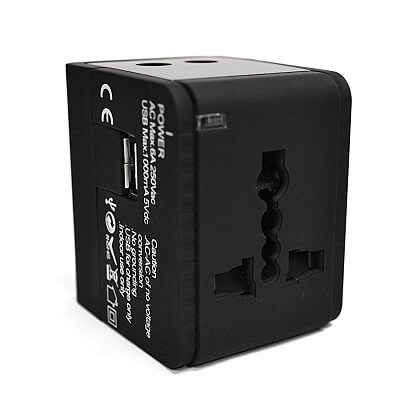 The sheer amount of positive reviews for this product is striking. But, for whatever reason, some users have reported that the adapter tends to fall out of the wall at times. Still, the good definitely outweighs the bad.
Read more
Outlets and Ports
The limited amount of ports could be concerning for some buyers and that is fair. But, the dual USB ports will allow you to charge and power two devices at the same time.
Protection Technology
Ceptics designed their product to be compliant with Depth, CE and RoHS for safety. This alone provides you with peace of mind knowing that no shortcuts were taken.
Universal Compatibility
This Rubix's Cube-esque design is quite ingenious for traveling. After all, both two prong and three prong plugs will convert to the default plug-in for different countries such as China and New Zealand.
Portability
At two inches by 1.75 inches by 2.35 inches, this is essentially a square. In addition, it only weighs 0.8 ounces which only adds to its overall portability.
Included Warranty
As one user made mention of, it is claimed that this is backed by a lifetime warranty. Clearly, there will be restrictions with this as it will most likely not account for human stupidity.
Overall
If you listen to the masses, then this may be the number one choice on this list. Then again, it is limited in some respects which hurt its overall value a bit.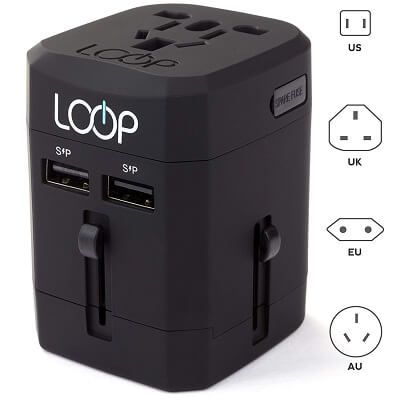 This next model resembles several others on this list and really shows the depth of the technology. But, once again, some consumers will desire more ports as you can only charge up to three devices at once.
Read more
Outlets and Ports
Indeed, there are only three ports in total. Two of them are USB and the other is an all-in-one AC socket that can account for a multitude of different AC plugs.
Protection Technology
On top of the safety shutters for extra precaution and the integrated spare fuse, this is also another model that is compliant with CE, FCC, and RoHS regulations for safety.
Universal Compatibility
Thanks to the universal eight pin AC socket, this model can account for several different plug designs. For example, it will accept plugs from Europe, the United Kingdom, and Australia.
Portability
Loop advertises this product as being very neat and compact. However, one buyer begged to differ and claimed that the device is a bit bulky.
Included Warranty
This device is backed by a 24-month warranty. Yet, what is interesting about this is it is described as a "new for old" warranty. So, if issues arise, if you turn in your old model, they will send you a brand-new one.
Overall
To be honest, it is easy for this model to blend into the crowd without getting noticed. As good as it is, the other models on this list due overshadow it with higher versatility and functionality.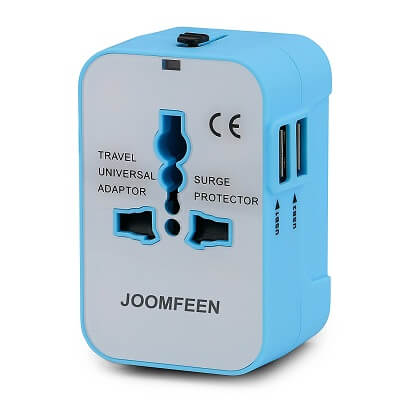 When all is said and done, this will go down as one of the best bang for your buck options out there. Then again, there have been various reports of the tips wearing down quicker than expected.
Read more
Outlets and Ports
In addition to the AC power socket, there are dual USB ports that will allow you to charge all sorts of different USB devices such as smartphones.
Protection Technology
Let's just say that this device has got you protected. It sports built-in fuse protection which includes overcharging, overpower, overvoltage and overcurrent protection.
Universal Compatibility
Thanks to the integration of Europe, the United Kingdom, and Australia plugs, this travel adapter can be used in almost every major country you can imagine (over 150 in total).
Portability
At four ounces and 3.2 inches by 2.2 inches by 1.8 inches, this is one of the more compact and portable units in the world.
Included Warranty
Within the first year of your purchase, you are backed by the manufacturer's included warranty. Anything past, though, and you may be out of luck.
Overall
The longevity of this product has been brought into question but all things considered, while it is functional, there is little to scoff about in regard to the quality and performance.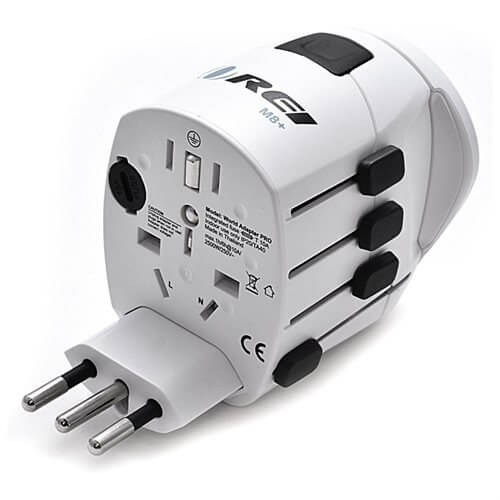 The last entry on this list is yet another highly compelling design. With its plethora of ports and compatibility, it can work with several dual voltage devices.
Read more
Outlets and Ports
On top of the fact that this will accept several two and three prong plugs from around the globe, it can also charge up to two USB devices.
Protection Technology
To keep all of your electronics safe, this system is grounded.
Universal Compatibility
With the wide range of sockets that this can work with, including Type I, Type E/F, Type L, Type J, Type G, and Type B, it can work in a plethora of countries.
Portability
This is essentially a 2.5-inch square that only weighs around half-a-pound. All in all, you should not have too much difficulty when transporting this device.
Included Warranty
The manufacturer of this product offers a one-year warranty. But, after one year, you are on your own.
Overall
Everyone around the world can take great pleasure in owning this adapter. While not flawless by any stretch of the imagination, it is a solid choice.

Subscribe to our Newsletter