Best Vacuum Cleaners
In a Hurry? Editors choice: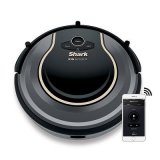 Test Winner: Shark Ion Robot 750

Who agrees that vacuuming is one of the most tedious and monotonous chores of all-time? Alright, who also understands that without it your home would be a dusty and filthy mess? Yeah, it would be nice to avoid that last question but alas,
vacuuming
is a necessary component for
homeowners
around the world. But, the process can be made infinitely more enjoyable with a high-quality
vacuum
cleaner. Heck, with the vast amount of types, as well, it could actually be fun. Okay, it still may not be fun but you understand the point.
Of course, you have the traditional upright vacuums but you can also look into the stick, canister, and even robot vacuums. No matter which type you ultimately choose, though, there are specific design integrations that you need to look for. Below we have listed the top ten vacuum cleaners of 2019.
Standout Picks
Criteria Used for Evaluation
Style
While there are numerous types of vacuum cleaners, there are four prominent versions that are present on this list. The one you are most familiar with is probably an upright vacuum cleaner. Most likely, this is the type you currently own. It sports a traditional design and both the motor and the suction power are installed in the same unit. Similar to the upright vacuum is another highly-popular product range, the stick vacuum. Essentially, this is simply a lightweight version of an upright vacuum. Clearly, it holds specific advantages for being very easy to store and maneuver when vacuuming.
Then, there are two special vacuum cleaner types with the first being a canister vacuum. These are designed differently than an upright vacuum as the cleaning nozzle is located at the end of a wand; which is then connected to the unit via a hose. Finally, there are also robot vacuums. Arguably the most convenient vacuum cleaner type, robot vacuums are designed as an autonomous robot capable of vacuuming your home without the need for user control.
Use
When it comes down to it, you need to understand what you want in a vacuum cleaner. Are you looking for the most convenient experience possible? Do you simply want one that is easy to maneuver and not cumbersome to use? Or, do you want a vacuum that has unreal suction power and an elite filtration system for health purposes? If you are looking for the last type then to be brutally honest, you probably want either a canister or upright vacuum.
Robot vacuums are utterly fantastic but they can't yet compete with upright and canister vacuums in terms of pure performance. Maybe someday they will but for now, they are limited in that respect. Clearly, the more suction power a vacuum possesses the more dirt and dust you can collect. However, looking for a vacuum with a HEPA filter is also important. Of course, there are true HEPA filters and HEPA-type filters and yes, there is a difference. The former is the most elite filter you can look for as they are tested to retain 99.97 percent of particles of 0.3 microns in size. Meanwhile, HEPA-type filters may only capture particles somewhere in the 90-percent range.
Ease of Use
This is probably the biggest area where other vacuum cleaners shine brighter than an upright vacuum. Now, do not get it twisted, it is not as if upright vacuum cleaners are not convenient as modern technology has made them easier to maneuver and utilize. Yet, there are specific features that the different types have that separate them a bit. Speaking for both canister and stick models, they are tremendous for maneuverability and cleaning hard-to-reach areas and tight corners. As a bonus for stick type units, some are cordless and run off of an integrated battery. Thus, this eliminates the hassle of dealing with a cord while you are vacuuming.
However, this section could be solely dedicated to robot vacuums. Their main core design is to be as convenient as possible as they perform all the work for you. All you need to do is, depending on the model, occasionally move them when they get stuck on an obstacle. But, thanks to most of them having built-in sensors to navigate around obstacles, that should not happen too often. Additionally, they should be programmed to return to their docking station when running low on battery.
Features
Vacuums are fairly diverse machines and while their functionality is all based on cleaning your home, they can do so in very different ways. All types offer dual-functionality but this is yet another area where upright vacuums are extra-special. With the plethora of attachments that you can get for an upright vacuum, and often that comes with them, you can easily sweep any portion of your home. For example, for pet owners, a specifically optimized pet brush can remove stubborn pet hair from your furniture. However, the other vacuum cleaner types are no slouch in this category.
Stick and canister vacuums can also be designed with different types of power modes and speed settings. Additionally, they may also sport extra design features such as an extendable wand or handheld functionality. Lastly, robot vacuums typically have a unique extra functionality. Due to their technology, most will be programmed with Wi-Fi technology that allows them to be used in conjunction with your smart devices.
Top Ten Vacuum Cleaners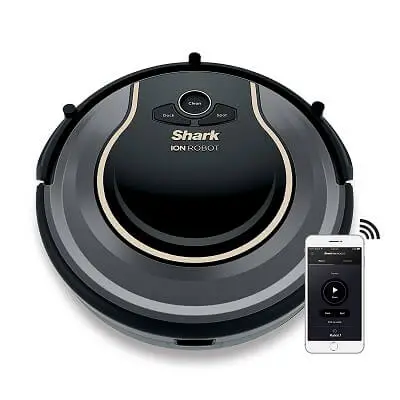 The last robot vacuum on this list is the Shark Ion Robot 750 and while not quite as impressive as the other two, it sports the goods you come to expect. One really neat integration is the self-grooming system as this prevents you from needing to manage the brush roll.
Read more
Main Design
As this is another robot vacuum, it is programmed to seamlessly navigate around the obstacles in your home with its built-in proximity sensors.
Performance
The aforementioned self-grooming system eliminates the need for you untangle hair and fibers from the brush roll. In addition, the helix-pattern high-tensile bristles deliver an efficient clean.
Convenience
Thanks to the low-profile design of the Ion Robot 750, it can reach under furniture and hard-to-reach locations. As a bonus, the vacuum will return to its docking station when it needs a boost of energy.
Additional Functions
Due to the built-in Wi-Fi technology, you can schedule and program the Ion Robot 750 straight from your smart device. It is also compatible with Alexa making it suitable for voice control.
Maintenance
Built into the side of this robot vacuum is an easy to empty and access dustbin. Manually checking it and cleaning it are so simple a caveman could perform it.
Overall
One of the reasons some people avoid robot vacuums is because they can constantly get caught on objects in your home. While the Ion Robot 750 is certainly not 100 percent immune to this, it is efficient enough to warrant a consideration.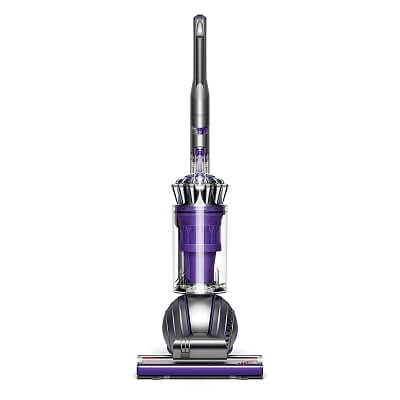 It is nearly impossible to search a "best vacuum cleaners" list and not see one mention of Dyson. They have reached an elite status among their peers and their traditional, Ball Animal 2 Upright Vacuum is state-of-the-art.
Read more
Main Design
You may not be quite ready for robot vacuums yet and that is okay because the Ball Animal 2 traditional upright vacuum cleaner is still beyond fantastic.
Performance
Dyson advertised this vacuum as possessing the strongest suction of any vacuum and they may not be far off. But, the HEPA filtration system is also worth mentioning as it traps allergens and prevents them from escaping.
Convenience
Being engineered with enough power to handle any floor surface, this vacuum can be used anywhere throughout your home. Yet, due to its immense suction power, it can be quite hard to maneuver over thick carpet.
Additional Functions
Due to the integration of the instant-release wand, you can easily reach high locations and even tight spaces underneath furniture.
Maintenance
When the interior bin becomes overfull with dirt, the handy hygienic design ensures that you do not have to touch it. Merely push the button to release the bin over a trash can and you are all set.
Overall
Are you looking for the utmost in suction power? Look no further than this model from Dyson but be careful, it may possess more suction power than even you are prepared to handle.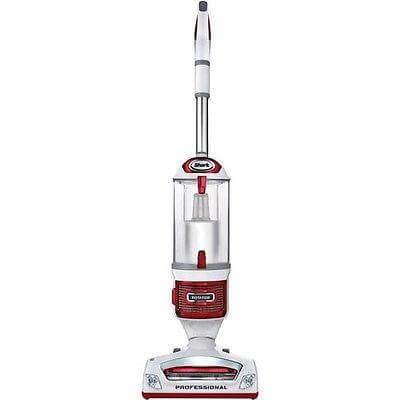 Sometimes, it is simply nice to go back to the basics. Shark's Rotator Vacuum is a classic upright vacuum that allows you to lift the canister away for even further functionality. Plus, its HEPA filter traps 99.9 percent of all dust and allergens it sucks up.
Read more
Main Design
Once again, this is a type of vacuum cleaner that you are probably accustomed to. While it can act as a classic upright vacuum, it also has the ability to be used as a portable cleaning method thanks to the lift-away function.
Performance
The Shark Rotator is complete with a HEPA filter and anti-allergen seal technology. Basically, you can rest assured that 99.9 percent of dust and allergens that are picked up by this machine will be trapped and sealed.
Convenience
With front LED lights, you can get a better glimpse of what you are vacuuming and can aid in seeing dark locations. But, due to the advanced swivel steering, maneuvering this vacuum around is user-friendly.
Additional Functions
Besides the lift-away function, this also comes equipped with a premium pet power brush. Pet hair can be a major hassle to sweep up on furniture and this significantly aids in the process.
Maintenance
While one user claimed the filters were easy to access and clean, they also griped at the frequency in which you need to maintain the filters (which is recommended by Shark to be every three months).
Overall
Shark has developed a cult following and it seems whoever uses their vacuum cleaners is immediately hooked. Some minor issues aside, no matter the type of vacuum cleaner you are looking for this is great for anyone.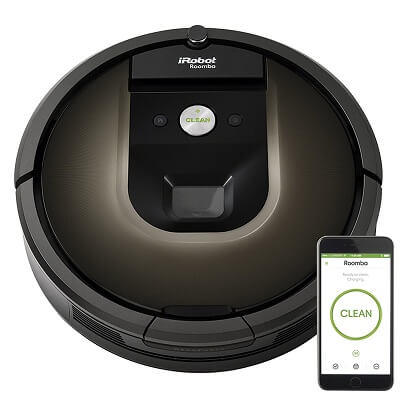 How do you make vacuuming not unbearable? Well, one of the ways is to have an autonomous machine do it for you. Indeed, the iRobot Roomba 980 Robot Vacuum is designed to do just that with built-in smart sensors and navigation technology.
Read more
Main Design
As this is a robot vacuum, it is designed to perform all the vacuuming so you do not have to. Thanks to its full suite of smart sensors and iAdapt 2.0 Navigation technology, it does so with great efficiency.
Performance
iRobot designed the Roomba 980 with a three-stage cleaning system. Basically, the tangle-free brushes and power-lifting suction prowess work together to eliminate all sorts of dirt and debris.
Convenience
As the cleaning head will automatically adjust its height based on the surface it detects, this is capable of cleaning all floor types. In addition, the Roomba 980 is designed to last 120 minutes on a single charge and will return to its docking station to recharge.
Additional Functions
Besides the power boost mode which amplifies the boost power tenfold, you can also program this vacuum in conjunction with Amazon Alexa and the iRobot HOME app.
Maintenance
One of the main additions to this impressive design that would have made it even better is a larger capacity bin. Because of its size, you will find yourself emptying the Roomba 980 more than you want to.
Overall
The world is changing before our eyes and soon, robot vacuums may become the standard. Given how impressive the Roomba 980 is, would that be such a bad thing, though?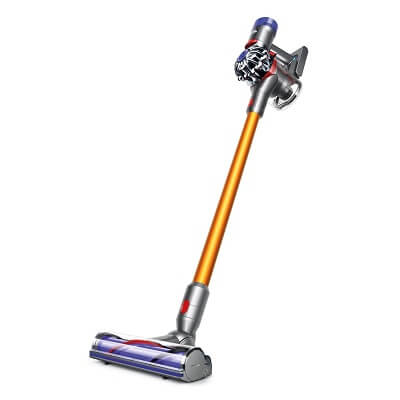 Dyson also makes quite the impressive stick vacuum and the best aspect about their V8 is that it runs off of a motor and does not need a cord. As such, there will be no more hassling around with a cord while you are attempting to vacuum.
Read more
Main Design
When the hassle of a cord is not present, you do not need to worry about accidentally vacuuming it and potentially damaging it. Instead, the cordless design of the Dyson V8 leads to a more convenient vacuuming.
Performance
As compared to the Dyson V6, the V8 has 150 percent more brush power and its motor spins up to 110,000 RPM. Plus, with the HEPA filtration system installed you are guaranteed a cleaner and fresher environment.
Convenience
Speaking from a normal user's point of mind, the battery life is quite short. It is rated to last up to 40 minutes and when it needs to be recharged, needs to charge for at least four hours. But, the vacuum itself can function on most surfaces.
Additional Functions
When you need a little bit more power, you can utilize the max power mode for an additional seven minutes of extra suction. Plus, the vacuum can transform into a handheld for appropriate situations.
Maintenance
Much like other Dyson vacuums, they implement a hygienic dirt ejector that allows you to eject the dust and debris picked up from this vacuum into a bin with one simple action.
Overall
If you are stuck in between a rock and a hard place (as you may want a cordless vacuum but do not want a robot vacuum), the Dyson V8 Stick Vacuum may be your solution as it acts like a traditional vacuum without the need for a cord.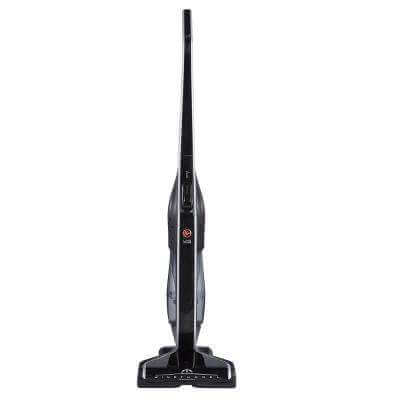 It is quite amazing how something as simple as a cordless vacuum can make all the difference in the world. Thanks to the lithium-ion battery, Hoover's Linx Stick Vacuum creates a hassle-free experience topped off with admirable performance.
Read more
Main Design
The Hoover Linx Stick Vacuum acts much like a traditional upright vacuum with the added benefit of a cordless design. It is, in fact, powered by a lithium-ion battery.
Performance
Integrated WindTunnel technology creates channels of suction that are able to suck up all dirt and debris present on your floor surfaces.
Convenience
Because you can interchange the batteries on this vacuum, you actually receive double the battery life (if you think of it). Plus, there is a gauge that indicates how much battery life remains.
Additional Functions
In tough-to-reach locations, you can utilize the extreme recline handle as it provides easier access to these areas.
Maintenance
It should be no surprise given the size of the machine but it needs to be emptied quite frequently. Thankfully, though, the bottom release dirt cup makes this a hassle-free process.
Overall
This is far from the perfect vacuum cleaner, with some users questioning the durability in the long run, but it offers too much convenience for you to ignore.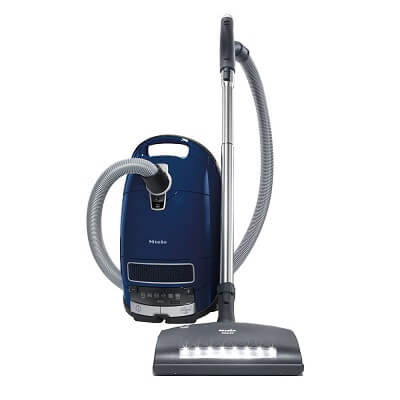 It is understandable that some of you will have no interest in such an expensive vacuum cleaner. However, if you are seeking a top-of-the-line vacuum with an exceptional performance that will clean any floor surface you desire, this could be the ticket.
Read more
Main Design
This is the second canister vacuum on this list and much like the other entry, it features a swivel neck design which significantly enhances the maneuverability.
Performance
Due to the unique AirClean filtration system, over 99.9 percent of all particles and dust are captured and retained by this system. Accomplishing this is the powerful suction of the Vortex motor system.
Convenience
The included Parquet Twister easily allows this vacuum to rotate 180 degrees for enhanced agility. Plus, the Marin is designed to automatically transition from carpets to hardwood surfaces.
Additional Functions
Via the footswitch, you can choose between six different speeds settings to adapt to the level of cleaning you need. As an add-on, also, there is a stainless steel wand that provides a cleaning radius of 36 feet.
Maintenance
While both a filter and a bag are pre-installed, the bag size leaves a lot to be desired. Because of its smallness, you will find yourself needing more bags sooner rather than later.
Overall
For such an expensive vacuum cleaner, there are a few head-scratching issues that one would not expect. Still, despite its astronomical price tag you would be hard-pressed to find many canister vacuums capable of out-performing this.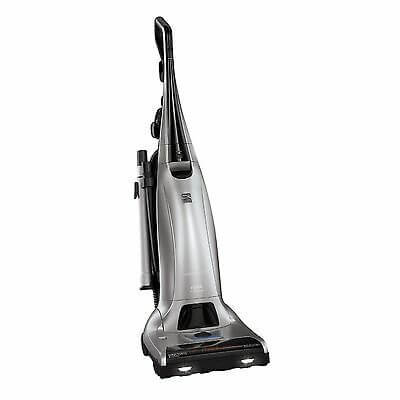 It really does not matter what floor surface you need to tackle with this next vacuum cleaner as it features five different height adjustments that allow it to adapt to all of them. As a convenient touch, this upright vacuum also features a washable filter.
Read more
Main Design
Compared to the conventional motor found in an upright vacuum, per the product description, this model from Kenmore is capable of unleashing 20 percent more power.
Performance
Besides the just mentioned 20 percent power boost, Kenmore's exclusive Power Flow technology ensures that debris will not be left behind. To top it off, a certified HEPA filter has also been integrated.
Convenience
As was previously alluded to, there are five different height adjustments on this vacuum that allow it to provide ample airflow and power for all sorts of floor types.
Additional Functions
The telescoping wand itself is a nice feature but there are three different attachments for it to enhance the functionality. Unfortunately, several consumers were disappointed with the short length of the flexible hose.
Maintenance
About once a month, per the manual's recommendation, you should wash the included filter with cold water and allow it to air dry. All things considered, that is not a bad gig.
Overall
There is a reason why people are not willing to move on from upright vacuums and assessing the design of this model from Kenmore is a strong reason why. After all, multi-functionality and an elite performance are mighty strong qualities.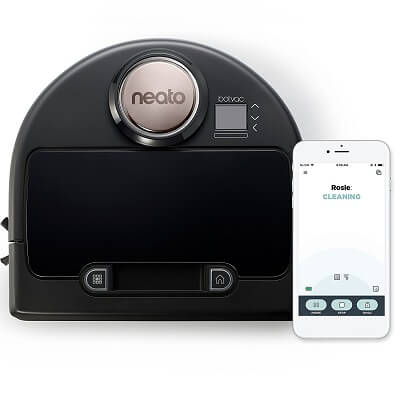 Past the Roomba series of robot vacuums, this is one of the most popular models on the planet. This popularity is not because of glaring criticisms, either; as it is highly raved for its excellent navigation technology and D-Shape design.
Read more
Main Design
With the integration of LaserSmart mapping and navigation technology, the Botvac is able to detect objects in real-time and methodically map out the environment to provide a more efficient performance.
Performance
Literally being shaped like the letter D, in conjunction with CornerClever technology, this is able to clean close to walls and in tight corners. Additionally, the main brush is designed to provide a wide cleaning path.
Convenience
When the Botvac detects an object in its path, it will conveniently navigate around it instead of slamming into it. Also, when it needs to be recharged it is programmed to return to its dock station.
Additional Functions
Depending on the severity of the situation, you can program this to run off of Eco mode or Turbo mode. The former delivers a quieter clean while the latter is for additional power. Furthermore, this can be operated with Alexa or via the Neato app.
Maintenance
It is very simple to empty the extra-large dustbin when the time comes.
Overall
It may not be quite as amazing as the Roomba 980 but in the world of robot vacuums, this is the second most impressive model on the planet. Its intelligence is through the roof and it will leave you questioning what mankind is truly capable of.

10

. Dyson Cinetic Big Ball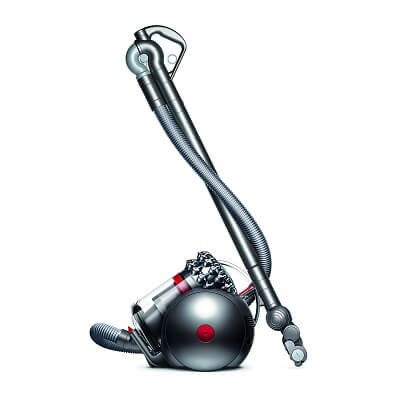 There is another type of vacuum cleaner you may be interested in and it is a canister vacuum. Speaking for the Cinetic Big Ball, it is easier to maneuver than a traditional vacuum and sports several convenient features.
Read more
Main Design
What is most unique about this vacuum cleaner is the integrated ball technology. As the core components are housed within the ball, you can effortlessly turn this vacuum for an easier clean.
Performance
Dyson promises that their Cinetic Big Ball Vacuum will never lose its suction as the tips separate the microscopic dust that ends up clogging the vacuum. Additionally, the carbon fiber turbine head picks up the finest of dust.
Convenience
Amazingly enough, when this vacuum gets toppled over it is actually designed to automatically pick itself up. Given this is sure to happen a couple of times to you; you will come to appreciate this feature.
Additional Functions
A turbine tool comes with this vacuum and it is virtually guaranteed to never tangle while in use.
Maintenance
To ensure you never need to get your hands dirty, the hygienic dirt ejector will drive out the trapped dust and debris. As a bonus for this vacuum, also, there are no filters so you do not need to concern yourself with washing and replacing them.
Overall
Consumers will fall in-love with the fact that there are no filters in the Cinetic Big Ball as this makes maintaining it much simpler and less expensive. Of course, at its core, it is a high-performance canister vacuum.

Subscribe to our Newsletter