Best Litter Boxes
In a Hurry? Editors choice: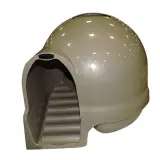 Test Winner: Petmate Clean Step

While some felines don't mind products that are a little too small or of a peculiar shape, others will demonstrate their disapproval with your less than ideal selections by taking care of business in other places, such as your
bed
sheets or your
shoes
. A big part of taking care of these creatures is to try and figure out what they want. If you ensure that you buy quality products the first time around, you won't need to get back on the internet research how to get cat urine out of bed sheets (we recommend neutralizing ammonia with a mixture of baking soda and vinegar). What makes a good litter box, you might ask? The first thing that cats want is something that is
clean
. We all might claim to be the type that cleans their boxes at least once a day- but sometimes you are just lacking the time.
Standout Picks
Criteria Used for Evaluation
Features
Every cat and every home is different. If you find that you have ample room to place multiple pans that will be out of sight to yourself and house guests, the exterior look might not be something that is important to you. However, if you are living in a tight space and want something that will be easy to look at and might not be immediately recognized as a cat bathroom by guests, you might have to pay a little bit extra for a modern Modkat product or pay a lot more for a self-cleaning design. It's a fine line that cat owners walk when trying to find a solution to allow your furry houseguests poop in a pan while still trying to keep your house clean and tidy.
Not all of us have a large home to tuck away pans away from guests and away from the main living area. For those that have smaller spaces or apartments might want something that is not only a little more effective at controlling odors and mess, but that also has a sharp design as well. We were drawn to the various styles of the Modkat designs because they not only kept spaces clean, but they also didn't take up that much floor space and often looked like just a simple trash can. There were also some other domed designs that concealed pellets and wood chips away so that it isn't exposed to the open air. These designs often have their specific drawbacks, but users that want something that will blend in with their decor will often overlook those drawbacks.
Ease of Use
This was a big one. No one likes the unpleasant task of cleaning out these pans, so we made sure to keep an eye out on designs that made it any easier. Of course, we were drawn to self-cleaning designs that have robot arms do the cleaning for you- but these products often came at a high cost. We liked designs that came with their own scoops that attach to the side- which keep them off of the floor or other surfaces. Models that have rounded edges and shiny plastic surfaces were typically the easiest to maintain according to consumers, and anything with crevices or divots are typically considered to be a real pain when it comes time to really deep clean your pans.
Value
Cost is all over the map when these designs. We discovered throughout our research that there are basically three tiers in terms of cost. Naturally, the self-cleaning designs are at the very top, and can really set you back a pretty penny not only in original cost but also in replacement pellets and pans. While it may initially seem like it might be worth the padded price tag, many owners skip these models altogether. The second tier of designs- and the most popular- is the domed models. These models can be great at holding in odors if you skirt your cleaning responsibilities for a few days, and work wonders to keep debris inside where it belongs. Users can expect to pay a pretty high price tag for these designs, but many feel that the slightly higher cost is worth it in the long run. The third tier in terms of cost is the basic pans that don't have a hood. These designs are incredibly affordable, and will likely set you back the same amount of money that you would spend on a bag of cat food. The downside to these models is that they can often be a little messy, and don't really provide any tools to hold in odors.
Top 10 Picks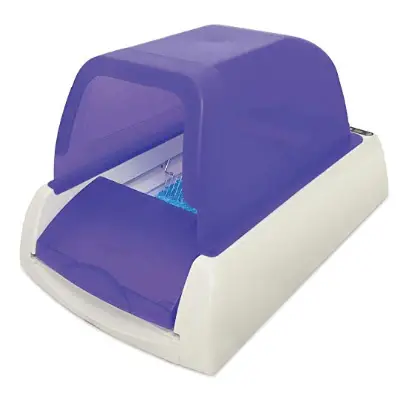 Welcome to the future! PetSafe has designed a model that is self-cleaning so that you don't have the unpleasant task of scooping and cleaning your pans every day. In fact, you won't even need to invest in a scoop because at the end of the month, you simply throw the entire tray away and replace it with a new one.
Read more
Features
This doesn't have a covered design like some of the other products, so it might look a little sloppy if it is placed in a high trafficked area. However, the crystals that come preloaded in every tray are a beautiful color that doesn't look like any of the traditional brands, so it will give a certain pop of color in a dull area.
Ease of Use
Simply place this unit on the floor and let all of your furry friends go to town. What makes this unit different is that it senses how many times your cat uses this unit, and then has an automatic rake that sifts the crystals so that they never become stale and clumped together. The crystals that are included with each box are just a little bit different, and absorb odors rather than clump and trap them. After a month of use, simply throw the entire pan away and replace it with a new one.
Value
We hope you are sitting down for this one because the price tag might knock your socks off. The base model has a price tag that some might find a little steep, but the cost of the replacement pans is also going to add additional cost down the line. However, the cost of the replacement pans cost about the price that you would pay for a box of wood chips or all natural pellets.
Summary
Cleaning and sifting and taking constant trips to the garbage can are tiresome after a while, and this design makes it so that you can just place it and forget it. This ease of use does come with a pretty hefty price tag, and the cost of refills is also pretty expensive, so keep that in mind when you are considering this design.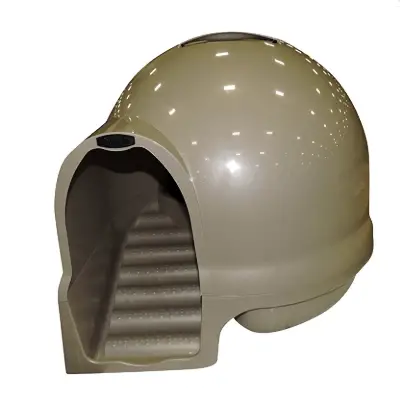 The Petmate Clean Step design is something that many users need for their cat for a myriad of reasons. If your cat needs privacy when nature calls, this design gives them maximum privacy. Also, if you have an older cat that has certain medical issues and you found they won't step up into other taller designs- the stairs for this model makes it easy for elderly cats.
Read more
Features
This model has a sharp design that makes it perfect for homes that are running on limited room. If you don't have a lot of space to tuck away a pan that is away from the family- this is a great option. It has a round dome like design that is offered in multiple shades of brown and white, and you cannot even see the crystals or pellets that is inside (which is also great at masking odors as well).
Ease of Use
If you have ever been on the hunt for solutions to get your cat to actually go to the bathroom where they are supposed to (instead of on the kitchen floor), you have probably run into this model or one like it. This design covers all of the bases as to why your cat won't go where they are supposed to. The stairs that run along the side allow cats that are older or that might have medical issues walk inside of it without hurting their joints. If your cat worries about privacy, the rounded dome with spiral stairs will give them maximum privacy, and you also won't get pellets or chips all over your floors when they are done.
Value
The cost of this unit runs pretty par for the course. It isn't the most expensive design out there, but it isn't the least expensive either. If you want something that will be able to work for kittens and last all the way through your cat's golden years- this is a great investment.
Summary
If you need a solution to get your cat to go to the bathroom in the appropriate places- the Petmate Clean Step might be the solution to your problem. Plus, it has a sleek exterior design that will be discreet in any area of your house, and it great at masking odors and keeping pellets inside rather than all over your floor.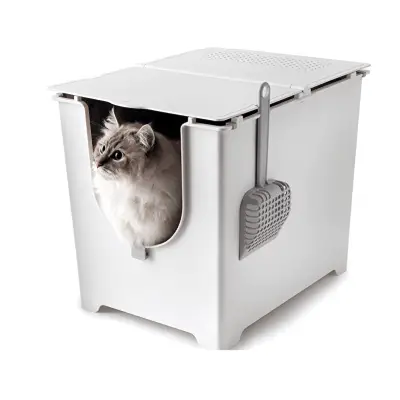 You have most likely spent a lot of time and money getting your home to look just right, and the last thing that you want is a container filled with cat poop to disrupt your feng shui. That's where ModKat comes in with their stylish but effective products so that you can display your cat bathroom in style.
Read more
Features
The design of this unit is one of it's most appealing features to cat owners. It has more of a square, boxy shape that looks a little bit like a trash can to trick guests into thinking your cat bathroom is a trash can. It only comes in one color- a light grey- that is sure to accent any space. There is an opening along the front top where your kitty can hop inside, and the taller hole makes for minimal mess.
Ease of Use
Limiting mess is the number one goal of the flip design. The lid to the top is able to be flipped open so that you can easily scoop out messes, and then close it back up for that Fluffy can do her business in private. It has a thick plastic liner so you can simply lift out old pellets and dump them to the trash can. Plus, cleaning a liner in the utility sink is a lot easier than cleaning a cumbersome pan. It also comes with a durable scoop that hooks right onto the side of the unit.
Value
The price of this design can rival the price of some of the less expensive self-cleaning units. That is to say- it is a little expensive for just a basic pan. However, if you feel that style is important, and you also want something that will give your feline friends a bit of privacy while still being easy to clean- this is going to be your best option.
Summary
When you purchase a product from Modkat, you know that you are going to get something that is not only stylish but is easy to use and will help you keep odors at bay, even if you don't get around to cleaning it every single day.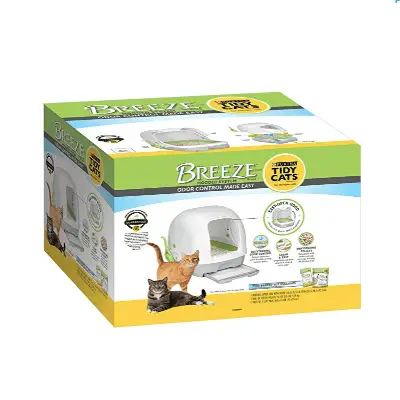 Purina is a name that you are probably very familiar with if you have had pets for a while. The Purina Tidy Cats BREEZE is an entire system that is designed to keep odors at bay, is easy to clean, and is designed to give cats all of the things that they would want when nature calls.
Read more
Features
This model sports the standard dome design that you will find on many of the enclosed models. The edges are a bit more rounded, and that makes for easier cleaning. Users can select between a hooded system- that is completely covered, or they can opt for a more open design. The open design still has pretty high sides so you won't have to worry about pellets getting everywhere. The base of these models comes in a light grey, and the tops are a solid white.
Ease of Use
When you purchase this product, you will get the pan as well as the style of a hood that you prefer (covered or uncovered), a bag of pellets, a scoop, and a pad that is placed at the bottom. The pads are great because they absorb any extra urine that isn't absorbed by the pellets, and what makes this unit special is that the pads can be changed without dumping out all of the pellets. Simply slide the door found at the base out, take out the old pad and replace it with a new one. These pads are great at really helping to control odors and keep the mess to a minimum. The hood has hinges at the center so that you can push it back to clean out the inside and push it back down when you are done.
Value
While this unit does cost just a little bit more than some of the other similar hooded designs out there on the market, we find that the price is very fair considering all of the extra features that you get with this system. You will run into just a little bit of extra cost down the line with the liners, but they are generally pretty inexpensive.
Summar
If you want something that comes with everything that you will need to maintain a clean cat bathroom in just one package- this is the ticket. The only downside is that you will need to continue to buy extra pads. However, because it comes from a popular brand such as Purina, the market where you buy your replacement pellets is sure to have replacement pads as well.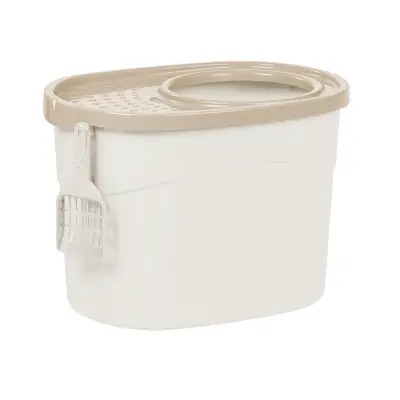 Everyone hates sweeping up excess pellets that somehow seem to get thrown everywhere when your cat uses their pan. The IRIS Top Entry design is made to completely eliminate that problem so that you can feel free to keep the pan in higher trafficked areas without needing to sweep up pellets every day. Plus, it has a sharp design that will accent any area.
Read more
Features
This unit comes in a tone of colors that will be perfect for any space. Color options include orange, grey, black, white, and teal. Cats can climb in through the hole in the top that allows them to use the pan and it has holes on the lid to help shake off pellets before they hit your floor. It also sports a more rounded shape that makes scoping just a little easier
Ease of Use
The best features of this design are that it is a top loader. This means that there is a minimal risk that pellets will travel outside of the pan and on the floor. Plus, the lid has holes in it so that any pellet that sticks to paws will come off on the lid when they jump out and fall back into the container where they belong. It also comes with a scoop that hooks right onto the side of the container. When it is time to clean, simply lift off the top and start scooping.
Value
You cannot beat the very affordable price tag of this unit. Some users find that this unit runs just a little bit on the small side, so it is important to keep that in mind. However, the stylish look and the ease of use and cleaning make it a really great deal and worth taking a look.
Summary
If you tire of sweeping loose pellets off of the floor, this unit might be just the thing you need. It runs a little small, so if you have multiple feline houseguests you might need to invest in more than one because they run just a little bit small. However, because they have such an affordable price tag, buying more than one won't break the bank.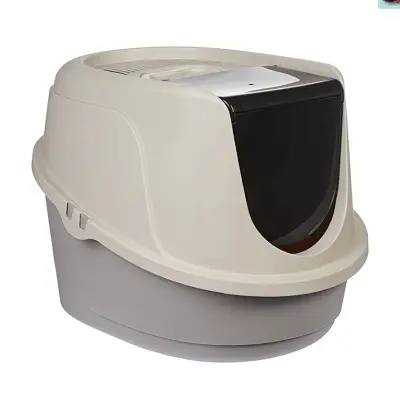 AmazonBasics makes a really great and sturdy hooded design that is the perfect marriage of the tidiness of a top loader without adding any extra stress to your cat. It is offered in a large and standard size and has special features in place so that you can keep odors at bay if you can't get around to scoop every day.
Read more
Features
This design will give your cat ultimate privacy when nature calls. It has a two-way swinging door that not only promotes privacy but also helps keep odors at bay. It only comes in one color- a light grey base with a tan hood and a black swinging door. This neutral design is sure to look great in any living space.
Ease of Use
Due to the fact that this unit not only has a hooded dome, but that also offers a two-way swinging door- this is one of the best designs out there that will keep pellets off of your floor. The downside to this model, however, is that it serves to be just a little more difficult to clean. To use a scoop, you first have to detach the hood and set it aside, and then reattach it when you are done. While it is generally easy to do, it can become overly time-consuming if you clean your box at least once a day.
Value
As always, you cannot beat the Amazon price. This is one of the more affordable domed front-loading designs out there on the market. If you don't mind taking a little extra time to detach the hood, this unit will save you quite a bit of money.
Summary
If you want something that will give your cat a little extra privacy, and that also serve to keep pellets off of the floor- this is a really great design that is offered at a very affordable price point.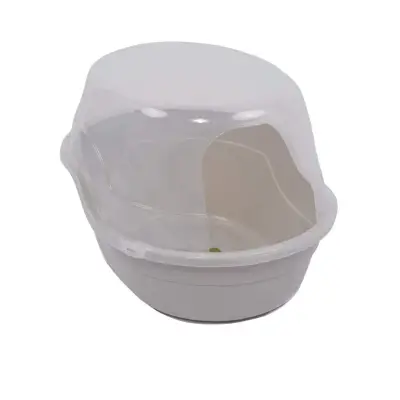 Sure, domed designs are great for giving your cat a little bit of privacy as well as keeping pellets inside, but they do have one very specific flaw- you can't see inside to check the state of the pellets or wood chips. While this might not be a problem to those vigilant cat owners that scoop every day, some only scoop when they notice that it is becoming a problem. The Favorite design offers a clear lid so that pellets stay in, and you can also monitor the state of the litter without taking off the top.
Read more
Features
As we stated earlier, the hood of this model is what makes it stand out from the rest because it is made from a clear plastic. The base is offered in two colors- navy blue and beige that is sure to look great in any living space. What's also great about this model is that it has a large base that can accommodate a good deal of pellets.
Ease of Use
Without the lid, this unit sits high up off of the ground so that if you find that your furry friend doesn't like to use their pan with a hood, you can easily take it off and not risk getting pellets all over the floor after every use. The clear hood makes it easy to see when you need to get down and dirty and clean the inside or change the pellets. It also has a wide enough opening to accommodate most size cats.
Value
The cost of this unit is just slightly more expensive than some of the similar hooded designs out there on the market. However, if you want something that is covered, but that also allows you to monitor that state of your pellets without taking the time to remove the hood- this is well worth the slightly padded price tag.
Summary
Busy lives mean that sometimes we overlook basic chores like cleaning out the cat bathrooms, and it's even harder to keep up on if the hood of your design isn't clear. Other times, cats don't like the idea of climbing into a dark space to go to the bathroom, so this option offers all of the tidiness of a domed model while still looking like its open.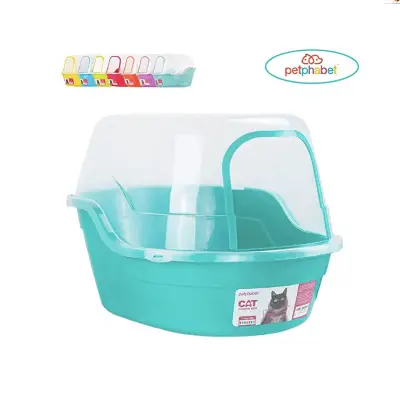 This design is a lot similar to the Favorite option. It might not be a big or as tall as the previous design, but it offers the same features of a clear dome, and it also comes in wide variety of fun colors that pets owners will be sure to love. There is no reason that cat bathrooms have to be so serious- they can come in fun and spunk designs to add a little whimsy to bathroom time.
Read more
Features
The best part about this model is that it is offered in a lot of fun colors. Users can select bases that come in colors such as green, red, purple, blue, teal, yellow, and orange. Each dome is clear but has a soft accent along the edges that match the color of the base.
Ease of Use
As we mentioned earlier, the clear domed design is great for your furry friends that are reluctant to get into dark domes. Some anxious cats do not like dark domed designs because it makes them vulnerable to be abused by other cat roommates and leaving them with no exit. The clear design makes it so that pellets stay inside of the pan, but your cat can also keep a keen eye on their surroundings when nature calls.
Value
We knocked the Petphabet design down a peg because the price tag is just a little expensive for this type of design. The fun color options are a nice asset but aren't necessarily worth a bulky price tag. However, if the idea of adding a fun pop of color to your indoor space appeals to you, the extra cost might be worth it.
Summary
If you want something that has a fun design, comes in many colors to accent any indoor space, has a clear lid to keep anxious cats at ease, and is easy to clean, this will be an excellent addition to your cat bathroom.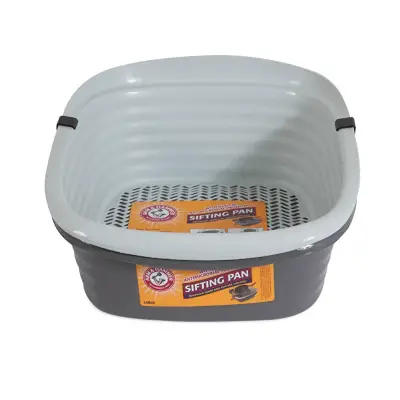 Sure, domed designs are great at keeping odors and pellets inside, but the sad truth is that there are some cats that just refuse to use them. If you have found that to be the case with your furry housemate, there are still ways that you can keep a tidy house without the use of a dome. The Petmate Arm & Hammer offers pet owners an easy way to keep things clean and limit scooping altogether.
Read more
Features
At first glance, this looks just like a basic square pan. It is offered in a single color- brown and beige and has a pan that is just a little bit more shallow than many of the other designs out there on the market. If you are looking to add a little style to an indoor space, this isn't the pan that is going to do it. However, if you want something that is easy to clean- this is going to be your best option.
Ease of Use
What is great about this option is that you won't need to employ any scoops when it comes to clean up. There are actually three pans that are stacked on top of each other. The first two are simple basic pans, and the third is a sifter. When it is time to clean, pick up the pan and pour the used contents into the sifter that has a clean pan beneath it. Sift the pellets until all that is left are clumps, that you then can throw away into the garbage. Place the used pan and the sifter beneath the full pan, and cleanup time is over.
Value
If you were looking to cut cost- this is the best way to do it. This unit is one of the most affordable options out there on the market that offers an innovative design that is easy to use.
Summary
For those that have finicky cats that don't like to climb into domes, this is a really great basic pan that offers an innovative design that makes cleanup simple and easy.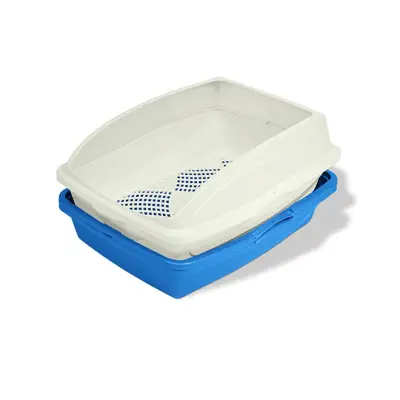 The Van Ness CP5 design is another great option for cats that don't like to use domes. It has the same sifting features as the Petmate Arm and Hammer design, with just a few extra features that aim to control possible messes and accidents.
Read more
Features
This unit is only offered in one color options- tan and bright blue. The pan is pretty shallow, but it also has a top open dome that serves to keep pellets inside. The material offers a high polish finish that makes it really easy to hose down and is also stain resistant.
Ease of Use
This model is actually three pans in one. The first two pans are just basic shallow designs, and the third is a sifter so that you will never have to use a scoop. To clean, simply dump the contents into the sifter, and sift out all of the debris and place it into a trash can. Then, placed the used pan and sifter under the new pan. This design is just a little bit more cumbersome to use because of the additional half hood that is hooked onto the top. Some users do not like all of the things that they have to remove and reattach to clean their units.
Value
This is one of the more affordable options out there on the market. If you were looking for something that has an innovative design but that also comes in at an affordable price point, this is going to be your best bet.
Summary
For those that are looking to save a little bit of money on a simple design, the Van Ness CP5 is a great tool for keeping users and cats happy and clean.

Subscribe to our Newsletter