Best Cat Beds
In a Hurry? Editors choice: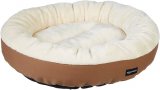 Test Winner: AmazonBasics

As pet lovers we want to give our cat the best comfort during the most lengthy activity of its day: sleep. As we all know, cats also like to snuggle in
sofas
and couches, and this means you have to frequently clean your furniture to remove all of that cat hair. You can lessen this by providing an appealing cat bed that your pet would want to settle in. Though some feline friends tend to nap somewhere else, providing a
comfortable
bed for them may encourage them to sleep in their cat
beds
more often. And since cats sleep sixteen hours most of the time, it's only fitting to give them the best beds to rest in every day.
Standout Picks
Criteria Used for Evaluation
Top 10 Picks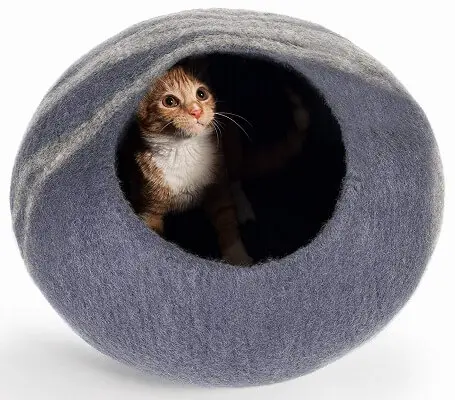 Best bed for cats that like to snuggle up in tight spaces. It is a premium bed fit for big and small cats.
Read more
Materials
This is one of those beds that most feline owners favor. It is made of natural, chemical-free wool that can work as a flat mat or a cat cave. With its dual purpose design, you won't have to worry about finding another bed during cold or warm seasons. It is dirt and stain resistant than most fabrics. Product weighs 2 lbs. and fits small to large cats.
This is a cat cave type of bed made of natural foldable merino wool. It's cozy and can easily become a cave or a flattened mat. This bed provides warmth during cold days and coolness during warm weather.
Ease of Use
The material may require some extra care. This type of bed can only be hand washed using mild soaps.
Durability
Felt material may be resistant to stains and dirt. However, just like any wool fabric, this bed may lose its shape after a few months or so.
Comfort
Cats seem to love its texture and like to rub themselves on it. It's also a good plus that it can work for both winter and summer seasons.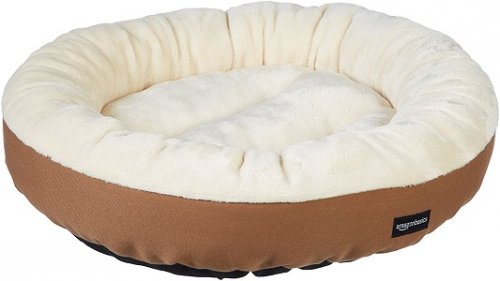 This is a cozy bed that works for most cats. Curved edges, soft cushion, and easy to maintain, this makes for an all-around pet bed.
Read more
Materials
This is a rounded bed that works for a cat that doesn't like to do a lot of climbing. It is made of plush flannel center on the top and polyester canvas material on the sides and bottom. Overall, this bed is meant for small cats. It's portable and weighs 1.1 lbs. This bed comes also comes in octagon design.
Ease of Use
You can machine wash the items separately using cool water and soft detergent. Use line dry.
Durability
It can withstand some plucking and move about especially for hyperactive cats. You can lengthen your use of this product with proper care.
Comfort
Soft cushion keeps your cats comfortable and warm in any seasons. However, additional blankets and pillows may be needed for senior cats needing the extra warmth.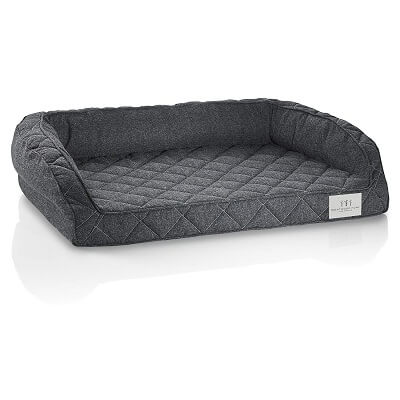 This is a special type of bed intended for pets with orthopedic problems. It is designed to give them maximum comfort.
Read more
Materials
This special bed is embedded with 2 layers of memory foam to relieve pressure off the joints. Gel particles keep your cat cool and comfortable throughout its rest. It comes in three colors with a non-slip bottom to keep its place. This is a luxurious type of feline bed. The memory foam will give your pet optimum comfort to treat hip dysplasia, joint pains, and other bodily aches. The base conforms to your pet's body shape soothing muscles and providing maximum support.
Ease of Use
The foam is covered with a microfiber cloth that is easy to clean and machine washed. Regular care may lengthen your usage of this product.
Durability
Microfiber cover is resistant to water and dirt. The foam itself is dust mite, mold, and bacteria resistant. However, heavy clawing could damage the product.
Comfort
It is made for optimum comfort for cats experiencing some form of joint or orthopedic problems. Additional blankets and pillows may be needed during cold seasons.

4

. Natural Bamboo Radiator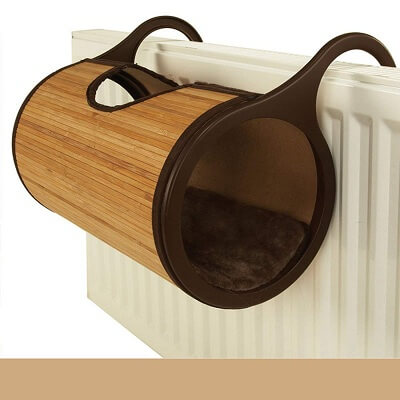 This is a good hideaway bed for cats who like to snuggle in high places. It also makes for a great decorative piece that is easy to install in your radiator.
Read more
Materials
This is a great item for pets who like to climb. It's fashionable since it can blend into décor for your living room. It is easy to assemble and ready to mound on your radiator. This decorative hanging bed is made of bamboo with a small cushion inside for your pet to sleep in.
Ease of Use
The frame is easy to clean with some damp cloth and disinfectant to keep it from germs and parasites. The cushion may be machine-washed on gentle setting.
Durability
Bamboo frame is sturdy to support your cat's weight. It can last long given the proper care. Cushion and blanket may need regular replacements after prolonged use.
Comfort
This is suitable for cats who like to jump and stay in high places. The radiator keeps your pet warm without risking its safety, unlike electrical ones.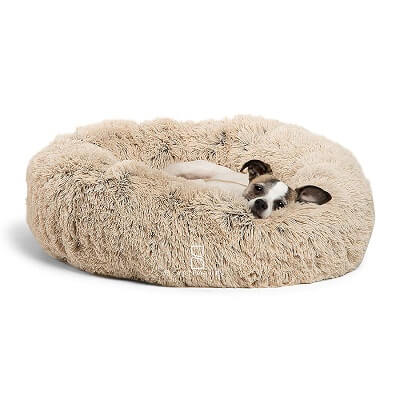 This is a luxurious cushion that offers maximum comfort and warmth. It is ideal for cats needing the extra love.
Read more
Materials
This luxurious donut cuddler is ultra-soft and cozy. It is made of protective layers to ensure that you're getting the most out of this item. It is also versatile with two colors to choose from. This mattress weighs 2.4 lbs. This is a luxurious type of pet sleeping tool optimized for comfort. Raised rim provides ample cushion for neck and joint support. It has a faux shag fur layer reminiscent of a fur coat to keep your pets warm from the cold.
Ease of Use
It is safe for machine washing. Just use gentle cycle setting for this with soft soap. Tumble dry to low heat.
Durability
The bed is encased in durable nylon that resists wear and tear. It is embedded with a water and dirt resistant bottom to keep the floor from accidental wetting from your pets.
Comfort
This product is made for extra comfort. It has ample room and self-warming material that is safe for your pet. Faux pas covering also keeps the bed soft and comfortable for prolonged sleeping.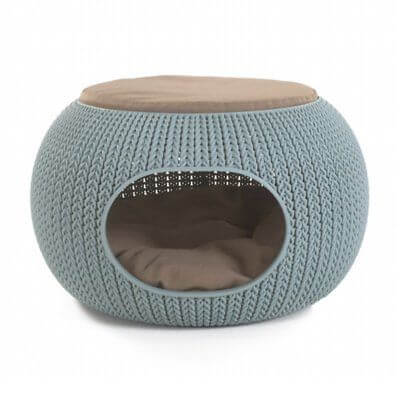 This versatile bed will beautifully accent any furniture, décor, or couch. The Keter Knit Bed is a multi-functional item fit for the feline lovers. Sturdy plastic material ensures that you're getting a durable pet bed that can last for a long time.
Read more
Materials
This is a plastic type of pet bed. It is made of polypropylene resin plastic that is industrial grade. This can function as furniture or a pet bed by just flipping it over. For cats who love snuggling in tight spaces, this is a good choice for them. It's made of durable material and easily cleaned with just a damp cloth. Two washable plush cushions give them the option to stay on top or inside. This product comes in two designs: misty blue and sandy beige. It weighs 10.2 lbs.
Ease of Use
It can easily be cleaned with some light soap and a soft cloth to keep molds, dirt, dust, hair, and smell away. Regular cleaning will keep the bed smelling nice and free from parasites. Plush cushions are washable using liquid soap and warm water.
Durability
It is made of construction plastic so this may last a few years with proper care. It is weather resistant and can be used as an outdoor accessory doubled as a couch.
Comfort
It has a cushion placed on top and inside. You may need to add pillows and blankets for extra warmth and comfort.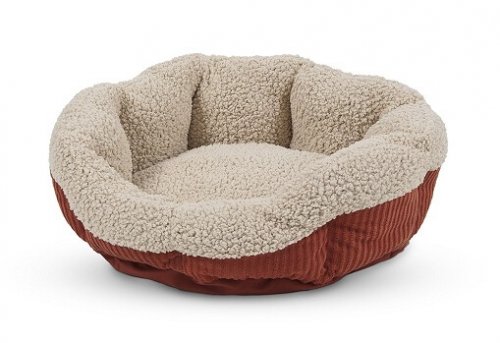 This pet warmer is intended to keep your feline friends warm minus the danger of using electricity. It is safe and made for comfort.
Read more
Materials
This is a rounded self-heating bed made of heat-reflecting technology commonly used for Mylar 'space blankets'. They are safe and non-toxic materials fit for cats. The cover is made of faux wool plush with a wale corduroy and non-skid bottom. This bed is unlike other heated beds. It doesn't rely on detachable heating pads to keep your pets warm. With its Mylar 'space blanket' material that reflects your cat's body heat. With the Aspen bed, your cat is kept warm minus the harm. Non-skid bottom keeps the bed in place. This product weighs 1.1 lbs.
Ease of Use
The bed is machine washable. Just use some mild detergent to keep the integrity of the bed. However, it needs to be fluffed until dry.
Durability
Just like any fabric type of beds, this may last for months to a couple of years with regular maintenance. It is not fitting for hyperactive cats as it gets torn with clawing.
Comfort
The bed is intended to keep your cats warm safely without using any electric heater. It may only be suitable for colder environments and cannot be converted to a regular bed.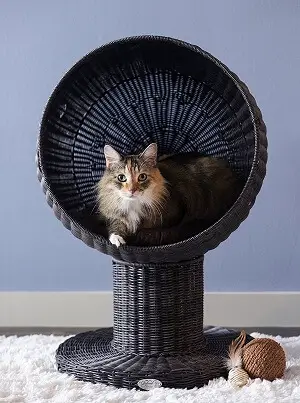 It is a fine décor and sleeping material at the same time. This rattan pet bed is fit for cats who love staying over elevated spaces.
Read more
Material
This is a wooden or wicker type of bed. It is made poly rattan so cats can easily climb up. This ball rattan bed is made of quality non-toxic materials that make for a good pet bed and décor at the same time. It is durable and comes with detachable cushion and pillows. It comes in two designs: smoke and espresso. With its height, this cat encourages your pet to keep off the floor.
Ease of Use
It can be cleaned using soft liquid, warm water, and some soft sponge for the wooden frame. It is only fitting for indoor use as rattan wood may not hold up during rainstorms. It may also have a tendency to harbor molds. Cushions are detachable and can be machine washed on gentle setting.
Durability
It is made to withstand clawing when your feline friend goes up the bed. This bed would last for years given regular maintenance.
Comfort
The cushion gives extra comfort. Detachable pillows and cushion can be washed to keep it regularly cleaned. It may not have heating components unless a different set of cushion specific for this is used.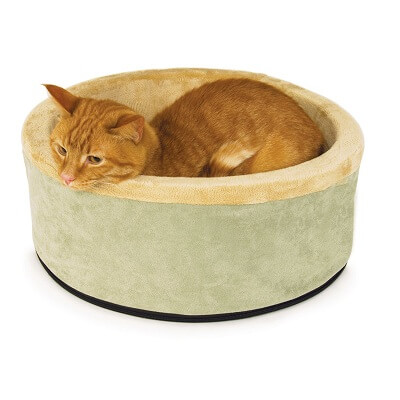 K & H cat beds are one of the best accessories that cats love. This multi-purpose bed is a favorite for those who want standard beds for their cats fit for cold and warm environments.
Read more
Material
This is a special type of cat bed that has an embedded heater in it specifically used for cold seasons. The fabric is made of thick premium polyfill pillow base. This feline bed is uniquely designed for warm and cold seasons. It comes in 3 designs and 2 sizes (16-inch and 20-inch). For cats that love to cozy on a warm bed, this one is a good choice for them. It comes with a detachable heater so you can easily clean the bed or transforms it into a regular bed. It features a dual thermostat with 4-watt heating unit packed inside the bed. This product weighs 1.6 lbs.
Ease of Use
This bed has a removable heater. The bed can be machine washed using liquid soap on gentle setting. It's best to have the bed air dried.
Durability
With regular usage, this cat bed can last you for months to a couple of years. This product will work best for indoors only.
Comfort
With the extra cushion, soft fabric, and detachable heater, this bed is designed for extra comfort. For pet owners, it serves a dual purpose product.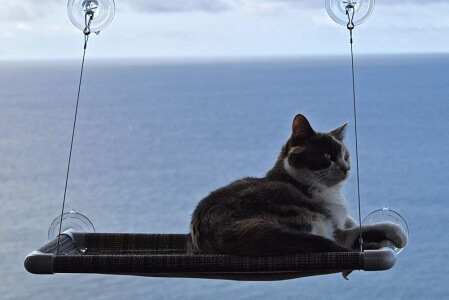 For cats that love to perch on the window sills, this bed fits just right. It's easy to install and lets your cat enjoy the outside world.
Read more
Materials
This hammock-type can bed is fit for cats who prefer to just warm themselves under the sun or simply enjoy the sitting near the window. It is easy to install and doesn't require much assembly. Nylon material used keeps the bed sturdy from frequent use. It doesn't require holes to attach this bed. Industrial-grade suction cups can hold up to 12 lbs. each or 25 lbs. overall weight. It comes in 3 sizes: small, medium, and large. The whole bed weighs 1.6 lbs. The fabric is made of plastic coated with nylon mesh. Giant suction cups ensure that it perches nicely on the windows.
Ease of Use
This bed for your feline friend is easy to install and won't require much maintenance except for the fabric materials used for it. The hammock is weather-resistant and easy to clean. The cot requires regular cleaning using soft soap.
Durability
Nylon mesh keeps your cat perched on the bed and durable under its weight. The weight capacity will vary upon the product purchased (small, medium, and large). It is important that you match the bed to the weight of your cat to maintain the integrity of the product.
Comfort
It is a good perching cat bed for warmer weathers. It makes for a good exercise for cats to jump and climb. It may require additional blankets or pillows for added warmth on cool days.

Subscribe to our Newsletter