Best Cut Resistant Gloves
In a
Hurry? Editors choice: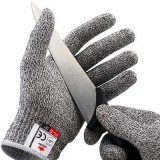 Test Winner: NoCry

In the foodservice industry, abrasions, slices, punctures, and cuts are common injuries. These injuries and accidents make up approximately 30 percent of lost productivity and time. Almost 80 percent of these accidents are comprised of injuries in the hands of the workers. This statistic only means that you can protect yourself or your workers and even boost their productivity if they are careful and protected.

To minimize, if not eliminate accidents and injuries in the workplace, as well as to maintain high productivity and efficiency levels, it is important that your use the best cut resistant gloves. The market is filled with different types of cut resistant gloves and choosing the best pair could be a confusing task.

In this buying guide, we list the ten of the best cut resistant gloves to narrow down your choices. Each model comes with pros and cons so you will easily know which one best fits your preference.
Standout Picks
Criteria Used for Evaluation
Materials
One of the most important criteria that you need to consider in selecting the best cut resistant gloves is its material components.
It is worth noting that without a liner that is resistant to cut, leather materials offer not resistance to cut. Although Cotton materials could offer more resistance to cut compared to leather, we all know that it will never protect us or make us feel safe.
In considering the material components of the brand, it is important to note that every material and its combination provide something unique. What is best for one industry may not work for another. Other material components of cut resistant gloves are as follows:
Kevlar Fiber
This type of fiber offers a high level of resistance to cut. It is a para-aramid material made from synthetic fiber. Gloves that are made of this material are ANSI level A2. Kevlar is five times much stronger compared to steel for each unit weight. It is also resistant to flame, which makes it perfect for use in the kitchen. Aside from its increased protection, it has a lightweight construction that offers more comfort to the user. Other industries that use gloves made of this material includes automotive and food industries.
Spectra Fiber
This type of fiber is low-density and resistant to moisture. It is also resistant to chemicals and to the harmful UV light. It has a lightweight construction that offers more comfort to its wearer. It is best when used in the restaurant, food service, and food processing industries.
Dyneema Fiber
This fiber is 15 times stronger compared to steel and is very durable. It is 40 percent tougher compared to aramid fibers. Dyneema is resistant to UV, chemicals, moisture, and heat. This means that it can withstand extreme cold and hot temperatures. Gloves made of this fiber are ideal for chopping, slicing, and dicing vegetables, fruits, meats, and cheeses.
Features
There are various fabrics and fibers used and combined to meet the requirements of various levels of gloves that are resistant to cut.
Each type of working environment entails a different kind and level of protection. Whether you are cutting a large chunk of meat or slicing fruits, the pair of gloves that you select for your business is the single hindrance averting the potential of serious hurt.
The ANSI level is defined by the amount of weight required to cut through a particular material using 25mm of blade travel. The agency updated the manner by which they label the levels of cut-resistance. This is to include gloves that have extremely high cut-resistance levels.
Identifying the level of cut-resistance that you are presently wearing before you pick the best pair of gloves will make the selection process easier. If you want to increase the level of protection based on what you currently have, pick a pair with at least 15 percent more resistance to cut and 30 percent more resistance to abrasion.
While it is true that improving your protection can prevent cuts and injuries, it can also feel a bit bulky and more uncomfortable. At times, it is abrasion that you need to increase and not cut.
Versatility
The versatility is often the most overlooked but one of the most crucial criteria when choosing a product.
Before you buy, think on how and what will you be using your gloves with. If you are going to use it on construction or yard work, you need to buy the heavy-duty pair. This way, it can withstand these kinds of conditions.
If you need a pair for slicing meat or cleaning fish, it is important that the gloves are easy to clean and can be sterilized. If you are going to use it when you are grilling or cooking, you can choose the one that is also resistant to heat. In case you are allergic to certain materials, take your time to find the material components of the gloves.
If you are going to use it for a longer period of time, you should consider something that is breathable. It is also important that it does not irritate your skin.
Weight
Like any other products that you wear, weight and size are another important factor that you have to take into consideration.
Even you own a pair of gloves that have the strongest cut-resistance; it will not do you any good if it is too big or too small on your hand. If it is too small, it restricts your dexterity and will make you a little less comfortable.
Size
In order to make sure that the pair you are going to buy will perfectly fit, check if the manufacturer has a size chart.
Aside from that, you have to measure your hand correctly to perfectly match it with the measurements on the chart. You can use a tape measure to measure your hand and wrap it on the widest part of your hand. The number, usually in inches, is the size of your gloves.
Several companies utilize letter sizes with the corresponding measurement in centimeters or inches.
Best Cut Resistant Gloves
Subscribe to our Newsletter