Best Weight Benches
In a
Hurry? Editors choice: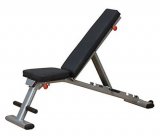 Test Winner: Body Solid GFid225

Let's just say that exercising is not exactly everyone's past time, and is not on the top of everyone's list of priorities. Life is just too busy, right? Well, you can always make time and unfortunately, that is merely an excuse. But, it is
safe
to assume not everyone can afford to go to the gym every day or own expensive pieces of exercising
equipment
. That is where weight benches come in as although they are not cheap, they offer so much diversity that you can receive a full-body
workout
in one session. Yet, not all weight benches will be ideal for you as some offer more angles than others; while others can handle more
weight.
Check out our guide below to some of the best weight benches available on the market today - you'll be pumping iron safely in your own home in no time.
Standout Picks
Criteria Used for Evaluation
Weight
There are several important factors to consider when buying a weight bench but perhaps the most vital is analyzing how much weight it is rated to hold. First off, it needs to be able to hold yourself safely. Not trying to call out anyone on this but the last thing you want is a weight bench that is not rated to hold. But, it does not end there as you also need to take into consideration your load. Depending on the type of exercises you are planning on partaking in, you may want to work out with equipment that weighs multiple hundreds of pounds. In this case, you need a weight bench that is rated to support a strong amount of weight.
But, you also need to pay close attention to how the weight bench is rated. How do you mean, you may be thinking? Weight benches may have different weight capacities when they are flat as opposed to on an incline. Sometimes, this can differ an upward of 300 to 400 pounds so it is quite significant.
Adjustability
It is interesting to note that there are weight benches available on the market that stay flat. There is a strong reason why none of these types of benches appeared on this guide, however. Because adjustability is one of the most important features to look for, owning a weight bench that remains flat is extremely limited. This is not to insinuate that flat weight benches are non-functional because clearly, you will want to perform some exercises on a flat bench. Yet, a bench that can adjust to varying angles will be much more beneficial to you.
Common weight benches will have a backrest that is designed to adjust to a decline angle, completely flat, to several incline angles and also to 90 degrees. To a normal user, why are all these angles important? It really goes hand-in-hand with the functionality of a weight bench as different angles can allow you to perform different exercises on several parts of your body. For instance, you could perform a shoulder press at a straight 90-degree angle.
Use
Again, the aforementioned adjustable angles do go a long way in determining how functional a weight bench is. Clearly, the more angles that can be achieved the more versatile the bench is. Yet, there is more that goes into it. For example, some weight benches will need additional attachments such as a leg curl for further functionality. Despite this, you can get a full-body workout with just the bench itself. Merely performing specific stretches and planking positions can stretch a plethora of your muscles.
Additionally, as bench pressing is a very popular exercise regimen, you will notice some weight benches work better for lifting than others. The reason for this is an ideal height and angle need to be achieved to obtain optimal results. Also, a feature that sometimes goes under the radar is if the back support is tapered. If it is, this can provide you with a greater freedom of movement and enhanced comfort when performing specific workouts (such as leg lifts, bicep curls, and other pectoral exercises).
Portability
Possibly, the reason you are here today is that you are sick and tired of traveling to your local gym to use their weight bench. It is much more convenient to own your own but if you plan on doing this, another vital point of interest for you is its ease of movement and storage. These are not exactly small pieces of equipment so when you assemble them, you will need a decent amount of space, to begin with. Yet, when you are not using it, it is nice when they fold down for storage and some will even fold completely flat.
In addition, you may want to move the weight bench from one area to another area. Because of this, investing in a weight bench with integrated transportation wheels and a built-in handle is optimal. Without these integrations, moving a weight bench can be a major hassle.
Subscribe to our Newsletter