Best CrossFit Equipment
In a Hurry? Editors choice:
Test Winner: WOD Nation Speed Jump Rope

CrossFit has been taking the world by storm since its introduction in 2000. With thousands of
CrossFit gyms
(or "boxes") available all around the world, it was only a matter of time before companies enthusiastic about this methodology of working out began to manufacture equipment catering to the CrossFit crowd. If you've been attending WODs at your local box for a while and want to expand your home gym to include some of the
best equipment
to take your workouts home with you, we have you covered. Below is some of the best fitness accessories CrossFitters can invest in to give them the flexibility of performing their WODs in the comfort of their own home. Let's take a closer look!
Standout Picks
Criteria Used for Evaluation
Features
Keep an eye out for the materials the equipment is made from, what it weighs and how it can help you reach your goals.
Since every product on our top ten list is vastly different from the next, the special features for each item were very different. We believe it is important to inform our readers about all of the great features of each of the products on our list. Some of the things you should look out for is the materials the items are made of, what the build quality is like, how much the item weighs, and how exactly it is going to help you on your path to fitness.
Effectiveness
There is no point in including fitness equipment that is not going to help you on your path to fitness.
You are curious about CrossFit and working out in general or else you wouldn't have stumbled across our buying guide in the first place. We know that one of the best criteria we should use when evaluating the items on our list is just how effective they are. We wanted to be able to provide our readers with the best fitness equipment and accessories on the market that is designed to help you be able to reach your fitness goals faster and more efficiently. This is why we took product effectiveness into account as we did the research required to make our top ten list. If the item isn't going to be effective in helping you reach your fitness goals, we didn't even consider them as a possibility for our list. We had to weed through a lot of poorly made fitness equipment and exercise fads in order to provide you with these ten products but we firmly believe that you will find them to be more than efficient at helping you to become a stronger and fitter version of you. Each product is effective in its own way so be sure to pay close attention to this section in our top ten reviews in order to get a detailed example of how they will transform you into a fitter version of you in no time.
Portability
If you like to travel and want to make sure you stay on top of your fitness goals while you are traveling, then you will want to take portability into consideration.
While some of the options on our list are the opposite of portable (unless you want to be hauling around an Olympic barbell with hundreds of pounds of weights with you), a fair amount of the equipment on our list is actually easy to pack up and bring along with you. This might not be a huge consideration if you plan on predominantly working out from home only. However, if you like to travel and want to make sure you stay on top of your fitness goals while you are traveling, then you will want to take portability into consideration. Products like the foam roller, kettlebell, wall ball, ab mat, and the skipping rope are easy enough to take with you if you go on any road trips. While you might not want to pack the wall ball in your suitcase if you're flying somewhere, the skipping rope is something that'll take up next to no room in your suitcase and can provide you with a great way to start a calisthenics workout in your hotel room.
Ease of Use
Participating in CrossFit is hard enough, the equipment you're using shouldn't be complicated to figure out.
The process of completing a CrossFit workout is challenging enough on its own so we wanted to ensure that we included products on our best CrossFit equipment list that are easy to use. Fitness equipment can be extremely complicated, but we like to keep it simple. After all, CrossFit itself is based on functional fitness, performing exercises that will help you to be able to perform tasks easier and more efficiently in your day to day life. While a CrossFit workout is challenging, the equipment you should use and the items we included on our list are easy enough to figure out and use.
Use
How can you use this equipment to get you closer to your fitness goals?
Another big factor we took into consideration as we decided upon our top ten products for our buying guide is how the equipment or accessory is used. Is it something you will use for Olympic lifting exercises? Core exercises? Will it help you keep track of your progress? Protect your hands? Is it made to help improve your cardiovascular health or help you to get those muscle gains? Because every item on our list is vastly different, the use of the item will be different as well.
Top 10 Picks
1

. WOD Nation Speed Jump Rope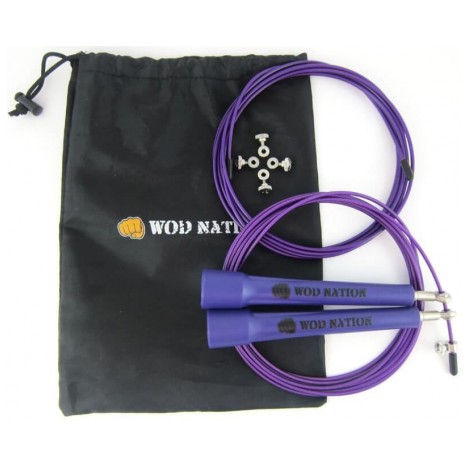 As you might be able to tell from the title of the company that produces this skipping rope, it is made with CrossFitter's in mind. It can help you to cut precious seconds (or, heck, even minutes) off of your WOD times as it is designed for speed.
Read more
Features
This jump rope is completely customizable with a simple snip of a wire cutter. This is a great feature to have in a jump rope as the length can either make your break your ability to skip properly and efficiently.
Effectiveness
Skipping rope is an incredibly effective form of exercise. It will get your heart pumping, leading to better cardiovascular health and a lot of calories burned in a short amount of time. It is scalable, meaning you can challenge yourself more as you get better at different variations of skipping. It can even improve your coordination as well as your bone density!
Portability
This product is one of the most portable options on our list. WOD Nation even throws in a free carrying bag for added portability.
Ease of Use
Skipping rope is an exercise that most people learn how to do in elementary school. Does anyone else have memories of playing Double Dutch? Though it might have been easier to learn to jump rope as a kid than it is as an adult, skipping is still a relatively simple exercise in theory. When you start to try to incorporate fancy skips or double unders is when it really starts to get difficult.
Use
Skipping ropes have more or less just one use – to jump rope with. That said, however, there are a number of different variations of skips that one can try once they master the simple versions. Athletes should find that a skipping rope will challenge them so long as they are adventurous enough to keep pushing themselves to try harder variations.



The benefits of foam roller are plentiful. People who are into working out will definitely see the benefits of performing movements on this foam equipment, especially if they are participating in hardcore workouts like CrossFit.
Read more
Features
This foam roller from LuxFit is made from a molded polypropylene material that boasts a two pounds per cubic foot density.
Effectiveness
Foam rollers are an incredibly effective tool that everyone, not even just folks who are serious about working out, should invest in. They are designed to reduce pain and help improve flexibility. If you love the feeling of massages but can't afford to pay a masseuse every week, a foam roller is a great tool to have to give yourself effective self-led massages.
Portability
These foam rollers come in a few different size options – 36 inches being the biggest and 12 inches being the smallest. While these typically aren't as portable as some of the other equipment on our list, the athlete who needs to foam roll on an everyday basis could definitely make it work fitting the smaller size roller in their luggage.
Ease of Use
Foam rollers are incredibly easy to use and become more functional and efficient as the user learns more about the process of using one of these and how best to move on it to maximize results.
Use
We go into the benefits of foam rolling more in-depth in our FAQ section below but those who invest in one of these pieces of equipment can expect increased blood flow, better movements during day-to-day life and during exercise, a decrease in their recovery time and the incredible feeling of a self-massage.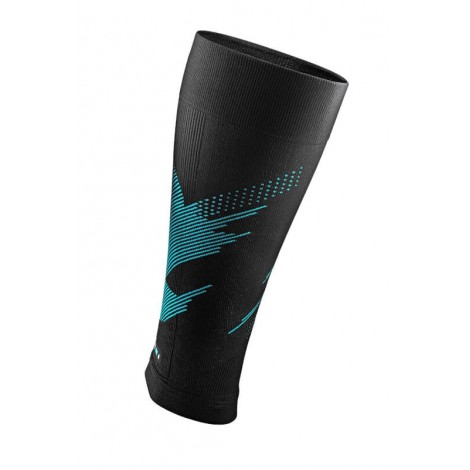 Rockay is quickly becoming a recognizable brand name for athletes. With their compression sleeve, users can expect a scent and sweat-free experience that will keep sweat away while ensuring your calves remain compressed and comfortable during your workouts. These work extremely well during WODs that require running or sprints.
Read more
Features
This product is made from strong and durable materials that will help to extend the life of your new calf sleeve. It comes with a lifetime guarantee so even if you were to notice an issue with the product, the company believes so wholeheartedly in their offering that they have your back for life.
Effectiveness
Investing in compression gear like socks or sleeves can have a lot of benefits and some people believe that they can help you perform better. They are also effective in helping athletes to recover from their workouts faster as well.
Portability
These sleeves are just as portable as a pair of socks. They can be thrown into your purse or bag without any problems at all.
Ease of Use
Getting used to the feeling of wearing compression gear might be the most difficult thing about them. They are relatively easy to get on provided that you purchased the right size for your legs.
Use
Compression sleeves are designed to help improve your circulation and help you to feel less fatigued during your workouts as well.

4

. JerkFit WOD Palm Protection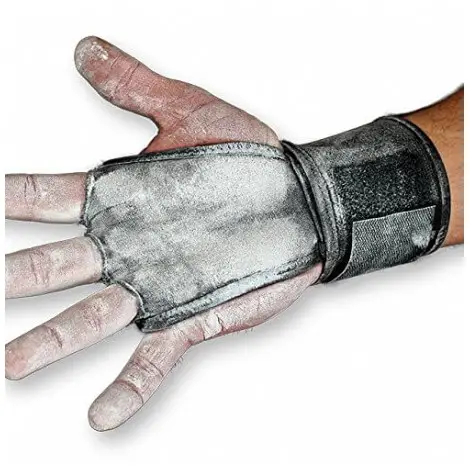 These gloves are made from durable neoprene fabric that will provide wearers with an extra barrier of protection during their workouts. They have Grip-Ridge Technology that features little grooves on the gloves that will be able to hold chalk, providing even better grip for those tough exercises like pull-ups.
Read more
Features
One of the best features of these gloves is that they provide bonus wrist support. This is incredibly beneficial as this particular style will help to alleviate some (or all) of the wrist discomfort that sometimes occurs when you're participating in hardcore workouts like CrossFit.
Effectiveness
These gloves from JerkFit are designed to give wearers a fit that will absorb any friction from the barbells or pull-up bars that are being used during their workout.
Portability
Just as with the Rockay sleeves we just reviewed above, these gloves (and any workout gloves, for that matter) are incredibly portable. Throw them in your gym bag and they will take up almost zero space.
Ease of Use
These gloves are as simple as slipping them onto your hands. Admittedly, however, some people may find that doing their WODs with gloves on far from easy. Some people prefer to workout without gloves.
Use
Some people don't believe that anyone should be wearing gloves while they workout or lift weights. While we are firm believes of the old adage "to each their own", there are some proven benefits that come from wearing workout gloves. First of all, they can help to improve your grip. This is especially important during workouts where you will need to grip the barbell or a pull-up bar. Workout gloves can provide a more comfortable workout experience. There are few things as painful during your workout as tearing up your hands during pull-ups or kettlebell swings.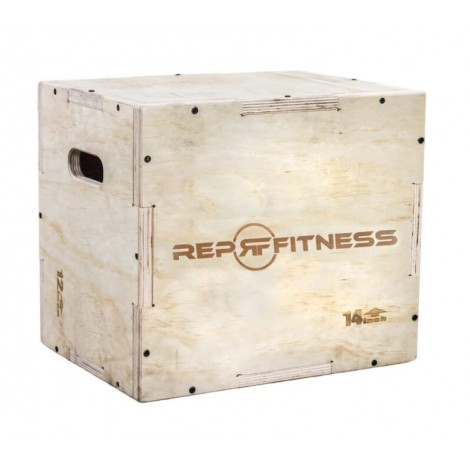 We loved this plyometric box from Rep Fitness because it is a 3-in-1 product. By simply flipping the box around, you are able to use it at a number of different heights. The boxes are constructed with interlocking joints and are reinforced internally.
Read more
Features
This plyometric box comes in a number of different sizes. The one we are reviewing today is the 20/18/16 option which means that you will have three different heights available to use for your box jumps when you purchase this. Having a plyo box that is capable of offering differing heights means you are able to have control over the difficulty level. These boxes are rated to 400 pounds so if you weigh less than that, you can jump and step up on them without worrying about getting hurt.
Effectiveness
Plyo boxes are an incredibly effective exercise tool to add to your home gym. They provide a way for athletes to train their fast-twitch muscle fibers, strengthen your quads, stimulate your central nervous system, and assist with speed strength.
Portability
Sadly because these boxes are so large, they are definitely not portable. But, that is actually a good thing because if you had a portable plyo box, chances are it wouldn't be as safe and stable as this one is from Rep Fitness.
Ease of Use
A really great feature of this plyo box from Rep Fitness is that it arrives at your door pre-assembled. You don't need to worry about having the tools necessary to put it together. Thanks to the height indicators on the box, you'll always know what height you're using for your workouts.
Use
Plyo boxes have many uses in your home gym and for your CrossFit workouts. You can use them for box jumps, to help you train your fast-twitch muscle fibers and improve your cardiovascular health. They can be used for triceps dips, decline push-ups and split lunges for muscle growth.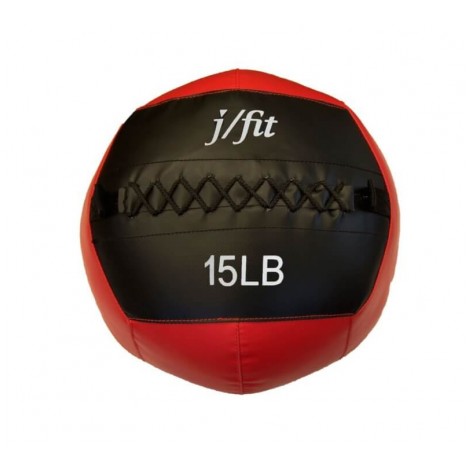 This wall ball from j/fit is available in weights ranging from six pounds all the way up to 30 pounds. It is a great addition to any home gym as one can perform many different exercises with it. This particular ball is unique in that it will not lose its shape as you continue to use it and as such will allow you to perform exercises on it that require a balance component.
Read more
Features
The wall balls from j/fit are durable in construction, made from a soft-shell material that is specially designed to ensure that the product will maintain its shape, no matter what you do with it.
Effectiveness
This ball is an effective workout tool that will help you to strengthen nearly all of the muscles in your body. For example, take the wall ball exercise. When you perform this movement, you are working your quadriceps, glutes, calves, hamstrings, abdominals, chest, front delts, back delts, biceps, and triceps. And, that is just one of the many exercises you can perform with this equipment.
Portability
This product is about 14" in size so it's not the most portable piece of equipment on our list by any stretch of the imagination. But if you're dedicated to your workouts and are going someplace by car, it won't take up too much space in your vehicle and you'll be able to use it to get a full body workout on the go.
Ease of Use
While it might take some getting used to properly perform the movements that are possible with this wall ball, it is a pretty straightforward piece of equipment. It involves much cueing than exercises you might perform with a barbell and is less likely to hurt you because of that as well.
Use
As mentioned above, you can use your wall ball for a number of different full body exercises. Wall balls, lunges, squats, overhead presses, partner workouts, and a ton of different abdominal movements. This is a very versatile piece of equipment to add to your home gym.

7

. XMark Lumberjack Olympic Bar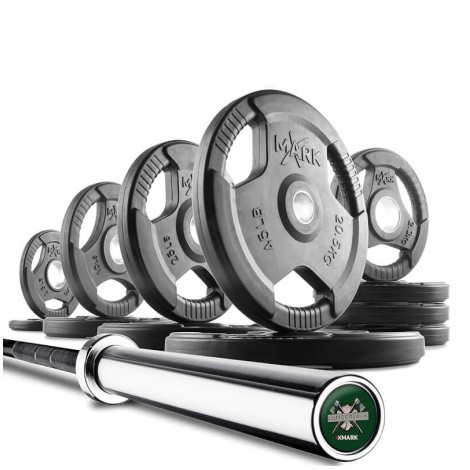 Everybody can benefit from adding some resistance training to their workout regimen. This barbell set from XMark will help introduce you to some of the most fundamental exercises that you will find in many CrossFit workouts.
Read more
Features
This set from XMark comes in a variety of different options from kits with the barbell only to kits with as little as 155 pounds in weight plates and up to as heavy as 365 pounds. The 7' Olympic bar is designed with performance in mind. The shaft is 28 mm and users should find that it is durable. The weight plates are made of cast iron and covered in a recycle rubber casing to ensure further durability.
Effectiveness
There are a lot of benefits to training with a barbell and lifting weights in general. Resistance training can lead to more confidence, stronger muscles, improvements in bone density, positive changes in body composition, and, perhaps most importantly, a reduced risk of certain conditions and diseases.
Portability
As you can imagine, a 7-foot long barbell and hundreds of pounds of weights aren't very portable. You will need a space in your house to store all of this equipment.
Ease of Use
When beginning a program with resistance training, you will definitely want to learn the ropes beforehand. We would recommend taking an Olympic lifting class at a local gym or watching videos on YouTube in order to learn the proper form required to perform the exercises you might find in a CrossFit workout. We wouldn't say that barbell exercises are easy to use, or easy to learn for that matter, but they are incredibly effective and more than worth the time it takes to learn how to perform them properly.
Use
Barbells can be used for a ton of different upper and lower body exercises. You might see deadlifts in your CrossFit workout one day and snatches the next. You can use barbells for clean and jerks, lunges, shoulder presses, squats, rows, bicep curls, so on and so forth.

8

. Kettle Gryp Kettlebell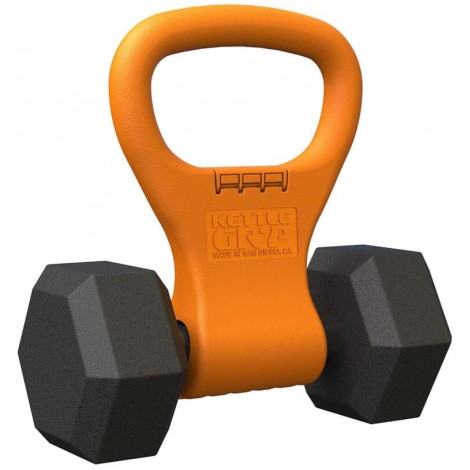 This uniquely designed equipment is a perfect addition to any home gym that is equipped with dumbbells already. It fits any standard dumbbell up to 55 pounds in weight.
Read more
Features
This piece of equipment from Kettle Gryp is very unique, versatile and portable. It's an affordable solution for folks who don't have the funds to invest in a lot of different sizes of kettlebells. Another great feature of this particular product is that the company offers a lifetime guarantee.
Effectiveness
Kettlebells are an incredibly effective tool to add to your fitness regimen. Typically, ballistic movements performed with kettlebells are easier to learn than Olympic lifts that need to be performed with barbells. Users are able to tap into strengthening and conditioning benefits when they begin to train with this equipment.
Portability
The Kettle Gryp is uniquely portable. If you are traveling somewhere with a gym, simply throw this equipment into your suitcase and take it with you to the fitness center. It is rare for hotels to have kettlebells in their equipment arsenal so the Kettlegyrp is a way for you to BYOK (Bring Your Own Kettlebell).
Ease of Use
The Kettle Gryp is very easy to use. Simply open the handles and put the dumbbell onto the piece of foam. Close the handles, ensure the latch is snapped shut and get your kettlebell swing on.
Use
Kettlebells are an incredibly versatile tool to include in your home gym. They provide users with a full body workout and can be used for popular exercises such as the kettlebell swing, snatches, cleans and jerks, squats, lunges and so much more.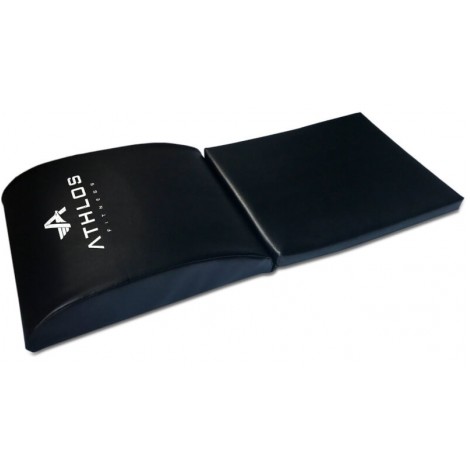 There are plenty of benefits to investing in an ab mat and this particular option from Athlos Fitness is as durable as it is lightweight and portable. This equipment will help you to increase your range of motion during abdominal floor work effectively giving you a better workout.
Read more
Features
This product from Athlos Fitness is made with a high-density foam material that is designed to contour to your lower back. This contour helps to provide stability and a way to reach your full range of motion during your abdominal exercises.
Effectiveness
The contour feature on this ab mat is vital as this design provides users with a way to increase the effectiveness of their sit-ups and other abdominal exercises.
Portability
Since this mat is relatively small, it's easily portable in your suitcase or vehicle for on-the-go workouts.
Ease of Use
The contour design of this mat makes it virtually impossible to use incorrectly. You simply lie down and ensure the contour is at your lower back and then you can begin your abdominal routine.
Use
While the obvious exercise to perform on your ab mat is crunches, the truth is that there are a number of different abdominal exercises you can perform with this equipment - twisting sit-ups, side and reverse crunches just to name a few.

10

. Track Your WOD Journal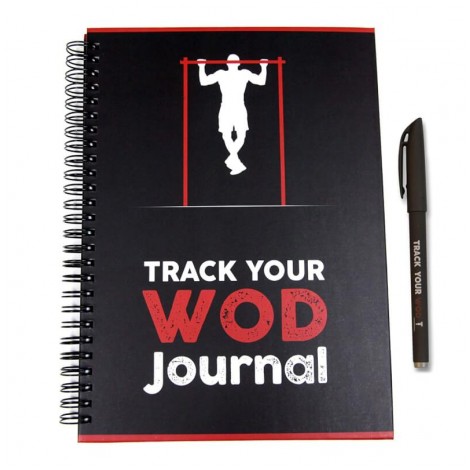 While a journal might not be one of the first accessories that come to mind when you think of CrossFit equipment, it is incredibly important to keep track of your progress in order to continue to perform better in future workouts.
Read more
Features
This journal has nine different sections separated by tabs for quick access. It has a durable cover that can withstand being thrown around in your vehicle or gym back and coil binding for simple page turning.
Effectiveness
Keeping track of your workout results is an incredibly important part of CrossFit. If you know what workout you are going to be performing, you can flip back to your results from the last time you did the same workout to see what weights you were lifting. This provides you with a great jumping off point for your next workout and a way to see just how much you are progressing with your programming. Nothing is quite as motivating as seeing what you deadlifted last class and realizing you were able to perform a PR (Personal Record) this time.
Portability
Small enough to fit in your gym bag or the glove compartment of your car, this workout journal is incredibly portable.
Ease of Use
This journal is very easy to use. It lays everything out clearly and is intuitive. Simply keep track of the weight you lifted, the time you performed, date of the workout, etc in the appropriate boxes and you'll have a record of your workout results.
Use
Users are able to quickly flip to sections on Benchmark workouts (WODs you consistently do to check your progress), "Girl" workouts (WODs named after women), "Hero" workouts (WODs named after military personnel) and more.

Subscribe to our Newsletter