Best Battle Ropes
In a
Hurry? Editors choice: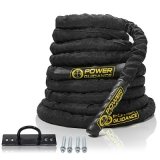 Test Winner: Power Guidance

All types of athletes using ropes for
training
will feel a notable increase in endurance, strength, mobility, and stability. For the greatest result, the user should understand the difference between a great and subpar battle rope. Below we have listed the top ten best battle ropes in the market today, and even included detailed criteria for each product to help you decide which one suits your work out needs best. There are many reasons why you would use one are nearly endless in terms of physical activity. They are a terrific supplement to weight training and create specific force and tension from certain angles that are difficult to achieve otherwise. Check out our list and add battle ropes to your workout regimen.
Standout Picks
Criteria Used for Evaluation
Materials
When it comes to battle ropes, there are really only a few design elements that you need to be aware of. One of them and a very prominent one is the materials that are being utilized. Most often, battle ropes will be made from Poly Dacron (which is made from Dacron plastic fibers and polypropylene) or manila. There really is not much of a contest here and you should always prioritize battle ropes that are made from Poly Dacron. After all, it is not a coincidence that there are zero manila ropes present on this list.
The advantages that Poly Dacron holds over manila are durability and shedding (or lack thereof). Because this type of rope is designed with twisted strands (oftentimes three), there is a suitable amount of strength that the rope provides. In addition, the polypropylene adds an additional amount of strength. Plus, this type of rope will not shed which is what manila is notorious for. Unless you only intend on using manila ropes outside, they will be a hassle as their fibers will come off everywhere.
Size
You may be a little confused, if you are new to battle ropes, to why the length of the rope would matter so much. It makes more sense when you visualize what you will be doing with the rope. Essentially, you will be splitting the rope in half as each hand is going to hold a portion of the rope. So, if you have a rope that is 30 feet, only 15 feet of it will be in front of you because you are splitting it in half. Why is this important? The longer the rope is, the slacker you are giving it and the more fluid it will move when you are exercising.
Thus, probably the most popular length choice is 50 feet. This gives you 25 feet for each hand and that tends to suffice for most people. If you want to go with a shorter rope, which will actually increase the intensity of the workout, you need to realize that they may not allow you to partake in traditional rope exercises.
Length and thickness go hand-in-hand with battle ropes, but they are both so important that they deserve their own sections. Arguably, the thickness could be more vital than length. Because the thicker the rope is the more difficult the workout is going to be. There is no way you can get around it so be sure you know what you are getting into. For most everyone, 1.5-inches of thickness is going to be enough to get a suitable workout. Heck, this diameter will still end up kicking your butt in the long run.
It may not appear so, but when you increase the thickness to 2-inches it will wall practically anyone (even if you are a fitness and weightlifting guru). Especially, if you have smaller hands as you will not be able to grip the rope for too long. Most of the time, you will not see many manufacturers offer thickness of 2.5-inches. Unless you honestly believe that you possess the ability to handle this thickness, which is highly unlikely unless you have massive hands, you will never have the need for this amount of girth, anyway.
Durability
Longevity and durability, when it comes to practically anything, are always going to play a pivotal role in the buying process. Battle ropes are certainly no different and, in fact, maybe more important than others due to the nature of their design. When you work-out with a battle rope, you are consistently slamming the rope on the ground to achieve what you are setting out to do. Clearly, given the abuse and impact that these ropes will end up taking, they will not last forever. But, they should last a decent amount and if they start fraying within a few uses, they become less efficient over time (and will eventually break right in half).
One special design integration to look out for is protective sleeves. These, which are typically designed from 600D oxford or nylon and waterproof, will literally encase the rope and take the brunt of the impact. Think of it along the lines of a smartphone case. Would you use your smartphone, which is probably pretty fragile depending on the model, without a case?
Use
Truthfully, you can probably enhance the lifespan of your battle rope depending on what surface you are using. If you are using floor mats at your local gym, as opposed to rough and rugged concrete, you will probably see an extension of its life. But, when it comes to the question of where you can use it, it goes back to the issue with manila: shedding. With Poly Dacron, the fibers will not shed so you are not left with an annoying mess. This is not the case with manila.
So, you could feasibly use a manila battle rope inside. However, after your training sessions have concluded, you must clean up and sweep the fibers that are left on your floor. Why would you want to put up with this annoyance each time? As far as workouts, most battle ropes will be able to perform (depending on the length) all the training exercises that others do.
Top Ten Battle Ropes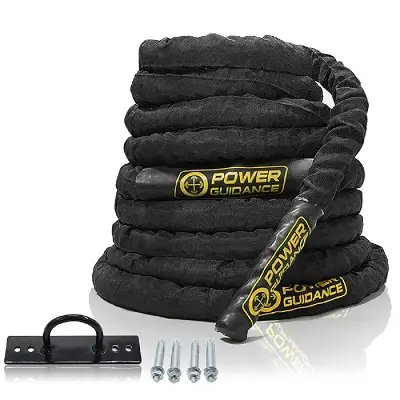 The fact that this rope is crafted from 100 percent Dacron should be enough to put it over the top and if that was not enough, the nylon sleeve provides additional protection against fraying. What this means is you are left with a rope that will, presumably, last for years.
Read more
Overall Construction
Power Guidance elected to construct their battle rope with 100 percent Dacron. This holds up superbly to rough handling and abuse. Past this, the handles are heat shrunk to improve grip and protection.
Length
To adapt to certain people's needs and skills, there are options for either a 30 feet, 40 feet, or 50 feet rope.
Thickness
While there are no additional design options for you to choose from, the thickness of the rope measures 1.5-inches. In general, this will suffice for most everyone.
Durability
Power Guidance protects their rope, which is already crafted from elite materials, with a nylon sleeve. This will protect the rope from fraying, as the sleeve will absorb most of the impact and abuse.
Uses
Thanks to the nylon sleeve and overall durability of the rope, this can be used virtually anywhere that you can imagine. Thus, not restricting you if you wish to utilize the rope outdoors.
Overall
Sometimes, it is difficult to put into words how terrific and superb a product truly is. The Power Guidance Battle Rope is that type of product as until you have physically used it, you have no idea the beauty that awaits.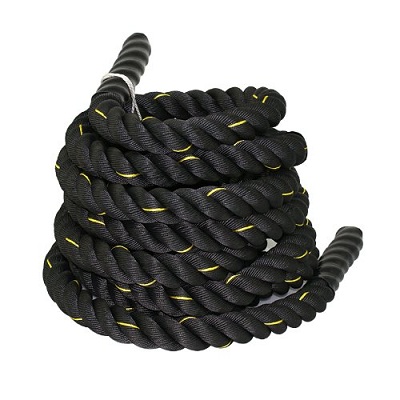 For men, women, novices or gurus, it simply does not get better for anyone than the ZENY Battle Rope. With its extraordinary combination of durability and usefulness, this one is an absolute no-brainer.
Read more
Overall Construction
This is designed from 100 percent Poly Dacron, which is the best of the best. It is both wear-resistant and is also crafted with a 3-strand twisted design. In addition, the caps on the ends of the rope have been shrunk down by heat.
Length
There are three separate rope lengths that you can choose from and while 50 feet is the most common selection, for novices, there are also options for either 30 or 40 feet.
Thickness
Also available for you to choose from is the thickness. If you want to opt past the standard 1.5-inch thickness, you could make the work-out even harder by going with 2-inches.
Durability
Besides the 100 percent Poly Dacron makeup, there is also a 600D oxford waterproof sleeve pocket that has been integrated into this rope. This protects the rope from friction and will enhance its shelf life.
Uses
This is ideal for many uses in many places. Users have stated they have used it in their garage gyms, local gyms, and even on blacktops (although it may fray quicker if you do that).
Overall
One other noteworthy design aspect, that has not been addressed as of yet, is the stiffness. This is one of the stiffer battle ropes out there and they may or not be a good thing. But, if it is, the durability and functionality should outweigh it.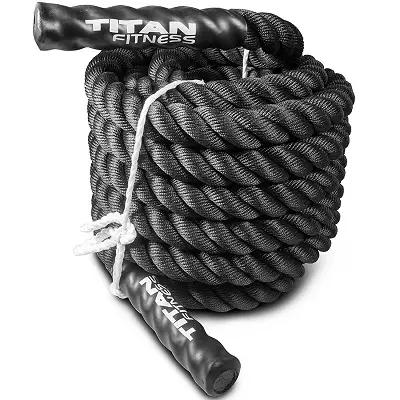 The Titan Fitness Battle Rope is definitely one of the most popular models in the world. While popularity does not always indicate greatness, it does so with this battle rope.
Read more
Overall Construction
Everything here is heavy-duty, for the most part. The rope is crafted from a Poly Dacron blend, the handles are heavy-duty and the rope itself is highly resistant to water making it feasible to use in bad weather.
Length
In case you have not been paying attention, this is yet another model that comes in lengths of 30 feet, 40 feet, and 50 feet.
Thickness
Titan Fitness, outside of the standard 1.5-inches of thickness, makes a smart choice and also provides you with the option for 2-inches of thickness. This may appeal to battle rope aficionados looking for more of a challenge.
Durability
Thanks to the material, this rope is not going to leave fibers on the floor. But, it is worth noting that many reviewers have griped about their battle rope fraying much sooner than they anticipated.
Uses
You can anchor this rope for indoor usage and, in conjunction with Titan Fitness wall mounts, can also secure it with mounts. Also, this is strong enough to be used as a climbing rope.
Overall
It seems subtle, but the option for additional thickness can be a deal-breaker for some. As such, for those looking past the standard 1.5-inches of thickness, you will be pleased that this battle rope (which is of high-quality, to begin with) comes with this luxury.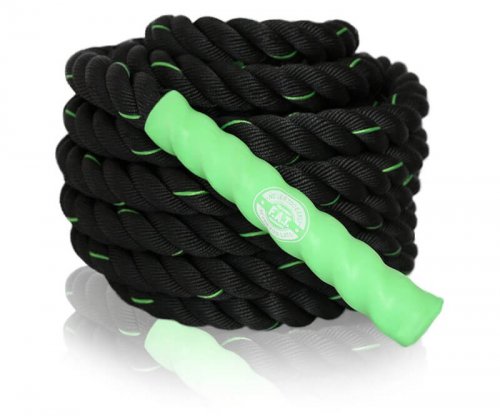 This Battle Ropes Fitness is used for at-home cardio workouts and work out your whole body and every muscle. It is known for working out your glutes, hamstrings, back to chest, and even your core and ab area.
Read more
Overall Construction
With the combination of its 3-strand twist construction and Poly Dacron material blend, they could not have designed this rope better. Plus, its waterproofness makes it suitable for any weather conditions. The waterproof sleeve protects the rope from any friction or any shrinkage causing the rope to fray.
Length
The rope length is 40' which is average and makes great use for anyone of all sizes.
Thickness
The thickness of the rope diameter is 1.5 inches.
Durability
This is where it gets a tad complicated. Scanning through various reviews, the scale is even in terms of durability. It seems to be about equal with users claiming early fraying, to others claiming several months of use without any issues.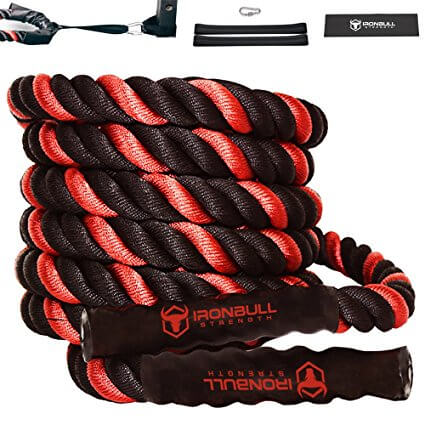 Living up to the Iron Bull name these ropes will ensure a total body workout which will build up muscles to improve strength and endurance, you will feel the benefits of your cardio system.
Bolster arm strength and build up core endurance and overall strength while burning up lots of calories through using this excellent method to condition your body.
Read more
Construction
Constructed from durable hard wearing PolyDacron which ensures good whip action combined with flexibility, the rope ends are shrink-wrapped through high heat treatment and a nylon sleeve ensures a good grip.
Length/Thickness
Consisting of nylon anchor-straps measuring 2 inches by 16 inches comprising 1500 lbs nylon webbing which is double sewn, a carabiner which is used to anchor the rope. Wrap a strap around the rope and use the other rope to an anchor point for a workout.
Durability
Durability emanates from using PolyDacron which produces whip action and flexibility, a durable nylon sleeve ensures protection against wearing out and to further ensure grip the rope ends are sealed through high treatment. These ropes are waterproof and highly weather resistant.
Uses
Ropes have been used by athletes to improve muscle endurance and aiding the performance of the cardio system, this is achieved with minimal strain on body joints while enabling maximum anaerobic and aerobic benefits.
Cost
When considering the list of positive benefits, a reasonable cost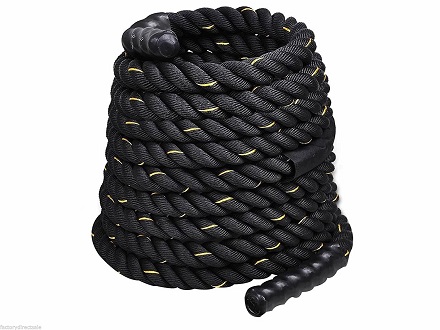 Really, this battle rope features many of the same important design elements of the previous nine. It is constructed from a durable 100 percent Poly Dacron, features a 600D protective sleeve and offers several different length options to adapt to the skill level of certain people.
Read more
Overall Construction
The makeup of the battle rope, a 100 percent Poly Dacron blend and a 600D durable Oxford waterproof protective sleeve, make it wear-resistant and suitable to hold up against fraying and friction.
Length
Indeed, you practically know what to expect at this point. While not all provide these three options (30, 40 and 50 feet), Giantex is another manufacturer that does so
Thickness
Those looking for a more intense workout may be disappointed to realize that this is a 1.5-inch diameter rope. Still, it is a good thickness size.
Durability
Depending on how you use the rope, you may get a few uses in before it starts unraveling or you may get a year out of it (with it only fraying a little). But, given the material and oxford sleeve, it should hold up adequately.
Uses
If you use this on rugged surfaces, you may notice it start tearing apart faster than you would hope. Perhaps, you should limit this rope to indoor use at gyms or non-rugged surfaces.
Overall
This features an exceptional amount of strength when you need it most, well-designed handles that provide a great grip and a waterproof sleeve to protect the rope for long uses. All in all, the quality is high here.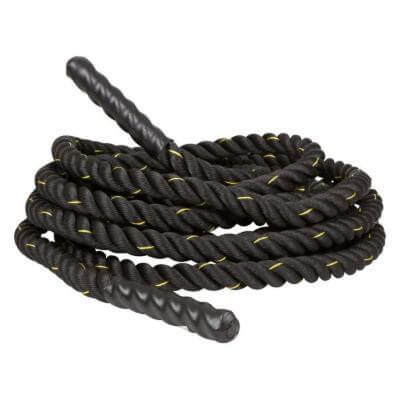 From a technical standpoint, this is an absolutely tremendous battle rope and one that would satisfy nearly everyone. The Yaheetech Battle Rope can be used for pulling, climbing exercises, alone or even with others.
Read more
Overall Construction
Being crafted from a 100 percent blend of Poly Dacron this will not shed as manila ropes will. Past this, the 3-strand twist design provides exceptional strength and sturdiness.
Length
It seems to be the go-to options but, again, you can select from either 30, 40, or 50 feet of rope.
Thickness
The thickness of the rope is 1.5 inches in diameter. The rope thickness and length options are average and were most likely chosen because it adapts for the widest range of users.
Durability
The Yaheetech Rope is made with wear-resistant material and is very durable.
Uses
From the basketball court to the beach, to an indoor gym to the driveway, you can really use this battle rope anywhere you can possibly imagine. As with any great ones, this makes it ideal for all your training routines.
Overall
In nearly every way imaginable, this is a superb battle rope that has easy maintenance and a feature for strength adjusting.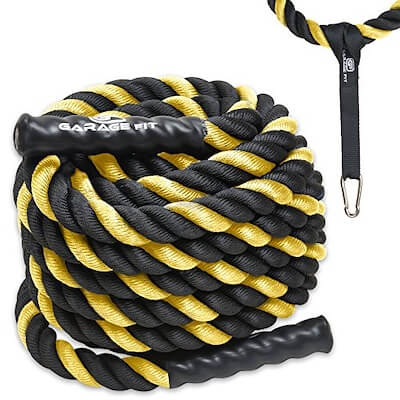 Even though Rope Fit has created another version of their battle rope with pricier hardware, it is arguable that this version is their absolute best. This is thanks to the weather and water-resistant design of the rope itself.
Read more
Overall Construction
All the ropes that Rope Fit constructs are done so in the United States (and only done so by riggers who are certified to do so) and this one, in particular, is made from premium-quality Poly Dacron.
Length
Rope Fit provides you with an unreal amount of length options. You can simply opt for a 30-foot rope or go all the way up to a 100-foot rope (and everything in between is available).
Thickness
While there are not nearly as many options for thickness as there are for length, you still have the selection of either 1.5-inches or 2-inches of diameter.
Durability
What is unique about this specific battle rope is there is an integrated metal thimble eye in the splice. This will allow the rope to hold up longer to abuse as the metal thimble prevents chaffing.
Uses
Thanks to its weather and water-resistant design, this rope can be used either inside or outside on a various number of surfaces. Plus, the spliced knot on the rope can be affixed to an anchor point.
Overall
When Rope Fit claims that this battle rope is of premium quality, they are not exaggerating in the slightest. This is as good as it gets and with the plethora of thickness and length options, everyone can find a rope size suitable for them.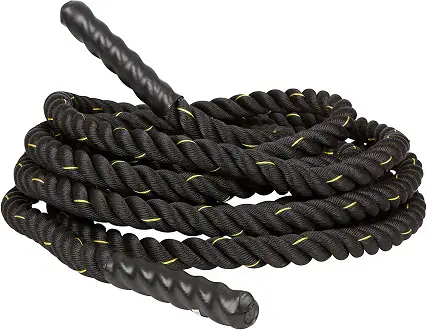 Another battle rope down and it is becoming abundantly clear that Poly Dacron is the premium material for battle ropes. It is certainly not the only highly capable material blend in the world, but it is hard to argue against it when it is not cheaply made.
Read more
Overall Construction
Perhaps it was a spoiler but, indeed, this rope is designed from 100 percent Poly Dacron.
Length
Trademark Innovations provides a suitable amount of length options. There are lengths for beginners, at 30 feet, and also for those who have the experience exercising with a battle rope, with 50 feet.
Thickness
Despite the fact that this battle rope, at least on Amazon, only comes in 1.5-inches of diameter, for the average person, this is all you will need anyway.
Durability
This is built with durability in mind, but, it will depend a little on what surfaces you use it on. For instance, a hunk of concrete or rugged floor may shorten the lifespan a bit.
Uses
Thanks to the workmanship, this is ideal for both indoor and outdoor use. However, some have advised against using it on a concrete floor as this will fray the material quicker. But, as a whole, it can be utilized for a variety of exercise programs.
Overall
While there are some limitations present here, in terms of the surfaces you can use this on, overall, this is a high-quality Poly Dacron battle rope. For sure, it is a wise investment and will build your core strength in no time.

10

. Nexpro Polydac Undulation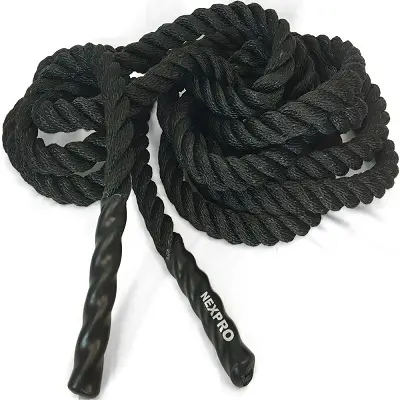 When the NexPro Battle Rope is in action, you will be wondering why you ever thought this type of physical activity was not worth it. However, it is worth mentioning, despite the terrific construction of 100 percent Poly Dacron, some users have claimed it frayed earlier than they would have liked.
Read more
Overall Construction
This is blended from a mix of 100 percent polypropylene and polyester with Dacron. Thus, making it wear-resistant and incredibly strong. In addition, the 3-stranded twisted construction provides excellent resistance for strength training.
Length
As with most other manufacturers, you are given the choices of 30 feet, 40 feet, and 50 feet.
Thickness
To adapt to the most people that NexPro could, they designed their battle rope with a 1.5-inch thickness.
Durability
In addition to the material blend, the rope is protected with a 600D Oxford waterproof sleeve that will minimize the friction and fraying of the rope. Still, some users have claimed that the rope has frayed earlier than they would have liked.
Uses
Being used by major athletes around the world for both explosiveness and power, you can bet only the best use this. For you, it could be a perfect companion for cardio training.
Overall
From the outside looking in, it would appear that the NexPro Battle Rope would be "the" rope to buy. Despite its fantastic design, it can't be ignored that some reviewers have experienced durability issues.

Subscribe to our Newsletter