Best Jump Ropes
In a Hurry? Editors choice: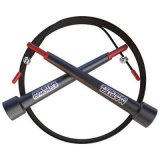 Test Winner: Master of Muscle

Back when you were a kid, it is possible that some of the kids at your school got picked on because they liked to jump rope (especially boys). Yet, after everyone grows up, they begin to realize that
jumping
rope is actually an insanely great way to improve strength, agility, and
speed
. Add on to this their generally cheap price tags and jumping rope is the way to go. But, there are several important design features and factors that can make or break jump ropes. This can include the design of the
rope
, design of the handle, and also how useful they are to you. At the end of the day, a simple jump rope can achieve more than you may think.
Standout Picks
Criteria Used for Evaluation
Top 10 Picks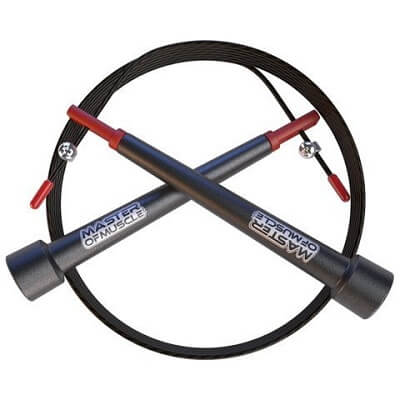 It is clear that Master of Muscle spent a lot of time in the office contemplating how to design their jump rope. The durable polyurethane coated, abrasion-resistant wire cable is indicative of that.
Read more
Materials
Being developed with a thermoplastic polyurethane black coating, this wire is protected against all possible abrasions. On top of this, unlike PVC or leather ropes, it will not bend, tangle, or kink. Inside of the black handle is a solid white piece of plastic instead of a ball-bearing. Overall, it is pretty solid and the grip is not too shabby either.
Use
The handle can turn 90 degrees and because of the previously alluded to wire cable, fast spinning is all but guaranteed. This can lend a hand in nailing your Double Unders more effectively.
Adjustability
Given the fact that there are adjustable screws on the wire, you can tailor this jump rope to better suit any height. All you need is a basic Phillips screwdriver and you are good to go.
Portability
Due to the compact and lightweight nature of this jump rope, it could easily be stashed away in a normal bag or suitcase. However, a carrying case comes included to provide a dedicated location for it.
Overall
Everything about this jump rope comes together to create a magnificent product. The wire could have been a little thicker for further functionality but at the end of the day, that ends up being a moot point.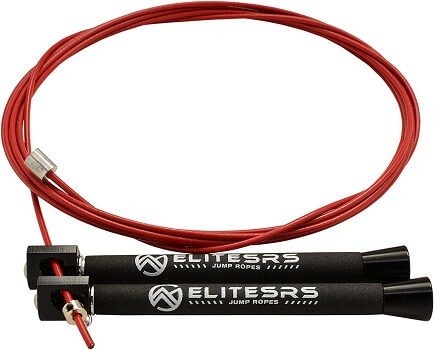 There is no mistaking how impressive the Elite Surge 2.0 Jump Rope is. Ironically, probably the best feature, though, is that it is compatible with six different types of cables. As such, you can choose the adequate thickness for you.
Read more
Materials
While a 10-foot, kink-resistant cable comes with this, you can swap it out for several different cable types if you so choose to. If wanting to jump rope on abrasive surfaces, you may want to upgrade to a superior one. The integrated handles have dual-ball bearings and this allows them to distribute the axial load more efficiently. Also, the 5.25-inch handles, which are made from aluminum, sport slip-resistant foam covers.
Use
Thanks to the double ball bearing handles, you can master Double Unders or stick to singles. No matter your use, this is a fantastic tool for pro trainers and everyday people alike.
Adjustability
In a matter of mere moments, you can adjust the length of this cable to better fit your needs.
Portability
While the Elite Surge Jump Rope is portable by design, included with your purchase is a storage bag. Thus, this jump rope can tag along with you like a breeze.
Overall
Truth be told, about the only area that consumers may have an issue with is the fact that the cable comes out of the side of the handles and not the top. However, this is personal preference and given the nature of this design, should not be too big of a deal.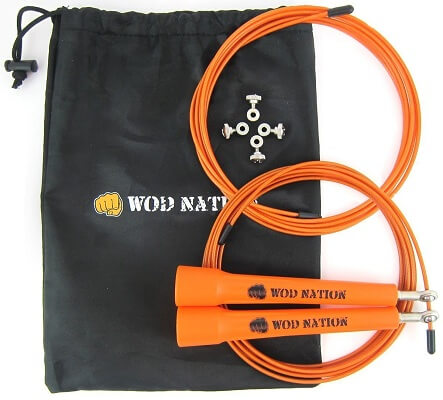 Speaking of impressive design, it is hard to get more impressive than what WOD Nation has manufactured. Because of the patented four-bearing system, their jump rope is ideal for competitive athletes and novices alike.
Read more
Materials
Two bearings are in the handle and two of them are on the tips to hold the coated steel cable. This enables a sensational amount of speed when you are jumping and the 2.5mm cable comes pre-coated. To ensure a tight and secure grip, the 6.75-inch handles have a tapered end. Additionally, there are four high-grade metal ball bearings that in the nylon resin handles.
Use
You can easily perform singles on this jump rope but after a bit of adjusting, you can move on to bigger and better things by performing doubles. In addition, it is very easy to recover from inaccurate swings.
Adjustability
Straight out of the box, the included cable is 11 foot in length. Now, with the use of wire cutters, this can be adjusted to better suit your needs.
Portability
When jump ropes get tangles, much like any type of rope or cable, it can create a major hassle. Thankfully, this is avoided with the included nylon carrying bag. When the time comes to travel, simply place it in its dedicated location.
Overall
Really, what is there not to like here? The four bearing system allows you to get an unreal amount of speed and the handles are designed with guaranteed grip. Add on the convenient carrying bag and this becomes a no-brainer.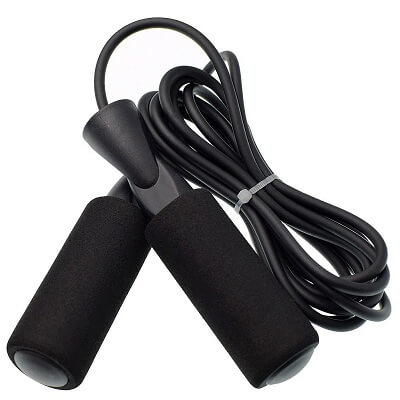 It is easy to be skeptical about a product that is so cheap but in this instance, the price tag is not at all indicative of the quality. Perhaps the only issue is in regards to shortening the cable and if that is your only issue, you are doing pretty well.
Read more
Materials
If you were to miss a jump and have this rope hit you in the shin, it would not hurt because of the spongy texture. This is also beneficial for durability as it holds up surprisingly well to the pavement. Not only does the handle provide an ultra-smooth operation when you are jumping but the foam-padded handles add necessary comfort; especially if you plan to use this frequently.
Use
No age is off limits as this design is tailored to all. Plus, much like any other jump rope, it is a great solution for improving your flexibility and developing your core strength.
Adjustability
While adjusting the height of this rope is a fairly hassle-free process, the same cannot be said when it comes to shortening the rope. Thankfully, you should only have to do this once, though.
Portability
Because the cable is so light in nature, it aids a bit in portability. Plus, if you wanted to, you could use a zip tie to keep the cable intact.
Overall
In the modern world, it seems unfathomable that a product could be cheap in price yet high in quality. Yet, that is exactly what is presented to you with this jump rope and as a bang for your buck, it does not get better than this.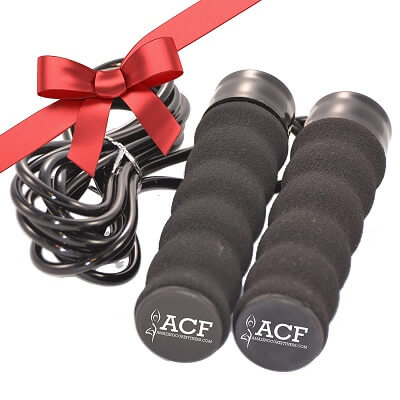 No doubt, one of the shining features of this jump rope is its practically-designed handle. It is not only molded to contour to your hands but is also foam for comfort. Top that off with the impressive and durable rope and you have a combination for success.
Read more
Materials
The included rope is designed for long-term and intense usage and this is made clear by its 3m PVC construction. In addition, to ensure the rope turns smoothly, a high-quality premium ball bearing is included. Indeed, the handles present on this jump rope are fantastic. As previously mentioned, the foam is designed to contour to your hand and provide an optimal grip, even when you start sweating.
Use
Pretty much any type of jump roping technique that you can ponder, including speed jumping and Double Unders, can be achieved with this design. Overall, it is perfect for fitness devotees but may end up being a bit more challenging for novices.
Adjustability
Because it can be adjusted to tailor to several heights, this design is truly ideal for men, women, and kids. The original length of the cable is 9.8 feet but this can be adjusted in mere moments.
Portability
The entire jump rope only weighs around one pound and all things considered, if you properly package the cable, transporting it is an absolute breeze.
Overall
Consistency is necessary for a product to be among the best and if there is one aspect that this jump rope has going for it, it has to be its consistency. Of course, beginners may find the shorter cable a bit too short but in due time, adapting to it is not too difficult.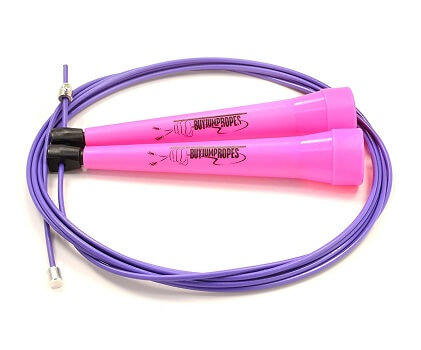 When you are jumping rope with the Ultra Light 2.0 Jump Rope, speed is almost guaranteed. Because the handles are just 0.7 ounces each, you are not held down by excess weight; and, due to this, even the top jumpers in the world utilize this jump rope.
Read more
Materials
The included cable was manufactured in the United States and is nylon-coated and made from steel. In addition to this, it is 10 foot in length and kink-resistant. To ensure that the handles are light in weight, instead of using a standard metal dowel, they utilize an unbreakable plastic polymer. Besides accounting for more speed, the grip provided is also optimal.
Use
Again, some of the best runners in the world are using this jump rope. The speed garnered with this rope is unbelievable and makes it suitable for Double Unders and all competitive speed jumpers.
Adjustability
Again, the cable is 10 foot in length but thanks to the screw and collar system, you can adjust this length. This will adequately suit any height up to 6-foot 6 inches. Beyond that, it may be awkward.
Portability
Reducing the overall weight of the handles also comes into play with portability. The Ultra Light 2.0, which lives up to its name, can easily be stowed away in any carrying bag you own.
Overall
Unfortunately, not all jump ropes are designed to handle the abuse of some outdoor surfaces. As you may have guessed, this is one of them and it should only be used indoors (unless you bring along a pad).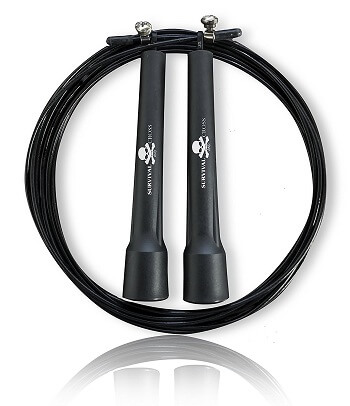 Among the jump ropes on this list, Survival and Cross arguably have the one that is raved about the most. So, why is it so low? Due to some potential durability concerns, this jump rope can't ascend any higher than number seven.
Read more
Materials
You surely will not have to worry about the rubber-coated steel cable kinking or binding at the handle. In fact, the cable is just soft enough for you to switch up your hand positions. Each handle measures around five inches in length, which could be problematic for some people. Yet, the grip and handle they provide are undeniable and should suffice for everyone.
Usefulness
For speed jumpers, this is definitely the jump rope for you. It is a common design for these types of techniques and others such as double unders and triples. However, you also will receive a downloadable exercise manual with your purchase.
Adjustability
Much like the other jump ropes on this list, customization is a snap. Again, with the use of two sliding screws, you can decide how long the rope is at any time.
Portability
Granted you properly wrap the cable, the same as you would do for a garden hose or extension cord, it will generally be very simple to tag along with you on trips.
Overall
Perhaps an individual with larger hands will feel apprehensive to purchase this jump rope and to be honest, that is a fair judgment. An extra one inch of length on each handle would have been a worthwhile addition but for normal hands, that should be enough.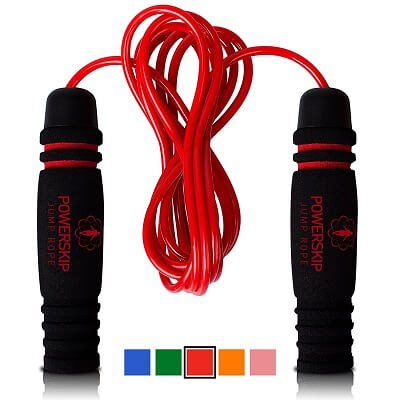 Even though it should not sway your final decision, it is worth pointing out that the PowerSkip Jump Rope has some fantastic color options available. Of course, judging off pure performance, it is not too shabby in that respect, either.
Read more
Materials
Please note the durability of the included cable has been brought into question by various users. Still, this polymer-coated cable allows for fast rotations and will almost never tangle. Past the fact that the handles have an amazing aesthetic design, they are coated with custom memory foam to enhance the overall comfort. Also, they are ergonomically shaped which improves the handling.
Use
By itself, this jump rope is ideal for speed. However, if you are looking to adopt different routines into your regimen, the manufacturer offers you access to their training videos when you purchase their PowerSkip Jump Rope.
Adjustability
Inside each of the foam handles is an adjuster that will lengthen or decrease the overall length of the cable. Thus, this makes it suitable for men, women, and children between 5-foot and 6-foot 8 inches in height.
Portability
Due to the overall weight and the tangle-free nature of the cable, storing and transporting the PowerSkip should not prove to be an issue.
Overall
One thing is for sure, you should not be using this product on abrasive surfaces and it should be used with proper care. Because of the various issues with durability, you can't use this with reckless abandon.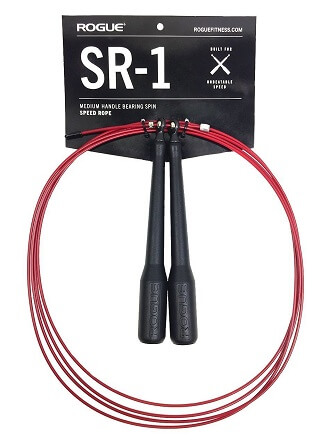 Despite the fact that several users have experienced issues with the swivel tip coming out of one of the handles, the SR-1 sports one of the most impressive designs on this list. However, the lone caveat can potentially be a huge nuisance.
Read more
Materials
Rouge ensures you that the only thing you will be breaking is your records with their jump rope. Given the fact that it has been pre-coated and is 3/32-inches in thickness, they may be right. The handles themselves are made of nylon resin but what Rogue is quite proud of is their swivel tip ball-bearing heads. If your hands do not maintain proper alignment while you are jumping, this design ensures a more forgiving result.
Use
A rather unique design, with a metal articulating eye at the end, allows you to change you're the angle of the cable while you are jumping. Overall, this can be used as a fantastic speed rope and even for Double Unders.
Adjustability
Yes, you will most likely need a pair of wire cutters to trim the cable length. But, adjusting the 10-foot length is as easy as loosening the included screws on the cable.
Portability
The extra-long handles of 6.75 inches are the only components of this jump rope that could take up space. Still, the cable itself is very easy to fold up for travel.
Overall
The aforementioned issue with the swivel tips separating from the handle has known to be common. It is rather unfortunate that one drawback plays such a huge role but everything outside of that is nearly flawless.

10

. EliteSRS Elite Pro Freestyle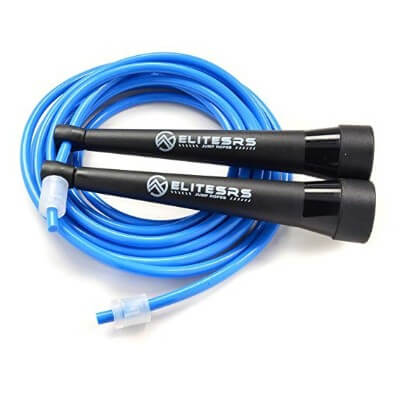 The EliteSRS Elite Pro is a great option for anyone looking to start a fitness routine on a budget. It's a great pick that will last you a long time and can help get you into the shape you're looking for.
Read more
Materials
PVC Coated cord is durable and you don't have to worry about getting snagged or tangled. The cord is also newly designed to allow for easy adjustment. The 8" handles are "unbreakable" as told by EliteSRS. The handles are also longer than others on our list to allow for longer reach when jumping.
Usefulness
While this is designed, some customers have reported the rope can be a bit heavy.
Adjustability
A very simple adjustment system has been implemented for your convenience.
Portability
The rope can be collapsed down to a decently small size. It does not come with a special carrying case but you shouldn't have any issues traveling with it.
Overall
What a fantastic birthday or Christmas gift this would be for someone looking to get back into fitness. As it's so inexpensive, you could buy these for all of your friends without breaking the bank.

Subscribe to our Newsletter