Best Treadmill Desks
In a
Hurry? Editors choice: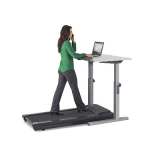 Test Winner: LIFESPAN TR1200

When you really think about it, the logic behind a treadmill desk is utterly ingenious. But, at the same time, it is also a simple concept. And, sometimes the best treats in life are the simple things. Here is basically the way it works. This exercising machine will allow you to perform daily office tasks while also walking on an electrical
belt
line. Some of you are probably stuck in an office chair all day long and this can be a great way to break things up and get some exercise in the process. However, understand that not all models on the market will include an actual desk or surface area. Some will merely accommodate for them meaning you have to supply one yourself. No matter, there are dozens of superb choices out there but narrowing down the one you want will require you to know a few things.
Standout Picks
Criteria Used for Evaluation
Durability
This has more to do than just the actual longevity of the model you choose, for the record.
Truth be told, whenever you are in the market for any type of consumer product, the quality of the build is going to be a top priority. You guessed it, the same concept applies here. But, what is interesting about treadmill desks is the build quality has direct impacts on two huge characteristics. The first being the weight capacity as the unit you buy needs to be able to properly withstand your weight. Most models will range anywhere from 200 to 400 pounds. The most common weight capacities, furthermore, are probably 300 and 350 pounds. For most of you, this weight limit will be suitable. However, the build quality will also have direct implications on the emitted noise of any given model. Generally speaking, these machines are designed to reduce noise but higher quality components are going to help drastically. For instance, a high-quality suspension system should be integrated to absorb the shocks when you walk. Oh yeah, and a large motor that is geared properly is going to perform with minimal noise.
Features
The functionality of your model is going to mean the world to you that much is for sure.
What you need to remember is treadmill desks are pieces of technology and that means that they will sport technological features. It is these same features that can make or break your purchase, quite frankly. And, it all starts with the main console. Now, you have your simple consoles and your more complex variants. Simple models will most likely keep track of simple data such as your calories burned, elapsed time and total distance. But, more advanced consoles may be equipped with Bluetooth technology and this can enable you to access special features on your smart devices.
Bigger yet may be the speed control. If you were wondering why even top-end models tend to sport limited maximum speeds, it is for a reason. Due to the purpose of a treadmill desk, going really fast is not necessary. In fact, as a safety precaution, some engineers will only allow their model to speed up to two miles per hour (while others will allow for up to four). In addition to the speed control, you can also look for other features such as an auto pause (again, for safety) and side rails (once again, for safety). Oh, and while standard treadmills will allow for inclines, these variants typically will not as inclined positions can place strain on your back and joints while you are trying to work.
Advanced Features
This is all about if you want the desk included or if you would rather buy a standalone option. And, either way, there are some important features to keep in mind.
On the market, you are going to find one of two types of treadmill desks. The first variation is known as an under-desk treadmill. With these, there is not going to be a tabletop included and you will need to supply one yourself. Of course, the other variation has a desk integrated already. So, which design type should you choose? Well, it really comes down to your preferences. If you already own a standing desk, then you can simply buy a treadmill that is optimized to fit under it. Then again, you may want a total package deal if you have neither currently.
Now, be aware that no matter if you decide to buy a standing desk separately or end up going with a combination deal, you still need to ensure that the height will work for you. To accommodate for various users, engineers will typically design their tabletops to be adjustable. This will better allow you to find a comfortable position while you are standing. Oh, and one other perk to buying a combination model is some will come with advanced features such as integrated wrist padding and cord-management systems.
Size
Here, pay attention to the size of the tabletop and the size of the belt.
Okay, so there are two specifications that you will need to assess here. The first is the size of the actual belt. Be aware that the size of the actual treadmill is not going to tell you the size of the belt. This is vital to know because the belt is the component that you will be standing on. And, not all belts will be the same size. In general, most models will sport belt sizes anywhere from 16 to 20 inches in width. It may not seem like one or two inches would make that much of an impact but you would be surprised. Most of you will want to opt for belts with widths of either 18 or 20 inches. As for the length, because you will not be running on these machines, it is not too important. Still, if you are a taller individual, then you do not want a short belt (aim for 50 inches or longer if you are over six feet in height). The other specification is the surface area of the tabletop (if one is included). This all comes down to your needs because if you require space for a computer monitor and multiple peripherals, you will not want it to be compact.
Portability
This type of machine can get downright heavy so features such as built-in caster wheels are a must.
For the record, it is not going to be feasible to expect to travel with your treadmill desk on a constant basis. So, when we say portability, this is referring to how easy it will be to move one around in your home. But, perhaps easy was not the right word to use. The reality of the situation is this type of is not going to be light. In fact, some models can weigh upward of 200 to 300 pounds. So, for these models, it becomes essential to ensure that they are designed with caster wheels. If this feature is omitted, good luck picking up a 250-pound machine (not mentioning the awkwardness of the length). Either way, it is advised to find a central location for your model in your home. The fewer times you need to move it the better, quite frankly. Oh, and never be afraid to ask for assistance from a loved one or a friend because remember, these machines can be downright heavy.
OUR TOP PICKS FOR THE BEST TREADMILL DESKS
Subscribe to our Newsletter