Best Climbing Chalk
In a
Hurry? Editors choice: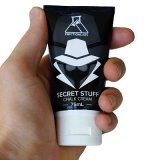 Test Winner: Frictionlabs Secret

Why set yourself up for chafing, blisters or injuries when a simple application of climbing chalk will improve your grip and performance? Switching from
gloves
and bare hands to climber's chalk can help improve your performance by increasing your gripping power and confidence while rock climbing, doing yoga,
weight lifting
, or even playing tennis.
Finding the best climbing chalk for you is key to getting the most from any sport or activity you want to enjoy. When choosing the best one for you, remember to listen to your own needs and consider what you would like to address.
There is no particular type or texture of chalk that is right for everybody or every sport. Some climbing chalks may perform better in higher humidity than others and some will perform better in super dry conditions.
Standout Picks
Criteria Used for Evaluation
Accessories
Accessories were not a top priority, but it is nice to know they are there. When reviewing, we kept our eye out for products that did come with something extra and made sure to note it.
Most of the best climbing chalks out there are designed to refill containers you already have or easily slip into a bag or pocket. What you need to look for in a product is something that works better than intended.
After all, you need to know your climbing chalk has your hands in good shape and that you won't lose your grip and get injured. Therefore, the best powders for your purchase seem to be the ones that provide an ultra-fine powder and even application.
Materials
Purity is important. Why put more chemicals on your body or ruin the environment? All products on this list are considered biodegradable and natural. No toxins or heavy metals and no chemicals. While some of the ingredients were not disclosed, they were considered cruelty free and vegan. You want to make sure you are using a biodegradable and eco-friendly product that will be left on the cliff or mountain you are climbing.
Durability
When choosing a climber's chalk for your sporting activity, how the product feels and what it does to your hands is just as important as how it performs. Nobody wants chafing or shredded palms at the end of their activity. That's why we chose products that promised not to over dry or tear up your hands. Making sure the actual climbing chalk is durable and maintains the correct performance is very important. You can check out the reviews and raves on each product to see how durable each chalk is.
Subscribe to our Newsletter