Best Skin Care Products for Hikers and Backpackers
In a Hurry? Editors choice: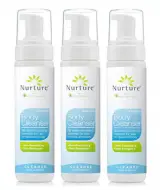 Test Winner: No-Rinse Body Wash

Hiking and backpacking are both fan-favorite activities, but you never know what is going to happen when you partake in either one of them. In specific, when you have to
endure certain weather conditions
or specific surroundings, your skin can be prone to damage and unpleasant feelings. Hence, you may be interested in learning of some of the best skin care products for hikers and backpackers.
There are several terrific options out there that it can be hard to choose between all of them. The reality is, though, you may want a decent variety of skin care products on your journey.
Either way, we are here to educate you. With the assistance of this guide, you will understand what it takes to buy the best skin care products for hikers and backpackers.
Standout Picks
Criteria Used for Evaluation
Use
What you need to do is buy skin care products that you will actually use or possibly use.
First things first, when you go shopping for the best skin care products for hiking and backpacking, you need to buy what you think you will end up using. Now, when it comes to skin care products, you would rather have them and not use them than the other way around. The question beckons, though, what types of skin care will you need?
Well, when you are in Mother Nature's playground, then nothing is off-limits. Everything from sunscreen to anti-chafing cream can be beneficial for you to tag along on your trip. Of course, you also may want to account for dry skin, and there are many care products out there that can account for this.
Regarding sunscreen, this is a big one. After all, you will be at the mercy of the harmful UV rays that emit from the big ball of fire in the sky. But, you may also want to tag along after burn gel in case the sun gets to you.
The same goes for protecting yourself from individual bug bites and encounters with poisonous leaves. As an example, if you are hiking in unknown areas, then you may want to bring some ointment that can combat the effects of poison ivy or poison oak.
Effectiveness
No matter what brand you end up buying, it needs to be effective at what it is supposed to do.
Now it does not matter what a specific skin care product is designed to do if it can't perform the way you need it to. In other words, you need to look for skin care products for hikers and backpackers that will be effective at what you need them to do.
The effectiveness of a particular product or brand typically comes down to the technologies that are implemented and the ingredients that are in play. From brand to brand, the formulas are not going to be the same, and this is important to remember. While excellent quality sometimes comes at an extra cost, it will be well worth it for some of you.
You also need to pay attention to how long particular skin care products will remain active. This is not regarding expiration dates, per se, and is more talking about how long the formula is going to last. For example, for sunburns, ideally, you do not want to have to reapply more gel every several minutes or so.
Also, one last note, pay attention to certain formulas that will only be designed to take effect after your skin has succumbed to damage. This can be important to distinguish for sun protection and rash treatments, for example.
Product Purity
Considering these types of products will be applied to your skin, you will want to pay close attention to this section.
When it comes to shopping for skin care products of any kind, it is essential for you to pay attention to the quality of the ingredients. In specific, optimally, look for natural parts. Basically, in the simplest of explanations, natural ingredients are those that have been derived from natural sources.
And, generally speaking, most natural formulas will contain ingredients derived from plants. In addition to being vegan-friendly, this allows these formulas to be pure in nature. This can also make the products you buy more effective, so there is that.
Past this, it is also never a bad idea to look out for skin care products for hikers and backpackers that have been tested for purity. If most (or at least some) of the included ingredients have been tested for quality standards, then that is a good sign.
Lastly, you can also stick to tried and reliable brands. While it is never a bad thing to give relatively new brands a shot, you are provided with enhanced peace of mind when knowing that the brand you buy is beloved and esteemed by thousands.
Value
For this section, understand that the value comes down to more than just the price.
Here is the reality of the situation, and you probably know this if you took the time to go through all the above items; skin care products for hikers and backpackers can be pretty darn costly. This is mostly due to the high-quality and expensive ingredients that are included in most of them.
So, this means that the value is generally not very good as many brands do not provide you with that much substance for your money. Then again, with some skin care products, you will not be using them all the time. As such, some of them may last you several hiking or backpacking trips.
Either way, when you go to assess the value of any one brand, you need to keep a few things in mind. To begin with, while the price matters, the quantity, and quality are more important. They all mesh together, but cheap skin care products do not always translate to great value.
If you do want to look for the best value, look for high-quality items that offer a substantial amount of substance for the price. As you have seen, however, these types of things can be hard to find.
Portability
Most of the skin care products you find will be portable so that is the good news.
For the most part, this last section should not be too much of an issue for you. Then again, when it comes to either hiking or backpacking, bringing along portable items is always vital. Considering you will need to carry any skin care products that you bring physically, they should be mobile.
Thankfully, most of them will be. Still, you need to look out for a few things. Firstly, ensure that the packaging is excellent. The last thing you want is a horrid mess if your skin cream or ointment falls over and is not sealed correctly.
Additionally, pay attention to the total weight as every little ounce counts while you are on the trails. Again, skin care products for hikers and backpackers will generally all be portable enough to carry comfortably. But, there is always an exception to the rule.
Our Top Picks for the Best Skin Care Products for Hikers and Backpackers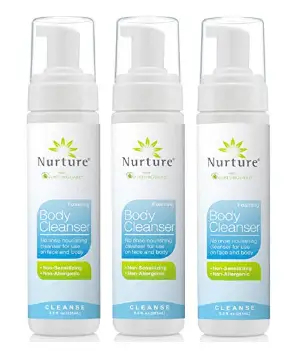 It is safe to assume that you will not have access to showers while you are hiking or backpacking. But, you still will want to wash your body regardless. Well, doing so with this body wash is quite convenient and effective.
Read more
Use
In essence, this is merely body wash, but it does not need to be "activated" with water. Instead, this is a no-rinse formula that is popular for use for all types of outdoor activities.
Effectiveness
In addition to many other essential vitamins, this is also designed with aloe vera. These combine to protect, repair, and moisturize your skin. Additionally, the mild citrus scent also helps to reduce odor.
Product Purity
Past the natural ingredients that are included, this advanced formula is made to be non-allergenic and tear-free.
Value
Whether you buy the 3 or 12-pack, the value here is admirable. However, it is noted that the 8.50-ounce bottles only hold around 7.5 to 8 fluid ounces of actual fluid.
Portability
While the bottles are not necessarily a nuisance to carry around, they are quite thin and tall. Some of you will prefer shorter and wider bottles, and that is fair.
Overall
Even though this stuff does not work very well for hair, it is excellent for washing your body without the need for a shower or lake. This alone makes this one of the best skin care products for hikers and backpackers.

2

. La Roche-Posay Sunscreen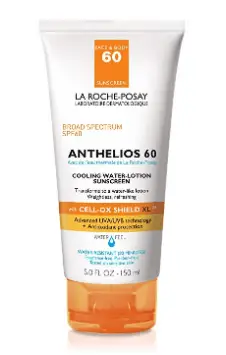 There is a high probability that you will need to combat the big ball of fire in the sky during your adventure. If your skin is prone to sunburns then it will be in your best interest to take a closer look at this.
Read more
Use
This delivers SPF 60 protection and what this means is it can be used effectively on your skin to prevent sunburns. Also, for the record, this can be used on your face and body.
Effectiveness
What makes this formula tick is the Cell-OX Shield antioxidant technology. In addition to providing you with much-needed sun protection, this also delivers a cooling effect for your skin.
Product Purity
La Roche-Posay is a brand that has been trusted for years. They have the trust of several dermatologists worldwide when it comes to UV protection.
Value
For a five-ounce bottle of sunscreen, this is pretty darn expensive, and there is no reason to sugarcoat it. Then again, a little does go a long way, so that is a plus.
Portability
The included container will be straightforward for you to transport. However, ensure it is closed to prevent any messes in your backpack.
Overall
Even though most of you will be backpacking or hiking under heavy tree cover, the sun can still get you. Considering this is some of the best sunscreens you can get your hands on, it is a highly compelling skin care choice.

3

. Tecnu Poison Oak Scrub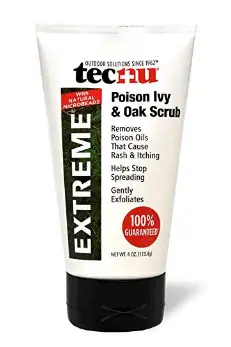 While in the wild, it is important to be able to detect both poison ivy and poison oak. But, accidents can happen and if you do succumb to either of these poisons then you may want to have this skin care product on hand.
Read more
Use
For the most part, this formula is best used after you have succumbed to either poison oak or poison ivy. It necessarily is going to rid your skin of the oil that causes the spreading and itching of the rash.
Effectiveness
Now, this can be used before you even get the rash, but it is formulated to remove urushiol from your skin. This is the oil that causes the rash to spread and itch. So, this stuff works the best after the fact.
Product Purity
This formula consists of silicon dioxide. Silicon dioxide is a natural compound that is made with both silicon and oxygen.
Value
Here is the good news; this four-ounce bottle should last you a while unless you are severely allergic to poison ivy or poison oak. Anyway, either way, this skin care product is pretty expensive.
Portability
It is not as if the container is hard to transport. But, it can be challenging to get the last little bit of cream out of it once you reach the end of it.
Overall
There are ways to avoid poison oak and poison ivy (knowing what they look like is a good start). However, as a precaution, this is some good cream to take with you.

4

. HikeGoo Blister Prevention Cream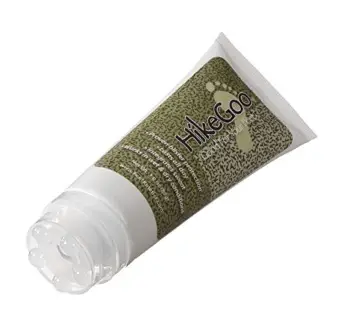 To say that blisters can be problematic while you are hiking or backpacking is an understatement. But, what makes this formula so special is it is specifically formulated to target your feet.
Read more
Use
One of the primary reasons this is one of the best skin care products for hikers and backpackers is because it is blister prevention cream that is designed to work for your feet.
Effectiveness
Due to the high percentage of specialty hard waxes that are included in this formula, this cream is going to be persistent for quite some time. It is also balanced enough to absorb your body's moisture.
Product Purity
All the included oils and alcohol-based ingredients can be trusted for their high-quality.
Value
While the value here could be better, it is not the worst out there. For the record, there are multiple size options that are available for you to select from.
Portability
Each of the three sizes that are available is portable. There are also individual packets that you can choose and these can offer a lot of conveniences.
Overall
You could make the argument that this is one of the most important skin care products for hikers and backpackers on this entire list. After all, you will be walking a lot and blisters are sure to persist.

5

. Body Glide Anti-Chafe Balm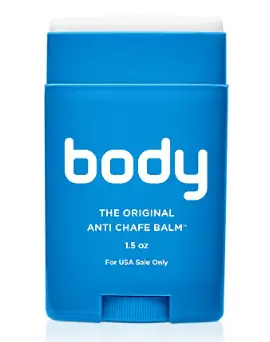 Skin chafing is one of the most irritating and sometimes painful things to endure. But, it does happen and can happen often on the trails. An easy solution is this anti-chafe balm.
Read more
Use
As noted, this is designed to prevent chafing. All you need to do is apply this on any of the body parts that you desire. It is as easy as that, and there is no mess that you need to worry about.
Effectiveness
While the concept is excellent, and while this stuff does do its job very well, it can be a chore to apply to your skin. Your body heat needs to "melt" it, and this is why it is so difficult.
Product Purity
In addition to the fact that natural ingredients have been used to make this formula, all of them have been derived from plants and not animals.
Value
For the price, you really do not get that much balm. Then again, it does work really well, so that is always a big plus.
Portability
If you can imagine carrying around your deodorant in your backpack, then you have imagined what it would be like to carry around this anti-chafe balm.
Overall
Even though it would be nice if this applied to your skin with less force, it does work like a charm. You pay the price for this anti-chafe balm but it is mostly worth it.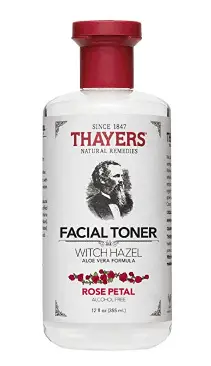 This right here is another excellent option to combat your dry skin while you are hiking or backpacking. One of the nice aspects of it, also, is the fact that it is free of alcohol.
Read more
Use
In addition to making your skin bloom, this facial toner is also loaded with Vitamin C. This is going to help blemishes and scars fade as well as strengthen your skin cells.
Effectiveness
Being made with proprietary Witch Hazel extract, filet of aloe vera, and rose water, this is not only refreshing to your skin, but it also smells incredible.
Product Purity
To maintain the highest level of purity, this is made of non-distilled extract from the actual Witch Hazel shrub. Oh yeah, certified organic aloe vera has also been utilized.
Value
There are 12 fluid ounces in the bottle that you receive. The price is fair, also, making the value pretty good overall.
Portability
It is noted that the packaging may vary. However, this is a capped bottle that does not rest on its caps like other skin care products for hikers and backpackers.
Overall
Many of you may not feel that this is a necessity to have while backpacking or hiking. While that may be true, this facial toner can still be really nice to have.

7

. Herbivore Botanicals Face Mist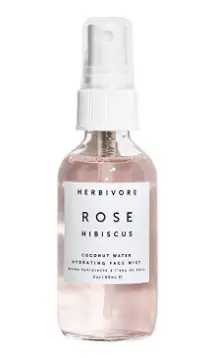 Now, this is a bit different and it is not going to be for everyone. As the name of this skin care product suggests, it requires you to spritz your face with a light mist (though it is not so light).
Read more
Use
Yes, you will physically need to spray mist on your face with this skin care product. From there, you merely rub it in and allow the formula to hydrate your skin.
Effectiveness
To allow this to hydrate and soften your skin, it is designed with a mixture of organic coconut water that has been infused with flower petals and also Bulgarian rose to tone.
Product Purity
What you need to know is that this formula is not loaded with artificial ingredients and unnatural preservatives. Instead, this has been created with pure plant actives.
Value
This is simply a two-ounce bottle of mist and for the price that is not a lot. Then again, the quality of the mist does make up for the price a little bit.
Portability
This is as portable as it gets. If you can't find room for this in your backpack, then you simply have too many items.
Overall
The act of actually spraying your face with mist may not be compelling to some of you. However, do note that this is an excellent skin care product for skin hydration.

8

. Cosmedix Intense Hydrator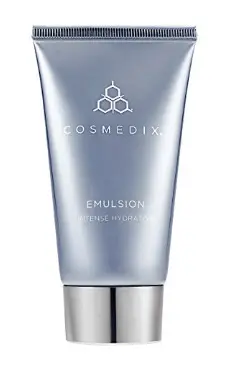 Look, though you may choke on your food after looking at the price of this skin care product for hikers and backpackers (for what you get) it is a well-designed hydrator to combat your dry skin issues.
Read more
Use
As noted, this is simply hydration for your skin. It will revitalize your aging and dry skin. And, while it can be used anytime, it can also be useful out on the trails.
Effectiveness
While some users have noted that this can separate in the tube, leaving only oil to come out, it is formulated with lipid barrier-restoring and naturally hydrating ingredients for optimal effectiveness.
Product Purity
For peace of mind, it is noted by the manufacturer that they only create products that are free of any irritating ingredients or fragrances.
Value
Let's just come out and say it; this is an expensive option. For a two-ounce container, the price is just only out of this world.
Portability
There will be no reason to worry about portability here as this container is optimized for it.
Overall
Look, the value is going to scare some of you away. While this skin care formula is incredibly effective, it comes at a very, very steep price.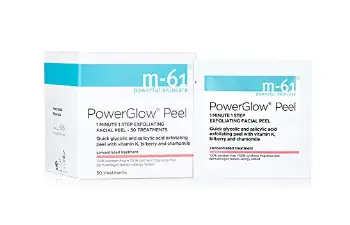 It is important to note that these skin peels are not going to work for you if you plan to go on single-day hikes. For weekend or week adventures, though, these peels can work quite well for you.
Read more
Use
Due to the fact that you need to use these peel surfaces right before you go to bed, they simply are not really worth it for quick hikes.
Effectiveness
In one simple, quick step, the peels will clarify, resurface, firm and exfoliate your skin. Additionally, the peels will improve your skin tone and reduce pore sizes.
Product Purity
As with so many of the other best skin care products for hikers and backpackers, this option is made with high-quality ingredients that you can trust.
Value
Well, let's just say that this is somewhat of an expensive habit. It would be better to buy them and use them at home and while you are hiking or backpacking.
Portability
The subtle weight added with the compact nature of this skin care product makes it perfect for on-the-go use.
Overall
When you are lying down in your hammock at night or even in your tent, these peels can be nice to apply to your face. However, they are on the pricier side.

10

. Darphin Cleansing Balm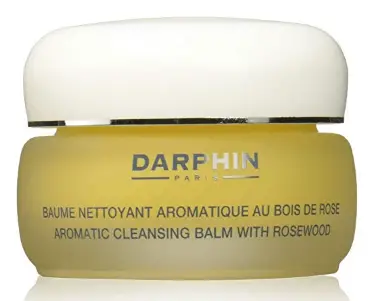 This is basically just like hand cream and it can be used on your skin for a variety of different reasons. It is also incredibly easy to stuff into one of the pockets of your backpack.
Read more
Use
Simply put, this is a cleansing balm that is designed to be used for all skin types. One buyer did note, however, that is was a bit greasy.
Effectiveness
Past the fact that this can be used to nourish your skin, it can also effectively remove any impurities that you currently have.
Product Purity
All the essential oils and high-quality ingredients utilized here (some of which are organic) make this a compelling cleansing balm.
Value
Compared to the quantity and quality, the price of this skin care product is too high. The value is not the best, as a result.
Portability
The small container that is included makes this incredibly easy to transport with you anywhere you go.
Overall
The price is a bit ludicrous, but skin care products that are made with premium ingredients are not easy to find cheap.

Subscribe to our Newsletter