Best Hammock Straps
last updated:
Feb 10, 2020
Hammocks are really wonderful but what good are they if you do not have a reasonable means of hanging them? Whether you plan to use your hammock at home or on the go, you will need a proper mounting system. Well, why not consider a nice pair of hammock straps?
Not only are there several fantastic options to choose from but most of them will not break your bank, either. Then again, not all hammock straps will be perfect so you need to learn what it takes to separate the good from the bad. Of course, you may have different needs than other people.
So, the usefulness of one particular model could end up being subjective. But, nevertheless, strap yourself in (excuse the bad pun) as we provide you with 10 of the best options currently on the market, followed by a comprehensive guide.
This is the best product on our list that is currently in stock: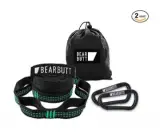 Bear Butt Hammock Straps
Why is it better?
They are very easy to use
Two metal carabiners are included
They are built extremely well
In a
Hurry? Editors choice: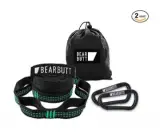 Test Winner: Bear Butt Hammock Straps

27
Researched Sources
14K
Reviews Considered
6.75
Hours Researching
18
Products Evaluated
Versatility
Durability
Ease of Use
Portability
Color
By Default
Our Top Picks for the Best Hammock Straps
Criteria Used for Evaluation


Versatility
Due to the fact that you can't predict the distance of the trees you use, you will want versatile straps.
For most of you, the single most crucial buying aspect of this particular tool is going to be versatility. The reason for this is you may never be able to predict the spacing between two trees if you plan to set up your hammock on the go. So, this means you need to look at the length and the number of loops that are present in the straps that you go with.
Starting with the length, this is important as this is going to dictate how close two trees or two posts need to be together. Several models currently on the market are offered in either 9 or 10 feet. For the record, straps usually come in pairs, so this means that each one will measure 9 or 10 feet.
This long of a distance gives you a lot of leeways, which is essential. But, you also do not want too much sag in your hammock as this can be very uncomfortable. Then again, you can always make the hammock tighter if the straps you are working with have the length.
Oh, and as for the number of loops, these are just as important. Most models will have anywhere from 30 to 40 total loops, and this allows you to adjust the height of your hammock. You can place the carabiners in the dedicated circles that you desire.


Durability
You may not want to mess around with this section as you do not want to buy cheap straps.
The last thing you want to do is buy a pair of hammock straps that are not going to last, right? Thankfully, selecting a well-made pair is not too grueling of a task. But, at the same time, there are several essential factors that you will need to keep in mind.
For starters, ensure that the straps are made with high-quality materials. One of the most popular elements of choice happens to be polyester webbing. In addition to the fact that polyester does not stretch a great deal, it also holds up well to inclement weather.
Of course, you should also seek out straps that are stitched well. Some of the best models will even employ three to four stitches for ultimate longevity. This can reduce the wear and tear that the straps will inevitably succumb to.
Lastly, pay attention to the weight in which they can safely support. There are some models out there that can hold the capacity of over 1000 pounds. However, others will be limited to just 300 to 400 pounds. This becomes important if you are looking for double hammocks to sleep more than one person.


Ease of Use
Most models are going to be easy to use but some will have other features than others.
One of the reasons why hammock straps are so popular is due to their simplicity. As you noticed throughout this list, not too many of them will be complicated to operate. Then again, if you are a first timer, it may take a short while to master using them quickly.
But, there can be specific models that are easier to use than others. For instance, some models will be equipped with daisy-chain loop systems, and these are nice for making quick adjustments. Oh, also, you may want to pay special attention to the carabiners.
What you need to know is that not all sellers will provide you with carabiners (as they will be required). Even if they do not, though, you can always account for them yourself. But, if you do not want to go through the hassle of finding them and your current hammock did not come with them, you may want them included.
Oh, and as a quick last note, if you plan on setting up or taking down your hammock in low-light conditions then look for straps that come with reflective stitching. While you can still resort to using a flashlight, these types of straps will make the process much more comfortable.


Portability
If you plan to set up your hammock on the go then you will want portable straps.
There are some of you who are reading this that will be interested in purchasing some lightweight hammock straps. This is particularly ideal if you want to use your hammock while backpacking. After all, the less weight you have to carry the better.
And, for this section, it all starts with the weight. Now, will more cumbersome straps hold more weight? Logically, it makes sense, right? Well, throw that logic out the window as that will not always be the case. Sure, some heavy straps will hold a ton, but there are also lightweight models that will have an elite hold.
If you are backpacking, you may want to prioritize models that are around four to eight ounces in weight. After all, particular straps can creep close to one pound in total weight. And, you also need to keep in mind the extra weight of the carabiners.
Additionally, most sellers will include a carrying bag with your purchase. Unless you plan to store the straps in your backpack or another bag as is, you may want to look out for something like this. After all, receiving a dedicated carrying bag can make your life a lot easier.


Color
No, this is not the most important section but it still can come into play.
Do you need to concern yourself too much with this section? No, not really, but it is also one that you may not want to gloss over. The quality and practicality of the straps you buy are much more important than their color. But, at the same time, you may want straps that do not clash with the color of your hammock.
Most models on the market will be offered in black. A majority of these models will come with different colored stitching (such as green or orange), but their central cores will be black. However, you will occasionally see all-gray or even brightly colored hammock straps.
Again, most of you will probably want to avoid buying straps that clash badly with your hammock. Depending on the color pattern of your hammock, you may wish to avoid brightly colored straps, for example. Then again, this all comes down to you and what you can tolerate.
Expert Interviews & Opinions
Most Important Criteria
(According to our experts opinion)
Experts Opinion
Editors Opinion
Users Opinion
By Default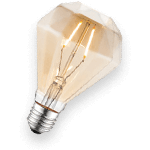 Versatility
Unless you are installing your hammock in the same place every single year, you will probably want versatile straps. After all, you can't predict the spacing of the trees where you travel to. Thankfully, most models are optimized to be extremely versatile. Many of the best options will be several feet in length and will come equipped with multiple carabiner loops.
Durability
Provided you want the straps you buy to last you a long time; you will want to emphasize their durability. As with anything else, this means you must look for options that are made with high-quality materials and craftsmanship. And, besides looking at the details, you can also reference the maximum weight capacity of any given straps. This will determine if they will hold the weight you need them to.
Ease of Use
Here is the good news; these are not going to be too hard to wrap your head around. Most models on the market will merely take a few minutes to get down. Then again, not all sellers are going to include carabiners with your purchase. This is important as you will need them. On another note, if the light will be at a minimum, you may want to look for options that sport reflective stitching.
Frequently Asked Questions
q:

Will they hurt trees?

a:

There are many hammock straps for trees out there, and the reason is that tress work as excellent mounting posts. However, for all you tree lovers, do hammocks hurt them when they are installed to them? This is a common question, and here is the good news.

Many engineers specially craft their straps with tree-friendly materials. Also, most models are not more than one inch thick.
q:

Do you need a suspension system for your hammock?

a:

Generally speaking, you do not need to buy hammock straps to assemble a hammock. There are other methods, including rope, webbing, or even unique hammock stands. However, these straps can undoubtedly make the process incredibly easy.

As was noted already in this guide, most models will be straightforward to operate. Additionally, they allow for several different height adjustments and such. So, let's say that you probably should opt to go with them for their convenience.
q:

How do you prevent the straps from falling?

a:

One of the worst things that can happen if you plan to sleep in your hammock is for you to end up on the ground. This can happen, for the record, if the straps that are securing the hammock fall from the trees. The question is, however, how can this be avoided?

Well, apart from actually ensuring that the straps are secured tightly to the trees, their design will also play a role in this. This is another reason why polyester webbing is such a popular material here. After all, this type of material retains tension exceptionally well.
q:

Why is the hammock tight in the middle?

a:

This right here is quite a common mistake, but it is also one that is not too tricky to avoid. As you might expect, the reason why your hammock can be too tight is if you do not provide yourself with enough slack when hanging it. While you do want it elevated from the ground, you also do not want it to be too tight to the point where it is uncomfortable to lie in.

The easy fix is to move the carabiners up a few loops. This is going to release some tension, and it should loosen the hammock. Move the carabiners until the optimal height and tightness are reached.
q:

How far apart do the trees need to be?

a:

For the most part, this is all going to depend on the length of the hammock straps that you buy. But, the two trees that you use to hang your hammock should not be too close or too far away. You want a happy medium.

For example, two feet of spacing is going to be too tight, but 20 feet of spacing will be ridiculous. The good news is, though, you can work with multiple tree lengths. This is where the versatility of these types of straps comes into play.
q:

How do you wash the straps?

a:

For those of you who hate hand washing anything, you should be able to get away with machine washing your straps. But, there are some general pointers you will want to keep in mind. To sum them up, always remove the carabiners beforehand, use the delicate cycle, use mild detergent, and use a front loading washer.

Of course, you can hand wash if you prefer. The process is going to be the same as you will need cold water and a mild detergent. From there, you can use a soft, non-abrasive brush to clean your straps. Oh, and when it comes to drying them, allow them to air dry away from direct sunlight.
Subscribe to our Newsletter