Best Hammocks
In a Hurry? Editors choice: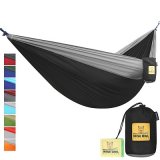 Test Winner: WISE OWL OUTFITTERS

On days where the
sun is out
and there is a nice breeze in the air, there is nothing like relaxing on your own portable hammock between two trees. There is nothing better than being able to read a book and sleep in your hammock while camping or even being out on the beach. You can even just layout on your hammock and stare out at the lake and admire nature with each
sway of the wind.
You get to really take in the sight of nature and really appreciate the quiet outdoors. You can even fit two people in many of the hammocks which are better to appreciate all the outdoors with a close loved one or a friend. Below we have reviewed the top ten best hammocks on the market today and listed details for each one to help you decide which fits you best.
Standout Picks
Criteria Used for Evaluation
Top Ten Hammocks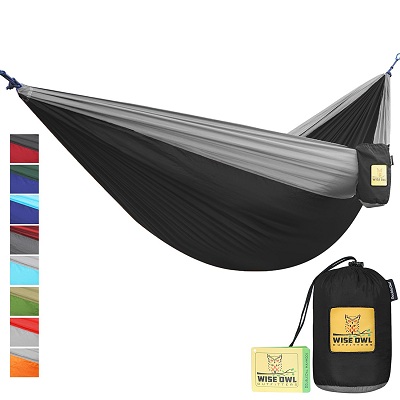 Barely taking the top spot is the Wise Owl Outfitters Camping Hammock. With only one minuscule downside, this is as close to perfect as you will find. There are tons of color options available, the price is fairly cheap, the design is impeccable, it is extremely easy to use and it will hold for most people. Do not think you could ask for much more. There are several colors available including navy blue and light blue, crimson red and charcoal, black and gray, and blue and gray.
Read more
Durability
With an extra-soft, yet durable 210T parachute nylon make up the hammock is extremely comfortable and stable. In addition, the triple interlocking stitching ensures you will not fall through.
Ease of use
There are two versions available and both are lightweight and compact. The SingleOwl will fold up to the size of a grapefruit, while the DoubleOwl will resemble the size of eggplant when folded.
Portability
Everything you need to set up this hammock is included and is extremely simple to use. This includes two 8-foot ropes and attached carabiners. Also, the company will send you instructions after your purchase.
Weight
Both versions, while one is designed for one, are built to withstand up to 400 pounds.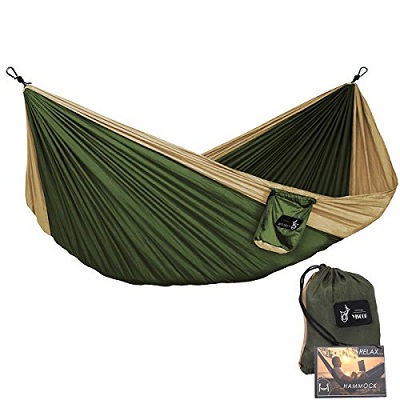 It has been a theme, but all these excellent hammocks are built relatively similar. This can make it hard to rank them, as all are truly fabulous including the YISCOR Hammock. Whew, this is a tough list! The YISCOR Hammock is beyond impressive and is ideal for nearly everyone.
Read more
Durability
Built with soft, breathable, and mildew-resistant nylon material, it is easy to clean and will dry quickly. To hold up for years, triple interlocking stitching has been implemented.
Ease of use
For quick and easy set-up, two steel carabiners and two nautical-grade hang ropes are included.
Portability
It is lightweight enough to hold in your backpack and the attached sack ensures a simple storage method.
Weight
Will hold up to 400 pounds of mass.

3

. WINNER OUTFITTERS DOUBLE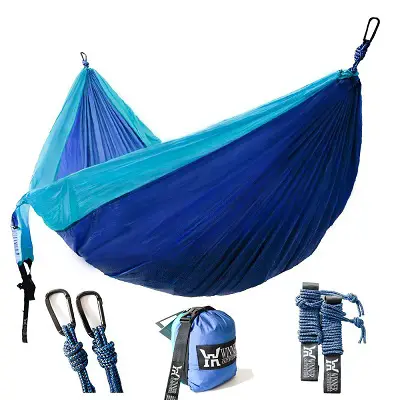 Yet another utterly brilliant hammock is the Winner Outfitters Double Camping version. With its construction, simplicity, and usefulness it is not hard to see why. The slightly above-average price and lack of color options prevent this from being any higher. But, everything else is practically impeccable. Not too many color options but there are options for dark green and green, khaki and gray, sky blue and blue, and red and charcoal.
Read more
Durability
Being a double-designed hammock, it accommodates for two people. The 210T parachute nylon fabric ensures it will hold strong.
Ease of use
Right from the get-go, you have everything you need. Using the ropes, strips, and carabiners, it takes less than five minutes to set it up.
Portability
Though it excels in durable, it does not do so by being overbearingly heavy. Instead, it is a lightweight hammock and can easily be stored in the accompanying storage bag.
Weight
Comfortably supports up to 500 pounds.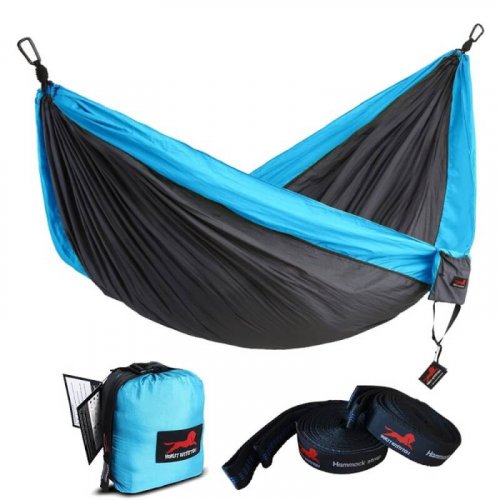 This Honest double camping hammock is very comfortable and supports up to 500 pounds of weight. That is a great feature to be able to hold two people at once, so you can relax with a friend or loved one together. This product has a money back guarantee if you do not like the product you can return your item within 5 hours of receiving it. This Honest double camping hammock comes with two hammock straps that are 10 feet and two solid steel carabiners for easy setup. Several color options: blue, orange, green, pink, red, and cyan
Read more
Durability
This hammock is very lightweight making it easy to carry and bring along backcountry road trips. You can set it up between two trees very easy.
Ease of use
Even a novice can set-up within minutes. It actually takes less than 3-minutes to set up.
Portability
It is both small and lightweight, thus fitting easily into the included waterproof compression sack.
Weight
Will carry up to 500 pounds.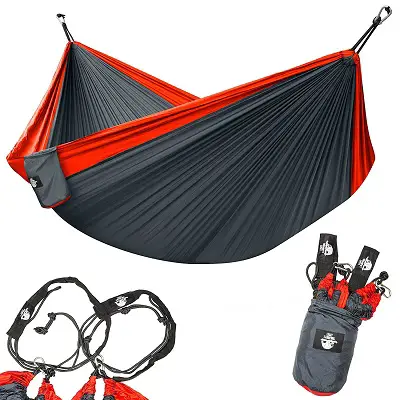 The Legit Camping Double Hammock falls into the same trap as the ENO; one that is nearly flawless with a price tag (when not on sale) that could scare some people. It is difficult to come up with reasons to justify this model only being the fifth-best. Tells you a lot about the competition, huh?
Read more
Durability
As most have been, it is constructed from a military-grade 210T nylon fabric making it excel in durability and comfort. There are quite a few colors for you to choose from (bronze and black, dark green and brown, red and gray, charcoal and red, etc.)
Ease of use
In no time at all, you will have this hammock set up. All the goods are included (carabiners, ropes, and straps).
Portability
No extra bag is needed for transport as this hammock will easily stuff into the attached sack.
Weight
A recommended weight capacity of 400 pounds.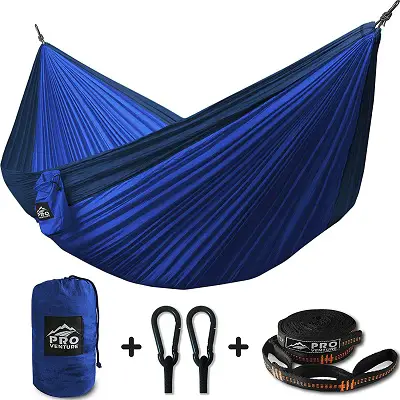 At this point in the list, you are still seeing models crack in the higher 9's. Manufacturers have perfected their craft when it comes to hammocks, and ProVenture is right there with them. There is a decent amount of color options among them include black and bronze, green and gray, red and gray, khaki and green, and gray and blue. Completely fantastic is the best way to describe this hammock. It is only thanks to the competition that it is as low as it is on this list.
Read more
Durability
Per the norm, it is made from a quick-drying 210T nylon fabric. While the heavy-duty triple interlocking stitching adds to the overall durability.
Ease of use
As with the ones that have preceded it, all the necessities are included to provide the easiest set-up possible (carabiners, straps, and ropes).
Portability
Not only will the hammock itself fit into the attached drawstring sackbut all the accessories will as well.
Weight
Up to 400 pounds for two people.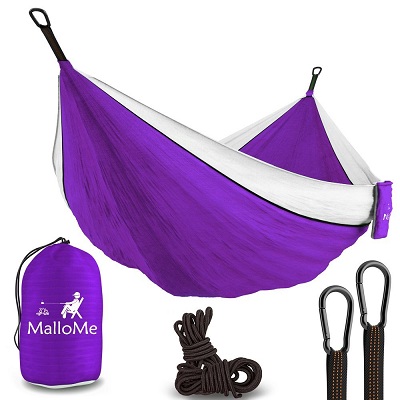 The most notable difference from this hammock as opposed to others is the insane weight capacity, but it is not enough to propel it any higher. The lack of color options really hurts this model, as the options available are very limited. But, the incredible capacity of 1000 pounds may make it perfect for heavier people.
Read more
Durability
This double parachute hammock properly holds two people; while the material is made from 210T nylon ripstop fabric.
Ease of use
In mere seconds, it unfolds from its pack and is simple enough for novice users to set-up (with high-strength carabiners and a rope).
Portability
Conveniently sewn into the hammock itself, the attached sack stores it when not in use. When done, it will be the size of a volleyball.
Weight
A breaking strength of 1000 pounds.

8

. ENO EAGLES NEST OUTFITTERS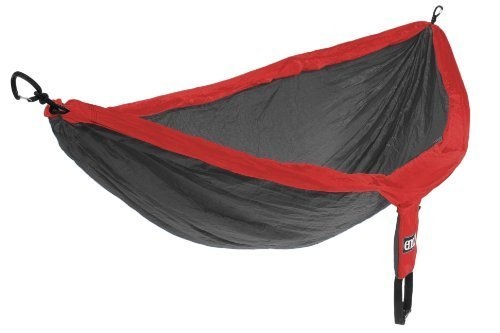 Everything about the ENO Eagles Nest Outfitters Hammock screams consumer satisfaction and brilliance. But, it is not the cheapest model in the world. With plenty of color options available, navy and olive, khaki and black, orange and violet, Patriot, red and charcoal, etc; there is bound to be something for everyone. If not for the steep price, the ENO could easily have made the top of the heap. As it sits, a terrific hammock with a little too steep of a price (as compared to its competitors).
Read more
Durability
With triple interlocking stitching and high-tenacity 70D nylon taffeta, the ENO is both durable and comfortable.
Ease of use
For quick and safe set-up, aluminum carabiners and a nautical-grade line are included to allow you to secure it to poles, trees, and even walls. But, you must buy the straps separately.
Portability
Although it is big enough to fit two people, it is still simple to store it into the attached compressions sack.
Weight
It is recommended to not exceed 400 pounds.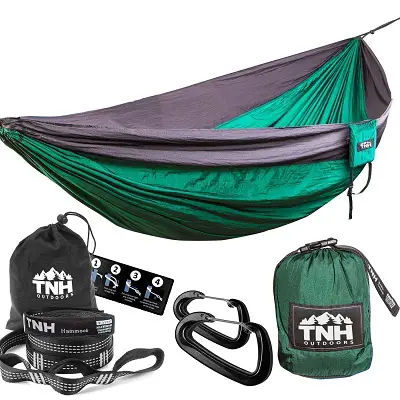 Last, but in no sense of the word least, is the TNH Outdoors Premium Hammock. As like the others, it is a tremendous model with very few flaws. Forest green and navy blue are the only colors available for you to choose from.
Read more
Durability
With safety in mind, TNH built their double version (a single one is also available) with reflective stitching. Plus, a thick taffeta finish provides enhanced quality. Typically, this far down you should be able to find a few notable issues, but not with hammocks. Seriously, the terrific options are nearly infinite and this specific hammock will work great for anyone.
Ease of use
To save you from being lost when setting up, all the needed accessories are included. With them, it will take you mere minutes to set up the hammock.
Portability
It can easily be folded up into a small package and stored inside the included bag.
Weight
It can hold 400 pounds, but, in reality, can weigh more as TNH does this to err on the side of caution.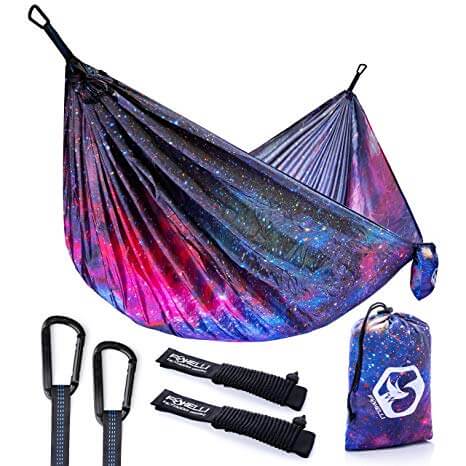 This Foxelli Camping Lightweight Parachute Nylon Portable Hammock is made up of 210T Parachute Nylon. There are 7 types of styles and color options and many are really nice with galaxy textures or two different color variations. This hammock is Military-grade and made from 210T nylon fabric that is comfortable and fitting for you to fall asleep in and stay cozy. It also only takes a couple of minutes to set up with its easy assembly that does not require any tools for installation. It also has its own bag containing a set of tree-friendly ropes with supports and carabiners. This Foxelli hammock is fit for two people at a time and measure at (8.85' long and 4.60' wide) and holds up to 500 lbs. You can even share it with a loved one, family member, or a friend and enjoy the great outdoors together while swaying in it comfortably. Next time you go on a camping adventure with a friend make sure you bring this double hammock with you. You also have a 30-day return window. if for any reason you are not 100% happy with your hammock you will get your money back 100% guarantee.
Read more
Durability
This Foxelli Camping Lightweight Parachute Nylon Portable Hammock fits two people comfortably and is made of military-grade 210T nylon fabric which is very comfortable. This helps you with being able to fall asleep alone or with a camper friend and still keep cozy. You are able to relax and unwind just by taking in the outdoors sights, sounds, and smells while swaying back and forth in this camping hammock.
Ease of use
Spend less time setting up and more time hanging out while camping or relaxing on the beach. This setup takes less than a couple minutes for anyone to assemble without any tools required. It is also lightweight and easy to pack without any special packing techniques.
Portability
This hammock comes with its own bag containing a set of tree-friendly ropes with supports and carabiners all you need to do is throw it in your bag and set it up. Its set up is less than a couple minutes so it is very easily portable and easy to install.
Weight
This Foxelli Camping Lightweight Parachute Nylon Portable Hammock measures in at (8.85' long and 4.60' wide) and holds up to 500 lbs. It fits 2 people very comfortably which lets you share it with your friend, family members, or even pet if you are wanting to.

Subscribe to our Newsletter