Best Cat Hammocks
In a
Hurry? Editors choice: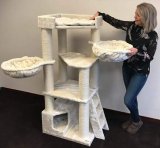 Test Winner: CAT TREE KING

Sure, it is always fun to look for a product for yourself but, sometimes, it is just as fun to do so for the ones you love. Yes, this darn sure includes the little feline (or felines) that are running around your home. While cats can typically get amusement from just about anything (and will sit comfortably just about anywhere), one item of interest that you can get them is a hammock. Now, this is not exactly like the hammock that humans would lie in. Instead, it is much smaller (clearly) and is typically suited for indoor use. And, though it may seem incredibly easy to buy a high-quality model, there are some key design features and factors that you need to assess beforehand. But, before you get there, take a look at some of the best options that are currently on the market.
Standout Picks
Criteria Used for Evaluation
Capacity
Look, the model you buy needs to be suitable for your furry little animal.
This section is going to be different for everyone because everyone is going to have a different sized cat or cats. And, above all else, you need to ensure that the model you buy will be suitable for the felines that you have. In order to do this, you need to assess how much weight any given model can handle. Additionally, you also need to make sure that the hammocks themselves are spacious enough for them. There are actually a few ways you can go about this and both of them are recommended (not just one or the other).
Firstly, most sellers will specifically state how much weight their model can hold and the exact dimensions of all the components. Now, for the former, this can range anywhere from 20 to 60 or more pounds. As you can see, some designs out there will be optimized for all cats while others just for smaller ones. Now, this leads to the second recommendation and that is to search through user feedback to see what other buyers have had to say. Some sellers may exaggerate their claims and if so, previous users will call them out on it., so to speak.
Style
Yep, there are actually several different styles on the market and picking the one you prefer will be key.
Before this section gets started, understand that a later section will play directly off of this. As for this section, though, this is all about the design style. Would you be surprised to know that when it comes to cat hammocks, they come in various different shapes, styles, and forms? This is indeed the case and it means that you need to be educated on all (or at least most) of them. After all, they do differ quite a bit and may or may not be appealing to you.
For starters, you have your basic freestanding models. Some of these can be just hammocks while others will incorporate other elements (which will be touched on later). If you want something different, there are also models that are designed to be mounted to your windows. These give your felines a chance to relax and enjoy the view (and the sun). Even if these are not up your alley, there are also designs that simply mount to your wall and also those that can be hung from a chair. You see, there is a lot to choose from, is there not?
Materials
In addition to being long-lasting, your preferred model should also be soft enough for your felines.
As with anything else, you are going to want to look for models that are designed with high-quality materials. But, the thing is for a product such as this, you are not really in control as your cat is. As you know, felines can be pretty destructive (mostly due to their claws) and they may expose any materials that are poor and any craftsmanship that is, as well. Now, the design style you end up going with will dictate the materials you end up looking for. But, most models will feature durable main components (such as wood and metal) and comfortable materials (such as plush fabric) for comfort.
That last statement deserves a closer look because above all else, the cat hammock you end up going with should provide comfort for your furry little creature. This is why you will often see plush fabric utilized because when compared to cotton and fleece (other soft fabrics), it is actually softer.
Features
This stems off the earlier section regarding the design style, for the record.
This right here is the section that plays off the "style" section that was already documented. You see, this is where it is a good time to talk about the additional features that you may see on certain models. One of the most prominent ones is a scratching post (or posts). How much of a pain is it when your cats want to scratch all your furniture? They can't help it because if you do not give them a means to scratch, they are going to do it regardless. So, why not just get a model that allows them to do just that? With freestanding models, you will typically see the vertical poles covered in sisal rope (which is a very strong rope) and this is designed for scratching purposes.
In addition to this, you will also often see models equip pom-pom toys. Though these are really simple, they provide your felines with another way to cure their boredom. Of course, you can also look for designs that include additional seating areas. All these features can change the game completely.
Ease of Use
This merely comes down to the assembly process and how much effort you want to put forth.
How easy a model is going to be to assemble is really going to come down to just a few factors. The first of which is the actual design style itself. Due to the fact that some models will need to be mounted to your wall and others will need to be assembled as is, it can vary quite a bit. Of course, there are also models out there that will require little to no physical assembly. Styles such as window perch hammocks and cat towers, for example, will typically be easy enough for one person to assemble and install in a matter of minutes.
Of course, another factor is if there are any instructions included and if there are, how well they are written and explained. Several sellers will probably only provide pictures for you to reference and while nice, these can be insufficient if you are unfamiliar with the tools and hardware that you are working with. Just remember that you can always reference online videos if you get lost or confused.
OUR TOP PICKS FOR THE BEST CAT HAMMOCKS
Subscribe to our Newsletter