Best Automatic Cat Feeders
In a Hurry? Editors choice: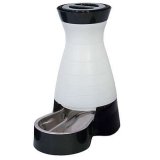 Test Winner: PetSafe Gravity

The future is upon us in so many ways, it has changed the way we communicate, research information, and even feed ou cats! Many consumers laughed the first time they considered getting an automatic cat feeder, but after seeing exactly how they work and the benefits they provide to yourself and your cat, they quickly turned into a necessity
every cat owner needed.
There are several solid reasons to consider adding an automatic cat feeder to your cats and your life such as if you are a workaholic and you spend more time in the office than you do at home, but you still want your pet to be cared for while you're gone or if you
spend several nights a week traveling
and you can't have a friend check on your cat every time you are gone.
Standout Picks
Criteria Used for Evaluation
Features
This is the section where all the really cool aspects of the automatic cat feeder are laid out precisely so that you can see what your new machine can do before it ever arrives on your doorstep. There are a lot of cool features that might be available. Petsafe made the list several times, and almost all of them offer a slow-release feature that releases food over a 15 minute period so that your eager pet doesn't choke or bloat itself. No other models besides Petsafe offered this unique feature. Not a unique feature, but a cool one regardless is the audio recording option. Most allow you to record upwards of 10-12 second recordings that play multiple times so that your cat will hear it anywhere in the house and come scampering to food and be comforted as much as if you were there yourself every time. Other features include whether the bowls are stainless steel or dishwasher safe; infrared systems are an incredible addition to any design as they help to prevent clogging and blocking so your pet gets the right amount of food every time; or ultra-low power consumption, which makes it so that you don't have to worry about refilling batteries and damaging the planet through unnecessary waste or by wracking up your electricity bill with an electronic that just drains your energy. The features section is where all the magic happens.
Power Source
How the automatic cat feeder is an important aspect when you have to consider additional costs beyond that of which you will pay upon purchase. If the cat feeder is only battery operated (of which we only have one model that is) then you may find that you are spending a chunk of money every month just on upkeep. As we said though, all but one model can be plugged into the wall by various means. None of the products come with the C or D batteries that they require- but all the products- except for Petsafe's most expensive model- come with a power source upon the package being opened. Petsafe shows up on this list 4 times- but the most expensive model doesn't come with any power source with the purchase- batteries and power adaptor have to be bought separately. All other products come with their own source of power.
Ease of Use
Automatic cat feeders may sound like a luxury item, but the more you learn about them and the needs of every individual pet, you start to realize that there could be a lot of sense to the whole matter. Cats are known to be particular, they want things their way when they want them, and no other way at any other time. Of course, not all cats are like this, but just as with humans, cats have feelings too.
If you are a pet owner with multiple animals, especially a dog and a cat, you know how hard (or impossible) it is to keep your dog from eating your cat food if the cat tries to leave any for later. If you have the food dispensed on a regular schedule the cat will learn the cycle and will eagerly wait for food to be dispensed. Dispense only little bits at a time more frequently if your cat likes to nibble here or there but your dog refuses to let food sit uneaten.
Workaholics know the struggle of caring for a pet while trying to put in those hours grinding. Just because you work a lot doesn't mean that you don't want to come home to a lively home with a special furball of your own. Yet managing proper feeding at the right time while working overtime can seem impossible if you are the only human in your household.
Effectiveness
How well automatic feeders function is where the truth comes out. The other metrics lay things out as the brand wants us to know them, but how well it functions is where we take into account the product reviews and we judge them based on what the product claimed. Not all reviews are equal, some are complaints not about the product itself, but about user issues, something no product could control. Other reviews lay it out as it really is- telling us first what they expected and then following up with how well it fit those standards. All reviews will be biased, so we have to take an average account of all the reviews in order to get an accurate feel for how things stack up.
Top 10 Picks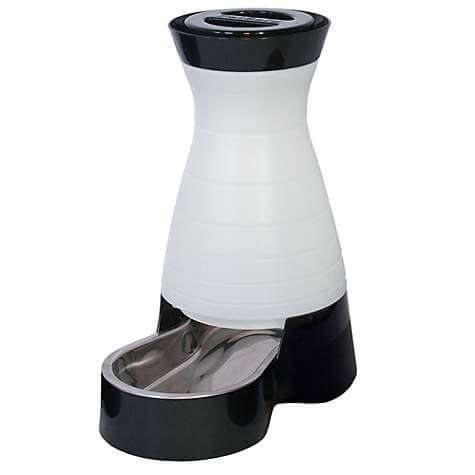 No power necessary for this gravity feed automatic cat feeder! No whining motor, no loud whirring, no need to worry about power outages or dead batteries, thiis feeder by Petsafe is run by nature! This product not only needs no power, it is so reasonably priced it's ridiculous!
Read more
Wrapping up the list is Petsafe with their fourth model that made the cut. Petsafe wasn't favored in any way by this list, they just happened to do the best nearly every time! With 4 pounds of hopper capacity size, made from durable BPA-free plastic with a stainless steel bowl, this automatic cat feeder is safe enough for you to use! Only try to refrain because you bought it for your furry friend, remember?
Capacity
This kitten (get it, not 'puppy' cause it's not a dog, but a cat- no… eh alright) can hold up to 4 pounds of food which will care for most every cat's diet for as long as you are gone. You shouldn't be leaving them alone for more than 4 pounds worth of food at a time anyway.
Size
Measures in at 7.7" W x 11.7" D x 13.8" H and weighs 1.38 pounds.
Features
The feeder is constructed out of BPA-Free material so not even your little loved one has to worry about harmful toxins anymore- or any irritated chins from plastic bowls. With a stainless steel bowl, you can keep this as clean as you would your own bowl.
Functionality
It functions pretty much as you expect it would. Because there is no mechanical arm that pushes food to dispense it- food will get stuck. That means that you will periodically have to shake it in order for food to come out. That isn't a big deal for day trips, but if you spend some time away, that can be a disaster for a kitten.
Power Source
No power is necessary, just rely on gravity- and you occasionally shaking it!
Value
The price can't be beaten- for the same amount as a regular cat bowl you could practically buy this 4-pound hopper gravity feeder- that's very reasonable! It's cheap, gravity-fed, and stylish- need we say more? Have problems, they gladly provide customer support!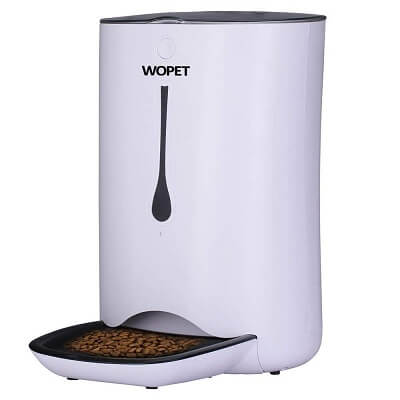 WOpet's automatic cat feeder is newer to the market, but slaying! The feeder only consumes ultra low power, and can be powered by either batteries or USB. That's great for environmentalist that don't want to increase their carbon footprint! Even better- never worry about long trips away, a 6 liter capacity takes care of all your worries, even the hungriest of animals will get feed the whole time you're gone!
Read more
Sleek and elegant design combines with a whopping 7-liter capacity hopper that can hold plenty of your pet's vital food! If you spend long hours at work or weekends away then this is a must-have. WOpet has designed a feeder that uses ultra-low power consumption; has built-in infrared sensors to help prevent blocking or clogging of dry food; and allows you to record your voice to help call your pet to mealtime!
Capacity
This feeder holds an incredible 7 liters of dry food, cat or dog, but only up to the size of 1 x 1 cm- or the machine will clog and the infrared won't be able to do anything about it. Feed your pet up to 4 times a day with 10-12 gram portion sizes.
Size
The size wasn't indicated, but the weight is 5.6 pounds.
Features
Record your voice with the built-in audio recorder so that your pets get called to a meal by your voice. Built-in infrared helps to prevent clogging of dry food when dispensing from the hopper. Ultra-low power consumption means that you don't have to worry about your electric bill going up or spending more in batteries than it is worth.
Functionality
Consumers reported that set-up can be a little frustrating, but friendly consumers on Amazon are always willing to lend a hand, so reach out for help if you have questions- just make sure to thoroughly read the instructions first.
Power Source
It can be powered using USB with wall adaptor or Batteries.
Value
Falling about mid-range price-wise, the WOpet automatic is a great way to help deal with whiny cats that want to get fed when they want food- no matter the hour. It is a newer product, but consumer is already falling for it.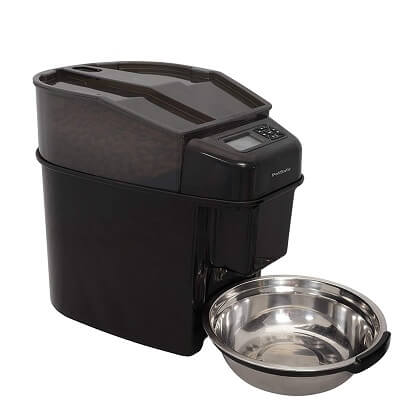 When a company does something well- it often does it really well. That's the case with Petsafe and automatic cat feeders- they just know how to do it. This automatic feeder has saved consumers from whiny cats waking them up all hours of the night to be fed- with 12 feed time options and customization from 1/8th -4 cup amounts, your cat will get fed on time every time.
Read more
Petsafe does it well. They know what consumers are concerned about and looking for, and they know how to please cats so that they never have to bother their human over food again! This feeder is pesky-prying-paw-proof, no more snacks between meals for your furry friends- finally, a diet that will work for your pet! The biggest complaint that we had about this machine is that it is the most expensive model on this list- yet it doesn't come with 4 D Batteries which are required, and while it has a power adaptor option it isn't supplied! For the amount that consumers are paying, there absolutely should have been some form of power provided! All in all, though, customers adored this automatic cat feeder!
Capacity
This feeder holds a great 5.6 liters- or 24 cups- worth of dry food. The amount released per feeding can be anywhere from 1/8th - 4 cups worth of food.
Size
Measures in at 18.5" Long x 8.7" Wide x 12.4" High and weighs in at 4.61 pounds
Features
This cat feeder has some pretty cool features about it- no audio recording (but do those work that well anyway?) but it has up to 12 customizable feeding times with options to release the next scheduled meal immediately, or pause the next scheduled meal without interrupting the rest of the meal times. For animals that are likely to gorge themselves if you aren't there to moderate how quickly they eat Petsafe has solved your problems by introducing a slow-release feature that feeds your pet slowly over a 15 minute period. Equipped with an anti-jam conveyor belt, this machine shouldn't get clogged. The bowl is made out of stainless steel so that you never have to worry about toxins entering your furry loved one's body- although food dropping into the bowl is the loudest feature about it. Never worry about your pet sneaking a snack between meals, it's pet proof! Even the most mischievous pets have met their match.
Functionality
When you first go to use this you will need to read the directions for a few simple tips on how to accurately program your machine. Once you glance at the instructions it is easy enough from there. This feeder works on a conveyor belt system so that means that it is going to take 4-6 scheduled feedings before food will be released to your pet. To avoid this you can simply manually put food on the conveyor belt and then add more after so that your animals get food more promptly.
Power Source
Our biggest complaint had to do with the fact that they don't include any power for this machine- for the price you are paying that is the least they could do. 4 D Batteries are required but not included- however, there is also a power adaptor option, but again it is not included with the purchase.
Value
When it's all said and done, this feeder is a great machine. It is the most expensive, but it is reliable, dispenses the same amount every time, pet-proof, and has an awesome slow release feature. It doesn't include any way to power the feeder, but if you know that and plan ahead it all works out well.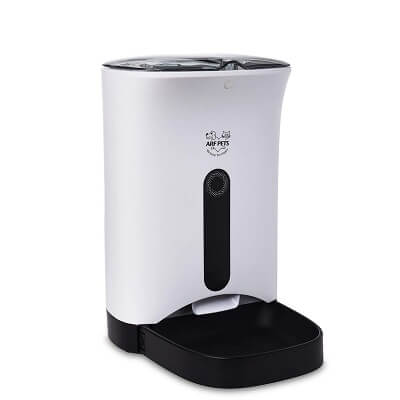 No more animal abuse with this programmable automatic cat feeder- animals get fed on time and with the right amount- up to 4 times a day! Record up to 10 seconds of audio that will play at every mealtime. As any truly good cat feeder will have, it is both battery and DC power cable adaptable. The magnetic lock keeps animals out between meal times so you know they won't gorge themselves while you are gone! Arf won over the hearts of Amazon consumers coming in as an Amazon Choice Winner- will it win you over?
Read more
This feeder is programmable to release food up to 4 times a day up to 24 ml. a time. It holds a fairly reasonable amount of 1.14 gallons or 4.3 liters. That means that you can go away for longer times and still not worry. However, there are programming issues, when entering your settings you will have to do it over again every time the power goes out or the batteries run out- including the voice recording, which surely becomes a pain.
Capacity
This puppy (just kidding, it's not a dog, it's a cat feeder!) can hold up to 4.3 liters- which isn't the most that we've seen, but it is still fairly decent.
Size
Measures in at 9.65" Long x 11.8" Wide x 15" High and weighs in at 4.63 pounds, so it can hold its ground pretty well.
Features
Comes with audio recording options, record up to 10 seconds of personal pet greetings when calling them to mealtime- it's more personal and makes the cat more comfortable. However, you will have to re-record messages over and over again if the power goes out or the machine turns off for any reason.
Functionality
Functions great tucks up against the wall and doesn't move too much. Has a solid locking lid so pets won't be sneaking treats between meals. Other than some programming hassles if/when the machine goes off, this functions just as you imagine it would.
Power Source
3 D batteries or DC power cable.
Value
While this is a little pricier on the higher end of the price bracket, we still have to recommend this for purchase, it works great as a cat and dog feeder and will win you over like it did the Amazon Choice list.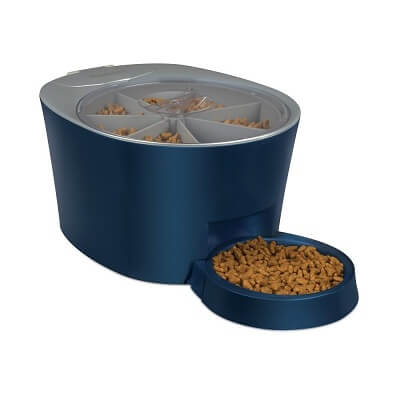 Have a cat that needs a diet? Delivering the right amount of food at just the right time is what many overweight cats demand, but with this programmable cat feeder by Petsafe you will get your cat the right amount of food at the right time. 6 slots with up to 1 cup capacity mean that you can fill it up and be gone for a long weekend knowing your pet is getting the food it needs. 4 D Batteries are required to make this automatic cat feeder operate. Oh, and it's dishwasher safe!
Read more
PetSafe just knows what they are doing when it comes to pet products, they crush the list. We aren't trying to favor them in any way, they just favor to animals and customers and they have won both over- it's not just us, we swear! The design on this feeder is great as it keeps prying paws from getting into it when they shouldn't. Should you encounter a problem the product support hotline is running 24/7! The one thing we could say is that it is only battery-operated, 4 D batteries to be exact. Allegedly the batteries will last 9 months but consumers found that the didn't last that long.
Capacity
This has 6 slots that hold up to 1 cup of dry or semi-dry cat or dog food. Some consumers found it used a full rotation of food release in one day. If that's the case fill each one with less, but that isn't helpful if you plan to use it to feed over a weekend.
Size
Measuring in at 15.7" in. Long x 9.6" in. Wide x 6.4" in. High; weighing in at 2.85 pounds- some animals might find it easy to move around.
Features
This baby is easy to clean and dishwasher safe. Don't forget about your pet's health, dogs and cats may have antiseptic saliva, but they can still get sick from germs too!
Functionality
It is noted that some consumers found that it released all 6 slots of food in one day. Whether that was a fluke one-time occurrence or common for this product was unclear. Many consumers found that this was great for them and their pets. Customers also happily reported that it really was animal-proof- no more stealing between meals.
Power Source
Only works with batteries, 4 D batteries, which it is known to drain at times making this somewhat more expensive than just the purchase price, and drastically increases your carbon footprint- I thought we all agreed we would try a little harder personally every day?
Value
All things considered, this mid-range priced automatic cat feeder is great for cat and dog food, making it a versatile choice. While we are disappointed it doesn't have a power adaptor, there are still many reasons to love this feeder. Petsafe slays again.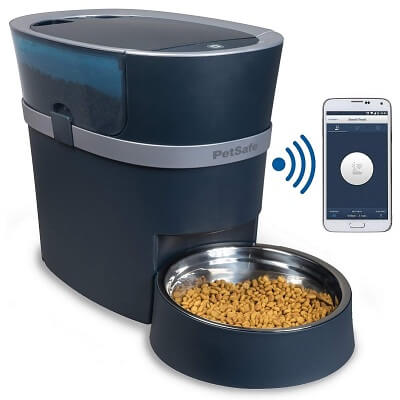 Peace of mind and Petsafe Smart feed are synonymous, consumers are delighted in this 'smart' automatic cat- and dog!- feeder. Some pet feeders won't handle larger kibbles, but this beast has no problem handling it. This hopper holds a lot of food and has great portion options with feeding up to 12 times- or customizable times off normal schedule- with a slow-release feature that feeds your pets over a 15 minutes period. Petsmart has thought of everything giving you true peace of mind while at work and vacation.
Read more
Connect this smart automatic cat feeder to your wireless router and feed your pet from anywhere around the world you might find yourself. Up to 12 feeding times- should you need to give your pet more food off schedule or you simply want to give them a treat, you can ultimately feed them whenever you want to! It should be noted that if the wi-fi drops you may find that your pet isn't fed. When calibrating how much food is dispensed, you can release anywhere from 1/8th of a cup of dry food up to 4 cups! Whether you feed sparingly once a day or you like to give food throughout the day- it is customizable for every pets unique diet. A cool added feature is the ability to slowly release the food so that the cat- or dog- won't choke or bloat from eating too fast.
Capacity
This beast can hold an above-average 24 cups of dry food or 5.6 liters. That's enough for multi-animal households!
Size
Measuring in at 20.3" Long x 9.4" Wide x 12.6" High inches; weighing in at 5.65 pounds- it can hold its ground.
Features
This incredible automatic cat feeder is a smartphone programmable. Connect it to your wireless router and then have access to your pet's diet from anywhere around the globe. That's how the future does it! 12 different mealtime options- with the ability to feed them at any time off schedule as well. 1/8th cup to 4 cups of dry food can be released at any one time, that's enough food for every diet!
Functionality
Peace of mind. It is nice to go to work knowing that you can still make sure that your cat is feed when they usually like to eat, even when you aren't home to do so. The slow-release is also an awesome feature. The downside is that consumers have reported that when wi-fi drops their pets don't always get fed. That's a no-go in all of our books.
Power Source
As all good automatic cat feeders should, you have the option for batteries (4 D batteries which are not included) or a power adaptor (which is included).
Value
We won't lie, this is one of the pricier if not the priciest purchase on this list. That being said, there is a peace of mind that goes along with it- and what is that worth to you? Weighing the options, there are just too many good things to be said for this cat feeder to be passed over.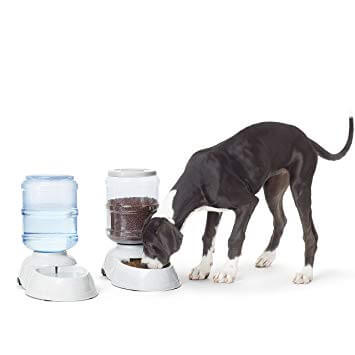 Not into all the new-fangled technology when it comes to cat feeders, even automatic cat feeders? Take a step back with this AmazonBasics gravity dispensed food bowl. Easy to grip handles allow for easy handling. The waterer features a cap that only dispenses water when in the bowl and pressure is applied, if it gets knocked off water won't spill out easily! See why this won Amazon's Choice List!
Read more
When it comes to technology, no matter how good it is, there is always a chance that something can go wrong. If you go away for weekends at a time or longer and you have multiple cats or dogs, other food dispensers just won't cut it. Go back to basics with this simply designed food dispenser that uses gravity to dispense and not electricity. However, without the pressure of an electronic dispenser pushing food out you may find that you have to shake this to get food to properly come out. Should animals be left alone when this happens if they nudge it or push it then they should be able to get the food out.
Capacity
This holds a truly incredible 6 pounds of dry food so your animals- either just one or a few!- will get all the food they need while you are away or at work. If you opt to buy the waterer as well- it holds a remarkable 1 gallon of water which should last the whole while you are gone!
Size
The food dish measures in at 12.5" Long x 7" Wide x 12" High while the waterer measures in at 12.5" Long x 7" Wide x 12" High
Features
This cat feeder is not a machine and offers no technological features, but it does have easy-grip handles for removal and reapplication. The base is made with anti-skid material so that it isn't easily knocked over. With so much capacity this feeder is great for multi-animal use!
Functionality
Water doesn't spill out of the waterer because of the cap that is designed to keep it from leaking out when not properly applied to the base so if it gets knocked over then you don't have a big mess on your hands. The food hopper doesn't have any feature like that so you may have to clean up dry food at times. Overall functions just as you would imagine it would.
Power Source
There is no power source needed! Just gravity! Food does get lodged in the opening though so shaking at times may be required.
Value
If you want simple at a very reasonable rate, then look no further, this Amazon Choice List winner will win you over. Although food sometimes gets stuck, this large capacity feeder is perfect for multi-animal families. With this price- you can't beat it!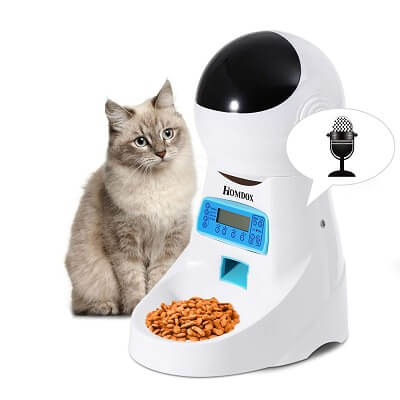 This automatic cat feeder is by Homdox is great for smaller cats and dogs! Feed them up to four times a day with programmable amounts up to 5g dispensed at a time. This feeder is easy to set up and then take apart and clean. Record a voice message to comfort your furry loved one while they feast. This feeder allows for either D batteries or USB adapter which is an awesome feature! Coming in as our Top 3 choices is Homdox food dispenser!
Read more
This feeder by Homdox is great for smaller cats, and even some dogs, as long as the food is 1 x 1 cm or smaller any bigger and the food is likely to get stuck. It is programmable to dispense food up to four times a day with amounts of up to 5 grams of the food. Feed your feline friends for up to 5 days while you are away. Set up is easy and fairly straightforward. Audio recording is a cool feature, although it is known to not be super clear or loud, it comes out muffled and quiet. The unique design of the feeder has anti-slip material on the base to prevent the feeder from slipping or tipping. For those that are environmentally concerned, good for you, draw energy from a wall outlet with the USB adaptor, or should there be a power outage, D batteries will keep the machine dispensing even while the electricity is down.
Capacity
This machine has a unique shape to it. It has a 'hopper' on top of a larger base. It holds 1500 grams- or 2.5 liters, which is a little small for our liking. Plus the machine only works with 1 x 1 cm food or smaller.
Size
This feeder measures in at 8.2" Long x 11.3" Wide x 14.8" High
Features
This feeder doesn't just dispense food, it is programmable to your liking; it also offers audio recording options so your pet can be comforted by your voice when meal time swings around. That being said, the audio recording is a little muffled and quiet, so the quality of the audio recording isn't great. The material is food grade quality so that your pet doesn't have toxic kickback from the plastic.
Functionality
Food is known to get stuck in this machine; when that happens not enough food gets dispensed depriving your cat of a full meal. It is really easy to set up the first time, and it is simple to take it apart to clean it.
Power Source
As every good automatic cat feeder should have, it has a battery slot for D Batteries (not included) or a USB adaptor hookup.
Value
This cat feeder is cheaper than some of the competition, but it also doesn't last as long as a competition. That doesn't mean you won't get your money's worth from it, but other versions might last longer, depends on how hard your cats use it. The good definitely outweighs the bad with this automatic cat feeder bring it in the Top 3 Best Automatic Cat Feeders!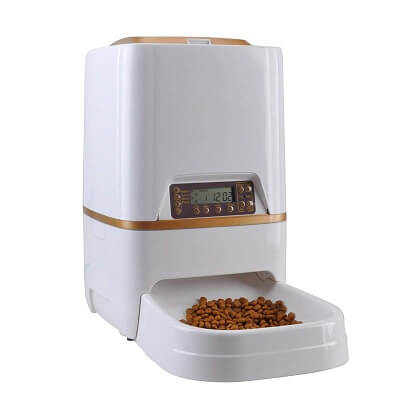 Animals feel better eating when they know that their human is close at hand- now, even when you travel, you can fool your cats into thinking you are right there by recording your voice to play every time they are feed. This automatic cat feeder holds an amazing 6 liters of capacity, so you can feed your cat all weekend even while you are away! As an Amazon Choice List winner customers love this feeder- and we do too, making its way to the top of our list as the Best Automatic Cat Feeder!
Read more
If you travel a lot but you don't have friends or family close by to check on your cats all the time, then this 6-liter capacity automatic cat feeder is just what you need! Record your voice- up to 10-12 seconds worth- so that every mealtime the cat feels a little more secure feeling as if you are nearby. Audio plays three times before each feeding. An awesome feature is that it uses either batteries or USB so if you are environmentally concerned- shouldn't we all try to be a little more every day?- then you no longer have to buy batteries over and over again only to add them to toxic landfills. Another awesome feature is the built-in infrared sensor so that food never gets locked up inside delivering timely meals with just the right portion. Most cats won't be able to get any more food than they are supposed to- but mischievous cats may find it easy to tamper with.
Capacity
This holds a pretty incredible 6 liters of capacity, so you can fill it to the top so your cats are feed while you are away even for long weekends away from home.
Size
This feeder is 7.3" in. Long x 7.3" in. Wide x 6.6" in. High- it has a square shape so it tucks well into a corner. However, when using the USB attachment, it sticks straight outback of the feeder making it stand away from the wall some, seems like a small design flaw.
Features
This automatic cat feeder has a built-in audio recorder so that your voice will play a 10-12 second clip three times before each feeding. The voice recording is very quiet, though cats with better hearing probably have no problem hearing it. It also has built-in infrared sensors to that it better prevents food from locking up in the mechanism, so that cats get feed enough and on time. This feeder also features ultra-low power consumption so that batteries last longer or the USB requires less electricity.
Functionality
Works just as you would expect, although it seems to work best with smaller kibbles than larger ones. You will have to calibrate it when you first get it to modify how much food and when they are feed. Having a scale handy to weigh things out isn't a bad way to go. If you are used to feeding your cat only once a day you may have to do smaller amounts in more increments. If the feeder gets knocked over the lid pops right off so that the cats can feast as much and as long as they want to. Some consumers had to make mounts for their feeders and lift it off the ground to keep particularly mischievous pets from eating too much.
Power Source
This is pretty awesome because it features either a battery slot for 3 D batteries- which are not included with purchase- or a USB hook up so that you can power it right from an outlet and never have to worry about using batteries again. Either way, the machine offers ultra-low power consumption so you don't have to worry about extra expense on paying to power it. As noted the USB does stick out awkwardly.
Value
We wouldn't imagine trying to tell you what to do, but if you want an automatic cat feeder, you can't go wrong with this one. Other than a small design flaw and low recording volume (although that can be a blessing, who wants to hear their own voice repeated back to them so often?!) there were almost no negative reviews. It is a little pricey, but one purchase secures you years of uses. Westlink comes in as #1 Best Automatic Cat Feeder!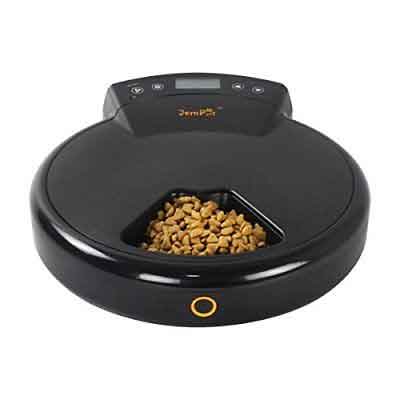 If you are looking for a sleek automatic pet feeder that will not take up a lot of room but will make sure your cat is fed on time, this might be the cat feeder for you and your cat. With customizable times and the ability to be powered through either the wall outlet or through batteries, this unit is worthy of its spot as a top ten contender.
Read more
Capacity
This only holds 5.5 liters of wet or dry food and can be programmed for up to 5 meals a day (but the downside is that is can't be programmed for more than 24 hours at a time).
Size
This cat feeder measures 12 in. x 13 in. x 3 in. and it is circular in shape for optimal compactness.
Features
This automatic cat feeder can handle dry, semi-dry, wet food and treats! If using wet food, keep in mind safe consumption temperatures for your furry friends. When it comes to cleaning time, make sure to get it on a regular rotation too. The best way to clean this unit is to get a damp cloth and rub down each compartment in the unit. A cool feature of this unit is its ability to record 10-second audio clips that can be played 3 times before each meal is dispensed.
Functionality
Overall consumers are very happy with this product, especially the tightly-secured lid to prevent your pet from breaking into his food stash. one downside is that you can only program it for 24 hours at a time. No leaving for long weekends and expecting this to feed your pet the whole time. However, if you don't go away often, and are looking for a reasonable automatic cat feeder to dispense food while away for long hours at work, this product is ideal.
Power Source
This is powered with 4 C batteries or a DC power adaptor.
Value
This unit is quite affordable and is a great investment if you have a busy schedule and are looking for something to bring some ease to your life without neglecting your cats.

Subscribe to our Newsletter