Best GPS Dog Trackers
In a Hurry? Editors choice: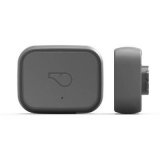 Test Winner: Whistle 3

While walking your
dog
or coming into your house and your dog escaping through the front door nothing is worse than that feeling or missing your canine. Do not worry, you are not alone in the universe and sometimes,
dogs
have a unique way of escaping human's grasp. When this unfortunate event occurs, you are left with a sinking heart as you worry if your
dog
is okay and where they are at. Honestly, this ranks up there with any small tragedy as your dog becomes a member of your family and the possibility of losing them is heartbreaking. A wonderful invention to help find your dog is a GPS dog tracker that you can put on as a collar. This ensures that even if your best friend gets lost, you will be able to find them quickly and bring them home safely.
Standout Picks
Criteria Used for Evaluation
Accuracy
No matter what type of GPS device that you are about to invest in, whether it is a watch, handheld, navigator, or in this case a dog tracker, the first design feature you should always assess is the GPS functionality itself. Yes, all these devices will utilize GPS in some way but as you will find out, certain devices do so better and offer more features. For starters, the sensitivity of the GPS is important. Hence why high-sensitivity GPSs are ideal as this will significantly increase the reception. Also, look out for the addition of GLONASS capabilities. This is very similar to GPS but is associated with Russia. No matter, with both you double the chances that the transmitter will get a fix on a signal.
The range is also important. This is where the debate between Wi-Fi and Bluetooth comes into play because, as great as Bluetooth is, it lacks the range of Wi-Fi (most of the time). Your dog is going to run fast, so a long range is ideal. Lastly, look out for activity tracking. This can allow you to monitor certain health metrics of your dog and, depending on the model, will also provide you with training features.
Use
Each GPS dog tracker may work differently and as such, it is important for you to assess which operation suits you more. For example, looking at the two Garmin GPS dog trackers that made their way on this list, they work with a compatible receiver. So, the GPS collar gets attached to your dog and then the data and information are transmitted to the receiver. This method will not require a smartphone. Why could this be important? Well, if you do not own a smartphone, some dog trackers become inoperable. But, even more so, trackers that utilize cellular technology will accompany their device with a subscription fee. Thankfully, this is never too much and may run you a little over $6 a month.
Something else to assess is certain functionality that they have. For example, some GPS dog trackers will allow you to designate more than one "safe zone" and when your dog leaves, you will be alerted of it.
Durability
As a note, this is referring to the actual tracking device that gets hooked on your dog's collar, not the receiver (if there is one) that goes with it. It is easy for you to handle and take care of your technology devices when you are the ones possessing it. However, what happens when you take that responsibility and hand it over to a creature that can't speak. This is not insinuating that dogs are dumb bet let's face it, they can't comprehend that there is a valuable piece of equipment attached to their collar.
This is why durability and water-resistance are so important. You simply never know what your dog will get into and unlike cats, most will not mind getting wet. If a simple splash will compromise the integrity of the tracker, you may want to look for one that is waterproof and being able to be submerged in water for a brief moment. This can also account for bad weather; if your canine happens to wander off during a rainstorm. Durability is self-explanatory as dogs can be mighty playful, can't they?
Battery Life
You can bet your bottom dollar that whenever you are analyzing a technology device that runs on batteries, battery life will come into play. It is just the nature of these types of devices and as you know, it will vary from model to model. Much is the same for GPS dog trackers and especially those that work in conjunction with a receiver. Generally, if you can get anywhere from 20 to 40 hours of battery life with the higher-power trackers you are doing fairly well.
Of course, there are also versions on this last that claim to last for days without needing a charge. These types of trackers will typically work in coordination with your smartphone or other such devices. Clearly, though, the fewer times you need to charge the GPS tracker, the better. After all, it is not much use to you if it dies while attached to your pooch.
Top Ten GPS Dog Trackers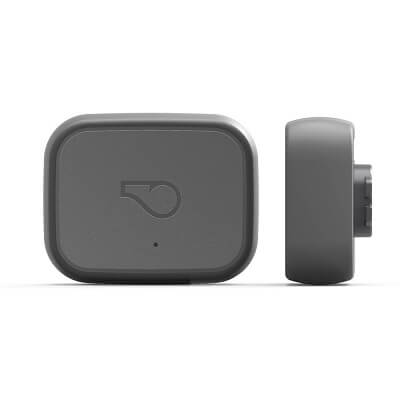 Generally, most people believe that the Whistle 3 GPS Pet Tracker is the best of its kind. There are strong reasons that back up this claim and its insane battery life and additional activity tracking, are only two of them.
Read more
GPS Functionality
Each time your dog leaves one of your designated locations, the Whistle 3 creates a trip. All in all, you can track your pet's location 24 hours a day. Also, it features activity tracking which allows you to monitor the health of your canine.
How it Works
As this tracker uses GPS and cellular technology to track your dog, a subscription is required. In addition to this, you will need a Wi-Fi network to receive the email or text when your dog leaves their safe places.
Craftsmanship
This manages to combine durability and waterproofness tremendously. As such, even if your dog goes for a dip, this tracker should remain intact and operational.
Battery Life
While the battery life can be altered by factors such as the strength of your Wi-Fi signal, the Whistle 3 boasts an ultra-impressive battery life of up to seven days. When depleted, the battery takes around two hours to fully recharge.
Dog Requirements
The tracker will attach to your dog's collar granted it is up to 1-inch wide. Overall, it is recommended that your dog be at least eight pounds in weight, as well.
Overall
Even though the Whistle 3 did not secure the top spot on this list, it easily could have. If in the blink of an eye Garmin's existence on this earth was erased from history, this would be the best GPS dog tracker in the world.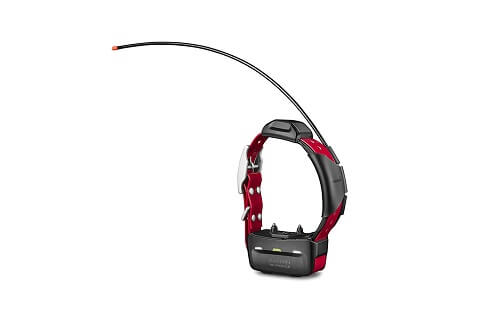 Garmin is to GPS like Magic Johnson and Larry Bird were to the NBA. In other words, they have stamped a blueprint on the technology and even when it comes to dog trackers, they have managed to make the best device in the world.
Read more
GPS Functionality
For distances of up to nine miles away, the high-sensitivity GPS and GLONASS receiver can track your dog down. Past its tracking capabilities, it also features 18 levels of momentary stimulation that allow you to train your dog.
How it Works
This tracking device works with Alpha 100 and Astro 320 receivers to monitor your dog's location, speed, status, distance traveled, and your distance from the dog.
Craftsmanship
The device itself is extremely rugged and water-resistant to 10 meters; proving you with peace of mind as you never know where your dog is traveling. In addition, the antenna is made of braided steel and can handle abuse.
Battery Life
Integrated into this GPS tracker is a rechargeable lithium-ion battery. While it will vary on several factors, a single charge will provide you with 20 (the TT 15 mini) to 40 hours of use.
Dog Requirements
Granted your dog has a neck size that is between 13 inches and 22 inches, the collar strap should fit just fine.
Overall
If you have never heard of Garmin, then you are a terrible liar. Alright, maybe you have not but they have stamped their print on the industry of GPS products. It is only fitting that their TT 15 Dog Tracker stands above the rest.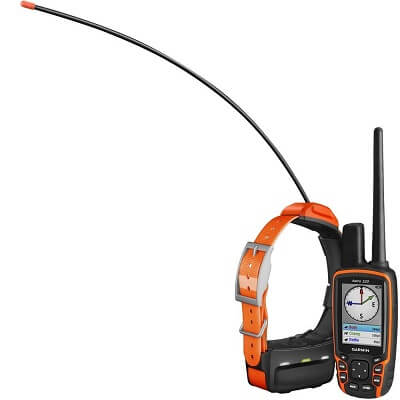 Hey, it is Garmin again! It is worth noting that this specific version being documented is an Astro 320 bundle. Now, the T5 GPS Tracker is different than the company's TT 15 and not quite as good.
Read more
GPS Functionality
The T5 Dog Tracker possesses the capability of tracking up to 10 dogs at once and can do so within a range of nine miles. To achieve this, Garmin implemented a high-sensitivity GPS and GLONASS transmitter.
How it Works
As this bundle provides you with the Astro 320, this is the device that allows you to monitor your pup. Every five seconds or so, the T5 will transmit your dog's current location and a trail of where he has been.
Craftsmanship
This bad not is water-rated to withstand submersions of up to three feet for no longer than 30 minutes. More so, the stainless steel antenna is built-to-last.
Battery Life
Just like the TT 15 device, the T5 provides you with up to 40 hours of battery on a single charge. However, in rescue mode (which reduces the update rate), it can last four hours longer.
Dog Requirements
Given that this collar is fairly large and thick, this is certainly not designed for smaller dogs or pups. It may be too much for them to handle.
Overall
Even though some reviewers have claimed that the reception can cut in and out at times, this remains another success for the juggernaut that is Garmin. What is truly sensational is the range of nine miles, which could account for different cities.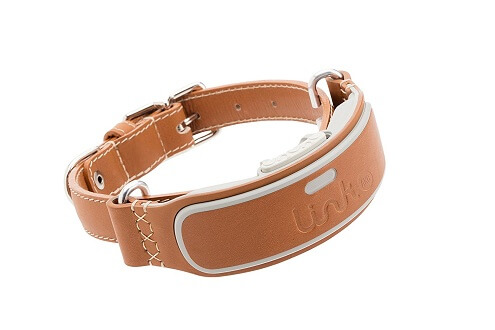 Even though this GPS unit does require a service plan, which is paid on a monthly basis, it is still more than worth it. In addition, a premium leather collar is included and can be used in place of your dog's standard collar.
Read more
GPS Functionality
Not only can you track your dog's location with the use of GPS technology but activity tracking is also included with this device. However, it does use Bluetooth and unfortunately, it does not possess the range of Wi-Fi.
How it Works
This is another dog tracker that does require you to sign up for a service plan. However, it certainly is worth it because as soon as your dog leaves a designated safe zone, you will be alerted of it.
Craftsmanship
To secure the tracking unit to the collar, LINK AKC utilizes a durable leather sleeve. Also, if you do not want to use your own collar, it does include a premium leather collar. All in all, the tracking device is shock and water-resistant.
Battery Life
You can expect to get around two to three days of battery life with this GPS smart collar. Although, the manufacturer does recommend charging it nightly.
Dog Requirements
Truthfully, this will fit most dogs as long as they are over 10 pounds in weight. Those under that amount may not be able to handle it.
Overall
Would this be a better device if it utilized Wi-Fi connectivity instead of Bluetooth? Probably, as it would greatly increase the range. However, it does not hide the fact that the overall design is superb.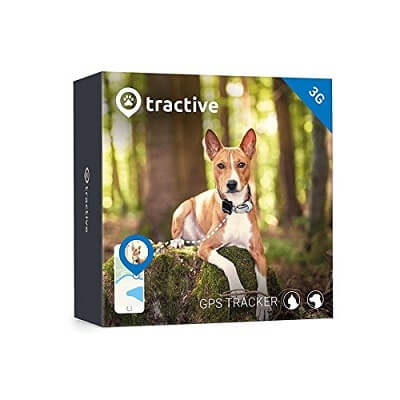 The Tractive GPS Tracker is as straightforward as it gets for a device of its kind. It utilizes GPS and communicates through cell phone towers to track your dog. However, there is no functionality for activity tracking.
Read more
GPS Functionality
While this lacks extra features such as activity tracking, thanks to its live tracking capability, you can view the whereabouts of your canine in real time.
How it Works
Yes, this does utilize GPS satellites but it does so in conjunction with cell phone towers. Due to this, a small monthly fee is associated with Tractive. As for the compatibility, it supports most Android and iOS smartphones.
Craftsmanship
This is marketed as being 100 percent waterproof. Clearly, even waterproofness has limitations but water splashes and rain should not prove to be an issue.
Battery Life
Depending on your network and their coverage, the battery life can vary from two to five days. It is quite a vague battery span but it really does depend on those two factors.
Dog Requirements
Dogs over nine pounds will find this device suitable for their collar. Any dog underneath that is not recommended.
Overall
Without activity tracking or the use of Wi-Fi connectivity, it is difficult to sell this as anything more than a very good GPS tracker. But, it fulfills its purpose and that is all you can really ask.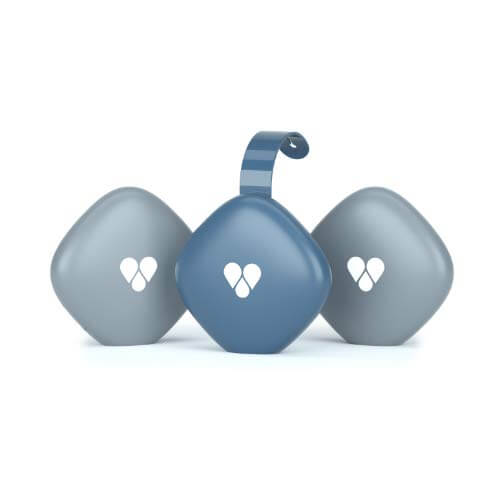 The Findster Duo is a bit more expensive even with its small size. It has a limited range and is water-resistance, it is compatible with both Apple and Android devices and works efficiently as a GPS tracker.
Read more
GPS Functionality
If you did not have a dog, this could actually be used to track various other belongings. However, it can be used to track your dog but because it utilizes Bluetooth technology, the range is only around 30 to 50 meters.
How it Works
Once you have attached the tracker to your dog's collar if they escape beyond 30 meters then you are alerted right away. You must own an Android or Apple device, however, to be alerted.
Craftsmanship
One of the benefits of this tracker is its super lightweight design. As such, your pooch will hardly notice its attached to them. But, it does lack water-resistance.
Battery Life
An extra battery comes included with your purchase and they are replaceable. Each one should last around six months and no, it will not consume your smartphone's battery.
Dog Requirements
Given its lightweight nature, this is one of the few trackers on this list that has virtually no restrictions. Truthfully, it is a feasible product no matter the size of your dog.
Overall
One thing is for sure, if your dog absolutely loves playing in muddy conditions or water then this tracker may be for you. It works in every country which makes it even more popular.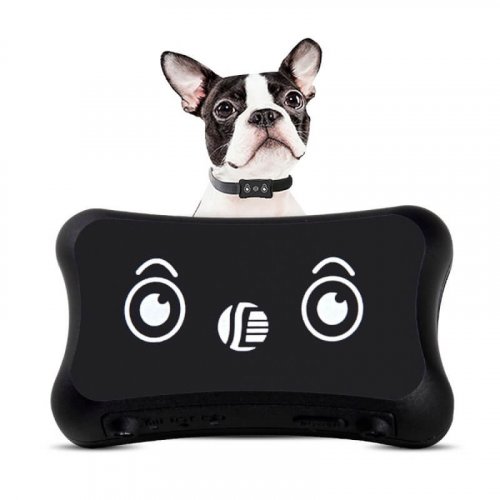 The Pet GPS Tracker is equipped with several features that make it an excellent device. This includes a waterproof design, the ability to create multiple safe zones for your dog and its superb battery life.
Read more
GPS Functionality
With GPS function, GPS/SMS position is fast and accurate to five meters in Google Maps and it helps you to monitor your pet in actual time.
How it Works
This tracker actually can pin point your pet's location and begin a tracking session to find them using the map in the DAGPS app.
Craftsmanship
Being sleek enough to fit most dog collars and being designed to withstand both rough-and-tough dog play and water, most should feel more than satisfied here.
Battery Life
On a single charge, the batteries are designed to last four to five days. To extend this a bit, there is an integrated sleep mode when you know your pet is not moving.
Dog Requirements
This device can attach to the current collar that your dog is wearing. Because it is sleek and not bulky, it will fit a wide range of collar sizes and types.
Overall
One of the only caveats to this design is the lack of real-time updates. As such, there is a bit of a delay but even so, it is not too noticeable. If you are looking for a rather basic yet effective GPS dog tracker, this may be the one for you.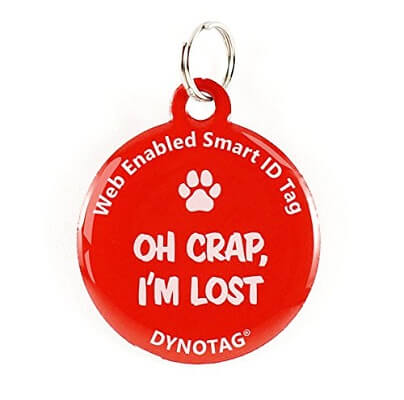 Perhaps, the only true issue with this GPS-enabled tag is that it is very limited. It does utilize GPS technology but you are notified of your dog's location when the tag has been viewed and scanned. As such, this is an ideal emergency backup and may not be a go-to option.
Read more
GPS Functionality
Now, unlike all the others, this does use GPS technology but in a different way. When the tag has been scanned, the GPS functionality allows it to pinpoint to you where that occurred.
How it Works
This is not really feasible for people looking to monitor their dog all the time. Instead, it is a nice emergency backup so if someone sees a stray dog, they can scan the tag.
Craftsmanship
It is designed with a stainless steel core and is coated with protective polymers on both sides that eliminate noise.
Battery Life
Because Dynotags are passive, there actually is not an integrated battery. As such, you never have to worry about the battery life.
Dog Requirements
Much like the previous tracker, this will easily attach to virtually any dog collar in the world and is suitable for nearly all dogs.
Overall
For what it is, this is pretty neat. While not a solution for owners who are utterly paranoid about their canines, it is a nice emergency backup in case your dog gets lost.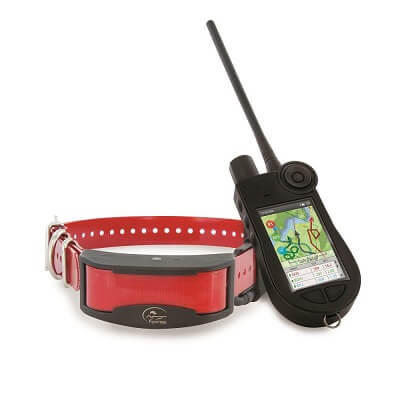 It is a close contest, but the Brand TEK Series 2.0 GPS may just be the most advanced GPS dog tracker in the world. It features both GPS and GLONASS reception, preloaded topo maps with lifetime updates, and 99 levels of static stimulation.
Read more
GPS Functionality
Indeed, this is a beast when it comes to GPS technology. To increase the reception, it also has GLONASS technology. Also, 99 levels of static stimulation are provided and they allow you to train your dog.
How it Works
Instead of using cell phone towers, this strictly uses GPS and GLONASS satellites to track down your dog. You will know what direction your dog is headed, the path that they took to get there and also if they have stopped moving.
Craftsmanship
The manufacturer of this dog tracker designs all their products with inclement weather in mind. Thus, you are provided with a waterproof device that can handle submersions of up to 25 feet.
Battery Life
Both the collar receiver and handheld device need to be charged for full operation. Both take a while to charge (the collar takes four hours and the handheld eight hours), but they have stellar batter lives of 24 hours and 12 hours, respectively.
Dog Requirements
It is not recommended that this is used on dogs less than eight pounds. In terms of neck sizes, this collar will adequately fit 10.75 inches to 23 inches.
Overall
There is a strong likelihood that the price tag will scare you off. Consider this, though, the design is utterly amazing, the reception is fantastic, and there is no subscription plan that you need to pay for.

10

. BLACK+DECKER Smart Dog Collar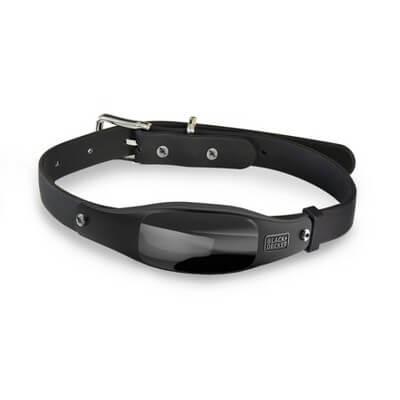 This GPS dog collar from Black & Decker has a sleek design and your first line of defense on protecting your dog if they happen to get lost. This collar not only has GPS capabilities but also allows you to communicate with your dog through the GPS device to provide comfort while you are looking for them.
Read more
Accuracy
Now, a micro-SIM card is required for this device to be operational it allows you to see where your pet has been as you can access the appropriate application through a 2G network.
Use
This GPS device is water resistant and uses a 2G coverage to locate your dog if lost. It also has the capability to let you talk to your dog or surrounding people through the GPS device to help you find your dog with ease, and get help from surrounding people. You can also set up a safe zone which is an invisible boundary set up when your dog exits that boundary, the sensor will activate and alert you.
Durability
This GPS device is built to last and Black & Decker is known for their quality. Also, this GPS device is water resistant which means even if your dog is lost in the rain, you can find them and bring them home.
Battery Life
There is a user replaceable rechargeable lithium-ion battery with 17 to 48-hour battery life

Subscribe to our Newsletter