Best Dog Shoes
In a Hurry? Editors choice: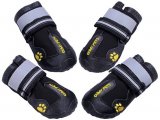 Test Winner: Qumy Boots

Do you love being active with your
dog
but wish
you could protect
their delicate paws from the elements, especially in bad weather? Dog shoes should protect their paws from extreme weather conditions, chemicals, and sharp objects. The best shoes will fit well, stay on, and supply your dog with traction for their
lifestyle activities.
Whether your dog is a pup or a geriatric, dog shoes can help them gain traction both indoors and out while keeping their paws warm or cool. If you are worried about choosing the right dog shoe for optimum motility, quality, and durability, this guide of the top ten best dogs
shoes
will help you preview the top models on the market today.
Standout Picks
Criteria Used for Evaluation
Fit
Fundamentally, the best dog shoe will provide comfort, durability, and protection while not easily sliding off your dog's paws. That's is why materials, tread needs, adjustability, and traction should all be factored into the overall design your dog needs for the best fitting dog shoe. Before considering which type of shoe your dog needs, first consider your dog's lifestyle and the types of terrain and environments they will encounter.
For instance, young and active dogs will need a shoe to protect against icy cold conditions while hiking in snow and that a fleece-lined leather bootie is the best protection. While a geriatric might need tread safe soled dog shoes to get a better grip of slippery wood or tile floors. And if you simply need a rubber rain boot to keep your dog's paws dry during rainy elimination breaks, especially in warm weather, a simple silicone bootie might work better than trying to snugly fit a hiking boot.
Lastly, before choosing the right dog shoe, you might consider your dogs preferences. Older and younger dogs may easily adjust to dog shoes, but active dogs may prefer certain shoes at least at first, over others. For instance, dogs used to going barefoot in snow and ice may bulk at a dog boot, but that same dog may welcome the relief of a thin leather or rubber dog shoe on blazing hot concrete.
Materials
The materials should be natural, such as rubber and leather, but the right synthetics, such as neoprene, can provide ultimate protection against environmental damage. Additionally, the dog shoe design factors in what kind of materials would be best. For instance, hard rubber soles with deep treads provide the best traction, but soft leather soles provide the best paw motility. Your dog's lifestyle and traction needs, then, dictate which sole type, and thus which material type would be best suited for your dog's actives, environment, and preferences. Many of the dog boots are made with a combination of rubber soles, neoprene sock and nylon Velcro. All materials are durable and weather resistant.
Traction
Sole treads on the dog shoes you choose all depend on the type of activities your dog's shoes will likely encounter. Soft leather shoes are ideal for carpeted or dry cold conditions with soft terrain. But dogs needing more traction, such on slippery ice or wood floors, will need a hard rubber sole with deep treads and decent traction. The choices in this guide have been selected to cover a variety of situations. The rubber soles are water proof and provide traction under most conditions. The deep traction treads work best with shallow mud, snow, or rough terrain.
Protection
Let's face it, you wouldn't be choosing dog boots if you didn't need some protection for your pet's feet. Basic protection is a requirement, but being able to protect against chemicals, frost bite, concrete burns, and sharp objects should be a priority. Properly protected feet will help you and your pet have more fun on and off road in more types of environmental conditions without the worry of damage to your pet's paws. A lot of the dog boots are intended for use in a variety of weather conditions in all seasons. They are water proof to a point, but are not intended for super icy conditions, deep puddles, wading, sand, or silt.
Top 10 Picks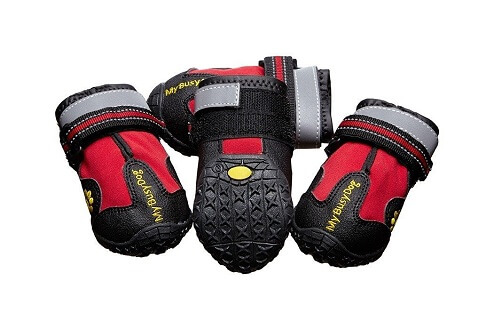 With three colors and six sizes to choose from, the My Busy Dog Shoe can help your dog sports traction and protection in a bit of style. The high-quality fabrics and craftsmanship show in these durable dog booties that will last your active dog a few seasons. All sewed together without gluing ensures these dog shoes will not tear apart or come apart under normal usage.
Read more
Overall Fit
The five sizes available ensure most dog breeds will receive a properly fitted dog shoe. Getting a size slightly bigger than your dogs foot will make sure they are comfortable without pinching, binding or discomfort. These come in standard sizes and a comprehensive sizing chart can be found online.
Materials Used
Rugged rubber soles are securely sewn to the vinyl reinforcing that keeps the neoprene strong. The durable construction includes two Velcro straps and reflective striping.
Tread/Traction
The uniquely patterned x-marked sole treads provide ample traction on many surfaces. The spacing and depth ensure a secure grip on slippery surfaces while the rubber sole depth provides protection from sharp punctures and extreme temperatures. The treads seem to last, under most conditions, and grip most surfaces.
Adjustability
A split seam along the front makes it easy to slip your dog's paw into the dog shoe and the two Velcro straps help keep the shoe in place through your dog's usual activities.
Protection
All the materials are water resistant and puncture resistant. The thick rubber soles also resist most chemicals and extreme cold and heat, such as pavement and snow.
Summary
If you are looking for a solid construction and rugged dog shoe for your dogs active or geriatric lifestyle, this shoe will work both indoors and out in a variety of conditions while providing comfort. These dog shoes are ideal for most situations and should last a few seasons before needing replacement, even for active dogs.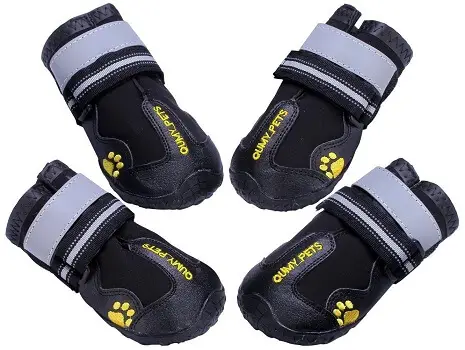 Providing your dog with weather resistant foot protection can mean longer runs and more activity in poor conditions. Qumy dog boots will provide basic protection and weather proofing for outdoor activities in any season.
Read more
Overall Fit
By ordering the dog boots slightly larger than your dogs foot, you ensure the right fit. The two Velcro straps combined with the split seam help keep the booties on comfortably.
Materials Used
Rubber soles provide decent cushion and waterproof base while the neoprene sock is generally water resistant and warm. The nylon Velcro isn't known to fray or bind.
Tread/Traction
With tread patterns similar to sports shoes, the rubber soles on these Qumy dog boots are designed for slippery conditions and rough terrain.
Adjustability
Two nylon Velcro straps with reflective striping provide a snug fit over your dog's joints and dew claws, thus preventing slipping off or being flung.
Protection
Not 100% water proof all the way to the cuff, but the dog boots are water resistant and will keep your dog's feet dry in snow, rain, and most weather conditions.
Summary
Qumy dog shoes provide both indoor and outdoor traction in a variety of weather conditions. The waterproof soles protect dogs from most temperatures, sharp objects, and chemicals. If the proper shoe size is applied properly to the dog's paw, the Velcro straps should keep the shoes securely in place.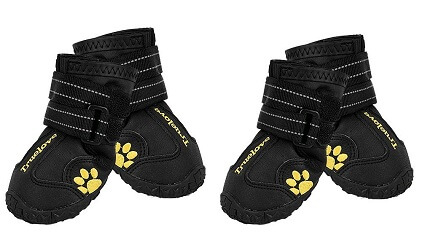 Looking to explore with your pet, these dog booties should keep your pooch's feet dry and safe from chemicals and weather conditions. Expawsplorer Waterproof Dog Booties are perfect or indoor and outdoor use. If your dog shies away from normal activities or is having difficulty walking on some surfaces, these booties may aid in tractions and protection.
Read more
Overall Fit
Some users had difficulty keeping these on and that may be due to the narrow straps. However, with eight sizes to choose from and a helpful sizing chart that lists breed and size of dog, finding the best fit isn't so hard.
Materials Used
A neoprene sock keeps your dogs upper foot and joint warm and dry, while a rubber sole protects against wet conditions and sharp objects. The nylon Velcro straps have reflective striping to aid in visibility at night.
Tread/Traction
The deeply treaded rubber soles even work indoors on slick wood and tile floors to provide ample traction to even old or inform pets. The rubber soles are water proof and chemical resistant, to provide a dry, comfortable experience.
Adjustability
After selecting the optimal size for your dog breed, the Velcro straps should ensure a snug fit and minimize flinging and slipping off.
Protection
The quality materials of these dog booties should ensure your dogs feet stay dry and clean, even in snow, rain, or rough terrain. They shouldn't be used for wading or in deep sand, silt, or mud. But they will provide ample protection against rain, snow, and hot pavement or sharp rocks.
Summary
If you are looking for a lasting solution to your pet's foot protection, Expawsplorer will last several seasons and work as well indoors and outdoors. While you may not want to take your dog wading through the icy rivers in Canada, for most cold or hot conditions, these dog boots will protect your dog's feet.

4

. Xanday Breathable Boots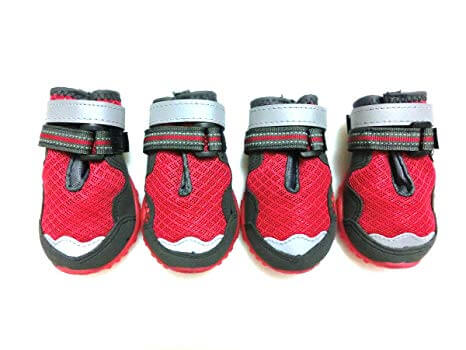 Convenience, safety, and quality are the premier qualities to look for in dog boots. Xanday dog boots with wear-resisting sole which protects from thorns and hot pavements soles provide your pet's paws safety against severe weather and environmental conditions. Quality materials last several seasons to provide ongoing protection.
Read more
Overall Fit
With proper foot sizing, these boots will fit snuggly and resist turning, pinching, or slipping off. With three sizes to choose from and Velcro closures, they will fit most dog's feet well.
Materials Used
Using quality rubber, using the breathing sandwich netting, keeps paw dry, these dog boots have solid construction. The rubber soles provide waterproofing against a variety of snowy, rainy, and rough surface conditions, while the neoprene upper sock provides water resistance, warmth, and comfort.
Tread/Traction
Deep tread traction is ideal for most surface conditions your dog will encounter. These rubber, deeply treaded, soles will protect your friend from slipping and sharp objects.
Adjustability
The reflective Velcro straps wrap all the way around the boot and ensure a snug fit when properly applied to your dog's foot.
Protection
High quality materials resist punctures and extreme temperatures, thus keeping your dogs foot protected against the elements and injury. Expect these to keep your dog's feet dry in the snow and from being burned on hot pavement.
Summary
The basic paw protection these boots provide suit most extreme terrain and weather conditions you dog will encounter. While they won't hold up for a dog sled team, they should last your pet several seasons, even if you both participate actively in fitness activities.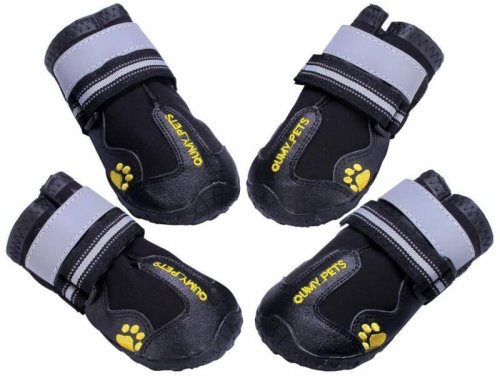 If you are looking for protection for your dog's paws for snowy or rough terrain, these boots should fit your news. They fit well, have rubber soles and are water resistant. They will protect against most weather conditions and the soles are waterproof.
Read more
Overall Fit
Most customers reported the dog boot fitting well and staying on despite the dog's activity. By firmly strapping the Velcro above the dog's joints and dew claws, it should stay on even during periods of intense activity.
Materials Used
These dog boots are made with a combination of rubber soles, neoprene sock and nylon Velcro. All materials are durable and weather resistant.
Tread/Traction
The rubber soles are water proof and provide traction under most conditions. The deep traction treads work best with shallow mud, snow, or rough terrain.
Adjustability
Velcro straps provide ample sizing, if the proper shoe sizes were obtained for the dog. With proper placement, the traps will hold the boot in place and provide comfort on the dog's leg.
Protection
QUMY Dog Boots are intended for use in a variety of weather conditions in all seasons. They are water proof to a point, but are not intended for super icy conditions, deep puddles, wading, sand, or silt.
Summary
If you are looking for a great over-all rugged dog boot and want something that will last several seasons, the QUMY Dog Boot will fit your needs. For most dog activity levels, they perform as intended.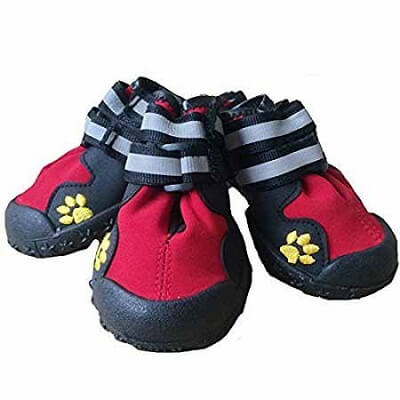 Waterproof anti-slip protection is essential for dog's feet during poor weather or in hazardous conditions. Protect your dog's paws with dog rain boots with anti-slip rubber treaded soles for optimal foot protection.
Read more
Overall Fit
Five sizes designed for small and medium dogs, these rain boots have a split seam to make them easy to get on, and a Velcro closure with reflective striping for a snug fit. When properly applied, these dog boots should stay on under normal active conditions.
Materials Used
Rubber soles combine with neoprene socks and nylon Velcro to make a secure and waterproof protection for your dog's feet.
Tread/Traction
Actual treaded soles with stars and groove ensure all-terrain traction with these dog boots. Similar to tread-safe non-slip human boots, these dog boots provide ample traction in most slipper or rough conditions.
Adjustability
Reflective-striped Velcro is placed high up the boot-sock to ensure it is tightened above joints and dew claws for the perfect snug fit when properly applied to the dog's foot.
Protection
These dog boots are just right for most weather conditions and should keep dog's feet warm in cold weather as well as protect delicate pads from searing hot pavement. Not recommended for wading, puddles, mud or sand, these boots are waterproof from rain and wet surfaces.
Summary
If you are searching for the just-right dog boot for a variety of surface conditions and protection against the elements these dog boots might work well for your pooch. They are well-made and should last at least a couple of years with normal wear and tear.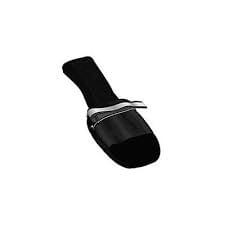 With overall positive reviews, these boots should rank higher, but they fall just short due to pricing versus benefits. If you are looking for a leather-bound fleece-lined winter protection in the coldest weather, Muttluks do take after their moccasin misnomer mukluks.
Read more
Overall Fit
These fit better than most dog boots on the market, and with a little practice, are relatively easy to get on and secure. Possibly due to the fleece lining, they slip off less often than similar boots on the market and are more flexible for your pet's paws.
Materials Used
Fleece lined and leather soled, the only plastic is the nylon Velcro strap with reflective striping. The fleece lining will provide extra warmth and protection in icy weather and snowy conditions.
Tread/Traction
Muttluks are made for icy weather and will provide paw-simulated traction with their textured leather soles. Leather is naturally water resistant, but leather conditioner can improve water-proofing, but may reduce traction of the soles.
Adjustability
With reflective Velcro straps and proper foot placement when putting them on the pet, these dog boots should stay on better than most booties. Because they are designed more like socks and do not have a defined sole, they tend to fit a wider range of foot sizes. With 7 sizes to choose from, they may be the best fitting boots on the market.
Protection
Not 100% water proof, but they will protect against most damp conditions. Leather is strong and impermeable by sharp objects and most chemicals too, thus providing ample safety for your pet's paws. These dog shoes are ideal for icy old conditions, deep snow, or cold, dry terrain.
Summary
Not the most fashionable dog booties on the market, Muttluks are more form and function than fashion. They will provide ample protection for your dog's paws in bad weather and cold, icy conditions. With the proper fit, they slip less than their counterparts. The leather exterior ensures durability for a few years, longer than other dog boots on the market.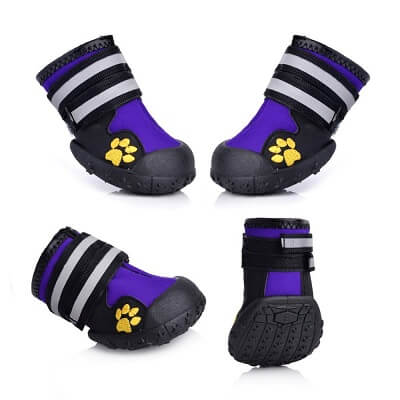 These rugged active-wear Fantastic Zone Waterproof Pet Boots are akin to human hiking boots and should keep your dog's feet well-protected from the elements. They are easy to put on and include safety features, such as reflective striping ad actual rubber treads.
Read more
Overall Fit
These dog boots come in five sizes and include adjustable Velcro straps to further insure and secure fit during activity. Be sure to measure your pet's feet standing up and buy the size slightly larger than their measurements.
Materials Used
Made from a mixture of rubber soles, neoprene sock, and nylon straps, they are tough and weather resistant. They resist most weather conditions and debris, but are not intended for wading or puddles.
Tread/Traction
The rubber treads provide as much traction as sneakers or tread safe work boots for humans. The star-pattern on the soles is coupled with a regular tread patter and is non-slip textured for better traction on ice or slippery surfaces.
Adjustability
With a neoprene sock and adjustable reflective Velcro straps, these all-terrain boots should fit most leg sizes snugly and prevent slipping or twisting during normal activities. Though you may find that you need to purchase two sets as the back paws and front paws may not fit the same size boot.
Protection
More water resistant than water-proof, the soles may provide waterproofing against contact moisture, but they are not water-proof against wading, puddles, sand, and silt. But they are easily washable and air dry well for repeated wear under normal conditions.
Summary
Fantastic Zone waterproof dog Boots are just right for normal weather conditions on daily walks. They do not allow your pet's feet to breathe in hot weather, but will help keep them warm and dry in cold or icy conditions.

9

. RoyalCare Paw Protector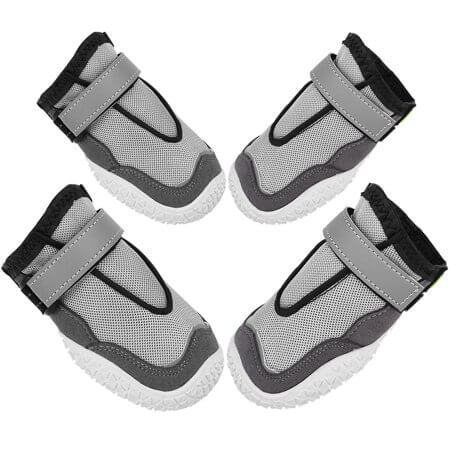 These Waterproof Silicon Dog Booties only come in grey otherwise, they are quite the catch. Their waterproof design means your pet's paws are protected from all weather conditions and many chemicals.
Read more
Overall Fit
The wide reflective Velcro strap provides a secure fit and reduces slipping, twisting, or pinching. The strap is sewn firmly to the silicone bootie and will not slide off.
Materials Used
The bootie and sole are 100% silicon and the Velcro, stitching, and reflective material is nylon. The silicon is the same used in bake wear and oven mitts, so your pet's paws stay protected in a variety of icy and hot conditions. Your pet's paws will stay dry and comfortable in any conditions.
Tread/Traction
The silicon treads provide ample grip on ice, slick tile, and rough gravel. These silicon booties are versatile enough or both indoor and outdoor use. They are best used with muddy, sandy, or wet conditions where you want to protect your dog's feet and your floors from dirt and debris.
Adjustability
The Velcro strap provides enough support to keep the boots on most active dogs. Those with small than average leg sizes may need an additional aid in keeping the booties on. You might try fitting your dog with dog socks to provide additional comfort or insulation as well as snugging the fit.
Protection
The silicon is all one piece of material with no stitching or holes, thus your pet's paws will stay dry. Silicon is used for both cold and hot protection and will protect your pet's paws from most searing hot pavement or icy conditions.
Summary
These silicon boots run small, so consider measuring your pet and ordering the next size up. However, they are fully washable and most substances rinse right off as silicone is naturally non-stick. If your small pet needs extra protection from mud, rain, ice, or other hazardous conditions, these silicon dog booties might be the right solution.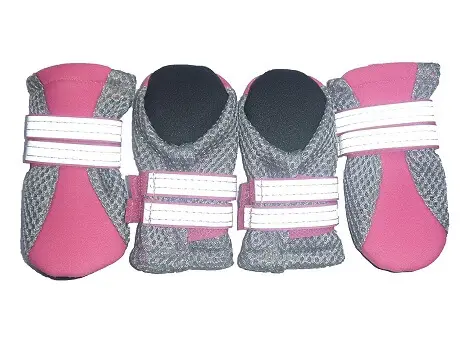 The Lonsuneer Puppy Daily Dog Boots are a basic footwear protection for your dog in all sorts of weather. The soft, flexible sole provides a natural feel for your dog's feet while providing light protection from the elements.
Read more
Overall Fit
These boots come in four sizes (xx-small, x-small, small, and medium) and the two Velcro straps provide additional sizing for a snug or loose fit. There is plenty of room for toes and nails in the bottom of the bootie and a uniform sock size that accommodates larger-boned dogs.
Materials Used
Faux Leather soles protect delicate paws from searing hot pavement and sharp rocky terrain while mesh provides breathability on your dog's legs. The faux leather soles are waterproof, but the mesh sock will allow water and fine sand in.
Tread/Traction
The sole texturing is roughly similar to your dog's paws and should provide much the same traction. These are not all-terrain dog boots and are not built for extreme weather and terrain conditions such as slick or icy conditions, mud, or water.
Adjustability
The two Velcro straps on the wide upper booty sock allow for ample size ranges and a snug fit on your dog's ankles and legs. However, they may not stay on very small dogs as they cannot be strapped on tight enough for dogs under 10 pounds.
Protection
These mesh dog boots are best for hot weather as they allow the dogs feet to breathe while protecting them from hot pavement. They are not waterproof, but are water resistant, thus preventing chafing during damp walks.
Summary
Lonsuneer Puppy Daily Dog Boots are perfect for summer walks in the city and provide ample protection for light travel on city streets. The textures soles provide a natural feel. The Velcro straps are reflective to provide additional safety at night or in dark conditions. These are not made for rough wear or very active dogs.

Subscribe to our Newsletter