Guide on the Best Travel Organizer
In a Hurry? Editors choice: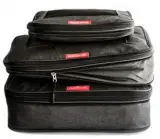 Test Winner: LeanTravel Compression Packing Cubes

Everyone knows that one of the most stressful, time-consuming, annoying (insert appropriate adjective here) aspects about traveling is accounting for the luggage you need to tag along with you. Whether you are leaving for a weekend, a few days, or even a full week or two, you will typically need to account for your personal belongings. And, when doing so, it is a heck of a lot easier when you have specific travel organizer to store all those belongings in.

Of course, your belongings can range from cosmetics to clothing to electronics to sporting equipment. Basically, you need to buy based on your specific needs and that will be the underlying theme for this guide today. Of course, as you will see, there is a lot more that goes into it. So, let's not waste another second rambling on with this rhetoric and get to it.
Standout Picks
Criteria Used for Evaluation
Style
You need to buy based on your needs. It really is as simple as that.
How much would it alarm you to know that the number one question you need to ask yourself before you even think about buying a travel organizer is what do you need to be accounted for? But, wait a minute, in theory, you could just buy any bag you wanted to stuff whatever you wanted inside, right?
While that is not necessarily untrue, it is also not a smart way to look at this section. After all, it is going to be so much easier for you to buy appropriate travel organizers if you know what you will need to be packed ahead of time. Let's elaborate on this by looking at some examples of some of the bags that you can buy.
For starters, one of the most popular travel organizers out there is known as packing cubes.
Typically, a set of these cubes will come in different sizes and these are perfect for garments and general clothing items. And, if you leave some of them unpacked, they can even work great for dirty laundry. Of course, you also have smaller pouches and caddies that you can buy to account for much smaller items that you do not want disorganized in your main suitcase. Additionally, there are electronic bags that will come with ample padding, toiletry bags that will be optimized for bathing accessories and so on.
Materials
No matter what type of bag you end up buying, it needs to be built well.
This section is static in the sense that it really does not matter what type of storage bag you buy as the materials will always play a prominent role in its overall quality. And, in the world of storage organizers, you will often see nylon as the fabric of choice. Polyester is another good one, for the record, but is a bit cheaper than and not quite as durable as nylon. As for nylon, it is a great choice as the fabric is tear-resistant and oftentimes water-resistant (though it is not waterproof on its own).
Then again, if you really want to ensure that the bags you receive are extremely durable then you may want to look for ripstop fabrics (which are often made of nylon). Oh yeah, and you can always assess the denier count (this is in reference to the thickness of fabrics) as another sign of durability and strength.
Of course, this section is not all about the utilized fabrics as you also need to pay attention to the zippers (if the organizers are designed with them). While some are incredibly cheap, YKK and SBS-branded zippers are quite nice so keep an eye out for them.
Features
This is all about the storage capabilities that the bag you buy sports.
After you have figured out what you will need your new travel organizers for, you will then need to analyze the storage features that you desire. Now, this section has more than a few things to it so you need to pay attention. For starters, not all bags out there will come with multiple storage compartments and that is okay (if they are not needed).
As an example, most packing cubes will be devoid of compartments and will merely provide you with open space (unless they are double-sided). But, this is okay because they are designed to hold clothes.
However, if you want a bag to hold all your electronic accessories, this will need storage compartments and dedicated locations for everything. The reason for this is, presumably, you will not want your cables, cords, and small devices all tangled together. With enough compartments, you can neatly organize them (and this goes with cosmetics bags, toiletry bags, etc.). Additionally, ensure that the bags you purchase will hold as many items as you desire them to. And, even if this means you have to buy more than one of a specific bag that will be okay.
Portability
You are buying these for travel, right? Well, then they should be optimized for it.
Whenever you are buying a product that is specifically designed for travel, you better believe that this section will come to the forefront. Thankfully, though, this is pretty simple stuff. Looking for portable travel organizers is as easy as looking for those that are lightweight and compact in their size. While you can also look for additional features such as handles, the weight, and physical size are the main areas of assessment here.
The reason weight is important comes down to a few factors. Firstly, the weight of your belongings will also need to be accounted for (which could be a lot) so, ideally, the bags will not add too much weight. Secondly, airlines will have weight restrictions for your luggage and this is vital if you are planning on traveling via air.
Now, as for why the physical size is important, bulkier bags will be much harder to transport. This is especially true if you are buying cases for your credit cards and passports as you may want them to easily fit in your purse or possibly even in your pants pocket. And, back to those who are traveling via airlines, size restrictions will also be a concern for carry-on luggage.
Color
While not the most vital factor, this can still come into play.
Take a deep breath as most of the important content was just documented. However, why not have a little fun with your purchase? Look, this section is not insinuating for one second that you should prioritize the color or visual appeal of a travel organizer over any of the aforementioned criteria.
Instead, this section is merely bringing to your attention that it is not a bad thing if you want to buy bags and sacks that you actually find appealing. It may sound silly to some of you but why else do you think that sellers around the world provide their consumers with different styles and colors? It is simply a smart marketing strategy because you are going to be more drawn to a product that you find visually appealing, right? Maybe this does not relate to all of you but if it does, do not be ashamed.
OUR TOP PICKS FOR THE BEST TRAVEL ORGANIZER
1

. LeanTravel Compression Packing Cubes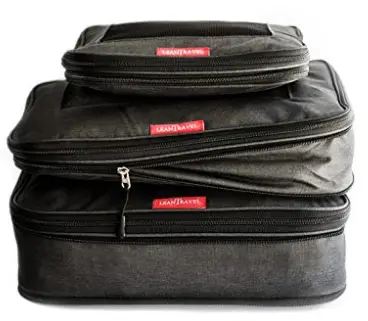 Among the most popular travel organizers out there are packing cubes and it is easy to see why when you analyze the design of this specific option. With three cubes in all, you can account for different types of belongings.
Read more
Design Style
As mentioned, these are packing cubes and with your purchase, you are provided with three of them. For the record, two of them are large and the other is a medium size (and these are great for clothing).
Materials
In addition to the polyester fabric and the durable mesh, these cubes are also equipped with SBS brand zippers that are better than normal ones. Additionally, the side structures of each cube have been reinforced.
Storage Features
Outside of the fact that you receive three different cubes (two different sizes), there really is not much to speak of in regard to internal features. However, this set is packaged in a zippered bag that can hold dirty laundry.
Portability
These are compression cubes which mean you can pack more items into them. The problem with this, though, is that the cubes are fairly heavy by themselves (not including whatever you place inside them).
Colors
There are a few different color options available but nothing too astounding here.
Overall
It is not difficult to see why so many travelers love compression cubes and this specific option shows why. Even though these cubes are a bit heavy, they are wonderfully designed.

2

. Neratpack Toiletry Bag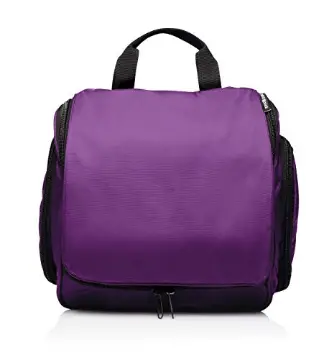 Perhaps you are staying at a campground and you want to use their local showers. If so, you almost need to tag this along with you as it provides a convenient spot for all your toiletries.
Read more
Design Style
First off, as alluded to, this bag is optimized for toiletries. For the record, this refers to any items that you would use to take care of your body. Additionally, this comes with a metal hook to allow it to be hung up while you are taking a shower.
Materials
As this is a toiletry bag, it has been lined with leak-resistant materials. Past this, the entire core is designed with 420-denier nylon fabric and also mesh material. Oh yeah, and there are also high-grade zippers integrated.
Storage Features
Even though this is advertised to account for full-size bottles in the main compartment, one user noted that this was not the case for them. As for the compartments, there are multiple available for your cleansing items.
Portability
Not only is this lightweight but it is also compact in nature. It will actually not take up too much room in your backpack, tote or wherever you plan to store it.
Colors
The color selection is really good actually. Some of the colors available are forest, marine, maroon, and eggplant.
Overall
For those who are camping, you could always use one of these bags. Unless you want to go shower-less for the entire time, you will want a high-quality toiletry bag such as this one.

3

. ProCase Accessories Bag Organizer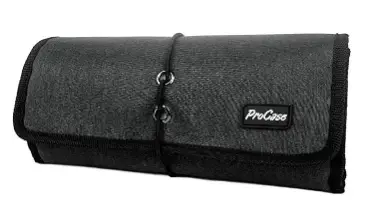 It is actually astounding that something this cheaply priced could be so well-designed. It goes to show that sometimes, it is not all about the money that you spend on a particular product.
Read more
Design Style
For the record, this is advertised to hold electronics. And, even though it works great for this, it can also be used for other items such as your cosmetics, for example.
Materials
At this price range, this is the most stunning aspect. This bag is made with durable and water-resistant nylon. Though the price is cheap, the quality most certainly is not.
Storage Features
The reason this is advertised for electronics is that it has been optimized for it. After all, there are two open pockets for peripherals, six elastic loops for cables, three mesh pockets for smaller items, and a large pocket for larger accessories (such as an external hard drive).
Portability
In theory, this is nice as it can be tucked into your existing storage bag. An issue presents itself, however, when this is full as it is difficult to fold it in the way it was intended to.
Colors
The color selection is pretty good as you are provided with a few different choices (though this is also nothing special).
Overall
It just is a smart idea to dedicate one or two bags for all your electronics. And, this option is really nice as it is durable, versatile, loaded with compartments, and extremely affordable.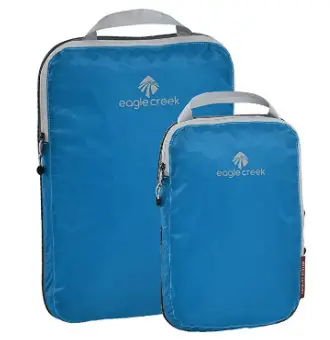 Even though this is a compression cube set, several users have noted that the compression label is a bit misleading. Still, you are provided with two well-designed bags that can be used for appropriate items.
Read more
Design Style
This is another set of compression cubes but, with this set, you are only provided with two cubes of different sizes.
Materials
Given the fact that these cubes are designed with ripstop, water-resistant nylon, they will hold up over time. In fact, this high-quality build makes it ideal for any type of adventure.
Storage Features
The storage you receive is actually from the two bags. Now, they are designed to provide compression benefits but they really only compress around the sides.
Portability
In addition to the fact that these bags are lightweight in nature, they are both equipped with a handle for easier transport.
Colors
Each and every one of the color options are well-designed, quite frankly. There is also a decent variety available so that is a plus.
Overall
Some of you may be disappointed in the compression performance of these cubes. But, they are tough, durable, and can account for your clothes and other items.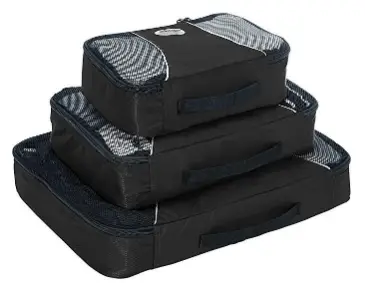 To say these packing cubes from eBags have been well-received is a vast understatement. While this does not mean that they are perfect, it does say something.
Read more
Design Style
Yep, this is another set of packing cubes. But, with this one, each of the three bags is uniquely sized and also made with a top layer of mesh (for easier identification).
Materials
From the specifications, it would appear as if these were built well with breathable nylon, YKK zippers, and high-quality interior seams. But, a few buyers have felt that they were not.
Storage Features
These really are best for clothes as each individual cube can allow for a different assortment of clothing. But, there is enough room for other items.
Portability
As with most packing cubes on the market, these suckers are optimized for travel. This is thanks to their equipped handles and lightweight cores.
Colors
There really is no reason why each and every person reading this right now can't find a color that suits them here. Indeed, the selection is that good.
Overall
The majority of previous buyers have completely lauded the design of these cubes but there have been a few naysayers out there. Do not let them stop you from highly considering this option, though.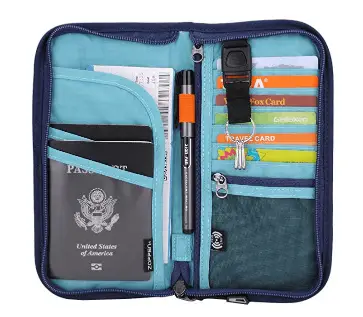 A lot of times it is the smaller items that are more difficult to account for as they can get lost deep inside larger luggage. But, with something like this, you will never lose your small items again.
Read more
Design Style
As alluded to, this is going to account for several of your smaller items. This can include your checkbooks, credit cards, personal ID cards, boarding passes, pens, documents, etc.
Materials
In addition to the fact that waterproof and high-density nylon was used to construct this case, it also sports material to block RFID readers.
Storage Features
There really are compartments galore in this little guy so finding a place for everything will not be tricky. That said, it can become tight when you have a lot of items stored inside of it.
Portability
Due to its length, this is a little too big to be used as a traditional wallet. Of course, what is nice is a removable keychain is included.
Colors
With the selection of colors that are available, there really should be something out there for just about everyone.
Overall
This is not really versatile so if you do not need a travel organizer for smaller items and cards, you will not get much use out of this. But, for the right demographic, this will be outstanding.

7

. L&N Always Packing Bags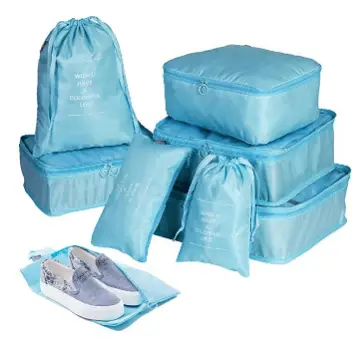 What sets this option apart is the fact that you are provided with eight different bags. And, each and every one of them is optimized for travel.
Read more
Design Style
The fact that this set provides you with eight differently sized bags could be all that is needed to sell you. This can account for several items and can separate them as well.
Materials
Each of the bags is made with water-resistant nylon. While this is the good news, the bad news is for the bags that sport zippers, they are quite flimsy in their design.
Storage Features
This is not about individual compartments as, again, you get eight differently sized bags with your purchase here. This allows you to separate items in any way you see fit.
Portability
Sure, all in all, it would seem that eight bags together would not be very portable. But, each one is equipped with a handle and is specifically designed to be light in weight.
Colors
The color selection is limited to pink and blue (with different variations of each). For a lot of you, this will probably be somewhat disappointing.
Overall
For the price, this set is an absolute steal. These travel organizers are great at what they do and, at the end of the day, could you really ask much more from a product?

8

. BUBM Electronics Travel Organizer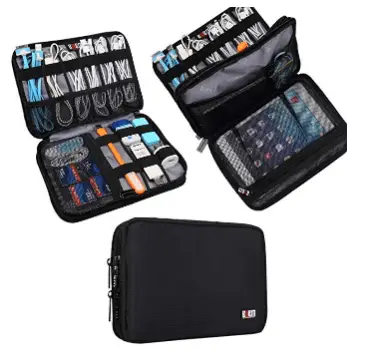 Electronics are arguably the hardest items to pack. Not only do they need to have ample protection but the more cables you have, the harder it can be to keep them organized. Well, this little gadget bag helps with that.
Read more
Design Style
Though this can also be used for cosmetics, it is perfect for electronic accessories. This is not going to hold video game consoles or anything like that but it will account for cables and accessories.
Materials
Overall, this is built really well with heavy-duty, waterproof nylon making up the shell and lightweight padding in the interior. Of course, the interior zippers have been criticized for their poor quality.
Storage Features
As you can see from the photos, there are compartments everywhere. There are elastic straps all over the place and various slots for your larger items. But, the elastic, for the record, does not have the best snapback.
Portability
Not too many people are going to complain about the compact size and lightweight nature of this organizer. It will easily fit into several of your preexisting storage bags.
Colors
Though not an extensive list of colors, you can choose between black, blue, dark blue, and gray.
Overall
Instead of just throwing all your cables and electronic accessories into a Ziploc bag, why not buy a dedicated case for them that will organize them for your convenience?

9

. Pacsafe Anti-Theft Organizer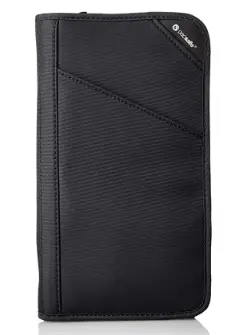 It can be tricky to carry around all your personal identification and credit cards as "hackers" can actually scan them to access the sensitive information that is present on them. But, with special material, this travel organizer fixes that issue.
Read more
Design Style
Indeed, this travel organizer is specifically designed for your credit cards, ID cards, cash, and any other similar items.
Materials
Due to the fact that this pack is designed with RFIDsafe blocking material (which is an award-winning material), it is able to block RFID readers from gaining access to sensitive information on cards that contain RFID microchips.
Storage Features
Even though the credit card slots are a little close together, this is designed with six of them, a zippered slot, slip pocket, and two sides slop pockets.
Portability
While this is nowhere near hard to transport, it is actually quite large. Due to the fact that you may be using it often, though, its extra size is not necessarily a good thing.
Colors
At the end of the day, you can't go wrong with black and that is exactly what this is.
Overall
For the most part, this is only needed if you have an excess amount of ID and credit cards that you need to be transported and are worried about bystanders stealing your information. For that, it is excellent.

10

. ROWNYEON Cosmetic Case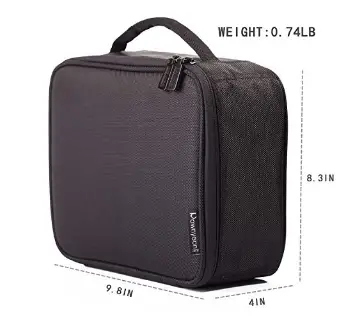 Outside of the fact that the zippers have received heavy criticism from previous buyers, this is a brilliantly-designed cosmetic bag that optimally accounts for cosmetics and other such items.
Read more
Design Style
Do not worry, even though this can ideally hold women's cosmetics, it can also be used for men. It really is a bi-gender product that can work great for both men and women.
Materials
The good news is this case is made with durable oxford fabric and interior protection for your items. The bad news is the zippers have been heavily criticized by previous buyers.
Storage Features
All sorts of slots and compartments are equipped here such as multiple brush compartments, multiple sponge dividers and even a zippered compartment.
Portability
In addition to the fact that this is compact in size, it weighs less than a pound. This is an ideal combination of portability let's just say that.
Colors
Though the color selection is limited, each of the options (black, white edge and pattern) is visually appealing.
Overall
It sure would have been nice if the zippers were more durable but as a whole, it is hard to say that this bag is not well-designed. You just have to put up with them.

Subscribe to our Newsletter