Best Bag Organizer
In a
Hurry? Editors choice: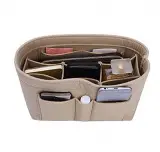 Test Winner: ZTUJO

If you carry a small purse, or a big tote for all of your daily travels and adventures, after a while that purse or tote is going to become a bit unorganized. We have all been that one person holding up the group because we are frantically looking for something in an unorganized mess. A lot of the bigger totes make it almost impossible to keep organized because they only offer one big pocket. To keep your life as stress free as possible, you will need to have a way to sort all of your belongings so that they are kept in nice and neat pockets. Investing in a handy and typically very inexpensive bag organizer is a fantastic solution to a very frustrating problem. In this guide, you will find some of our favorite picks that will help all of your things nice and neat.
Standout Picks
Criteria Used for Evaluation
Materials
Finding the best materials is the key to keeping things neat and the lining of your tote or purse safe.
There are basically two schools of thought when it comes to the materials used to make these products. Some companies opt for the felt options, while others like to use more sturdy materials such as nylon of polyester. So, what material is best? Both materials serve very specific purposes, so it boils down to a matter of personal preference. Felt is a softer and lighter materials, and it will likely feel right at home in your purse. In fact, you might forget that it wasn't built right into your purse after a while. Felt is great for offering a little bit of friction between your lining and the product, so it won't be slipping and sliding around inside. Plus, it is more gentle on your belongings. The downside to felt is that it is not waterproof, and it is a little difficult to property clean. Nylon, on the other hand, is waterproof and durable. It isn't going to have that posh look of felt, but it is more practical. If you happen to have something spill inside of your tote, the waterproof material will protect the lining. Plus, it is easy to toss into the washing machine when it needs to be cleaned.
Features
They key to keeping things at your disposal is pockets.
The more pockets a design has, it will be easier to find the thing that you are looking for. Most designs that we selected for our list had a minimum of 10 pockets. We liked options that offered a wide variety of different size pockets, but it is always important to still have a large center pocket to store larger items such as notepads or wallets. Zippered pockets are always going to be a big plus, because it will give you an added piece of mind that you gear is going to be safe, and it isn't going to slip out and become lost in the lining. Another feature that you might want to consider is the rigidity of the design. Stiffer models actually serve an additional purpose of adding some structure to your bag to make it look more filled out. This can be beneficial if you don't carry a lot of bulky items, but you don't want your tote or bag to look loose and sloppy.
Size
No one purse or tote is crafted to be the exact same size, so various size options are going to be important.
What we kept our eye on when we were looking at various designs were the option to choose from various sizes that ranged from small and that ran all the way up to extra large to accommodate various sizes of purses. One thing that we also took into consideration was what other people had to say about how pleased that they were with the fit. We discovered that with just about any design out there on the market, there were always users that felt that they were actually too small. The important thing to keep in mind when it comes to these products is that it is going to benefit you to buy a size smaller than you think. If you buy something that it too big that won't fit at all, you simply cannot use it. However, if you select a size that is too small, it is still going to fit inside, and you will have able to make some adjustments so that it will be able to work for you.
Color
Sure, you aren't going to be able to tell the color from the outside, but this is basically going to be the new lining in your purse, so color choice is going to be fairly important.
For the most part, companies are really good about giving users a lot of fun and unique color options to select from. We tried to stick to designs that gave users a lot of color options so that they could select one that would compliment their purse or tote best. For somes designs, they can actually be removed from the tote and be carried on their own. In that instance, we tried to stick to designs that not only offered fun colors, but that also offered fun prints as well, including floral and polka dotted designs. It's important to keep things neat and tidy, but that doesn't mean that you have to let style take a backseat!
Value
As always, we want to save you a bit of money whenever we can. In the instance of these products, saving money is simple.
From what we discovered, even some of the high end designs aren't going to set you back more than what you would spend on a large pepperoni pizza. There are even some styles (typically the smaller, nylon options) that are so affordable that they will likely cost you the same amount of money that you would spend on a cup of coffee. Almost all designs are made from simple bolts of fabrics (either nylon or felt) that aren't going to really take that much of a beating on the inside of your purse or tote, so durability isn't going to be that much of an issue. That means that if you don't want to spend the extra money on one of the higher end brands, it really isn't going to be that much of an issue. So, go ahead and buy that expensive purse!
Subscribe to our Newsletter