Best Indoor Herb Garden Kit
In a Hurry? Editors choice: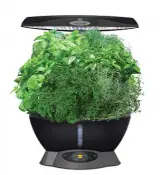 Test Winner: AEROGARDEN CLASSIC 6

It's springtime and definitely the right time to start some gardening. If you have always wanted to do some gardening but do not physically have the means to start your own outdoor garden, we might have the answer for you. And, if you are willing to try but not sure where to start, you may be interested in this product known as an indoor herb garden kit.
Now, we are not going to lie to you and claim that you will make top-of-the-line herbs with any kit you buy as some of them will take some expertise to get right. These same models, though, will typically be equipped with comprehensive
step-by-step guides
to help you out. But, besides you being at your A-game, you also need to select a kit that will work for your needs. And, today, you will learn how to do just that.
Standout Picks
Criteria Used for Evaluation
Effectiveness
This will be affected by the style you choose and the brand you choose, quite frankly.
To be honest, this opening section can be a little tricky to dive into. But, a good place to start is to inform you that there are different types of kits out there. For the most part, you have those that are hydroponic and those that are non-hydroponic. Hydroponics, for the record, is essentially a term that references growing plants without the use of soil.
So, this would mean that the electrical kits on the market are indeed hydroponic as they will utilize the power of LED lighting to grow plants. On the other hand, the more traditional kits that are non-hydroponic will utilize the old-fashioned way of growing plants.
One of the performance benefits of hydroponic models that use LED lighting systems is that they will depend less on outside sources. This can make them a more consistent choice. However, keep in mind that these will draw a certain amount of wattage from your home. And, while most models will not be powerhouses, some will draw more power than others. Meanwhile, with non-hydroponic kits, they will naturally require more upkeep. Of course, the quality of the components (the seeds, soil, etc.) that are provided to you will also play a role.
Accessories
These are kits, right? Well, that means that they will come packed with accessories.
Due to the fact that you are buying indoor herb garden kits, it means that they will come with a plethora of accessories. But, ironically, what is often seen as the better of the two systems (hydroponic) will come with fewer accessories. Because these systems are electric (typically) they will come with the main unit and that is about it. Of course, they still need herbs to function so look for kits that come with the herbs you want (though you can always buy them separately later).
On the contrary, however, traditional kits will come packed with several differen titems.
For these types of kits, you will often see different herb seed packets, peat pots, plant markets, peat pellets, fiber soil, and possibly even germination bags. To give a brief analysis on what all these accessories do, herb seed packets contain the actual seeds that need to be grown, peat pots are used to hold the herbs, plant markers help distinguish which herbs are which, peat pellets expand inside the pots and are used to start seedlings, and fiber soil is used to absorb the water and help the plants flourish.
Ease of Use
Some systems will be optimized for beginners and even if they are not, look for detailed instructions either way.
Oh boy, this could be a complete game changer right here. So far, an emphasis has been placed on hydroponic versus non-hydroponic models and that is going to continue with this section. And, quite frankly, the debate is never going to be as prominent as it will be right now. There is also no reason to sugarcoat which option offers more convenience, less maintenance and upkeep, and overall easier experience as that would be hydroponic models by a longshot. The primary reason why this is the case is these models will pretty much take all the guesswork and labor out of the equation.
Most systems will be designed with intuitive, touchscreen control panels. These will typically provide you with all the information and details you will need. Some will even have built-in reminders when the water reservoir is low and also different programmable models for you to fiddle around with. Taking a look at the other option, though, are traditional kits really that hard to use? Clearly, it depends on your knowledge and expertise when it comes to growing plants.
If you know you do not have a green thumb then you will need to buy kits that come with comprehensive guides. We are not talking about a few pages here and there that cover the basics. No, actual in-depth, step-by-step guides that will educate everyone from novices to "masters". This will enhance the chances of you growing successful herbs.
Durability
Just look for the items to be made with quality in mind.
When compared to the previous criteria, this is not one of the most vital, admittedly. But, we thought that we would bring it to your attention as it is something that is good to keep in mind. With any kit that you end up buying, just ensure that all the items and accessories are competent in their quality. This can be in regard to everything from the plant markers to the plant pots to the actual systems themselves (if the kit is hydroponic).
For traditional kits, this is going to be less of an issue than it will be with electrical systems. After all, when you bring electricity into the fold, you always need to account for interior components and such breaking down over time. In addition, with these systems, their bases should not be so brittle that they will break with the slightest drop or accident.
Color
For the record, this section is more about aesthetics than general color.
For some of you, this section will be an afterthought. And, if that does happen to be the case, that is fair as there are some of you out there who will simply not care about the aesthetical nature of things. For those of you who are, though, this is a section that could use your attention. Of course, when you think about it, plants and herbs that flourish are always a joy to look at.
They can liven up any home or greenhouse (which is the point of the latter). But, this also goes back to the debate between hydroponic and non-hydroponic models. With the latter, there will be some options that offer rustic appeals and such. Then again, most of these kits will come with biodegradable pots that are pretty standard in their appearance.
Now, with hydroponic models, you may be appealed to the idea of modern technology filling your home and these would fit right into that theme. Many of these models will come with different colored bases (such as black or white) that you can choose from. And, with these systems, when the herbs begin to sprout, the visual nature of it can be a sight for sore eyes.
OUR TOP PICKS FOR THE BEST INDOOR HERB GARDEN KITS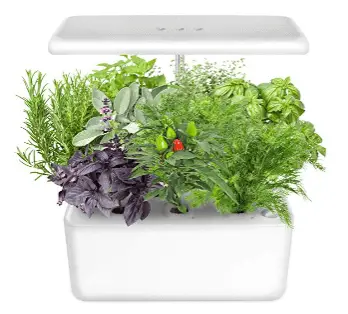 What will intrigue some of you about this top model is the fact that it is electric. This utilizes a 25-watt LED lighting system that is specifically optimized for proper plant growth.
Read more
Performance
As mentioned, this is powered via electricity and does utilize a 25-watt LED lighting system. Now, this same lighting system allows the plants to maximize photosynthesis to ensure rapid growth.
Accessories
It is noted that no seeds are included with this option. Yet, some of the accessories that are included are seven planting sponges, A+B nutrient for three-month growth, and seven planting baskets.
Ease of Use
Thanks to the integrated touchscreen control panel, you can select one of three different growing modes. Also, the control panel will alert you when the water level is becoming low.
Durability
The actual gardener of this is kit is made of eco-friendly materials and in addition to not being toxic in any way to the herbs, it is also going to withstand the test of time pretty well.
Aesthetics
As a bit of a bonus, you can actually select two different colors for the base. Though it is all about preference, the black version is very striking in its appearance.
Overall
No, this is not a flawless option but it was good enough to secure the top spot on this list. If you want an electric indoor herb garden kit then this is your ticket.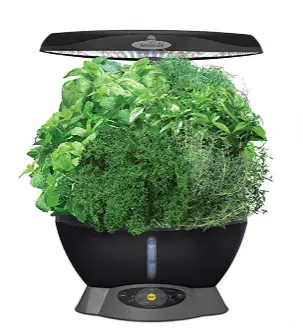 AeroGarden has designed some of the best indoor herb garden kits on the market so you know you are getting a quality model with them. And, their Classic 6 is an electric gardener that comes with all sorts of accessories.
Read more
Performance
The 20-watt LED lighting system performs very well but there are a few things to keep in mind here. Firstly, this system can be very loud. Secondly, the plants can grow in awkward manners (though they will still grow).
Accessories
In addition to the fact that you can really use any food you would like, this comes with several different seeds (such as basil, parsley, and thyme). Also, you get the plant base itself, quite obviously.
Ease of Use
One of the advantages of this system is how easy it is to use. Firstly, a control panel is equipped that allows you to program it and, secondly, it automatically waters the plants if it has enough water in the tank.
Durability
Just to note, there was one reviewer who reported that their system only lasted for around six months before it started to act up. This was just one instance but it is something to keep in mind.
Aesthetics
Without question, the modern design and technology coupled with the flourishing herbs should match your home décor in a positive way.
Overall
It is hard to believe that something like this can actually produce high-quality herbs. But, alas, it truly does and it does so with the use of smart technology and advanced functionality.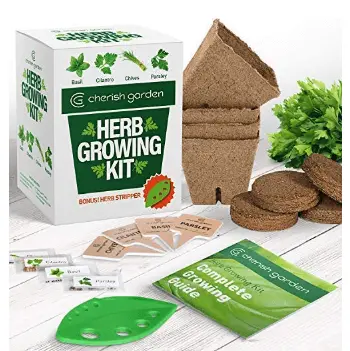 Now, unlike the top two models on this list, this right here is a non-electric kit. Instead, you are provided with four separate growing pots and all the goods to get your herbs up and running.
Read more
Performance
You can be your own worst nightmare with this type of indoor garden kit, quite frankly. After all, you need to provide the plants with enough light to survive. Just pay close attention to the instructions.
Accessories
Coming with your purchase is a whole bunch of accessories such as four plant labels, four expanding peat discs, four-peat pots, four seed packets, and an herb stripper.
Ease of Use
Though maintenance will be required on your part, the seller makes it easy for you to achieve great results as they include their step-by-step instruction booklet with your purchase.
Durability
The peat pots that come with this are not likely to break, let's just say that. They simply are not brittle in their makeups.
Aesthetics
These pots should look quite lovely on your windowsills or in your greenhouse (or wherever you plan to place them, quite frankly).
Overall
This kit is not going to blow you away and it is very similar to other kits of its nature. Then again, the value is excellent and the instructional guide ensures you will have a greater chance of success.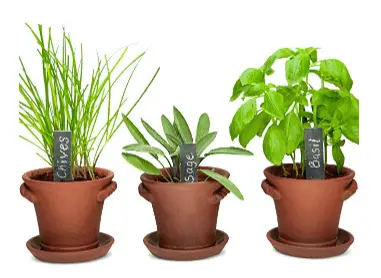 What makes this option unique straight from the get-go is the fact that you are provided with handcrafted ceramic planters. In addition to being durable, they provide a rustic aesthetic that some of you will adore.
Read more
Performance
The unique fiber soil that is included with your purchase will provide a sufficient amount of oxygen for the plants. This will, in turn, reduce the chances that the plants will rot from overwatering.
Accessories
This really is a full kit as it includes basil, chive, and sage herbs, three slate markers, three rustic pots, three cups of fiber soil, and three germination bags.
Ease of Use
Just simply due to the nature of this kit, a good deal of maintenance and knowledge is going to be required if you want to grow herbs that are substantial in quality and quantity.
Durability
Quite frankly, this option is compelling for the nature of the pots themselves. After all, as mentioned, they are handcrafted with ceramic.
Aesthetics
Oh yeah, the same ceramic pots also offer a rustic appeal (which is another bonus). Also, the slate markers are made of soapstone and they too offer striking appeal.
Overall
If you are willing to exert some effort then you will probably end up being a big fan of this kit. It is truly unique and you will not find too many like it out there.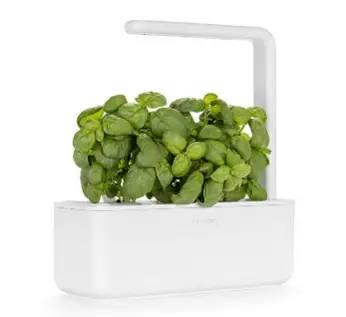 In spite of the fact that this is dubbed as a smart kit, it is really simple in its nature. And, while some have questioned its higher price, it is yet another solid electrical option.
Read more
Performance
This is a unique design as it uses nano-tech growth to allow the plants to grow at an accelerated rate. Also, an LED light is over each plant to ensure that each one receives the same amount of light.
Accessories
While other kits come with an abundance of different herbs, this starter set actually only comes with basil seeds. If you want other herbs, you will need to buy the capsules separately.
Ease of Use
All you need to do is drop the plant seeds into the container and fill the water reservoir with water and you are good to go (after powering the machine, clearly).
Durability
For the record, there are actually small plastic extensions that are used to raise the light. You need to be careful with these, though, because they are just made of plastic.
Aesthetics
There are actually different colors that you can choose from for the base (white, gray and beige) and all of them are visually striking, quite frankly.
Overall
Some previous consumers have not loved this system but it is compelling overall. Its simplistic nature and optimal performance can typically be agreed upon, however.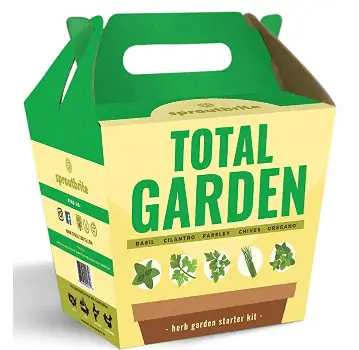 Due to the fact that there have been a number of consumers who have had documented issues growing herbs with this kit, you need to be able to stay on top of this one. It is a kit that provides excellent value, though.
Read more
Performance
In the product description, it is claimed that this has a 90 to 92 percent germination rate. With that said, many buyers have had little to no success using this kit.
Accessories
One of the biggest selling points of this kit is the starter pots that are included (as they are larger than normal). However, you are also provided with enough seeds to account for failure.
Ease of Use
As it should have been, this kit was designed with beginners in mind. This is enhanced by the fact that you are provided with a step-by-step guide to walk you through the growing process.
Durability
The included items are not cheaply made so that is a plus. For example, the biodegradable pots are not going to break unless you deliberately attempt to do so.
Aesthetics
These pots and herbs are nothing special in their appearance but it is also not as if they will be eyesores in your home or greenhouse.
Overall
This is another classic example of an indoor herb garden kit that will only work correctly if you are willing to learn and expand the effort along the way. After all, it comes with everything you need.

7

. SUSTAINABLE SEED COMPANY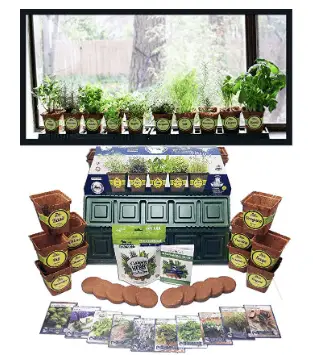 To really give you an understanding of how this works, included with this kit is a comprehensive 96-page growing guide. This is important as you do need to know what you are doing to receive optimal results from these seeds.
Read more
Performance
Make no bones about it; the seller straight up points out to you that you can have success with this set if you are willing to understand how to properly grow these types of herbs.
Accessories
This is one of the most substantial kits on the market that much is for sure. After all, it comes with 10 coconut coir pots that have been pre-labeled for your convenience.
Ease of Use
Yes, a strong amount of maintenance will be required here but the 96-page guide is going to help matters. This guide makes growing these herbs easy for just about anyone.
Durability
There should be no concern here as the coconut coir pots and other accessories are not cheaply made.
Aesthetics
The labeling coupled with the coconut coir constructions actually makes each one of these pots appealing (especially when they begin to sprout).
Overall
Admittedly, there have been several naysayers out there who have felt this kit was not worth the money. Really, though, you may not find a kit on the market that offers more value than this, ironically.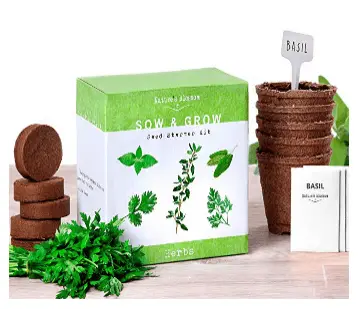 There are two "things" that jump out immediately here. Firstly, this comes with multiple different types of herbs and, secondly, several of them need to germinate for 90 days before you can use them.
Read more
Performance
Again, the second point of what was just mentioned is really important. These seeds can flourish but some of them will need to germinate for 90 days before doing so.
Accessories
There is nothing out of the ordinary here as this option is packed with accessories such as plant markers, several different herbs, growing pots, and an instruction manual.
Ease of Use
Once you understand that some of these seeds need to be germinated, you will be okay with the rest of the process (thanks to the included detailed guide).
Durability
All the items that are included here are well-designed and will not be problematic in this area.
Aesthetics
Included with this set are biodegradable pots and, at this point, you should know what to expect from them in this sense.
Overall
Depending on your patience level, you may or may not be interested in this kit. It really all comes down to this factor, ladies, and gentlemen.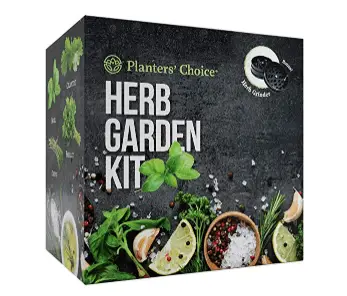 As with so many other options out there, with this kit, you are provided with 100 percent organic and non-GMO seeds. Also, this is presented in gift box-style packaging.
Read more
Performance
It is noted that this has the best-growing success rate on the market (though there is really no validity to these claims). The seeds are 100 percent organic, though, so do take note of that.
Accessories
As normal, this kit is packed with everything you will need to succeed. This includes multiple bamboo plant markers, growing pots, seed packets, and soil discs.
Ease of Use
For the record, this does come with an instruction booklet for anyone that is new to this sort of thing. It will educate all beginners out there and may even surprise some so-called "masters" of the craft.
Durability
Even though this comes with a neatly designed box, there have been a few users who have reported that they have received said box with damage.
Aesthetics
Granted you receive the packaging without damage, it itself is quite appealing. It actually makes this option great as a gift, if you are shopping for someone else.
Overall
No, this kit will not produce magical results out of thin air. But, with the help of the guide and everything that is included, you should be able to produce some fantastic herbs here.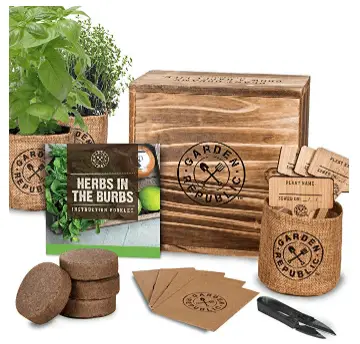 Not only will could this work for you but thanks to the packaging, this could also work out really well as a gift for someone.
Read more
Performance
One user reported that the bags that come with this kit lack proper drainage. With that said, the included seeds are 100 percent organic and non-GMO.
Accessories
In addition to the four different types of herb seeds, this is also packaged with multiple soil discs, bamboo plant markers, shears, and grow bags.
Ease of Use
Granted you follow the instructions that are included with this kit, you should at least be able to get these herbs to grow a little bit.
Durability
As elegant as the gift box is, the quality of the box itself is subpar. Many users have criticized its shady appearance and build quality.
Aesthetics
The same gift box can actually be used as a planter box and even though it is shady in its quality, its appearance is still really lovely.
Overall
Some issues aside, this is another well-designed kit on a long list of them. It makes the final decision hard, does it not?

Subscribe to our Newsletter