Best Greenhouses
In a Hurry? Editors choice: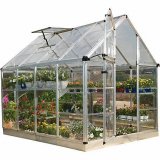 Test Winner: Palram Snap & Grow

For those of you who enjoy growing your own vegetables and enjoy watching
plants
mature before your eyes, you probably do not want to take the
winter
off. Thankfully, there is a logical solution to your tiny dilemma and that would be to invest in a greenhouse. Heck, they can even be of use during the other
seasons
due to their performance benefits. Of course, there are also mini versions and full-blown models that you can select from. Either way, they are an essential component of maintaining healthy plants during inclement weather. Or even during warmer
weather
seasons to help maintain your garden throughout the year. Depending on the size you are needing we have many different options for you to look into.
Standout Picks
Criteria Used for Evaluation
Stability
One of the two most important factors of a successful greenhouse is the stability (and basically overall durability) of the unit. While the next section has loads of different levels and variables, determining this section of a garden house is as easy as assessing the design of both the frame and the cover. Let's start with the cover as it needs to be reinforced and durable enough to handle occasional falling debris and/or high winds. If a small tree branch penetrates the cover and enters into your unit, it will compromise everything. Also, ensure that the cover is UV coated as if it is not, the sunlight can begin to wear it down in no time.
But, the true stability lies within the frame as this is the foundation of greenhouses. There are a various amount of materials that frames are comprised of and two of them are aluminum and steel. The former is the most widely used because of its strength and its rustproof nature. Yet, the latter is also extremely durable and heavy to withstand intense winds. Other materials, such as wood and plastic resin, may also be used but are not quite as efficient.
Size
Up until this point, all the information being thrown at you is not really up to your discretion in terms of performance. Yet, when it comes to the size of greenhouses, this is all about you. As seen throughout this list, there are grower models and also starter models. What the latter is ideal for is those of you who simply want to start a small garden or just grow a few seeds. Yet, grower models will be the go-to if you are seeking a full-blown unit that can take your production to the next level.
What it may come down to, ultimately, is the space you have to work with. If you own a ton of property and have room for a grower unit, go for it. But, if you just want a small model to sit outside on your front porch, a starter model will be best.
Effectiveness
There is no doubt about it; performance is everything when it comes to garden homes as they need to sufficiently grow your plants. But, there are a variety of factors you need to assess so pay close attention to this section. Firstly, it needs to be insulated enough to retain optimal heat. During cold and brutal winters, for example, you may want thicker panels as this will increase the insulation. Beyond this, proper ventilation is also vital. If overheating occurs, failure will be right behind it. While it is important to retain heat during colder weather, the opposite is true during hotter months as the hot air needs to be released.
Now, let's discuss the paneling situation. There are different types of paneling and each of them is ideal for different scenarios. Take, for example, clear panels as they deliver direct light to your plants. This type of light is optimal to germinate seeds but in terms of growing your plants to maturity, opaque panels hold the advantage as they deliver diffused light. Unlike direct light, this light will provide balanced light and prevent hot spots.
Adjustability
Consider this an additional convenience to look for as this should by no means trump any other design criterion. A model that is easier to assemble is not better than one that offers superior performance. Still, it should not be too much to ask for a decent manual or set of instructions to work through. Yet, as you noticed, sometimes that is not the case and all the manufacturer gives you is vague illustrations that lack any detail whatsoever.
Overall, though, most greenhouses of decent size will require multiple hours or even days to assemble. But, they will typically not require special tools. Of course, when it comes to the assembly, keep in mind that the site preparation is key (which will be addressed in a minute).
Top 10 Picks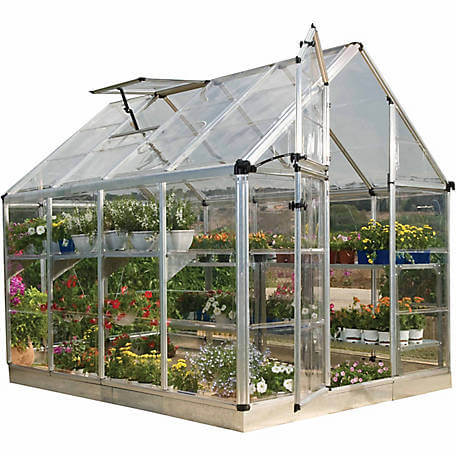 Palram's Snap & Grow is an example of a full-blown model. Being made of nearly indestructible polycarbonate panels, this is not only an excellent performing model but also a visually stunning piece for your yard.
Read more
Overall Stability
Outside of the aforementioned polycarbonate panels, which are one of the strongest polymers in the world, the structure is comprised of an aluminum frame and a galvanized steel base.
Performance
Both the roof vent and the split door design allow for proper ventilation of this structure. In addition, the integrated rain gutters allow rainwater to be collected to create a sustainable irrigation system.
Size and Portability
There are several sizing options available from six to eight feet wide. No matter the size you select, however, this is a large greenhouse regardless.
Ease of Assembly
Even though this is designed as a do-it-yourself project without the need for special tools, the included instructions are pointless and as one user noted, literally have no words whatsoever.
Entry Design
The door is comprised of the same polycarbonate panels of the sides and sports a handle. Also, it is lockable.
Overall
Outside of its performance and durability, perhaps the best aspect of this model is you can see everything inside from a distance. Besides being convenient, it is also can add to an already existing décor.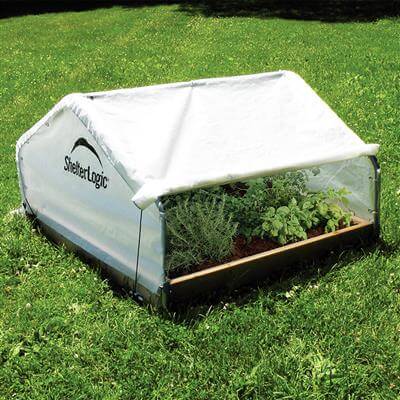 This is one of those greenhouses that you likely see when you go to a retail store that sells a plethora of plants and garden herbs. Well, why not assemble it in your own backyard for a personal garden house?
Read more
Overall Stability
Several components contribute to the overall stable and durable base of this design. First off, the frame is constructed entirely of steel. Secondly, patented ShelterLock stabilizers and a Ratchet-Tite tensioning system are included.
Performance
The ClearView cover, which is heat bonded with rip-stop fabric and both waterproof and UV treated, provides enough illumination for proper growth and protection. Plus, the roll-up side panels add ventilation.
Size and Portability
There are a few size options to choose from but each of them is at least 20 feet long. Yeah, you need an adequate amount of backyard space for this model.
Ease of Assembly
Much like the last entry, buyers have panned the included instructions. The only information provided by them is vague illustrations and that is it.
Entry Design
When you need to exit and enter inside, the rolled-up screen door makes this a breeze. But, doing so constantly can become a bit of an annoyance.
Overall
If you have the space in your backyard and require a unit that can hold as much as this, then there is not a reason why this should not be at the top of your list (or close to it). Of course, getting it assembled can be mind-numbing due to the instructions.

3

. Greenhouse Geodesic Dome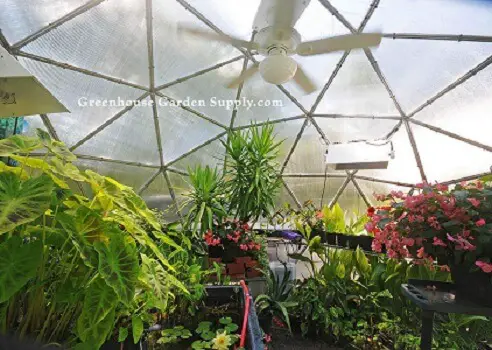 While this next entry looks more like an igloo, it is actually an ingenious design that features one of the strongest builds you will ever find for a product like this. Just make sure to assemble it in the right spot first, as it is too heavy to move.
Read more
Overall Stability
Again, this is one of the most durable and stable greenhouses on the planet. Due to the galvanized steel frame, it can withstand heavy winds and even hurricane-like weather.
Performance
While the manufacturer actually offers other covers that are suitable for multiple scenarios, the included polycarbonate cover does measure seven millimeters in thickness and is ideal in the winter.
Size and Portability
When assembled, this beast measures 16-foot from center to center and measure over 200 pounds. So, it may not be wise to move it after it is constructed completely.
Ease of Assembly
This is not exactly a 10 or 15-minute set up but with the help of another individual, you can get it assembled in a day or two. Plus, step-by-step instructions are included for your convenience.
Entry Design
The doorway kit that is included is actually not a finished door. However, you can make an entrance to walk inside with the kit that is included.
Overall
To be honest, this is an ideal model for gardening enthusiasts who perform more than just casual planting. Due to its price and massive size, it will only appeal to a very specific demographic.

4

. Giantex Wooden Plant Protector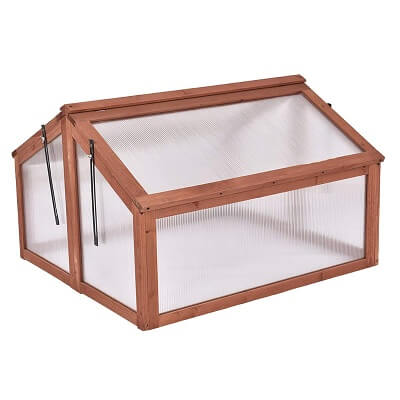 Unlike the previous three, this next model is not a walk-in version. Instead, the two portions of the top will fold open and you can insert any plants you want inside. Plus, the assembly is a snap.
Read more
Overall Stability
As opposed to common greenhouses, this is actually comprised of heavy-duty wood. Now, several buyers seem to indicate that the wood is untreated so it is recommended to seal it when you receive it.
Performance
The foldable top section is constructed with plastic polycarbonate panels. Additionally, it can be opened up on sunny days and closed on days that experience inclement weather.
Size and Portability
Once again, multiple sizing options can be selected from but none of them will be large enough for you to physically walk inside. Instead, this size is ideal for patio use.
Ease of Assembly
According to multiple buyers, the assembly is straight-forward and rather easy. Because each part is detachable and no tools are required, it is not difficult to see why.
Entry Design
The main point of entry is actually via the foldable top that has already been alluded to. Thankfully, this provides enough space to easily maneuver your plants around.
Overall
Once you treat the wood with some sort of sealant, you erase the primary issue with this model. For its size and design, it will be the perfect product for the right people.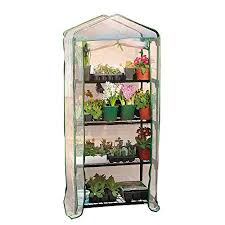 If all you are merely looking for is a small structure that can hold and maintain a few of your plants, this is the perfect product for you. Now, it will not stand up to extreme weather; so, be aware of that.
Read more
Overall Stability
For such a small design, the tubular and steel frame is robust enough to handle the outdoor elements. Also, for stability purposes, you can place it against a wall if you are worried about tipping.
Performance
The included cover will encase the entire frame and provides the warmth your plants need. But, it can also be unzipped to allow for proper air flow. Be warned, though, this cover may begin to wear if left in the sun.
Size and Portability
At 27 inches long by 18 inches wide by 63 inches tall, this is one of the smaller models on this list. Yet, with its shelving spacing inside it can actually hold a decent amount of plants.
Ease of Assembly
Overall, assembling this unit is not going to be overly difficult. Problems can arise, though, with the shelves as they can easily become unbalanced. Just be cautious of that when inserting your plants on them.
Entry Design
As with most other garden houses, this is designed with a roll-up zipper that is used to get inside of it.
Overall
Some of you do not require a full-blown greenhouse and only need it to hold a few herbs and other types of plants. It is hard to envision a superior model for that purpose than what Gardman has manufactured.

6

. Abba Enclosed Greenhouse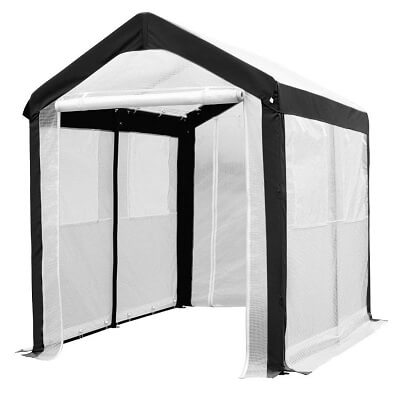 This next style is probably one of the most common for garden owners due to its design and affordability. While not without its slight issues, this is still one of the best designs out there.
Read more
Overall Stability
While the wing-nut bolts add security to the poles, the true aspect that keeps this together is the powder-coated steel frame and the transparent PE cover.
Performance
Being equipped with rolling-up windows, it is very simple to ventilate the inside of this model. Also, the cover will fully enclose the frame to protect your plants in all weather conditions.
Size and Portability
What is nice is even after you assemble this unit, which can either be six by eight feet, eight by 10 feet, or 10 by 20 feet, it is lightweight enough to move around.
Ease of Assembly
The design is intuitive and makes a lot of sense. Yet, more detailed instructions (or even halfway adequate instructions for that matter) would have been nice for novices and the general public.
Entry Design
Instead of just one, there are actually two integrated roll-up doors designed into this model. Both of which will allow you easy access and exit from the garden house.
Overall
From top to bottom, this is well-designed. However, a forewarning, a number of buyers note how the cover does fit tightly over the frame. This is normal so do not freak out if this happens to you.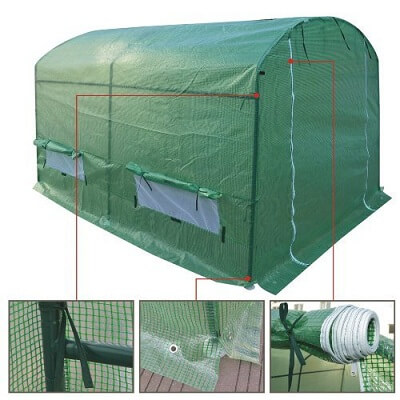 For such a cheap garden house, it is quite amazing at the amount of space that is provided by this next model. But, as several buyers have alluded to, it may be wise to invest in some heavier stakes than what is included.
Read more
Overall Stability
To begin, the powder-coated steel frame is fantastic. However, as many buyers have advised, invest in some heavy-duty stakes as the ones included are thin and fragile.
Performance
No matter where you live, the full closed cover will maintain high humidity levels for growing specific types of plants and vegetables. Plus, this cover is UV protected.
Size and Portability
At 10 feet by seven feet by six feet, this is an ideal size for most yards. What is impressive, though, is even when it is fully assembled it is light enough to move around.
Ease of Assembly
Different users have documented different assembly times but the general consensus seems to be this is a very simple product to assemble.
Entry Design
The somewhat cliché greenhouse entryway is implemented here with great success. Of course, this is alluding to a zippered roll-up front door.
Overall
If you adhere to the advice that so many other consumers have given and invest in additional heavy-duty stakes, you should be fully satisfied with the design that Strong Camel has produced.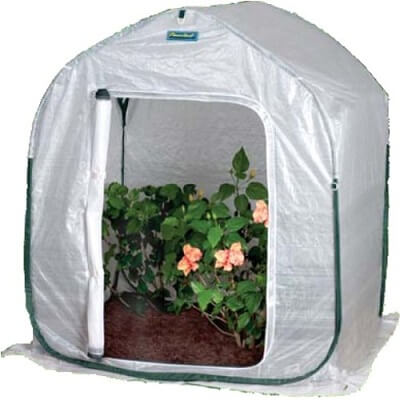 Flower House's PlantHouse is the epitome of a small greenhouse. In fact, it may be too small for some of you as compactness is a clear point of emphasis in regards to this model.
Read more
Overall Stability
The structure of this PlantHouse is comprised of fiber poles but the woven fibers of the plastic tarp significantly add to the overall durability.
Performance
Not only does the clear PVC construction offer maximum heat transmission and light but the screened door allows for optimal ventilation and pest protection. Plus, the rip-stop fabric is UV protected.
Size and Portability
There are different PlantHouses available and they range from three feet to six feet. Either way, these are not exactly ginormous but they can be stowed away in a carrier bag which is a bonus.
Ease of Assembly
Probably the only tricky aspect of the assembly is locating the little flaps that the poles are designed to fit inside of. Everything else should be a snap.
Entry Design
As you can't physically stand inside this model, all you need to do is open the front zippered door to have access to the interior components.
Overall
It seems overstated at this point but truthfully, if this is the right size for you then this could be the right garden house for you. With this model, in particular, keep in mind that it will probably not last as long as others.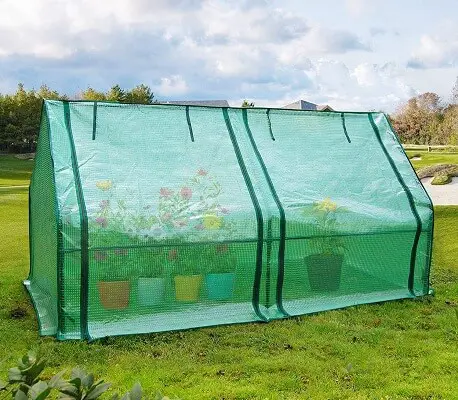 Due to its two-door design, this is one of the most unique entries on this list. Plus, it can actually be used indoors as well as outdoors. Of course, there are some slight concerns to keep in mind.
Read more
Overall Stability
Despite the powder-coated steel framework, one buyer did note that they had to place heavy bags of sand on the frame to prevent it from blowing away during intense winds.
Performance
The included cover is reinforced and waterproof for ample protection. But, venting this greenhouse can be a little tricky to prevent overheating and cooling according to one user.
Size and Portability
This bad boy measures 71 inches wide by 36 inches deep by 36 inches tall. Thus, this makes it ideal for both indoor and outdoor use and very portable.
Ease of Assembly
For the most part, the set up is pretty simple. It resembles a pop-up tent in many ways but if you get lost, there are instructions that come included.
Entry Design
Indeed, there are two doors designed into this product. Besides offering superior ventilation when you need it opened, it offers more operating space.
Overall
Looking at the photos alone for this model, it is easy to see why it is so unique. The extra operating space is a nice benefit and so is the powder-coated steel framework.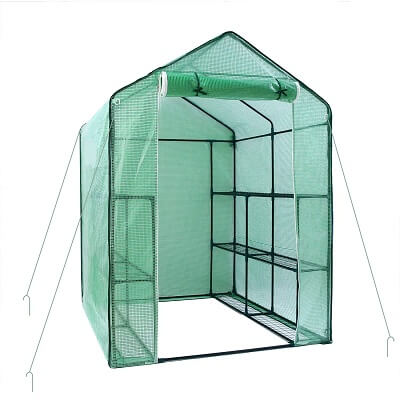 Capping off this list is Ohuhu's attempt at a garden house and overall, they did a superb job. One of the biggest advantages of their model would be the plethora of wired shelves that rest inside.
Read more
Overall Stability
Even though this is going to struggle to stay upright during high winds, it is structured with heavy-duty tubes that are rust-resistant for enhanced durability.
Performance
The screened ventilation is one of the most noteworthy aspects of Ohuhu's model as it allows for optimal airflow. But, this may not hold up too well to extremely inclement weather.
Size and Portability
There is enough room for you and your plants to fit inside. But, what truly deserves praise is the wired shelving as there are six on each side that can hold a plethora of different plants.
Ease of Assembly
Ohuhu is another manufacturer who dropped the ball with their instructions. However, because each part is detachable you can set it up wherever you would like.
Entry Design
Per the usual, Ohuhu designed their plant house with a zippered roll-up door for full access.
Overall
This is far from the best in the bunch but when it comes down to it, Ohuhu delivered on their design and provides you with a suitable choice for a backyard garden house.

Subscribe to our Newsletter