Best Chalk Bags
In a Hurry? Editors choice: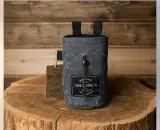 Test Winner: Static Waxed Canvas Bag

If you are an
avid climber
then you know how important chalk can be. It is an accessory that can
improve your grip
while you are climbing but how are you supposed to take it with you? Well, that is where chalk bags come into play and, hence, the reason for you being here today.
Most chalk bags are quite simple in their designs. They are merely small bags that are used to carry your chalk. But, they will also be designed with unique closure systems for easy access. Additionally, some will be optimized to be attached right to
your harness
.
And, for as simple as they are, you still need to be aware of the main features to look out for. Doing so can make all the difference in the world.
Standout Picks
Criteria Used for Evaluation
Materials
You need to pay attention to both the interior and exterior of the model you buy.
When it comes to assessing the materials that are utilized to make chalk bags, you need to pay attention to the exterior and the interior. Both of which are extremely important but for two different reasons.
Starting with the exterior materials, you want the bag you buy to be durable enough to handle some abuse. Ideally, do not buy models that will easily rip on your first climb. Instead, look for models with high-quality stitching and utilized materials.
Some of the most common fabrics you will see are polyester, nylon, and canvas. Of the three, the canvas is the strongest, but nylon is no slouch (and polyester is pretty good as well). Also, speaking of fiber, some bags will sport ripstop fabrics, and these are designed with special weaves to prevent abrasions from occurring.
As for the interior, this will almost always be fleece. The reason fleece linings are so crucial in chalk bags is they necessarily hold down the dust. Additionally, they make it easier for you to spread the chalk out on your hands evenly. A majority of the models you will see will sport such linings, which is good.
Features
For the record, this section is dedicated to focusing on the closure systems of chalk bags.
The primary focus of this section is ensuring that you buy a chalk bag with a solid to high-quality closure system. Unless you want your climbing chalk to get all over your gear, you will probably want to seal it in your bag. However, this is where things can get a little tricky.
You see, it can be quite hard to find chalk bags that seal 100 percent of the way. Most of the time, you will need to settle for 95 to 99 percent seals. You do not want the bag to have a noticeable opening still even after it is "fully closed."
And, most designers will engineer their bags with drawstring or drawcord closure systems. While these can suffice quite well, they can be tricky to play around with at times. Then again, when done right, these closure systems will allow for smooth one-handed operation.
Of course, then you have specific designers that will create a unique and almost foolproof closure system. The Aperture is a great example (the top option on this list) as it implements a twist closure system. And, this system is about as good as it gets when it comes to being spillproof.
Stability
For most climbing adventures, you will need to attach your chalk bag somehow.
Unless you are performing bouldering or any other sort of short climbing adventure, you will need to account for how you will carry your bag on climbs. Of course, the word "carry" is not the most appropriate as you will be attaching your kit to something.
That "something" will either be to your harness or a belt. Indeed, your bag will need to be attached to one of these two ways. Some sellers will include a waist belt with your purchase, and this is often the preferred option. The primary reason is with a waist belt; you can move it around to position the chalk bag where you want it to be.
In addition to this, there are also differently-shaped chalk bags that are available on the market. For longer climbs, you will be best to stick with cylindrical containers. These typically will allow you to hold much more chalk. But, tapered bags are excellent as they will not get hung up as often.
However, if you are into bouldering, you will not need to worry about any of this. With bouldering, you will never need to bring chalk with you as your bag can remain on the ground. But, if you want a bouldering chalk bag then look for one that will stand up on its own.
Accessories
Certain bags will come with extra storage compartments that you can utilize.
Even though these storage sacks are quite simple, some of them have a few tricks up their sleeves. But, to get obvious out of the way, all of them will be designed with the main compartment. This will be used to hold climbing chalk. About the only thing you need to worry about here is ensuring the main compartment will hold enough chalk for your climbs.
However, some models will come equipped with an extra pocket. For the most part, these pockets are not going to be too large. They can come in handy, though, for multi-pitch climbs, for example. These pockets will typically be able to hold much smaller items such as chapstick.
Additionally, you will also see some chalk bags come with dedicated loops for brushes (no, not hairbrushes or anything like that but toothbrushes). Toothbrushes can be a great way to scrub and clean holds. And, having quick access to one can be extremely convenient and useful.
Size
Do not be fooled; the size of the bag you need is actually very important.
Even though it has been mildly alluded to up to this point, the time is now to dive into why the size of your bag is so important. And, in a twist you probably should have expected, it is going to come down to your needs and preferences. But, let's educate you about the different sizes that you will see (though they are typically not marketed in any particular way).
For starters, you can opt for smaller bags. Regarding who benefits from chalk bags of this size, many of you can. If you do not need a lot of chalk, have smaller hands, or do not want to deal with a giant bag, lower options may be up your alley.
Then again, perhaps you require something a little bigger. That is perfectly okay as there are options for you too. There are larger models out there that are still optimized to be attached to a waist belt or harness.
But, then you have "buckets," and these are ideal for bouldering. Again, as was noted earlier, bouldering will not require you to use chalk off of the ground. So, you can leave these bags on the ground and dip your hands in them before you ascend.
Our Top Picks for the Best Chalk Bags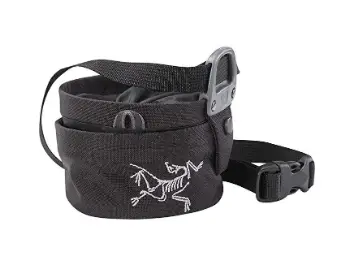 Arc'teryx is a company that is well-known for all their amazing Gore-Tex performance garments. However, they also design and sell one of the best chalk bags you can get your hands on.
Read more
Materials
Due to the fact that this is made with ripstop polyester fabric and a polyester fleece lining, it is safe to say that it is built to last. Throw in a hint of nylon in there and you are good to go.
Closure System
Several chalk bags simply do not close very well, leading to spilled chalk and nasty messes. However, that is not the case here thanks to the twist closure system.
Stability
While this is not the best for bouldering as the bag does not stand up, it sports one of the best belts you will ever find. Also, there is a reinforced rim on the bag that allows it to easily stay open when you need it to.
Storage Compartments
You really just have the main compartment to store your chalk balls. That is really about it.
Size
What is really nice is the fact that you can choose between small and large size options. It is subtle but it will be appreciated by several of you.
Overall
This is pretty much universally regarded as the best climbing chalk bag on the market. And, even on lists where it is not number one, it is always at least close to the top.

2

. Static Waxed Canvas Bag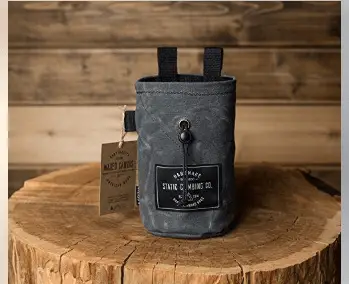 To say that this is expertly crafted is an understatement. The company behind the design ensured that everything was stitched to literal perfection. It is also multifunctional, as well.
Read more
Materials
Whether you want to look at the paracord closure or the canvas or even the soft fleece lining, everything here screams high-quality. The dedication devoted by the responsible engineers deserves to be acknowledged.
Closure System
Due to the fact that the drawstring closure system makes this a little difficult to fully close, the powder can release if you are not careful enough.
Stability
Though it may not achieve a 100 percent seal, this bag is not going to move around very much while you are climbing due to its stable nature.
Storage Compartments
The main compartment itself is really nice but an extra pocket would have been even better. As is, this is really only ideal for climbing chalk.
Size
In addition to being a little larger than other chalk bags, this design is also a little taller. This allows for more storage space and easier access to your chalk.
Overall
Yes, the pure craftsmanship presented here is simply remarkable. It is just as practical as it is visually appealing, though, which puts this over the top.

3

. Mammut Multipitch Chalk Bag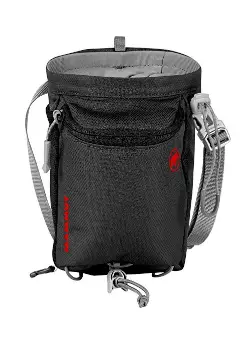 Though the size of the pocket that is included is not the largest, this is still a fantastic design regardless. Let's just say that you should not need to replace this after a year or two.
Read more
Materials
Nylon itself is a tremendous material especially when it comes to backpacks and carrying sacks. And, as you guessed, this chalk bag is made with this synthetic polymer.
Closure System
While not perfect, this bag sports one of the best closure systems that you will find on a bag of this nature.
Stability
First off, there is a bungee strap that is equipped (with a safety clip) to hold some of your essential items. Also, the built-in pocket has a clip inside it to secure your important things.
Storage Compartments
In addition to the main compartment, there is also a zippered pocket. Now, this will not fit many smartphones, but it can be ideal for some of your smaller items.
Size
This is a one-size model, and while it is not incredibly large, it is big enough to hold your chalk and other small items.
Overall
Mammut is an incredible manufacturer, so seeing them on this list is not shocking. From top to bottom, their chalk bag is as well-designed as it gets.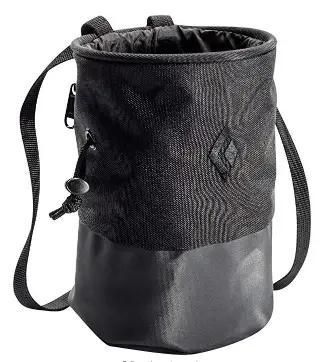 Given this next option has been engineered by Black Diamond, it is no surprise to see it land so high on this list. The combination of practicality and durability of this chalk bag is just fantastic.
Read more
Materials
As many reviewers have alluded to, the build quality of this bag is amazing. This is thanks to the TPU abrasion-resistant lower section and the fleece-lined interior.
Closure System
This sports a classic closure system that you come to expect from chalk bags. Because of this, it is going to close tightly (but it may not seal 100 percent of the way).
Stability
To provide fast adjustments, this is equipped with a quick-release buckle system. Oh, and the pliable wire rim makes it much easier to grab your climbing chalk out of this sack.
Storage Compartments
Past the main compartment, there is also a zippered pocket in the rear. While it is not large enough for an iPhone, it can work terrifically for smaller accessories.
Size
Black Diamond provides you with a few different size options for you to choose from. While not the most extensive selection, the few sizes are nice to have.
Overall
Let's just say that any climbing enthusiast would be proud to tag this along on their adventure. Just do not expect the pocket to hold your giant iPhone X and you should be good to go.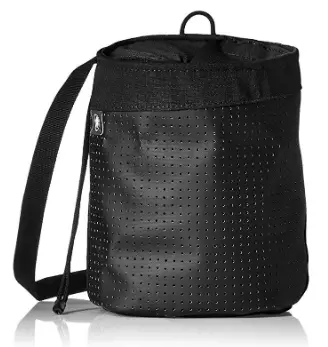 This may be the most unique option on this entire list, quite frankly. The reason being is you are provided the control to literally design the bag's exterior in the manner you prefer.
Read more
Materials
What you are provided with is a needle, a stitching pattern and three cards of yarn. With all these supplies, you can detail the bag in the manner in which you desire.
Closure System
Even with the hook and loop closure system at play, this will still not close all the way. If the bag tips over, some chalk is probably going to fall out.
Stability
One of the best features of this bag is the fact that it will stand up straight on its own. It will not collapse to the ground like other chalk bags.
Storage Compartments
In addition to the toothbrush holder, this has also been designed with a side pocket. This is a good-sized pocket and it holds the yarn and other accessories of your choosing.
Size
On your climb, you need to ensure that you bring enough chalk to supply yourself with. Let's just say that should not be too much of an issue thanks to the size of this bag.
Overall
The unique stitch technology that is on display here allows this option to really stand out. Then again, the concept will not be for everyone and there is nothing wrong with that.

6

. Day of the Dead Chalk Bag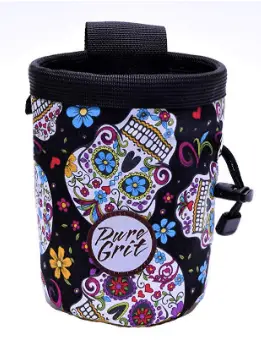 Admittedly, some of you may not be too fond of the visual appeal of this design. But, if you can get past the somewhat gaudy fabric, you can begin to see the brilliance of this design.
Read more
Materials
This was handmade in Colorado and engineered with quality in mind. For the record, it is made with cotton fabric.
Closure System
To secure this shut to prevent any chalk from coming out, this is equipped with a secure drawcord closure system. It is not perfect, but it gets the job done quite well.
Stability
A 50-inch waist belt has been designed into this chalk bag, and this can be used to secure it to your harness. It also features a secure buckle, as well.
Storage Compartments
Imagine a cylinder with fabric, and you have just imagined this bag. It is not designed with additional pockets, but the main compartment should be spacious enough for you.
Size
If you have large hands, then you may find it troublesome to get them inside this bag quickly. Then again, there is enough room inside to access your chalk if your hands are small enough easily.
Overall
Let's be real here for a second; the gaudy design is going to dictate whether or not this option in the slightest compels you. It is highly practical, but the visual design may be too much for some of you.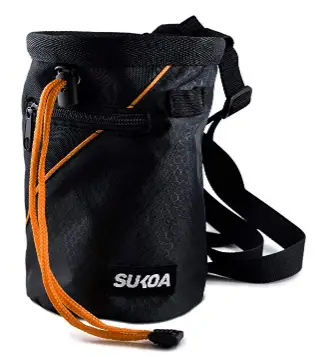 While this is not equipped with the greatest closure system in the world of chalk bags, it is unique in the fact that it is built with two separate pockets. It also comes equipped with a quick-clip belt.
Read more
Materials
The soft fleece lining, coupled with the water-resistant exterior quite well. Overall, you have a bag that should last you for climbing seasons to come.
Closure System
The drawcord closure system is certainly far from bad. However, it also does not provide a full seal. As such, you still need to be careful when climbing with this bag.
Stability
There are two loops on the back, and these can be used to clip this to your carabiners and harness. When doing so, it is quite stable.
Storage Compartments
Indeed, two pockets can be used to store your valuables. And, one of them can hold larger smartphones. Then again, with your phone inside, your hands will struggle to fit inside the main compartment.
Size
Outside of the size issue when you place a larger smartphone inside one of the pockets (which sort of defeats the purpose of doing so), this is a well-sized bag.
Overall
You can make the argument that due to the flaws present, this is not worth it. But, it secured a spot on this list for a reason. Put, you need to live with the minor imperfections.

8

. Metolius Tapered Chalk Bag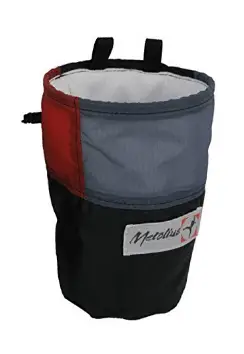 When compared to traditional chalk bags, this tapered bag is much, much lighter. Now, this is compared to the average model. But, there really is something to say about the lightweight nature of this design.
Read more
Materials
The reason this model is so light in nature is thanks to the materials. In addition to the interior liner, all the exterior fabrics are extremely lightweight.
Closure System
To keep this fastened when you are not currently using it, it sports a drawcord closure. While not the best system out there, it does get the job done.
Stability
Adding on to the tapered shape of this bag (which aids in easier climbing chalk retrieval) is the included webbing belt. This same belt also has a side-release buckle which will come in handy.
Storage Compartments
While there is an integrated loop that can be used to store a toothbrush, this really is just designed with one main compartment.
Size
Again, the tapered shape of this bag comes into play. It allows you to maximize the available space in this bag extremely easily.
Overall
Probably the most difficult reason it can be hard to gauge this against other chalk bags is due to the lack of consumer feedback. For the most part, though, the features do speak for themselves.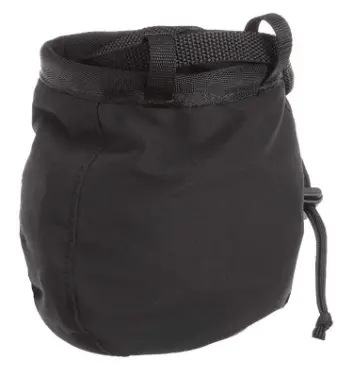 No, this is not a flawless design but it is one of the lightest chalk bags that you can get your hands on. At the same time, this is also not exactly going to withstand too much abuse.
Read more
Materials
Since this is mostly comprised of cloth, it is not the sturdiest of bags on the market. Then again, the craftsmanship is far from weak.
Closure System
The included drawstring is helpful in the fact that it can be opened with one hand. Of course, closing it back up is another story and will probably take two hands.
Stability
The belt strap is the reason this is an excellent choice to be used as a bouldering chalk bag. This strap also sports a quick-release buckle and can adjust to many different waist sizes.
Storage Compartments
Outside of the main compartment, there is not much else to talk about regarding the storage compartments.
Size
If you enjoy smaller chalk bags that are easier to climb with, then you will adore the size of this sucker. It is quite small, though, so do be cautious of that either way.
Overall
Light and small would be the best way to describe this chalk bag to somebody. There are certainly more substantial duty options available. But, for some of you, this will be what the doctor ordered.

10

. Elite Sportz Equipment Chalk Bag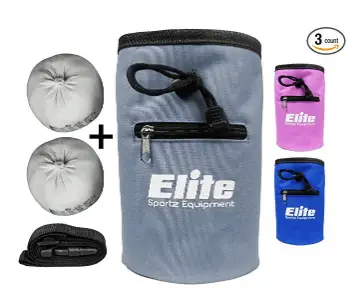 In addition to the actual rock climbing chalk bag, you are also provided with two separate chalk balls. Not a bad package deal at all, right?
Read more
Materials
Some users have not been too fond of the included bag due to its fragile nature. But, virtually everyone agrees that the included chalk balls (which are made of magnesium carbonate) are terrific.
Closure System
Overall, the drawstring can be finicky to work with. It will not close super tight but it will at least prevent any major spills, though.
Stability
If nothing else, take comfort in the fact that this will fit comfortably around your waist. It is also not going to be an unstable mess when you need it the most.
Storage Compartments
Located at the front is a zippered pocket that is capable of holding some of your smaller items. It will not hold anything too large.
Size
Size definitely should not be an issue here as the larger opening couples with the spacious interior extremely well.
Overall
This is a really good option if you want to buy everything at once for an unbeatable value. But, the bag itself has been criticized by buyers in the past.

Subscribe to our Newsletter