Best Survival Shovel
In a
Hurry? Editors choice: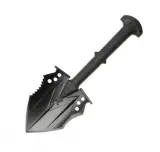 Test Winner: M48 Kommando Survival Shovel

You can never take any situation for granted, can you? When you are camping,
backpacking
, or on in the general wilderness, you never know what situation may arise. This is why
survival tools
come in handy as they are optimized to be versatile and practical. But, instead of discussing all of them, this guide is being narrowed down to talk specifically about survival shovels.
In addition to serving their purpose as shovels, these tools are often equipped with plenty of other critical survival tools. They typically will be
optimized for travel
, as well. From brand to brand, though, they can vary a little bit. Most top-end models will implement similar features, however, which makes your search a bit easier. But, there will be differences here and there that can make or break things for you.
Standout Picks
Criteria Used for Evaluation
Durability
You really do not want to skimp on the model you buy.
When you talk about the durability of survival shovels, it all starts with the blade. This is the most prominent piece of any shovel, quite frankly, and will almost always be made out of steel. Now, the type of steel can vary but is typically either stainless steel or carbon steel. Out of the two, carbon steel is more durable and stronger. However, it also lacks the corrosion and rust-resistant properties of stainless steel.
To combat this issue, you will ideally want to look for carbon steel blades that have been finished with a powder coating. This is a special finish that provides a layer of protection to the metal. Thus, this will make the steel less prone to scratching, chipping, corrosion, and general wear.
However, it is not all about the blade as you also need to assess the handle and shaft. Most of the time, the shaft will be made with aluminum (sometimes anodized aluminum) and you really can't go wrong here. Now, as for the handles, some models may have plastic ones. Even though metal handles are more durable, they also tend to weigh more. And, there is high-quality plastic (such as polypropylene) in the world.
Versatility
Not only are the best models versatile but they are also practical, as well.
The level of practicality that a specific survival shovel has oftentimes comes down to the manner in which you want to use it. At their cores, though, all models will be able to carry out the basic functions of shovels. However, this is then where models can differ in their designs. You may see some with serrated edges or wood saws tucked away, picks that can be used to loosen rocks and even additional implementations.
But, how do you choose the model for you? After all, if you never use any of the other tools that a specific model incorporates could it end up being a waste of money? Indeed, yes it could so you need to prioritize what you need. If you need a survival shovel with all the gears and gizmos then get one that has them.
To offer some more help with this section, let's talk about some of the situations in which this type of tool can come in handy to you. And, the best example is if you need a fire. With the use of a multi-functional model, you could dig up an area to have a fire, cut and chop wood for the fire, and so on.
Ease of Use
The handle of the model you buy should be optimized for comfort to say the least.
If the blade on any type of shovel is the most important component then the handle is probably the second. Earlier, the materials in which the handle can be made with were documented. But, now, the shift focuses on the actual design of the handle. And, this all starts with the grip you can achieve and the manner in which the handle is designed. Some handles will be T-shaped, others D-shaped and others just straight.
Ergonomics will also come into play, as well, as you may want the handle of the model you pick to be ergonomically designed. In short, this basically just means that it will be optimized to fit in your hand naturally and comfortably. This can really make all the difference in the world for longer sessions.
And, lastly, let's about the physical size of the handle. If you are someone who has larger hands then you may not want to settle for a smaller handle. As simple as this sounds, the last thing you want is for your hand to cramp up every time you go to use the shovel. Also, some survival shovels will be equipped with telescoping handles. These handles will be able to be adjusted to better fit in your hand.
Portability
The best models out there will be able to be folded and will also come with sheaths or carrying bags.
Survival shovels will generally be used for outdoor adventures and not at your home (even though they can be used in this fashion). Unless you do not plan to travel with the model you buy, you will need to place an emphasis on its portability. Now, this comes down to three incredibly important variables, so to speak. The first of which is if the shovel can be folded. For the record, most models will be designed in this manner (and will typically either be two or three-piece designs).
You also need to take the total weight into consideration. Oftentimes, this is why you will see some models designed with plastic handles (as this can cut back on the weight). The blade just needs to be made of steel, though, so come to terms with that.
The last variable is if the seller includes a sheath or carrying case with your purchase. An included sheath can be used to cover the blade for protection and safety. A full-fledged carrying bag, though, can be used to safely and securely transport the entire shovel. But, even if neither of these accessories is included, you can always account for stuff like this yourself.
Features
This section is not too complex but does cover one important feature.
For the most part, there really is not too much to cover in this section. So, go ahead and take a breather for a second. All joking aside, with that being said, there is one feature that you may want to pay attention to as it could be a game changer. Outside of the ability to be used as different tools, some survival shovels will also be designed with blades that can be adjusted to different angles.
Okay, so you may be pondering yourself why you would ever need the blade of your model to be at a certain angle. For the record, just to get this out there, a plethora of designs that do incorporate this functionality will be limited in the number of angles that can be utilized. However, no matter, even one different angle can make a certain task easier. Typically, when you are buying any type of manual tool, the more versatile it is the easier your life is going to be.
OUR TOP PICKS FOR THE BEST SURVIVAL SHOVELS
Subscribe to our Newsletter