Best Inflatable Fishing Boats Reviewed
In a Hurry? Editors choice: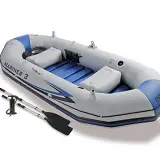 Test Winner: Intex Mariner 3

Not everyone has the money or space to own and accommodate a conventional fishing boat. Some anglers only want to get onto the water now and again. If this sounds like you then it mightn't make sense to splurge on a top-of-the-range craft. Inflatable boats are a great alternative to other fishing boats. Depending on the model, they're relatively inexpensive and most can be stored away in the cupboard when not in use – taking up less room than even
canoes and kayaks!
Inflatable fishing boats are also safe options for
less-experienced boaters
as they're relatively stable and aren't likely to sink. Even in the event of a capsize the boat will float safely, and most are designed with multiple air chambers so if a puncture occurs there will still be flotation in the craft. Check out our top picks below!
Standout Picks
Criteria Used for Evaluation
Capacity
When purchasing any kind of boat, knowing what it's capable of carrying is extremely important. The solo angler may be better off getting a small capacity craft to cut down on size and weight when transporting – as well as ensuring they're getting a responsive craft to get around in that's not unduly affected by wind and current.
Families are better off with larger inflatables so that everyone has room. Remember that the in-board size of inflatable fishing boats is significantly less than that of conventional boats because of the inflatable components.
Durability
Tender dinghies are designed with the assumption that they'll spend a lot of time inflated and out in the weather. Construction is therefore highly durable when it comes to abrasion, UV resistance, and other factors. The quality of PVC of these inflatable fishing boats is very high and they'll last a long time.
Less expensive crafts aren't as resistant to daily wear and tear and will require more maintenance. They shouldn't be left in the sun for extended periods as the PVC may deteriorate. They're best deflated and packed away when not in use.
If you plan on using the boat regularly, it's worth the extra investment to get a craft with a rigid floor. This makes a more stable craft that is easier and more comfortable to stand and move about in – which is particularly important for lure and fly fishers.
Compatibility
Motors can be fitted to many of the boats included in this list. Some are best suited to electric trolling motors while others will easily handle a sizeable gas powered motor.
Electric motors require a battery for power, so ensure that the boat has space for a battery if you want to fit an electric. Electric motors can be fitted to some of the least expensive inflatable boats listed below, ensuring that motor mounts are either included or purchased separately. These motors are good for traveling short distances as well as moving around and repositioning while fishing.
Gas motors require a strong transom to cope with the weight of the motor and the power exerted by it. There must also be space for a fuel tank. Some boats are capable of handling larger motors. Ensure that the PVC of the boat will not be damaged by fuel leakage or spillage.
Size
One of the great benefits of inflatable boats is their small size when deflated. This allows them to be packed away in the boot of the car or a cupboard – taking up virtually no space. Because of this, they're great for anyone with limited storage space who still wants to get out on the water.
With that in mind, it's worth checking how compact an inflatable fishing boat is. Boats with rigid parts can only be packed as small as those parts and may require more space.
Some boats come with a storage bag while others don't. It's worth investing in some kind of container for the deflated boat to make sure it's protected from damage when tucked away.
Top 10 Picks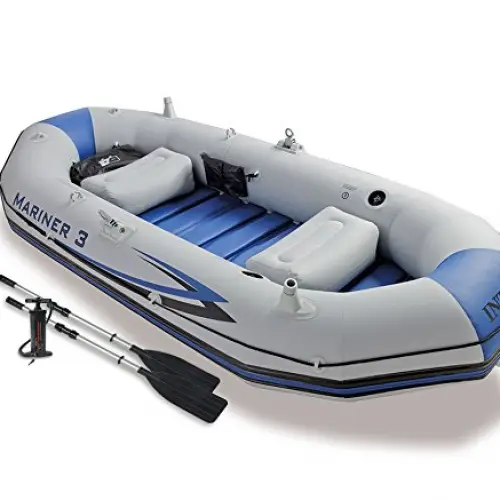 The Mariner 3 is a professional-grade inflatable by Intex and is constructed to handle the rigours of long days on the water. It's suited to three people capacity.
Durable Construction
The Mariner 3 is constructed using three layers for increased durability. Two outer layers of laminated vinyl PVC stand up to abrasion and sun damage, and an inner layer of polyester mesh supports the rest of the boat. The extruded plastic floor gives the craft much more rigidity than some of the cheaper inflatable boats.
Read more
Features and Specifications
660lb capacity; 9'8" long
3 layer construction – 2 outer layers heavy gauge PVC and inner polyester mesh
Floor made from heavy-duty extruded plastic for rigidity
2 inflatable seats
2 fishing rod holders
Gear pouch and battery pouch
Rotational welded plastic oar locks, oar holders and oars
Motor mount fittings
Price/Value
For the quality of construction, this inflatable boat is fantastic value, being one of the least expensive crafts on this list.
Verdict
It makes a great fishing platform for a variety of situations on rivers, lakes and sheltered waters. It's much more durable than other inflatable boats of similar price.

2

. Classic Accessories Colorado XT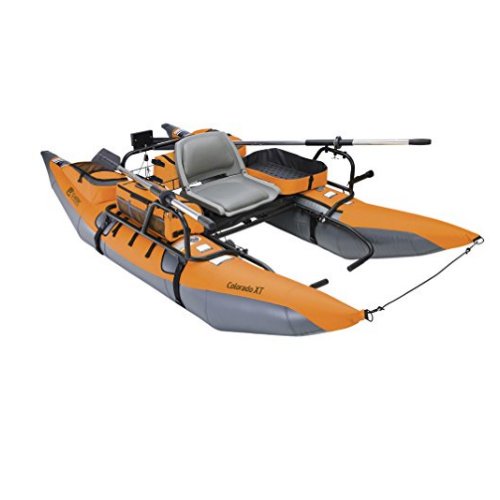 The Colorado XT adds a few new features to the standard Colorado, also on this list, which takes it to the next level as a solo river-runner.
Transport Wheel and Detachable Pockets
To improve portability when inflated, the Colorado XT includes a stowable transport wheel. This makes the craft much easier to get to the water and move between pools or around obstacles. In addition, the included gear bags are detachable and fitted with shoulder straps – so you can leave the craft and still take what you need.
Read more
Features and Specifications
400lb capacity; 9' long
2-year warranty
Stowable transport wheel
Detachable gear bags
Meets ABYC safety standards
Price/Value
The Colorado XT is relatively expensive but still great value for a ready-to-go river pontoon boat. This platform is made to fish.
Verdict
It improves on basic Colorado from Classic Accessories and makes a fantastic solo pontoon boat.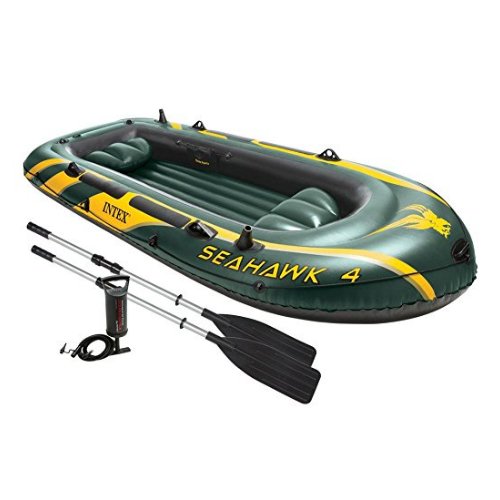 The Intex Seahawk is a great entry-level inflatable suited to up to four people. It's a great craft for enjoying calm waters.
Keeping it Simple
The Seahawk keeps inflatable boat design straightforward so that you don't have to spend a lot to get on the water. Quick inflation gets the boat ready with a minimum of fuss and there are no extra components that require fitting before heading out.
Read more
Features and Specifications
Capacity up to 4 people; 11' long
30 gauge PVC vinyl construction
2 air chambers
2 inflatable cushions
Welded plastic oarlocks, oar holders and oars
2 fishing rod holders
Inflation pump included
Price/Value
The Seahawk is an inexpensive option for anyone wanting to get onto the water. It's not as durable as some of the inflatable boats for fishing on this list but it is great if you are unsure how often you'll be on the water.
Verdict
The Intex Seahawk is a cheap inflatable for fishermen that want to test the waters of boating.

4

. Classic Accessories Cumberland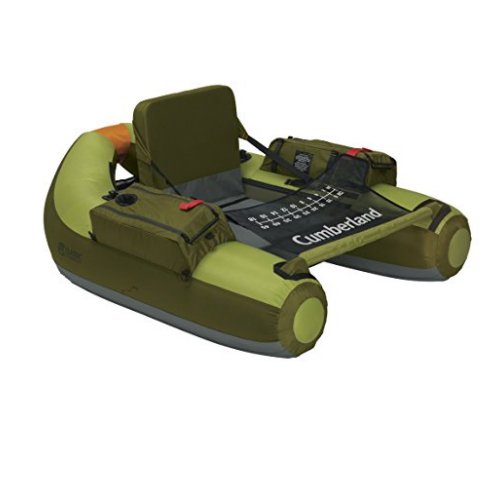 If you're after an easy to maneuver craft fit for the solo angler, this float tube from Classic Accessories might be right for you.
Carry to the Fish
With its lightweight and backpack design when deflated – including adjustable shoulder straps – the Cumberland float tube lets adventurous anglers carry their inflatable fishing boat with them wherever the fish may be. After all, making the effort to fish untouched waters rarely disappoints.
Read more
Features and Specifications
Maximum capacity: 350lb
Padded seat with adjustable backrest
2 cargo pockets
2-rod holders
Mesh stripping apron with fish ruler
Hydrodynamic hull design for control and tracking
Mesh storage platform
Backpack-able – adjustable straps
Price/Value
The Cumberland inflatable float tube is great value for a single-person fishing platform. Its price is comparatively low given the features incorporated into the craft.
Verdict
The Cumberland float tube is a great choice for the solo fisherman looking to get onto remote waters or who don't want to spend a lot of money on an easily controllable fishing craft.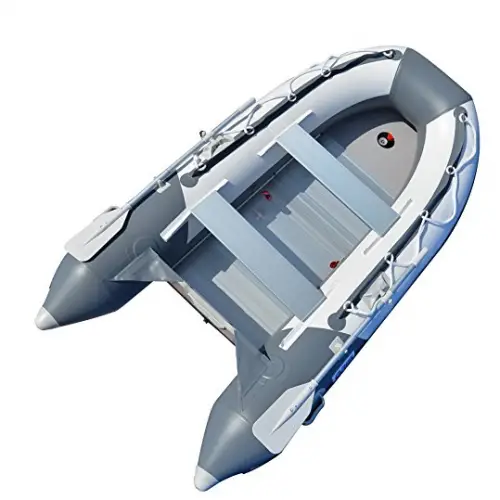 The BRIS 10.8' Inflatable is a higher end inflatable designed for use with motors up to 15hp. Solid construction makes this a very useable fishing inflatable.
Rigid Comfort
Having a rigid floor makes this inflatable boat a comfortable ride capable of cruising at speed under motor. It's also easier to stand and fish in – getting those long casts and increased fish-spotting capability.
Read more
Features and Specifications
Maximum capacity 1213lb; 10'8" long
1100 denier 0.9mm PVC tube and floor fabric
Aluminum floor
Marine plywood transom
Maximum 15hp motor
Built-in oar locks
Includes seats, oars, foot pump, carry bag and repair kit
Price/Value
The BRIS 10.8' is a more expensive inflatable fishing boat but this is offset by its quality design and rigid construction. It's a cheaper option than some inflatable tender dinghies.
Verdict
This is a great quality inflatable that's compatible with gas-powered motors. It has a sturdy construction that makes it easy and comfortable to use.

6

. Classic Accessories Colorado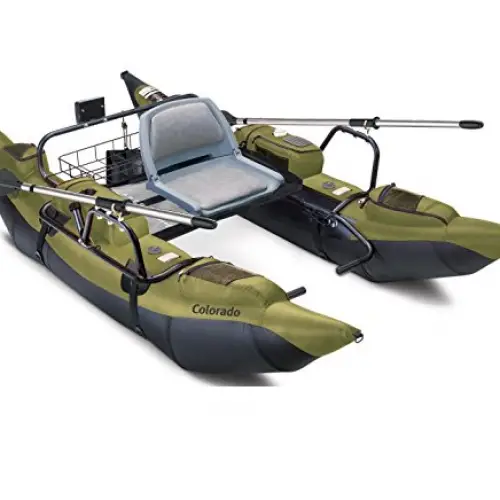 For the solo angler that wants to tackle rougher waters or motor between spots, the Classic Accessories Colorado Pontoon boat is a great fishing platform.
Row or Motor
This craft incorporates a three-position oar system that allows the user to adjust the row-locks to suit them. The use of oars gives this craft great maneuverability and makes it a capable river running craft. If rowing isn't your thing, though, hook up a trolling motor to the sturdy mount and let electric power propel you to your favorite fishing spot.
Read more
Features and Specifications
400lb capacity; 9' long
Motor mount
Moveable anchor system included
Versatile rod holder
Three oarlock positions
Foldable, padded seat
speed (IBO) 350 fps
axle-axle length 32 5/8"
4.3lb
Wire storage platform behind the seat
20 storage pockets and two insulated drinks holders
Oars included
Price/Value
This is a great value craft considering its versatility and stable design. For the solo fisherman, it'll take you to all kinds of fishy places.
Verdict
The Colorado Inflatable Pontoon boat is an affordable inflatable boat that will open up all kinds of fishing options. It has plenty of secure storage space which makes it great for running rivers and keeping your gear safe.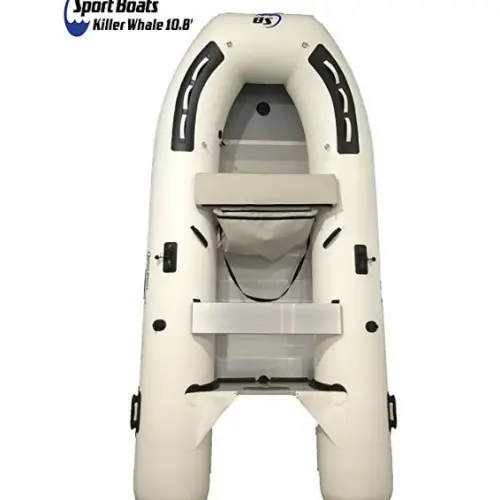 The Inflatable Sport Boats Killer Whale is a well-designed, robust inflatable boat – capable of handling motors up to 15hp and putting up with the rigorousness of the outdoors. This fishing boat is just as capable as a tender dinghy as it is making fishing forays in calmer waters.
Reliable Design and Construction
All effort has been taken to make the Killer Whale a boat to be counted on. Its design incorporates features that allow the inflatable fishing boat to handle higher capacities than its counterparts, while still handling and planning out quickly and smoothly. The fishing boat's construction also aims to eliminate failure points so you know the craft will take you there and get you back again.
Read more
Features and Specifications
1268lb maximum capacity; 10'8" long
3 year warranty
9mm thick, 1100 denier reinforced PVC construction
Entirely welded seams
Extended rear pontoons to carry greater maximum weight and larger motors
Reinforced transom
Price/Value
The Killer Whale is the most expensive craft featured in this list – and gets that classification through its design and construction. For a totally reliable little boat, this is worth the extra cost.
Verdict
It makes a handy fishing platform – especially used in conjunction with larger 'base' boat. It's still useful as a fishing boat on its own – but considering the cost there are other more specifically designed fishing boats on the market.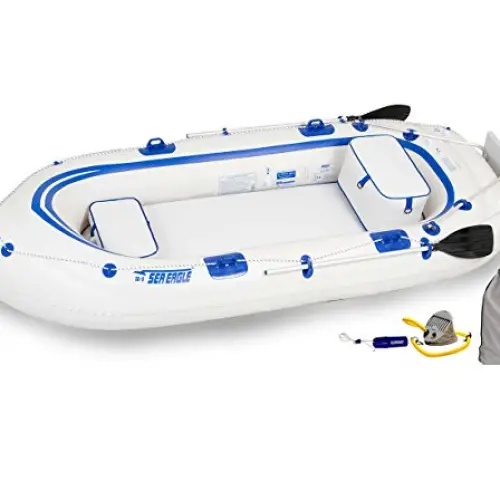 The Sea Eagle SE9 includes fishing specific components in the 'Fisherman's Dream Package' – an inflatable floor, motor mount, inflatable seats, oars, foot pump, and a repair kit.
Affordable Fishing Inflatable
The SE9 is a very affordable craft considering the features included in the sale package. Inflatable seats and floor put the angler at a higher vantage point which is all important in spotting fish and the places they live before they see you. The included motor mount adds to the versatility of the inflatable fishing boat.
Read more
Features and Specifications
1200lb maximum capacity; 11' long
38mm Polykrylar (K80 PVC) construction; high frequency welded
4 inflation chambers
3hp engine capacity or 74lb thrust electric motor
Price/Value
The SE9 is an affordable package that includes several features suited to the angler. It's a good value inflatable dinghy for general use.
Verdict
The Sea Eagle SE9 is a reliable and affordable inflatable boat for anglers looking for a fishing boat that can be stored away and quickly assembled whenever the urge to fish arises.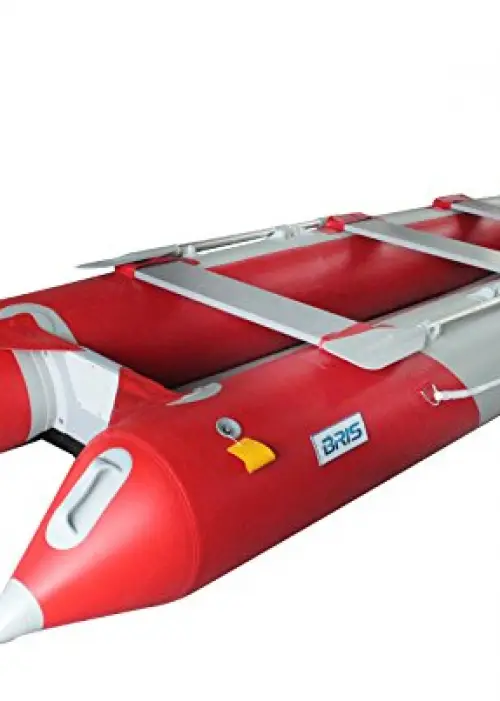 This is a mix of fishing boat and kayak, being narrower and longer than a standard inflatable while retaining many of the standard design features.
An Easy Cruiser
With the extra length and narrow beam, the BRIS Kayak Boat will run surprisingly smooth and fast with smaller electric or gas powered motors suited to the inflatable boat – or under paddle/oar power.
Read more
Features and Specifications
Capacity 770lb; 14.1' long
1100 denier 0.9mm PVC construction
4 fins for improved tracking and predictable drifting
Integral oar locks
Suitable for small motors; rowing or paddling
Seats, oars, foot pump, carry bag and repair kit included
Price/Value
It is a moderately expensive inflatable. It's a handy mix of inflatable fishing boat and kayak.
Verdict
For a fisherman, the BRIS Kayak Boat may be a good platform. It's very stable due to the air chambers and strong floor and suited to motor power or maneuvering tricky spots with oars or paddle. For one or two anglers, there's plenty of room.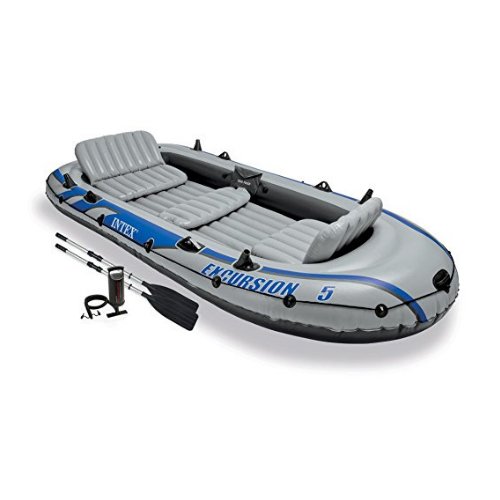 The Intex Excursion 5 is another entry-level priced inflatable fishing boat that'll meet the requirements of many anglers.
Plenty of Room
With capacity for 5 people, there's plenty of room in the Excursion for a couple of anglers and all of their gear; or several people wanting to spend an enjoyable day on the water. Two seats with back rests give some extra comfort so you can sit back and wait for the next bite.
Read more
Features and Specifications
5 person capacity
Heavy-duty PVC vinyl construction
Inflatable I Beam floor
Two inflatable seats with backrests; one inflatable middle seat
2 welded oar locks on each side
4 fishing rod holders
Can be fitted with a motor mount
Oars, oar holders and high output pump included
Price/Value
This is another inexpensive, great value inflatable boat for getting out on the water and catching fish.
Verdict
The Intex Expedition 5 is a great low-cost inflatable with plenty of room for fishermen and their gear to have a good day on the water.