Best Inflatable Fishing Boats Reviewed
In a
Hurry? Editors choice: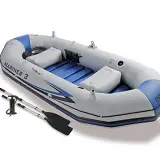 Test Winner: Intex Mariner 3

Not everyone has the money or space to own and accommodate a conventional fishing boat. Some anglers only want to get onto the water now and again. If this sounds like you then it mightn't make sense to splurge on a top-of-the-range craft. Inflatable boats are a great alternative to other fishing boats. Depending on the model, they're relatively inexpensive and most can be stored away in the cupboard when not in use – taking up less room than even
canoes and kayaks!
Inflatable fishing boats are also safe options for
less-experienced boaters
as they're relatively stable and aren't likely to sink. Even in the event of a capsize the boat will float safely, and most are designed with multiple air chambers so if a puncture occurs there will still be flotation in the craft. Check out our top picks below!
Standout Picks
Criteria Used for Evaluation
Capacity
When purchasing any kind of boat, knowing what it's capable of carrying is extremely important. The solo angler may be better off getting a small capacity craft to cut down on size and weight when transporting – as well as ensuring they're getting a responsive craft to get around in that's not unduly affected by wind and current.
Families are better off with larger inflatables so that everyone has room. Remember that the in-board size of inflatable fishing boats is significantly less than that of conventional boats because of the inflatable components.
Durability
Tender dinghies are designed with the assumption that they'll spend a lot of time inflated and out in the weather. Construction is therefore highly durable when it comes to abrasion, UV resistance, and other factors. The quality of PVC of these inflatable fishing boats is very high and they'll last a long time.
Less expensive crafts aren't as resistant to daily wear and tear and will require more maintenance. They shouldn't be left in the sun for extended periods as the PVC may deteriorate. They're best deflated and packed away when not in use.
If you plan on using the boat regularly, it's worth the extra investment to get a craft with a rigid floor. This makes a more stable craft that is easier and more comfortable to stand and move about in – which is particularly important for lure and fly fishers.
Compatibility
Motors can be fitted to many of the boats included in this list. Some are best suited to electric trolling motors while others will easily handle a sizeable gas powered motor.
Electric motors require a battery for power, so ensure that the boat has space for a battery if you want to fit an electric. Electric motors can be fitted to some of the least expensive inflatable boats listed below, ensuring that motor mounts are either included or purchased separately. These motors are good for traveling short distances as well as moving around and repositioning while fishing.
Gas motors require a strong transom to cope with the weight of the motor and the power exerted by it. There must also be space for a fuel tank. Some boats are capable of handling larger motors. Ensure that the PVC of the boat will not be damaged by fuel leakage or spillage.
Size
One of the great benefits of inflatable boats is their small size when deflated. This allows them to be packed away in the boot of the car or a cupboard – taking up virtually no space. Because of this, they're great for anyone with limited storage space who still wants to get out on the water.
With that in mind, it's worth checking how compact an inflatable fishing boat is. Boats with rigid parts can only be packed as small as those parts and may require more space.
Some boats come with a storage bag while others don't. It's worth investing in some kind of container for the deflated boat to make sure it's protected from damage when tucked away.