Best Inflatable Tents Of 2023
In a Hurry? Editors choice: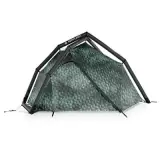 Test Winner: Heimplanet Fistral

If you're looking to shed a few pounds
from your pack
without compromising durability, an inflatable tent (sometimes called an air tent) may just be the solution! Instead of traditional fiberglass poles that are fed through the lining of a tent to give it structure, inflatable tents have an, you guessed it, inflatable structure. This makes set-up incredibly quick and easy (don't forget the pump) and you don't need to worry about accidentally leaving a piece of the tent behind. These tents haven't taken over
the camping world yet
, but we think traditional tents will soon be obsolete. Get ahead of the game, check out our best picks, and see why these may just be
the next big thing.
Standout Picks
Criteria Used for Evaluation
Best Inflatable Tents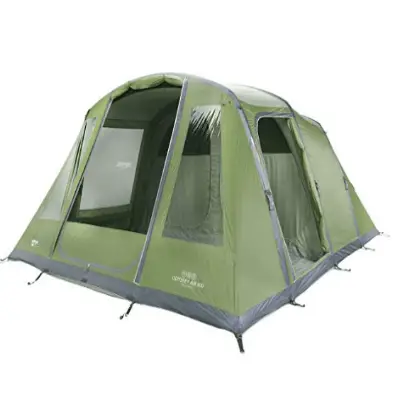 Vango is the first thing you hear when looking for inflatable tents. It has revolutionized the inflatable tents technology and each and every other brand that came afterward was copying or perfecting that same Vango technology. The brand has a wide collection of tents that impress with their designs and technology implementation. And the best of all, there is a Vango tent for every budget. Vengo tents' popularity comes from their feature of easy assembling that could be done by only one person without taking one much time or effort to do so.
Read more
Stability
The unique design of this tent was made to stand up against the wind. The air beams are specifically angled to not only provide more room inside but also to protect against side winds. As an added bonus, this tent also features Vango's Tension Band System II. This system has an adjustable slack that will brace your tent for high winds and keep it in place.
Durability
It's the little things that all work together to enhance the durability of this tent. All of the seams are taped and the included groundsheet is 4000mm waterproof. The Protex 70D Polyester flysheet is waterproof, weather-resistant, and designed to keep you and your tent safe.
Materials
This air tent is made from Sentinel Active Plus Fabric. This fabric is lightweight without compromising durability. The guylines are highly visible and easy to see in dim conditions. The material is doubled and keeps the inside of the tent slightly darker in the mornings and also keeps the tent from getting too hot inside as well.
Speaking of the weather, there are also ventilation panels located on the top and bottom of the tent. The mesh door provides even more ventilation and keeps out bugs. This 6-person tent has adjustable dividers inside, allowing you to create your own sleeping arrangements. There are also plenty of storage pockets and multiple points to hang a lantern from.
Portability
Vango's website claims that this tent takes eight minutes to set up, but reviewers claim that its more like ten to fifteen minutes. Either way, set up and break down are very simple and the pump is included. The total weight of the tent 38.5-pounds. This is a pretty heavy tent but if with six people, it shouldn't be extremely difficult to handle. The packed size of the tent is 27.5" x 14" x 14.5".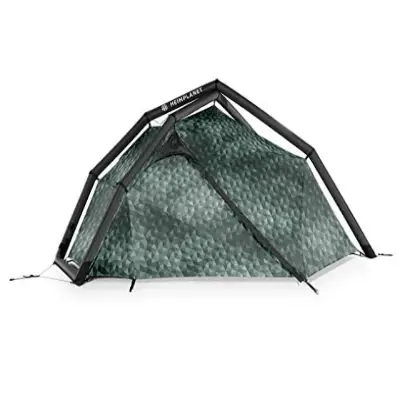 This unique tent features a geometric design paired with strong materials that aid in the durability and stability of the overall tent. The dual chamber system allows you to create privacy or have a designated space for gear. Perhaps the best feature of this tent is the fact that it weighs only 5.5-pounds.
Read more
Stability
The geometric shape of this tent makes it stable in strong winds. The beams are made from strong material and won't flail in windy conditions. To keep the tent even more stable, you'll need to use the ground pegs.
There is also an integrated multi-chamber safety system. If for any reason, the elements get the best of the tent or a hole forms, only that half of the tent will deflate.
Durability
The Fistral features double layer construction which provides it with durability, stability, and keeps the weather inside the tent a bit fresher. This weatherproof tent is a great 3-season option and includes a groundsheet and rain fly. The flysheet is made from ripstop polyester and the groundsheet is made from Nylon Taffeta with a 5000mm waterproof rating.
Materials
The outside of this tent is made from stiff and resistant polyester. The inside is made from nylon 40 D 210T ripstop.
It is made to house one to two people and features two separate vestibules. You can each have your own vestibule or you can use one for storage. There are two doors that provide great ventilation when they are open. However, when closed, there isn't much breathability. Additionally, there is a decent room for gear storage and also a small gear loft at the top. This can be used for shoes or even a lantern or flashlight to create a dimmer and softer ambiance.
The total square footage of the tent in 45 square feet and the highest point is 44-inches.
Portability
This tent is very lightweight at only 5.5-pounds! We must mention that there is no pump included, but there is an adapter. This allows you to use any pump you wish, including the one you may already own. Don't forget to factor in the weight of the pump when planning your trek. When collapsed, this tent measures 13.3" x 7.8" x 7.8".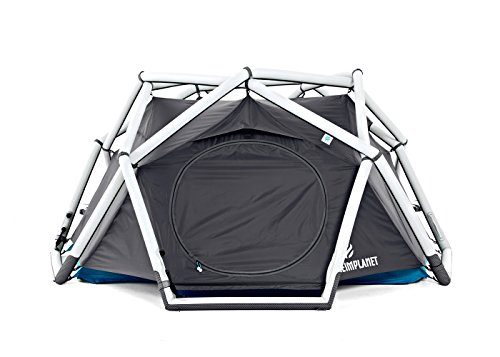 Comparing to most outdoor gear manufacturers who have decades of experience, Heimplanet is relatively new on the market. However, in the short time of them being present, they have managed to launch various successful products on the market and the Heimplanet Cave inflatable tent is one of them. The design of the Heimplanet Cave inflatable Geodesic tent resembles a spider or an igloo to some people. It is warm enough to keep the temperature comfortable even during the winter and it is stable enough to endure strong winds. Most parts of the tent are replaceable, including the air beams which are completely exposed and placed outside the tent shell.
Read more
Stability
The unique structure of this tent adds to the stability of the entire construction. The geodesic construction of this tent also means that collapsing is a bit more difficult because of its material and volume ratio which is perfectly balanced. The superior stability is due to the air beams that are also harder to damage or puncture. This increases the lifespan of the air beams, therefore, of the whole tent.
Durability
Regardless of how much you take care of your tent or the quality of the materials, products get damaged. For this reason, the company offers a replacement for each and every one of the parts the tent is constructed with. You could simply change the tent parts instead of buying a new tent after many years and it will be as good as new.
In the package, you have included a repair kit, pegs, a packing bag, gear loft, guy lines, and a pump adapter.
Materials
The outer layer of the tent is made from resistant and stiff polyester, and the inner layer is made from flexible thermoplastic polyurethane. The structure of the tent is a dome and can be erected in less than a minute which is exceptionally impressive. The structure of the tent is so well designed that it is safe to claim that it is weatherproof. It is designed and able to endure low winter temperatures which make it a four-season tent.
The multi-chamber safety system is allowing the user to inflate it with only one step. In most cases, this means that airflow is allowed between chambers and if one air beam punctures, this results with deflation of the others as well. However, this is not the case with Heimplanet Cave. Once the tent is inflated and erected, the airframe should be separated into chambers that will protect the other chambers if one gets punctured. Since the air is divided into many chambers, the detection of the punctured beam would be very easy and the replacement as well. This emergency multi-chamber system is patented and is unique to Heimplanet Cave inflatable tent only.
The valve system is also outstanding. It has an integrated 2 in 1 valve and each one of them has two closures. One valve is for easier inflation process which is the main reason why the inflation time is shortened. And the other one is for faster deflation.
Portability
Inside the tent, there is space for three people to comfortably sleep inside. The height inside the tent is 40 inches which is not high enough for an adult to stand inside. The size of the tent when packed is 40 x 32 x 23 cm which is smaller than similar competitive models. The weight is only 10.6 lbs and this makes it suitable for camping and backpacking as well.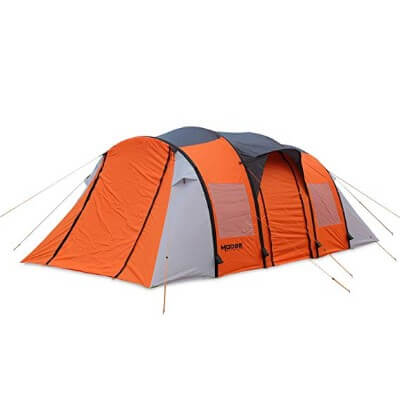 This inflatable tent from Moose Outdoors is a great tent if you want to get away from using and carrying around poles on your next camping expedition. This tent is easy to set up and if you decide this is the tent for you, you will be spending less time setting up your tent and more time enjoying it.
Read more
Stability
This tent is a great inflatable tent but could be a little more stable. There are ten included stakes to secure the tent to the ground. Moose claims the tent is windproof up to 33mph, but customer reviews reveal that maybe 25mph is a more accurate number. It easily sets up in three minutes but if put in heavy weather conditions could run into stability issues. If you are looking to invest in this tent, it may work best for summer days and overnight camping trips.
Durability
Overall, this tent is built with quality in mind but may come up short if put in heavy conditions. As fas as punctures, there have been no complaints. If this tent could hold up in higher winds, we would be much more impressed.
Materials
This tent is made with double ripstop tenting fabric. It is built to be water-resistant up to 3,000mm. It is also is breathable to allow great air circulation so you are not breathing in stale air while sleeping in your tent.
Included with your purchase, you will receive a patching kit, air pump, instructions, tent stakes, and a carrying bag.
Portability
This family tent is quite heavy, at about 36-pounds. When in it's carrying bag, it will definitely be an extra bag on your shoulder. Unless you are an extremely light packer with a huge backpack, it's not going to fit. This tent is best left for driving expeditions, not full on hiking.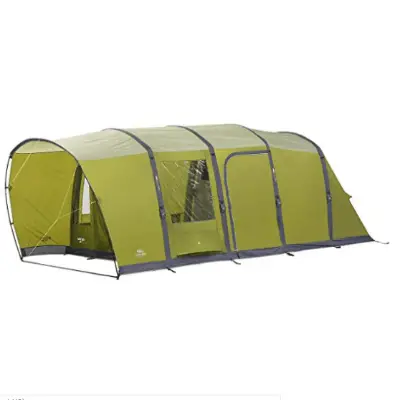 If you are tired of cramped camping trips, this tent from Vango's XL series may be the answer to your problems. This luxury tent has three rooms and plenty of organizational space. It is a bit on the heavier side, but if you are driving to your campsite, this won't be an issue.
Read more
Stability
Like most Vango air tents, the Capri also features the Tension Band System II. This is a great feature that gives the tent a strong triangular internal structure that will hold up in adverse weather. This tent has a tunnel shape and must be staked down.
Durability
The outer layer and flysheet are made from Protex 70 denier polyester, making them very durable. All of the tapes are seamed and the materials are fire retardant. The tent itself is 4000mm waterproof, but the 2 layer floor is made from polyethylene is provides us with 10000mm waterproof.
Materials
As mentioned, the Protex 70 denier polyester provides great durability and weather resistance. There is a darker fabric on the inside of the tent which helps to regulate the internal temperature and also allows you to sleep in later. There are PVC and mesh windows strategically placed throughout the tent.
A great feature of this tent is the angled beams and clear PVC windows provide more living space and make space feel larger. There is an outdoor porch area, living room, and a large bedroom that has an optional fabric to divide the room into two. Each room has small organizational pockets built in and there are multiple places to hang a lantern. The tent is tall enough to allow most people to stand without issue. The total floor space of the tent is 143 square feet.
Portability
At 44.3-pounds, we wouldn't exactly classify this tent as lightweight. This is a four-person tent, so thinking about it as ten-pounds per person hurts a little less. The inner tent is attached and could be removed to shed a couple of pounds. When compressed, the measurements of this tent are 28" x 16" x 15".

6

. Coleman Valdes FastPitch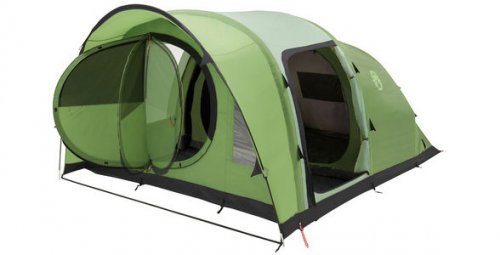 Coleman is an outdoors company that has created outdoor equipment and tents for over a century. Not many brands have this in their resume. This makes it a highly reliable brand that has solved most outdoors issues with their products. They are constantly evolving and delivering on the market new and improved items, such as this inflatable tent that is among the best ones out there.
This Coleman Fast Pitch inflatable tent is intended for 6 persons, although Coleman offers smaller inflatable tents as well. The construction in tunneled in order for the tent to get a firmer structure that is not easily collapsible if there are strong winds in the area. However, this only goes if you place it with the pitched end is turned toward the wind. Otherwise, it is much less stable. The shape also ensures greater interior space usage and increases privacy.
Read more
Stability
To ensure the stability of this tent, the inflatable poles are wider than usual tent constructions and they are enclosed well in the PE shell. The poles are made from TPU material which is strong enough to hold the entire construction and stand stable in windy and rainy weather conditions.
Durability
The tent has a water column of 4000 mm which is actually the hydrostatic head indication. This means that the tent can hold up to 4 m column of water before any leaks occur. This only applies to the surface material. However, this Coleman tent includes more waterproof features. It is manufactured with water-resistant material with flysheet seams that are completely leak-free. The water resistance comes from the treatment which is being done on the material in order for it to be able to protect you and your equipment from moisture.
Materials
The tent has a stable structure with replaceable air beams that are more convenient than an open airflow structure. The groundsheet included in this package is welded and very well integrated into the whole structure. It is completely waterproof and it will ease your packing a great deal. Most campers assume that if you have a waterproof tent, you don't need a groundsheet. Although this is somewhat true, a groundsheet will help you have a perfect pitch every time you are erecting your tent. This is the main reason why this tent classifies for a fast pitch one as its name suggests.
The blackout feature is able to block most of the daylight that would otherwise come inside your bedroom and wake you up. It is a revolutionary feature if you really want to get rested on your camping trip, even if you are a light sensitive sleeper. The blocking of the sunlight causes your bedroom to be 5 degrees cooler compared to outside temperatures. However, the high-quality material is also not allowing fast cooling inside, so the night temperature inside would be 1 degree warmer. This is done by the thick fabric which is storing sunlight energy in its surface, therefore, keeping you a bit warmer during the night.
Portability
The tent packs to a size of 31 x 23 x 16 inches which is pretty compact comparing to other tent models on the market and the size of the tent. Its weight is only 58.6-pounds which is also pretty low considering the fact that it can accommodate 8-10 people. A carrying bag is included in the package, as well as a pump and a manometer that will show you the optimal pressure of the air beams, therefore increase their durability. All things considered, this is a great inflatable tent choice for a larger group of people who will not be walking to their campsite.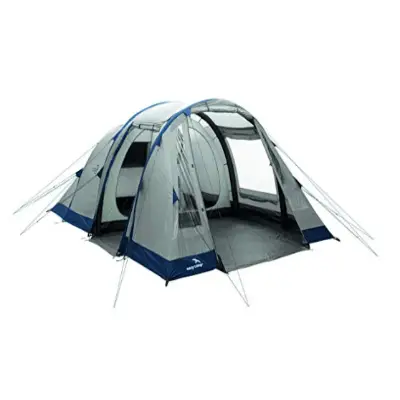 As the name suggests, this tent is very easy to set up and break down. A two-way pump is included and even features a meter to show you the PSI. This tent is said to fit up to five people, but if you were using it at a festival or with close friends, the living room area could hold about five more people. Another thing we love about this tent is the super waterproof floor and the fact that if you set it up in the rain, the inside will stay dry.
Read more
Stability
Honestly, nor product descriptions nor reviews mentioned much about the stability of this tent. What we can tell you is that the front of the tent is angled and when facing the wind, it provides a great shape for the wind to glide right over. This tent is inflated with three separate tubes. To ensure it's stability, it must be heavily staked down.
Durability
This is a great durable tent. The floor of the tent itself is strong and waterproof, and above that is a sewn-in waterproof groundsheet. The included flysheet is made from 190T polyester and is fire retardant. The seams of the tent are taped and it has a waterproof rating of 3000mm.
The two-way pump includes a meter to show you the PSI. This is a great feature so that you do not over-inflate the tent and damage the materials.
Materials
The inner material of the tent is polyester with a strong polyethylene floor. As mentioned, the exterior of the tent is super strong and weather resistant and the floor is two-timed waterproof. There are strong PVC windows and ventilation slits. The ventilation slits feature mesh to keep out bugs. Unfortunately, the entry door does not have mesh and should usually be kept closed. This is a 3-season tent but can get pretty hot on the inside.
Inside, you will find "three rooms." One of these rooms is the living area/porch. After that, you will find the bedrooms. It is considered to have two bedrooms, but the rooms a divided with a removable curtain. One of the room sleeps two people and the other sleeps three. The windows have retractable curtains, which are great for blocking out the sun. There are also plenty of organization pockets and a place to hang a lantern.
Portability
This tent weighs in at 33.5-pounds. It's packed size is 29.5" x 17". This isn't a lightweight tent but with the amount of space that is provided, the load could be shared amongst your entire group.

8

. HuiLingYang Outdoor Instant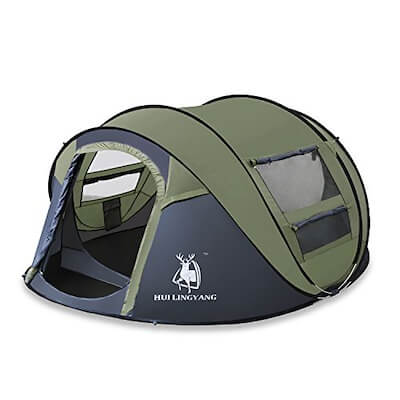 This instant tent brought to you by HuiLingYang is definitely one to check out if you want to get rid of the fussy tent poles and get a tent that will set up in no time. This tent sets up in three seconds, which will give you more time to enjoy making camping memories.
Read more
Stability
This tent is a great inflatable tent and is quite stable once set up. Not only is it great in the wilderness but also it is great when you are at the beach or festival. It easily sets up in three seconds and for the convenience is definitely a tent worth checking out.
Durability
This tent is built with quality and will keep you protected from the elements on your next outdoor excursion. Try not to use this tent in heavy weather conditions as it may not offer the best protection.
Materials
Nylon 190 TPU fabric floor is 210D oxford with fully taped seams. This tent is built to be water-resistant to make sure that no water will leak into your tent and also is breathable to allow great air circulation so you are not breathing in stale air while sleeping in your tent.
Portability
This tent weighs about ten pounds. It comes with a great carrying bag that makes the tent very easy to travel with.

Subscribe to our Newsletter