Best Inflatable Tents Of 2021
last updated:
Jan 07, 2021
If you're looking to shed a few pounds from your pack without compromising durability, an inflatable tent (sometimes called an air tent) may just be the solution! Instead of traditional fiberglass poles that are fed through the lining of a tent to give it structure, inflatable tents have an, you guessed it, inflatable structure. This makes set-up incredibly quick and easy (don't forget the pump) and you don't need to worry about accidentally leaving a piece of the tent behind. These tents haven't taken over the camping world yet, but we think traditional tents will soon be obsolete. Get ahead of the game, check out our best picks, and see why these may just be the next big thing.
This is the best product on our list that is currently in stock: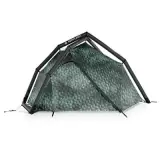 Heimplanet Fistral
Why is it better?
The geometric design adds to the stability
Lightweight
Double chambers
Strong materials
In a
Hurry? Editors choice: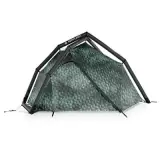 Test Winner: Heimplanet Fistral

15
Researched Sources
1.3k
Reviews Considered
13
Hours Researching
15
Products Evaluated
Stability
Durability
Materials
Portability
By Default
Criteria Used for Evaluation
Expert Interviews & Opinions
Most Important Criteria
(According to our experts opinion)
Experts Opinion
Editors Opinion
Users Opinion
By Default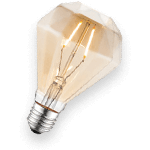 Go inflatable
An inflatable tent would be perfect if you are a solo adventurist who prefers traveling alone. Pole tents require a handy person or minimum of two people in order to properly erect a tent. However, erecting an inflatable tent could be literarily done with your eyes closed. So, if you are not a fan of the whole set up process, you should seriously consider some of the inflatable tent suggestions above.
The Time of Inflation
All inflatable products, tents included, tend to blow out when the temperatures increase. This is due to the fact that colder air takes less space than hot air. When this happens, if your air beams are fully blown, they might not have another choice other than to burst and destroy your trip.
In order to avoid this issue, it is important to anticipate this natural phenomenon and consider the part of the day that you are setting up your tent. If you are erecting it around noon, when the temperatures are high, it is safe to assume that the tent will bend a little during the night.
The opposite also applies. If you are blowing it out at night when the temperatures are lower, keep in mind that by noon you might end up with collapsed tent if you inflate it too much. In this case, make sure you release some pressure by releasing the valves a bit. Releasing the valves causes that excess pressure comes out of them if the weather gets too hot and the pressure too much for the air beams to take. However, this also means that once the temperatures drop, you might need to blow the tubes up again to the pressure that is recommended by the manufacturer.
Other Factors to Consider


Style
There are various types of tents available on the market; one for every group, situation, and type of camping. Inflatable tents, although relatively new, are a common choice for campers whose final destination includes traveling with a vehicle. Even though inflatable tents could be ideal for certain people, it might not be exactly what you are looking for. For this reason, it is important that when choosing a tent, you start from your own camping preferences and habits. If you decide on an inflatable tent, make sure you choose the system that fits you better.
Frequently Asked Questions
q:

Which companies make the best inflatable tents?

a:

Inflatable tents are a relatively new invention that not every outdoor gear manufacturer could produce. In fact, there aren't many inflatable tents manufacturers on the market. The revolutionary design is specific and most companies are refusing to take the risk of manufacturing a product that has relatively low demand on the market. However, there are few who have managed to gather a community willing to try them and unsurprisingly, they loved it.

A while after the Vango company launched its first inflatable tent design, several companies have followed the lead. Nowadays, these companies are the leading manufacturers of the best inflatable tents. It is interesting to mention that most of them are European which suggests that inflatable camping is more popular in that part of the world.

Kelty, a USA located company is also one of the top brands in the inflatable industry. Besides producing high-quality products, they are also part of the Conservation Alliance which is supporting the environment by supporting such organizations.

Coleman is a UK company that specializes in the production of camping gear. In their manufacturing process, they are focusing on the quality of the materials they are using, more than the design of their product. For this reason, they are among the best inflatable tents producers.

Easy Camp is a Danish company that is family run and it is part of the Oase Outdoors group. Outwell and Robens are the other parts of the group. Easy Camp is the leader in price. Considering the features they have to offer, they have the lowest possible price on the market.
q:

Are inflatable tents a better choice than a conventional tent?

a:

The advantage in inflatable tents is that you simply need to pump them up and you have strong construction that is as good as one made with traditional poles. However, there are disadvantages to this construction as well. When it comes to comparing the quality of both types of tents the biggest doubt campers have is stability. However, since the Heimplanet has announced that their tent could resist to winds of 120 mph, this has no longer been an issue. Although both types of tents have their advantages, we have concluded that inflatable tents are the more logical option between the given choices.

-They are much easier to erect,
-Have great stability and construction strength,
-Pack small in size,
-Have the ability to bend without being broken
-They are easily repaired on the field.

However, in order to give you the chance to decide for yourself, we are also presenting the downsides to the inflatable tents:

-They tend to be heavier than the conventional tents
-Their price is higher
q:

How does an inflatable lawn tent work?

a:

If you are wondering about an inflatable lawn tent, it is important to know that the features explained in the article apply to lawn inflatable tents as well. However, inflatable lawn tents have an entirely different purpose from the other types of inflatable tents. They are mostly used for events or as a shady area in your backyard. However, there are campsites that use lawn tents as additional coverage of the outdoor gear that has no place inside the tent. Even though this is not practical for a weekend, if you are going camping for a month on one location, you will find the lawn tent more than useful.

An inflatable lawn tent is made from PVC material which is water resistant. This is the most important feature of lawn tents which is mainly why they are being used. Inflatable lawn tents are also placed on the beach for creating a shadow for a larger group of people, although, considering the price, this is an arguable feature. Nevertheless, in order to stabilize them, you don't need trees nearby, but simple guy ropes, stakes, and a relatively soft surface.
q:

Do you loose air throughout the night if temperature changes?

a:

Many may think that if you are camping in hotter climates the air may be lost throughout the tent and the tent will start to deflate. This is not the case in most of these inflatable tents as the companies that manufacture them take this into account and ensure that no air is lost while being used. The only way you may lose some air is if you have a puncture, so always have a repair patch on hand just in case.
q:

Do these tents come with pumps?

a:

The answer is dependent on which tent you decide to go with. Some companies provide a tent as without one the tent would not be of use until you found a compatible pump. Some companies understand that you are spending quite a bit of money on their tent and value your decision so they want to ensure you have everything you need to get set up and enjoying the outdoors with no other worries.

It is important when you are looking for an inflatable tent to check that it comes with everything you need and that you will not be searching for extra parts after you purchase on. The best thing to do is to check the customer reviews as you will get a first-hand account on what came with the tent and how the tent held up while being used by other customers.
Subscribe to our Newsletter