Best Trolling Motors
In a
Hurry? Editors choice: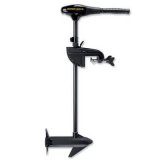 Test Winner: Minn Kota Endura C2 55

When you are out on the lake and you are fishing on your boat, you do not want to scare off all the fish. However, you also need a feasible means of traversing around the water. The simple answer is to add a trolling motor to your boat. You can either mount it on the bow or the stern but either way, it is a small electric motor that is designed to move your boat while also remaining quiet to avoid spooking any fish. But, as with any other product out there, there are models that are superior to others and those that are vastly inferior. Today, let's focus on those models that are brilliant in their design and also break down what it takes to buy one.
Standout Picks
Criteria Used for Evaluation
Effectiveness
It all really comes down to the thrust power here. But, there is something else you need to keep in mind.
For this section, the emphasis is going to be placed almost entirely on the thrust. Other buying factors such as the shaft length and voltage will be touched on but let's talk about the thrust. Now, this does refer to how powerful a motor is but it is not necessarily as simple as that. It is true that the more thrust a motor has the more power it possesses but there are other factors that come into play. Most specifically, your boat weight is essential. There are a few rules of thumb out there in regard to how much thrust you need per your boat weight. For example, some experts say you need two pounds of thrust for every 100 pounds of fully-loaded weight on your boat (this includes the boat, the people on it and any gear). Others say you need five pounds of thrust for every 200 pounds. But, both are quite similar and should give you an idea of what you will need.
As for the voltage, this is going to inform you how many batteries you need. So, if the trolling motor requires 12 volts of electricity then one battery will do. But, if it needs 24 volts then you will need two batteries. Lastly, in regard to the shaft length, you need to buy a model that is long enough to ensure the prop is significantly submerged in water. If not, it will not work correctly.
Durability
The model you pick needs to be able to withstand the corrosive nature of saltwater and even freshwater.
Oh boy, is this ever important? Build quality always is but good golly is it super critical in regard to this product. The big concern here is corrosion as most of the motor will be submerged in water. This concern is amplified if you plan to use the motor in saltwater. On this note, be aware that some sellers do not design their models to withstand the elements of saltwater. No matter if they do or do not, you need to keep all of the following in mind. First off, it all starts with the materials utilized. If you do want to use the model you buy in saltwater, then the main components need to be made of a fiberglass composite or stainless steel that has been anodized. This also includes the shaft but, in this case, you may want to opt for a fiberglass composite. Stainless steel is strong but it virtually has no flex. With a fiberglass composite, it can flex on impact to prevent breaking. Moving on, you should also ensure that the interior components are properly sealed. And, if the model is going to use a plastic housing to achieve this, then ensure the plastic is marine-grade.
Features
There are just a few features to cover here but each of them are pivotal.
A few very important features come to the forefront here and the first has to be the speed control. Clearly, this all depends on the level of technology that is implemented. Old-school models will not sport the advanced functionality as some of the newer models (which have implemented newer technologies). There are single-speed units out there but it should not surprise you that none of those made an appearance on this list. Most top-end models will either implement multiple speeds or infinite settings. For those that include multiple speeds, it is typically eight (with five being in forward and three being in reverse). Clearly, the more speed options you have the more versatile the unit becomes.
Additionally, you should also look for built-in battery gauge systems. It is very important to know when your battery is running low as the last thing you want is to be in the middle of the water with no trolling motor power. Some systems will be more advanced but, at minimum, look for some sort of battery gauge meter. Speaking of which, you can also look for digital displays that sport depth and speed readouts (though these come at a price).
Comfort
This is more referencing the overall handling than anything else and there are some considerations you need to make.
There are actually two main factors that need to be discussed here. The first is the physical design of the handle. Most designers will want to include a handle that ensures their users have the most comfortable and convenient steering experience possible. To do this, most will design a telescoping handle that can be extended (usually around six inches) and one that is ergonomically designed.
Yet, there is also an important consideration you need to make. You see, trolling motors can be controlled remotely, by hand, or via foot pedals. To be honest, the style you prefer will come down to the fishing that you are partaking in. For example, if you are a bass fisherman and move around constantly then you will probably want more of a hands-free operation. For those who will be at a slower pace, though, perhaps more handling will be in order.
Advanced Features
All this comes down to is the efficiency and there are some advanced technologies that can be employed to enhance it.
As a consumer, you always want to get your money's worth and you always want to get everything you can get out of something. Modern engineers have clearly taken this idea to heart as modern technologies, in regard to trolling motors, have become more and more efficient. The idea behind this efficiency is to design motors that run for much longer, run much cooler and run quieter. One of the ways that this has been possible is with the design of digital modules. As opposed to analog modules, digital motors are impervious to shock, corrosion, heat, and even moisture. In addition to this, they will run much cooler and much quieter. This will then pay immediate dividends in regard to your battery's battery life as it will increase it. You also have top-end designers such as Minn Kota who implement special technologies to even further conserve battery power and extend the motor's shelf life.
OUR TOP PICKS FOR THE BEST TROLLING MOTORS