Best Trolling Motors
In a Hurry? Editors choice: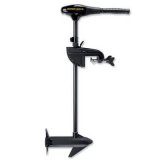 Test Winner: Minn Kota Endura C2 55

When you are out on the lake and you are fishing on your boat, you do not want to scare off all the fish. However, you also need a feasible means of traversing around the water. The simple answer is to add a trolling motor to your boat. You can either mount it on the bow or the stern but either way, it is a small electric motor that is designed to move your boat while also remaining quiet to avoid spooking any fish. But, as with any other product out there, there are models that are superior to others and those that are vastly inferior. Today, let's focus on those models that are brilliant in their design and also break down what it takes to buy one.
Standout Picks
Criteria Used for Evaluation
Effectiveness
It all really comes down to the thrust power here. But, there is something else you need to keep in mind.
For this section, the emphasis is going to be placed almost entirely on the thrust. Other buying factors such as the shaft length and voltage will be touched on but let's talk about the thrust. Now, this does refer to how powerful a motor is but it is not necessarily as simple as that. It is true that the more thrust a motor has the more power it possesses but there are other factors that come into play. Most specifically, your boat weight is essential. There are a few rules of thumb out there in regard to how much thrust you need per your boat weight. For example, some experts say you need two pounds of thrust for every 100 pounds of fully-loaded weight on your boat (this includes the boat, the people on it and any gear). Others say you need five pounds of thrust for every 200 pounds. But, both are quite similar and should give you an idea of what you will need.
As for the voltage, this is going to inform you how many batteries you need. So, if the trolling motor requires 12 volts of electricity then one battery will do. But, if it needs 24 volts then you will need two batteries. Lastly, in regard to the shaft length, you need to buy a model that is long enough to ensure the prop is significantly submerged in water. If not, it will not work correctly.
Durability
The model you pick needs to be able to withstand the corrosive nature of saltwater and even freshwater.
Oh boy, is this ever important? Build quality always is but good golly is it super critical in regard to this product. The big concern here is corrosion as most of the motor will be submerged in water. This concern is amplified if you plan to use the motor in saltwater. On this note, be aware that some sellers do not design their models to withstand the elements of saltwater. No matter if they do or do not, you need to keep all of the following in mind. First off, it all starts with the materials utilized. If you do want to use the model you buy in saltwater, then the main components need to be made of a fiberglass composite or stainless steel that has been anodized. This also includes the shaft but, in this case, you may want to opt for a fiberglass composite. Stainless steel is strong but it virtually has no flex. With a fiberglass composite, it can flex on impact to prevent breaking. Moving on, you should also ensure that the interior components are properly sealed. And, if the model is going to use a plastic housing to achieve this, then ensure the plastic is marine-grade.
Features
There are just a few features to cover here but each of them are pivotal.
A few very important features come to the forefront here and the first has to be the speed control. Clearly, this all depends on the level of technology that is implemented. Old-school models will not sport the advanced functionality as some of the newer models (which have implemented newer technologies). There are single-speed units out there but it should not surprise you that none of those made an appearance on this list. Most top-end models will either implement multiple speeds or infinite settings. For those that include multiple speeds, it is typically eight (with five being in forward and three being in reverse). Clearly, the more speed options you have the more versatile the unit becomes.
Additionally, you should also look for built-in battery gauge systems. It is very important to know when your battery is running low as the last thing you want is to be in the middle of the water with no trolling motor power. Some systems will be more advanced but, at minimum, look for some sort of battery gauge meter. Speaking of which, you can also look for digital displays that sport depth and speed readouts (though these come at a price).
Comfort
This is more referencing the overall handling than anything else and there are some considerations you need to make.
There are actually two main factors that need to be discussed here. The first is the physical design of the handle. Most designers will want to include a handle that ensures their users have the most comfortable and convenient steering experience possible. To do this, most will design a telescoping handle that can be extended (usually around six inches) and one that is ergonomically designed.
Yet, there is also an important consideration you need to make. You see, trolling motors can be controlled remotely, by hand, or via foot pedals. To be honest, the style you prefer will come down to the fishing that you are partaking in. For example, if you are a bass fisherman and move around constantly then you will probably want more of a hands-free operation. For those who will be at a slower pace, though, perhaps more handling will be in order.
Advanced Features
All this comes down to is the efficiency and there are some advanced technologies that can be employed to enhance it.
As a consumer, you always want to get your money's worth and you always want to get everything you can get out of something. Modern engineers have clearly taken this idea to heart as modern technologies, in regard to trolling motors, have become more and more efficient. The idea behind this efficiency is to design motors that run for much longer, run much cooler and run quieter. One of the ways that this has been possible is with the design of digital modules. As opposed to analog modules, digital motors are impervious to shock, corrosion, heat, and even moisture. In addition to this, they will run much cooler and much quieter. This will then pay immediate dividends in regard to your battery's battery life as it will increase it. You also have top-end designers such as Minn Kota who implement special technologies to even further conserve battery power and extend the motor's shelf life.
OUR TOP PICKS FOR THE BEST TROLLING MOTORS
1

. Minn Kota Endura C2 55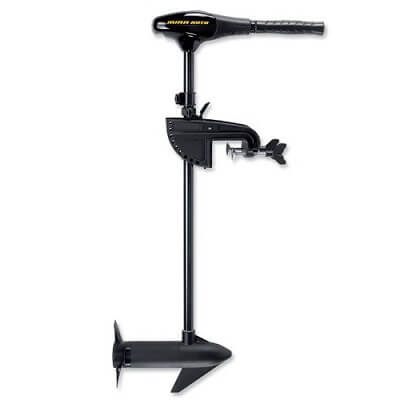 If you want the best of the best then it is never a bad idea to go with Minn Kota. Their Endura C2 55 is a top-end model and it sports the power and the build that you would expect.
Read more
Performance
When you program the C2 55 on speed setting five, it can power your boat from 3.5 to 5 knots. Overall, you will not be disappointed with the overall force and performance of this unit.
Build Quality
First off, this is made with a composite shaft. Not only is this stronger than steel but it will also not corrode, kink or break on impact. Also, the lever-lock bracket resists flexing, warping, and UV damage.
Features
As with most other top-end models, there are eight speeds in total. There are five forward speeds and also three in reverse.
Handling
To ensure the most comfortable and convenient steering experience possible, this is equipped with an ergonomic, wide-grip telescoping handle that is six inches in length.
Efficiency
As compared to most of the competition, the cool power motor that has been integrated here will run cooler and quieter.
Overall
When it comes to quality, Minn Kota personifies the very definition of the word. What is most impressive about their Endura C2 55 is finding flaws is as hard as finding a needle in a haystack.

2

. MinnKota Traxxis 55 SC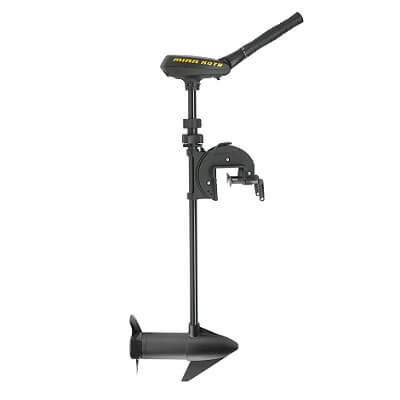 To no one's surprise, Minn Kota makes another appearance quickly on this list. Now, as great as their Traxxis is, you do need to be wary that it is not designed for saltwater use.
Read more
Performance
Without question, you will not need to worry about the force and the efficiency of this motor. It utilizes a 12-volt system to deliver 55 pounds of thrust.
Build Quality
The build quality is what you would expect from Minn Kota. However, this is not built to withstand the elements of saltwater and is specifically for freshwater use only.
Features
Minn Kota actually designed their Traxxis with variable speeds. Additionally, it is integrated with a convenient digital battery indicator.
Handling
There is no need to worry about issues with controlling this unit. Because it sports a tiller handle that will extend to six inches and tilt up to 45 degrees and also a steering tension control system, the worry of handling is gone.
Efficiency
Due to the digital maximizer function, this will conserve the battery life as it is running. Small features like this are why Minn Kota models are so terrific.
Overall
You certainly pay the price for the Traxxis but if you do not want to mess around on the water, this is as good of an option as there is. It is made by Minn Kota so that should not be much of a surprise.

3

. Newport Vessels 55 Thurst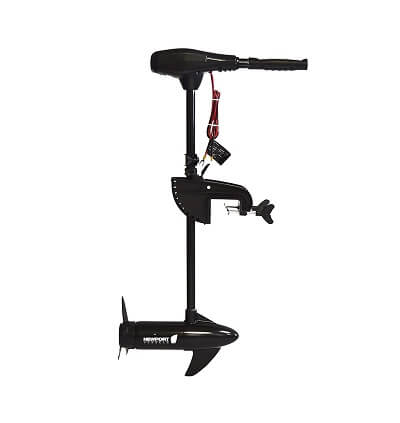 Newport Vessels also proves that they are a top-end designer when it comes to trolling motors. This is their second model on this list and it sports an impressive 55 pounds of thrust power.
Read more
Performance
As mentioned, this is rated with 55 pounds of thrust and is going to move your boat around the water with great efficiency and power.
Build Quality
Much like with the other Newport Vessels motor, this does have some plastic (the transom mount) but everything else is top-notch. This includes a fiberglass composite shaft and stainless steel hardware that is corrosion-resistant.
Features
With eight speeds in total (five forward and three reverse), this is a very versatile unit. In addition to this, it sports a five-point LED battery meter that will display your current battery level.
Handling
The multitude of speeds is nice but the telescoping handle maybe even better. It is both extendable and ergonomically designed for comfort and versatility.
Efficiency
A key to the success of this model is the fact that Newport Vessels designed the motor itself to remain quiet while in operation.
Overall
The plastic transom mount brings the price down a little bit and the quality, as well. However, when you look at this from the big picture, it is overflowing with quality.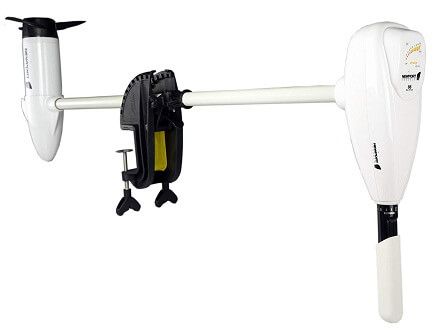 Wow, is this bad boy ever forceful? With an 86-pound thrust rating, this is easily one of the most forceful models on the market. Of course, it is also built to last so you can take reassurance in that.
Read more
Performance
As just mentioned, this is possibly the most forceful trolling motor that you can get your hands on. The 86 pounds of peak thrust prove that with flying colors.
Build Quality
Although there are some plastic components, the shaft is made of fiberglass composite material and the hardware is all made of stainless steel and designed to be resistant to corrosion.
Features
This is almost too fast and powerful, to be honest. While there are eight speeds in total, users have noted that the slowest speed can still be too fast. Outside of this, a 10-point LED battery meter is designed into this unit.
Handling
This is designed with a six-inch telescoping handle and this provides you with an easier way to operate the device itself.
Efficiency
Now, even though this is mightily powerful, it manages to be very quiet to not spook of any fish. Also, you will need two, 12-volt deep cycle batteries to power it.
Overall
To say that this is impressive is a vast understatement. Whether you want to point to the peak power or the fiberglass composite shaft, this bad boy brings the goods.

5

. Minn Kota Endura C2 40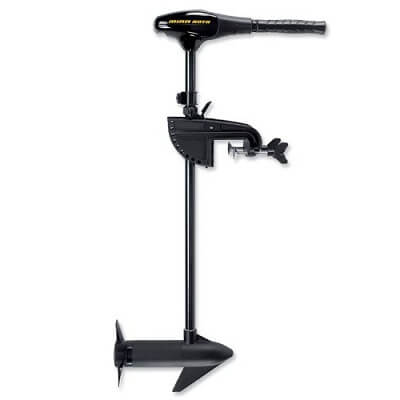 It almost seems a bit surprising to see Minn Kota with a model so low on this list, which says a lot about them. But, their C2 40 is outclassed by other models but still is one of the best.
Read more
Performance
With a maximum thrust of 40 pounds, this is a powerful motor but it is not the most forceful you can find on the market.
Build Quality
It is Minn Kota; does anything else need to be said? Their Endura C2 40 is designed with an indestructible composite shaft and a mount that sports special composite materials that will resist flexing, warping, and UV damage.
Features
While the speed operation is a bit stiff, as alluded to by various users, you are given full control with five forward speeds and also three reverse speeds.
Handling
Minn Kota integrates a tiller handle into their design and it sports an ergonomic grip. In addition to this, it is a telescoping handle that will extend to six inches.
Efficiency
Due to the unique bearing system that is integrated here, friction will be reduced and the noise will, therefore, be reduced. However, when in reverse, this can suck a lot of battery juice.
Overall
Some design improvements here and there could have made the Endura C2 40 even better. As it sits, though, it is a trolling motor that is built to last with a solid performance.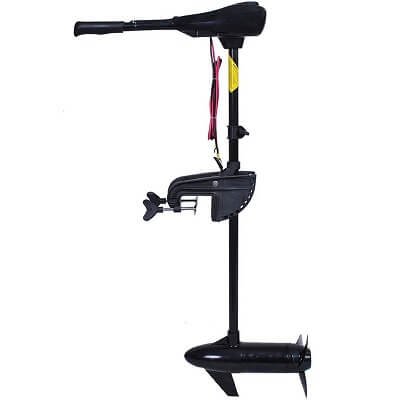 Yes, there are other brands out there that are quite sufficient. So far, we have been tooting the horns of both Minn Kota and Newport Vessels but GoPlus also deserves their praise for this design.
Read more
Performance
Do note that this is designed for smaller to medium-sized boats. Now, the three-blade propeller does ensure smooth movement through the toughest of marsh. However, this is a bit weak in reverse.
Build Quality
Impressive is the best way to describe the build of this model. It sports a reinforced nylon bracket, fiberglass composite shaft with a high-tensile strength and corrosion resistance, and an aluminum head.
Features
Both the 10-point LED meter system and the eight-speed control system are key features that you almost come to expect at this point (and both are featured here).
Handling
Thanks to the integration of the six-inch telescoping adjusting handle, it is both easy and comfortable to control your boat with this motor.
Efficiency
One consumer noted that this can suck up battery juice very quickly. At 24 volts, just expect this to eat up your battery.
Overall
There is no getting around the fact that if you have a large boat, the performance provided by this motor will be disappointing. For smaller boats, however, it is almost perfect.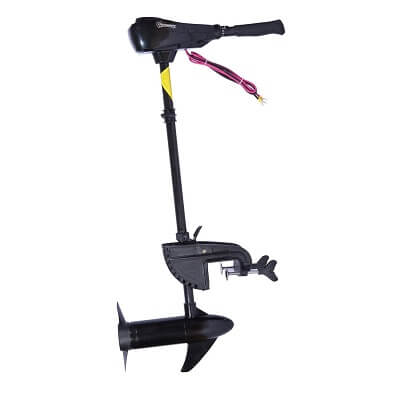 Although this model right here does not get the praise of some of the other top-end designs out there, it is brilliant in its own right and well worth the price of admission.
Read more
Performance
In addition to the 12 volts of electricity, Outsunny also engineered their trolling motor to provide up to 50 pounds of thrust.
Build Quality
No one will disagree that this is extremely well made. This is headlined by the composite shaft and by the metal head as both offer exceptional durability and longevity.
Features
Here is the deal; there are eight speed settings in total but users have had performance issues with them. Many buyers have reported that there is not enough of a noticeable difference between the speeds.
Handling
The six-inch telescoping handle is nothing that you are not used to seeing on this list and that is not a coincidence.
Efficiency
In spite of the lack of efficiency with the speed settings, the overall efficiency of this model is pretty solid.
Overall
This is a classic example of a product that is built with unbelievable quality but one that is flawed a bit with its functionality. The speed settings need some work but the build quality is amazing.

8

. Watersnake FWTCS44TH-36 Tracer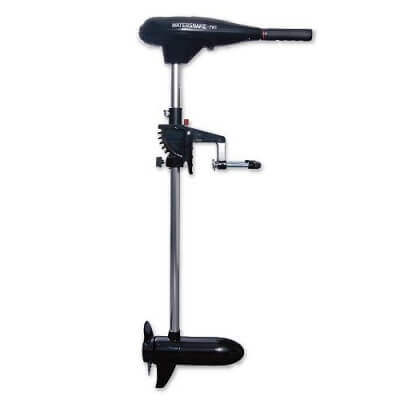 Consider this next model another underrated one that tends to get swept under the radar. That is what happens when a few brands dominate the scene but as you will see, Watersnake deserves praise for their design.
Read more
Performance
In combination with the 44-pound thrust, this unit is also equipped with a heavy-duty, three-blade weed-less prop that is designed to slash through the heaviest of underwater marsh.
Build Quality
Now, the propeller shaft is made of stainless steel and is not the absolute best (although it is still good). Of course, the mounting bracket is made from a heavy-duty alloy.
Features
All in all, there are seven total speeds. As usual, you have five forward speeds but only two reverse speeds (with many others offering three reverse speeds).
Handling
What is very interesting is the fact that this tiller handle extends to around eight inches. As most will only go to six inches, this is a nice touch.
Efficiency
When this is in operation, it is specially designed to be ultra quiet, as all of the best models are, to not spook away any potential visitors.
Overall
Though there is very little "wrong" with Watersnake's design, it is also not a design that is extraordinary in any way. That said, it remains a great option for nearly everyone.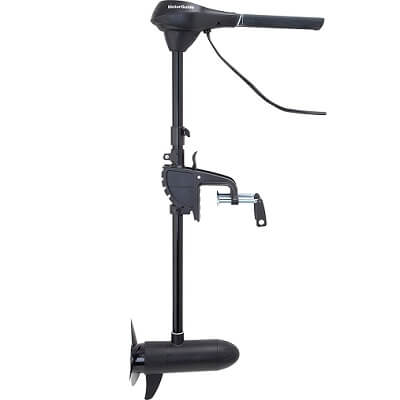 As you analyze the last model that secured a spot on this list, it becomes apparent very quickly why it made the cut. But, the R3 is only suitable for freshwater use and will not be suitable in the seas.
Read more
Performance
Some users have reported that the R3 does not last that long. But, it is powered via its three-blade machete propeller and its 45 pounds of peak thrust.
Build Quality
Both steel and aluminum have been used in the engineering process. And, although the R3 is designed for freshwater use, the metal is finished with a powder coating for protection.
Features
The R3 is equipped with two reverse speeds and five forward speeds. This offers an ideal amount of versatility and control.
Handling
Due to the multi-position aluminum mount and the ergonomic extendable handle of the R3, it is very easy to control and handle.
Efficiency
Digital power management technology has been built into this system and this enables the battery to last up to five times longer than it would normally.
Overall
With so many other excellent options on the market, it is easy to overlook the R3. Granted you do not intend to go out in saltwater, this is a solid option to consider.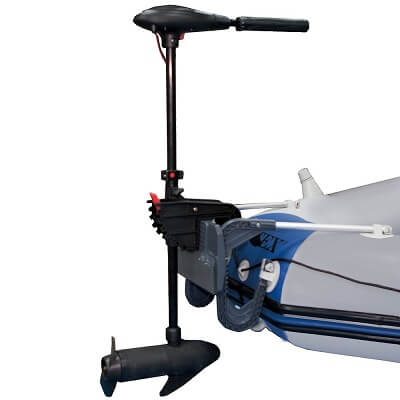 For a relatively cheaper model, as these units are not exactly cheap, this is superb. And, it can be used in both freshwater and in saltwater, which is really nice for those who fish in the sea.
Read more
Performance
With 40 pounds of thrust and 12 volts of electricity, this is a suitable motor that will satisfy the needs of the average boat.
Build Quality
Now, Intex made this to be used in both saltwater and freshwater. That said, one user noted that the tilting mechanism broke within a few uses.
Features
In addition to the eight total speeds, this also is engineered with a control panel. But, the battery meter on the control panel has been criticized for its wild inconsistencies.
Handling
The handle that is outfitted here is quite amazing. It can be adjusted upward from zero to 45 degrees, titled downward from zero to 75 degrees and extended to six inches.
Efficiency
One of the best features here is the Soft Start function. With this, the system will limit how fast the motor can go and will increase the efficiency of it (and also the battery life).
Overall
For the price of admission, this could almost be considered a steal. You will need to live with its limited power but that will be more than feasible for most.