Best Fishing Nets
In a
Hurry? Editors choice: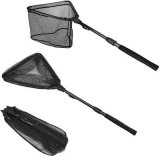 Test Winner: Plusinno Landing

What's the most important thing about
fishing
? Landing your catch, of course! While the right conditions, boat, waders, sunglasses, bait, and rod are all important, you can't reel them in without a good
fishing
net. Fishing nets can be large, weighted expanses of mesh for trawling and bringing in
fish
, or they can be a net on a hoop on the end of a handle. This is called a landing net, and in this guide, we'll be looking at the best landing nets on the market today.
Landing nets are an essential piece of equipment in pretty much all types of fishing, as they're used for bringing in the haul once it has been caught. It's not easy to examine a fish on the end of the rod, or remove it from the water with your hands, so you need the right landing net to do this.
Standout Picks
Criteria Used for Evaluation
Style
Fishing from a kayak, a larger boat, standing in water or on the bank will mean you're fishing for different species and will require a slightly different-sized net. Lakes, boats and the ocean will call for a longer handle, whereas shorter handles are fine for rivers and streams. If standing in water, especially fast-flowing, avoid getting a handle that is too long where the end is out of your control if it catches on something. Compact styles are great for fishing from a boat where you're close to the surface of the water.
Portability probably won't be the deciding factor for you – as most fishermen know, it's a sport which requires a lot of equipment, one way or another. However, if you do like to keep storage and space demands onboard or on land low, consider a handle that collapses, and a net which folds down. A more compact net can be useful for keeping it on a clip belt or similar.
While dropping your net in the water is never ideal, you'll particularly want to make sure that your net floats if you are fishing in fast flowing rivers and deep water.
Support
Firstly, the handle length is all-important. Fishing from a dock or pontoon will mean that you need a long, strong and extendable handle, whereas fishing from in a small boat might only require something compact as you are close to the water. If you do select a telescopic handle for storage purposes, ensure it can be deployed easily so that it's ready when you need it.
Next up, handle material can make a difference as well. Aluminium is a common substance, but is light and soft and can bend easily. Thicker aluminium handles should be able to take 10 lbs or so. Wooden handles are capable of more weight, but must be treated for durability in water and will also be heavier to carry. Fiberglass composites are used in some of the best quality handles, along with anodizing and anti-corrosion techniques for maximum durability.
As well as weight, a handle must also be comfortable to hold and work with, especially if the catch is heavy and difficult to land. Many handles now boast ergonomic handling for an easy to hold and use net. Something with good grip is probably the most important factor here – a net is there to make your life easier and stop you from losing the catch, which is no good if you can't keep hold of the handle.
A final element to think about with the handle is some kind of clip or attachment. If you're fishing standing in open water, but really anywhere there's a danger of losing your net, you might like to be able to attach it to something so that it's more secure than just being held in your hand. Many nets include a safety lanyard for your wrist, a sling for around your body or a clip for your belt or fishing vest. What is important here is that the attachment is easy to release so that you don't get dragged into the water if you lose control of the net.
Size
Before the net comes the hoop. Hoop size will be decided by the type of fish you intend to catch, as they will literally need to fit through the opening. If you do work with a lot of different species, one hoop size and shape won't cover them all. However, it's likely that handle length and other factors will also mean you'll need multiple nets for this reason. If you are looking for versatility, a teardrop shape is most common. This shape is also useful for getting the bait out of curved-sided buckets on a cold day.
While you might be aware that you need to consider the dimensions of the hoop opening in terms of your desired catch, depth is all-important in ensuring that your net can take the fish that you're angling for. Having enough depth for the catch to rest comfortably, without the tail sticking in the air will mean that you can examine and easily unhook your catch without risking losing the fish or increasing the chances of its survival in catch and release.
It might seem obvious, but the larger the net, the larger handle will need to be. A heavy-duty handle will be required to maneuver some of the larger nets on the market to avoid bending and excess effort when bringing the net and catch in.
While handle length and net size will dictate many of your buying choices, net shape is a key factor for consideration as well. Generally, nets come in teardrop, circle, oval and flat-bottomed shapes. Teardrop and circle-shaped nets of 10 to 12 inches are good for shallow water and smaller catches, whereas oval-shaped nets of 15-18 inches are useful for larger bodies of water and bigger fish. This is because an oval means increased overall length as it tapers in and out to give the shape.
A scoop, when one side is larger than the other, in the net is useful for aiding catches of larger and heavier fish; helping to lift and slide the fish into the net.
Flat-bottomed nets tend to be larger and deeper to accommodate for the increased space. They're particularly useful for larger fish, or when you want to examine them for catch and release. Also, if the fish is sitting comfortably in the net, rather than lengthways or upside down, they will be easier to remove. If you are releasing, you won't even need to lift the net out of the water as you can check and measure the fish right there in the net.
Materials
Not all mesh is created equal, and it's not just about webbing size, either. Rubber nets are becoming increasingly popular for various reasons. They're made of regular mesh, covered or coated in latex or silicone. The advantages of this are that the mesh doesn't absorb water; they dry easily, minimizing the smell; and most importantly, are gentler on fish and their skin, which is especially useful in catch and release. Knots in fabric netting can also cause problems for the fish, so keep an eye on the size of the knots and the smoothness of the fabric if selecting a nylon or similar net.
Micro-mesh is netting where the holes in the webbing are extra small. These are kind on fish for examination and silver fish, which are later and smaller. However, a finer mesh also increases drag, which is not ideal for fast-flowing rivers. Use a micro-mesh in canals and slower-flowing rivers. This type of smooth webbing is good for sensitive fish, whereas heavier duty rubber works for tough catches while still being kind to fish skin.
Another consideration with mesh material is visibility. A newer innovation is see-through and translucent nets. They increase your visibility of the fish underwater, and don't scare the fish by being an obvious invasive body in the water.
Tangling is a constant problem with fishing nets. A tangled net can harm the fish and make it difficult for you to remove your catch. Rubber and coated mesh avoid this somewhat, whereas some manufacturers have actually developed anti-tangle technology to avoid it.