Best Depth Finders
In a
Hurry? Editors choice:
Test Winner: Humminbird HDR 650

Depth finders are fantastic devices for fisherman, sailors or really anyone who enjoys spending extensive amounts of time out on the
water
. They are able to use specific technology and algorithms to record the current depth of water you are traversing. Of course, some depth finders also function as
fish
finders and these are practically mandatory devices for
fishing
enthusiasts. Even though they are simple at their core, though, a lot of technical analysis comes into play when you are trying to decide which depth finder is ideal for you. Today, you will be given the tools you need to make that very decision.
Standout Picks
Criteria Used for Evaluation
Effectiveness
This is really where it all begins when you start talking about depth finders. While fishfinders offer more functionality, traditional depth finders live and die with the depths that they can read. After all, that is the basis of their design and the purpose that they serve to you. First off, it is important to know that the transducer is the technical term of the portion of the depth finder that physically reads the depth of water you are currently traveling on. They do this with the use of sound waves and are able to detect when the surface of the ocean, lake or river is detected.
If you want a depth finder that also doubles as a fish finder, though, you may need to pay close attention to the cone angle. Basically, this refers to the width of the beam being sent out and the wider it is, the more coverage you will get. Clearly, this is only important if you are looking to scan fish underneath your boat. For basic depth finders, though, you can just assess their maximum depth and frequency rating. While you want to make sure the device can read the depths of water you plan to go out on, it is good to know that higher frequencies tend to work better in shallow water (and vice versa).
Features
At their core, depth finders are devices used to display for you the current depth of water you are on. Yet, they do oftentimes offer further functionality that can be used for your benefits. For example, how about finding fish? Yes, these are known as fish finders and are extremely popular amongst the fishing community. They use advanced sonar technology to detect fishes that lurk beneath the surface. These types of depth finders also sometimes sport GPS technology. Via satellites from the sky, depth finders with an integrated GPS can pinpoint your exact location on the water.
But, even non-fish finding depth finders have certain features that can be useful for you. For instance, how about a temperature gauge that measures the temperate of the water? Of course, this could be useful for fishing as well, but we digress. Anyway, there is also a well-known feature sometimes integrated into depth finders known as dual alarms. Essentially, these alarms will alert you when you are traversing in shallow and deeper waters. Knowing this right away can certainly be convenient for you.
Accuracy
Okay, so depth finders need to be designed with technology and features to be successful. But, what happens if they can't live up to their design and simply can't perform the way that you need them to? Well, the answer is simple. They become expendable and long last memory. The reality of the situation is depth finders need to be precise and accurate with their readings. If they are providing you with read-outs that are several meters off, it will be difficult for you to gauge how deep or shallow you really are. Clearly, a few feet are not a big deal but 10 to 20 meters is.
Another technical specification you can look out for in regards to the performance is the peak-to-peak power. What this determines for you is the output power of the transmitter. Basically, the higher this number is the more powerful the unit will be. Hence, this will then provide you with faster and more efficient readings. Depending on how frequently you use the depth finder, you may require one that has an impressive peak to peak power that can keep up with your demands.
Water Resistance
Here is the deal; you want both the main unit and transducer of a depth finder to be well-built. You always want your products to be built to last but a transducer is prone to abuse due to them being the component that reads the depths. But, you also need to pay attention to waterproofness. If the transducer and main unit are separated, which they usually are, you need to assess the build quality and protection of both of them.
The main unit may not be sealed and waterproof and if it goes overboard, may not be rated to withstand any submersion in water. Of course, if it is, the comfort of knowing it is okay for such is always nice.
Top 10 Picks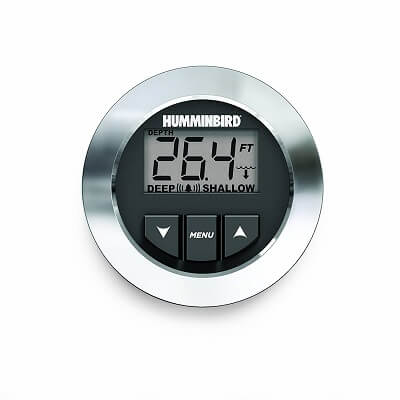 Not all depth finders are going to be fish finders and the HDR 650 is a good example of that. It cracked number one on this list primarily because of its primary function as a depth finder. It can record depths down to 600 feet and performs amazingly well.
Read more
Depth Readings
Included with this depth finder is a 200-kilohertz transom mount transducer. Because of this, the HDR 650 is able to determine your water depth down to 600 feet.
Extra Features
You clearly can't see the surface underneath a body of water and as such, you can't tell when the depth changes drastically. Thankfully, there are alarms that indicate whether you are in shallow or deep waters.
Performance
One specific reviewer raved about their experience with this depth finder and claimed it worked nearly flawless. It is one of the most reliable depth finders on the market today; count on it.
The Interface
One of the nicest aspects of this depth finder is its large and easy to read digital display. It nearly encompasses half the interface, not counting the bezel, and it is very easy to glance at the current depth of water it is displaying.
Build Quality
As this is a sealed device, it is safe from internal water damage and therefore, is waterproof. Outside of this, the device is built to be relatively easy to install into any existing 2-1/8-inch gauge opening.
Overall
Granted you are not attempting to read water depths on your boat traveling over 20 miles per hour, you will get a quick and precise reading of the depth every single time. Hence, that is why it is very easy to recommend this depth finder.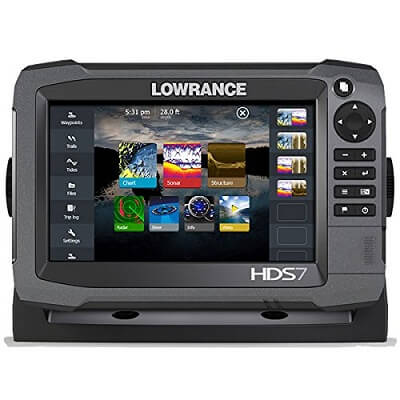 Unlike the previous depth finder, the HDS-7 Gen3 is a full-fledged depth finder and fish finder. When basic just does not cut it for you, the advanced features and technology of this device will have you pleading for more.
Read more
Depth Readings
One of the reasons this model is a go-to for deep sea fishermen is its impressive depth capabilities. It can read depths from one foot all the way down to 3000 feet.
Extra Features
Both the Structure Scan HD sonar imaging and CHIRP sonar technology work together to produce impressive and remarkable views of the fish lurking beneath the surface. Also, this device sports wireless connectivity and preloaded US enhanced charts.
Performance
The processor on this model has been improved for faster responses and the interface has been improved for enhanced intuitiveness. All in all, coupled with the 200-kilohertz transducer, this can perform.
The Interface
Whether you want to control the interface via multi-touch or full keypad operation, the choice is yours. Additionally, Lowrance crafted their screen to deliver improved visuals and clarity.
Build Quality
While it is recommended to keep this unit covered for storage purposes, it is waterproof and can handle splashes of water, rainfall, and even submersion underwater.
Overall
Non-fishermen can opt for a simpler depth finder, such as the previous model, as this will offer features that will be of no use. On the contrary, though, this could be the best fish finder and depth finder combination on the market today.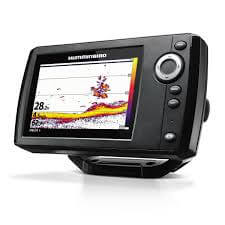 Speaking of excellent and advanced depth finder devices that can do wonders for fishermen, how about the Helix 5 from Humminbird? In fact, the manufacturer even built their device with an integrated GPS. Again, this is far from basic.
Read more
Depth Readings
As it stands right now, the Helix 5 can obtain your depth reading as long as you stay shallower than 1500 feet. However, with the optional enhanced transducer, this can jump to 2500 feet.
Extra Features
Due to the integration of AutoChart Live, you can create richly detailed maps of various fishing locations in real-time. In addition, with the use of SmartStrike, you can set your parameters and see your results instantly on screen.
Performance
Built into this model is a powerful and precise GPS and WAAS receiver. The result for you is faster fixations and accuracy within 2.5 meters.
The Interface
With the simple push of a button, you can switch between two display modes. You can add or remove details such as the temperature and turbulence. Adding on to this is the natural clarity of the bright LCD display.
Build Quality
Both the frame and the screen of the Helix 5 form a single and continuous surface and it is all surrounded by an ultra-slim bezel. But, the clips that secure the cables are plastic and could be prone to breakage.
Overall
Once again, this is one of the best fish finders on the market. Of course, at its core, it can monitor the current depth of water and inform you of such. But, its real advantages are provided by its fishing capabilities and GPS technology.
You could also check our full humminbird 4090301 386ci combo review, and read more about other humminbird products.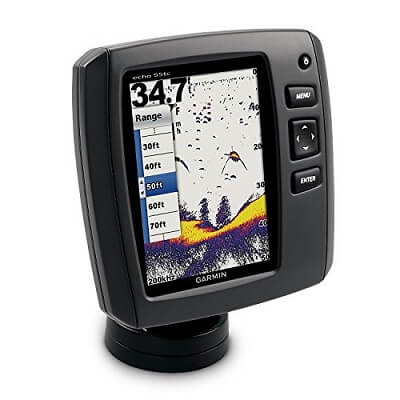 Garmin is an elite manufacturer and whenever they stick their noes into something, it is sure to be worth your time. Their Echo 551dv Depth Finder is another highly touted fish finder and can measure insane water depths down to 2300 feet.
Read more
Depth Readings
Even if you are traversing in waters as deep as 2300 feet, as previously mentioned, the Echo 551dv can calculate how deep you truly are.
Extra Features
Thanks to the all-in-one transducer and the scanning sonar, you can view a photographic view of the fish around you and underneath you; as well as being able to view the map on a horizontal or vertical split-screen.
Performance
Peak-to-peak, this device has a power of 4000 watts. But, what the Echo series of depth finders are famous for is their sensitivity and accuracy. It goes without saying that the 551dv model grows on the success of previous models.
The Interface
A five-inch, VGA color display makes up the screen of this device. It may not be as stunning as an LED or OLED display would be but you can see everything clearly. Plus, the narrow-to-wide viewing angles provide a broader picture.
Build Quality
In the accidental case you drop this device in the water, it is waterproof and will not be damaged. But, you want to retrieve it quickly as it can become damaged if you are not careful.
Overall
Unlike other fish finders, this model is still great for non-fishermen. Even if you do not intend to use this device to view lurking fish, it is simple enough to easily be used to monitor your current depth of water.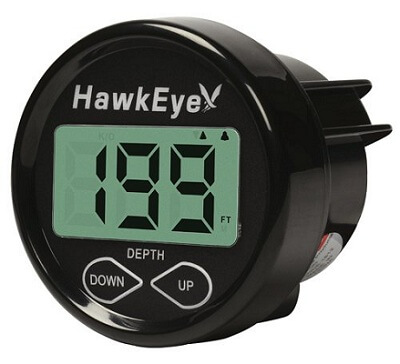 The DT1B is not an in-depth fish finder and instead delivers uninterrupted depth readings down to 200 feet. Plus, to warn you of shallow and deep waters, there are dual alarms that will keep you on point and informed of the waters you are traversing.
Read more
Depth Readings
Due to the automatic range and the sensitivity of this device, it is able to read uninterrupted depths down to 200 feet with 1/10th precision.
Extra Features
For vessel draft requirements, the keel offset feature will automatically adjust the displayed depth readings. In addition, there are dual depth alarms that warn you of both shallow and deep waters.
Performance
The DT1B has been engineered to deliver depth readings on the fly with no issues whatsoever. What assists in making this possible is the adaptive software programming as it minimizes the number of false readings that occur.
The Interface
Much like all of HawkEye's depth finders, this model comes with color-coded operation and an installation manual. In terms of the interface, what also helps is its glare-free display and SoftGlow backlighting.
Build Quality
Per the product description, the front face of this depth finder is waterproof. If you put two and two together, you should probably avoid submerging it water as the entire unit may not be waterproof.
Overall
Simple but effective would be the best way to interpret what HawkEye set out to do with their DT1B. At the end day, there sometimes is nothing wrong with playing it safe.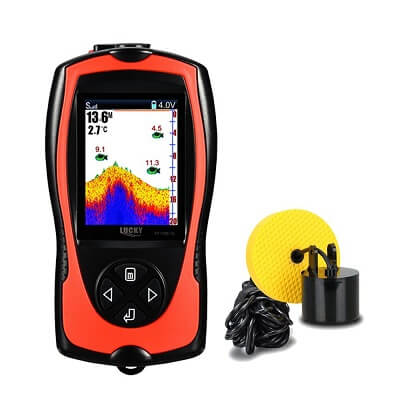 It is sort of ironic how this next depth finder combines a lot of what has already been featured by individual depth finders. In other words, it is a rather basic design but is still capable of detecting fish for fishermen.
Read more
Depth Readings
The sonar transducer included with this depth finder comes equipped with a 26-foot cable and it can detect water depths down to 328 feet.
Extra Features
Two primary modes are designed into this portable fish finder. Firstly, you have the simulation mode and this allows you to try all functions while the transducer mode allows you to go fishing.
Performance
This depth finder runs on rechargeable batteries and when fully charged, it can run for five hours before needing to be recharged. In addition, you can adjust the sensitivity of this device from one to 10.
The Interface
You can actually choose from three different kinds of displays on the updated 2.4-inch TFT color LCD screen. Plus, you can adjust the screen brightness from one all the way to nine.
Build Quality
The transducer is indeed waterproof and able to handle sprays. But, the handheld unit is not waterproof so you risk internal damage if you expose it to water or submerge it in water.
Overall
One thing is for sure; you need to be careful when operating the handheld unit of this depth finder. But, what is nice are all the adjustable features that can really tailor the experience to your liking.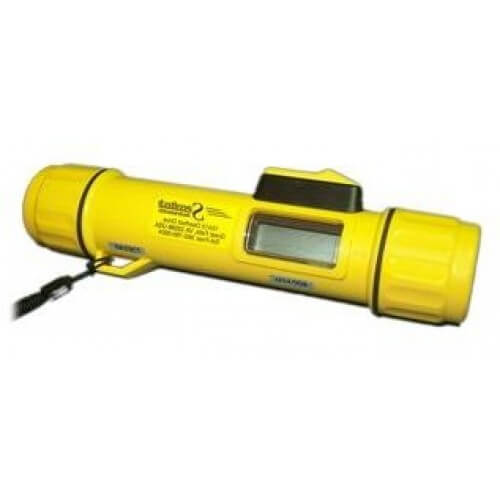 The Depthmate Depth Finder is a little different and is advertised as being a portable sounder. Essentially, this device is a handheld depth finder with a 400-kilohertz signal that can measure water depths when it is submerged in water.
Read more
Depth Readings
Indeed, the transducer of the Depthmate produces a signal of 400 kilohertz and this enables it to measure water depths down to 260 feet below.
Extra Features
The choice is yours as you can either receive the depth readings in feet or meters. This small feature is actually quite convenient and can be used in all sorts of different diving methods.
Performance
Granted you actually operate this device correctly, by placing it against the hull of a boat or submerging the head in water, it is very accurate. In addition, this depth finder sports a power saving feature that turns off the display after ten seconds of inactivity.
The Interface
This is as basic as basic can be. Even though the screen size is quite small, it is backlit so you can see the readings it measures. But, that is the extent of the interface.
Build Quality
As this is designed to be used in the water, it is waterproof. For down to 160 feet this bad boy is protected from the damage that water can cause to its internal components.
Overall
See, this is a completely unique depth finder. Instead of having an external transducer, it is an all-in-one device and is designed to be operated while in water. Perhaps the only issue is you can't operate it unless it is physically submerged in water.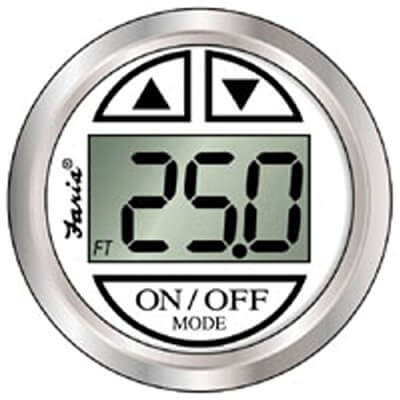 Just by looking at the interface of this next depth finder, you know what it is all about. Its best and most reliable functionality is that of a depth finder and its mounted transducer. Plus, it is easy to install as it will mount in any standard gauge mounting hole.
Read more
Depth Readings
For more serious deep sea goers, this depth finder may not offer the range you are looking for. Still, though, it is capable of measuring depths 199 feet below the surface of the water.
Extra Features
When either shallow or deep water is on the horizon, audible and visual alarms will alert you of such. On top of this, a programmable keel offset allows you to adjust the offset from the keel. Lastly, this calculates air and water temperatures.
Performance
One user claimed that they eclipsed speeds of 40 miles per hour and this unit still worked flawlessly. Some units will not read depths going that fast and are generally hit-and-miss.
The Interface
The oversized back-lit display of this device does wonders as it can be easily seen in any condition. But, one user did point out the model they received had a red backlight that they were not too fond of.
Build Quality
As for the durability of this unit, not too many buyers have complained. The transducer itself is waterproof but it may be wise to avoid submerging the main unit into water.
Overall
Probably the best feature of this device is it can accurately measure water depths even on a boat moving several miles per hour. While the range is a bit limited, this is fantastic for individuals who prefer riding in relatively shallow waters.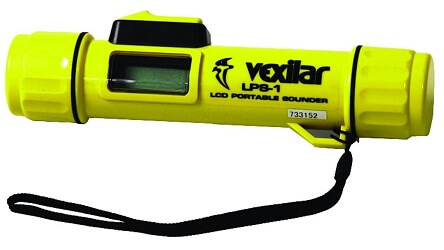 This is yet another handheld depth finder and it works very similarly to the other model on this list. While a larger and clearer display sure would make life a bit easier, this sonar reader performs exactly what it was designed to do.
Read more
Depth Readings
Thanks to the power of the built-in 200-kilohertz transducer, this sonar reader can read water depths as low as 200 feet below the water's surface.
Extra Features
While not overflowing with a ton of extra features, this is a multi-functional device as it can be used for diving, fishing, kayaking, boating, and any sort of water activity in which you want to know the depth of water underneath you.
Performance
Even when you are ice fishing, this device can come in handy and inform you of the depth of water beneath you. In addition, this model relies on the power of nine-volt batteries and also sports a power saving feature.
The Interface
Not too many users will be boasting about the interface of this depth finder. In fact, many will plead that it needs to be larger and clearer. These are fair complaints but it is backlit which does help.
Build Quality
Outside of being waterproof down to 150 feet, this has also been engineered with positive buoyancy to float. In the unfortunate circumstance that you drop it in the water, it will bob on top.
Overall
Possibly a larger display could have propelled this to a higher standard but that is okay. One can't help but marvel at the sheer convenience that this device provides as practically no installation is required.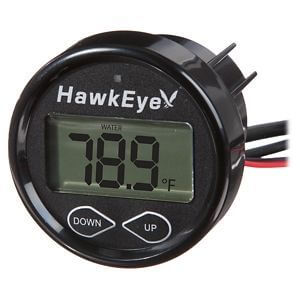 There really is a lot to love about the last depth finder on this list. The D10DX sports a simplistic and readable interface, adaptive software programming to improve the efficiency, and also readings for both air and water temperatures.
Read more
Depth Readings
At speeds up to 60 miles per hour with a precision of 1/10th, the D10DX can read depths of water down to 200 feet.
Extra Features
The three-stage advanced warning system of this software is able to send out dual alarms to warn you of shallow and deep waters. Plus, this device can read both the temperature of the water and the air.
Performance
Most notably, the adaptive software programming manages to minimize potential false readings.
The Interface
Everything is in order here including the glare-free display, color-coded operation, SoftGlow backlighting and dual readings of standard and metric.
Build Quality
Unfortunately, one user did bring to others attention that the housing is rather cheap. They claimed it feels like it could very easily crack.
Overall
Outside of some issues that buyers have experienced with this depth finder, it is good enough to be considered one of the ten best models in the world. Not bad, all things considered.