Best Ice Fishing Boots
In a Hurry? Editors choice: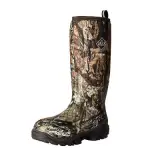 Test Winner: MUCK ARCTIC PRO

How many of you reading this right now are avid fans of ice
fishing
? If you are then you do not need to be informed that you need a high-quality pair of boots when you go out. It is called
ice
fishing for a reason and, indeed, you will need to withstand colder climates when you partake in the activity. Outside of various other pieces of gear and apparel, it is 100 percent essential to go out with appropriate
footwear
. This footwear, and in this case this is referencing ice fishing
boots
, not only needs to keep your feet and toes cozy but also needs to provide ample traction when you walk. Of course, there are various other considerations you need to make so let's not waste another second.
Standout Picks
Criteria Used for Evaluation
Effectiveness
The boots you wear need to be both waterproof and heavily insulated if nothing else.
Given the nature of these types of boots, it only makes sense that the most important criterion is going to be their heat efficiency. After all, they are designed for ice fishing and that means that the climate outdoors when you wear them will be frigid. The question is, though, as the buyer, what do you need to look for? Well, in regard to the heat efficiency, it all starts with the insulation. Much like when heating a home, you need adequate insulation as the heat can't be allowed to escape. One of the more popular insulations you will find is Thinsulate Ultra Insulation. Now, the thicker the insulation the better so if you plan to ice fish when it is below zero, then you need thick insulation (possibly over 1000 grams).
However, in order to ensure optimal heat efficiency, the boot should also be waterproof. Not just water-resistant but 100 percent waterproof as your feet will be subject to snow, ice and moisture when you wear them. Ensure that the seams are all sealed and that no water is allowed to penetrate inside. Without question, this is the quickest way to ruin your afternoon of fishing.
Durability
As with any footwear, you do not want to skimp on the materials and the craftsmanship.
No matter what type of footwear you ever plan to buy, you always need to make the longevity a top priority. There are two reasons why. Firstly, who wants to buy a new pair of shoes or boots every year? Second, footwear will endure a lot of abuse and needs to be designed to handle it. In regard to these types of boots, the issue is amplified as the weather will be frigid and the conditions will (some of the time) be bad. The main thing is to look for high-quality materials. And, it is not just one area that you need to look at. For example, the shell should be made with high-quality materials, much like the uppers and soles should be. Two common materials you will see are rubber and leather due to their fantastic natural properties and durability.
Oh, and speaking of which, you can also look for vulcanization. Vulcanization is when a material undergoes a chemical process and this will make the material much stronger and much more flexible. What you can also do, looking at the longevity in a broader lens, is glance through customer feedback. If several buyers have experienced longevity issues with a specific brand then you may want to stay away from it (although outside factors can come into play).
Size
What good is a pair of boots that do not fit your feet properly?
Everyone has gone through the pains of buying footwear. Without question, the most annoying aspect of doing so is finding footwear that fit your feet properly. It is typically not as simple as looking at your current shoe size and buying accordingly. In fact, when you go to buy a pair of ice fishing boots you will usually have to go a size up. As you have seen in this guide, most models will run small. Then again, even if they do not, it is also not a bad idea to order a size up if you want to wear heavy-duty socks underneath. No matter, see what other buyers have said to get an idea of the size that you should order.
This is also where ordering online is a significant disadvantage. At a local retailer, you could merely try on the boots yourself. Clearly, you can't do that when ordering online. So, be prepared to possibly return the model you get for a different size. As for how a pair of ice fishing boots should fit, your feet should fit snug (except your heel) and the ball of your foot should sit at the widest part of the sole.
Traction
Given you will be walking in slushy conditions and on ice, you will need ample traction.
Do not overlook some of the minor features, ladies and gentlemen. It really is easy to forget about the outsole (or sole) when you are buying any type of footwear. However, it is essential to analyze the design of the outsole, in this case. It does not take a rocket scientist to conclude that ice is slippery when walked or ran on. Along the same line, the same non-rocket-scientist can conclude that traction will be needed in slushy and snowy conditions. All this points to the need for a well-designed outsole that offers optimal traction.
The best outsoles for this are what is known as lug soles. These are made of rubber and feature deep indentations to provide enhanced grip. The rubber itself adds slip resistance but the integrated grooves amplify the traction and allow you to remain stable on slick terrains. Now, ice is still slippery regardless (especially if you are walking on black ice) so you need to be careful.
Comfort
While the model you pick certainly needs to be warm, it also needs to be comfortable too.
It really does go without saying that any boots you every buy should be comfortable. Not only can this be claimed for any type of footwear you every buy but also for each and every garment you ever buy. Anything you physically put on your body needs to be comfortable, let's just say that. Clearly, in regard to ice fishing boots, you want the interior to provide ample cushioning. You also want a bit of flexibility as you do not want your feet to feel trapped.
In addition to this, the footbed itself needs to provide both comfort and support. One of the most popular ones out there is molded EVA (which stands for ethylene vinyl acetate). This is for good reason as EVA is essentially foam and is flexible, lightweight and supportive.
OUR TOP PICKS FOR THE BEST ICE FISHING BOOTS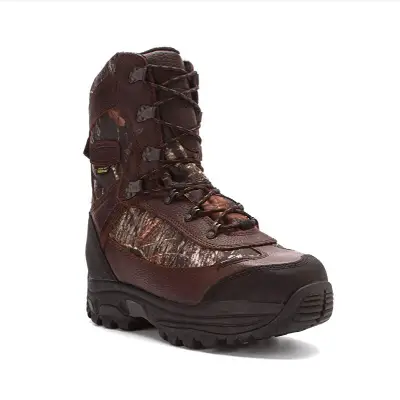 With a whopping 2000 grams of Thinsulate Ultra Insulation and an Ice Grip outsole that delivers optimal traction on the slushiest of terrains, it is no surprise to see this land at the top of the mountain.
Read more
Heat Efficiency
In addition to the previously alluded to 2000 grams of Thinsulate Ultra Insulation, this is also lined with a waterproof barrier known as Hyper-Dri. This ensures 100 percent protection.
Longevity
To increase the abrasion-resistance in the heavier wear areas of the Hunt Pac Extreme, Lacrosse designed it with a reinforced heel and toe cap.
Sizing and Fitting
The general consensus amongst consumer feedback is that these boots tend to fit narrow in the toebox. You may want to order a size up if you are worried about tightness.
Traction
As mentioned, the Hunt Pac Extreme is equipped with an Ice Grip outsole and this delivers traction on slippery surfaces. It has a unique lug pattern that sheds snows and other debris.
Comfortability
One nice aspect here is the removable EVA footbed as it adds optimal cushioning and support. However, the girth and weight of the Hunt Pac Extreme take some time to get accustomed to.
Overall
If you are serious about ice fishing and know that you will spend many hours out on the frigid ice, then you need a pair of boots that resembles the quality of the Hunt Pac Extreme.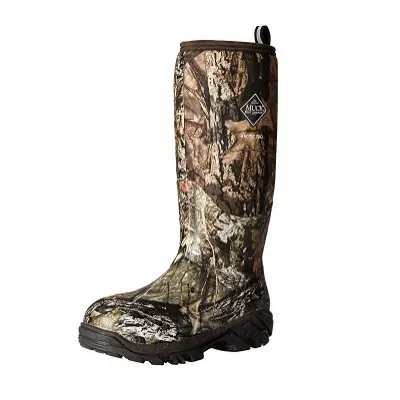 To say the Arctic Pro boots offer a little bit of everything would be an understatement. They are 100 percent waterproof, come with breathable air-mesh linings and can be worn by both men and women.
Read more
Heat Efficiency
Much like their previous design on this list, Muck Boot designed their Arctic Pro to deliver warmth and lots of it. This is thanks to its 100 percent waterproof construction and stretch-fit topline.
Longevity
Durability was an issue for one specific reviewer but for the vast majority of buyers, it seems to be a non-issue. The one user, though, commented that they began to crack within a year.
Sizing and Fitting
As with most other designs out there, to be frank, you will want to order a size up here. If you do not then you may not be able to fit your feet inside comfortably.
Traction
Maintaining optimal traction on even the slickest of terrains will be a lot easier with these on. This can all be attributed to the aggressive bob tracker outsole.
Comfortability
Included with this model is an eight-millimeter flex-foam bootie. On top of this, the EVA midsole enhances comfort and there is also a breathable air-mesh lining integrated.
Overall
It should be known by know that Muck Boot is a top-of-the-line brand. The Arctic Pro is not quite as good as Arctic Sport but it is brilliant in its own right.

3

. MUCK BOOT ARCTIC SPORT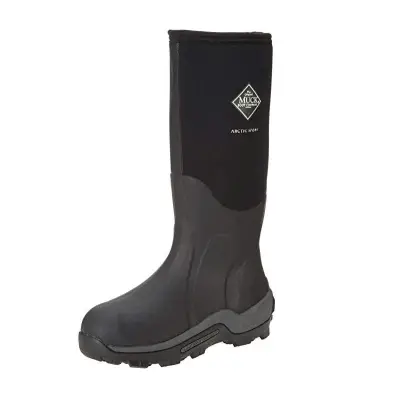 Sometimes, you simply have to buy into the hype and that is what you must do here. It is pretty clear that based on the enormous positive feedback for the Arctic Sport boots, they are excellent.
Read more
Heat Efficiency
In short, these offer exceptional warmth. The primary reasons why are the five millimeters of neoprene, completely sealed rubber shell, and soft and warm fleece lining.
Longevity
Do note that there have been a few users who have reported that within the first two years, their Arctic Sport footwear began to develop wear and tear.
Sizing and Fitting
Various buyers note that these tend to run small. It is possible because the design is unisex but just be aware of that. However, what is nice is the Arctic Sport adjusts to your foot shape.
Traction
To increase the traction on both uneven and slippery terrains, Muck Boot designed their Arctic Sport with a rugged outsole that sports molded lugs.
Comfortability
The same five millimeters of neoprene that enhance the warmth also provide shock absorption properties and enhanced comfort. Also, an EVA contoured and molded midsole offers increased support.
Overall
Are you beginning to understand why so many other buyers have raved about the design of the Arctic Sport? Bar none, it is one of the very best ice fishing boots you will ever find.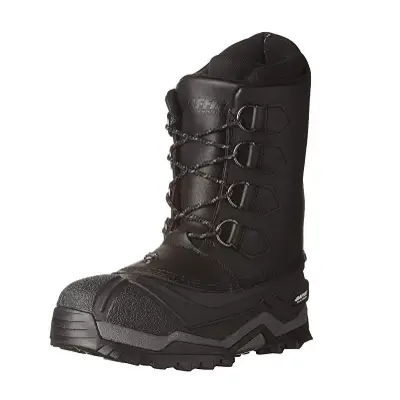 Baffin is a well-known name when it comes to ice fishing boots and it is easy to see why when analyzing this model. Its waterproof construction is rated to handle temperatures well below freezing.
Read more
Heat Efficiency
Baffin rates their boots to handle shivering temperatures of -70 degrees Celsius (which seems a bit absurd). But, the extra insulation from the boot liner and the top cinch do help retain heat.
Longevity
Not too many users have had negative experiences in regard to the durability here. Yet, that said, one user noted these only lasted them around three months before the seams started to tear.
Sizing and Fitting
Gauging by the experiences of a vast array of users, it may be in your best interest to order a size larger than you normally would.
Traction
Let's just say that maintaining traction should not be too much of an issue with this footwear. The reason why is because a fully-tractioned sole has been integrated.
Comfortability
Thanks to the interior materials and the craftsmanship that has been presented here, Baffin has ensured that comfort will not be an issue with their design.
Overall
Yes, you will have to pay for these boots. The old adage "you get what you pay for" comes to the forefront here as these are far from cheap (very far from it).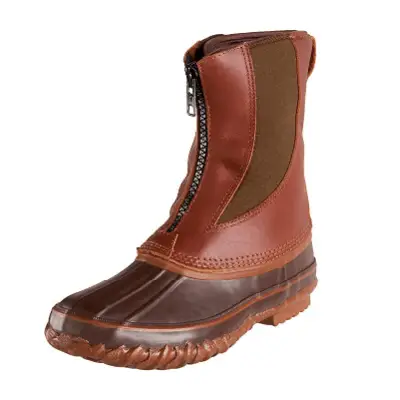 It almost feels like the Bobcat should have been even higher on this list. It is well-designed in virtually every area imaginable but several buyers have had issues with the sizing.
Read more
Heat Efficiency
The combination of the 400 grams of Thinsulate Ultra Insulation, three millimeters of wool felt, six millimeters of liner and wicking durable synthetic material ensure optimal warmth.
Longevity
Not only is the Bobcat handmade in Italy, but it also features steel shanks with double thick midsoles and outsoles that are vulcanized.
Sizing and Fitting
In both the toe box and the heel, various users have had issues with finding the right size. But, what is nice is the uppers are contoured to fit your leg with great precision.
Traction
The previously mentioned vulcanized outsoles also come into play with the traction. They are non-marking and provide proper footing on wet or dry terrain.
Comfortability
These boots seem to provide a good amount of comfort. The four-way stretch panels in the uppers certainly help.
Overall
The sizing can be a major pain with this footwear, so it seems. If you can find a size that fits you comfortable then you can reap the benefits of this design.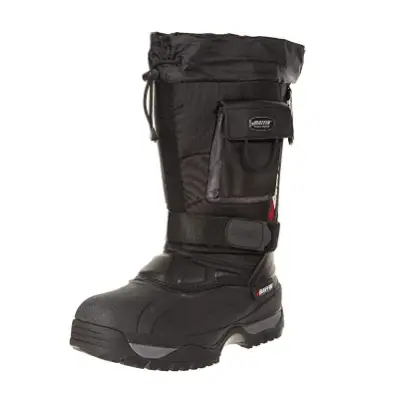 While this footwear can run tight, which is a problem with most models, it is absolutely one of the better ones out there. Heck, it even sports a flat pocket on the lateral side.
Read more
Heat Efficiency
Baffin's Endurance snow boot is designed with a taped seam construction and is also waterproof in the mid-calf area. Overall, warmth is the farthest thing from an issue here.
Longevity
There have been little to no reviews that have commented on the longevity. This can either be seen as a good thing or a bad thing, quite honestly.
Sizing and Fitting
For easy adjustments, this is outfitted with single-pull strap wraps. But, this pair tends to run tight and it may be in your best interest to order one size up.
Traction
Because this has been designed with an aggressively treaded sole, you are able to maintain better traction when you are moving around on the ice.
Comfortability
Though big and clunky, this is quite the comfortable boot. Part of the reason why is the cushioning on the inside is combined with ample support in the right places.
Overall
It is always reassuring when you buy a product that is designed by a top-end manufacturer. In this case, you are getting one of the best boots from one of the best designers. Does it get much better?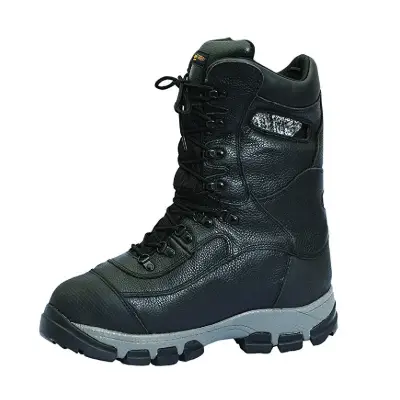 Though there have been a few users who have heavily criticized their experiences with these boots, the general consensus is that they are well-designed footwear made just for colder climates.
Read more
Heat Efficiency
The Ice Armor Onyx boots are equipped with 1000 grams of Thinsulate insulation and are also 100 percent waterproof. Oh yeah, and heat-reflective lining has also been integrated.
Longevity
Not a lot of consumer reviews are available for this model but one, in particular, alluded to issues with the longevity. The reviewer claimed the liner started falling apart right from the get-go.
Sizing and Fitting
Well, would you look at that? This is another pair of ice fishing boots that run small. Order one size larger than you normally would and you should be good.
Traction
As with other top-end designs, this right here sports a two-piece rubber outsole that will deliver traction on the slickest of terrains.
Comfortability
The main integration that enhances the comfort of the Onyx boots is the EVA cushioned midsole. Not only that but the midsole also increases your stability.
Overall
This is one of those instances where it can be tough to gauge a product's effectiveness as there is not a ton of feedback from around the web. But, in regard to the specifications, this is fantastic.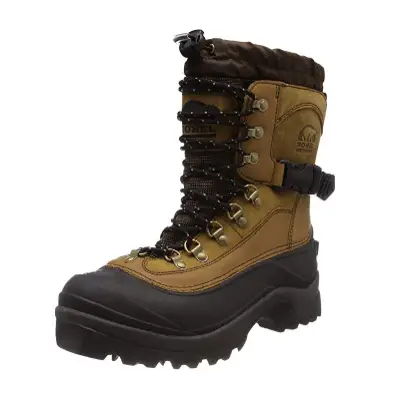 It has almost become cliché at this point but if this were a popularity contest, the Sorel Conquest would probably emerge victoriously. That is simply not the case but, without question, this is still a great boot.
Read more
Heat Efficiency
Being rated to handle temperatures as low as -40 degrees Fahrenheit, the Sorel Conquest is equipped with 400 grams of Thinsulate Ultra Insulation and is seam-sealed. Oh yeah, it also features waterproof leather.
Longevity
A lot of reviews have alluded to an issue with the uppers separating from the rubber bottoms. However, other users have not had this issue.
Sizing and Fitting
Once again, you will probably need to order a size up. And, although an Achilles adjustment strap is integrated, lacing these boots up can be a major hassle.
Traction
The Sorel Conquest comes equipped with a multi-direction rubber lug sole and it will deliver the traction and grip you will need on icy surfaces.
Comfortability
Outside of the natural cushioning in the interior, this is designed with a molded EVA comfort footbed.
Overall
For sure, there have been users who have had issues with durability with their Sorel Conquest footwear. That said its waterproof leather construction is still top class.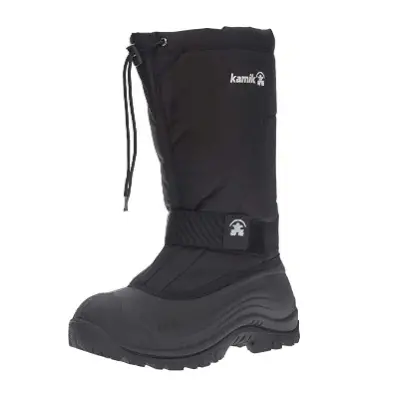 As you can see, ice fishing boots are not exactly cheap commodities. But, dig deep enough and you can find affordable models that are still high in quality. You guessed it; that is what you get here.
Read more
Heat Efficiency
Okay, so while the felt linings are not the best here, each boot is equipped with 600-denier nylon uppers, eight-millimeter Thermal Guard liner, and a waterproof core.
Longevity
Feedback on this model has been exceptional but there was one user who noted that the seam on the top of their left boot tore.
Sizing and Fitting
Thanks to the mid-foot adjustable Velcro closure strap, you can better adjust the fit. Speaking of which, the heel is a bit too wide in coordination with the rest of the boot.
Traction
Not only will the rubber outsole provide great traction on all sorts of terrains, but it will also remain flexible in all temperatures.
Comfortability
Right away, you should notice how light these boots are. They are 50 percent lighter than natural rubber. In addition, the aforementioned Thermal Guard liner also wicks away moisture.
Overall
Are there problems with this design? You better believe that there are but they do not take away from the overall quality too much. That is just what happens when you go for a cheaper product.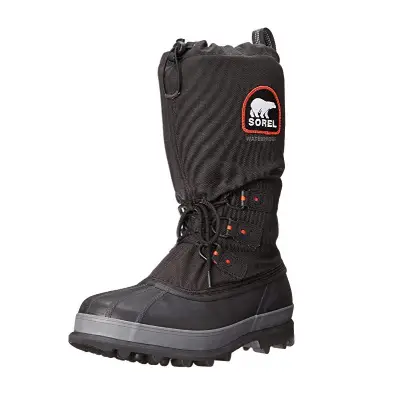 There is certainly a lot to like about the craftsmanship of the Bear Extreme. Coming in last on this list, though, there are a few concerns that hold this one back a tad.
Read more
Heat Efficiency
Being rated at -40 degrees Fahrenheit, this can handle the coldest of climates. This is achieved by the waterproof polyurethane-coated upper and the Omni-heat reflective lining (along with the waterproof vulcanized rubber shell).
Longevity
A few reviewers have reported that the soles of these boots are more flexible and thin than was expected. Still, it is not as if these will begin tearing within the first few weeks.
Sizing and Fitting
As expected, these run small. However, also note that the liner is not physically attached and can be annoying as it tends to get stuff down when you try to place your feet inside.
Traction
The Sorel aero-trac non-loading outsole does wonders when you need to stay on your feet on slippery ice.
Comfortability
No, this is not the most comfortable model on this list. In fact, you may need to add some gel insoles for additional padding. Also, the base is heavy and the upper is light which can make for an awkward dynamic.
Overall
Even though this footwear may not be on the top of a lot of people's lists, the quality is still there and it is no surprise to see it secure a spot on this list.