Best Fishing Hooks
In a Hurry? Editors choice: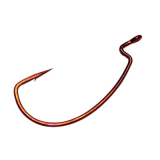 Test Winner: Gamakatsu Worm

Nothing is better than being out on the
lake
with family or friends with your fishing rod out in the water ready to reel in your next big catch. It's the season for fishing, making it the perfect time to invest in fishing hooks. It might surprise you to discover how many kinds of f
ishing
hooks are available today, but if you've been in the sport for long then maybe it doesn't shock you at all. Fishing isn't what it used to be, and neither are the hooks.
However, There are many things to consider when shopping for the best fishing hooks: Are you going freshwater or
saltwater
fishing? Are you deep water fishing or inshore fishing? Which types of fish are you ultimately trying to catch on your upcoming outing?
Standout Picks
Criteria Used for Evaluation
Top 10 Picks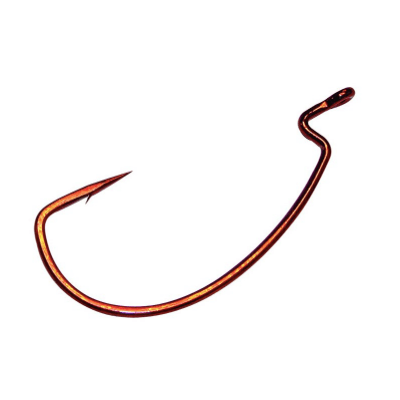 Gamakatsu has done it again. They have delivered on an exceptional hook, with quality material, in a convenient 25 pack. These hooks are sure to have you hooked. You'll be buying extra just to keep in your car at all times. Consumers love Gamakatsu!
Read more
Material
It is made from forged black anodized metal
Durability
Crazy sharp and incredibly strong! Some consumers accidentally bought knockoffs, but of course, those are not going to be anywhere near the quality of Gamakatsu! When you verify your purchase you are sure to be pleased.
Features
It is a closed eye, extra wide gap, barbed, forged, and black anodized.
The hooks are offered in packs of 25, in sizes- 4#, 2#, 1#, 1/0, 2/0, 3/0, 4/0, and 5/0.
Value
Depending on the size you get will determine how much you spend, but no matter what size, you are going to be spending a reasonable amount. So reasonable that you are going to be tempted to buy a backup pack just in case! Gamakatsu won't steer you wrong with these worm fishing hooks!
Summary
Gamakatsu knows what they are doing when it comes to fishing hooks. These black anodized hooks will be baiting fish and you alike! Anodizing- what does that mean? It is a process called 'electrolytic passivation' that adds thickness to the layer of oxide that is naturally there on any metal surface. The part of the metal that gets treated is the 'anode electrode' which is part of the electrical circuit and how 'anodizing' comes by its name. These hooks are made from quality material, they come in a convenient 25 pack, and everyone loves Gamakatsu. This Japanese based company is sure to steer you to a full reel!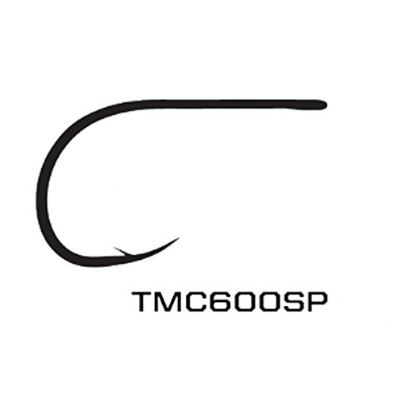 While fly fishing might have an origin in the west, Tiemco from Japan has stepped up from the east to create quality made fly fishing hooks. If you are looking to bag more fish than ever, Tiemco will be the brand to get the job done.
Read more
Material
Straight eye, 3X heavier, 2X wider gap, 2X shorter, forged black nickel- Whew, that's a mouthful!
Durability
The super point means it's incredibly sharp. Consumers had nothing negative to be said about this hooks sharpness, or even anything bad to say in general!
Features
If you are looking to break into saltwater fishing, or you have been doing this with your family for years, this is the best saltwater fly fishing hook on the market.
Value
You only get the one, so make sure to take care of it! While trolling Amazon you will find that there are no negative reviews currently out there for this hook. Consumers love this hook- and normally they can be so negative! It is on the pricier side, but it is well worth the money.
Summary
Tiemco may be a newer company on the market, but they are not holding their punches. Dedicated to everything fly fishing related- from rods and reels all the way to clothes. Anything you could possibly need for fly fishing, Tiemco has it for you! This hook may run a little on the higher end of the price bracket, but you are paying for the extra weight to help imitate a real fly; material worth spending money on; a hook you will come to fall in love with.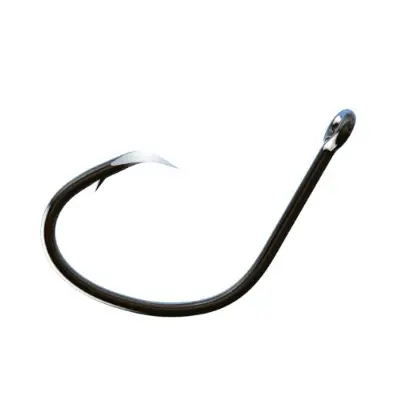 Do you keep going back to the same destination fishing spot time and again? Does this particular fish always seem to get away from you time after time? Introducing the world's first and only surgically sharpened fishing hook! With very little pressure, the hook will be sliding into the fishes mouth, and you'll be reeling away in no time! Trokar, a brand produced by Eagle Claw, won't disappoint!
Read more
Material
In-Line Q741 Wire- tempering is specifically tailored process to manipulate molecular structures of the Q741 wire.
Durability
Bolstered wire diameter makes for a stouter hook. If it comes to an intense battle time with your prey, you'll win every time with this brand!
Features
Lancet circle, light wire, non-offset, surgically sharpened, welded eye, wide gap, forged construction; only 1 in the world that is done in this way. Its unique 3-sided point penetrates 2X as fast as the competition. It comes with 14 hooks per package.
Value
There is almost no negative feedback with these hooks, and there are no truly negative reviews at all! That's a little unheard of knowing how hard it can be to please consumers these days! Trokar, a brand based from Eagle Claw, won't let you down. Buy today- and you are almost guaranteed to be switching brands tomorrow!
Summary
Eagle Claw is a name that everyone in the fishing world knows- and many love. Trokar is a brand based out of the more widely famous founding brand. Whether this is your first time hearing the name Trokar or not- knowing it is backed by Eagle Claw's reliable name makes this purchase a no-brainer. These puppies are surgically sharpened which is otherwise unheard of for fishing hooks! They are stout and durable so you know you can rely on them- in no time you will be switching exclusively to Trokar!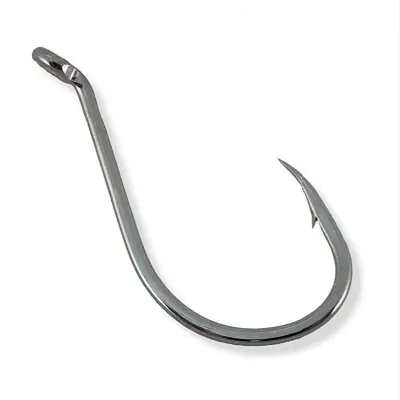 Passion. Precision. Perfection. Owner hooks. With these hooks, you will never have to tell the tale of the one that got away. You will reel them in every time! Don't forget to take a selfie with your catch- that way the fish tale can't grow too big. If you ever do decide to set out to catch the big one- take Owner hooks with you!
Read more
Material
Neither the Amazon brand page nor the website made it clear as to what material this was constructed from. It does come in Black Chrome or Red though.
Durability/Hook Strength
Super sharp, and extra strong point make this a formidable opponent- for the fish you will be reeling in!
Features
Comes built with a reverse bend point, up-eye forged shank, cutting point self-penetrating hook. Can be used to catch herring, salmon, walleye, bass, tarpon, and other inshore species whether in freshwater streams or saltwater oceans.
Value
This only includes one hook. If you are on the market for single packaged hooks, this fishing hook by Owner is for you. It is more expensive than even the largest package of hooks by the competitors- but you are getting what you pay for. And in this case, you are getting quality over quantity!
Summary
If you are on the market for quality over quantity, this hook is for you! Incredibly sharp design with an extra strong point, this self-penetrating hook will have your lines tied up all day! Reel in the biggest and heaviest with only the best on the market- Owner Hooks! Consumers couldn't get enough of this brand, they kept returning to this brand time and again! There was essentially no negative chatter on Amazon over this Fishing Hook, everyone loved them- they come very highly recommended! It is easy to see why this would become your go-to hook for all your future fishing getaways!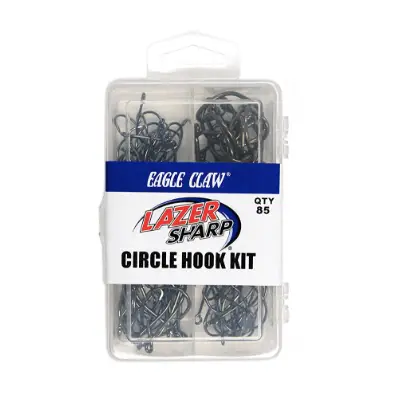 If you have spent anytime whatsoever fishing or in or around tackle stores then you know the name Eagle Claw is a company that has been around for decades and has shaped the definition of what a good fishing hook really looks like. Eagle Claw has been around since your grandaddies time; it's a brand he likely trusted and so will you.
Read more
Materials
These are constructed of steel material. They are slightly offset- except for the octopus hooks- so if you plan to try and use these for a tournament or where 'legal' hooks are necessary, then this is not the box for you.
Durability
They are built with 85+ years of experience.
Features
Eagle Claw is the brand that claims started it all. As far as fishing hooks and tackle gear go, Eagle Claw is your go-to. It is one of the most recognized and celebrated names in the fishing world. Made in the USA, you can't just get this recognition, you have to earn it! All 85 hooks come bundled in a convenient carrying case that will go where you do.
Value
85 pieces come in this set in 4 sizes- 2/0, 3/0, 4/0, and 5/0. That being said, consumers reported that there was really only 2 size hooks, just in 2 different gauges. You may not be a brand name brat, but when it comes to having quality, dependability, durability, a brand you can trust, and all at an affordable price, you can only go to one place to get all that, and that's right to the Eagle Claw page on Amazon! With the affordable price, you can't go wrong.
Summary
Experienced anglers that don't lose hooks very often may have no need to buy another fishing hook set again after this- possibly for a few years! This set of hooks is high quality. Eagle Claw has been around for over 85 years. That's 85 years of being on the frontier of defining fishing hooks: a heritage with large shoes to fill. Eagle Claw still hasn't lost it, customers rave about these hooks as much as any in the past. If you want a brand you can count on, Eagle Claw is your company!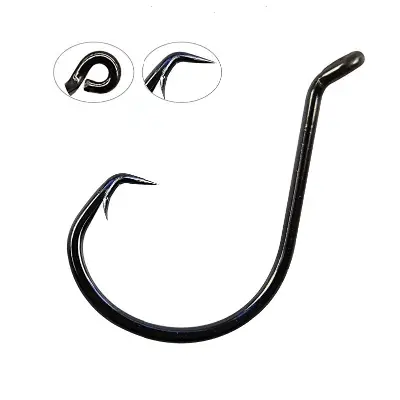 New to fishing? Don't worry, we all have to start somewhere! This set of 150 hooks will hook you up. Coming in various sizes you will find what you need as you figure out what you are looking for. Don't worry about tearing through these fishing hooks- you get a bang for your buck! If you are looking to learn how to fish- this is the set to start with!
Read more
Material
They are made from offset high carbon steel.
Durability
High strength and corrosion resistance add to their claim of being trusted for reliability, durability, and strength. Consumers reported back however that these were not the strongest brand of hooks they had encountered. With that being said, rookies aren't likely to have many complaints.
Features
Comes in a very convenient carrying case that can be reused as the hooks are used up. These fishing hooks are offset with especially barbed tips. They bend inward, are a closed eye, and can be used in both fresh and saltwater!
Value
This set comes with 150 hooks! That's a lot, and the sizes include- 25 pcs each of 1#, 1/0, 2/0, 3/0, 4/0, 5/0- plenty of large sizes to work with! Knowing that this set is best for beginners and those not looking for the strongest hooks to bait your prey- these hooks are great! Decent prices especially considering how many fishing hooks you get with that purchase. These hooks aren't likely to last long- but with rookies, even good hooks aren't likely to last long!
Summary
Jshanmei is making noise in Amazon. Jshanmei claims that they are trusted for reliability, durability, and strength. While they aren't lying, they may not be the strongest set of fishing hooks on the market. However, for the quantity and for the affordable price, this set of hooks is perfect for the beginner concerned with losing too many of their buddies hooks. Now you can go packing your own hooks- travel is made easy with the reusable carrying case that is included!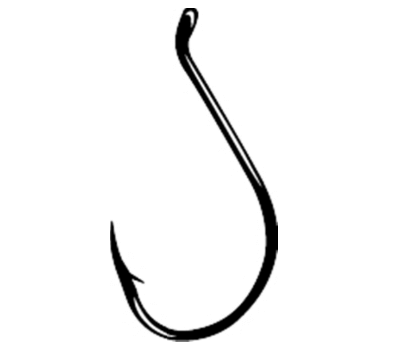 Gamakatsu is a brand that has been known and trusted since 1955. Whatever size hooks you are looking for, this 25 pack will get you through your many excursions before you will have to re-up again. They come in a variety of colors, including chartreuse so your buddy that keeps loosing hooks won't have such an easy time doing it now!
Read more
Materials
These hooks are made from forged steel octopus hooks.
Durability
These are known for their durability and strength because Gamakatsu made them. However, some consumers reported that their hooks weren't as strong as they would have liked. It is possible they bought the wrong size for the fish they were attempting to reel in. Gamakatsu makes all size hooks, so buy any and all the sizes you'll possibly need!
Features
They are a closed eye, barbed, off-set point, and the hooks were made in Japan.
Value
They include a 25 count in whatever size suits your fishing needs! Gamakatsu has been serving anglers worldwide for decades. We highly recommend this hook in whichever size you need. Decently priced, you won't need to buy new hooks again for a while!
Summary
Gamakatsu has been in the business of fish hook making since 1955. Founded in Japan, this company has become a worldwide leader in angler gear. Gamakatsu is known for their strong and durable hooks. Some consumers reported that these aren't the strongest hooks they had encountered, however, the vast majority of consumers loved these hooks. For the price, and knowing that it is a Gamakatsu product, we recommend these hooks.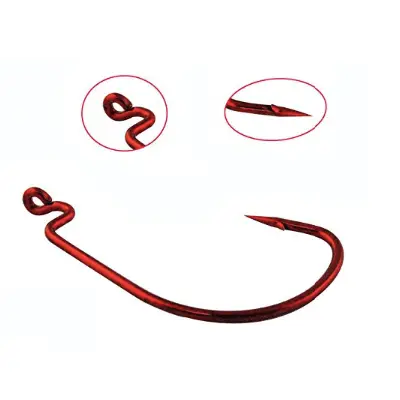 Jshanmei: you're going to hear this name again. Consumers couldn't get enough of their hooks! Whatever kind of fish you are looking to reel in, Jshanmei has a product for you, one that won't let you down! If catching bass is your game, then this is the hook set for you!
Read more
Materials
These are made from ultra clean, cold-forged, 2X strong, high carbon steel.
Durability
HIgh carbon steel with increased carbon content and reduced impurities add tensile strength to these hooks- then a unique heating treatment imparts just enough flex to them so as to resist breaking. Consumers found that the craftsmanship worked not only in theory but also in practice- these hooks won't fail you.
Features
Jshanmei does it all; whatever kind of angler you are or whatever kind of fish you are looking to bait, Jshanmei will find a place in your tackle box. If you want to catch bass like the pros, this is the set to do it with. Comes with a plastic box to keep them altogether safe and sharp!
Value
150! That's an incredible quantity! 150 pieces with 25 pieces a set for each of the 6 sizes- 1#, 1/0, 2/0, 3/0, 4/0, and 5/0. For the price and the quantity alone, this set is worth it whether you are a first-time fisherman or a long-time angler- but you also get quality and durability to boot! What more could you ask for? Jshanmei is a brand worth buying!
Summary
Jshanmei lands on our Top 10 Best Fishing Hooks list not once, but TWICE!- but it is no coincidence or endorsement, these hooks are just that good! While you could feasibly use these hooks for many different types of prey, pro bass fisherman rated catching bass- in numbers- with jig heads as the best. Jig worms, also known as shaky head worms, is a way of rigging worms to the fishing hook so that it naturally attracts the attention of bass- this way you won't have to fight for the attention of the bass- they'll be fighting to get your bait!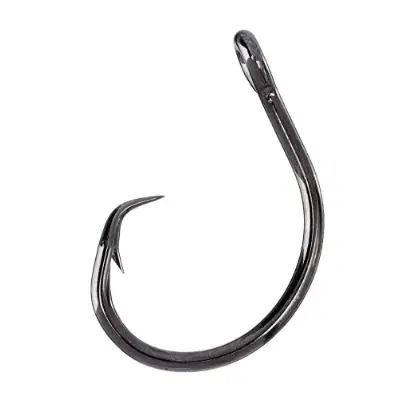 Want a fishing hook with an imposing name? How about Mustad's UltraPoint, Demon Perfect, In-Line Circle, 3X Strength package of 25 hooks? Not only is Mustad's fishing hooks imposing of the name, they are imposing of the brand as well. If you aren't looking for quantity but quality- this is the set for you. Newbies and vets alike, Mustad will deliver.
Read more
Material
Demon Perfect, in-line, 3 times the strength heavy gauge wire.
Durability
UltraPoint Technology means that it is sharp, durable, hook tips resist rolling and stays sharp longer- at least that is what they advertise. Consumers found that these did not stay sharp nearly as long as Mustad lead them to believe. Mustad wire technology and Nor-Tempering process mean that the hooks are lighter and up to 20% stronger than competitors.
Features
These hooks, being light and strong, are great for live bait. The hook won't weight them down so the bait can swim naturally allowing you to catch the prey you are looking for! These hooks are super light, super strong, and fish will find it so much harder to escape from your grasp than ever before!
Value
These hooks come in a 25 pack. The price on these hooks vary depending on whether you find them on sale or not. Either way, these hooks are a great purchase for your tackle box. Mustad's fishing hooks come highly rated by many consumers.
Summary
Mustad has engineered a fishing hook that can run with the best of them. UltraPoint sharpness, these hooks are intended to stay sharp over time. While they start sharp, many consumers did find that UltraPoint was more like AveragePoint. Longevity of the sharpness aside, these hooks are light- light enough for live bait- and will last out there as long as you do. Customers love these hooks and return to them time after time. If you are sick of fish stealing your bait- well fret no more, these hooks will help to cut back on lost bait!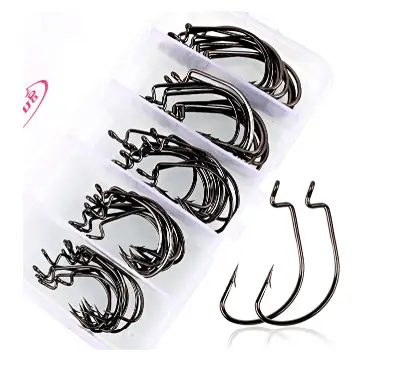 You'll likely struggle with the name of this company, making it hard to recommend to friends, but you won't struggle with these hooks- and you'll want to recommend them to all your angler buddies! Offset high carbon steel make these a durable hook- one you'll want to return to time and again!
Read more
Material
They are made from offset high carbon steel construction.
Durability
With an EWG (Extra Wide Gap) giving these hooks a higher tensile strength equating out to a durable and reliable brand of hooks. These puppies will bend but they won't break. Consumers have reported using these hooks to catch a 40-pound fish that took over 30 minutes to catch. Now that's strong! As more than one consumer found, these are surprisingly good for the price!
Features
Fresh and saltwater anglers will find great use out of these hooks, as they were meant for use in both. The fishing hooks are barbed so the fish can know no retreat- you better eat 'em otherwise make sure to release after catching! You will be able to rig up either worms or other soft rubber plastic bait. These hooks come conveniently in a carrying box that can fit easily in your pocket so that you can travel without noticing it's there!
Value
The set comes with 50 ten piece sets of each size- 2#, 1#, 1/0, 2/0, 3/0. The price is incredible on this set- especially considering the fact that they are durable and will last. You will likely come back to Sougayilang time and again after your first purchase. Great purchase for the price!
Summary
These hooks are exceptional. All 50 come tucked nicely into a plastic carrying case making it easier to transport to and from your favorite fishing destination fishing spot. In multiple sizes with the strength to bend but not break, this Amazon Choice winner has won us over too! At an incredible price, these hooks are surprisingly good for the amount you pay!