Best Fishing Shirts
In a
Hurry? Editors choice: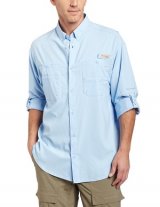 Test Winner: Columbia Plus Tamiami II

Fishing is an excellent sport to take up this summer as there is nothing quite like relaxing on a lake
waiting for a fish to strike your line
. Now, if you are an avid fisherman than you most likely have an
arsenal of gear to help you catch a variety of fish
. But one piece of gear that you may not have thought of is a quality fishing shirt. A fishing shirt not only gives you a sense of style while you're casting out on the lake but it also
protects you from the UV rays
of the sun that is beaming down on you and also provides you with proper ventilation so you do not overheat and feel comfortable while out on your boat. If you are in the market for a fishing shirt, then the guide below is for you.
Standout Picks
Criteria Used for Evaluation
Comfort
Not surprisingly, the first thing we took a serious look at was how comfortable the best fishing shirts were overall. We looked at how much room they had in the shoulders, the arms and the torso area, and whether or not they were designed to move with you as you reel and cast while fishing. After all, the last thing you need is to have the shoulder area of your shirt stop you from giving a full cast of your line or not let you have full control of movement while reeling in that six-pound bass.
Thankfully, the shirts listed above, with a few minor exceptions all allow for free range of movement while maintaining a great deal of comfort. If you want to be 100% certain that this shirt will be comfortable as you will be wearing it for quite some time while out in the middle of a lake or in the middle of the ocean, is to check the customer reviews. By checking the customer reviews you will get an inside look at how comfortable the shirt was for other customers who put it to the test. This way you know exactly what to expect before you purchase.
Fit
Along with wearing comfort, fit is another factor that is essential to a quality fishing shirt. It really depends on your preference, but most anglers would rather have a shirt that either fits them well or is a little on the bigger size to allow for movement, stretching and potential shrinkage after a few good piles of washing. While some of these shirts, such as the Hanes and the Picisfun Performance shirt do run a little on the small size, most are either true to fit, or slightly larger.
When looking at a particular shirt make sure to check the sizing chart that is provided by the supplier as every shirt is made differently so you may be a different size than you are normally. By checking the size chart you will make sure you end up with a comfortable and fitted shirt to keep you relaxed and protected throughout your whole fishing trip.
Protection
When you're out on the waves or on the lake, you want to be concentrating on catching the next big fish, not on burning your skin. That is why the fishing shirt is one of the most important but neglected fishing accessories, as it can be the determining factor of enjoying a weekend fishing or in bed with a nasty sunburn. Most fishermen don't really think for too long about sun protection. They simply throw on a fishing shirt that offers great protection from the sun, a few dollops of sunscreen and fish the day away. However, not all fishing shirts share the same protection when it comes to the sun. While it's true that material covering your skin will protect you from some of the sun rays, a simple fabric won't protect you from all the rays, including the harmful UV rays.
With a few exceptions, however, these shirts have been treated using various methods to help boost the sun protection that they offer. While it's certainly not foolproof, and additional precautions against the sun should be taken, these shirts can certainly be a great place to start.
Materials
If you want to find a fishing shirt that fits well, is comfortable, allows for a wide range of motion, and offers superior protection from the elements, you really have to look long and hard at the material that is used in its making. There are examples of both synthetic blends and natural blends on this list and each has their great points. Natural fibers such as cotton provide great breathability and are comfortable against the skin, but they can take quite a while to dry after a splash from a big fish. Synthetics, like polyester, will most likely dry quickly and offer a lightweight durable material, but they don't always move as naturally as a cotton shirt would.