Best Fly Fishing Gear
In a Hurry? Editors choice: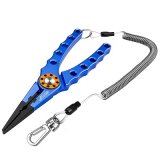 Test Winner: Booms Aluminum Pliers

There quite is nothing like standing beside a
lake
or river, slowly casting your fishing line and waiting for a monster fish to grab the line. It is a feeling of tranquility and being one with nature that really makes this sport enjoyable. Now, if you are an avid
fisherman
than you know that over the years you slowly build up your arsenal of gear as every season there are new pieces of gear that you want to try out and the same goes for if you are an avid fly
fisherman
. That is why to keep you up with the latest pieces of gear for fly fishing this summer, we have done the research and listed the top ten pieces of new gear below that will help you catch that monster fish you have been itching to catch.
Standout Picks
Criteria Used for Evaluation
Ease of Use
Overall, fly fishing is a simple process. You get out your rod and reel, wade into a river or stream, cast out your line, allow the lure to flick against the water, and draw it back, in hopes that a fish will be enticed to strike. If you do, then it's just a matter of reeling them in before they can get away.
The devil, of course, is in the details. Between the lures, the different lines, rods, pliers, hooks, and ties, it can be quite difficult to get back to the simple act of fishing. One thing that helps is to have equipment that is simple to use, but still effective in what they do. That way, you can concentrate on what counts.
Accuracy
The style of gear you use, including the weight of the line the type of rod, and especially the lures you use depend greatly on your fishing target. Nearly any fish, whether they exist in salt or fresh water can be caught using fly fishing techniques. The trick, of course, is to go after them with the right strategy and the right equipment. A trout won't respond to the same lure as a bass, and bluegill is going to need a different weight of line than a bass, for example.
Style
Believe it or not, there are a few different styles of fly fishing available to learn, and which style you choose can easily dictate what type of gear you end up using on a regular basis. Depending on the style of fly fishing you will be doing, you will want to get the gear that will work best for that style. If you have the proper equipment for the fly fishing you will be doing, then you will have more success and fun while fishing.
Overall when fishing not only do you want the most effective gear to help you catch an abundance of fish but you also want your gear to look somewhat stylish. So when looking for your gear for this summer season of fly fishing, make sure that the gear will help you catch fish but also keep you looking good at the same time.
Portability
When looking at investing in fly fishing gear, most likely you will start to realize that there are quite a few pieces of gear that you will need. So when looking at this gear that is necessary to have the most success while out on the river, you will want to make sure it is portable. You want to make sure your gear is portable as you will not only have a lot of gear but also you will have to trek to your fishing spot and do not want to make multiple trips which can tire you out and affect your fishing day.
Overall portability is quite important as when it comes to any type of fishing you usually have quite a bit of gear and you do not want to put strain or exhaust yourself before you can get to your fishing spot. So make sure the gear you are looking at is lightweight and can be transported without hassle, that way you can get to your fishing sport easily and get to fishing.
Top Ten Pieces of Gear for Fly Fishing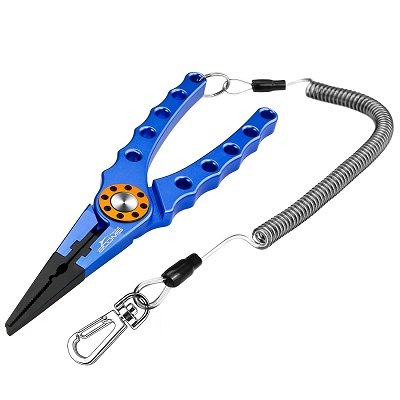 Last on our list of the best fly fishing gear, but certainly not the least is a pair of quality fishing pliers. Ask any angler, and they'll quickly tell you that a good pair of pliers can be a great help in a wide array of situations when it comes to the world of fishing.
Read more
Ease of Use
While these pliers will work well in most fly fishing situations, we certainly did encounter a number of customers who encountered issues with the overall durability of the product. In addition, there were instances where the pliers bent after handling fish, although we believe that most of those instances were not related to the smaller fish often found in streams and rivers.
Overall these pliers do come in quite handy for removing fish hooks and other items that may become embedded in the fish or fisherman.
Accuracy
In addition to some of the strongest pliers we've seen in a long time, this tool from Booms fishing also includes a braided wire cutter that can easily handle any type of fishing line or braided line you can imagine.
A pair of quality fishing pliers is an extremely useful tool when it comes to fly fishing. This pair by Booms Fishing certainly does the trick, although we would have liked to see a bit more durability in its construction.
Style
These pliers are constructed of corrosion resistant aluminum metal and can be easily used in both saltwater and freshwater environments.
Portability
This set of pliers weighs just over seven ounces, and can easily fit in a vest pocket or bag. While the grips may be a bit cumbersome for smaller hands, overall, the size and shape are fairly useful and straight forward.

2

. Freestone Outfitters Fly Fishing Net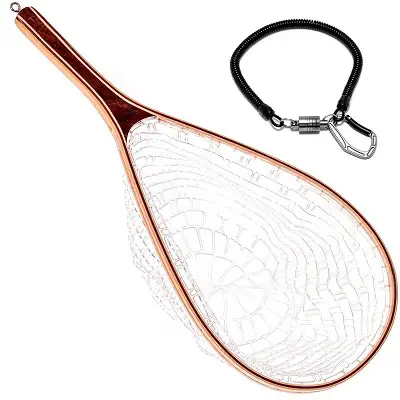 So you've finally landed the big one. Now what? Having a quality net nearby to scoop up the scoundrel into a waiting bucket is more than a convenience. It's a necessity. This fly fishing net from Freestone Outfitters is a great way to meet that requirement.
Read more
Ease of Use
Chances are you'll be able to scoop up the fish with ease in this net. The teardrop opening measures 10.75 inches by 16.75 inches and the net well is approximately 8 inches deep. It has more than enough room for even the biggest trout or bass imaginable.
Accuracy
There really isn't any need to fumble for your net with each catch. The included carabiner and magnetic release, you can easily hook your net to your best or backpack for easy accessibility. And if you're worried about losing your net due to a fish on the line, don't worry. Just pull on the magnetic release and your net will be free, leaving you to concentrate on other matters at hand.
Style
The problem with most nets is that the net itself will often spook the fish, which can cause it to panic and inflict harm on itself through thrashing. This is where this net is so nice. It's made from a clear rubber mesh that nearly disappears in the water. It won't frighten the fish or damage their skin. It's a great choice when you have to catch and release!
The frame is made from hardwood material which resists mold and mildew, and the rubber mesh is strong enough to resist tears and decay even after many uses. The only complaint we had was that the magnet in the magnet release wasn't as securely attached as we would like. A few customers experienced it coming loose after a few uses.
Portability
With the magnetic release, this net weighs just under a pound. Until you're ready to use it, you'll hardly know it's there.
This net by Freestone Outfitters has quite a bit going for it. The size is more than enough for most catches, and it is very easy to use. While we would have like to see the magnet attached with more strength, overall this is a great choice for a net.

3

. Piscifun Sword Fishing Line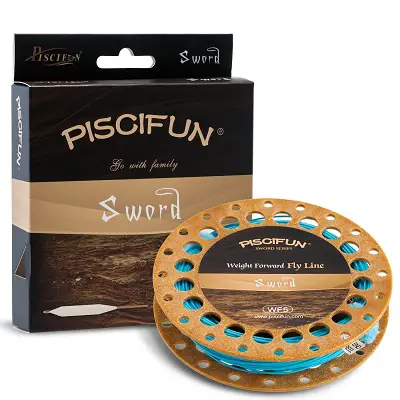 Another important item to have in your fly fishing arsenal is a quality fishing line. Whether you're fishing large-mouth bass, rainbow trout or trying for some bluegill, chances are the line you use will either make or break the catch. This line from Piscifun is more than able to handle what you need no matter what's on the other end of the line.
Read more
Ease of Use
When it comes to fly fishing, one of the main annoyances is trying to attach your leader to the line without too much of a hassle. Thankfully, the manufacturer took this into consideration and fashioned a welded loop at the end of the line, which makes the whole process so much easier.
Accuracy
Chances are your line will break at some point while you're fishing. It's just the nature of the beast. While you can't prevent this from happening completely, you can reduce the risk by using a durable line. In the case of this line, it has been prepared with added lubrication and a braided core that allows for less snagging, less breakage, and more overall casting distance.
Style
Depending on what type of fish you are trying for, and their overall size, you might need a lighter or heavier weight line. Thankfully, Piscifun provides a wide array of different weights for your use, so chances are you'll be able to find one that complements your rod and reel without too much trouble.
When it comes to fly fishing, the type of line that you use can be very important. Depending on your needs, the weight, strength, and ease of use all need to be considered. Thankfully, this line from Piscifun does a great job of taking those things into consideration for you.
Portability
Of course, how you're able to cast the line out usually indicates how well you reel your fish back in. This line provides a longer head, which makes casting fairly easy. One complaint, however, was that the line was maybe too eager to unwind, making storage and reeling it in somewhat problematic.
You may not think of it, but sometimes how the weight of the line is distributed can play an important part in casting, and catching the fish that you're after. This line helps you out by providing you with a weight forward distribution, which allows you to cast the line farther into the stream to catch the elusive fish.

4

. Piscifun Dry Flies/Wet Flies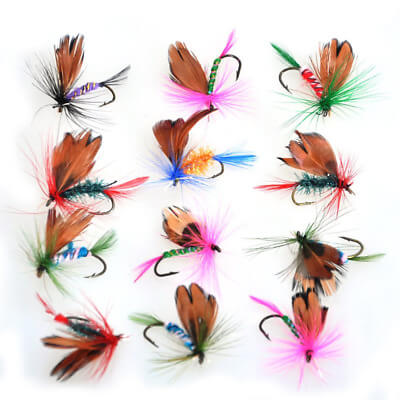 Every fly fisherman will need a set of flies to complete their gear as the flies are the main component of catching fish. They are supposed to simulate flies landing on the water and trick the fish into coming up for a mid-day meal. These flies from Piscifun are not only brought to you from a great brand but are also highly rated in the field.
Read more
Ease of Use
When it comes to using these flies, they are quite easy to use and there is not too much to attach them to your line. You simply need to pick which fly you want to use and connect it to your line securely. Then get casting.
Accuracy
These flies are highly rated in the field and perform great. They are accurate at simulating a fly and tricking the fish into taking a bite.
Style
These flies come in a variety and a bunch of different styles so you will always have a fly for the terrain you are fishing in.
Portability
Flies are quite small and easy to transport. They are so small that you may want to purchase a carrying case to organize your flies for the terrain you are fishing in.



This rod from the Moonshine company is highly rated and a great rod to start your summer season of fly fishing off with. It comes with a lifetime warranty to ensure that if you have any issues Moonshine will take care of you.
Read more
Ease of Use
This rod, like many fly fishing rods, are quite easy to use and come to you highly rated from testing in the field. You simply need to assemble, run your line, and attach your fly and you are set.
Accuracy
This rod offers great accuracy but you will be only as accurate as your skill level. But this rod does have a comfortable grip to ensure you get a comfortable cast every time.
Style
This rod is quite sleek and will not only have you reeling in monsters but looking good while doing it. It has a cork grip for extra grip and comfortability, and a graphite rod for durability.
Portability
This fly fishing rod is quite portable as it breaks down and can be put in the carrying case for easy transportation and portability if needed. It also breaks down to a compact size for great storage when the winter months hit.

6

. Anglatech Fly Fishing Backpack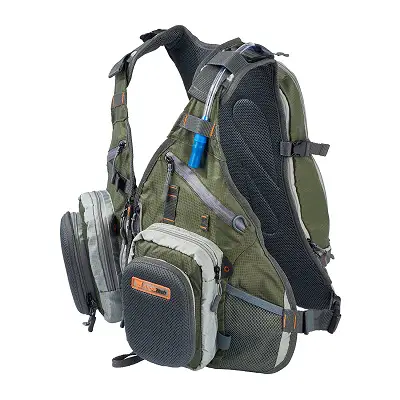 Fly fishing is about the moment. It's just you, the stream, and the fly fishing gear you brought along. So the last thing you want is to have to go back to the shoreline to grab something you forgot. Thankfully, with this backpack and vest combo from Anglatech, you won't have to.
Read more
Ease of Use
The last thing you need is an angler's vest that is uncomfortable to wear. Thankfully, the adjustable shoulder straps, waist straps, and mesh backing allow you to adjust the bag to your preferences and still keep comfortable and cool.
Accuracy
In addition to the ample storage in the front, the backpack portion of this system provides more than enough room for any fishing tool you can imagine, and can easily be organized using the zippered compartments so you will spend less time looking for what you need and more time fishing
Style
One of the nice things about this vest and backpack combo is that you can easily store what you need in a way that is easily accessible while you are fishing. The front vest pockets are roomy enough to hold an extra line, lures, leaders or even a reel or two without any trouble. Plus their position on the front allows for easy and quick access.
Portability
In addition to the ample storage space and ease of access, this backpack and vest combination also includes a 1.5-liter water bladder, so getting a cool drink of water while you're fishing won't be a problem.
Overall the materials used in this vest and backpack combination are durable and will make it through a number of fly fishing adventures. However, we did notice that some of the stitching wasn't as secure as we would have liked.

7

. SF 2 in 1 fly fishing angler knot tying tool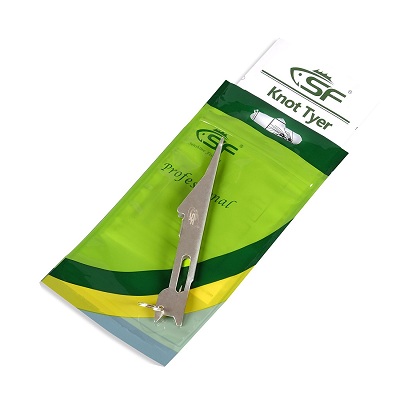 If you're new to fly fishing, keep in mind that you're going to have to tie some knots. Actually, you're going to have to tie a lot of them. That's where a quality knot tying tool comes into play. This entry on our list from SF not only makes the whole process a lot easier, but it helps to save your fingers for more important things, like holding the rod and reeling in your catch.
Read more
Ease of Use
Let's face it. If a tool is difficult to use, chances are it will stay in your tackle box instead of being used regularly. This is one area where this little tool really shines. The easy to grasp handle and solid construction makes it easy to pull a stubborn line through the knotting process.
Accuracy
While this tool certainly makes tying a nail knot easier, it really doesn't help in trying other styles of knots, such as the double surgeon's knot or the Albright knot. As such, it really is only good for connecting the fly line to the leader.
One of the most significant advantages of a tool such as this is the overall strength of the knot that is produced. The ability of this tool to pull the line taunt without causing undue breakage means that your knots are more secure than if you tied them by hand.
Style
This tool is made from a durable metal material, which means that it can easily last through your next fishing trip and beyond with ease.
A knot tying tool is a welcomed addition to the best fly fishing gear, provided that it is easy to use, durable and easily carried. While we would have liked to see the ability to tie a wider array of knots with this tool, it's still a very handy thing to have around.
Portability
A knot tying tool needs to be compact and easy to carry. Thankfully, this knot tying tool can quite easily fit in the hand, pocket, or attached to your vest.

8

. Wild Water Mini Mega Fly Assortment Box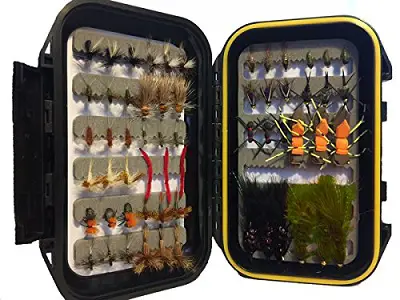 Fly fishing, especially when it comes to the flies used to entice the fish is a very personal thing. Many anglers choose to fashion their own flies, but for convenience, many also choose to purchase ones that have been created on their behalf. If you decide to go that particular route, finding a good selection and a way to store it is essential. Thankfully this entry on our list is a great way to do just that.
Read more
Ease of Use
While this kit does come with over sixty different flies that are well suited for both bass and trout fishing, chances are you'll want to exchange a few of them out over time for other types. Thankfully this is easy to do, and there is plenty of room for the new flies to sit alongside the older ones as well.
Accuracy
The last thing you want to have happened to you while you're fishing is to have your flies become disorganized and hard to find. However, this is probably not something you'll have to worry about with this fly box. There are places to securely keep each fly, and they are easily accessible.
Style
There are about as many different flies as there are fish in the sea or people wanting to catch them. A wide selection of flies to choose from while fishing is important. Thankfully, with over sixty different flies available for use, chances are you won't have to look far for the one you need.
While having a great selection of flies and the ability to easily organize them is important, protecting them and keeping them safe is also vital. Thankfully, this impact resistant and waterproof case that easily locks is a perfect way to do just that.
Portability
There is plenty of boxes like this one, but few are as portable and easy to carry as this one. It's compact enough to fit just about anywhere, including on your person, in your tackle bag, or on the front seat of your car. The choice is really yours.
Having a wide selection of flies at your fingertips can make it easier to snag the fish in the river, or to make adjustments as you need to find the right bait for the right fish. With a selection of sixty different flies at your fingertips in a waterproof and compact case, chances are that fish won't be getting away for long.

9

. Ready First Compact First Aid Survival Kit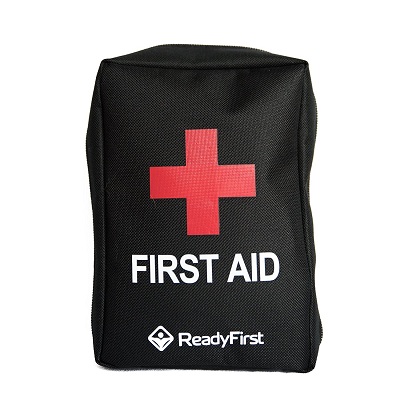 Even while you're fly fishing, accidents and injuries can happen. So it pays to have a first aid kit nearby just in case. This one from Ready First is compact enough to fit easily into your backpack or vest and contains most everything you need to treat minor injuries until help arrives.
Read more
Ease of Use
The pouch is made from 600 D Oxford cotton that is tightly woven and highly resistant to tears and punctures. The contents are clearly labeled and kept in easy to use and sterile envelopes so you know you won't have to worry about contamination when you need to use it.
Accuracy
While this kit is most likely more than enough for an angler's needs while they are fishing, it's good to keep in mind that it's only a first aid kit, and doesn't include what is needed to treat more life-threatening injuries.
Style
In addition to the normal Band-Aids and bandages that you find in most first aid kits, this kit also includes items that you might find useful in a wilderness setting. These include an emergency blanket, a trauma pad, an emergency whistle, and a compass to name a few.
If you're looking for a first aid kit to handle the bumps, bruises, and cuts that are common in a fishing expedition, this compact first aid kit form Ready First is a great choice. While we certainly would have like to see a few more items in the contents, overall this is a well-rounded first aid kit
Portability
This first aid kit is surprisingly lightweight and small considering all it has to offer the avid fly fisherman. It weighs approximately 0.8 pounds and measures approximately 3 by 6 by 8 inches in size. It's definitely compact enough to fit in your tackle backpack with ease.
While this first aid kit certainly provides a wealth of supplies, it does offer an additional room in the carrying case for additional medicines, tools, or bandages if necessary.

10

. Goture Fly Fishing Reel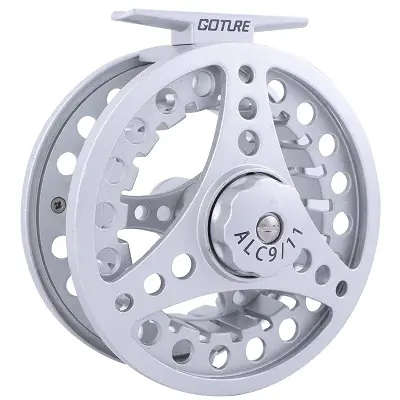 The fly fishing reel is another essential part of your equipment, and choosing the right one can mean the difference between a great fishing trip and one spent fighting with your rod and the elements around you. Thankfully, with this flywheel from Goture, your equipment won't be a source of frustration.
Read more
Ease of Use
If you're looking for versatility, smooth operation, and the ability to withstand a lot of different elements when using a fly reel, you really can't go wrong with the Goture Fly Fishing Reel. While we would have preferred a more matte finish, this reel is one of the best overall that you can buy.
Accuracy
One of the main purposes of a fly reel is to be able to handle both the backing and fly line for the weight of the rod that you are using. Since you want the fly and the line to flow effortlessly during the cast, having a fly reel that can handle the heavier or lighter lines is essential. Thankfully, the Goture Fly Fishing reel can handle a wide array of line weights and rod weights as well.
How a fly reel looks can sometimes be just as important as how it operates, especially if you're fishing in an area where the trout are alert. This, unfortunately, is where this particular fly reel has a bit of a disadvantage. The shiny aluminum finish may alert the trout to your presence, long before your fly glances against the water.
Style
Sooner or later, you're going to have to stop the line from traveling out, and a good drag system can help you do just that. In the case of this fly reel, the two-ball bearing and single direction bearing system allow you to bring everything to a halt with relative ease.
In addition to considering the weight of the line that you're planning to use, the fly reel also needs to fit the rod that you chose to use. Thankfully, this fly reel comes in three sizes – namely 5/6, 7/8, and 9/10, so chances are you'll find a size that can handle your fly rod with ease.
Portability
This particular fly reel is made of lightweight aluminum materials, making it extremely durable, easy to use, and corrosion resistant. Plus, the machined CNC frame and stainless steel main shaft means that you'll be able to use this fly reel in just about any conditions imaginable