Best Fly Fishing Gear
In a
Hurry? Editors choice: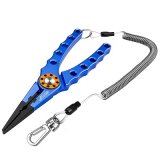 Test Winner: Booms Aluminum Pliers

There quite is nothing like standing beside a
lake
or river, slowly casting your fishing line and waiting for a monster fish to grab the line. It is a feeling of tranquility and being one with nature that really makes this sport enjoyable. Now, if you are an avid
fisherman
than you know that over the years you slowly build up your arsenal of gear as every season there are new pieces of gear that you want to try out and the same goes for if you are an avid fly
fisherman
. That is why to keep you up with the latest pieces of gear for fly fishing this summer, we have done the research and listed the top ten pieces of new gear below that will help you catch that monster fish you have been itching to catch.
Standout Picks
Criteria Used for Evaluation
Ease of Use
Overall, fly fishing is a simple process. You get out your rod and reel, wade into a river or stream, cast out your line, allow the lure to flick against the water, and draw it back, in hopes that a fish will be enticed to strike. If you do, then it's just a matter of reeling them in before they can get away.
The devil, of course, is in the details. Between the lures, the different lines, rods, pliers, hooks, and ties, it can be quite difficult to get back to the simple act of fishing. One thing that helps is to have equipment that is simple to use, but still effective in what they do. That way, you can concentrate on what counts.
Accuracy
The style of gear you use, including the weight of the line the type of rod, and especially the lures you use depend greatly on your fishing target. Nearly any fish, whether they exist in salt or fresh water can be caught using fly fishing techniques. The trick, of course, is to go after them with the right strategy and the right equipment. A trout won't respond to the same lure as a bass, and bluegill is going to need a different weight of line than a bass, for example.
Style
Believe it or not, there are a few different styles of fly fishing available to learn, and which style you choose can easily dictate what type of gear you end up using on a regular basis. Depending on the style of fly fishing you will be doing, you will want to get the gear that will work best for that style. If you have the proper equipment for the fly fishing you will be doing, then you will have more success and fun while fishing.
Overall when fishing not only do you want the most effective gear to help you catch an abundance of fish but you also want your gear to look somewhat stylish. So when looking for your gear for this summer season of fly fishing, make sure that the gear will help you catch fish but also keep you looking good at the same time.
Portability
When looking at investing in fly fishing gear, most likely you will start to realize that there are quite a few pieces of gear that you will need. So when looking at this gear that is necessary to have the most success while out on the river, you will want to make sure it is portable. You want to make sure your gear is portable as you will not only have a lot of gear but also you will have to trek to your fishing spot and do not want to make multiple trips which can tire you out and affect your fishing day.
Overall portability is quite important as when it comes to any type of fishing you usually have quite a bit of gear and you do not want to put strain or exhaust yourself before you can get to your fishing spot. So make sure the gear you are looking at is lightweight and can be transported without hassle, that way you can get to your fishing sport easily and get to fishing.
Top Ten Pieces of Gear for Fly Fishing