Best Automatic Fish Feeders
In a Hurry? Editors choice: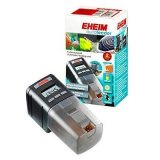 Test Winner: Eheim Battery

How many times have you gone throughout your day and realized that you forgot to feed your
fish
? There is a high likelihood that it has happened to the best of you as life can really get busy at times. Plus, humans are bound to make mistakes as that is in our DNA. But, what if all that could go away and your fish would be automatically fed by a
machine
? Yes, we are talking about automatic fish
feeding machines
and yes they are a great investment to make sure you fish stay healthy and fed on time even if you forget. Below we have done the research and listed the top ten automatic fish feeders on the market, and why these feeders will have your
fish
happy as a clam!
Standout Picks
Criteria Used for Evaluation
Size
It seems appropriate to kick this section off with the size. When it comes down to it, it is all about the size and does not let anyone tell you otherwise. The reality of the situation is this; even the best fish feeders in the world may not suffice for you. It truly all depends if the size is appropriate for your situation. Well, how do you know if it is? There are two huge factors that will come into play with the first being the physical size of your aquarium (or small pond). But, the second is how many fish you need to feed. You see, the two coincide with each other because chances are, if you have a large aquarium (or are looking to feed fish in a pond) you either own a ton of fish or will buy more in the future.
Let's say you need to feed 10 to 20 fish for a couple of weeks. Well, you will need a feeder with an adequate-sized hopper that can hold enough food for each of them over that time span. But, if the capacity is too large and it dispenses too much food, you will be giving your fish too much to eat. See why the capacity is so important?
Use
Okay, so it is not as if automatic fish feeders are complex technology devices with advanced programming at every corner. Even those who will admit to being non-savvy when it comes to technology can operate these devices. Well, for the most part as it all depends on the specific system. For some people, nothing less than a digital display will suffice. Granted this makes programming a bit easier, it is not mandatory for these systems. Then again, a more complex system will offer you more versatility, which can be a huge bonus.
In regard to what you can program, let's look into that. First off, not all fish feeders will be equipped to handle the same amount of versatility. As an example, some will only be able to offer food twice a day for x amount of days. Meanwhile, others will offer upward of eight portions for x amount of days. This becomes critical when you are planning on leaving for more than a week or has multiple fish to feed.
Versatility
Due to the fact that these devices are automatic, it is utterly crucial that you ensure they can mount properly to your tank. If they do not, it all but defeats the purpose of the design as you will be left manually feeding them. Who wants that? Here is the good news, though. Nearly every model that was presented to you today will probably end up being compatible with your home aquarium. The reason for this is the mounting brackets are highly versatile and a lot of times come with a universal clamp. About the only issue you may run into, though, is that your tank is too thick. If the model is not reliant on Velcro or any other sort of adhesive, the thickness could end up costing you so look into it.
As far as outdoor installation, which will be addressed again later, the system needs to be suitable for outdoor use and large enough. Typically, you will need to get creative with the mounting method as you can't simply connect to a base.
Battery Life
Okay, so let's paint a picture in your mind. Imagine that you leave your home for a two-week vacation and you are relying on your fish feeder to keep your little tropical buddies alive. Then, within the first week, the batteries within the system die because the feeder can't keep a suitable charge. The ending of this story does not need to be typed, as you already know what is going to happen. So, the key is to avoid this. All you need to do is look for a model that offers good battery life. Most systems will run off of standard AA or AAA batteries and typically last for several months, thankfully.
Also, how about the build quality? Besides the housing, which may be plastic which is okay granted it is somewhat durable, assess the moisture resistance. Due to the humidity that can form, it naturally means that moisture can become an issue. If the system, most specifically the hopper is not designed to combat this, your food could clump up and then clogging can persist.
Top Ten Automatic Fish Feeders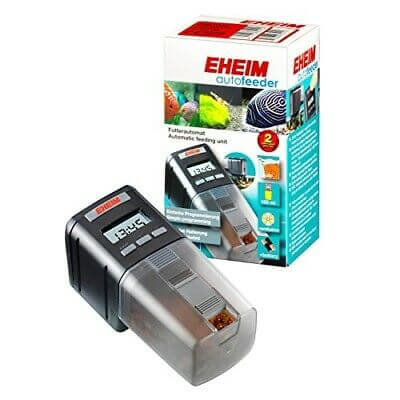 The Everyday Feeder from Eheim seems to be everyone's top choice when it comes to automatic fish feeders. Its massive popularity should be enough to sell you, to be honest.
Read more
Size and Capacity
Depending on the type of food you use and the amount that is being dispensed, this feeder can last up to six weeks. This is because the drum has a volume of 3.3 fluid ounces.
Programming
This system integrates LCD programming and makes it very easy for the user to operate. But, the East Start Guide manual is included if you do have any questions. Plus, the adjustable slider allows you to set your desired proportions.
Installation
A universal installation clamp is included with your purchase and it allows this to fit on most aquariums. However, admittedly, the Velcro is a bit on the cheap side.
Build Quality
Most notable in the Everyday Feeder's build is its splash proof buttons. This way, you never have to worry about encountering electrical issues.
Compatible Foods
For the most part, this will work with most types of foods. However, troubles can arise if the food pellets are too large as the system may not dispense the food consistently.
Overall
Even though the Everyday Feeder is very simple in nature, its consistency and simplicity make it one of the most reliable and popular fish feeders in the world.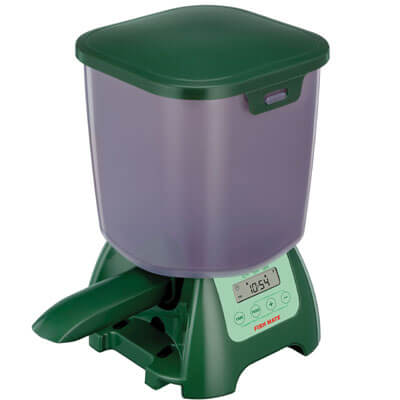 Fish Mate also has their P7000 model and it is a bit more high-class than the others. Due to its unique feeding mechanism, the P7000 ensures that the fish food will be consistently and accurately provided.
Read more
Size and Capacity
With its 30 cup capacity (which works out to around six and a half pounds), this can deliver dry sticks or pellets to your fish for days.
Programming
The LCD digital display will allow you to program this unit. But, do note that some buyers have claimed that it can be hard to program. Still, the option to switch to the frequent feed mode is nice.
Installation
If you are going to install this outdoors, you may need to be careful. Suspending it over the pond can be dangerous as the wind can cause the food to be released prematurely.
Build Quality
This entire unit is waterproof. In addition to this, when the time comes for cleaning, the food contact portions are dishwasher-safe. But, it may be wise to fasten this to a secure base as it is not windproof.
Compatible Foods
Fish Mate recommends in their manual that the P7000 be used primarily for either food sticks or pellets. To ensure accurate dispensing, you should stick with either of these.
Overall
Some of you may not be willing to fork over so much money to feed your fish. That is fair; but, understand this, the P7000 is worth the money if you are willing to spend it.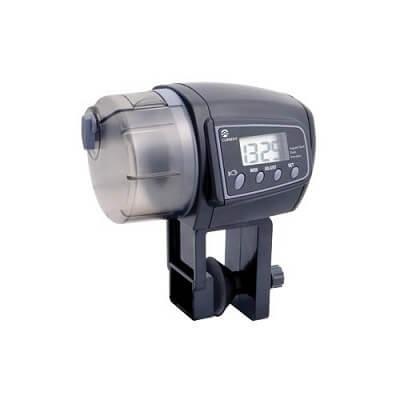 With the 3860 Aquachef from Current USA, you are getting a fish feeder that has its fair share of problems. But, you are also getting one with a sleek design that mounts very easily.
Read more
Size and Capacity
Current USA designed its Aquachef with a capacity of 35 grams. When you are away for a couple of days, your fish will be kept stuffed and satisfied.
Programming
Some buyers have encountered issues when attempting to program the Aquachef. But, the system does allow you to choose the hour of the day to feed your fish, which is nice.
Installation
Current USA claims this has a universal fit and because of the design, it can mount onto any aquarium style and size (generally speaking).
Build Quality
Due to the fact that the Aquachef is not waterproof, it will not endure outdoor use. But, its sleek and modern design does make it an attractive piece.
Compatible Foods
Due to the fact that flakes can become plugged when mixed with moisture, it may be wise to stick with dry pellets when using this system.
Overall
Truth be told; this could be classified as a cliché fish feeder. It has all the essentials you would look for in one but it is also not flawless; so, be aware of that.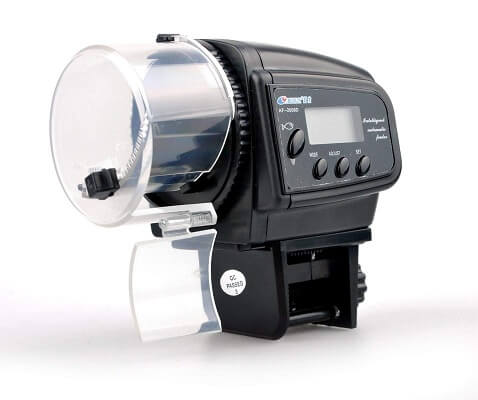 Even though setting the time for this specific unit can be a hassle, it remains one of the top choices in the world because of its moisture resistance and the fact that it feeds all fish foods.
Read more
Size and Capacity
All in all, this can feed your fish one to four meals per day. Much like the previous model, if fed once daily, this could easily last up to two weeks (maybe further).
Programming
You can actually adjust the food lever to regulate how much food is being dispensed. Also, the integrated timer is easy to program and can provide one to four meals per day.
Installation
The form on the tank actually indicates that there are two installation methods. Either way, whether you go with the Velcro or the plastic screws, both should suffice.
Build Quality
While the plastic housing is nothing extraordinary, the moisture-resistant hopper is worth bringing up. In addition to this, the integrated fan also prevents food from being wet.
Compatible Foods
Everything from flakes to pellets to crumbles, this automatic fish feeder covers. You would be hard-pressed to find a fish food that was not compatible, honestly.
Overall
Though this is not the most popular model on this list, it is one of the most impressive. This is largely thanks to its moisture-resistant design and high compatibility of fish food types.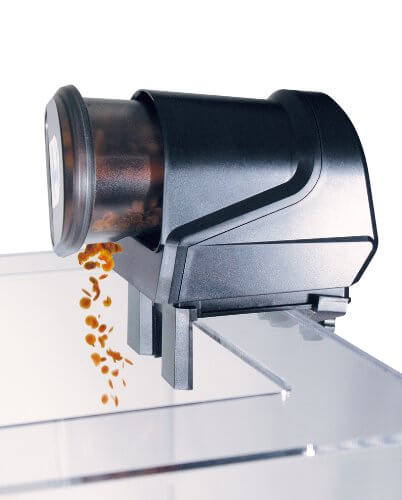 This is one of the more expensive models on this list and could be considered advanced in a lot of ways. The real question is, though, are your fish really that important to you?
Read more
Size and Capacity
In a 24-hour period, this bad boy can deliver up to 12 meals. Overall, it can hold up to 35 grams of food in its hopper. If you have a lot of fish, though, this can be a little small.
Programming
Thanks to the integration of the digital touchpad control, you can easily program this system. Do not fret; even if you are not technically savvy you should be able to operate this without issues.
Installation
The mounting bracket that comes with this should be suitable for most-sized aquariums. Plus, this is also ideal for both saltwater and freshwater aquariums.
Build Quality
First off, the design is sleek and attractive in its own right. But, what is truly fascinating is the sealed container returns back to the housing after feeding which eliminates jammed food.
Compatible Foods
Outside of some rare flake types of fish food, this is all but compatible with all different types of fish food in the world.
Overall
This was so close to being the number one model on this list and perhaps a larger container would have allowed it to secure its spot. Still, second place is not too shabby.

6

. Aquarium Pharmaceuticals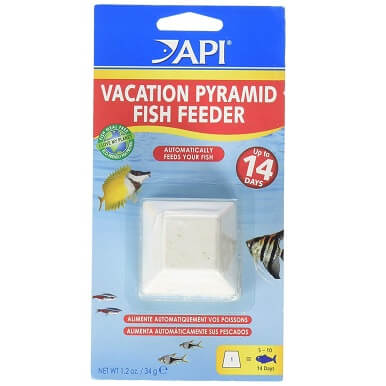 Now, this entry is much different than the ones that have preceded it. Instead of receiving the main unit, you actually get a pack of feeders that will work for up to 14 days with their own food included.
Read more
Size and Capacity
This particular product comes in a pack of three. Each individual feeder can feed around five to 10 average-sized fish in a 10-gallon tank for up to 14 days.
Programming
There is literally no programming required for this unit as they are individual feeders that are already designed to function for up to 14 days.
Installation
Thanks to the unique design, all you need to do is drop these feeders into your aquarium. Just know, though, that these are not feasible for outdoor ponds due to their size.
Build Quality
Again, not much to worry about here. Besides the manner in which they are designed, they will never be exposed to the elements so unless your fish destroy them, durability should not be an issue.
Compatible Foods
As this is its own recipe, you do not have to supply the food. But, for the record, the label reads wheat flour, pea protein, corn gluten meal, and dried kelp as some of its main ingredients.
Overall
It is not difficult to see why some of you may fall in love with this specific feeder. Really, the only gimmick is you need to replace them when they run out of food, which can be annoying.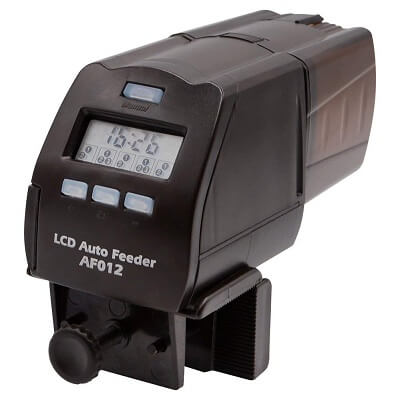 Being the flashiest device does not always indicate being the best device. As such, sometimes the basic models steal the show. Well, let's just say that this next fish feeder falls right in the middle.
Read more
Size and Capacity
The volume of the hopper is 150 milliliters which are actually larger than the number one model on this list.
Programming
There are two modes you can choose from. Firstly, there is the auto mode which will feed your fish up to five times per day. Or, you can switch to manual mode and feed them yourself.
Installation
Designed into this unit are adjustable screws and a mount. With these, you can install this onto any tank that is up to one-inch thick. Truthfully, this is more suitable for larger tanks.
Build Quality
As this is a dustproof design, the food that is kept inside will never be contaminated. Your fish will certainly love this design integration; probably more than you.
Compatible Foods
Chances are, you will not encounter too many issues when looking for compatible fish food. This is because this system accepts all kinds such as flakes, pellets, and crumbles.
Overall
Ironically, this fish feeder actually struggles with smaller tanks. Because it can't dispense small amounts, it really is suitable for larger aquariums with multiple fish. This is brilliant if this is what you are after.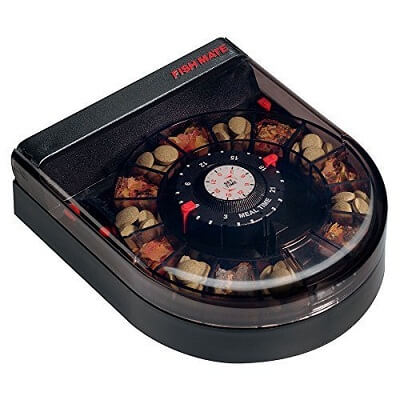 The F14 is specifically designed for small to medium aquariums and is not ideal for outdoor use. But, it can feed your fish for up to 14 days making it highly suitable for long vacations.
Read more
Size and Capacity
Assuming your fish only needs to be fed once daily, the F14 can last for up to two weeks without being refilled. Overall, it is ideal for aquariums up to 150 liters in size.
Programming
First off, the reliable and accurate quartz timer is a nice addition. But, in regard to physical programming, the timer itself is easy to use and can provide either one to four meals daily.
Installation
Again, the F14 is not ideal for outdoor ponds. Although, it is suitable for most aquariums as it can be mounted on the glass edge or hood of most of them.
Build Quality
Let's just say that the F14 is not winning any awards for its build quality. Then again, it is far from pathetic. Instead, it falls in the middle with its decent plastic construction.
Compatible Foods
There are 14 different individual meal portions that you can customize and because of this, you can offer your fish a varied diet that will satisfy their taste buds.
Overall
Clearly, the biggest selling point of the F14 is its simple nature. Even without an LCD display, it is easy to program and provides countless different meal combinations for your fish.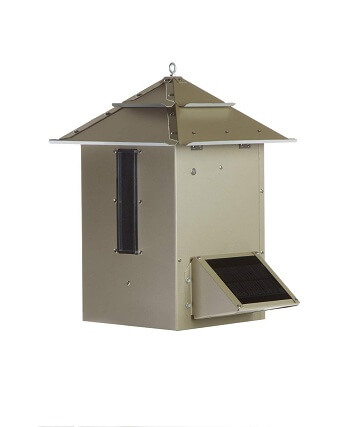 Talk about a unique model, how about the Koi Feeder from Sweeny? It actually resembles the look of a birdhouse and is made of galvanized steel. It is quite the impressive feeder, let's just say that.
Read more
Size and Capacity
The heavy-duty construction also plays a role in this feeder's capacity as it can hold a whopping five to 10 pounds of Koi food in its interior.
Programming
There is a built-in digital controller that acts as the timer for this model. With it, you can set the system to feed x amount of times (with the maximum being five) over a 24-hour span.
Installation
As the food comes out of the bottom of this unit, it actually needs to be suspended in the air. This can complicate the installation process as it needs to be easy to take down and refill.
Build Quality
With its heavy-gauge galvanized steel construction, this is arguably the most durable and well-built feeder on this entire list.
Compatible Foods
As the name suggests, the Koi feeder is primarily ideal for Koi fish. Considering they will eat just about anything, the choices are quite endless here.
Overall
If the last model was unique, this most certainly is. Its heavy-duty construction is a sight to behold but its main design (with the food being dispensed) could be considered a flaw.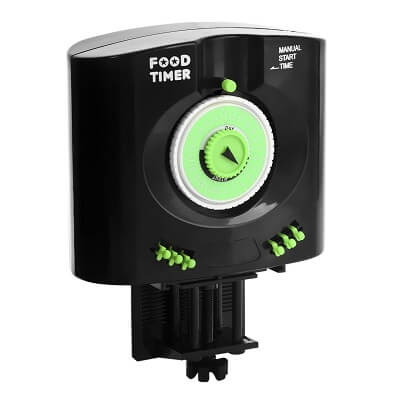 A common problem with automatic fish feeders is that they allow moisture to get inside and ruin certain fish food. While this next entry can have that issue, it manages to rise above it.
Read more
Size and Capacity
Okay, so this is not the food dispenser you want if you are looking for bulk. As the hopper can only hold around the size of two golf balls of food, it will run out quick.
Programming
Thanks to the adjustable time dials, you can program how many times your fish get fed throughout the day. Overall, it is a pretty basic system to program.
Installation
Even though a mounting bracket comes with this, some buyers have alluded to the fact that it can be a pain to use.
Build Quality
Let's just say that the build quality of this model is what you would expect from a feeder of its price. There will be no roughhousing with this that is for sure.
Compatible Foods
This dispenser can be used to feed freshwater and saltwater fish and can deliver a multitude of different foods. For example, it can handle pellets, flakes, and detritus food.
Overall
As opposed to the other entries, this one is fairly unique. Its main design alone is proof enough of that and as long as you are wary of the moisture issues, it should deliver the goods.