Best Automatic Fish Feeders
In a
Hurry? Editors choice: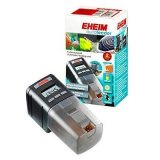 Test Winner: Eheim Battery

How many times have you gone throughout your day and realized that you forgot to feed your
fish
? There is a high likelihood that it has happened to the best of you as life can really get busy at times. Plus, humans are bound to make mistakes as that is in our DNA. But, what if all that could go away and your fish would be automatically fed by a
machine
? Yes, we are talking about automatic fish
feeding machines
and yes they are a great investment to make sure you fish stay healthy and fed on time even if you forget. Below we have done the research and listed the top ten automatic fish feeders on the market, and why these feeders will have your
fish
happy as a clam!
Standout Picks
Criteria Used for Evaluation
Size
It seems appropriate to kick this section off with the size. When it comes down to it, it is all about the size and does not let anyone tell you otherwise. The reality of the situation is this; even the best fish feeders in the world may not suffice for you. It truly all depends if the size is appropriate for your situation. Well, how do you know if it is? There are two huge factors that will come into play with the first being the physical size of your aquarium (or small pond). But, the second is how many fish you need to feed. You see, the two coincide with each other because chances are, if you have a large aquarium (or are looking to feed fish in a pond) you either own a ton of fish or will buy more in the future.
Let's say you need to feed 10 to 20 fish for a couple of weeks. Well, you will need a feeder with an adequate-sized hopper that can hold enough food for each of them over that time span. But, if the capacity is too large and it dispenses too much food, you will be giving your fish too much to eat. See why the capacity is so important?
Use
Okay, so it is not as if automatic fish feeders are complex technology devices with advanced programming at every corner. Even those who will admit to being non-savvy when it comes to technology can operate these devices. Well, for the most part as it all depends on the specific system. For some people, nothing less than a digital display will suffice. Granted this makes programming a bit easier, it is not mandatory for these systems. Then again, a more complex system will offer you more versatility, which can be a huge bonus.
In regard to what you can program, let's look into that. First off, not all fish feeders will be equipped to handle the same amount of versatility. As an example, some will only be able to offer food twice a day for x amount of days. Meanwhile, others will offer upward of eight portions for x amount of days. This becomes critical when you are planning on leaving for more than a week or has multiple fish to feed.
Versatility
Due to the fact that these devices are automatic, it is utterly crucial that you ensure they can mount properly to your tank. If they do not, it all but defeats the purpose of the design as you will be left manually feeding them. Who wants that? Here is the good news, though. Nearly every model that was presented to you today will probably end up being compatible with your home aquarium. The reason for this is the mounting brackets are highly versatile and a lot of times come with a universal clamp. About the only issue you may run into, though, is that your tank is too thick. If the model is not reliant on Velcro or any other sort of adhesive, the thickness could end up costing you so look into it.
As far as outdoor installation, which will be addressed again later, the system needs to be suitable for outdoor use and large enough. Typically, you will need to get creative with the mounting method as you can't simply connect to a base.
Battery Life
Okay, so let's paint a picture in your mind. Imagine that you leave your home for a two-week vacation and you are relying on your fish feeder to keep your little tropical buddies alive. Then, within the first week, the batteries within the system die because the feeder can't keep a suitable charge. The ending of this story does not need to be typed, as you already know what is going to happen. So, the key is to avoid this. All you need to do is look for a model that offers good battery life. Most systems will run off of standard AA or AAA batteries and typically last for several months, thankfully.
Also, how about the build quality? Besides the housing, which may be plastic which is okay granted it is somewhat durable, assess the moisture resistance. Due to the humidity that can form, it naturally means that moisture can become an issue. If the system, most specifically the hopper is not designed to combat this, your food could clump up and then clogging can persist.
Top Ten Automatic Fish Feeders