Best Fishing Float Tubes
In a Hurry? Editors choice: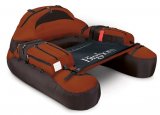 Test Winner: Bighorn

If you love fishing and angling but can't quite afford your own
boat
at the moment to get out on an open lake, you can still get out to a variety of fishing areas by investing in a
fishing
float tube. Fishing float tubes are quite a bit cheaper than a boat and will give you the ability to access a wide variety of fishing spots that are more tricky to access with a less flexible boat. There are plenty of options for the prospective consumer these days, so we've narrowed it down to our favorites, complete with reviews, to help you decide which
fishing
float tube will best suit your fishing style. Check out our guide below to find the one for you.
Standout Picks
Criteria Used for Evaluation
Style
There are a variety of different types of fishing float tubes available and their key distinguishing feature is their shape. Among the major types, you can get are round tubes, U-shaped tubes, pontoon-shaped tubes, and teardrop-shaped tubes. All of these shapes work a little differently and it is up to you to decide which one you prefer. Most of the entries on this list do not sport a round-tubed design as this has become somewhat of an outdated design. Because round tubes are tougher to maneuver and create a ton of drag while you are riding in the water, they are not as popular.
Pontoon-shaped tubes will literally be designed with cylindrical pontoons on each side and offer performance advantages in maneuverability and they also tend to provide you with more room than other shapes. Meanwhile, U-shaped tubes are nice in the sense that the open front makes getting in and out of them easier. Lastly, a teardrop-shaped tube is actually a hybrid of the former two shapes. The main reason they are so popular is that of the pointed section of the raft. This allows it to cut through the water with ease.
As a bit of an extra note, keep an eye out for the durability and construction as these are two key components.
Comfort
It does not matter if you plan to go on two-hour or all-day excursions on your fishing float tube, you want the ride to be as comfortable as possible. When assessing the comfortability of a float tube, there are two primary areas you need to focus your sights on. The first, to no one's surprise, would be the seat. First off, it needs to be padded enough to provide comfort for your rear. But, it is also nice when it sits you high off the water as this is naturally more comfortable (plus you do not have to worry about a wet seat).
Yet, the backrest is just as important as the seat and is the second primary area. While this needs to be padded as well, it really needs to be adjustable as every fisherman will have different preferences on how they want to sit. With a stable backrest, you can't adjust it if you want to sit up or lay back a little.
Capacity
Staying organized can be challenging in a small space with a lot of gear. The number of storage options you need will probably depend on the level of fisherman that you are. If you have several different bobbers, lures, and other baits, along with other various gear that fisherman need then you probably will want a float tube that allows you to easily store all of these items. Plus, on all-day adventures, you are bound to get hungry and thirsty so having compartments for food and liquids can also be ideal. The kicker is some designs will be overloaded with storage compartments (such as several in the armrests, cargo pockets, rear storage pockets, cup holders, etc.) while others will only have a few pockets.
What you need to do is to figure out what you will typically be bringing with you when you take your float tube out for a spin. Remember, even if you do not use the extra storage space it is fine but if you need more storage options, you will be sorry. In other words, shoot for more storage space than less if you are on the fence about it.
Size
Let's talk about two more critical features. One is the size and portability of the float tube and the other being the weight limit. Starting off with the former, fishing float tubes are going to vary in both size and weight and this could play a huge role in your final decision. Also, if the float tube is difficult to inflate and pack, it may start to become more of a nuisance than anything. Plus, if you plan on backpacking with a float tube, you may want one that is not as heavy and cumbersome.
As far as the weight limit is concerned, this is important if you have a ton of gear and are a bit heavier than other people. We are not here to call you out for being overweight but you certainly do not want a float tube that is not rated to hold you; that is simply not smart.
Top Ten Fishing Float Tubes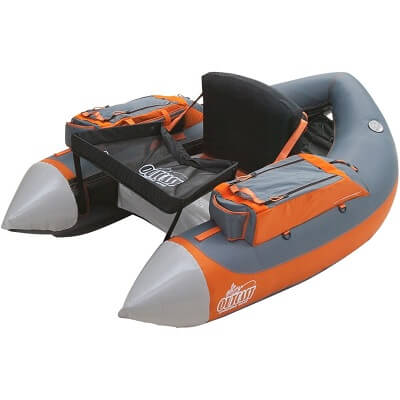 Without a doubt, the sheer build quality of the Super Fat Cat alone makes it worthy of praise. It is tailor-made for anglers who prefer rougher waters as it is built to handle the nature and abuse of them.
Read more
Main Design
Indeed, durability and construction are the major aspects that jump out when discussing the Super Fat Cat. Even though it is built with lightweight materials, it is ideal for the hardcore user because of the 500-denier PVC fabric and welded seams.
Comfortability
A major bonus of this float tube is it comes with an inflatable seat and backrest. Not only do these provide comfort, but they are also highly portable as they can be deflated. Additionally, the seat sits high.
Storage Compartments
There is seemingly a spot for all your gear and belongings in this tube. First off, there are two large gear pockets and two beverage holders. Then, there are D-ring attachments and a storage system behind your seat.
Integrated Features
The Super Fat Cat has been designed with a Velcro rod holder and this allows you to sit back and relax while you wait for a fish to bite.
Size and Capacity
Again, the fact that both the seat and backrest are inflatable significantly aids in the portability of this float tube. But, it is 17 pounds and a little heavy when assembled. Also, this is capable of holding up to 300 pounds.
Overall
What separates the Super Fat Cat from some of the other fishing float tubes out there are its unbelievably durable construction and inflatable seat and backrest. It is not the cheapest model out there but it certainly is worth every penny.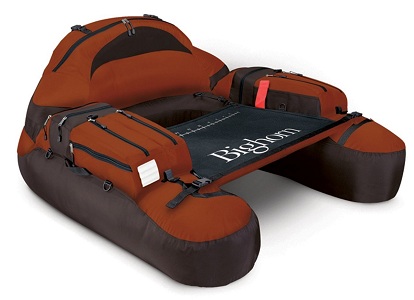 Notwithstanding a few design issues that will be touched on, the Bighorn is designed for buoyancy and features more storage compartments that you will ever find a need for.
Read more
Main Design
Its Classic Accessories and what do you know, another one of their floating tubes are designed with a hydrodynamic hull shape for improved tracking and steering. Hey, if it is not broke do not fix it, right?
Comfortability
Overall, both the back support and the seat have received some criticism. One user noted the seat angle is a bit off while another commented on the weak back support.
Storage Compartments
There are several storage pockets in the armrests alone, but when you add onto that several other pockets throughout the tube, it becomes clear that Classic Accessories wanted to ensure there would be a spot for everything on their Bighorn.
Integrated Features
The quick-release stripping apron features an integrated ruler to keep track of how large the fish is that you are catching. Also, there is a safety flag pocket.
Size and Capacity
Its 11-pound weight when inflated makes this one of the lighter tubes out there, but you would never know that as it has a maximum weight capacity of 300 pounds.
Overall
Looking past the slight issues with the seat and the backrest, this is another top-of-the-line model from Classic Accessories. It seems like at this point, they could design a fishing float tube blind, and it would still be sufficient.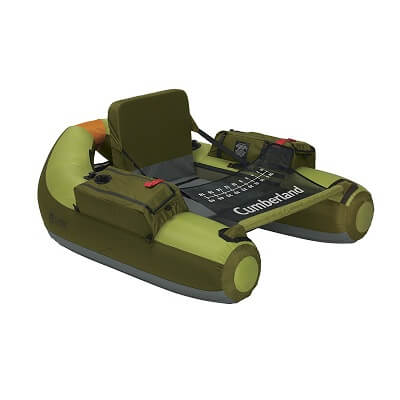 The Cumberland is not far behind the Marshland when it comes to quality. It sports a hydrodynamic hull shape design with an abrasion-resistant PVC bottom for enhanced durability.
Read more
Main Design
Much like with their Marshland, Classic Accessories has designed their Cumberland Float Tube with a hydrodynamic hull shape. In addition, the aforementioned abrasion-resistant PVC bottom adds much-needed reinforcement.
Comfortability
Even if you plan on spending hours on the water, the thickly padded seat and adjustable backrest of the Cumberland will keep you comfortable. On top of this, the seat sits you up high off the water.
Storage Compartments
If you can't find a location for all your gear in this tube then you simply have too much gear, to begin with. There is an ample amount of storage space including two drink holders, two cargo pockets, a rear storage pocket, a mesh storage platform and D-rings for attaching your gear.
Integrated Features
Directly in the front of the seat is an integrated ruler labeled into the mesh material. This can be used to measure your catches and goes up to 18 inches.
Size and Capacity
This is another float tube from Classic Accessories that is rated to handle up to 350 pounds in weight. But, the Cumberland is a bit lighter at only 14 pounds.
Overall
A simple search of the best fishing float tubes on the market should lead you to the Cumberland. It is one of the most infamous models available and users across the land continue to marvel at its design today.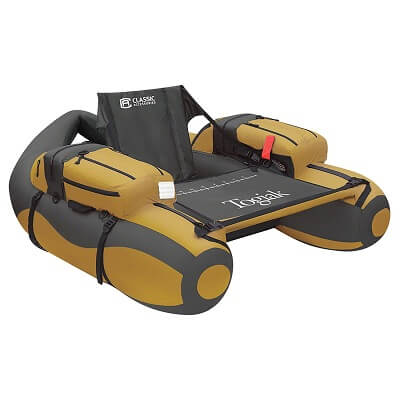 The Togiak Float Tube is another one of Classic Accessories' premier models and it is perfect for anglers who prefer an ample amount of storage space. Plus, it sports a padded seat cushion and an adjustable backrest for all-day fishing.
Read more
Main Design
Staying with the Classic Accessories theme, this is another hydrodynamic hull shape float tube, and it has been designed for buoyancy and stability.
Comfortability
While there is certainly nothing wrong with the adjustable backrest and high-back stadium seat as they combine to provide a great deal of comfort, they are not inflatable and can be more difficult to transport.
Storage Compartments
Integrated into this float tube are pockets for your gear, a small mesh pocket, flat zippered pockets, reel pockets and storage in the armrest.
Integrated Features
One key element that has been integrated into this tube is a fish ruler as this allows you to measure your catch to see how good your game truly is.
Size and Capacity
The 300-weight capacity of this float tube is right around the ballpark of various other models, and so is the 15-pound weight when assembled.
Overall
As one reviewer pointed out, the only real issue with this design is the abnormally small air valve size. A bit of patience will be required on your end to inflate and deflate this, but if you can handle that, you will have one the most well-rounded float tubes out there.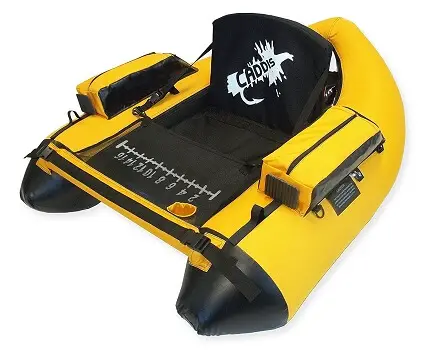 If you do not mind dealing with a rather cumbersome float tube at times, then there is no reason you will not fall in love with the Premier Plus. It is overloaded with features such as a stabilizing bar, stripping apron, and front rod holder straps.
Read more
Main Design
Besides the double stitching at the critical seams and the heavy-duty ripstop fabric on the top and 500-denier tarpaulin bottom, the unique teardrop shape stands out as this offers a great balance between speed and stability.
Comfortability
Both the four-inch foam seat and the two-inch foam backrest are adjustable, and you can tailor them to your liking.
Storage Compartments
While there are two large main equipment pockets, D-rings, and two auxiliary pockets, one user expressed their dislike with the small sizing of the pockets. They claim because of this; the storage options are a bit limited.
Integrated Features
Besides the stabilizing bar, front rod holder straps, and stripping apron that were already alluded to, fluorescent safety accents, two removable dry fly patches, and a ruler across the font are also included.
Size and Capacity
One thing is for sure; this is built like a beast and can handle a maximum weight of 325 pounds. Now, at 19 pounds, it is a bit large, and one user even noted it was awkward to carry.
Overall
Caddis designed quite an impressive float tube with their Premier Plus. Not only does it sport a unique teardrop shape, but it also is one of the better-built models out there in terms of its durability.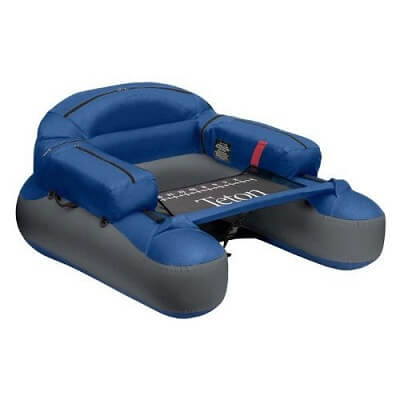 This is one of the light tubes that Classic Accessories manufactures and that could be a plus if you are looking for a go-to floating tube. On top of that, it is one of the cheaper models you can find.
Read more
Main Design
Thanks to the unique sculpted design, with hydrodynamic hull shape and an uncluttered deck, both the steering and tracking of this tube are improved.
Comfortability
Again, the main design of the float tube also aids in comfort on top of tracking. But, it also helps that the backrest and seat are both comfortable.
Storage Compartments
While this does not feature as many storage compartments as the Bighorn, the Teton still has several presents. Some include D-rings for attaching gear and multiple pockets in the armrests.
Integrated Features
Just like with their various other models, the Teton sports a stripping apron with an integrated ruler for reasons you already know.
Size and Capacity
Both the Bighorn and the Teton weigh in at 11 pounds, and just like the Bighorn, this means the Teton is one of the lighter models out there. Its 250-pound weight limit is a tad lower but is still solid.
Overall
When you are investing in any sort of product, it is best not to limit yourself to only cheap models. Everyone has a budget, but spending the extra money can often prove beneficial. However, the Teton Float Tube is the exception to the rule.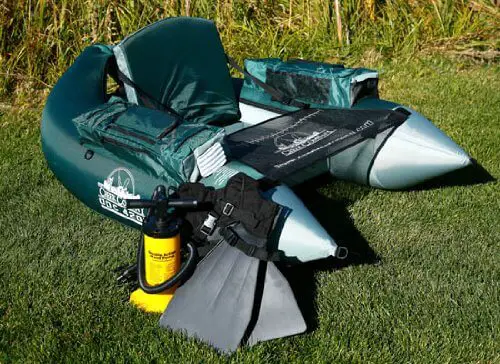 The first notable design feature that stands out about the ODC 420 is it is a pontoon-style floating tube. This design is streamlined for both speed and comfort; with the thick foam seat and adjustable backrest assisting.
Read more
Main Design
As opposed to some of the other float tubes on this list, the ODC 420 is a pontoon-style tube. As was just mentioned, this enhances the speed you will experience and moves quicker than ever.
Comfortability
Coming with this float tube is a thick foam seat that will keep comfortable and dry as it elevates you above the water. In combination with the adjustable backrest, this provides enough comfort for all-day fishing.
Storage Compartments
There are enough storage compartments on the sides to account for your smaller items. Meanwhile, the rear storage area can hold bulkier items such as a cooler. Lastly, D-ring attachments are included.
Integrated Features
To ensure you are ready to go immediately, both a high-volume ODC pump and lightweight fins are included with your purchase.
Size and Capacity
It is quite amazing how the Ultralight Combo ODC 420 is a mere eight pounds, which is half the weight of the regular ODC 420. Another bonus is a carrying bag comes included for easier transport. Lest ye forget, it also can hold up to 300 pounds.
Overall
This has the distinction of being labeled the best non-Classic Accessories fishing float tube in the world. It is amazing how it can combine comfort, practicality, and portability all into one so efficiently.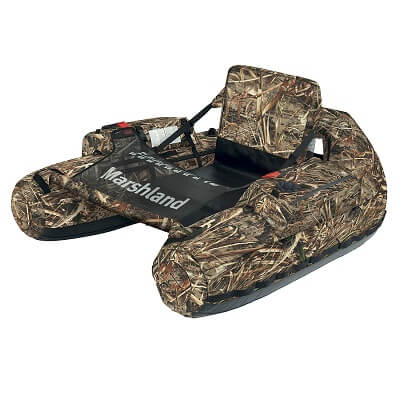 Classic Accessories, the makers of the Marshland, just seem to be on another level when it comes to designing fishing floating tubes. Their Marshland also doubles as a hunting float tube making it the total package for some users.
Read more
Main Design
While the tube itself sports a hydrodynamic shape for excellent steering and tracking, it also functions as a full-featured hunting float tube complete with a decoy bag.
Comfortability
The seat on the Marshland sits you very high above the water, and it can aid in much drier and warmer fishing experience.
Storage Compartments
Featured on the Marshland are two cargo pockets that each has double zippers that are easy-to-open. Plus, it also is designed with two interior pockets, two drink holders, and a large mesh platform on the back.
Integrated Features
A Realtree Max-5 waterfowl print and web loops have been added to this tube to create a simple and effective blind for hunting. As for fishing, it sports a quick-release stripping apron with a fish ruler for measurements.
Size and Capacity
When assembled, this bad-boy clocks in at 18 pounds which is fairly heavy. But, what is nice is there are removable shoulder straps to assist in easier transport. Oh yeah, and this can hold anyone up to 350 pounds.
Overall
Even if you have no intentions of utilizing this as a hunting tube, it holds its own as a fishing tube. However, consumers who love both hunting and fishing will truly be marveling at what they see here.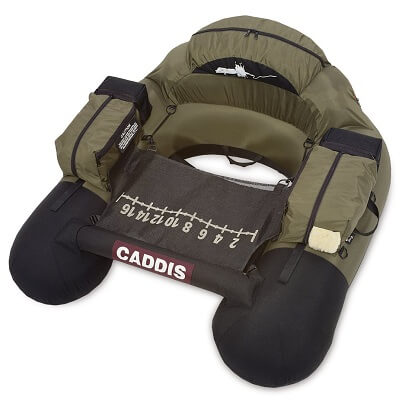 Admittedly, the Nevada Float Tube is not for everyone as it is only built to withstand up to 225 pounds. Still, if you fall under the weight limit, its U-shape design will glide over open waters for an unparalleled experience.
Read more
Main Design
Again, the U-shape design of this tube allows it to seemingly glide across the water. In addition, the outer shell is designed with a new ripstop nylon upper and a Cordura bottom.
Comfortability
Besides offering a superior ride, the U-shape design also aids in comfortability. Per the experience of one reviewer, they noted how the seat was very comfortable.
Storage Compartments
There are six pockets in total with two of them being auxiliary pockets and the other four being designed for your main equipment. All in all, this should be enough space for most fishermen.
Integrated Features
To add another layer of stability to the tube, there is a padded stabilizing bar. In addition to this, there is a stripping apron with a ruler for proper measurements.
Size and Capacity
It would have nice if a storage bag was included but alas, this is not the case. Plus, the weight limit is only 225 pounds which simply may not be enough for some users.
Overall
One of the factors that hold this back is its rather subpar weight limit. This is a bit ironic as one user called this tube virtually bombproof with its impressive construction. Still, it is a well-built model with plenty of storage compartments.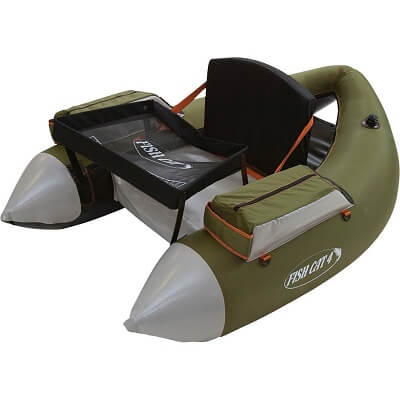 Due to the open-front design of this next float tube, you are allowed an easier access point and also sit higher on the water. In addition, you can actually outfit this float tube with an optional anchor system.
Read more
Main Design
This has been crafted with vinyl fabric and grey 500 PVC. Plus, with the open-front design, you can get on this tube with little to no hassle and sit higher off the water.
Comfortability
Once again, the seat and backrest are not inflatable and instead are made up of foam. But, they provide a great deal of comfort while also keeping you high off the water.
Storage Compartments
Inside of the armrests, you can store a lot of your personal belongings and gear as the compartments are zippered.
Integrated Features
Outside of the fact you can outfit this with an optional anchor system, it features an adjustable shipping apron. It is intended to be oversized so you can trim it to suit your style.
Size and Capacity
With a load capacity of 250 pounds, you do have to be wary of what you are bringing. Unless, of course, you are not even close to 250 pounds, to begin with. This is also only 14 pounds when inflated.
Overall
Other fishing float tubes out there may offer more versatile storage compartments than the Fishcat 4 but it certainly has its perks in its own right. The load capacity is not as high as some of the others, though; so be wary of that.