Best Fishing Float Tubes
last updated:
Sep 13, 2019
If you love fishing and angling but can't quite afford your own boat at the moment to get out on an open lake, you can still get out to a variety of fishing areas by investing in a fishing float tube. Fishing float tubes are quite a bit cheaper than a boat and will give you the ability to access a wide variety of fishing spots that are more tricky to access with a less flexible boat. There are plenty of options for the prospective consumer these days, so we've narrowed it down to our favorites, complete with reviews, to help you decide which fishing float tube will best suit your fishing style. Check out our guide below to find the one for you.
This is the best product on our list that is currently in stock: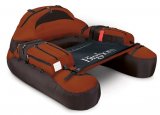 Bighorn
Why is it better?
There are loads and loads of storage compartments
Features a hydrodynamic hull shape for improved steering
Includes a stripping apron with a fish ruler
In a
Hurry? Editors choice: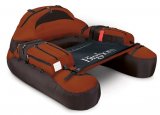 Test Winner: Bighorn

15
Researched Sources
1.4k
Reviews Considered
15
Hours Researching
15
Products Evaluated
Style
Comfort
Capacity
Size
By Default
Top Ten Fishing Float Tubes
Criteria Used for Evaluation

Style
There are a variety of different types of fishing float tubes available and their key distinguishing feature is their shape. Among the major types, you can get are round tubes, U-shaped tubes, pontoon-shaped tubes, and teardrop-shaped tubes. All of these shapes work a little differently and it is up to you to decide which one you prefer. Most of the entries on this list do not sport a round-tubed design as this has become somewhat of an outdated design. Because round tubes are tougher to maneuver and create a ton of drag while you are riding in the water, they are not as popular.
Pontoon-shaped tubes will literally be designed with cylindrical pontoons on each side and offer performance advantages in maneuverability and they also tend to provide you with more room than other shapes. Meanwhile, U-shaped tubes are nice in the sense that the open front makes getting in and out of them easier. Lastly, a teardrop-shaped tube is actually a hybrid of the former two shapes. The main reason they are so popular is that of the pointed section of the raft. This allows it to cut through the water with ease.
As a bit of an extra note, keep an eye out for the durability and construction as these are two key components.

Comfort
It does not matter if you plan to go on two-hour or all-day excursions on your fishing float tube, you want the ride to be as comfortable as possible. When assessing the comfortability of a float tube, there are two primary areas you need to focus your sights on. The first, to no one's surprise, would be the seat. First off, it needs to be padded enough to provide comfort for your rear. But, it is also nice when it sits you high off the water as this is naturally more comfortable (plus you do not have to worry about a wet seat).
Yet, the backrest is just as important as the seat and is the second primary area. While this needs to be padded as well, it really needs to be adjustable as every fisherman will have different preferences on how they want to sit. With a stable backrest, you can't adjust it if you want to sit up or lay back a little.

Capacity
Staying organized can be challenging in a small space with a lot of gear. The number of storage options you need will probably depend on the level of fisherman that you are. If you have several different bobbers, lures, and other baits, along with other various gear that fisherman need then you probably will want a float tube that allows you to easily store all of these items. Plus, on all-day adventures, you are bound to get hungry and thirsty so having compartments for food and liquids can also be ideal. The kicker is some designs will be overloaded with storage compartments (such as several in the armrests, cargo pockets, rear storage pockets, cup holders, etc.) while others will only have a few pockets.
What you need to do is to figure out what you will typically be bringing with you when you take your float tube out for a spin. Remember, even if you do not use the extra storage space it is fine but if you need more storage options, you will be sorry. In other words, shoot for more storage space than less if you are on the fence about it.

Size
Let's talk about two more critical features. One is the size and portability of the float tube and the other being the weight limit. Starting off with the former, fishing float tubes are going to vary in both size and weight and this could play a huge role in your final decision. Also, if the float tube is difficult to inflate and pack, it may start to become more of a nuisance than anything. Plus, if you plan on backpacking with a float tube, you may want one that is not as heavy and cumbersome.
As far as the weight limit is concerned, this is important if you have a ton of gear and are a bit heavier than other people. We are not here to call you out for being overweight but you certainly do not want a float tube that is not rated to hold you; that is simply not smart.
Expert Interviews & Opinions
Most Important Criteria
(According to our experts opinion)
Experts Opinion
Editors Opinion
Users Opinion
By Default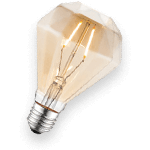 Air Pressure
If you know anything about air pressure, then you understand that too much can actually be a detriment. Take, for example, a sports ball. If you fill it up with too much air, it will begin to stretch out the ball and eventually a hole will burst and you will be left with a ball that no longer holds air. The same idea applies to a float tube as if you over inflate it, the pressure of the air can begin to stretch the stitching and this can lead to blown seams. Obviously, there still needs to be enough air for you to stay afloat. As soon as you notice the wrinkles on your tube disappear, that is a good stopping point. Remember, it does not need to be as hard as a rock, just firm.
Other Factors to Consider

Advanced Features
The fishing float tubes that are presented today in this guide are tailored for fishermen, more specifically, anglers. What this means is there are often integrated features that can come in use for the average fisherman. This could be something as simple as a stabilizing bar to increase the stabilization of the tube or even an integrated rod holder to allow you to sit back and relax while fishing. One of the primary features that fishing float tubes will have is a stripping apron.
This feature sets them apart from other tubes as a stripping apron will aid in fly line management and also to reduce line snags. But, they will also typically have an integrated ruler on them that will allow you to measure the fish that you catch. Not only is this nice as a personal preference, but there are also specific regulations that fishermen must abide by in regards to the size of certain fish species.
Frequently Asked Questions
q:

Can You Attach a Trolling Motor to the Back?

a:

Spending a leisure day on the water with your float tube, allowing the water to guide you can be great at times. However, there may be instances where you want to move fast, and this is where a trolling motor comes in handy. But, before you get your hopes up, it is not recommended to install a trolling motor on a float tube. For starters, you will probably not find a spot that is rigid enough to mount the motor on in the first place. Then, you would have to take into consideration the excess weight that will be caused by the motor.

Not only would the motor weigh you down by itself, but you would also probably be submerged in water after you began moving with it attached. You may be able to pull this off on an inflatable pontoon boat, but for a float tube, it is best to stay away from trolling motors.
q:

Are There Any Tips to Take Before Using a Float Tube?

a:

One of the worst scenarios that can happen is you inflate your tube only to find out that it is not holding air. This is even worse when you find this out while you are in the water as you will need to get out as soon as you can. A simple way to avoid this is to inflate your float tube beforehand and to allow it to sit for a couple of hours. Come back and see if any significant air has been released and if it has, you will need to check to see where it is leaking air. If the leak is small enough, a simple patch job should fix the issue.

Also, make sure you have both an air pump and a patch kit in your tube as if you do find out you leak while you are in the water, this will allow you to find dry land and perform a quick patch. Then, you can manually re-inflate your tube to working order.
q:

How Do You Fish with a Float Tube?

a:

What if you have never fished or even been in a float tube? You may be a bit apprehensive about entering the water for the first time on your float tube. If you follow some of these basic pointers, you may have a better frame of mind before you tackle it for yourself. To begin, it is always wise for you to make a note of specific landmarks that are around the area where you enter. For example, if you notice a specific building, tree, or any other landmark make a note of it. Next up, pay attention to the current of the water and if you can't notice it because it is too subtle, simply stay still and see which way the water takes you.

As far as catching fish, you would be surprised at how close you can get to them without scaring them off. Keep your eyes down and when you see an area with several fishes, cast in that area.
q:

How Do You Store a Float Boat?

a:

There are two types of storage that you need to address. The first is when you are transporting it in-between trips. During these scenarios, all you need to do is keep the tube partially deflated and ensure it is not in contact with direct sunlight. However, if you are talking about storing it away for the winter season, then you should deflate the entire float boat and leave it in a well-ventilated area.

All the materials in a floating boat are waterproof and generally resistant to mildew, but it still does not change the fact that it is better to store them in well-ventilated areas.
q:

Where Do You Keep the Fish that You Catch?

a:

Some people go fishing for the mere enjoyment of getting out in the water and relaxing. However, there are other fishermen that are looking to get a nice meal out of the deal. If you are planning on keeping some of the fish that you catch, then this question pertains to you. For the most part, there is not going to be a specific compartment that you can keep the fish in on your float tube. Yet, you can do some preparing to ensure you have a place for them.

There are a few options you could choose such as bringing a wire mesh floating basket, a small cooler or even a stringer that you can clip onto the built-in loops.