Best Fishing Float Tubes
In a
Hurry? Editors choice: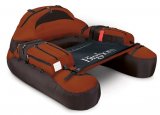 Test Winner: Bighorn

If you love fishing and angling but can't quite afford your own
boat
at the moment to get out on an open lake, you can still get out to a variety of fishing areas by investing in a
fishing
float tube. Fishing float tubes are quite a bit cheaper than a boat and will give you the ability to access a wide variety of fishing spots that are more tricky to access with a less flexible boat. There are plenty of options for the prospective consumer these days, so we've narrowed it down to our favorites, complete with reviews, to help you decide which
fishing
float tube will best suit your fishing style. Check out our guide below to find the one for you.
Standout Picks
Criteria Used for Evaluation
Style
There are a variety of different types of fishing float tubes available and their key distinguishing feature is their shape. Among the major types, you can get are round tubes, U-shaped tubes, pontoon-shaped tubes, and teardrop-shaped tubes. All of these shapes work a little differently and it is up to you to decide which one you prefer. Most of the entries on this list do not sport a round-tubed design as this has become somewhat of an outdated design. Because round tubes are tougher to maneuver and create a ton of drag while you are riding in the water, they are not as popular.
Pontoon-shaped tubes will literally be designed with cylindrical pontoons on each side and offer performance advantages in maneuverability and they also tend to provide you with more room than other shapes. Meanwhile, U-shaped tubes are nice in the sense that the open front makes getting in and out of them easier. Lastly, a teardrop-shaped tube is actually a hybrid of the former two shapes. The main reason they are so popular is that of the pointed section of the raft. This allows it to cut through the water with ease.
As a bit of an extra note, keep an eye out for the durability and construction as these are two key components.
Comfort
It does not matter if you plan to go on two-hour or all-day excursions on your fishing float tube, you want the ride to be as comfortable as possible. When assessing the comfortability of a float tube, there are two primary areas you need to focus your sights on. The first, to no one's surprise, would be the seat. First off, it needs to be padded enough to provide comfort for your rear. But, it is also nice when it sits you high off the water as this is naturally more comfortable (plus you do not have to worry about a wet seat).
Yet, the backrest is just as important as the seat and is the second primary area. While this needs to be padded as well, it really needs to be adjustable as every fisherman will have different preferences on how they want to sit. With a stable backrest, you can't adjust it if you want to sit up or lay back a little.
Capacity
Staying organized can be challenging in a small space with a lot of gear. The number of storage options you need will probably depend on the level of fisherman that you are. If you have several different bobbers, lures, and other baits, along with other various gear that fisherman need then you probably will want a float tube that allows you to easily store all of these items. Plus, on all-day adventures, you are bound to get hungry and thirsty so having compartments for food and liquids can also be ideal. The kicker is some designs will be overloaded with storage compartments (such as several in the armrests, cargo pockets, rear storage pockets, cup holders, etc.) while others will only have a few pockets.
What you need to do is to figure out what you will typically be bringing with you when you take your float tube out for a spin. Remember, even if you do not use the extra storage space it is fine but if you need more storage options, you will be sorry. In other words, shoot for more storage space than less if you are on the fence about it.
Size
Let's talk about two more critical features. One is the size and portability of the float tube and the other being the weight limit. Starting off with the former, fishing float tubes are going to vary in both size and weight and this could play a huge role in your final decision. Also, if the float tube is difficult to inflate and pack, it may start to become more of a nuisance than anything. Plus, if you plan on backpacking with a float tube, you may want one that is not as heavy and cumbersome.
As far as the weight limit is concerned, this is important if you have a ton of gear and are a bit heavier than other people. We are not here to call you out for being overweight but you certainly do not want a float tube that is not rated to hold you; that is simply not smart.
Top Ten Fishing Float Tubes