Best Sprinkler Controllers
In a Hurry? Editors choice: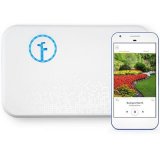 Test Winner: Rachio

Owning a high-quality
sprinkler system
is just the first step for homeowners looking for the most efficient lawn irrigation possible. The next step, and, presumably, the reason why you are here today, is to then invest in a sprinkler controller. Now, this is not merely just a
handheld
device that allows you to manually control the water flow. No, this is essentially the brains behind the entire system as it can allow you to set watering schedules. But, as you will see, there are certain models that will offer superior technology and functionality. Even though these come at a price, they will be worth it as, in the long run, they will pay themselves off with the
water
you will save.
Standout Picks
Criteria Used for Evaluation
Top 10 Picks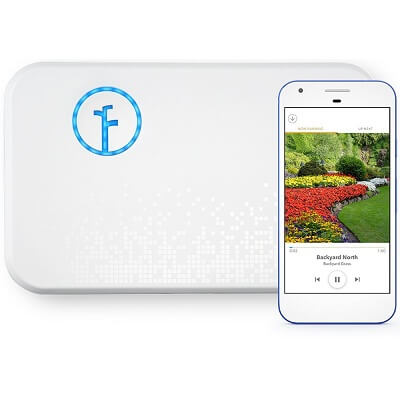 This is one of the more compelling units in the entire world that much is for sure. On top of being able to stop and start individual zones, the system also adapts to your lawn for the most efficient watering possible.
Read more
Software Features
What is nice is this system can adapt to your lawn as you can input your plant types and sun exposure. In addition, you can create a Custom Run schedule for individual zones.
Effectiveness
Thanks to Rachio Weather Intelligence technology, this system can use comprehensive weather data to adjust to your irrigation schedule. In the long run, this can reduce your water bill up to 50 percent.
Connectivity
On top of working with your smartphone, tablet, and other smart devices, this can also work in conjunction with Google Home and Amazon Alexa.
Ease of Use
As some buyers have alluded to, the app that this works with can be buggy at times. Also, the quick install guide is missing some information to make the interface easier to navigate.
This is promised to be easy to install and you can even do it yourself. Adding on to this is the fact that it can operate from negative four degrees to 140 degrees.
Overall
In terms of functionality and technology, it really does not get much better than this. When using the app, though, just be prepared to deal with some glitches from time to time.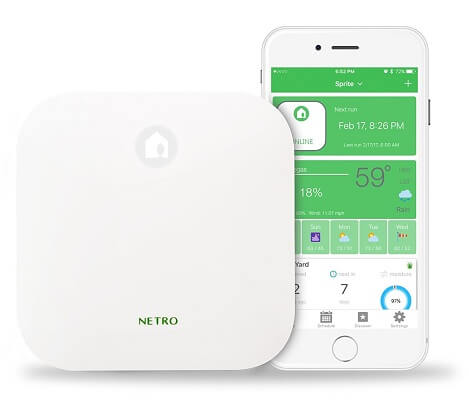 This is one of the cleaner systems in the world today. What we mean by clean is the Netro app will actually learn from your interactions and build a personalized schedule for you to simplify the experience.
Read more
Software Features
First off, this system will dynamically create and adjust your watering schedule to adapt to your current crops and plants. Also, this will also alert you to any water restrictions in your area.
Effectiveness
Thanks to the advanced water-saving technologies such as historical statistics and weather forecasting, this can save up to 50 percent on your outdoor water usage.
Connectivity
With built-in Wi-Fi (2.4 gigahertz), you can control this system with the use of either your Android (5.0+) or iOS (8.3+) device.
Ease of Use
Not only is the interface nice and clean but it is also self-learning. What this means is it will learn from your interactions and build a personalized schedule for your lawn and garden.
No professionals will be required to install this system. In fact, it can be done in as little as 15 minutes (if you have a decent idea of what you are doing).
Overall
In this modern world, technology continues to become smarter. Of all the units on this list, this is arguably the smartest. On top of its self-learning system, it also fully automatic.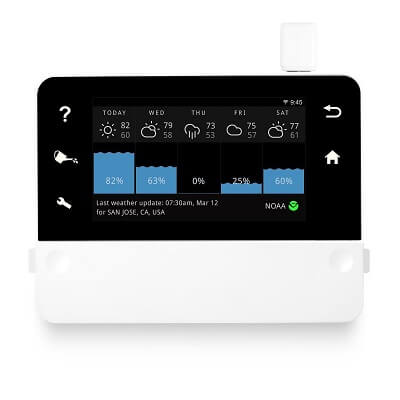 RainMachine has a couple of superb sprinkler controllers and their Touch HD-12 is their best. Taking a look at the stunning interface alone, it is not difficult to see why.
Read more
Software Features
RainMachine designed their system with a ton of versatility. First off, there are many modes such as even/odd day mode, cycle and soak, and station delay. Secondly, they can be run in parallel or one at a time.
Effectiveness
The Touch HD-12 can work in conjunction with multiple weather data sources such as Wunderground, NOAA and METNO. This will ensure that when rainfall is imminent, the system will save water.
Connectivity
You can gain access to programming this unit through your iOS or Android device, via your PC or even with voice activation software such as Alexa.
Ease of Use
Even if you did not want to function this via the app, the unit itself has a stunning interface. With a bright 6.5-inch touchscreen display, programming can be done straight from your fingertips.
As for installation, one of the primary issues with the sleek design at play here is the lack of cable management choices. There really is no place to hide any extra wires that you will have.
Overall
Even without your smartphone, this is one of the best systems in the world. This is thanks to the advanced software and the bright and colorful user interface of the base unit.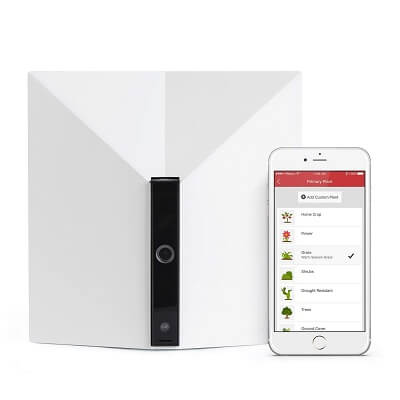 What is intriguing about this next model is that on top of providing smart irrigation, it also is designed with a built-in surveillance camera. Plus, it will even function for a bit even when the internet goes down.
Read more
Software Features
Past the aforementioned built-in surveillance camera, you can remove the guesswork in your watering schedule with the Smart Program. Of course, you can customize the options with the Manual Program, as well.
Effectiveness
This is WaterSense certified and gathers weather information from local weather data and forecasts. Subsequently, this will save you from using too much water.
Connectivity
In addition to working with IFTTT, this is also compatible with Alexa allowing you to use voice activation to operate the system.
Ease of Use
The interface of this unit is the app's as the base unit is sleek and display-less. As for the app, it has not garnered too much negative reception, which is positive.
Although the installation is quite simple, it is worth noting that the master valve and rain sensor do require separate connections that this system actually lacks.
Overall
In spite of the fact that you may need to make some additional investments to get this to work in your home, it is one of the fancier units available with both smart irrigation and surveillance.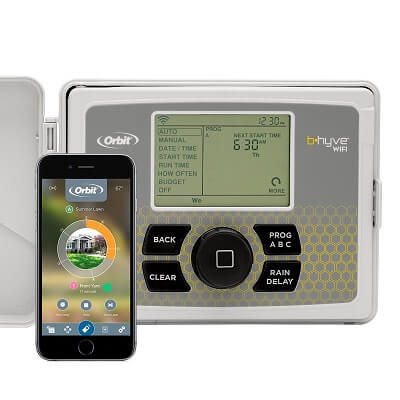 As other users have noted, while it can take a few steps to get there, the B-Hyve is one of the smarter units available. Additionally, it comes with a weather-resistant case for outdoor installation.
Read more
Software Features
The Weather Sense technology of the B-Hyve will base your watering on factors such as soil type, slope, sun/shade, and live weather feeds. It will then automatically adjust the watering.
Effectiveness
To ensure this will save you both water usage and energy, this has been WaterSense approved and certified. As mentioned, it also uses live weather feeds to adjust the watering.
Connectivity
The devices this can be used with are nearly endless. In addition to Android and iOS compatibility, this also works in conjunction with Alexa and offers you full voice control.
Ease of Use
Admittedly, the interface of the base unit is a bit outdated. However, again, it seems to be a common issue amongst consumers that there are several steps to get through to get it to work.
Overall
Let's just say that as good as this system is, it is going to require some patience. As previous buyers have alluded to, several steps may be needed for the B-Hyve to function properly.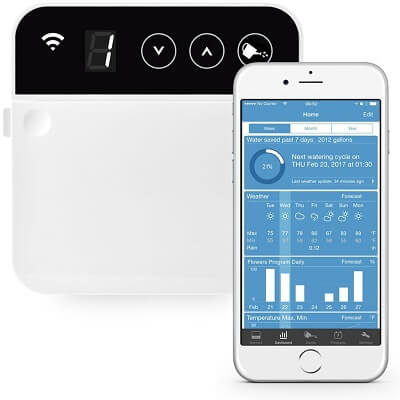 There is a bit of a drop-off here, rating-wise, but it is not necessarily indicative of the quality. Instead, it just comes down to the Mini-8 being a little bit too overcomplicated to program.
Read more
Software Features
If you tend to obsess over the smaller details, you can look at detailed weekly, monthly, and yearly graphs. Also, you can see everything you need straight from the dashboard.
Effectiveness
To calculate the right amount of water for your lawn to save on water, this system uses weather forecasts from NetAtmo, Wunderground, Metno, Forecast.io, and NOAA.GOV.
Connectivity
When RainMachine claims that their Mini-8 can be used anywhere in the world, they are not kidding. It can be used with a smart device and your PC or laptop (with any modern internet browser).
Ease of Use
The app itself is too complex for its own good, let's say that. But, the base unit actually sports white LED illuminated touch keys and can allow you to stop or start a program or zone.
While the physical set up is not much of an issue, connecting to your Wi-Fi can be. What does not help is the fact that there is a lack of instructions in regard to setting up an account for remote access.
Overall
If the last unit required patience, then this requires the patience of Albert Einstein. While this is a bit of an exaggeration, if you can live with it, you really can enjoy a highly functional and sleek design.

7

. NxEco Smart Irrigation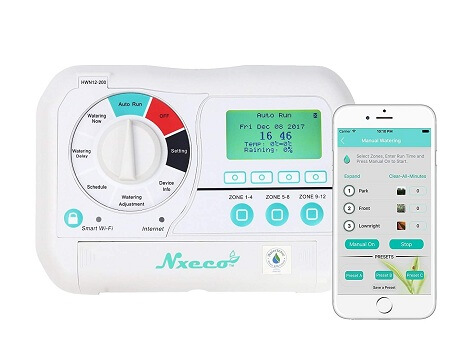 Some sprinkler controllers are so dependent on the accompanying app that it makes programming without it impossible. However, that is not the case with this next system (even though you can use your smartphone).
Read more
Software Features
There are multiple zone options you can choose from (eight, 12 and 36, to be exact). No matter, though, individual smart watering can be achieved via each zone that is set up.
Effectiveness
As with most other units on this list, this is WaterSense labeled and also uses daily weather-based adjustments to ensure the most efficient irrigation possible.
Connectivity
There is a multitude of manners in which you can operate this system. While you can opt to use the device itself, you can also use your smartphone or even with an Alexa-enabled device.
Ease of Use
Some users may even prefer operating this via the base unit due to the well thought-out interface. All the functions and features can be programmed straight from the unit itself, which is a nice touch.
As for installation, this includes both a rain sensor port and also a USB port. Also, there is an Ethernet port if you wanted to use a direct internet connection.
Overall
For the consumers who do not want to be glued to their smartphone when operating their sprinkler controller, this model is an excellent choice. Just have some patience when connecting via Wi-Fi, if you do.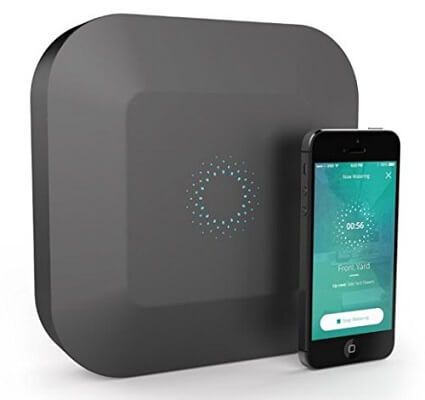 As compared to some of the other systems on this list, this is one of the best bangs for your buck choices available. However, some notable issues with some of the software features bring it down a bit.
Read more
Software Features
There is certainly not a lack of features here, such as each zone being able to be programmed based on layout and vegetation. But, as mentioned, several consumers have reported performance issues with the software.
Effectiveness
This is yet another model that gathers current and local weather forecasts from multiple weather services. Again, this only helps you in the long run as it can better optimize your watering schedule.
Connectivity
Despite the smaller price tag, this does actually integrate Wi-Fi technology. Due to this, it can be functioned via your tablet or smartphone device.
Ease of Use
The base unit really does not sport an interface and instead, the app does. Thankfully, it is a clean and user-centric dashboard that makes operation easier (software issues can arise, though).
Blossom promises that installation can take as little as 15 minutes. The reason for this is you can use existing wiring, sprinklers and valves.
Overall
If not for the software issues that have been documented, this system could have easily landed higher on this list. For the price, it is hard to argue with the results, though.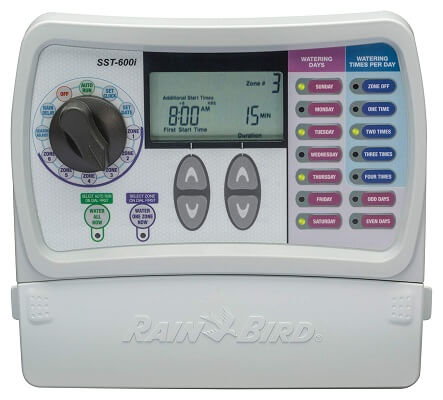 Not everyone owns a smartphone; despite what the modern world will have you believe. For those who do not, this system from Rain Bird is nice as it does not require the use of one.
Read more
Software Features
While you can set each of the six zones independently, you actually can't water them all at the same time, which is a bit unfortunate.
Effectiveness
If there was some integrated weather information, you would end up saving a little bit more on water. As it sits, though, you must manually account for rainfall.
Connectivity
For this model, it appears that its main base of operation is the unit itself. In other words, you are not allowed to operate it via an external device such as your smartphone.
Ease of Use
One thing is certain; the interface on this unit (while not stunning) is well-designed. It provides you with everything you need to program it to your preferences.
Despite including a transformer and a six-foot power cord, the connection design of this unit is flawed. First off, the connection to the terminal board is cheap and secondly, the connectors for the wires fall off too easily.
Overall
This is far from the most technologically advanced system in the world, let's just say that. Still, this is a very solid cheaper solution that can work as an excellent starter model.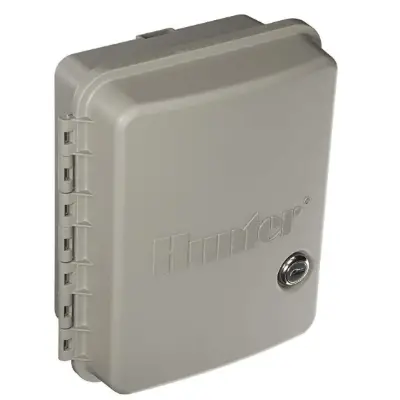 Make no mistake about it; this last entry is an entry-level system. Hunter makes that perfectly clear so if you are looking to take off the training wheels, you may want to skip right past this model.
Read more
Software Features
While you can control up to six stations with three programs each, it is a bit frustrating that you can't simply press a button to have the whole cycle water through.
Effectiveness
Once you plug in the Solar Sync ET sensor, this system will then gain access to the weather. Without this sensor, though, this is not considered a smart controller.
Connectivity
What is nice is the X-Core is compatible with Hunter remotes and this can allow for wireless activation of irrigation.
Ease of Use
When you open this unit up, you will gain access to the interface. The large dial and clearly-identifiable labels, in addition to the small digital screen, makes for somewhat simple operation.
Hunter designed their X-Core with ease of installation and maintenance in mind.
Overall
While the X-Core is not going to blow you away with its technical prowess or overwhelming features, it is a nice entry-level unit that can provide consistent and reliable irrigation.

Subscribe to our Newsletter