Best Alkaline Water Machines
In a
Hurry? Editors choice: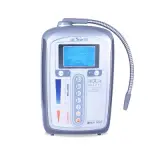 Test Winner: Air Water Life

While basic systems simply remove impurities from the
water
, these systems actually change the pH balance of your water through a process called electrolysis where hydrogen ions are actually split. There are a few studies out there that claim that this type of balanced hydration can actually help fend off against cancer and can help you lose weight, but we suggest taking those studies with a grain of salt because it is hard to actually prove such claims.
What these systems can do for you, however, is help relieve acid reflux (because the fluid is not acidic), provides a good source of
antioxidants
and eliminates free radicals within the body, and because the ions have been split it means that they are smaller which allows them to be absorbed into your system, allowing you to become more
hydrated
.
Standout Picks
Criteria Used for Evaluation
Effectiveness
One of the most important things that we looked at was how the unit went about purifying, and just how powerful the unit was. How do you know if a unit is considered to be powerful? The first thing to look at is the range of the pH level. Powerful and component units are not only able to achieve a high pH level, but they are able to achieve a low pH level as well which is great for cleaning and cosmetic tasks. We considered a powerful unit to be able to achieve a low setting of about 3 and a high setting of around 12. A pH level that eclipses 12 aren't really considered ideal for human consumption. Liquid drain cleaner typically has a pH balance of around 14 and isn't considered to be ideal for consumption. Sometimes more isn't always better. The key here if finding just the right balance. We also wanted to make sure that each unit that we selected also has a basic ionizer and filtration system that utilizes activated charcoal to ensure that also eliminates unwanted substances such as chemical and sediment that often live in the pipes of your plumbing.
Materials
The design took a back seat to functionality, of course, but it was still something that we kept in mind. These devices are often a little bulky and will take up a great deal of room on your countertop, so we wanted to make sure that it wasn't too much of an eyesore. We liked designs that had clear to understand buttons along the front that were labeled not in the level of pH but rather indicated the functions that they should be used for such as cooking, cleaning, making tea, or simply drinking. We also were drawn to models that had a sharp backlit screen that offered up information such as filter life and settings for easy use. No one likes to spend their afternoon fiddling with the plumbing, so we wanted to also ensure that each unit had all of the tools, attachments, and instructions needed to get up and running without being too overly complicated or difficult.
Value
What we discovered is that the price of these units are all over the map, and some devices could set you back about the same amount of money that you would spend on a used car! While we wanted to ensure that we selected the best of the best, we also wanted to ensure that you would still have enough money to buy food after making your purchase. Typically the only thing that sets the high-end designs apart from the more reasonable priced designs has to do with the frequency that the filters are changed. There is only a limit to how much a device can ionize and reduce acidity, and even the most affordable devices are able to achieve these levels. That's why we primarily selected models that had a price tag that ran about in the middle of the road because they served the same functions as the higher end designs without making your wallet weep. Just keep in mind that with those models, you might have to change the filters a little bit more frequently.
Subscribe to our Newsletter