Best Charcoal For Grilling
In a Hurry? Editors choice: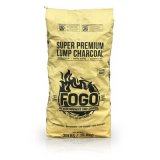 Test Winner: Fogo Premium

For consumers unaware, charcoal itself is actually a very diverse and important product if you are looking to do some backyard
grilling
on a charcoal grill. One would think that it would be as easy as researching for a few seconds to find the best version or simply buy the first charcoal you see at your local store. Yet, there actually is a lot you have to think about when it comes to
charcoal
. For starters, ensure you actually own a charcoal grill as the substance will be useless in a
gas
model. Overall, there are different types of charcoal and they offer different outcomes and performance. Some will burn longer than others, while others will produce enhanced flavor. Below we have listed the top charcoal of 2019 to help your grill faster and cook some tasty meals for your family and friends this summer season. 
Standout Picks
Criteria Used for Evaluation
Style
To be perfectly honest, this entire guide almost revolves around the debate between lump and briquettes. These are the two main types of charcoal that you can invest in and while we are essentially going to break this up into mini-sections, let's start with describing the two types. Okay, so the first type you can invest in is what is known as a lump. This is made by burning chunks of wood at higher temperatures with low oxygen levels. What this engineering method is going to do is char the wood and remove any tar or remaining fluids. But, you want to ensure that the wood being burnt is all-natural (oftentimes hardwood) and not scrap wood.
As for briquettes, these are a little different. These are typically much smaller in size and are created by taking small pieces of wood and crushing them into dense-dust. From there, the dust is formed together to make a briquette. As for which type is superior, you are going to need to decide that. But, let's dive deeper, shall we?
Potency
Even on a gas grill, foods and meats just seemed to taste better when they are grilled. But, this can be even more so for charcoal as they can add enhanced flavor to your already seasoned meats. However, the question then becomes, what type provides the best flavor for your meats? Well, it is hard to deny that hardwood lumps are at the top of the heap. Whenever you see any type of hardwood lumps, you will typically see users rave about the flavor. This is due to the lack of additional additives and the natural flavor produced by them. Then again, some manufacturers may specifically create their briquettes to produce a smoky or hickory flavor, which is nice.
For this consideration, the best way to go about it is to glance through user feedback. See what the general mass is claiming about the flavor because from one brand to the next, it may be vastly different. Then again, the flavor is a personal preference and just because one person is fond of it, it does not mean you won't be.
Effectiveness
Above all else, this is typically the area that consumers concern about the most. After all, nobody wants to invest in briquettes or lumps that are not going to burn for very long (or very hot, for that matter). So, the ultimate question is this. What burns better, lumps or briquettes? Even though certain briquette brands can outperform other briquette brands (and the same with lumps), each type has their own distinct advantage.
Starting with briquettes, they are typically going to burn longer than lumps. When you need to spend upward of an hour grilling, this can come in handy as you may not need to add more. But, where lumps hold the advantage is the temperature at which they burn. You see, they are going to burn hotter (and also faster) than briquettes. But, keep in mind, that this can make temperature control much more difficult. Yet, this also allows higher temperatures to be met without adding more charcoal.
Safety Hazards
A lot of people do not like eating goods in which there are a ton of other additives and preservatives. Well, the same can be said here and this is another area where lumps (specifically hardwood lumps) can hold the advantage. With this type, they will be all-natural and will not need any additives added in. Due to the manufacturing process, which was described previously, it would be asinine to add any other ingredients in. But, what about briquettes?
Some manufacturers will use some sort of additives to hold the materials together so the briquettes can maintain their shape. In this case, you may begin to smell them while you cook and sometimes even taste them. In this case, you may begin to smell them while you cook and sometimes even taste them. However, it is important to note that not all manufacturers will use this engineering process. Our recommendation is to look for all-natural briquettes that add no chemicals or fillers whatsoever.
Top Ten Charcoal For Grilling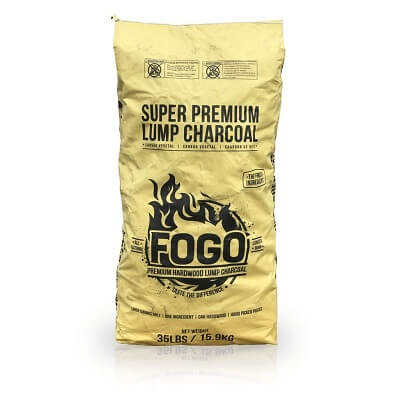 Fogo presents one of the largest models on this list and they decided to craft their charcoal out of dense hardwood with no other additives included. Smart choice, Fogo.
Read more
Type and Design
While some users may not like the massive chunks here, one can't deny the overall design. Each piece is hand selected and made from dense Central American hardwood.
Flavor Produced
It seems like the flavor that this produces is second to none. The only ingredient is Oak hardwood and the smoky flavor that is provided is superb.
Quantity
As was alluded to, there is a very large quantity available. Of course, if the 35-pound bag is too immense for your liking, Fogo offers a 17.6-pound bag, as well.
Burning Efficiency
Did you know that Fogo means fire? Well, that is apropos here as the company designed their porous solids to light very quickly and burn extremely hot (easily being able to sear your meats).
Additives
There is no concern here over extra additives as this is made exclusively from dense hardwood trimmings with no other additional ingredients.
Overall
Even though some buyers have taken issue with the larger chunks and rather poor packaging, the performance of this design is almost unmatched and speaks for itself.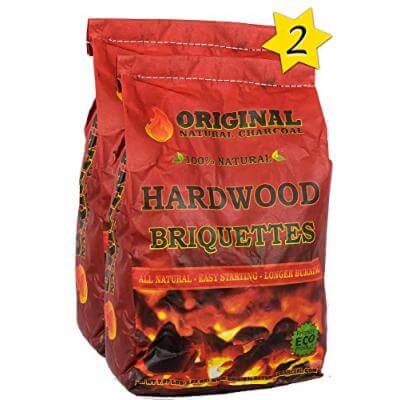 This next entry must be commended; if not for the simple reason that it is incredibly easy to burn and will hold its fire longer than other brands. That is just the beginning, though.
Read more
Type and Design
As mentioned, the ease at which these black solids burn is exceptional and you do not even need lighter fluid. But, also note that these are briquettes.
Flavor Produced
What is really cool about purchasing this product is that the manufacturer promises that if you are not enthralled by the flavor, within 30 days, they will refund you. If that is not confidence, what is?
Quantity
With your purchase, you receive two full bags that measure 7.07 pounds each. All things considered, that is not too bad of a value for the price.
Burning Efficiency
Of all the greatness here, the burning efficiency may be the feature that stands out the most. As several buyers have reported, this is going to produce great fires for longer durations.
Additives
In addition to everything else, one of the best features of these briquettes is there are no additives or chemicals whatsoever. Thus, you are safe from any carcinogens and the flavor is not compromised.
Overall
It almost seems that third place is too low here. With all that is provided, how come this did not land in the top spot? Well, one report alluded to an awfully amount of smoke being outputted; so, that is concerning.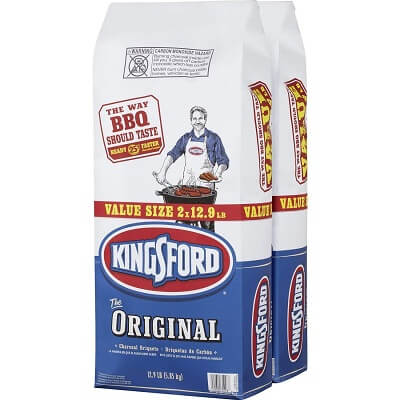 Even if you have never grilled anything in your entire life, chances are, the logo or brand name of Kingsford will be recognizable to you. For most, it should be no surprise to see them make an appearance on this list.
Read more
Type and Design
As the title spoiled, these are briquettes. One fancy feature about them, though, is that they have been crafted with Sure Fire Grooves. This allows the edges to light faster for enhanced efficiency.
Flavor Produced
Each individual briquette has been made with real wood and natural ingredients. The result for your meets is an enhanced smoky flavor that you will fall in love with.
Quantity
Kingsford actually gives you two options for quantity. You can either buy two bags with a net weight of 12.9 pounds or two bags with a weight of 7.7 pounds.
Burning Efficiency
As advertised, as compared to nationally available brands, this is going to get the party started 25 percent faster. Plus, the high-quality ingredients ensure a longer performance.
Additives
Each individual briquette of this package is made with all-natural ingredients and also out of real wood.
Overall
This is a strong example of why Kingsford is such a recognizable name. From a performance perspective, few brands can compete, let's just say that.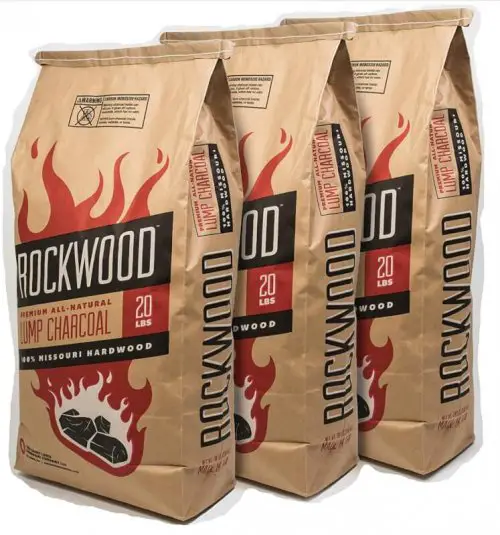 Rockwood Lump Charcoal is made from natural 100% ingredients with no fillers or chemicals. They are great for any type of smoker or grill which makes the perfect addition for anyone!
Read more
Type and Design
In addition to the oak and hickory flavor there are also maple and pecan tastes.
Flavor Produced
As one consumer explained, the flavor produced by these briquettes is very unique. They described it as being a smoky flavor, which may or may not appeal to you.
Quantity
The Rockwood Lump Charcoal comes in a 20 lb bag burns longer and cleaner than most other products on our list, although it also comes at a higher price tag than most others.
Burning Efficiency
The fact that these lumps burn longer than most competitors gives you more bang for your buck.
Additives
Rockwood Lump Charcoal is made from natural 100% ingredients with no fillers or chemicals
Overall
If you are willing to spend a little more for an extremely efficient, all-natural charcoal with a unique smokey flavor, Rockwood id for you.

5

. Fire & Flavor John Wayne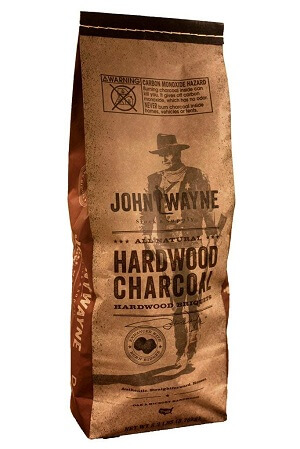 Just as with the last product, many consumers simply feel you are not offered enough for the price of these next briquettes. Then again, a portion of all the sales of this is donated to the John Wayne Cancer Foundation, which is not a bad gig.
Read more
Type and Design
While these are advertised as being briquettes, per one user, they are more like chunks of random sizes. But, they are made from oak and hickory.
Flavor Produced
The general consensus here is that the flavor is superb. Most buyers rave about the delivered flavor and given the hardwood composition that is not much of a surprise.
Quantity
Most users are fooled by the actual size provided here. Take note that each bag has a net weight of 8.3 pounds. But, they can be bought in packs of two or six.
Burning Efficiency
Based on the experiences of some users, it seems like these do not last as long as other top-end brands. In fact, one buyer noted they only got 20 minutes out of them.
Additives
As this is crafted of oak and hickory and is all-natural, there is no concern over added chemicals or additives.
Overall
Without a hint of doubt, there is a lot to like about this entry. Not the least of which is the tremendous flavor it adds to your meals and also the fact that it is crafted of all-natural hardwoods.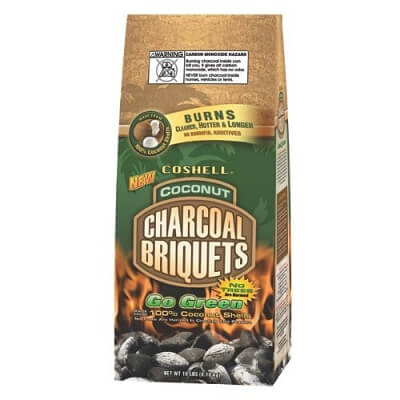 Now, this one right here is mightily interesting. These briquettes are actually made of 100-percent recycled coconut shells. While this seems completely asinine on the surface, it actually makes for superb results.
Read more
Type and Design
As just mentioned, this is nothing but recycled coconut shells. But, they are in the form of briquettes, so keep that in mind for folks who do not prefer them.
Flavor Produced
So, what kind of flavor could these actually produce? Well, there actually is no flavor that is added. For those fearing there meats would taste like coconut, fear no longer.
Quantity
If you want this to last for a long time, you will have to come back and buy more bags. The reason for this is they are offered in bags with a net weight of 3.3 pounds.
Burning Efficiency
As one buyer pointed out, they saw no noticeable difference in burning time when compared to other briquettes that they have used.
Additives
On top of being manufactured without the use of any harmful ingredients or petroleum, this brand is also nice as it saves on trees and burns fewer greenhouse gases.
Overall
It still seems absurd that coconut shells could result in such amazing charcoal. If you are still a skeptic, then get your hands on this and see for yourself.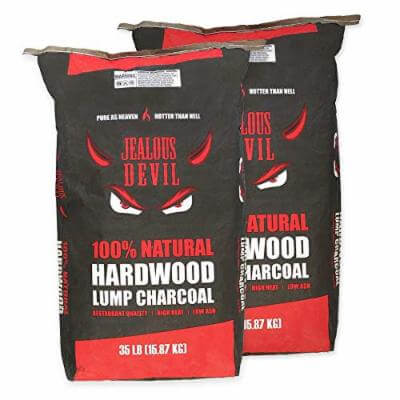 Ironically, this next entry is a lot like the previous but has the exact opposite issue amongst users. While the critical acclaim here is evident, some users were not fond of there being too many smaller pieces.
Read more
Type and Design
Even though this lump charcoal is advertised with a higher ratio of large lumps, there have still been users to complain about the amount of smaller pieces present.
Flavor Produced
What is superb about the flavor that is provided is it is not overpowering. Instead, it adds a touch of mild smokiness to your favorite meats to take them over the top.
Quantity
To be honest, for most users, one 35-pound bag will be sufficient enough until they decide if they like this brand. But, you can buy a pack of two, if you desire.
Burning Efficiency
Jealous Devil claims that their product will burn twice as hot and three times as long as compared to traditional brands. If even slightly exaggerated, that is impressive.
Additives
As Jealous Devil points out, this has no extra chemicals or fillers at all. Instead, enjoy 100-percent natural flavor that will burn extremely cleanly and efficiently.
Overall
It is not really that difficult to see why this has garnered such praise. After all, it burns hotter and longer than traditional brands and adds no chemicals or additives in the slightest.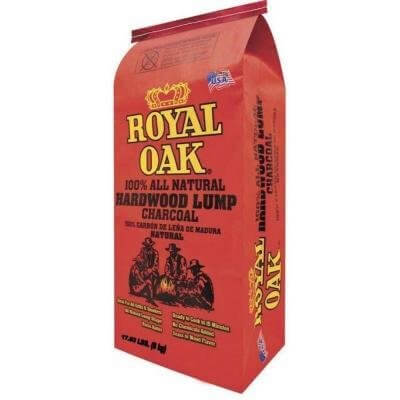 Grilling enthusiasts around the world have raved about these all-natural briquettes for their peak performance and fantastic flavor.
Read more
Type and Design
To promote superior airflow, these briquettes have been designed with a ridged shape. This feature optimizes overall performance by ensuring even heat and flavoring.
Flavor Produced
The flavor produced by this product is superior. What's more is that there is no potent aftertaste that detracts from the overall flavor achieved.
Quantity
This is offered in a seven-pound bag - just enough to test the waters if you are a new user. Then, if you like it, you can simply keep buying more and more. The bag size is also optimal for transporting if you are going camping or on a picnic for the day.
Burning Efficiency
In addition to the fact that Royal Oak Sales claims that this can heat your grill in around 15 minutes, the black solids themselves will burn hotter and longer than others.
Additives
These briquettes are made with all-natural renewable oak, hickory, maple and walnut from sustainable wood sources. There are no added chemicals either, which is why there is no aftertaste.
Overall
It is hard to argue with briquettes that offer this kind of performance. The efficiency and flavor of this product are hard to beat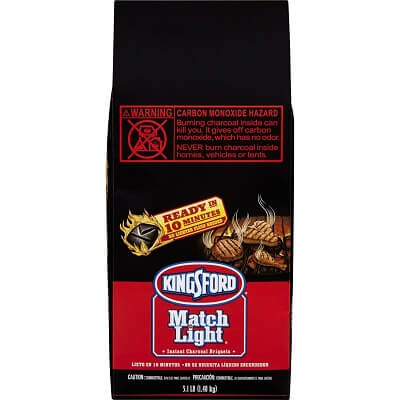 Kingsford wraps up what has been a stellar list. But, it is worth noting that their Match Light is more suitable for family gatherings at the park. For home grilling, there are heftier and superior options.
Read more
Type and Design
As with other Kingsford charcoals, the Match Light features briquettes with Sure Fire Groove technology that allows them to light quicker. But, do note that they smell like lighter fluid.
Flavor Produced
The briquettes of this package have been designed to produce an authentic, smoky flavor that the entire family will love.
Quantity
While this does come in a pack of six, each bag only weighs 3.1 pounds. While 6.2-pound bags are also available, as mentioned, this is more suitable for park grilling.
Burning Efficiency
As the porous solids do already have lighter fluid in them, they will burn and light very quickly.
Additives
One reviewer did make mention of the fact that they could smell the treated chemicals while these were burning. If this draws a red flag, that is understandable.
Overall
For what it is, the Match Light is far from bad. However, the slight red flags that are present may be enough to deter you away.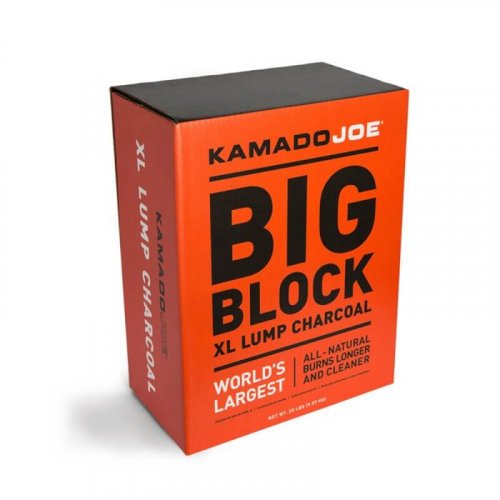 The top product on this list consists of what is known as lump charcoal. One nice aspect about this specific type is that it burns extremely efficiently. But, the larger chunks may not be ideal for some users.
Read more
Type and Design
Interestingly enough, the individual pieces of this product were crafted by Argentinian artisans. The result is chunks that are much larger than other brands (some exceeding four to seven inches in diameter).
Flavor Produced
Thanks to the fact that KamadoJoe only used real trees, when you cook with this, it will not only burn clean but will emit a robust wood-like flavor that will work its way onto your meats.
Quantity
KamadoJoe does have other quantity options available on the web but this one, in particular, comes in a six-pack (with each pack weighing 20 pounds).
Burning Efficiency
From just a single batch, this can burn 16 to 18 hours, which is remarkable. In addition to this, the lumps themselves can be used up to three times for maximum efficiency.
Additives
While some other brands are actually made of processed wood or scrap furniture, this is made from real trees and features no additives to worry about.
Overall
The only reason you may not be too fond of this top pick is if you prefer smaller chunks to work with. You can look far and deep, but you would be hard-pressed to find another reason.

Subscribe to our Newsletter