Best Roasters
In a Hurry? Editors choice: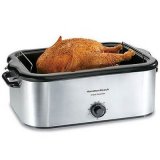 Test Winner: Hamilton Beach

Have you ever volunteered yourself to host the next family holiday gathering only to realize you have no feasible means of
cooking
the main dish? Whether this is at
Thanksgiving
,
Christmas
, Easter, or even just a random family gathering, it is a good idea to invest in a meat roaster for your home. Even if you have no intentions of roasting an enormous ham or turkey dinner, they can be ideal for all sorts of other meals.
Truth be told, you may enjoy your roaster so much that you find yourself using it on a weekly basis. However, as you will see down below, there are a few different types of meat roasters and some may appeal to you more than others.
Standout Picks
Criteria Used for Evaluation
Size
Everyone has heard the expression that size is everything and whether you believe in that statement or not is irrelevant as when you are analyzing meat roasters, size is indeed everything. It is only common sense for you to invest in one that is going to accomplish what you need. For example, if you consistently want to create large meals for your family, you will want a roaster that is capable of doing so. The question is, how do you determine how large one is? Well, most of the time, roaster ovens or roasting pans will be measured in quarts. A quart is a unit of liquid capacity and when you think about it logically, it makes sense to why this unit is associated with meat roasters.
But, for those who are merely interested in using a roaster for massive cuts of meat, manufacturers typically will also provide the heaviest and largest turkey that their unit can hold. Knowing both of these measurements will provide you with the tools you need to choose a meat roaster of appropriate size to you.
Features
As you will immediately find out when you invest in a meat roaster, specifically a roaster oven, they are highly-versatile units that act as much more than just a simple roaster. Yet, at their core, that is exactly what they are, a meat roaster. For the most part, you have two primary choices. You can either go with a roaster oven or a roasting pan. The reason why the majority of the entries on this guide are roaster ovens is that they offer specific advantages. For one, they cook on their own and not only does this make it more convenient, it frees up your oven in the instance you need to cook other meals simultaneously.
Nearly all roaster ovens will come with an integrated temperature dial on the front and this is what makes them so versatile. Yet, there are also special features, such as a defrost or keep warm setting that you can look for. Of course, if you simply are looking for a means to cook larger meats in your oven, a simple roasting pan may suffice. While they can't cook on their own, typically, these are specifically optimized for oven roasting and can create superb and delicious results.
Versatility
Now, this is what makes most roasters so special. Sure, every once in a while you may feel the need to whip up a huge turkey or pot roast (whether for an upcoming family gathering or other reasons). But, because most meat roasters are so versatile they can actually be utilized as every day or weekly appliances. The key to most of them is with the temperature control dial. Because some units can be powered as low as 125 degrees Fahrenheit, this makes them ideal for slow cooking. In the same respect, you can use most roaster ovens to steam vegetables or if they are designed for it, even as a smoker.
Of course, besides the ability to roast meats you can also use roaster ovens as a crock pot for soups, dips, and all other types of meals. The choices are pretty much endless and if you have a recipe book, you could make dish after dish simply with a meat roaster.
Style
Believe it or not, the style and overall appeal of a product like this can be a deciding factor for you. It may not be the most vital criteria but it is something you do not want to overlook. However, coinciding with the style is the overall construction of the roaster and what materials are being utilized. If you begin to research several roaster ovens, you will begin to notice a theme and pattern. First off, most are crafted of stainless steel as this provides durability and performance advantages. Yet, the pan on the inside will also most likely be made of enamel. Because this material distributes heat efficiently, it only makes sense that most manufacturers will design their roaster with it.
Besides offering specific performance benefits, both stainless steel and enamel look appealing and will add a stellar décor to your kitchen. At the end of the day, is there really anything wrong with that?
Top Ten Roasters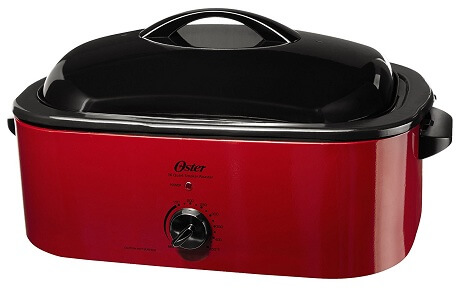 It does not matter how many buying guides and "best-of" lists you glance through for meat roasters, Oster will come up time and time again. Their ability to design sufficient and efficient meat roasters is unparalleled and this version is even ideal as a smoker (with limitations).
Read more
Size and Capacity
This is a 16-quart roaster oven and as a reference point, it is rated to hold a 20-pound turkey.
Functionality
For starters, the cool-touch handles make working with this appliance much safer. In terms of its physical functionality, you can tamper with the variable temperature dial from 150 degrees to 450 degrees Fahrenheit.
Versatility
Much like many other roaster ovens, this is so much more than that. As it is designed for outdoor roasting, you can use wood chips to use it as a smoker. Also, it can be utilized as a slow cooker.
Aesthetics and Materials
Ironically, the red finish is one of the best and worst aspects of this roaster oven. It is very visually appealing but some users have complained the finish has begun chipping on them.
Ease of Cleaning
To make the cleanup process quick and easy, Oster integrated their roaster oven with an enamel-coated cooking pan that can be removed.
Overall
The physical appearance alone of this roaster may sell you but given its versatility and ease of cleaning, there is more to it than meets the eye. Sure, the chipping issues are not something to be proud of and are a potential concern.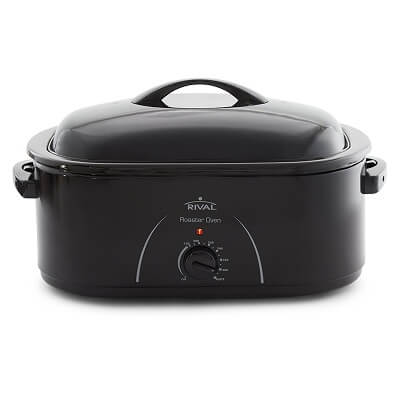 Although this roaster is designed to function as a roaster, it can also be used as a slow cooker and general baker, deeming it a versatile all-in-one machine.
Read more
Size and Capacity
There are two options that you can select from in terms of this roaster oven's capacity. You can opt for either an 18-quart option or a 22-quart model.
Functionality
The temperature controls, which account for 150 to 450 degrees Fahrenheit, are very easy to access and make for all-meal cooking.
Versatility
You can roast, bake, or slow cook with this appliance with relative ease. It is quite amazing to think of the possibilities that await you.
Aesthetics and Materials
A nice extra is that you can choose the color of the finish from either black or white. In addition, the roasting pan is enamel-on-steel much like the others of its kind.
Ease of Cleaning
One user noted that the cooking surface is prone to sticking which can make the cleanup process significantly more of a nuisance. However, this product is dishwasher safe so that is a bonus.
Overall
While this may not rival, excuse the pun, some of the best roaster ovens on the market it certainly makes a strong case to be sitting on your countertop.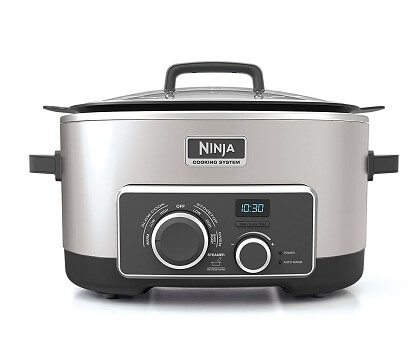 Why should you invest in separate kitchen appliances when you can merely have an all-in-one design? While Ninja's 4-in-1 Cooking System can function as a meat roaster, it can also be used as a slow cooker, stovetop cooker, and general baker.
Read more
Size and Capacity
This is more designed to be operable for a wide range of reasons and not so much to be the largest roaster oven in the world. At a size of six quarts, you are a bit limited in what you can put inside.
Functionality
Due to the integration of Triple Fusion Heat, this cooking system is able to cook your meals faster and provide juicer results. One of the four design functions is a meat roaster so it can be used as such.
Versatility
Outside of its ability to be used as an oven roaster, it can function as a slow cooker, a general baker, and a stovetop cooker.
Aesthetics and Materials
Much like with the other kitchen appliances that have preceded it on this list, Ninja's 4-in-1 Cooking System is made of stainless steel but is hot-to-the-touch when the heat begins kicking.
Ease of Cleaning
The pot has been designed to be non-stick and can be removed for an easier clean.
Overall
It is hard to think of a better all-in-one system than what Ninja provides for you. No matter what the situation asks for when you are in the kitchen, this 4-in-1 Cooking System is probably the answer.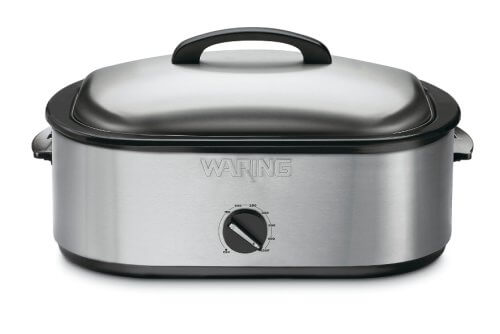 Truth be told, this is one of the better roaster ovens out there. Yet, there are a few issues that deter the overall experience and prevent it from ascending any higher. But, it sure does produce some darn good meals when all is said and done.
Read more
Size and Capacity
The domed cover allows you to fit larger meats in the base of this roaster oven and all-in-all, you can fit up to a 20-pound turkey into this bad boy.
Functionality
All the control is yours as the integrated temperature dial can alter the current temperature up to 450 degrees Fahrenheit.
Versatility
Due to all the temperature settings, you could easily use this unit as a slow cooker for all sorts of different meals.
Aesthetics and Materials
Unfortunately, the outside of this stainless steel unit does get excessively hot and the insert sports edges that are quite sharp and difficult to handle.
Ease of Cleaning
Thanks to the removable enamel pan that is dishwasher safe, several reviewers have claimed the cleanup process is extremely simple and hassle-free.
Overall
Probably the most difficult aspect of this roaster oven is handling it as the unit itself gets quite hot and the insert is not the best. However, in terms of performance, it passes with flying colors.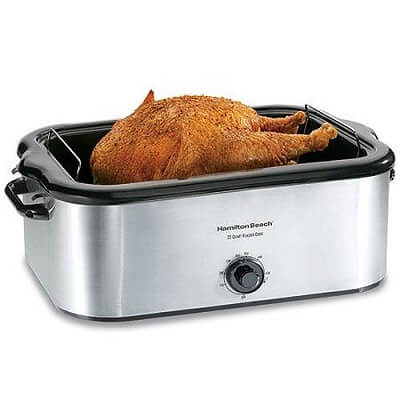 We come to yet another revered roaster oven and this one is manufactured by Hamilton Beach. But, as great as this roaster really is, it is interesting to note that several consumers have had issues with poor packaging and damaged shipping.
Read more
Size and Capacity
Much like the number one oven roaster on this list, this version boasts an impressive size of 22 quarts making it suitable for a 24-pound turkey.
Functionality
Thanks to the temperature control on the front, that can be adjusted to various degrees within 150 to 450, you are in full control with how your meals cook.
Versatility
Due to its design, you could use this in the same manner as a crock-pot. Also, for those who are interested, Hamilton Beach does sell buffet pans separately.
Aesthetics and Materials
Once again, the choice to use stainless steel and enamel-on-steel for the main components of this roaster must be applauded. Yet, the exterior of this unit does generate tons of heat and can burn you.
Ease of Cleaning
All components including the rack, lid, and pan can be washed in warm, soapy water.
Overall
While this roaster oven has since been discontinued by Hamilton Beach, you can still get your hands on a new one and it is highly recommended. If there is one thing you know about Hamilton Beach, it is that they make fantastic kitchen appliances.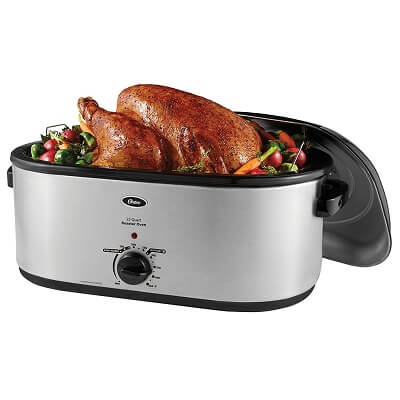 It is an arguable point but this could be the most popular and acclaimed roaster oven in the world. When you begin to analyze its design and features, it sure is not hard to see why so many users and consumers have raved about it.
Read more
Size and Capacity
There is no doubt about it; this is a massive roaster oven. At 22 quarts in size, it is capable of cooking and holding large turkeys up to 26 pounds in weight.
Functionality
While there is a standard dial on the interface that allows you to change the current degree from 150 to 450 (Fahrenheit), the defrost and keep warm settings are truly notable. The former can roast a frozen turkey in hours and the latter allows your meals to stay warm while inside.
Versatility
Besides its obvious function as a meat roaster, Oster also designed their appliance to function as a slow cooker. After a long day of work, coming home to a freshly made slow cooked meal is glorious.
Aesthetics and Materials
The overall stainless steel construction not only looks appealing but is also extremely durable. Meanwhile, the enamel-on-steel roasting pan and roasting rack are removable. However, as some users have warned, the outside of this unit can get very hot.
Ease of Cleaning
Oster advises against placing their oven roaster inside of a dishwasher but even so, the removable enamel-on-steel roasting pan does make for a faster cleanup.
Overall
It is not too difficult to see why this is typically the roaster oven that most people will recommend, is it? Despite some minor inconveniences, this is a terrific multi-functional appliance that can make superb holiday dinners.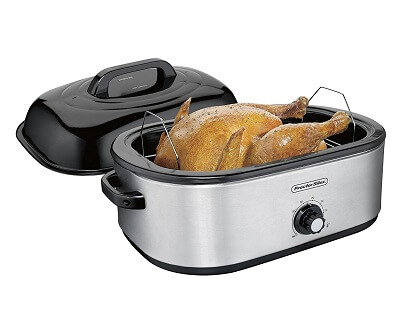 If you are looking for a massive meat roaster that can hold up to 20 and 25-pound turkeys and hams, then Proctor Silex probably has you covered. Not only is their roaster oven capable of holding enormous amounts of food, it also sports a very attractive stainless steel design.
Read more
Size and Capacity
Not only does the 18-quart capacity accommodate turkeys up to 24 pounds, the domed lid adds additional room for taller meats. This combination is ideal for large dinners.
Functionality
Via the control dial on the front, you are in control with how your meat cooks. Given that you can choose various temperatures from 150 degrees to 450 degrees Fahrenheit, you have several options.
Versatility
At its core, this can roast all sorts of meats. Yet, it is so much more than that as it can steam vegetables, cook stews and soups, and even bake desserts such as cakes and pies.
Aesthetics and Materials
While no one is going to argue with the stainless steel exterior and enamel-on-steel interior, the lid can be seen a bit differently. In actuality, it should have been made with more girth as it is pretty flimsy and could hold heat better.
Ease of Cleaning
Thanks to the removable pan and the enamel-on-steel interior, cleanup seems to be a breeze and not too many consumers have reported issues or annoyances with the process.
Overall
Perhaps a better lid design could have propelled this to the top spot but as it sits, this is an almost perfect oven roaster with one caveat. To be perfectly honest, it can be rare to find products with only one true issue.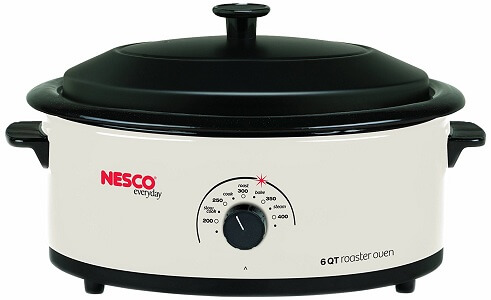 Nesco has several different versions of roaster ovens available but this specific model is their 14-Quart Porcelain Cookwell Roaster Oven. With its porcelain-fused design and Circle of Heat technology for even cooking and moisture, it is sure to appeal to several consumers.
Read more
Size and Capacity
While there are other options from Nesco for 18-quart and 5-quart sized meat roasters, this specific model is six quarts.
Functionality
Besides the variable temperature control from 125 degrees to 425 degrees, Nesco integrates their exclusive Circle of Heat heating element to evenly cook meats all the way through.
Versatility
Because it is such a portable appliance, you can really use this roaster anywhere you can think of. Past this, due to the temperature control, it can be utilized as a slow cooker and a steamer.
Aesthetics and Materials
This is a very unique roaster oven in that Nesco fused porcelain to the steel to produce an inert glass-like surface.
Ease of Cleaning
It seems this is one of the biggest drawbacks to this design. As reported by a few consumers, cleaning the porcelain surface can prove to be a pain as food sticks to the liner.
Overall
For some people, this is going to either be a hit or miss. The integration of Nesco's Circle of Heat technology makes it stand-out but the issues with the porcelain surface can prove to be too much of a hassle.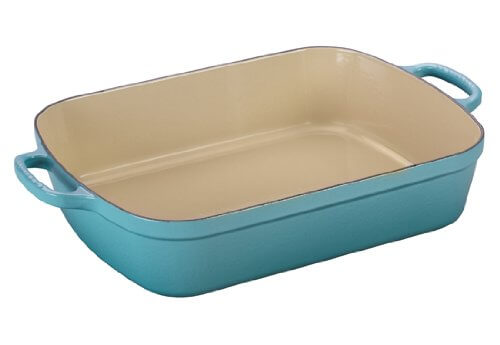 Unlike the previous two roaster ovens, this next meat roaster does not have the capability of cooking on its own. But, due to its unique cast iron design, it can be used on all types of heat sources including ovens fired by gas, wood, oil, and coal.
Read more
Size and Capacity
Unfortunately, if you are looking to cook massive turkeys and other meats this is probably not the meat roaster for you. It is only seven quarts and will likely not even hold a 14-pound turkey.
Functionality
Even though this is not an oven roaster, its low-profile design is actually optimized specifically for oven roasting due to its heat distribution and heat retention. Plus, it can be used with a wide range of heating sources.
Versatility
As the material is cast iron throughout this meat roaster, it makes it suitable for both oven roasting and slow cooking. Not only that but cast iron cookware is suitable for use on heat sources such as electric, gas, induction, and all sorts of ovens.
Aesthetics and Materials
Enameled cast iron, which is what this is made of, is not only a robust material but also a very eloquent and modernized material. Plus, the exterior resists chipping and comes in various different finishes.
Ease of Cleaning
The manufacturer actually gives detailed instructions on how their meat roaster should be cleaned and advises against plunging it in cold water when it is hot. Also, avoid using abrasive cleaners as that can damage the surface.
Overall
While you still need to either place this in an oven or another heat source, it is too expertly designed to pass up. It may be a little on the expensive side but if you care for it properly, it should last you several years.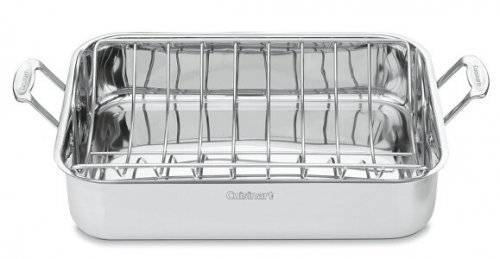 This is the second non-roaster oven on this list but due to its nearly all-stainless steel design, it is eloquently built and very easy to clean as it is dishwasher safe. Again, it will not cook by itself but it will hold quite a bit with its 16-inch width.
Read more
Size and Capacity
One user reported that they were able to stuff a 24-pound turkey into this 16-inch meat roaster. Ironically, though, the legs hang out a bit and this actually could be too large for some people's ovens.
Functionality
Honestly, this is a very simple design and holds the design function of holding chickens, turkeys, and other large roasts. But, an oven is needed for this design.
Versatility
Besides operating as a meat roaster, there is not much else you will get out of this design. It could be used for other purposes, though, theoretically.
Aesthetics and Materials
The professional stainless exterior is complemented by the riveted stainless steel handles and the stainless steel racks that allow heat to circulate. All in all, it is an appealing and intuitive design.
Ease of Cleaning
What is convenient about this roaster is that it is dishwasher safe and generally very easy to clean.
Overall
This design may not be what all people are looking for but if you still enjoy the good old-fashioned flavor that your oven produces, this is a terrific meat roaster to invest in.

Subscribe to our Newsletter