Best Popcorn Machines
last updated:
Feb 07, 2020
At the end of the day, can you really go wrong with popcorn? It is one of the staple snacks when you want to kick back and watch a movie or even just to relax. And, the brilliance of it is there are so many different ways you get it. You can simply buy pre-popped bags from the store, buy bags with kernels only or make it homemade with some certain ingredients. Today, we are going to focus on the latter as there is a wide range of machines out there that can produce fantastic popcorn. No matter which type you end up going with, though, there are certain features and factors that you need to look out for.
In a Hurry? The test winner after 2.35 hrs of research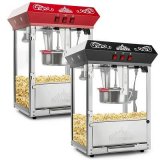 Olde Midway Bar Style
Why is it better?
Engineered with a three-switch design
Built with tempered safety glass walls
Runs on standard 120-volt power
In a
Hurry? Editors choice: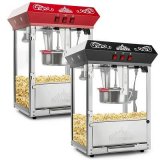 Test Winner: Olde Midway Bar Style

7
Researched Sources
25
Reviews Considered
2.35
Hours Researching
17
Products Evaluated
Durability
Effectiveness
Capacity
Size
Accessories
By Default
OUR TOP PICKS FOR THE BEST POPCORN MACHINES
Criteria Used for Evaluation


Durability
You want your machine to last, right? Well, if you do, it needs to be built to last.
Most of the time, when you invest in any type of product, its longevity and durability will come to the forefront. Well, you guessed it; popcorn machines are not exempt from this. It is very important to take this into consideration because these units will be made with different materials. Two of the most popular are metal and plastic. No matter how you slice it, the best models are typically made of either aluminum or steel (both metals). Most of the retro style designs will be made with stainless steel and sometimes even tempered glass for optimal protection and heat-retention.
This is also where metal holds an advantage over plastic because plastic can be prone to warping at higher temperatures. If you use a plastic popcorn machine excessively (which may not be advised), if the plastic is thin enough, it could indeed end up warping or even melting. As seen on this list, though, you may also see poppers made of food-grade silicone. This is a non-toxic polymer and can withstand high temperatures without leaching any hazardous chemicals onto your food.


Effectiveness
Not all machines will be designed in the same manner. Look for the ones that product the best results.
As you are probably more than aware of, not every single popcorn machine you invest in is going to produce the exact same result. While a lot of what determines the end result comes down to the oil you use and how much you use of it (if it even requires oil), there are different systems that work in different manners. For example, you have systems that utilize oil and then those that do so using nothing more than hot air. The latter is ideal if you want a healthier version as, to be honest, it is hard to replicate the taste of popcorn that utilizes the right oil. But, you can add your own seasonings and ingredients to air-popped kernels. Still, for the best taste, you may want to stick to the machines that utilize oil.
And, the units that probably do this the best are the retro style designs that have been documented on this list. This style will utilize several functions such as a warming deck to keep the popcorn that remains inside fresh and crisp.


Capacity
This one is easy, folks. Tailor your decision based on who you are feeding and how many.
This is where you and your preferences and desires come into play. For one buyer's needs, a smaller unit that only makes enough snacks for one to two people could be perfect. Yet, for another buyer, they may laugh at that capacity. Because popcorn machines come in so many different sizes and capacities, you need to establish right away what you need one for. As an example, if you are only looking to add a snack to your weekend nights and live alone, a smaller unit will do just fine. But, if you have a family of four and want to make snacks on a weekly basis, look for units that can make quite a bit. Of course, you can always make more than one batch, so be aware of that.
However, and then there are the machines that can make up to three gallons. Yes, these are the same types you will see at county carnivals and fairgrounds around the world. These are better suited for family events or even weekend parties. They are never bad to have lying around but just know that they can be a bit cumbersome for constant use.


Size
You may or may not want a model that takes up a lot of space in your kitchen and even in your cupboards.
The actual capacity and how much popcorn a unit can make have already been documented. This section is actually present to literally assess the actual size of the unit you are looking into. Not for capacity's sake, though, but for storing purposes. And, even if you do not believe so initially, this can go a long way to determining the type of design you desire. Here is the deal; if you do not have a lot of cupboard space and are looking for a compact unit, a retro style machine is probably not going to be up your alley. They typically will weigh over 30 pounds and measure over two feet in height and width.
Instead, you would probably be interested in a unit that can be made even more compact to save space. As you saw on this list, there are some designs out there that will collapse and others that will sport bases that can rest inside the included lid. Then again, if the size and girth are irrelevant to you, then you are not restricted in your selection.


Accessories
A lot of sellers will include various accessoires with their models and this can only benefit you.
One of the bonuses of these types of appliances is that they typically come with accessories. It will always depend on what the seller decides to include but some designs will have similar accessories. Take air poppers, for example. Most of them will come with a measuring cup that can be used to measure out your kernels, clearly. But, the thing is, they will also be able to be used to melt your butter. Considering air poppers are sometimes criticized for producing bland results, adding butter can be the necessary trick to ensure improved results.
But, what about other design types that comes with multi-functional lids? Sometimes, the lid can be used to nest the base, cover the kernels while they are popping, and even act as a bowl afterward. Oh yeah, and let's not forget about the old-school machines. Most of the time, sellers will include various accessories with retro style designs including serving bags, serving cups, scoopers, measuring cups, and salt shakers.
Frequently Asked Questions
q:

What type of oil should be used?

a:

It was briefly alluded to earlier in this guide but now, it is time to take an even closer look. Without question, one of the biggest decisions you have in front of you is what oil you decide to use with your popcorn (granted it is not an air popper). There are a ton of oils out there and most of them will suffice very well. Yet, if you want the best flavor possible then you may want to go with coconut oil. On top of providing amazing flavor, it also burns the cleanest out of all the oils.
But, other types of oils that are used often are peanut, soy, and sunflower oil (and also canola oil for those health-conscious folks out there). Remember, you can always try out different oils so get creative and try them all.
q:

Why are you left with some un-popped kernels?

a:

One of the biggest hassles, when you make popcorn, is when you are left with un-popped kernels. You can't wait for them to pop because if you do, the ones that are already popped will begin to burn and no one wants that. But, do not just automatically assume that it is the fault of the machine that you are using. There is actually a plethora of environmental factors that can come into play.
The freshness and moisture content of the kernels themselves can be as much an issue as anything, as will be discussed in a bit. If the kernels have not been stored in an airtight container at room temperature, you may want to avoid using them.
q:

Why are aluminum kettles the best?

a:

For the record, this question is alluding to the same retro style units that have been documented several times in this guide. It is often wondered why designers seem to always go with aluminum to make their kettle. Well, let's just say this; it is not a coincidence and there is a valid reason that aluminum is always the go-to.
There are two main reasons and the first is how well aluminum transfers heat. To result in a much better performance, aluminum is used as it will transfer the heat from itself to the food efficiently. Secondly, aluminum (in specific anodized aluminum) is also easy to clean due to its smooth and slippery surface.
q:

Okay, so why does popcorn pop, in the first place?

a:

Do you ever sit back and wonder how certain things even happen? Oftentimes, you take things for granted but actually have no idea of the physics behind it. Popcorn can be that same anomaly because do you really even know why it pops, in the first place? If you do, pat yourself on the shoulder but if you have no idea, keep reading for an interesting factoid.
It all comes down to the moisture inside the kernel as quality ones will have a content of 13 to 14 percent. When the kernel is heated up, the moisture will turn to steam and this begins to expand. It is then only a matter of time before the steam bursts and then, presto, you have popcorn. This is also why it is critical for kernels to be kept in airtight containers, to keep the moisture content up.
q:

What is the recommended oil-to-kernel ratio?

a:

Even though there are some of you who might think differently, you can end up using too much oil in your popcorn machine. But, if the unit is designed to be used with oil, you need to use it as doing so without can really compromise the final results. Also, butter and shortening are not a replacement for oil as they have differing melting temperatures.
Anyway, back to the question at hand. There actually is a recommended amount of oil you should use and it will be based on how many kernels you place inside. For example, if you use ¼ cups of kernels then you should go with around one tablespoon of oil. Then, for every extra quarter of kernels, add another tablespoon of oil.
q:

How do you keep these machines clean?

a:

It seems logical to end this guide with this question as when you are finished with your machine, you will want to clean it. Each model will be different and may require a different method of cleaning. Let's look at the larger models that are made with tempered glass panels, for example. With these, the surfaces can typically be cleaned with standard window cleaner or even just soap and water. As for the kettle, do not submerge it in water and instead take a damp cloth to clean it.
But, for smaller units, look for dishwasher-safe components to ensure you can just place them in your dishwasher. In this case, even if you do not have a dishwasher, they should be easy to clean by hand. In fact, this may be better in the long run to prolong the life of the parts.
Subscribe to our Newsletter