Best Popcorn Machines
In a Hurry? Editors choice: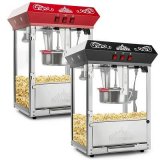 Test Winner: Olde Midway Bar Style

At the end of the day, can you really go wrong with popcorn? It is one of the staple snacks when you want to kick back and watch a movie or even just to relax. And, the brilliance of it is there are so many different ways you get it. You can simply buy pre-popped bags from the store, buy bags with kernels only or make it homemade with some certain ingredients. Today, we are going to focus on the latter as there is a wide range of machines out there that can produce fantastic popcorn. No matter which type you end up going with, though, there are certain features and factors that you need to look out for.
Standout Picks
Criteria Used for Evaluation
Durability
You want your machine to last, right? Well, if you do, it needs to be built to last.
Most of the time, when you invest in any type of product, its longevity and durability will come to the forefront. Well, you guessed it; popcorn machines are not exempt from this. It is very important to take this into consideration because these units will be made with different materials. Two of the most popular are metal and plastic. No matter how you slice it, the best models are typically made of either aluminum or steel (both metals). Most of the retro style designs will be made with stainless steel and sometimes even tempered glass for optimal protection and heat-retention.
This is also where metal holds an advantage over plastic because plastic can be prone to warping at higher temperatures. If you use a plastic popcorn machine excessively (which may not be advised), if the plastic is thin enough, it could indeed end up warping or even melting. As seen on this list, though, you may also see poppers made of food-grade silicone. This is a non-toxic polymer and can withstand high temperatures without leaching any hazardous chemicals onto your food.
Effectiveness
Not all machines will be designed in the same manner. Look for the ones that product the best results.
As you are probably more than aware of, not every single popcorn machine you invest in is going to produce the exact same result. While a lot of what determines the end result comes down to the oil you use and how much you use of it (if it even requires oil), there are different systems that work in different manners. For example, you have systems that utilize oil and then those that do so using nothing more than hot air. The latter is ideal if you want a healthier version as, to be honest, it is hard to replicate the taste of popcorn that utilizes the right oil. But, you can add your own seasonings and ingredients to air-popped kernels. Still, for the best taste, you may want to stick to the machines that utilize oil.
And, the units that probably do this the best are the retro style designs that have been documented on this list. This style will utilize several functions such as a warming deck to keep the popcorn that remains inside fresh and crisp.
Capacity
This one is easy, folks. Tailor your decision based on who you are feeding and how many.
This is where you and your preferences and desires come into play. For one buyer's needs, a smaller unit that only makes enough snacks for one to two people could be perfect. Yet, for another buyer, they may laugh at that capacity. Because popcorn machines come in so many different sizes and capacities, you need to establish right away what you need one for. As an example, if you are only looking to add a snack to your weekend nights and live alone, a smaller unit will do just fine. But, if you have a family of four and want to make snacks on a weekly basis, look for units that can make quite a bit. Of course, you can always make more than one batch, so be aware of that.
However, and then there are the machines that can make up to three gallons. Yes, these are the same types you will see at county carnivals and fairgrounds around the world. These are better suited for family events or even weekend parties. They are never bad to have lying around but just know that they can be a bit cumbersome for constant use.
Size
You may or may not want a model that takes up a lot of space in your kitchen and even in your cupboards.
The actual capacity and how much popcorn a unit can make have already been documented. This section is actually present to literally assess the actual size of the unit you are looking into. Not for capacity's sake, though, but for storing purposes. And, even if you do not believe so initially, this can go a long way to determining the type of design you desire. Here is the deal; if you do not have a lot of cupboard space and are looking for a compact unit, a retro style machine is probably not going to be up your alley. They typically will weigh over 30 pounds and measure over two feet in height and width.
Instead, you would probably be interested in a unit that can be made even more compact to save space. As you saw on this list, there are some designs out there that will collapse and others that will sport bases that can rest inside the included lid. Then again, if the size and girth are irrelevant to you, then you are not restricted in your selection.
Accessories
A lot of sellers will include various accessoires with their models and this can only benefit you.
One of the bonuses of these types of appliances is that they typically come with accessories. It will always depend on what the seller decides to include but some designs will have similar accessories. Take air poppers, for example. Most of them will come with a measuring cup that can be used to measure out your kernels, clearly. But, the thing is, they will also be able to be used to melt your butter. Considering air poppers are sometimes criticized for producing bland results, adding butter can be the necessary trick to ensure improved results.
But, what about other design types that comes with multi-functional lids? Sometimes, the lid can be used to nest the base, cover the kernels while they are popping, and even act as a bowl afterward. Oh yeah, and let's not forget about the old-school machines. Most of the time, sellers will include various accessories with retro style designs including serving bags, serving cups, scoopers, measuring cups, and salt shakers.
OUR TOP PICKS FOR THE BEST POPCORN MACHINES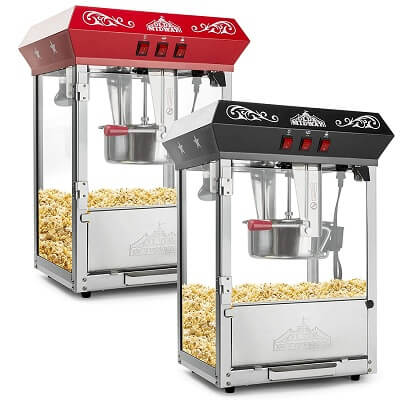 Let's just say that this bad boy is a beast as it is equipped with tempered safety glass and the ability to dish out three gallons of popcorn per batch. In fact, it is terrific for family gatherings.
Read more
Build Quality
As just mentioned, this beast is crafted with tempered glass walls and these provide both durability and protection. Also, this includes heavy-duty steel that has been powder coated.
Effectiveness
To keep all the contents warm and fresh, this is designed with a built-in warming deck and a heating light. Additionally, to ensure every batch is up to standard, it is equipped with a kernel tray.
Capacity
The kettle itself is eight ounces but as a whole, this can serve up to three gallons of popcorn per batch.
Overall Size
If you are looking for a compact unit for weekend nights, this is not it. It weighs over 30 pounds and measures 26.5 inches by 20 inches by 17.2 inches.
Accessories
Included with your purchase are actually quite a few accessories and all of them are made of stainless steel. This includes a measuring cup, scooper, salt shaker and tablespoon.
Overall
What was claimed in the size section really summarizes this unit as a whole. From top to bottom, it is constructed like a beast but not everyone will need a machine of this size.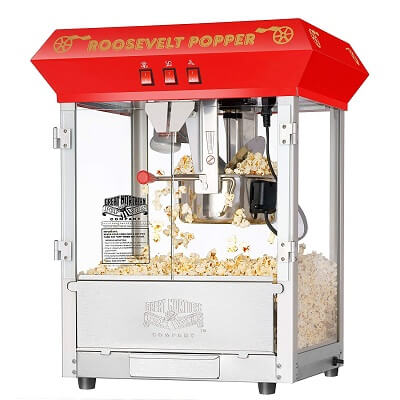 The Great Northern Red is much like the last model in its antique-type design and it also makes three gallons of the good stuff. In addition to this, the seller includes tons of other accessories.
Read more
Build Quality
Okay, here is the deal. The heavy-duty powder coated steel construction of this model is impressive. However, the kicker is several consumers have reported they have received a damaged unit.
Effectiveness
This deluxe model is equipped with three control switches and they include a spotlight warmer, pot heater, and stirrer. All of which can control the cooking process.
Capacity
As with the last model, this is capable of making three gallons per batch. This should be enough to be the life of the party all night long (as you can always refill).
Overall Size
Again, this is more suitable for consumers who want an outdoor option. Given its weight and physical dimensions, it is not compact in the slightest.
Accessories
In addition to the fact that you receive 50 serving bags and three plastic serving cups, you also receive an old-maid drawer and also a convenient storage compartment.
Overall
Granted you do not receive a damaged unit, which is more the fault of whoever is packaging these units, this is another great option for those looking for a lot of popcorn.

3

. Hot and Fresh Countertop Style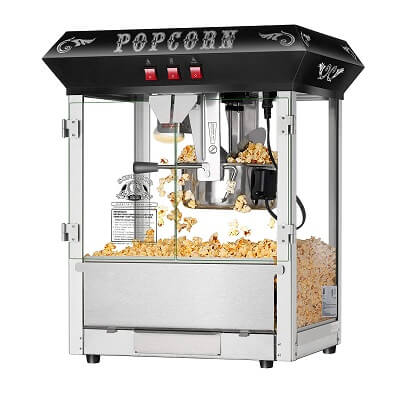 If you did not know any better, you would think that this style is pretty good. A bias is not being placed on these types of machines but it just so happens that this is another brilliant option.
Read more
Build Quality
Ironically, the same issue persists with this model as it did the last. It sports powder coated steel and tempered safety glass walls but consumers have had issues with damages upon arrival.
Effectiveness
Similarly to the previous two designs on this list, this has three control switches (a pot heater, spotlight warmer and stirrer) that help the popcorn stay fresh.
Capacity
Would it surprise you to know that this can make three gallons per batch? If you have been paying attention so far, then it should not.
Overall Size
While you are familiar with the sizes of these types of units, it is worth mentioning that this sports a serving compartment that could be a little larger for easier access.
Accessories
Included free of charge is a hand lift and a push rail and they can be used if you desire. Also, there are kernel and oil scoops included.
Overall
At this point, you know what you are getting here. While this is the worst of the three options, it is still one of the best overall selections out there, period.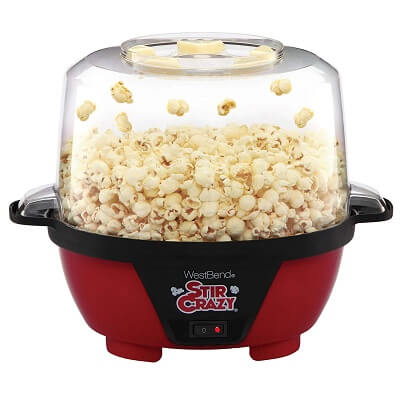 A lot of credit needs to go to West Band for their design here as even though it is a small and compact unit, it can really produce some fantastic results. Plus, it is 100 percent electric.
Read more
Build Quality
To ensure you never burn yourself with this, it has been engineered with heat-resistant handles and a heat-resistant base. But, some of the kernels can actually scratch the nonstick base.
Effectiveness
As simple as it sounds, it is nice that there is an integrated power button here. In addition to this, the triple-layer heating surface and stir rod combine to improve the performance.
Capacity
This sports a capacity of six quarts and while that may not mean very much to you, it can make around 27 cups of popcorn (which is pretty impressive for the size).
Overall Size
When you need to store this unit, the base can actually be rested inside the lid. This saves a ton of space and is quite ingenious, to be honest.
Accessories
If you thought the lid could not do more, then you were wrong. On top of nesting the base during storage and covering the system while in operation, it can also be used as your bowl.
Overall
With a design like this, it is very easy to ignore the flaws. The multiple functions of the lid alone speak for the creativity that is on display with this design.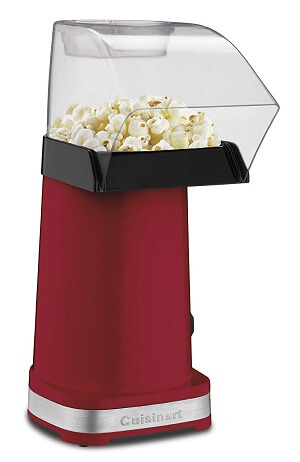 The CPM-100 introduces a much different style of machine than the other three. On top of being much more compact, it utilizes hot air to produce healthy and tasty results.
Read more
Build Quality
Yes, this is made primarily of plastic and probably will not stand up to accidental abuse. But, the manufacturer reassures their customers that all portions that make contact with food are BPA free.
Effectiveness
Indeed, this does use hot air to pop your popcorn. In fact, all you need to add is the kernels as no oil is necessary. Also, there is an on/off switch for your convenience.
Capacity
In less than three minutes, this device can make up to 15 cups of crispy goodness. For such a small unit, it can dish out an impressive amount of food.
Overall Size
Now, this is the type of design that is suitable for countertop use. At 7.5 inches by 15 inches by 10 inches, it also should not be too difficult to store away in your cupboards.
Accessories
While there are not too many accessories that are included, you do receive a multi-purpose cup. This is located in the top of the popping chute and it can also be used to melt butter.
Overall
Leave it to Cuisinart to come up with such a brilliant design. In fact, it could just be the single best model out there for kitchen use.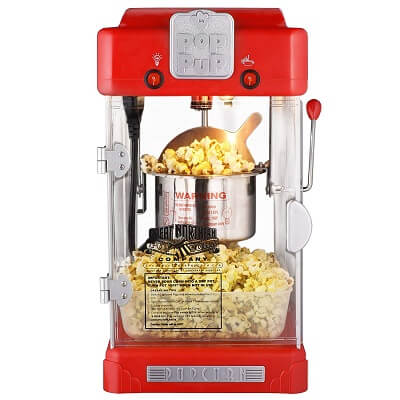 It is almost accurate to consider this a watered down version of the other retro style machines on this list. While it is far from bad, as it is on this list, it is smaller and less rugged as the others.
Read more
Build Quality
Indeed, this is less rugged than the other retro style units on this list. The primary reason is the main material utilized is plastic and not metal. And, it is not the thickest plastic in the world.
Effectiveness
As with others that are similar to this design, this is equipped with multiple control switches including a warming light.
Capacity
One nice aspect of this unit is the fact that it is smaller. Because of this, it can only produce up to one gallon of popcorn per batch with its 2.5-ounce stainless steel kettle.
Overall Size
Due to its size, at 9.75 inches by 11 inches by 18.75 inches, this can actually make a nice home in your kitchen. It is still a bit bulky but it can rest on your countertops.
Accessories
Great Northern provides you with several of the goods that they are accustomed for. This includes a measuring cup, measuring spoon, removable tray and instruction manual.
Overall
Truth be told, this is actually a perfect alternative to the old style machines if the larger ones are too massive for you. But, due to the plastic construction, do not be reckless with this.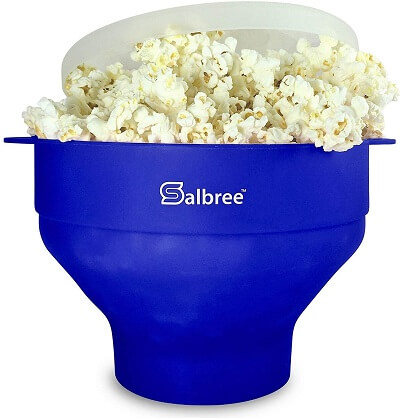 Here is where things can get a bit controversial. Is this technically a machine? Well, probably not but it makes such good popcorn that it deserves recognition, regardless.
Read more
Build Quality
Unlike some of the other options on this list, this is actually made of silicone. As the seller points out, this makes it extremely durable and nearly indestructible.
Effectiveness
In spite of the overwhelming amount of positive reviews, there have been users who have noted that some of the kernels in this model will not be popped.
Capacity
For one person, this is going to be magical. It only requires ¼-cup of kernels but for providing a snack for multiple people, you will need to make multiple batches.
Overall Size
Now, this is downright ingenious folks. To save as much space as possible, this innovative model can actually be collapsed for storage.
Accessories
The lid is the most prominent accessory of this unit as you can actually vary the amount of popcorn you make by simply inserting it into the base.
Overall
The sheer popularity of the Original Salbree can't be overstated enough. While it is not the most brilliant and elaborate design out there, it succeeds where it needs to.

8

. Presto Orville Redenbacher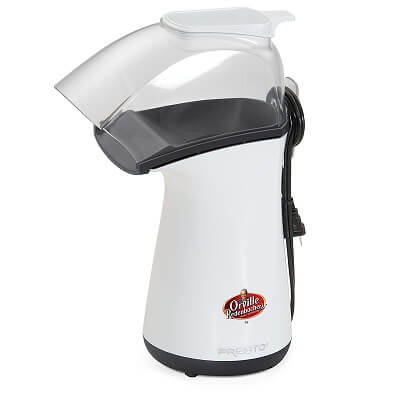 It is not every day that you see a product compile as many positive reviews on Amazon that this next model has received. It is another hot air popper and it works a lot like the previous one on this list.
Read more
Build Quality
Inside this unit, the container is metal and not plastic. However, the chute itself is comprised of plastic. Overall, the build quality is solid.
Effectiveness
As with the other similar design on this list, this utilizes hot air to make healthier popcorn. However, a number of users claim that un-popped kernels will be shot out of the chamber during the heating process.
Capacity
In less than 150 seconds, this bad boy can make up to 18 cups of delectable kernel pops.
Overall Size
Even though this is not a collapsible design, it is compact as it is measuring 14 inches by nine inches by 6.5 inches.
Accessories
To make it even easier to store, this also has a built-in cord wrap for convenience. Adding on to this is the ½-cup measuring cup which can double to melt your butter.
Overall
As widely popular and acclaimed as this is, there are some flaws that can't go without addressing. Despite these, though, it is still a model that is more than worth looking into.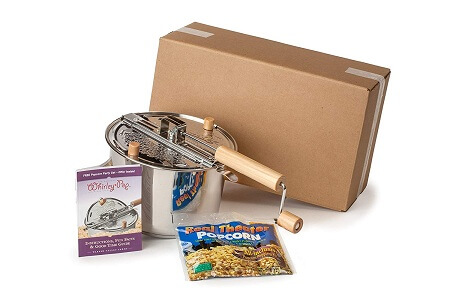 Okay, so this last option is really old-fashioned. It requires the most work out of all the options on this list but for some people, that will be just fine thanks to the patented stirring system that has been implemented.
Read more
Build Quality
There are two main issues with the build quality (as everything else is fine). The first is the cranking mechanism as you can't be too forceful with it and the other is the flimsy plastic gear of the lid.
Effectiveness
Yes, this is designed to be used over a stovetop. But, the patented stirring system that is implemented ensures that none of the kernels stick to the bottom and become burnt.
Capacity
In as little as three minutes, this can make up to six quarts of heaven. And, you can always add more kernels to make more batches as needed.
Overall Size
This will go in your kitchen cupboards afterward and at 18 inches by 10 inches by seven inches, it is not going to take up an excessive amount of room.
Accessories
As a bonus for your purchase, you will receive a popping kit. Inside this kit includes secret buttery salt, gourmet popping oil and fresh kernels.
Overall
If you really want to go old-school, then look no further than this stovetop popper. Though it has some build quality issues, it is a sufficient design for weekend movie nights.

10

. Lekue Microwave Popper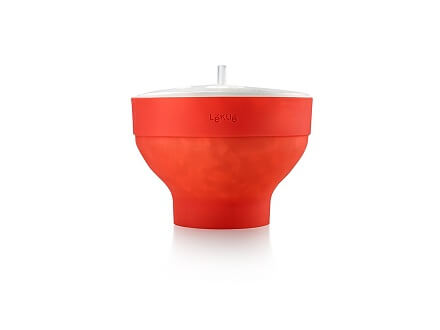 A lot of time and research was expended by Lekue to come up with their design and by the looks of the turnout, it is safe to say that most of that time was used wisely.
Read more
Build Quality
While this is made of platinum silicone, the silicone itself could have been a little thicker for added durability and strength.
Effectiveness
Despite the fact that some kernels can remain un-popped, this maintains an airy freshness that resembles popcorn made on a stove.
Capacity
When you put the maximum amount of kernels in this bowl, it can produce around a quart of popcorn. That works out to four cups, for the record.
Overall Size
This is another design that is completely collapsible. So, when you want to store it away, you can do so without taking up much space at all.
Accessories
Lekue did not include too many accessories to speak of as you really just get the main base and the included lid.
Overall
Is this overflowing with amazing features? Not really but you know what, they are not really needed in this case. For most consumers, this will be a suitable option.

Subscribe to our Newsletter