Best Backpacking Meals
In a Hurry? Editors choice: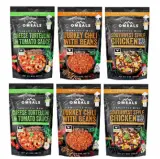 Test Winner: Omeals Self-Heating Meals

All you
backpackers out there,
prepping your meals can be a little tricky can't it? There are several factors you need to take into consideration. Just a few of them are the meal's size, portability, practicality, and satisfaction.
To put it bluntly, many of your favorite meals are not going to qualify as backpacking meals. You need to think long and carefully about
what you want to pack
. However, we are here to make that process much easier.
In addition to providing you with some of the best backpacking meals currently on the market, we also want to enlighten you on the entirety of the buying process. As you will see, there are a lot of decisions that you will need to make.
Standout Picks
Criteria Used for Evaluation
Taste
Come on now, do you really want to eat something you do not like?
Do you want to buy backpacking meals that you are not going to eat? Thus, point number one is to purchase snacks that you like to eat. Sure, one particular brand might make some incredible tasting chicken with rice. But, if you do not like chicken and rice, to begin with, why buy it?
Of course, once you have figured out the types of backpacking meals you want, you then need to know how to assess their flavor. You can't try them before you buy them. In addition to seeing what previous buyers have had to say, you also need to understand the different manners in which these meals are prepared.
The two most common types will be freeze-dried and dehydrated meals. Out of the two, both of them can taste great, but freeze-dried options tend to be preferred. The reason for this is the flavor is held inside the food, and even after sitting for several months, virtually none of it dissipates.
But, keep in mind that most of the backpacking meals you buy will not taste as good as your mom's old-fashioned homemade cooking. At the same time, do not underestimate the fact that some brands can feel pretty darn good.
Effectiveness
This is all about the included ingredients as you need to assess them.
When you are backpacking, you almost need to resort to processed food only due to its convenience. You do not have to, but most of you will want to. Either way, processed food does not need to be all bad. And, regarding this guide, you should attempt to find meals that provide you with the right balance of carbs, protein, fats, fruits, vegetables, etc.
But, also know that there is a difference in the way freeze-dried and dehydrated foods function. The former offers more nutrition because, throughout the entire hydration process, it retains more of its nutritional value. Meanwhile, for dehydrated foods, sometimes only around 50 to 60 percent of the nutrients will be left over.
No matter which way you go, though, ensure that the included ingredients are fresh and real. You can even go with vegan backpacking food if you so choose to. Anyway, you may want to stay away from backpacking meals loaded with extra preservatives.
Oh, and as one last note, do you have any food allergies? It can come into play if you do. Some of the most common ingredients that are associated with well-known food allergies are wheat, soy, and dairy. So, if you are allergic to any specific elements, look for meals that do not include it.
Ease of Use
Each backpacking meal may be different in how you prep them but most should be kept simple.
Not a lot of you will want to partake in backpacking cooking. If this sounds like you then you will want to prioritize meals that are easy to prepare and eat. For the most part, this is not going to be too tricky to find as most backpacking meals will be optimized as much as possible.
Going back to the freeze-dried versus dehydrated meals debate, they do work a little differently here. For freeze-dried meals, everything is going to be pre-cooked, and all you will have to do is insert the water inside. From there, you will only need to wait a few minutes, and the meal will be ready to go.
Now, even though dehydrated foods work in much the same manner, they will need to be cooked. The water you add to them needs to be boiling. While this is still a convenient way to prep meals while backpacking, it can take several minutes to get there.
Then again, some of the meals you buy may end up needing a small stove to cook them. Granted, you do not mind hauling around a portable stove; these types can also be an excellent option for you. It all comes down to you and your preferences, quite honestly.
Capacity
You need to buy enough food to account for your entire backpacking trip so keep the capacity of each meal in mind.
When you watch your weight, one of the first things you try to do is cut down on your daily calorie intake. Well, in a bit of an ironic twist, the opposite can become an issue when you go backpacking. The primary reason why is when you do go backpacking, you will be burning a lot of calories throughout the day.
So much so that it becomes essential to buy backpacking meals with high-calorie counts. Now, this does not mean you should opt for unhealthy snacks, to account for extra calories. Instead, you need to buy meals that will provide you with a sufficient amount of nutrients and calories.
Regarding what a sufficient amount is, this is going to vary significantly from person to person. Factors such as your weight, age, activity level, and size will all play a role. But, for the most part, most of the meals on this list range anywhere from 150 to 600 calories. Additionally, do not forget to pay attention to the serving size of each package.
Use
To elaborate, this section all comes down to the manner in which the meal is packaged.
This section is all about the packaging. While this seems too subtle of a factor to mean much of anything, it is pretty essential. It all begins with the point that you need to consider the total weight of the food you bring. Just because a specific meal weighs more, it does not mean it will provide you with more substance.
For the most part, most backpacking meals will come in small pouches. These are generally reasonably light in weight and easy to carry around. However, at the same time, you need to figure out how many of them you will need.
Additionally, though, you should also pay attention to the shelf life. This is where freeze-dried and dehydrated backpacking meals are so lovely. As most of you know, moisture is the main deterrent for food staying fresh. Thus, the less humidity there is, the longer the food will last. Both freeze-dried and dehydrated meals are high in this regard. The former can sometimes last for decades.
Oh, and even though most meals will come in pouches, there are other packaging options you will see. Another common one is via cans. Though these can work pretty well, they can also be a bit more awkward to pack. They can also sometimes be a bit heavier than pouches.
Our Top Picks for the Best Backpacking Meals
1

. Omeals Self-Heating Meals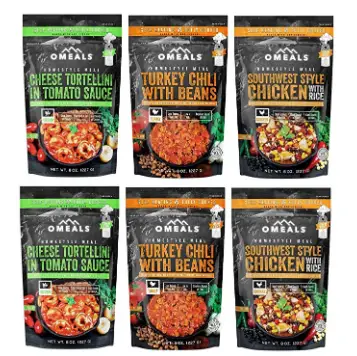 In addition to the fact that this offers you an excellent variety of backpacking meals, heating packs are included for your convenience. This way, you can have some hot and semi-fresh foods.
Read more
Taste
What you are supposed to receive with your purchase is a variety pack of meals. This includes two packages each of chicken with rice, turkey chili with beans and tortellini in tomato sauce. However, some buyers have noted that they only received one style.
Ingredients
In addition to the fact that wholesome vegetables and hearty beans were used (and even more high-quality ingredients), there is no trans-fat in these meals for backpackers.
Set Up
In around three to five minutes, your backpacking meals will be ready to go. Heating packs are included with your purchase, and all you need to do is activate them.
Servings
Each bag only has one serving, and the calories range from 220 to 250. As you can see, one pack may not be enough for some of you.
Packaging
What is nice is each of the bags is lightweight in their design. Then again, you may want to account for your utensils as the included spoon does not adequately reach the bottom of these bags.
Overall
This variety pack is just brilliant for backpacking. The food is also not going to require a backpacking stove to be heated up, and that is a big plus.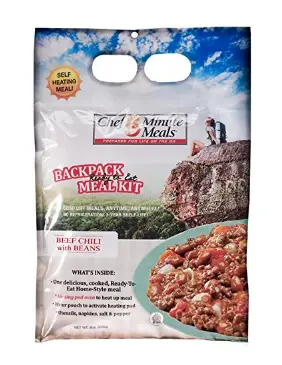 Now, this right here is simply one package of beef chili with beans. But, what makes it excellent hiking food is the fact that it tastes pretty darn good (which can be a rarity).
Read more
Taste
This specific backpacking meal is beef chili with beans. And, while it may not be quite as flavorful as homemade chili with beans, it still has quite a pleasant taste regardless.
Ingredients
Some of you need to know that this is packed with many components that are associated with common food allergies. This includes wheat, peanuts, eggs, milk, and soy.
Set Up
Everything you need is included with your purchase. This includes water and a portable heating system. In less than five minutes, your meal will be ready to eat.
Servings
This is a nine-ounce bag of food, and while it is not a ton of food, it will satisfy some of you out there.
Packaging
As with most backpacking meals out there, this comes in a traditional pouch. On another note, salt and pepper, a napkin, and utensils are also included.
Overall
Sure, there are other brands out there that are better known, but this is as good as them all. For a backpacking meal, the flavor is also terrific.

3

. Wild Zora Palisade Pineapple Mango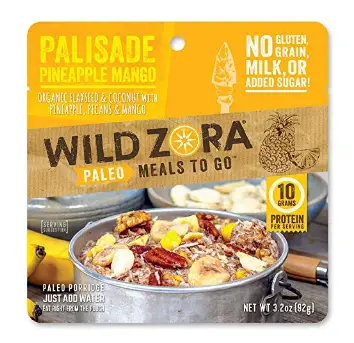 What makes this one of the better options out there are the pure ingredients that are used coupled with the easy setup. Of course, there is also a lot of food here that can semi-fill you up.
Read more
Taste
This review is for the palisade pineapple mango, but there are other options available. As for this one, the taste is excellent if somewhat bland. It is far from unbearable, however.
Ingredients
Past the fact that this is free of added sugar, grain, milk, and gluten, it has also been made with organic ingredients. Also, grass-fed meat has been utilized.
Set Up
All you need to do to eat this backpacking meal is to add a bit of water. There is no mess and virtually no prepping work involved. But, that said, obtain your water from a safe source (or pack a water filter).
Servings
Though the calorie count is rather low for this meal, the portion is still pretty good. Depending on your appetite, you may even be able to share it with another person.
Packaging
First off, this can lack for up to two years (that is shelf life). Secondly, the packaging has been improved to make the food easier to eat (the opening has been widened).
Overall
Wild Zora has been a staple for many backpackers out there. And, again, even if this particular meal for backpacking does not appeal to you, there are other flavor options available.

4

. Greenbelly Backpacking Meals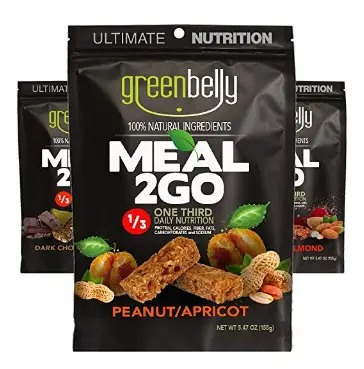 Even though these will simply be snacks for some of you, they will suffice as meals, as well. The best about these meal bars is they are ready to eat straight out of the package.
Read more
Taste
For the record, this is a variety pack of meals bars. Now, they do taste good but they are somewhat dry and flaky. Some of you may not enjoy this type of texture.
Ingredients
If one thing is for sure, the ingredients utilized here are terrific. With the real and natural whole food ingredients, you are provided with a daily intake of carbs, protein, fat, and salt.
Set Up
As opposed to other types of meals, these backpacking meal bars do not need any prepping work whatsoever. You merely rip open the wrappers and eat them like granola bars.
Servings
In addition to the high intake of protein and carbs, each pouch delivers 645 calories. For those of you looking to reach your daily calorie intake, these can be a great way to do so.
Packaging
While the pouch is nice and while the bars are sealed, they are somewhat heavy. One bag may be okay but if you pack several of these bags, the weight may simply be too much.
Overall
For some of you, mere "granola" bars are not going to get the job done. But, as you can see, these bars offer excellent nutritional value and taste pretty good.

5

. Good To Go Mushroom Risotto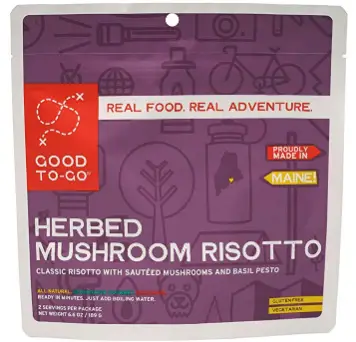 Good To Go is a common brand when it comes to backpacking meals. There are many great ones available and one of the best happens to be the brand's herbed mushroom risotto.
Read more
Taste
Previous users have noted that this is not spectacular in its texture and taste. But, the flavor seems to be decently good and there are large chunks of mushrooms included.
Ingredients
Take comfort in knowing that this backpacking meal was made with high-quality ingredients. First off, no preservatives have been added and, secondly, the ingredients have been tested to meet gluten-free standards set out by the FDA.
Set Up
One of the many great dehydrated meals out there, all you need to do is add water to prepare this meal while backpacking. It is really that easy ladies and gentlemen.
Servings
No matter which size you go with (the single or double serving), you are only provided with one bag of food. But, the option to get a little more food is a nice one to have.
Packaging
The pouch this comes in will not receive too many complaints, let's just say that.
Overall
Though the flavor of this meal for backpackers will not blow you away, the high-quality ingredients and above-average value make it one of the best brands out there.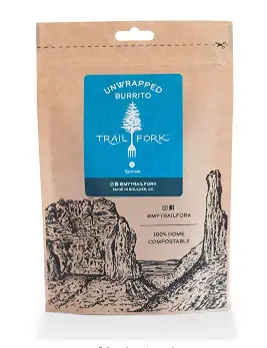 To those who it concerns, this backpacking meal is both vegan-friendly and gluten-free. What you can gather from this is only carefully-sourced ingredients were utilized to make it.
Read more
Taste
Several different meal options are available from this brand. Most of them are good if somewhat bland. As you have noticed, that is a consistent theme with backpacking meals.
Ingredients
As noted, each of the meals provided by this seller has been made with carefully-sourced ingredients. Additionally, they are also gluten-free for those who it concerns.
Set Up
As with so many other options on the market, all you will need to do is add water to the meal that you end up selecting.
Servings
When compared to competing brands, these backpacking meals contain more calories. The different options will vary a bit in their calorie count but each of them is suitable in this department.
Packaging
Not only are these meals made with bags that are lightweight in their design but the bags are also environmentally-friendly and compostable.
Overall
This may not be that popular of a brand but that does not change the fact that high-quality meals have been produced by it. Just try them out for yourself.

7

. Mountain House Spaghetti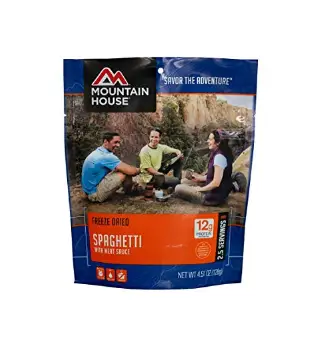 To be honest, this list could be plastered with a whole bunch of Mountain House meals. They are one of the most popular brands out there but let's focus on their spaghetti with meat sauce backpacking meal.
Read more
Taste
This complete meal is spaghetti pasta with chunks of beef. Now, the spaghetti itself is a bit watery, but the overall flavor seems to be above-average.
Ingredients
For those of you who suffer from common allergies, you may want to know that this is packed with wheat, soy, and milk.
Set Up
The back of the package details what you need to do to prepare this meal. But, to let the cat out of the bag, all you need to do is add water.
Servings
In one pouch, there are 2.5 servings. There are also 230 calories per serving. What you can gather from this is this backpacker's meal is more plentiful than others.
Packaging
What is nice is you can either buy this in a pouch or a can. For the record, the pouch is a Pro-Pak, and it is vacuum sealed for maximum freshness.
Overall
If you can live with the fact that the noodles are somewhat watery, you can enjoy a high-quality meal that will certainly fill you up while backpacking. That is not a bad gig.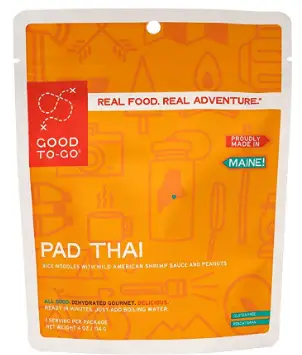 While there have been several buyers who have reiterated that this is not vintage or real pad thai, it is still not too shabby. After all, did people really think it would be close to the actual thing?
Read more
Taste
Pad thai itself is a delicacy and has been dubbed the quintessential dish of Thailand. But, as was mentioned, this is not really close to the real thing and merely is an adequate replica.
Ingredients
No preservatives were used and the ingredients that were used to make this are found in kitchens across Thailand. So, you can take comfort in that for sure.
Set Up
With the addition of some boiling water, this is going to be ready in mere minutes. All you will need is a reliable means of actually boiling some water.
Servings
You are provided with the option of either getting a single or a double serving. If you are trying to feed two people or have a larger appetite, it may behoove you to go with the double serving.
Packaging
The pouch that this comes in is nothing out of the ordinary. If you are accustomed to backpacking meals then you will know what to expect from it.
Overall
If you keep your expectations to a minimum in regard to how this pad thai tastes then you will like it. If you are expecting gourmet-style pad thai, though, you are missing the point.

9

. Wise Foods Company Freeze-Dried Kit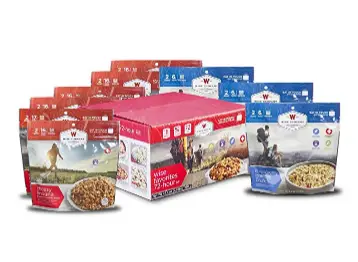 As the title suggests, this is a kit of backpacking meals. This is a great option for those of you who are looking for more than one meal to buy.
Read more
Taste
All in all, this kit includes different breakfast and entrée meals. But, the flavor, as a whole, is merely average and is nothing too astounding.
Ingredients
Not all these meals are gluten-free, so take note of that. As for the actual ingredients, only high-quality ones were used for each of these backpacking meals.
Set Up
In around 12 to 15 minutes, each of these meals is going to be ready to go. As you would expect, all you need to add to them is a bit of water.
Servings
Each package contains two servings, for the record. And, as a whole, this kit includes a total of 18 servings. This means there are nine packages that come with your purchase.
Packaging
Not only are each of the packages well-designed but you also get a grab and go box with your purchase.
Overall
Again, this is a terrific option for those of you looking for variety and an abundance of meals. Each one of them is good enough, also, to be enjoyed.

10

. Backpacker's Pantry Potatoes with Gravy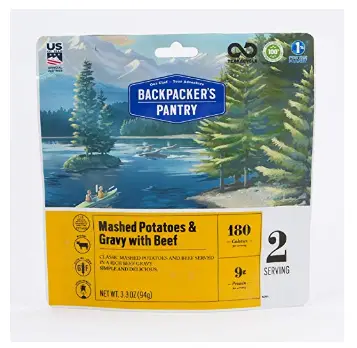 This backpacker's meal, much like many other of the best options out there, has been freeze-dried. And, while the flavor is not utterly phenomenal, it is good enough to be warranted easily edible.
Read more
Taste
Let's just say that these are not your mom's mashed potatoes, beef, and gravy. With that said, it is not as if the flavor is repulsive by any stretch of the imagination.
Ingredients
In spite of the average flavor, this has been made with real beef, potatoes, and gravy. In addition to this, this meal is also gluten-free.
Set Up
Per the instructions of the package, all you will need is 650 milliliters of water to make this meal. Of course, the water needs to be boiling so keep that in mind.
Servings
There are two servings in this pack and there are 180 calories per serving. While this is not bad, this backpacking meal will also not fill you up that much.
Packaging
You really can't go wrong with this pouch as it is not only easy to eat out of but it is also lightweight enough to be highly portable.
Overall
Make no mistake about it, this is a nice meal. Then again, it has the flaws that prevent it from being incredible. For backpacking meals, however, this is to be somewhat expected.

Subscribe to our Newsletter