Best Copper Mugs
In a Hurry? Editors choice: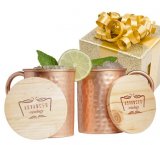 Test Winner: Advanced Mixology

Those of you who enjoy your alcoholic beverages, you are probably aware that copper mugs are often associated with Moscow Mules. While these types of cups can be used for more beverages than just a Moscow Mule, this is what they are famous for. The primary reason is this type of a mug has excellent insulation capabilities and will get the cocktail ice cold. In fact, it is only ideal for cold drinks because, with hot beverages, you will end up burning your lips. But, though these are dubbed copper mugs, you need to be aware that not all models out there will be 100 percent copper. Some will have interior metal linings and may also be copper plated but not genuine copper. To be honest, it can get quite tricky to distinguish the differences between the styles and which one you prefer. With the assistance of this guide, though, we hope to make that a bit easier.
Standout Picks
Criteria Used for Evaluation
10 BEST COPPER MUGS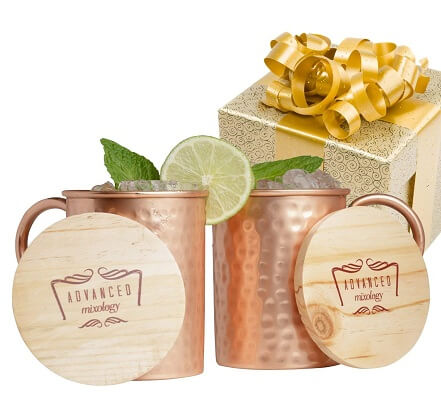 If you want to go off of sheer popularity, then this next listing is for you. Of course, it certainly is never a bad thing when hundreds of buyers share their enthusiasm for a particular product such as this.
Read more
Materials
Advanced Mixology only goes with the best for their products and that is evident here as they used 22-gauge copper to make up their model (with no other metal to speak of).
Interior Design
As with the other top-end models on this list, this actually does not have an additional metal lining and relies on the lone metal to deliver ice-cold refreshment.
Craftsmanship
This is utterly marvelous here. To keep it short, these models have a tarnish-resistant coating, have been crafted by craftsman that have 10 years of experience, and have taken 72 hours to complete.
Handle Design
Again, the handles here have been welded and not riveted. Also, they are shaped to naturally fit the shape of your hands.
Value
On top of the fact that you get two, 16-ounce cups you also receive two wooden coasters with your purchase.
Overall
If Advanced Mixology would have engineered their models to be a bit thicker, then we could be talking about them headlining this list. Instead, they are just underneath the top three (which is far from something to scoff at).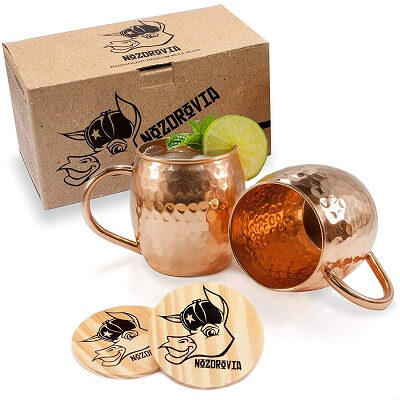 This two-pack is a lot like the top model on this list in that it is comprised of 100 percent copper. But, Nozdrovia also used a 22-gauge variety to keep it in accordance with the Moscow Mule legend.
Read more
Materials
Yep, it does not get much better than this in the world of Moscow Mule mugs. The 22-gauge copper was just alluded to and it provides a fantastic experience.
Interior Design
The natural lining of copper, even though this is technically not lined, ensures that your drinks are going to stay colder for longer periods of time.
Craftsmanship
Due to the pure hammered barrel, you are not going to find a truer Moscow Mule experience out there as the authenticity here is off the charts.
Handle Design
Based on customer feedback, Nozdrovia improved their handle and optimized it for comfort. Also, instead of rivets, they went with a rivetless seam to prevent leaking over time.
Value
While there are other sellers out there who will offer you more of a packaged deal, this still comes with two cups for your convenience.
Overall
To be completely honest, this and the top model on this list were a toss-up. You could flip a coin, that is how close they are in quality, and that certainly says a lot.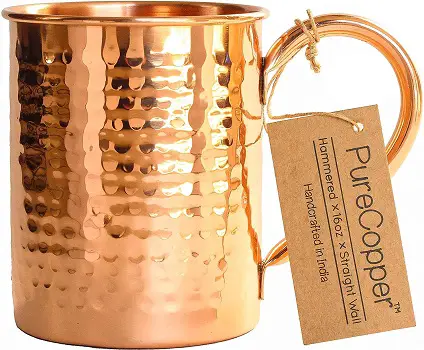 Unlike some of the other options on this list, this right here is crafted of 100 percent pure copper and has no other metal whatsoever. Plus, due to the thick walls, your drinks will be kept ice cold.
Read more
Materials
As mentioned, there are no other metals in this mug. There is no nickel, tin or steel to worry about and for some of you that will be just perfect.
Interior Design
No, this does not have an interior lining. Instead, it is fully authentic and it is going to keep your drink chilled for a long time due to the thick walls.
Craftsmanship
This right here sports a very unique hammered appeal and overall, they do look very sleek. For the record, this was hammered by hand.
Handle Design
Due to the fact that the handle on this model is welded on, there are no rivets to worry about (or better yet worry about leaking).
Value
Now, this is actually not a packaged deal and you only receive the one 16-ounce mug. But, you do get a bonus recipe book and also a wired paper clip with your purchase.
Overall
What a true beauty this is. It is hard to come up with words to describe just how masterful of a design this is. Just buy it and see for yourself.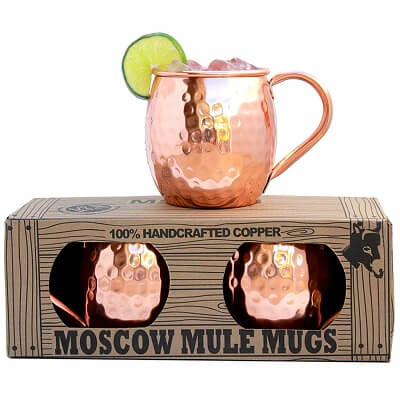 This is the third straight model that is not copper plated nor is it lined with any additional metal. For true purists of the old alcoholic beverage, this really is the only way to go.
Read more
Materials
It is claimed by Morken Barware that their mugs weigh 50 percent more and cost twice as much as other sellers as they use twice the 22-gauge copper in their construction.
Interior Design
As is claimed, there is no lacquer in the interior but there are imitations out there with a nickel, tin, or stainless steel lining (but that is not this).
Craftsmanship
Believe it or not, each of the mugs that Morken Barware manufacture are both handmade and endure a 15 step process to ensure maximum quality (this takes two days).
Handle Design
To avoid both dirt and leaking, the handles have been applied with a weld and not with rivets. Plus, the handles themselves are not brass.
Value
What you receive with your purchase here are two 16-ounce mugs. For the price of admission and quality, that is a pretty good deal.
Overall
Though there have been some users who have noted the finish on these does not hold up too well, the overall quality and craftsmanship can't be denied here. The dedication to the craft is on full display here.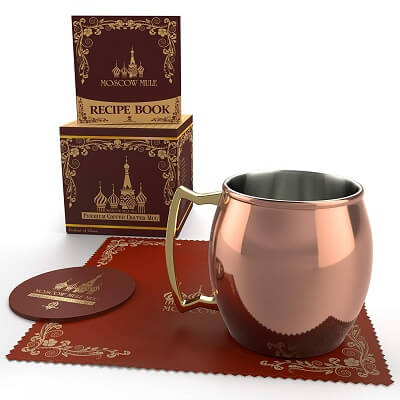 Ah, yes, it is time to introduce stainless steel. Now, it is important to note that this is still plated with copper but the double walled construction is lined with stainless steel.
Read more
Materials
Indeed, unlike the others that have preceded it, this is not made of copper. Instead, it is made of stainless steel and is merely plated in the metal to give it that classic mug appeal. But, some users note it is thinner than expected.
Interior Design
Due to both the stainless steel lining and the double wall construction, ice is going to stay cold for longer periods (for up to at least two hours).
Craftsmanship
Though some people may not like the addition of stainless steel, it is tough to deny how downright gorgeous this looks. Given its handcrafted nature, that is no surprise.
Handle Design
Krown Kitchen implemented an upgraded handle to their design and with its new ergonomics, it provides an effortless grip when you are drinking your ice cold beverages.
Value
In addition to the actual mug that you receive, you also get a coaster, cleaning cloth, and recipe book with your purchase. Not a bad package deal, all things considered.
Overall
In a way, you could consider this the best stainless steel copper mug in the world. That almost seems like a misnomer but indeed, that is the truth.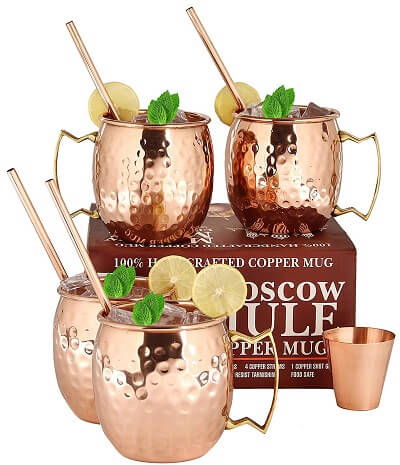 Oh yeah, this is quite the gift set. This is such an amazing value that it almost made this list by default. Of course, it helps that the included items are all fantastic (for the most part).
Read more
Materials
Getting away from stainless steel, the set of mugs you are provided with here are 100 percent copper. However, they have also been tested for food safety for your convenience.
Interior Design
There is no interior lining here so for those of you who want to have the coldest drink humanly possible, this is probably a good thing.
Craftsmanship
Just by glancing at the photos, and not even the real things, you can tell the attention to detail. Due to the handcrafted hammered design, you know you are getting high-quality mugs.
Handle Design
The handles have been welded on to ensure there is no issue of leaking. While they are not the thickest handles out there, they suffice fairly well.
Value
Here is the laundry list of items you receive. You get a set of four 16-ounce cups, four straws that are made of copper, a shot glass, a recipe booklet and a gift box.
Overall
The sheer value of this product cannot be matched. Granted the actual cups are not perfect in their design, it is tough to argue when you get so much for your buck.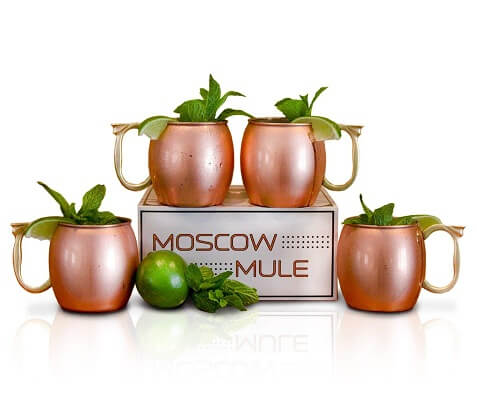 Not only have this next set of four mugs been handcrafted, but they have been handcrafted with stainless steel. While this is not the 100 percent copper makeup that some will want, it is great for the right consumers.
Read more
Materials
Again, as mentioned, this is crafted with stainless steel and it merely has a copper coating on the outside. So, it is not 100 percent genuine for those curious.
Interior Design
One really nice aspect to the addition of the stainless steel lining is it is a bit more of a sanitary choice as it prevents any metal tasting beverages (and also keeps drinks cold).
Craftsmanship
As with so many other designs on this list, this has been handcrafted to ensure the most natural beauty possible. The end result is shiny, attractive and possibly a bit feminine, as well.
Handle Design
The positive here is that the handles are brass. Yet, the handles themselves are a little too thin and the thumb rests have not been engineered in the right place.
Value
It is worth noting that you actually receive four, 16-ounce models. Also, Craft Cocktails includes their gift box with your purchase making this perfect as a holiday gift.
Overall
What a great deal you get here? Even though the handles on the mugs you receive could have been improved, the overall stainless steel composition is still superb.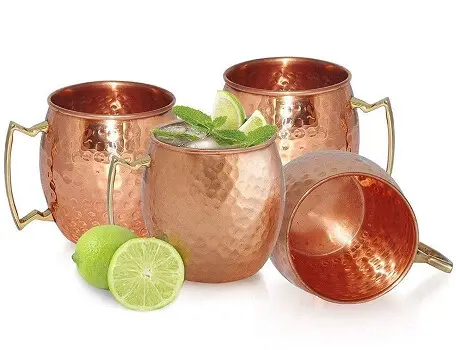 This is yet another set of four here and these have actually been handmade and hammered in India. While it is not flawless, it certainly is not a cheap copy, by any means.
Read more
Materials
Here is the deal; several consumers have reported that this set does not appear to be genuine copper. But, the sellers claim it is pure. Either way, you look at it, it still is a solid construction.
Interior Design
If you prefer variations with interior metal lining, then you will be disappointed to know that this is not lined with any additional metal.
Craftsmanship
To ensure that no two models will be identical, Chef's Star hand makes and hammers all their mugs in India.
Handle Design
The nice thing is the handles in this set are contoured and made of brass. Yet, one buyer claimed the poor welding led to one of the handles breaking.
Value
Though Chef's Star does not include any other accessories with your purchase, you do receive four, 18-ounce (a bit larger than normal) cups with your purchase.
Overall
Are there some red flags here? Yes, there probably are for some of you. For others, though, you will be content with the design as it still is really good.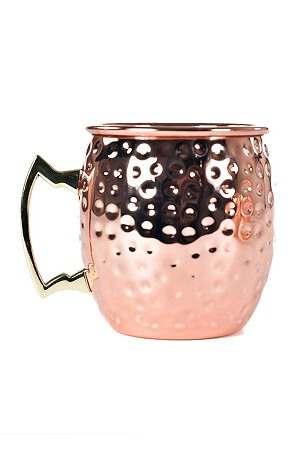 In spite of what one of the product description claims, it appears this specific model is not lined with nickel. Oh, also, this is plated and not genuine, so be aware of that.
Read more
Materials
It seems as though this set is plated with metal and is not genuine. Also, some buyers have reported receiving their cups with noticeable damaging.
Interior Design
Indeed, this specific model does not appear to be lined with nickel (in spite of what one of the product descriptions specifies). Several buyers have claimed no such lining exists.
Craftsmanship
After washing these a few times, you may notice that the finish begins to tarnish. If you like that rustic look, though, this should be just fine with you.
Handle Design
To make these much easier to hold, they come engineered with contoured brass handles.
Value
The general consensus amongst consumer feedback is that you get what you pay for here. You do receive four, 18-ounce cups, though, which is pretty nice.
Overall
Probably the most frustrating aspect of this set is the confusion of what the mugs exactly are. They seem to be fit for those who are not overly concerned with perfection.

10

. Final Touch Moscow Mule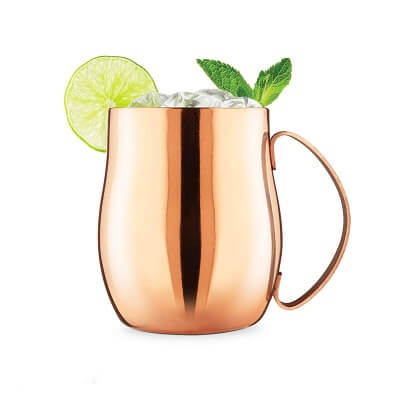 For certain, this here has its slight flaws and design hiccups. With that said, its 304-grade stainless steel construction and copper finish will still satisfy the average buyer out there.
Read more
Materials
As just mentioned, this is made of 304-grade stainless steel and is finished to look like an old-school cup for Moscow Mules.
Interior Design
The interior of this is stainless steel. But, it is also double-walled and the advantage here is that your drinks are going to stay cooler for much, much longer.
Craftsmanship
While certainly far from bad, it is fair to say that the finish could have been crafted with superior results. As some buyers note, it can begin to flake off after a few weeks.
Handle Design
The handle is just kind of here in this case. It is not the best and could be larger and thicker for bigger hands, but it still gets the job done.
Value
You can argue that this is one of the worst values on this list. Then again, the only reason this is true is that you only receive one, 16-ounce cup and nothing else.
Overall
Most likely, consumers will be split down the middle with this design. It certainly has its perks but also has its flaws that may be too big to overlook, for some people.

Subscribe to our Newsletter