Sigg Viva Water Bottle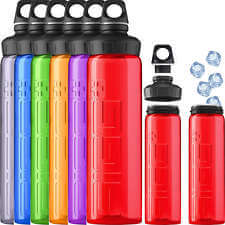 According to the packaging and website this is 'the original drinking bottle, reinvented' and to be honest with such a grandiose statement I expected something a bit more revolutionary. Not to knock it completely as there are some definite plusses for this bottle such as being BPA free (those nasty chemicals in some plastics that can leach into the water), and being made of polypropylene, which is a super-tough and crack-resistant material - perfect for clumsy outdoorsy-types.

Other advertised advantages of the Swiss made bottle are that it is suitable for lightly carbonated drinks (they didn't say beer in particular), was spill proof (useful when you are searching for it in the dark at night to slake your hangover thirst), is dishwasher safe and 100% recyclable.
The bottle I had to review was the 0.75l version made out of transparent green plastic with the distinctive screw top that makes the original SIGG bottle so iconic.
Being transparent allowed you to see clearly how much liquid was in the container, which is a big plus, but the coloured plastic did give it a strange appearance - particularly turning blackcurrant squash in to a dark brown gooey colour.
The Screw Top lid is a two part affair; one sealed the smaller drinking opening with a ring shaped lid that could be used to carry the bottle, to fasten it to your pack when travelling about, or to help it open and close via a handy stick thrust through the hole (good for cold or old hands!). The second part of the lid revealed a larger opening used for filling and cleaning.
There are alternative versions of the bottle top available including the NAT (New Active Top) designed to allow you to drink from the built-in drinking straw without the bottle obscuring your view. This, with the bottle's shape that is compatible with most bicycle holders, would make it suitable for you wannabe Chris Froome or Bradley Wiggins (sideburns not included). The other is the Three Stage Sports Top which does not require unscrewing and would be more suitable for using in a gym.
It must be hard to create a new USP for a drinking bottle so I admire SIGG for trying and the bottle did what is was supposed to do without a problem. However I am not sure it lived up to its hype... but that's marketing for you.
Subscribe to our Newsletter