Best Utility Knives Reviews and Ratings
In a Hurry? Editors choice: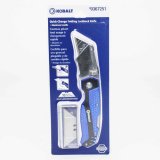 Test Winner: Kobalt

A good utility knife will change how you work, while a bad one will make a
project
more difficult. There are many things that make a utility knife great, starting with the
blade
, making sure that the knife is lightweight, and ending with the quality of the handle. These knives can be used for just about anything and are also very portable. If you are in construction or retail, these are great to have on your person at all times. If you are in the market for a new
utility
knife then you have come to the right place as below we have listed the top ten utility knives of 2019 and explained why the ones on our list our the best of the best.
Standout Picks
Criteria Used for Evaluation
Top Ten Utility Knives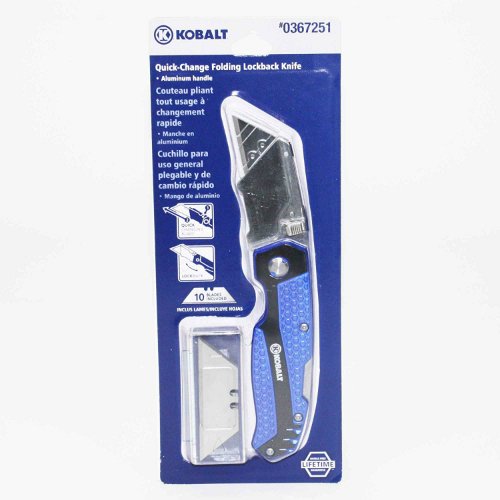 Kobaalt is a trusted company that comes highly recommended by consumers and professionals. With quality features and plentiful extras, it's hard to resist any of their deals.
Read more
Stacked With Blades
Inside the package is eleven blades, with one installed and the other ten in the safety dispenser. For most people, that is enough to last an entire year without having to think about a refill.
Features and Specifications
Aviation-grade aluminum handle
2 ounces
Price/Value
Low priced as usual, with the addition of the extra ten blades adding to its value. At the current price, when you run out of blades it is cheaper to buy the entire package all over again instead of going for a refill.
Decision Time
Extras in any package is always a welcome addition to the savvy consumer. This is one of many Kobaalt products that meets that criteria and impresses its users.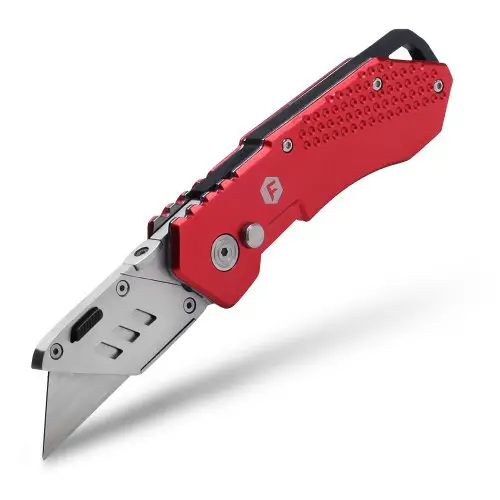 At #4 in the top ten is a model from Fancii called the FC Folding Pocket Utility Knife. This is more on the heavy duty side of the list and is used by many professionals worldwide.
Read more
Tough
It's hard to make a tough utility knife without the extra heft, but somehow they did it. The light weight of this product is complemented by the anodized aluminum design.
Features and Specifications
Anti-slip grip
Quick change mechanism
Price/Value
There isn't any difference in price from this item and any of the others on the list. It is low priced and comes with five extra blades.
Decision Time
When toughness is a quality that you need with a utility knife, the FC Folding becomes a top-five choice. A strong blade and handle make this a top pick on multiple lists that favor durability.



Tops on the list is a Stanley product, which is a familiar name to anyone that handles tools. The 6 in Classic 99 is an all-time favorite of customers that just want to get the job done.
Read more
Best Buying Options
The buying choices are plentiful whether you're purchasing for personal reasons or for a business. It's available as 1, 2, 3, 4, 5, 12, 24 and 36 pack options.
Features and Specifications
Three position retractable blade
Three 11-921 heavy duty blades
Price/Value
No matter what quantity you purchase, the price is low. Since this is the biggest brand name on the list, the value comes from the quality and attached warranty.
Decision Time
Stanley is a dependable company and this is one of their best selling products. It's the best utility knife available at a price that pleases multiple consumers.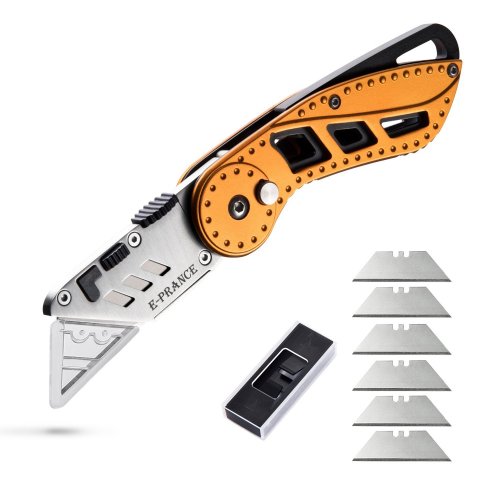 Looking the part goes a long way in persuading customers to buy a product. This utility knife from E-Prance delivers on aesthetics without dropping the ball in other areas.
Read more
Design
Without a doubt this is the best design on the list, using a high tech metallic look from top to bottom. After extended use the design stays intact without any signs of quick wear or chipping.
Features and Specifications
Stainless steel SK5 blades
Holds six blades
Price/Value
Like all the other products on the list, the price is low. The value is in how well the design holds up through heavy use, and that is exactly where this product shines.
Decision Time
Looks aren't something that consumers would associate with a utility knife. For a situation where looks do come into play, this is the best choice on the entire list.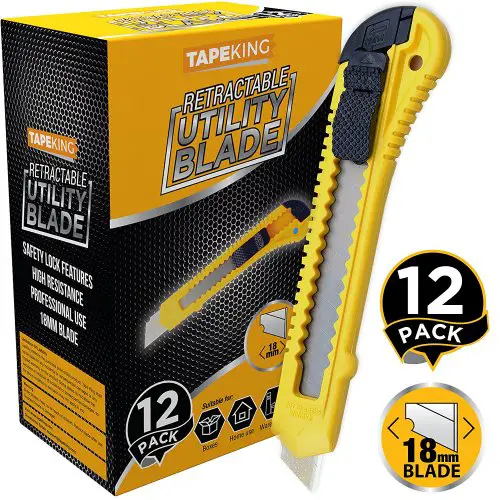 This is another set in a long line of utility knives that concentrates on quantity. Tape King still keeps the quality up to date and adds in a couple of other surprises for potential buyers.
Read more
Another Twelve Set Purchase
This is the second product on the list that offers twelve utility knives in a single box. Although the price is a little higher per knife than the previous one, it is still a tremendous deal (and also from the same company!).
Features and Specifications
Available in 9mm and 18mm
3 ounces
Price/Value
Buyers can get this twelve pack in 9mm or 18mm for a low price. The little bit extra you spend on this set pays off in quality if you compare it to their previous models.
Decision Time
Tape King does it again by providing an excellent choice in the bulk utility knife category. Small and lightweight, these knives will last a long time in the right hands.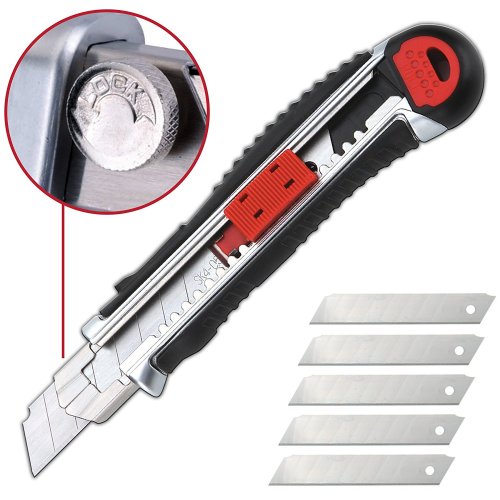 Kutir is a company that follows a traditional look and feel with their products. Their utility knives are easy to get used to, and this model is no different.
Read more
Ease Of Use
None of the utility knives on the list are difficult to use, yet there is something to be admired about a product that goes the extra mile. Even if you've never used a utility knife before, this will be the easiest to handle.
Features and Specifications
Safety auto headlock
Five extra blades
Price/Value
The price is low, and it includes five extra blades. Everything in the package points to a good overall value.
Decision Time
Comfort and ease of use are the two big things that landed this utility knife on the top ten. Beginners will get the most use out of this model since it is painless to set up.

7

. The Original Pink Box PB1UKN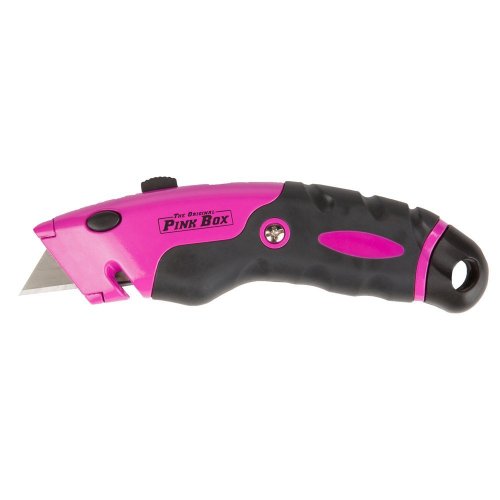 The Original Pink Box has been described as a great utility knife for women, and that isn't based on the color. With smaller hands in mind, it is a valuable product for any household.
Read more
Made For Small Hands
The entire set is made for smaller hands and includes a contoured handle for keeping the blade steady. Compared to the other choices in the industry, the size of this model is perfect without being too small.
Features and Specifications
Available to purchase as a knife, scissors or knife/scissors combo
Fully retractable blade
Price/Value
No matter which version you get, this is a low priced set at a good value. Not a lot of worthwhile utility knives are made for smaller hands, so this is going to be a recommended choice.
Decision Time
A lot of consumers have purchased this set despite pink being the only available color. When you need a utility knife that fits your daily routine, this model turns into a comfortable solution.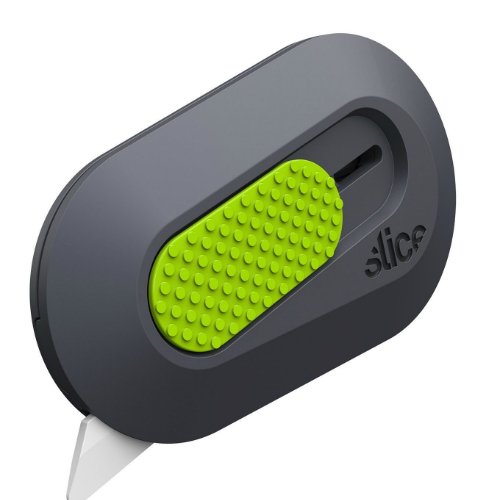 When you have more tools than space, size matters. Coming to the rescue is a mini cutter from Slice, a product that lives up to its name.
Read more
Smallest Product On The List
This utility cutter is small enough to fit in the front pocket of a shirt. So not only is it the smallest available, but it's also the lightest at 2.0 ounces.
Features and Specifications
3 inches in length
Auto-retractable blade
Price/Value
There is no beating the low cost of this product on its own, or when purchasing within bulk at 12 per pack. The only downside is that it may be a little too much for arthritis sufferers to handle.
Decision Time
This utility knife is valuable for users that need a main or backup knife. With tough materials and small size, it will do a good job in delivering promising cutting results.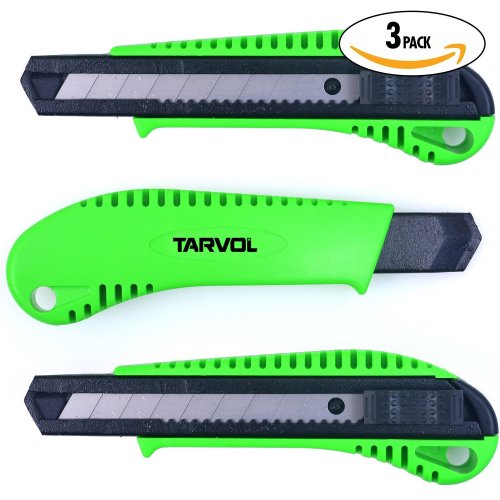 The premium grade of this Tarvol utility knife is well known by its many users. But the attractiveness of the product has more to do with its accessories than the actual build of the knife.
Read more
Cheap Refills
When your blade gets dull and you need to refill, Tarvol sells a ten pack for cheap. This is still one of the better prices in the entire industry, so it is worth considering if you refill blades on a monthly basis.
Features and Specifications
Available as a three pack
Retractable snap-off blades
Price/Value
Both the refill pack and the three pack of utility knives are low price. They are well worth the money for buyers that need to stock up on extra blades.
Decision Time
For a lot of buyers, this will be perfect for their needs, whether that is big or small jobs. Tarvol found their target audience by making the accessories as low cost as possible.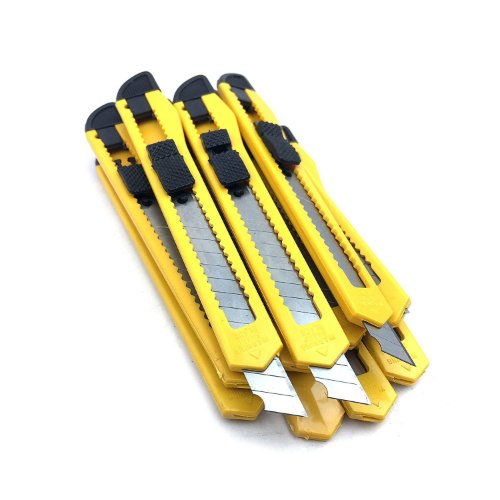 Quantity is a big selling point for buyers that want to supply more than one person. Tape King comes through in a big way for these consumers, giving a lot of product for a small price.
Read more
A Full Pack
Twelve utility knives come in a pack, making this the lowest costing product on the entire list. That is tremendous value even if you only need half as many knives.
Features and Specifications
Available in 9mm or 18mm heavy duty
Safety lock tab
Price/Value
There is no doubting the value of this product, which is low priced. Per knife, it is the lowest costing product on the entire top ten.
Decision Time
This is the best way to get a lot without compromising on quality. It may not have the strongest blade, but there is still no beating the price of a twelve pack utility knife set.

Subscribe to our Newsletter