Best Point And Shoot Camera
In a Hurry? Editors choice: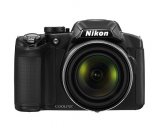 Test Winner: Nikon Coolpix P510

While you are traveling or simply even
camping
, taking good quality photographs is so important to remember special moments. When adventuring
outdoors
and seeing even a fox in a field or a stunning landscape, it is important for you to be able to capture that photo to remember for a lifetime. A point and shoot camera is a great idea for avid travelers or adventure seekers as it is a lightweight and small camera with great clarity. Having a quality point and shoot camera can most definitely add definition and fun to your picture taking experience. You are able to still do things such as change the aperture, the zoom settings, the lighting settings, to even clarity options without having to carry a large digital
camera
. many of the cameras on our list even have wifi on them for you to backup the images as soon as you capture them.
Standout Picks
Criteria Used for Evaluation
Effectiveness
At the core of a camera is its picture and video taking capabilities. No matter if it is a camera phone or a point and shoot camera, they all fall under this principle. Typically, the more expensive cameras will have more features and higher resolutions to enhance video and picture quality. As a note, if you decide to go cheap with a compact camera then do not expect the quality to blow your mind.
However, there are some key features that you can look out for. One, in specific when recording videos, is the resolution the videos can be rendered in. The highest you will typically see unless you are shooting for a 4K camera is a 1920 x 1080 (which is full HD). But, for an everyday user, you would still probably be satisfied with just 1280 x 720 (which is still considered HD). Past this, there are plenty of implementations that enhance quality. These can include an enhanced detection accuracy of the lens to keep the photos as sharp as possible, image stabilization to keep the frame stable, high-sensitivity capture to prevent excess noise and a correction performance to prevent image distortion.
Advanced Features
Past its ability to record videos and capture photos, compact cameras are intelligent pieces of equipment that can assist you in creating the best capture possible. However, while some come to be simple enough for even a monkey to operate others are so complex and detailed that they can confuse some camera aficionados. Take note of this and be sure you know what you are getting yourself into.
No matter the complexity of the point and shoot camera that you invest in, they all will feature extra functionalities that can come in handy for you. The basic cameras will typically allow you to play around with the color and quality settings. For instance, some will allow you to switch from black and white, old photo, warm, and various other color settings. Then, you will have the complex compact cameras that may be pre-programmed to automatically select between various modes to best fit your needs. Some special modes you can look out for, in addition, are modes such as a continuous shot (which allows you to take photos in rapid succession), self-timer (which will allow a period of time after the capture button is hit) and a built-in flash.
Use
If there is one feature that may take a while to get used to for avid smartphone camera users when it comes to compact cameras, is the display size. On a smartphone, you are probably used to five or six inches of screen space as most modern smartphones are beginning to adopt a bezel-less display (or a significant reduction of the bezel). However, with most compact cameras, expect that number to split right in half. As you saw with most of the entries on this list, the display size typically ranged from two to three inches. Now, this is still an adequate screen size but as compared to a smartphone, it is quite smaller.
Looking past this, some point and shoot cameras have the convenience of a display that swivels (or looking through a viewfinder). In a tight crowd or surrounded by hundreds of people, having a swivel display can allow you to capture your intended object at the perfect angle. Meanwhile, the viewfinder is a terrific way for photographers to focus the picture and compose the best photo possible.
Speed
When it comes to higher-end models that are more expensive and cheap models that will suffice for most people, the biggest distinguishable feature is typically the processor. This is where you pay your money, and companies such as Canon, Nikon, and Sony are usually implementing top-of-the-line processors in their compact cameras. What this provides for you are insanely fast and powerful features.
For example, this could include having an insanely powerful zoom lens with well over 60x optical zoom. The higher the zoom, the clearer long distances will become. Of course, there are also point and shoot cameras that are just flat out fast. This could come into play with the continuous shot and autofocus feature. In specific with autofocus, the faster the lens can lock on to its target and provide a clear focus the better. In situations where you need a photo at the exact moment, you focus, having a long lag time can cost you a great image. But, speed can also be as simple as having a fast start-up time when you initially turn on the camera.
Top Ten Point & Shoot Cameras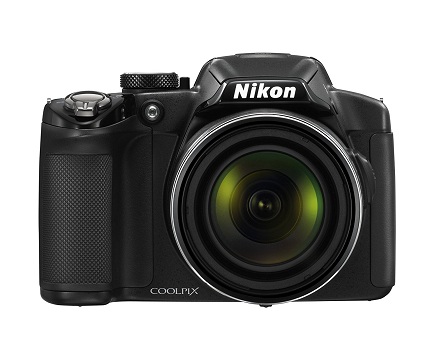 Nikon makes another appearance on this list and their COOLPIX P510 deserves nearly as much recognition as their P900. With only slight issues, Nikon provides another fantastic choice. Flaws are hard to find here and that is a great thing. Nikon is clearly capable of creating sufficient and fantastic cameras, and this model sports that claim very well.
Read more
Effectiveness
Optical VR Image Stabilization and fast autofocus provide a sharp and crystal clear image every single time. Plus, each image and movie, if you choose, is rendered under 1080p full HD. Finally, the system also minimizes the amount of blur when you are taking photos and videos.
Advanced Features
Let Nikon do all the work for you as this camera will determine the best settings for your needs with 20 pre-programmed modes. You will also run into features such as pre-shooting cache, multi-shot, continuous shooting, and an interval timer.
Use
To capture even the most unconventional angles, the screen sports a 3-inch ultra-high resolution size with varying angles. Included with the camera is a USB cable which will allow you to transfer the images over to your computer or tablet.
Speed
The response is super-fast and allows you to enjoy non-stop shooting at your convenience. To put this in perspective, you can shoot around five photos in one second.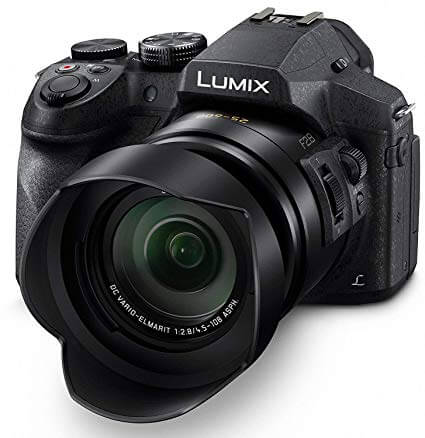 Getting away from complex and professional cameras, take a look at the PANASONIC LUMIX FZ300 digital camera. For its intended purpose, it is hard to argue with how efficient and practical this camera really is. It has amazing clarity and even has a 4K photo and video technology. That means the camera has excellent aperture options and even features a setting to take 30 frames in just one second. That makes this camera great for nature photography, sports photography, or any time of photography where you need to capture high-speed images. This PANASONIC LUMIX FZ300 is waterproof, weatherproof, and even dustproof making it great and durable for the outdoors and different types of terrains. It has a maximum 24x zoom (25-600mm) which allows you to zoom in closer to further away objects clearly. This camera has a stabilizer even which helps with the clarity of images even if your hands are shaking. It is very important to make sure your point and shoot camera comes with great stabilizer settings and this specific camera is well known for that feature. It also is at a great price point for all of the features and settings it comes with.
Read more
Effectiveness
While not of a professional-style quality, the quality is still great for everyday users. When capturing a video, you can do so in 720p HD and cover up to 99 percent of the frame. A 12.1 Megapixels CMOS sensor also provides sharp photos. This camera is known for its stabilizer to help you capture any type of image clearly and to make sure you are able to see the image clear even if you upscale the image or zoom in while editing.
Advanced Features
This camera is known for its ability to edit your photos directly on the camera, allowing you to crop areas out you do not want. For fun, there is also a selfie option. There are several different setting options including changing its aperture, lighting settings, zoom quality, to even stabilizing settings. That makes this camera one of the best on our list.
Use
For generally easy viewing and editing, the screen is full of color and 3-inches in size. As with most compact cameras, you can transfer the content on your SD card to your desired device. This far down the list, it is quite amazing how this is still of the highest recommendation. Perhaps the only reason it is down this low is the level of competition, as its simple nature enhances its usability. This camera is well known for being used for nature photography, sports photography, and even outdoor sports as it has a very fast stabilizer which allows you to take 30 images per seconds.
Speed
To help facilitate the quickest and most accurate focus possible a high-performance optical viewfinder has been implemented. This PANASONIC LUMIX FZ300 Long Zoom point and shoot camera you are able to make sure you do not miss a moment as it takes 30 images per second. It also has a 4k video and camera setting option for you to make sure your images come out clear and perfect condition.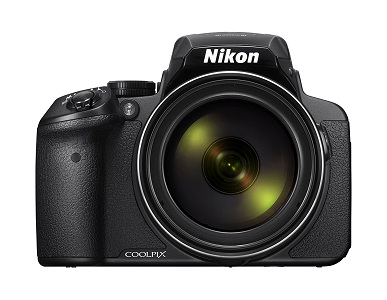 Nikon went all out with their COOLPIX P900 camera and the most notable feature is its 83x optical zoom. This is an insane amount and it allows for you to shoot and capture photos and videos from far distances.
Read more
Effectiveness
If for whatever reason you can't see your intended object with the standard 2,000mm equivalent focal length, you can double it with the Dynamic Fine Zoom. In addition, you can frame your shots through either the high-resolution viewfinder or swiveling LCD display.
Advanced Features
Besides the multiple ways to use the display, the display itself is 3-inches and full of color and life. To a compatible smartphone, you can wirelessly send your photos from your NFC and Wi-Fi enabled COOLPIX P900 camera. This allows you to share your photos on the go and at remote locations. Past its impeccable zooming prowess, this camera from Nikon is as good as it gets. With very few issues to speak of, it is the highest recommendation.
Use
You can shoot from a vast majority of resolutions including 1920 x 1080, 1280 x 720 and 640 x 480. No matter the resolution, though, the Dual Detect Optical VR improves the performance by using enhanced detection accuracy to keep the photos sharp and the videos steady.
Speed
There is no doubt about it, this is one of the most powerful zoom lenses to ever be put into a point and shoot camera. It has an 83x optical zoom and 166x Dynamic Fine Zoom making it hard to find an object far enough to view.

4

. Canon Powershot SX60 16.1MP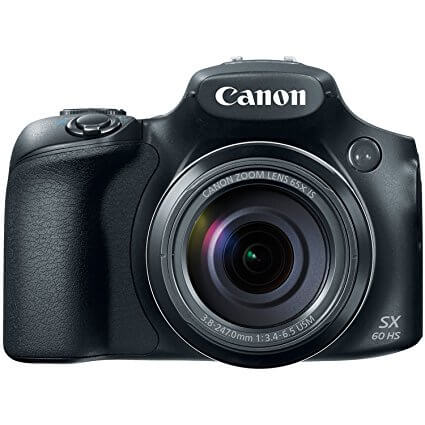 If there is one brand that even novice camera users have heard of it is most definitely Canon. With its built-in WIFI connectivity, excellent zoom abilities, and stellar image stabilizer, you are sure to capture photos like never before.
Read more
Effectiveness
For those times you are outside and the sun is setting (or if you are at a dimly lit party), this camera has a high highly sensitive 16.1 megapixel CMOS sensor and Canon's most recent image processor. With these features combined, you are sure to get a photo that doesn't reflect the poor lighting, but rather, is crisp and sharp.
Advanced Features
The zoom tracking on this particular camera means that you will be able to focus on shots that need longer exposure time, and they will still turn out steady and clear. Overall, if you are looking for a winning point and shoot camera with all of the latest bells and whistles, this is a fantastic option.
Use
Capture images like never before with the Canon Powershot SX60 16.1MP. The 65X zoom wide angle lens allows you to get in there and snap images of wildlife, sunsets, or far away objects with ease and professionalism.
Speed
The image stabilizer means that you will have no troubles taking photos that are clear and appear steady and accurate.

5

. Canon PowerShot ELPH 180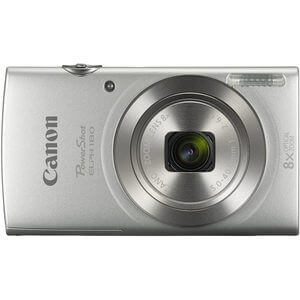 This list caps off with a rather unique compact camera, the Canon PowerShot ELPH 180. This camera comes in a large kit which offers over 10 different products. The 10 extra products include a 32 GB sd card, it comes with an extra USB for you to save your images on, it comes with a carrying case with a strap for you to portably bring your camera anywhere, it comes with a battery and charger, it also comes with a carrying case that clips onto your pants, and even a tripod. All of the extra products really make this camera a great deal. This Canon PowerShot ELPH 180 has an 8x zoom lens which also allows you to take images at a closer range while still being a bit further from them. It is great for trips for you to be able to carry easily and capture moments whenever you are needing to.
Read more
Effectiveness
This is a multifunctional camera with a built-in flash, anti-shot and face detect. Outside of this, there are eight kinds of scene models to choose from. For added convenience, it also comes with a stabilizer option for you to get the best photos that remain clear.
Advanced Features
This Canon PowerShot ELPH 180 camera has an HD 720p video option and a 20.0MP 1/2.3" sensor. It comes with an 8x zoom setting and focuses up to 28-224mm which allows you to even take close up images and wider set images.
Use
For videos, you have several options at your disposal. You can shoot 1080p, 720p or 480p resolution videos. The lower the number the more space you will save, but the worse the picture will look. Outside of videos, the anti-shake feature will prevent hand shaking from hindering the quality. There is even a table tripod this camera set comes with for you to be able to put on a timer or even make sure the camera is stable to get a more clear image.
Speed
Again, do not expect too much speed and power with this model. But, when needing to take a photo with everyone in it (or by yourself) there is a self-timing feature of two seconds. You also have an option for continuous shooting which allows you to make sure you catch whatever image you are needing to with many different options.

6

. Panasonic Lumix DMC-FZ200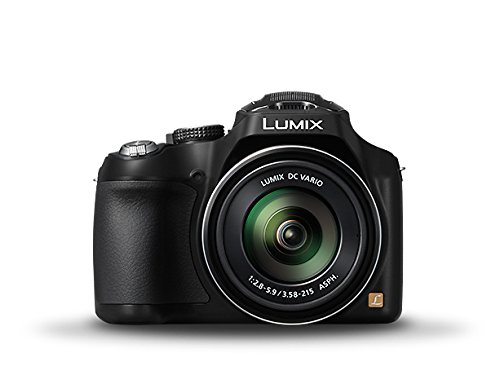 Three straight products and three straight notable-named brands, and there is a reason for that. Panasonic's version is their Lumix DMC-FZ200 and even though it is not first on this list, it is nearly as amazing as the two that preceded it.
Read more
Effectiveness
The lens is made from high-quality optical technology that allows it to reach the perfect amount of brightness. Plus, it has a high-precision correction performance that prevents image distortion. When shooting videos, you can also do so in full 1080p HD.
Advanced Features
With a super-high resolution, around 460,000 pixels, and a 3-inch size the display is terrific for anyone. Uploading photos and videos to your computer or Facebook page is as easy as removing the SD card and inserting it into your computer. To speak of, there is only one major gripe against this camera. However, unless you cherish that gripe (which will be addressed in a minute), this can't stop the Lumix FZ200 from being a breathtaking digital device.
Use
With the integration of three ED lenses and five aspherical lenses, the camera lens can shoot in all kinds of situations. Also, you can play around with eight new and six original control effects that will change the display.
Speed
Even at long distances, you can shoot moving objects with ease and quickness as the lens has a quick shutter speed. When initially turning on the camera, it has a lightning-quick start-up time of around 0.95 seconds.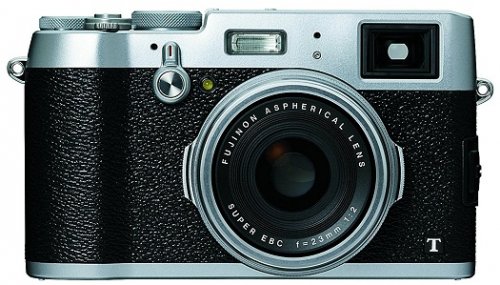 When speaking of complex and heavy-duty point and shoot cameras, the X100T from Fujifilm should always be near the top of the list. Depending on your needs, this will either be a good or bad revelation.
Read more
Effectiveness
Implemented in the optical viewfinder is a highly accurate manual focus system. This enables the most precise focusing possible and the advanced sensor features a color filter array with a random pattern that minimizes the amount of color aberrations.
Advanced Features
If you are looking for a camera that is loaded with features and technology, this could be what you have been looking for the entire time. However, it can get complicated very quickly. The display will strongly suffice with a 3-inch size and LCD screen. Through your microSD card, you can easily upload your pictures and videos on your home computer. Then, you can share them with anyone.
Use
A staple for the X100 Series from Fujifilm is the included hybrid viewfinder and this version is even further advanced. In real-time, the camera will automatically correct the gap from the shooting range frame and the actual range. Plus, the new Classic Chrome Mode can expand to 11 different modes.
Speed
This camera has an elite amount of processing speed and power with its adoption of the dual CPU. Compared to its previous generation, this has doubled the speed. For example, the start-up time is only 0.5 seconds.

8

. Canon PowerShot G9 X Mark II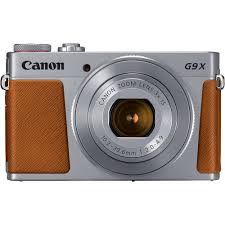 The Canon compact camera is yet another great example of a simple point and shoot camera that does not suffer from lack of technology. As simple as it is, it will fulfill most people's needs in terms of an everyday camera. There are two color options including black and there is silver with brown siding. This Canon PowerShot G9 X Mark II has a built-in flash and even features a touch screen option which is great for sliding through images.
Read more
Effectiveness
It has an anti-shake feature so you need not worry about picture quality being hindered by your hand movement. This Canon PowerShot G9 X Mark II camera has 20.1 Megapixels which makes it a very durable camera especially for its small size. It even has a 1.0-inches CMOS Sensor and goes up to ISO 125–12800 ISOs which make the camera excellent even in low lit areas.
Advanced Features
Just because this is a simple camera does not mean it is without any extra features. It supports smile capture, continuous shot and face detection. When shooting, you can also choose between night portrait, scenery, sport, party, beach, among others. This Canon PowerShot G9 X Mark II has 8 picture style presents which also include monochrome, portrait, fine detail, and auto settings. Each makes it helpful for when you do not want to put the camera on manual to change the aperture, ISO, and pixel settings and just want to simply take a photo quickly.
Use
Nothing overly advanced here, but its 2.7-inch LCD display makes it relatively easy to see and view what is on the screen. As you have been accustomed to, you can upload and transfer photos and videos with the use of the microSD card. But, it also comes with a USB cable so you can transfer them that way as well. This camera is very good for travel use or even everyday use as it has plenty of settings and manual options for you to choose from. It even has a flash included for night time photography and comes with a touch screen.
Speed
Its simplicity ensures that its speed and power may not be as high as other models, but when you use the burst mode it can capture multiple photos in rapid succession. It does have a time-lapse option which allows for you to speed up the camera to capture sundowns or even star gaze.

9

. Sony DSC-RX10 Cyber Shot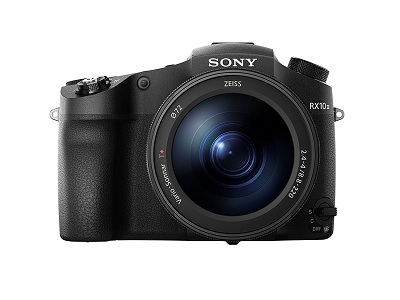 Sony can make more than just video games and their DSC-RX10 III Cyber-Shot camera proves that very efficiently. However, this is a heavy-duty camera and may not be the best as a starter.
Read more
Effectiveness
The lens has a full-pixel readout without pixel binning. This will enhance the amount of detail in each image by reducing the jagged lines. In addition, the high-speed LSI helps the processor reduce image skew and wobble. In the instance of recording a video, this can prevent distortion.
Advanced Features
What is fantastic about the screen is that the 3-inch diameter will rotate in multiple angles; which can make it easier to use the camera in a crowd of people. Via Wi-Fi and NFC, with the appropriate camera application on your smartphone, you can easily connect this camera to your smartphone to transfer the photos.
Use
There are rings for aperture, zoom, and focus and they are all easy to operate. For an extra amount of convenience, you can turn on the Aperture Click Switch feature for stepwise clicks of assurance. As mentioned, this is a heavy-duty and highly-advanced piece of equipment that is terrific for camera enthusiasts, but perhaps too outlandish for novices.
Speed
The shutter speed is a blazing-fast speed of up to 1/32000 and Sony also sported a 0.09-second 5 high-speed autofocus system. In moments where you need a quick shot, this will come in handy.

10

. Pegear 10 MP Mini Digital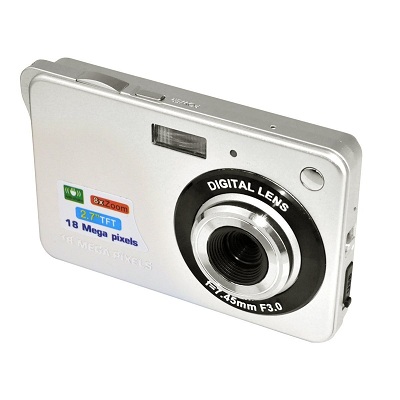 For people who have been waiting for a simple, yet effective, point and shoot camera, your wait is over. The 18MP digital camera from PeGear is the perfect example of a simple product that will get the job done with little to no hassle.
Read more
Effectiveness
This camera has a low-end lens which means the better the lighting effect, the better the shooting effect will be. Thus, when indoors, it is smart to open the flash.
Advanced Features
For such a small and simple camera, the display is rather impressive. It has a 2.7-inch screen size and a TFT LCD display with an excellent amount of color and life. It is simple to upload and download your photos on your computer via your SD card. Functionality and design-wise, there is not too much to complain about with this camera. It is not over-advanced and complicated, making it suitable for novices.
Use
It sports a plethora of functionalities including anti-shake, face detection, continuous shot, self-timer, smile capture, a built-in flash, and multiple languages. All of which enhance the experience and quality of the camera.
Speed
Being as simple as it is, it is not as powerful and efficient as top-end models. However, there is a continuous shot feature that allows you to take multiple pictures in rapid succession.

Subscribe to our Newsletter