Best Point And Shoot Camera
In a
Hurry? Editors choice: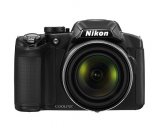 Test Winner: Nikon Coolpix P510

While you are traveling or simply even
camping
, taking good quality photographs is so important to remember special moments. When adventuring
outdoors
and seeing even a fox in a field or a stunning landscape, it is important for you to be able to capture that photo to remember for a lifetime. A point and shoot camera is a great idea for avid travelers or adventure seekers as it is a lightweight and small camera with great clarity. Having a quality point and shoot camera can most definitely add definition and fun to your picture taking experience. You are able to still do things such as change the aperture, the zoom settings, the lighting settings, to even clarity options without having to carry a large digital
camera
. many of the cameras on our list even have wifi on them for you to backup the images as soon as you capture them.
Standout Picks
Criteria Used for Evaluation
Effectiveness
At the core of a camera is its picture and video taking capabilities. No matter if it is a camera phone or a point and shoot camera, they all fall under this principle. Typically, the more expensive cameras will have more features and higher resolutions to enhance video and picture quality. As a note, if you decide to go cheap with a compact camera then do not expect the quality to blow your mind.
However, there are some key features that you can look out for. One, in specific when recording videos, is the resolution the videos can be rendered in. The highest you will typically see unless you are shooting for a 4K camera is a 1920 x 1080 (which is full HD). But, for an everyday user, you would still probably be satisfied with just 1280 x 720 (which is still considered HD). Past this, there are plenty of implementations that enhance quality. These can include an enhanced detection accuracy of the lens to keep the photos as sharp as possible, image stabilization to keep the frame stable, high-sensitivity capture to prevent excess noise and a correction performance to prevent image distortion.
Advanced Features
Past its ability to record videos and capture photos, compact cameras are intelligent pieces of equipment that can assist you in creating the best capture possible. However, while some come to be simple enough for even a monkey to operate others are so complex and detailed that they can confuse some camera aficionados. Take note of this and be sure you know what you are getting yourself into.
No matter the complexity of the point and shoot camera that you invest in, they all will feature extra functionalities that can come in handy for you. The basic cameras will typically allow you to play around with the color and quality settings. For instance, some will allow you to switch from black and white, old photo, warm, and various other color settings. Then, you will have the complex compact cameras that may be pre-programmed to automatically select between various modes to best fit your needs. Some special modes you can look out for, in addition, are modes such as a continuous shot (which allows you to take photos in rapid succession), self-timer (which will allow a period of time after the capture button is hit) and a built-in flash.
Use
If there is one feature that may take a while to get used to for avid smartphone camera users when it comes to compact cameras, is the display size. On a smartphone, you are probably used to five or six inches of screen space as most modern smartphones are beginning to adopt a bezel-less display (or a significant reduction of the bezel). However, with most compact cameras, expect that number to split right in half. As you saw with most of the entries on this list, the display size typically ranged from two to three inches. Now, this is still an adequate screen size but as compared to a smartphone, it is quite smaller.
Looking past this, some point and shoot cameras have the convenience of a display that swivels (or looking through a viewfinder). In a tight crowd or surrounded by hundreds of people, having a swivel display can allow you to capture your intended object at the perfect angle. Meanwhile, the viewfinder is a terrific way for photographers to focus the picture and compose the best photo possible.
Speed
When it comes to higher-end models that are more expensive and cheap models that will suffice for most people, the biggest distinguishable feature is typically the processor. This is where you pay your money, and companies such as Canon, Nikon, and Sony are usually implementing top-of-the-line processors in their compact cameras. What this provides for you are insanely fast and powerful features.
For example, this could include having an insanely powerful zoom lens with well over 60x optical zoom. The higher the zoom, the clearer long distances will become. Of course, there are also point and shoot cameras that are just flat out fast. This could come into play with the continuous shot and autofocus feature. In specific with autofocus, the faster the lens can lock on to its target and provide a clear focus the better. In situations where you need a photo at the exact moment, you focus, having a long lag time can cost you a great image. But, speed can also be as simple as having a fast start-up time when you initially turn on the camera.
Top Ten Point & Shoot Cameras
Subscribe to our Newsletter