Best Mirrorless Cameras
In a Hurry? Editors choice: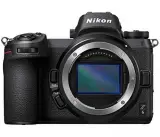 Test Winner: NIKON Z6

First and foremost, what exactly is a mirrorless camera? You may have heard of this style without ever knowing what it was. In the simplest of explanations, this is a camera that forgoes the addition of a reflex mirror (hence the name) and allows the imaging sensor to be exposed to light at all times. What this means for you is this style will not have an optical viewfinder and will simply provide you with a digital preview of your image (either via an electronic viewfinder or a rear LCD screen). Oftentimes, users will prefer mirrorless cameras as they are typically lighter and more compact than their DSLR counterparts. Check out our comparison guide of best mirrorless cameras.
Standout Picks
Criteria Used for Evaluation
Effectiveness
What makes a camera effective? How about image quality and processing performance?
When it comes to any type of digital camera, their performance is everything. For this section, let's focus specifically on image quality and processing performance. Back in the day, mirrorless cameras were not as competent when it came to image quality but that has changed with modern technology. As technology has evolved, engineers around the world have been able to produce models with more sensitive chips and models that are able to suppress noise at a much more efficient level. The result has been improved image quality.
However, from model to model, this can differ quite a bit. The best options out there will sport image stabilization. Yet, it is worth noting that you can buy lenses that have image stabilization technology if the camera you buy does not sport in-body stabilization (though these lenses are quite expensive). Either way, image stabilization will account for shaking and general camera movement. Also, you may want to look for options that can save RAW files as the RAW file format will not add any processing to the images. Oh, and as far as the processing engine is concerned, a more advanced version can lend its hand to improved speed, efficiency, and overall performance.
Advanced Features
Do not forget about the video capabilities as you never know when you will want to shoot a high-quality video.
In general, mirrorless cameras tend to be better at shooting video than their DSLR counterparts. The main reason why is due to the on-chip focus sensors that these types of models employ. In conjunction with improved autofocus speeds when shooting video, it makes them the generally preferred choice for videos and films. Now, at the same time, this is referring to higher-end models as cheaper options may still struggle a bit when it comes to video recording. Of course, looking past this, there are also some key specifications that you need to look out for.
The first of these specifications is the video resolution. Newer models are adapting the ability to record 4K content and as opposed to Full HD (which is also classified as 1080p), this provides two times the pixel count (4K is 3840 x 2160 pixels and Full HD is 1920 x 1080 pixels). The more pixels a video has, the clearer and sharper the imagery will appear. Moving on, the other specification is the frame rate. This one is simple; the higher the frame rate is in a video, the smoother it will appear and run. Most 4K models will only be able to handle 30 frames per second (also known as 30p) but you will see some with the ability to handle 60 frames per second.
Features
There are actually several features that you can look for but let's focus on the most important.
You could go on and on with some of the features that are implemented in any type of digital camera. But, let's direct the focus to some of the most vital ones you need to keep in mind. To start, let's talk about the autofocus system. Mirrorless cameras have come a long way as DSLR models used to overpower them with a technology known as phase detection. Over time, though, mirrorless models have begun to implement both phase and contrast detection sensors. And, all you need to know as the buyer is these sensors completely refine the autofocus system in any model. Basically, what you probably want is an autofocus system that is speedy to enable you to focus in on subjects in the blink of an eye.
Also, although these models do not have optical viewfinders they will often sport electronic viewfinders. Most new models, in fact, will integrate OLED displays for their electronic viewfinders which is a huge improvement over LCD displays. OLED displays, in general, will produce enhanced quality and clarity. And, to wrap this section up, two other features to look for are a burst mode and wireless connectivity. The former (often referred to as continuous shooting mode) is great for taking multiple images in mere seconds and the latter can be ideal when you want to wirelessly transfer your images and videos.
Durability
When spending this kind of money, your investment needs to be protected, right?
If you do not want to mess around then you should prioritize models with magnesium alloy housings. This metal is one of the most popular when it comes to electronics such as cameras due to its amazing strength-to-weight ratio. You see, magnesium alloys consist of magnesium and another alloy metal. But, magnesium itself is lighter than a plethora of other metals (such as aluminum, titanium, and steel) while also being incredibly strong. When paired with another metal, such as aluminum, this makes for an amazing housing.
But, to take it a step further, you may want to pursue options that sport weather sealing. Without proper sealing from the weather, mirrorless cameras will be exposed to outdoor elements such as dust, humidity, and moisture. So, if you do not want to work around the weather, you will need a model with extensive weather sealing (as the degree of protection will differ from design to design).
Ease of Use
Digital cameras can get downright confusing but look for models that make it easier.
Even though you may not think about it, one of the reasons this style of camera is a bit easier to use at times than a DSLR is due to its compact nature. Generally speaking, because the mirror inside has been removed, this style tends to be much more compact and less bulky to hold. Over longer periods of time, this will be a welcome sight. But, there are other factors to take into consideration here. For starters, you may want to look for designs that have been optimized with comfortably placed dials and buttons. Ideally, you will be able to easily adjust the settings while shooting and filming.
Also, some systems can be downright complicated to navigate through. Optimally, look for systems that are at least somewhat intuitively designed for easier menu navigation (some models will also allow touchscreen navigation). Overall, though, remember that any option you pick is going to take some time to get used to. This is especially true if you are switching brands or have never owned a digital camera.
OUR TOP PICKS FOR THE BEST MIRRORLESS CAMERAS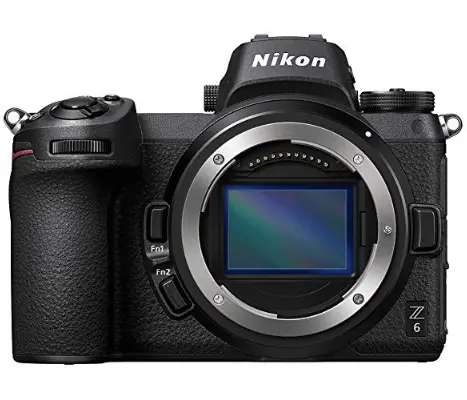 Even though the Nikon Z6 is not far and away from the best model on the market (as others do come close to matching its quality), it got the edge over the rest of the pack by mere inches.
Read more
Performance
Being the top model on this list, you better believe that the Z6 can hold its own when it comes to its performance. Let's just say this device produces images that are spectacularly sharp.
Video Resolution
This shoots video that is equivalent to 6K by shooting 4K video at 30 full frames per second in full frame. As with the images, the Z6 creates stunning videos and movies.
Features
In addition to the advanced electronic viewfinder, this is designed with an autofocus system that covers 90 percent of the frame both horizontally and vertically (and provides 273 autofocus points).
Build Quality
What is nice is you definitely do not need to baby this bad boy as it is extensively sealed for protection against both dust and moisture. Granted you do not slam it down on concrete, you should be just fine.
Ease of Use
To allow for quick adjustments, there is a new customizable menu that appears inside the viewfinder. Additionally, all the buttons and dials are comfortably placed.
Overall
For those of you who are not messing around, the Z6 is the way to go. Yes, there are other highly suitable options on the market but boy, this one is almost too good to pass up.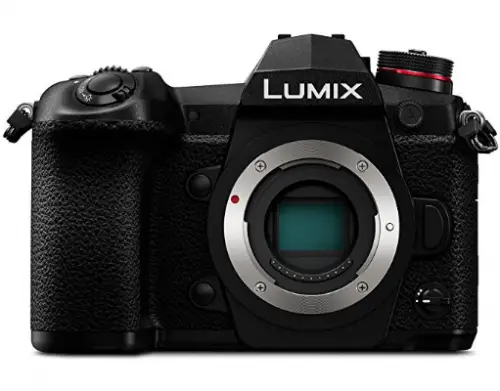 If you are not impressed with the Lumix G9 then you may need to have your eyes checked. Arguably most astounding is the stunning 4K video that it can shoot at a full 60 frames per second (which you do not see very often).
Read more
Performance
With the combination of the 20.3-megapixel resolution and the 5-axis dual image stabilization system, the Lumix G9 is going to produce sharp and stellar imagery.
Video Resolution
As was mentioned, this is capable of shooting 4K video at a full 60 frames per second which is incredibly impressive. Of course, it can also shoot Full HD at 180 frames per second.
Features
The OLED viewfinder sports a massive resolution and this camera can also be connected via Wi-Fi and Bluetooth. Oh, and the burst mode takes lighting fast images.
Build Quality
In addition to the fact that the magnesium alloy housing is going to withstand heavy use, this is also sealed against the weather and freezeproof down to -10 degrees.
Ease of Use
Overall, this will be easily adaptable to most users. However, the knob that allows you to adjust the focus mode is quite stiff and can be hard to change.
Overall
Goodness, this is an incredible design. Whether you want to point to the impressive video capabilities or the unbelievable build, it is hard to deny the greatness of the Lumix G9.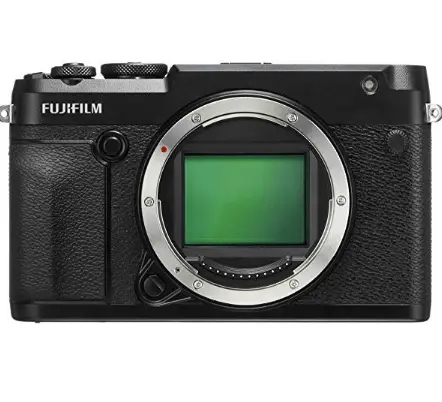 What you need to understand about the GFX 50R is it is a medium format camera which means it is not optimized with a fast autofocus system. Then again, it produces completely breathtaking images.
Read more
Performance
Out of all the models on this list, this probably delivers the most awe-inspiring imagery. This is thanks to the 51.4-megapixel sensor and the X-Processor Pro image processing engine.
Video Resolution
No, this can't shoot 4K video but it can deliver Full HD content. Of course, the frame rate is still only 29.97p (which is pretty limited for Full HD video).
Features
Back to what was mentioned earlier, this is a medium format camera and is not ideal for lighting fast autofocus tracking. However, this is equipped with an organic OLED electronic viewfinder for precise focusing.
Build Quality
This can handle the elements thanks to its weather and dust-resistant design. Oh, and the housing is also made out of magnesium alloy for ultimate protection.
Ease of Use
Though this will still take some time to get accustomed to, each component, dial, and the button has been strategically designed to offer convenience to the user.
Overall
Yes, you will need to shell out some money for this one. Granted you know what you are getting with a medium format model, you will utterly adore the GFX 50R.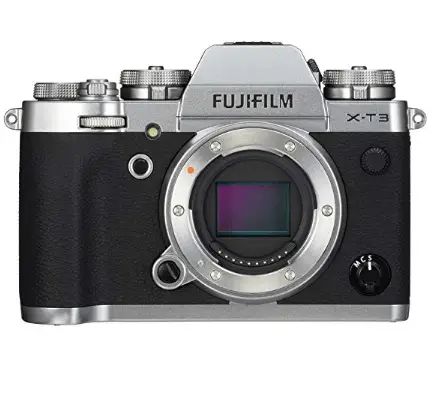 If there is one thing to know about Fujifilm, they do not produce cheap cameras. Their X-T3 is a perfect example and produces stellar images and stunning 4K video.
Read more
Performance
The X-3 is noteworthy for featuring a newly-developed (at the time) back-illuminated X-Trans CMOS 4 sensor. Oh, and this also sports a 26.1-megapixel sensor.
Video Resolution
When it comes to shooting video, the X-T3 is special. It is actually the first mirrorless model, in fact, with an APS-C or larger sensor to shoot 4K video at 60 frames per second.
Features
Looking past the 16 different film simulation modes (which are impressive), the X-T3 is also equipped with blackout-free burst shooting and a 3.69 million dot OLED viewfinder.
Build Quality
Do not worry about the elements or babying this device as it is built to withstand just about anything. It is both weather-sealed and also protected with a magnesium alloy housing.
Ease of Use
This device is confusing to control so let's just get it out there. The menu system is not intuitive and there are loads of dials to wrap your head around.
Overall
Look, at first, you may feel overwhelmed with the X-T3 but give it some time as it is an ultra-impressive design. It is capable of just about anything.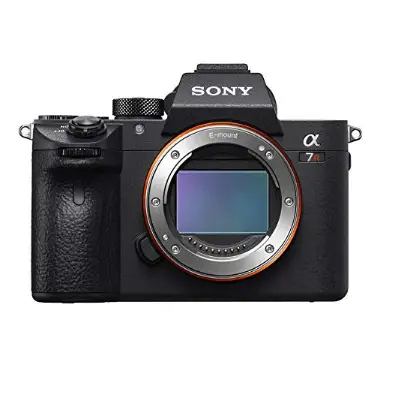 It was only a matter of time before Sony made an appearance on this list and while there a7R III is so close to flawless, there are a few tiny hiccups that must be addressed.
Read more
Performance
First off, the back-illuminated Exmor R CMOS sensor is going to collect more light. Secondly, this is designed with an updated BIONZ X processing engine for enhanced processing speeds.
Video Resolution
If you are someone who needs 4K video in their life then you will be pleased with the a7R III.
Features
In addition to the doubled autofocus tracking effectiveness of this camera, it also boasts a continuous shooting mode that can capture subjects at up to 10 frames per second.
Build Quality
For whatever reason, the build quality here is not the best. It is certainly not bad, per se, but it is not weatherproof so be careful with inclement weather conditions.
Ease of Use
The touchscreen will only work when you are focusing so you will still need to operate through the menu system with the dials and buttons (which can be a pain at times).
Overall
Do you see now? The a7R III is such a great device that is hampered a bit by some limitations. For just about everyone, however, it will still be an excellent option.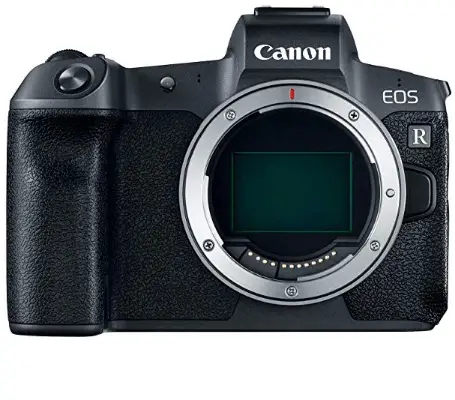 Do you want to talk about a mirrorless camera that is oh so close to being regarded amongst the absolute elite? The EOS R still secured a spot on this list so it is not as if it is poorly designed, however.
Read more
Performance
Even though the image quality is impressive here (with a powerful DIGIC 8 image processor at the helm), one of the features that would have put this over the top is in-camera stabilization.
Video Resolution
Not only can you record Full HD video at 60 frames per second, but you can also sacrifice the frame rate a little bit to record in 4K (the frame rate is 30p).
Features
One really nice feature about the EOS R is the autofocus system which has a maximum of 143 available areas when automatically selected. Also, this system allows ultra-fast focusing speeds of 0.05 seconds.
Build Quality
Looking past the fact that this is not sealed for protection against the weather, the overall build quality is superb.
Ease of Use
On the positive end of things, the menu system for the EOS R is well-designed. However, the touchscreen is not as responsive and sensitive as it should be (which can make operation more of a hassle).
Overall
If you are someone who feels that this price should justify in-camera stabilization then you are not the only one. But, do not let that overshadow how great this device really is.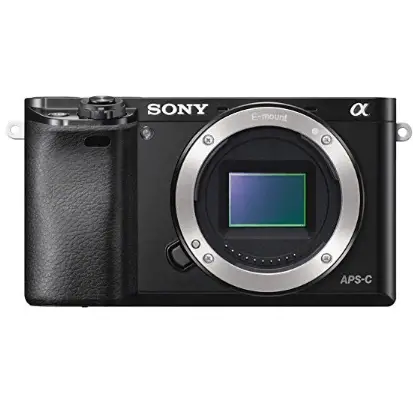 Look, not everyone can afford some of these options and that is fair. Thankfully, there are budget options that can more than deliver the goods and the a6000 is a great example of such.
Read more
Performance
Sony's BIONZ X image processor powers their a6000 and it helps to provide fantastic processing capabilities to deliver enhanced imagery.
Video Resolution
No, this can't shoot 4K video but it is more than capable in the video recording field. This is because it can still handle 1080p content at either 24 or 60 frames per second.
Features
The good outweighs the bad here that is for sure. The burst mode can capture objects at 11 frames per second and the OLED electronic viewfinder is incredible. However, the shutter sound is pretty darn loud.
Build Quality
Okay, so the build quality is really nice on the a6000 and it is even designed with an anti-dust system. With that said, a couple of users have experienced issues of overheating.
Ease of Use
Every model in the world will take some time to get accustomed to but Sony designed their a6000 control layout to be as convenient as possible when you are shooting.
Overall
Leave it to Sony to develop an impressive, affordable mirrorless camera. The moral of the story with the a6000 is you really can't go wrong with a Sony- branded device.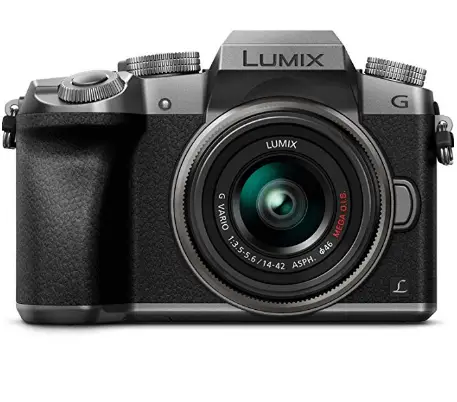 When you look at the specifications, the Lumix G7 is limited to some regard. But, not all of you out there require top-notch technologies and this is still a great camera.
Read more
Performance
The Lumix G7 can certainly hold its own in the performance department with its next-generation intelligent image processor. However, there is no in-body stabilization which is a bit of a letdown.
Video Resolution
Let's get to the good news; this can shoot 4K video at 30 frames per second. Yet, recording video on the Lumix G7 can be a pain because of the slow autofocus. Oftentimes, the background becomes distorted for much too long.
Features
There are three unique video modes that you can mess around with as well as a well-designed OLED viewfinder. Additionally, both the autofocus and the shutter noise are kept to a minimum.
Build Quality
In spite of the fact that this is made with some plastic materials and lacks weather sealing, the build quality is still quite good overall.
Ease of Use
One of the benefits of "cheaper" cameras is they are sometimes less complicated to operate. The Lumix G7 will take some time to get used to but is rather intuitive in its design.
Overall
The Lumix G7 is not exactly the Lumix G9 but it also does not need to be. It is really good in its own right and will be a suitable option for most of you.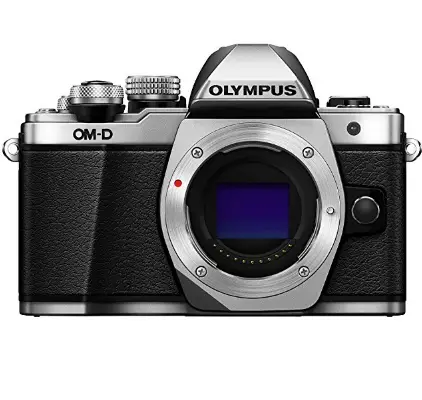 For all you video lovers out there who require nothing less than full 4K video, you will be disappointed with the video resolution. Then again, this is designed with 5-axis image stabilization which is awesome.
Read more
Performance
The combination of the TruePic VII image processor, 16.1-megapixel sensor and 5-axis image stabilization produce electrifying photos that are sure to "wow" you.
Video Resolution
With a peak video resolution of 1080p (which is Full HD), the videos this can create are far from bad. But, the resolution is not 4K.
Features
First off, the burst mode on this device is capable of capturing up to 8.5 frames per second. Also, the autofocus system is insanely fast to ensure you will not a moment of the action.
Build Quality
Let's just say that the construction could be improved. One of the most common complaints, in fact, is that the battery compartment door is junk. Oh, and this is also not water or shock-resistant.
Ease of Use
The LCD monitor allows for nice viewing angles and the controls are thoughtfully placed. However, the software still makes for complicated operation.
Overall
For a camera at this price range, it is hard not to be impressed. Just remember that you need to be somewhat cautious with this as it is not meant to withstand much abuse.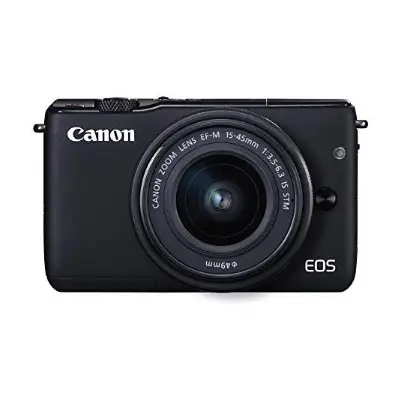 For those of you who just want to get your feet wet with this technology but do not want to spend a fortune, consider the EOS M10.
Read more
Performance
The DIGIC 6 image processor and 18-megapixel sensor manage to capture images in sharp and heavy detail.
Video Resolution
Overall, the EOS M10 is limited in its video capabilities. Then again, some of you will still be satisfied with the video that is captured in 1080p at 30 frames per second.
Features
There are some great features present here such as Wi-Fi and NFC capability and a burst mode. Yet, the autofocus speed is quite slow.
Build Quality
Overall, the build of the EOS M10 is not going to blow you away but it is also not cheap.
Ease of Use
In addition to the compact size, the intuitive touchscreen allows for easier menu navigation and operation overall.
Overall
Due to the slow autofocus and the general lower specifications of this model, it will not be suitable for all of you. It makes for one heck of a starter mirrorless model, though.

Subscribe to our Newsletter