Best Luggage Tags
In a
Hurry? Editors choice: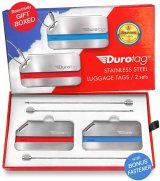 Test Winner: Durotag

Here is the deal; it is a possibility that when you travel via airlines your
luggage
can get lost. Now, it may not be as likely as you think. In fact, the
Air
Travel Consumer Report that is issued by the U.S. Department of Transportation claims that there is less than a one percent chance that major airlines will misplace your bags. Also, you are not even required to put personal luggage tags on your bags as the airline will do that for you when you check in. All this points to luggage tags being irrelevant, right? Not so fast as they can allow you to know right where your
bags
are and, because most will allow you to put contact information inside of them, can provide the airline with a way to contact you. But, they come in different makeups and styles so understand what to look for.
Standout Picks
Criteria Used for Evaluation
Materials
You can't underestimate the rigorous nature of airports and thus, your tag needs to be able to withstand some abuse.
If you paid attention to the products section of this guide, then you gathered that this type of product can be made with different types of materials. What you will find most common is that they will be made out of materials such as leather, metal, rubber or even cardboard. But, is one material superior to the others, in this case? Well, not necessarily but let's break them down to give you a closer look.
Starting with metal, you will typically either see aluminum or stainless steel. Both metals can be extremely durable but steel is stronger than aluminum. Aluminum will be more likely to get bent through transport so if this is a concern, go with stainless steel. As for rubber, this is an ideal material. Because it can be bent, the concern of tearing and breaking is all but eliminated. The same goes for leather as it is extremely durable and tough. Plus, it is highly fashionable and can go very well with a corresponding leather bag. Really, all these materials can be great but the designer's craftsmanship of the materials also matters (so pay attention to the details).
Stability
While the materials are important, the stability is also of the essence. After all, you do not want to lose your tag because it could not stay attached to your luggage.
Without question, stability is so very, very important here. For those questioning what is meant by stability in this case, let's explain. A luggage tag needs to be secured to your bags in some fashion and this is typically either done via a loop or a strap. But, if a specific model has a cheap fastener then you have a few choices. One, manually install a superior fastener or two, choose a different model. After all, if the fastener breaks then your tag is going to fall off your luggage and be lost.
So, it then goes without saying that it is important. Now, most fasteners will either be steel straps or loops or even a leather strap (if the main material is leather). With steel loops, these will typically be made with durability in mind and will not break very easily. Straps can be a bit more troublesome as they can loosen and even break. That said, some leather straps will be as durable and secure as any steel loop. Again, it goes back to the product's craftsmanship quality.
Style
Not style as in visual appeal, for the recrod, but style in the type of design. Really, it comes down to whether or not you want one that is technology-driven.
Much like with the materials, luggage tags can come in many different styles. Really, it comes down to whether or not you want a model that has integrated technology. As you saw throughout this list, some designs are more convenient than simply allowing you to locate your luggage or to allow someone to contact you. Some, in fact, will use specific technologies to provide an additional layer of functionality. For example, let's look at the Tile Mate. This integrates Bluetooth technology and can be synced to your smartphone. So, when you need to find the tag, you simply set it off via your smartphone. Of course, there will also be models with QR codes. With this design, once someone scans the code, you will be alerted.
But, what if you just want a simple design? That is okay as some models will be very basic and will allow you to slip ID cards inside. This way, if your luggage is lost the airline has a way to contact you and knows whose it is.
Size
This is a bit of a subtle feature but it can play a role in the buying process.
Okay, so what exactly does size has to do with anything? Well, let's just clarify that it is not the most important consideration you will need to make (that distinction belongs to the previous three criteria). But, it can still come into play. It all depends on your preference, truthfully. You see, you may not want an incredibly bulky tag that is an eyesore. Instead, you may want a subtle size that does not "make a scene". Then again, with larger models, you can also look at the fact that there may be a higher likelihood of it getting caught or tangled on something accidentally. It may not either way, but it is something subtle to think about.
Color
You want the tag to be both appealing and to stick out. Don't you?
Typically, this is the section that is simply added as it can come into play with most anything you buy. But, in this case, it is actually more important than you may think. While it still comes down to your personal preference and which colors and styles you prefer, one of the advantages of a luggage tag is being able to easily identify your bags. Can that really be achieved with a color that will be hard to see when surrounded by other items? Think about it for a second, if you have a certain colored bag then you should ideally get a tag that compliments that color (but one that sticks out at the same time). This is made easier with a vast amount of color options so look out for that.
Subscribe to our Newsletter