Best Luggage Tags
last updated:
Feb 07, 2020
Here is the deal; it is a possibility that when you travel via airlines your luggage can get lost. Now, it may not be as likely as you think. In fact, the Air Travel Consumer Report that is issued by the U.S. Department of Transportation claims that there is less than a one percent chance that major airlines will misplace your bags. Also, you are not even required to put personal luggage tags on your bags as the airline will do that for you when you check in. All this points to luggage tags being irrelevant, right? Not so fast as they can allow you to know right where your bags are and, because most will allow you to put contact information inside of them, can provide the airline with a way to contact you. But, they come in different makeups and styles so understand what to look for.
In a Hurry? The test winner after 14 hrs of research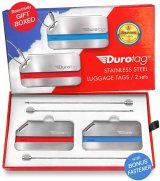 Durotag
Why is it better?
Backed by a 100 percent lifetime guarantee
Comes with four ID cards
Crafted of heavy-gauge stainless steel
In a
Hurry? Editors choice: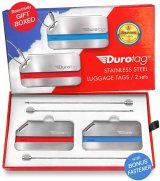 Test Winner: Durotag

11
Researched Sources
2.4k
Reviews Considered
14
Hours Researching
18
Products Evaluated
Materials
Stability
Style
Size
Color
By Default
OUR TOP PICKS FOR THE BEST LUGGAGE TAGS
Criteria Used for Evaluation


Materials
You can't underestimate the rigorous nature of airports and thus, your tag needs to be able to withstand some abuse.
If you paid attention to the products section of this guide, then you gathered that this type of product can be made with different types of materials. What you will find most common is that they will be made out of materials such as leather, metal, rubber or even cardboard. But, is one material superior to the others, in this case? Well, not necessarily but let's break them down to give you a closer look.
Starting with metal, you will typically either see aluminum or stainless steel. Both metals can be extremely durable but steel is stronger than aluminum. Aluminum will be more likely to get bent through transport so if this is a concern, go with stainless steel. As for rubber, this is an ideal material. Because it can be bent, the concern of tearing and breaking is all but eliminated. The same goes for leather as it is extremely durable and tough. Plus, it is highly fashionable and can go very well with a corresponding leather bag. Really, all these materials can be great but the designer's craftsmanship of the materials also matters (so pay attention to the details).


Stability
While the materials are important, the stability is also of the essence. After all, you do not want to lose your tag because it could not stay attached to your luggage.
Without question, stability is so very, very important here. For those questioning what is meant by stability in this case, let's explain. A luggage tag needs to be secured to your bags in some fashion and this is typically either done via a loop or a strap. But, if a specific model has a cheap fastener then you have a few choices. One, manually install a superior fastener or two, choose a different model. After all, if the fastener breaks then your tag is going to fall off your luggage and be lost.
So, it then goes without saying that it is important. Now, most fasteners will either be steel straps or loops or even a leather strap (if the main material is leather). With steel loops, these will typically be made with durability in mind and will not break very easily. Straps can be a bit more troublesome as they can loosen and even break. That said, some leather straps will be as durable and secure as any steel loop. Again, it goes back to the product's craftsmanship quality.


Style
Not style as in visual appeal, for the recrod, but style in the type of design. Really, it comes down to whether or not you want one that is technology-driven.
Much like with the materials, luggage tags can come in many different styles. Really, it comes down to whether or not you want a model that has integrated technology. As you saw throughout this list, some designs are more convenient than simply allowing you to locate your luggage or to allow someone to contact you. Some, in fact, will use specific technologies to provide an additional layer of functionality. For example, let's look at the Tile Mate. This integrates Bluetooth technology and can be synced to your smartphone. So, when you need to find the tag, you simply set it off via your smartphone. Of course, there will also be models with QR codes. With this design, once someone scans the code, you will be alerted.
But, what if you just want a simple design? That is okay as some models will be very basic and will allow you to slip ID cards inside. This way, if your luggage is lost the airline has a way to contact you and knows whose it is.


Size
This is a bit of a subtle feature but it can play a role in the buying process.
Okay, so what exactly does size has to do with anything? Well, let's just clarify that it is not the most important consideration you will need to make (that distinction belongs to the previous three criteria). But, it can still come into play. It all depends on your preference, truthfully. You see, you may not want an incredibly bulky tag that is an eyesore. Instead, you may want a subtle size that does not "make a scene". Then again, with larger models, you can also look at the fact that there may be a higher likelihood of it getting caught or tangled on something accidentally. It may not either way, but it is something subtle to think about.


Color
You want the tag to be both appealing and to stick out. Don't you?
Typically, this is the section that is simply added as it can come into play with most anything you buy. But, in this case, it is actually more important than you may think. While it still comes down to your personal preference and which colors and styles you prefer, one of the advantages of a luggage tag is being able to easily identify your bags. Can that really be achieved with a color that will be hard to see when surrounded by other items? Think about it for a second, if you have a certain colored bag then you should ideally get a tag that compliments that color (but one that sticks out at the same time). This is made easier with a vast amount of color options so look out for that.
Expert Interviews & Opinions
Most Important Criteria
(According to our experts opinion)
Experts Opinion
Editors Opinion
Users Opinion
By Default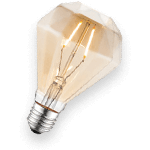 Materials
As many other products around the world, this product can come in different materials. Why is deciding upon a certain material so important, though? Well, in this case you really do not want a poor construction as your luggage tag is probably going to endure some abuse. This is simply the nature of the airport and if you buy one that can easily dent, there is a high chance it will come back bent or damaged. But, with durable material that can withstand such abuse, it will only make things better.
Stability
The materials are one thing but the stability is an entirely different beast. Ironically, though, it does come back down to the materials. You see, each model is going to come with some sort of a strap or a loop and this is going to be used to secure it to your bags. If this is poorly made, the tag will most likely fall off and be lost forever. After all, what good would your contact information do if it is not attached to your baggage?
Other Factors to Consider


Style
Ah, the style. Do not confuse this with the physical appearance as this has nothing to do with that. Instead, this comes down to the design type. Some models will work differently than others and may rely on technology to get the job done. All in the meanwhile, there are other designs that are as simple as it gets (insert an ID card so someone can contact you about your lost bags). Choosing the design type you prefer is all up to you, folks.
Frequently Asked Questions
q:

What information should you put on them?

a:

Time and time again, this question presents itself. Without a doubt, it is the most common when it comes to this technology. After all, one of the main purposes of this tool is to allow the airline a means to contact you. But, what exact information should you put on a card (if you are using a card and not one that is technology based)? Whenever you are dealing with personal information, never provide more than it is needed.

All you really need to provide is your name (first and last), an address that you wish the luggage to be sent to and contact information (email or phone). But, you should never provide any secure information. For example, do not be the person who writes down their social security number or something foolish like that.
q:

Where do you put them?

a:

In regard to where you should place them physically on your bags, you should place the tags in a manner where they can be seen from a distance. As for what types of luggage to place them on, you should do it for both carry-on and checked. You would not think it would be necessary for carry-on but you may end up needing to store your bags far away from your seat.

As for checked bags, this one is pretty clear. In fact, you may even want to put a couple of tags on your checked bags just in case one of them falls off. But, this goes back to the stability that was discussed earlier.
q:

Do you really need them?

a:

It was alluded to at the beginning but you technically do not need to add luggage tags to your bag. Again, what is going to happen is the airline is going to place a loop of paper around your checked baggage. Then, they will tear off a small part of the paper (which will have an adhesive that allows it to stick) and place it on the back of your boarding pass. Thus, everything can make it back to you. However, there are some potential issues with this method.

Firstly, the tags they give you can easily fall off or be ripped off. When this happens, without your own, you have no backup. Also, there can be potential mistakes printed on them and they do not distinguish your bags very well (which can lead to theft). So, the best bet is to personalize.
q:

Will people try to steal them?

a:

In the modern world, you can never be too safe. It is also not a good idea to assume as you know what "they" say about people who assume. Due to this, you never know if someone will attempt to steal your tags. But, thankfully, that is not going to be an easy task with some of them. If they come equipped with a steel loop, it may take a minute for someone to figure it out. This will probably look suspicious and most burglars will simply avoid doing so because of it.
q:

What is the advantage of stainless steel or aluminum?

a:

This may seem like a question out of left field but, remember, the two main metals you will see (if you want metal tags) are aluminum and stainless steel. While they were briefly covered, this is a good question to answer. Both aluminum and stainless steel have natural properties that make high-quality materials. For example, aluminum is the lighter of the two and has superior weather-resistance. But, steel is stronger and that is the main benefit, in this case.

Weight and the weather are not going to play too big of a role here and thanks to the strength increase that steel possesses, it is probably the recommended option of the two metals.
q:

Will they cause damage to your bags?

a:

You know this is something that has not been documented yet and is something that most people will gloss over. To be honest, though, it may be okay to gloss it over because 99 times out of 100 (with no scientific data to back that up) a small tag is not going to damage your bags.

Perhaps you are concerned that a heavy-duty steel model would possibly dent or damage your hard-sided bags. Well, it any damage would be caused, it would be so minor that only insanely anal people would have issues with it. In fact, there is probably more of a chance that your hard-sided bag would damage the metal of the tag (rather than the other way around).
Subscribe to our Newsletter