Best Luggage for Kids
In a Hurry? Editors choice: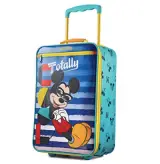 Test Winner: American Tourister Mickey Mouse

A great way to prepare your child for
traveling
and make them learn the responsibility of caring for their own belongings is to buy them their own luggage. Sure, you could just throw their stuff into your
suitcase
and call it a day- but nothing will prepare your child more for traveling as an adult than letting them have their own suitcase. Not only will it free up some space in your
bag
, but it will also make your child feel a sense of independence. Your kids might groan at the prospect of running around a crowded airport to try and catch a flight, but if they have a bag that has a fun print and is fun to control- you might actually not have to contend with any airport temper tantrums. Below we have listed the best luggage for your child.
Standout Picks
Criteria Used for Evaluation
Value
Of course, you aren't going to want to spend more on a Scooby Doo suitcase than you did your own- because there will come a point in time where your tiny traveler isn't so tiny anymore, and wouldn't be caught dead rolling around a Scooby Doo suitcase. When we were doing our research, we kept this idea in mind and tried to pick models that were not too terribly expensive, but were still crafted from high-quality materials. We did select some higher-end models- such as the Rockland design- but the colors and designs on the exterior were neutral enough that you could use it as a carry on when traveling alone. Parents like versatile, and so do we. We like it when we can save you money without sacrificing quality.
Durability
You turn your back for 2 seconds and suddenly everything that your child has come into contact with is sticky. It's just a simple fact of life that if you hand something over to a child, it is really going to generate some wear and tear in a shockingly short amount of time. That's why we kept an eye on the materials that were used to make these products. Of course, we gravitate more toward the hard shell designs, because those were made to be virtually indestructible even to baggage handlers. If a suitcase can hold up to a baggage handler, it will hold up to your destructive 5-year-old. We also liked suitcases that were made out of nylon materials like those found on soft lunch boxes because they are really easy to clean by just using a damp cloth on them.
Style
This is the second most important part of the puzzle- will they be excited to bring it along? We loved companies that offered a lot of options because not all little ones are as excited about dinosaurs as others. We also liked companies that utilize all of the cartoon characters that your children watch on a daily basis (over and over and over again). If it was fun- we were interested. The ZincFlyte model that is also a scooter really caught our attention because any child would get a lot of joy at zipping around the airport on their luggage. The only reason that model didn't land any higher than it did was due to the fact that when you tack on additional components, there is more of a risk of those components breaking.
Size
Something else that was important to us was how large and how heavy each product was. Suitcases that measured to be between 18-20 inches were perfect because your child would be able to grow with the suitcase, and still be able to use it. We also wanted to ensure that it didn't have any unnecessary weight that would weigh them down, or that would weigh you down in the event that you ever had to carry it for them.
Packing up the whole family to go on a family vacation can be stressful. There are so many things that can go wrong, and having grumpy tiny travelers can make a bad situation even worse. Giving your little one the freedom to pack their own bag that they love with all of the things that they feel that they need to make their vacation great is an important part of their development. Kids love when they have the opportunity to take control of their own lives, and packing their very own suitcase is a great way to build their confidence and self-esteem.
Top Ten Luggage for Kids
1

. American Tourister Mickey Mouse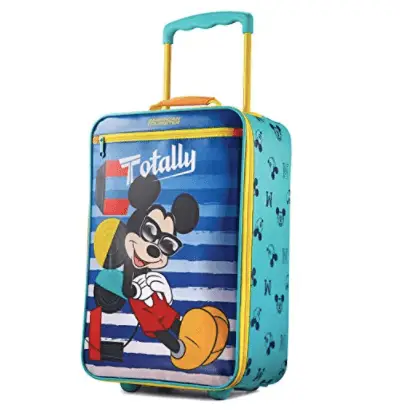 American Tourister has been in the business of making great travel gear since 1933 and is owned by a little company you may have heard of called Samsonite. This design looks a lot like a normal suitcase, only it is made from a softer material and sports your child's favorite cartoon character along the front.
Read more
Design
This has the classic look of a suitcase, but it is made from a lightweight and durable material, and available in fun colors. The wheels, zipper, and handle all come in different colors, and the front panel is offered in many fun designs. If you child love Mickey Mouse, Minnie Mouse, the Teenage Mutant Ninja Turtles, Star Wars, Cars, or Froze, they are bound to fall in love with this suitcase and won't be able to wait until travel day.
Weight and Dimensions
Due to the fact that this model is made from a lightweight material- the weight of this suitcase is incredibly easy to carry, even for the youngest of travelers. It weighs in at just 3.86 pounds and is 18 inches tall. It is 7 inches tall and 12 inches wide.
Durability:
American Tourister knows that the user of this design doesn't have a ginger touch when it comes to anything, so it is built pretty toughly. The outside shell is made from a soft vinyl material that is similar to their soft lunch box. The handle is designed for little fingers, and the inline wheels will help them keep up right alongside you while you navigate your way through a crowded airport.
Value:
The cost of this design is reasonably priced, and will likely set you back the same amount of money that you would spend buying the family lunch at the airport. Considering that comes with the guarantee of the American Tourister brand, and that comes with an impressive 10-year warranty- you can't beat this price.
Summary:
For parents that want to ensure that they buy high-quality travel gear, and kids that want a suitcase that is fun and sports their favorite cartoon characters- this design will be sure to please both you and your kids.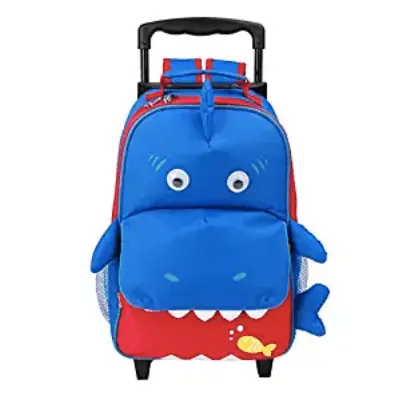 As a parent, you probably love when an item serves more than one purpose- and that's exactly when the Yodo Zoo design does. It is versatile enough for your toddler to take to school with them but can transform into a great piece of travel gear so your little one never had to be without their adorable backpack.
Read more
Design
The designs offered by Yodo are what makes them really stand apart from many of the other design out there. Each creature- such as the dinosaur, owl, monkey, or shark- is quirky and unique, and your child is sure to bond with it right out of the box. It has straps so that they can carry it on their backs, but then it also has a handle and wheels to make airport navigation quick and easy.
Weight and Dimensions
This model is incredibly lightweight and weighs in at just under 2 pounds. It is offered in medium or large sizes. Medium is better for short trips that last a day or two, and the large model is better for longer family vacations.
Durability
The outside of the pack is made from incredibly durable 600D polyester, and the inside is made from 210D polyester lining. When your little one decides that they don't want to roll their suitcase anymore and they wish to carry it on their back- there is a piece of fabric that folds out and can completely cover the wheels so that they will not dig into their back.
Value
What's great about this product is the price. It runs about the average cost that parents are willing to spend on travel gear for their little ones. It's not the most expensive model on the market, but it isn't the least expensive either. It also comes with a 180-day warranty.
Summary
If you are looking for something to get your little one excited about traveling- nothing works better than a dinosaur that has a mouth for a pocket. Parents will love how versatile and affordable it is, making your next family vacation your best one yet.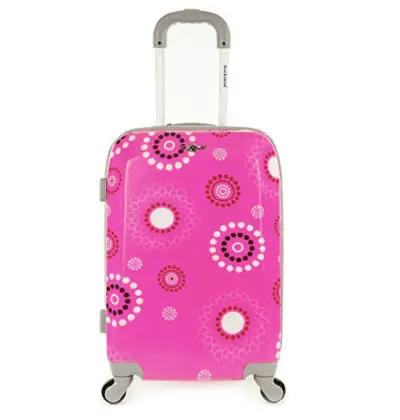 Rockland has been in the business of making travel gear that is bright and colorful for over 20 years- which makes them the perfect company to make fun and exciting suitcases for younger travelers. This suitcase comes is a wide variety of fun colors that your little ones will really love.
Read more
Design
If you want your child to get excited about traveling, the first thing they are going to look at when picking out their own suitcase is the colors and designs. Luckily, Rockland has a wide variety of fun colors and design to pick from. They offer vibrant colors such as pinks, purples, and reds, and have patterns and owl designs.
Weight and Dimensions
When unpacked, this model weighs in at just 6 pounds, which may be a little heavy your tiny traveler if it didn't have a good grip and reliable wheels. It's 20 inches high, and when the handle is extended all the way out it measures in at 40 inches. The case itself is 13 inches long, and 9 inches deep.
Durability
The hard outer shell will ensure that the contents will be safe and secure, even if this case happens to get beat up a bit. The polka dotted interior has elastic fasteners to keep everything inside secure, and zippers for those little items. The rubber grip on the handle is soft and won't dig into your palms, and the multi-directional spinner wheels help ease of navigation. What makes this model perfect is that if you plan on leaving your little one at home to go on a brief business trip, it case be used as your carry on.
Value
The price of this model is a little bit more than you would expect from smaller luggage, but it is still considered to be set at an incredible price considering the high-quality materials that are used.
Summary
If you were looking for something that would be practical and easy to use for your little traveler, but you also wanted something that you could also use as well- this is a great choice that will grow with your child.

4

. American Tourister Star Wars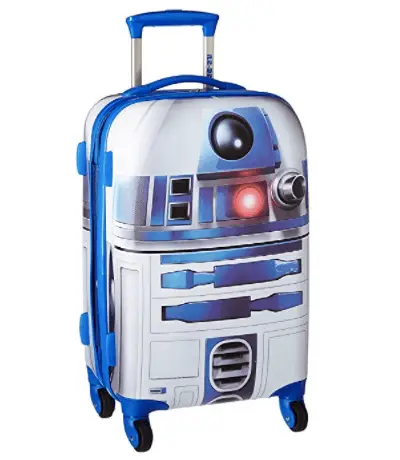 For your slightly older kids that need a suitcase that is a little bit smaller than the standard adult sizes, and also comes in fun designs that are sure to attract a lot of attention at the airport, this is another great product brought to you by American Tourister.
Read more
Design
The design of this model is what makes it so unique. Instead of just having a fun design printed on the front, American Tourister transformed traditional luggage into iconic Star Wars characters. The R2-D2 design will make your kid look like he is actually being followed by the classic Star Wars robot. Other designs also include Stormtroopers, BB-8, Kylo Ren, and Darth Vader.
Weight and Dimensions
Due to the fact that this is a hard shell, it isn't going to be as lightweight as some of the other vinyl designs. This model weighs in at approximately 6.88 pounds. It is 21 inches high, 14.5 inches wide, and 9.5 inches deep.
Durability
This is a hard shell model, which means it can really stand to take a beating while being rolled around the airport. It had a sharp handle that is retracted by the push of a button. The only downside to this model is that it doesn't have multi directional wheels, so the drivers maneuverability will be hindered slightly.
Value
Like with anything that involves Star Wars- the price is pretty up there. In fact, it is one of the most expensive models currently out there on the market. However, if you and your child enjoy being stopped and complimented on your fantastic travel gear, and you need something that your child won't outgrow right away- this is an excellent value.
Summary
If you wanted something fun to get your child more excited to travel, and you are willing to play a slightly higher price point that other hard shell models, this model will be sure to draw lots of attention your way.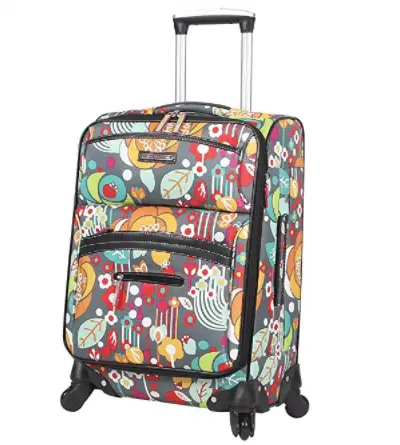 If you are looking for something that your child won't outgrow too quickly and will last for many family vacations to come- the Lily Bloom design is the perfect fit. It might be a little bit more expensive, but it means you won't have to be upgrading suitcases when your little one grows out of Disney princesses.
Read more
Design
One of the best features about this suitcase is the fun and unique print options that are available. Many of them come in bright colors and depict owls, cats, or giraffes in interesting patterns. This suitcase is so stylish that you might borrow it whenever you need a light carry on for a brief overnight business trip.
Weight and Dimensions
Without the handle, this model measures in at 20 inches tall and weighs between 5 to 6 pounds- making it one of the heavier options to make our list.
Durability
While it doesn't have a hard shell like some of the other models out there, it is made from a strong and durable material. Additionally, the complex patterns and soft shell just means that is it impervious to becoming dented or showing too much dirt and dust. It has multi-directional wheels that makes it a snap to navigate through a busy airport without running the risk of topping over, and it has a telescoping handle that is easy to manage.
Value
This is more of the most expensive models out there on the market. However, if you consider that it is made from premium materials and will never run the risk of your little one outgrowing it- it is well worth the slightly padded price tag.
Summary
For parents that don't want to continually spend money on their kid's travel gear when they suddenly outgrow it- this is an excellent option. Sure, it might cost you more initially, but it will be a wise investment to save you money in the long haul.

6

. ZincFlyte Luggage Scooter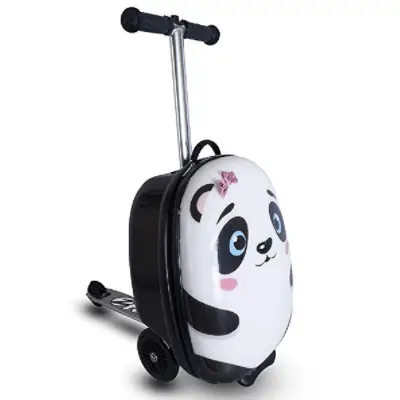 Before you even ask- no, they do not make his model in adult size, even though they really should. If this suitcase that is also a scooter doesn't get your little ones excited about carrying their own stuff- nothing will.
Read more
Design
The design of this suitcase is it's number one features. Who wouldn't love to be able to ride around in their travel gear? Not only does this suitcase come with a built-in scooter, but the front designs are of adorable creatures like panda bears or cyclopes. If your little ones don't want a suitcase with a face, there is also a purple and black design that just has the letter Z as in ZincFlyte.
Weight and Dimensions
It can be considered a given that because this model comes equipped with a scooter- it is going to weigh more. However, you might be surprised to learn that only weighs 7.55 pounds- which is actually lighter than some of the had shell models to make this list. The size and weight requirements make it perfect for children 8 years and up.
Durability
This hard outer shell is capable of holding about 25 liters of storage- it might look small but it is pretty deep. It has elastic bands that old all of your child's belongings in place while they zip around the airport, and the soft rubber grips on the handle are easy on little hands. It has two wheels on the front, and one on the back the scooter. When it is time to board your flight, all of the scooter components fold down small enough to be able to store in the overhead storage bins.
Value
You were probably thinking that something so innovative would come with a bigger price tag- and you would be right. While it does cost more than some of the other models with the same carrying capacity- it isn't any more expensive than the American Tourister hard shell model. Plus, it comes with an 8-year manufacturer's warranty in case anything breaks.
Summary
If you are having a struggle convincing your little one that it would be a good idea that they have their very own suitcase- presenting them with this ZincFlyte model is sure to change their mind.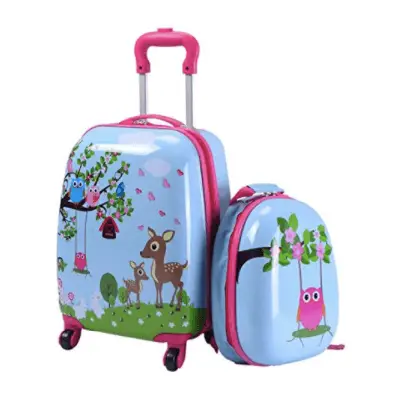 Goplus makes a really fantastic and cohesive 2 piece set of travel gear that is as functional as it is adorable. These pieces are made from high-quality materials that are incredibly durable and are sure to last for many family vacations to come.
Read more
Design
The suitcase has rounded edges and is made from a hard material. You will have the option of selecting four unique designs such as owls, forest animals, and jungle animals. The suitcase is large enough to store all of the things your little one will need for the trip- such as shoes, shirts, and pjs. The backpack (that can be fastened to the handle of the suitcase) is able to store all of the toys your little traveler will want to get through through a long flight.
Weight and Dimensions
The weight of the roller suitcase checks into about 1 pound- which is perfect for smaller travelers. The suitcase is approximately 16 inches tall (perfect for travelers 3 years and up) and the matching backpack is 12 inches tall.
Durability
Hardshell travel gear is just more resilient to being thrown around and dropped over soft shell models, so naturally, this product is a little more resilient than most. It hosts multi-directional wheels that makes it easy to maneuver through crowded airports and train stations without running the risk of tipping over.
Value
One of the best features of this product is its value. This product runs about the same price as many of the other similar designs on the market, but what makes this unit better is that it comes with the additional backpack. It also comes with a 100 percent money back guarantee if it doesn't suit your needs for any reason.
Summary
If you were in the market for suiting up your little one with the own set of travel gear for your next family vacation- you can't beat the style, design, and price of Goplus.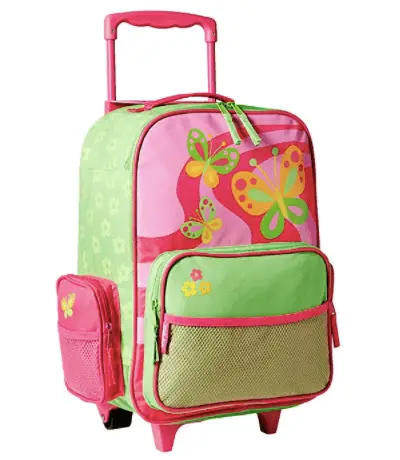 Stephen Joseph is known for making some really wonderful gear for children since their humble beginnings in the early 1980's. This model is incredibly light and cheerful, and your little travelers will certainly be eager to pack up this suitcase and hit the airport for the next family vacation.
Read more
Design
Stephen Joseph knows what children like, and they make sure that all of their fabrics reflect a child lighthearted nature. This classic suitcase design comes in fun colors that depict scenes with foxes, owls, flowers, horses, ladybugs, and princesses.
Weight and Dimensions
An unpacked suitcase weights about 2.7 pounds- which is perfect to hold all of your child's vacation geat without weighing them down too much. And if they get tired of carrying it, it won't be too heavy for you to carry by the top strap. It's 18 inches high, and 14.5 inches wide.
Durability
The 100 perfect nylon exterior and interior means that it is easy to wipe down no matter what type of stickiness your little traveler gets into. It has plenty of pockets on the outside to store easy to access essentials such as snacks and toys. The mesh side pockets are perfect to keep bottles or juice. Unfortunately, the wheels cannot rotate 360 degrees so maneuvering through a crowded airport may be a little more difficult.
Value
The cost of this product runs about in the middle of the road in terms of price. It isn't the most expensive suitcase out there, but it isn't one of the least expensive either.
Summary
If you are a parent that wants something affordable, well made, easy to clean, and that your little traveler will love, this is a great choice for your next family vacation.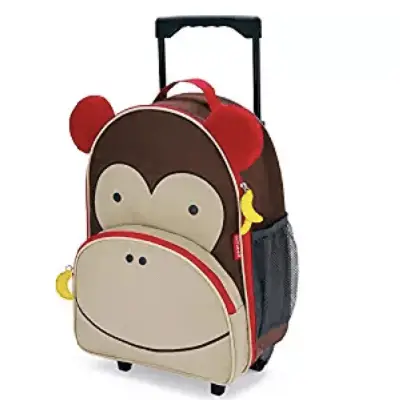 Skip Hop has been in the business of making innovative products for kids and moms since their founding in 2003 with their functional yet stylish diaper bag. Since then, they have been in the business of making stylish kids products that are designed to solve problems. This adorable suitcase will really get your little one exciting about traveling.
Read more
Design
The basic design of this bag is mirrored to resemble the backpack that your little ones takes to school every morning. It has the face of a monkey and a banana zipper pull that will help little fingers gain access to their stuff more easily. It has a removable and adjustable strap that they call the 'parent strap' to use when your tiny travel grows tired and wishes for you to take over for a while.
Weight and Dimensions
Unlike the Rockland design, this one is made for smaller travelers. It measures in an 18 inches high, and the handle retracts up to 13 inches, providing a total of 31 inches of height. What makes this model really great is the weight: it weighs in at just 2.19 pounds- making it incredibly easy for little arms to carry through crowded airports and train stations.
Durability
While the outside isn't made from a hard shell, it is made from a durable poly-canvas fabric that will be able to hold up to whatever your little traveler can throw at it. The material is similar to that of soft lunch boxes. It has a large compartment in the center, and a small compartment in the money's mouth to hold smaller items and toys. On the side is a mesh pocket that is perfect for holding bottles. Some of the straps involved make it not ideal for travelers under 3 years old.
Value
The cost of this model is incredibly affordable and costs about the same price as you might have spent on your own carry-on backpack. Considering the high quality, BPA-free materials used when making this design, and the fun and charming face that your kids are sure to love- this is a really great deal.
Summary
If you want to get your kids excited about traveling, their own suitcase with a charming face on it is a really good way to start. It also comes in a variety of other faces- such as bumblebees, ladybugs, puppies, and giraffes.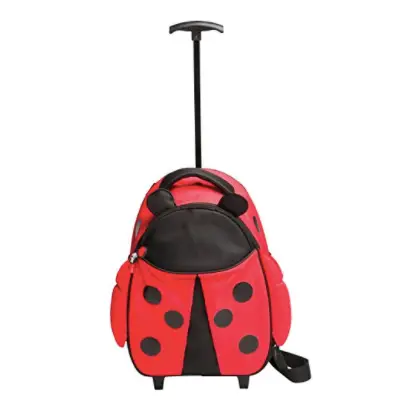 Red Balloon really knows how to get kids excited about travel by crafting some clever suitcase designs. This rolling suitcase is perfect for kids age 3 to 12, is incredibly durable, and is offered at a reasonable price point.
Read more
Design
The design of this model is absolutely adorable. It sports the traditional backpack design, but it is shaped like a ladybug with red and black accents. It has many pockets and mesh holders for water bottles on the front, and the zippers are easy to work for users that have little fingers.
Weight and Dimensions
Weighing in at just over 14 ounces, this is one of the lightest suitcases out there on the market. It is also one of the shortest. It is 17.7 inches high, 14.4 inches wide, and 6.3 inches deep.
Durability
The polyester exterior is tough and child-friendly and the insulated lining making it resistant to water or whatever your little one happens to get into. It has a long retractable handle that is designed specifically for little hands. The two wheels at the bottom are not multidirectional, but the bag is so small and lightweight that maneuvering around crowded airports shouldn't be a problem.
Value
The price of this model runs about in the middle of the road. It is not nearly as expensive as some of the other suitcases on the market, but it is not the least expensive either. Considering that is is a suitcase that can grow with your child from age 3 to 12- it really is a great bargain.
Summary
If you are in the market for something that will really get your little one excited about travel, this ladybug is sure to do the trick. Offered at such an affordable price, it would be hard to pass this up.

Subscribe to our Newsletter